The S6 and the S7 robot vacuum cleaners from the Chinese company 360, specializing in smartphones, became a real discovery of 2019.
Models surprise with accurate navigation, planning, Carpet Boost, mapping, remote control, and capacious battery in combination with affordable prices compared to analogs.
Robots quickly became the main competitor to Xiaomi and other robot-building companies.
Let's look at them in more detail.
| | Good Choice | Best Choice |
| --- | --- | --- |
| Product Image | | |
| Model: | 360 S6 | 360 S7 |
| Dimensions | 13.8 x 13.8 x 3.9 inches | 13.78 x 13.78 x 3.94 inches |
| Weight | 7.94 pounds | 8 pounds |
| Navigation | LDS lidar + SLAM | LDS lidar + SLAM |
| Сleaning Area | 2153 ft2 / 200 m2 | 2153 ft2 / 200 m2 |
| Suction power | 1800 Pa | 2000 Pa |
| Recharge & Resume | YES | YES |
| Noise | ≤65dB | ≤65dB |
| Battery capacity | 3200 mAh | 3200 mAh |
| Runtime | 90~110min | 120 min |
| HEPA Filter | YES | YES |
| Charging Time | 120-150 minutes | 150-180 minutes |
| Dustbin Capacity | 400 ml | 550 ml |
| Wet Mopping | YES | YES |
| Water Tank Capacity | 80 ml | 150 ml |
| Cleaning Modes | Quiet, balanced, turbo, max, zoned cleanup, carpet boost | Quiet, balanced, turbo, max, zoned cleanup, carpet boost |
| Alexa Compatible | YES | YES |
| Price | Check Price | Check Price |
The 360 S6 robot vacuum cleaner is a great model that features a lidar, work scheduling, Carpet Boost, 120 minutes of operation on a single charge. Also, the device can carry out both dry and wet cleaning.
For cleaning inaccessible places, two side brushes with a long pile are installed. Their main task is to sweep up the trash and collect dust. A central brush roller captures all these particles and sends them into a dust collector with a capacity of 450 ml.
The robot also uses Carpet Boost technology, designed for high-quality cleaning of carpets.
The efficiency of work on any pile surface is achieved by increasing power from 1300 to 1800 Pa in various modes.
For high-quality cleaning of smooth surfaces (laminate, tile), the robot uses mopping mode. It moisturizes a napkin with water that's dosed through special openings. The capacity of the fluid block is 150 ml.
The 360 S6 robot vacuum also plans a cleaning route using a laser scanner, builds, and saves up to several maps of rooms on different floors.
One can easily control the device through a mobile app and voice assistants.
We can say with confidence that 360 S6 is one of the best modern robotic vacuum cleaners, as it combines all the most essential functionality at a relatively affordable price. At the same time, the robot copes with any task from hard floor vacuuming to cleaning hair from a thick carpet or mopping a multi-floor house.
Pros
compact dimensions
great suction
Carpet Boost
mopping mode
smart lidar navigation
mapping
powerful battery
mobile app and voice control
Cons
noisy work
not the best design of the roller
laser base may prevent cleaning under low furniture
rather pricy
In June 2019, 360 announced the release of its new robot vacuum cleaner 360 S7.
It's slightly different from its predecessor 360 S6, has a high suction power of 2000 Pa, supports dry and wet cleaning, works for two hours on a single charge, and features LDS Lidar and SLAM technologies.
The appearance and dimensions of the model, as well as the system of central and side brushes, remained the same. However, this time the robot has only one side brush.
Manufacturers endowed the robot with higher suction power and a larger dust container of 570 ml. The set of elements for mopping remained unchanged – a fiber napkin and a 150 ml water tank.
But this model boasts the function of selecting forbidden areas for cleaning in the mop mode. Now the user can prevent the robot from getting onto the carpets instead of removing them during cleaning.
Along the perimeter of the body, the robot has many anti-collision and cliff sensors. It also uses a laser base to scan the room and build maps.
The S7 can remember up to 10 maps and is perfect for any multi-story building.
360 S7 also works autonomously for up to 120 minutes, supports smartphone and voice control.
Like the previous model, the S7 is suitable for any dwellings of any footage and complexity of flooring. It can also make life easier for people with allergies and owners of dogs and cats.
Pros
both dry cleaning and mopping
great suction
several modes
Carpet Boost
laser-based navigation
saving up to 10 maps
restrictive zones in mopping mode
powerful battery
big dustbin
app and voice control
Cons
only one side brush
the same central roller
laser base may prevent cleaning under low furniture
high price
Design, Size, and Dimensions
The design of the 360 S6 and S7 robotic vacuum cleaners is similar to the Xiaomi robots. At first glance, they can be distinguished only by the location of the buttons on the case.
In both models, we see a round case made of white or black plastic with a pleasing color (mainly orange) edging.
On top, there is also a retractable lidar base for navigation.
The models look neat and modern. They are not overloaded with any extra elements.
360 S6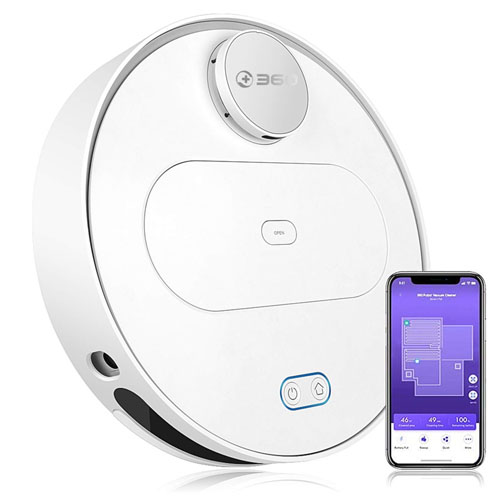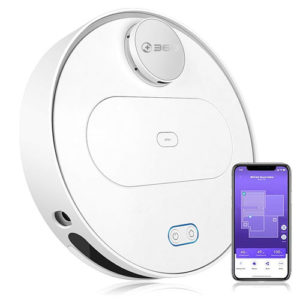 The overall dimensions of the robot are as follows: 13.78 x 3.78 inches. This is enough to penetrate into hard-to-reach areas and clean the floor in any location.
Though mind that the lidar base can become an obstacle for cleaning under some extra low pieces of furniture.
The item is very light, with its 7.94 pounds.
360 S7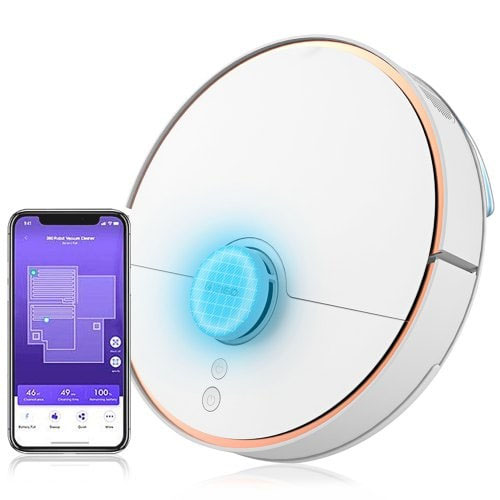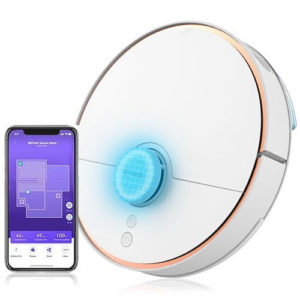 360 S7 features the same dimensions of 13.78 x 3.78 inches. The height is quite OK for maneuverability and performance even though the laser construction should be observed.
Speaking about the weight of the robot, we can note that it became a bit heavier and weighs about 8 pounds.
But as we see, such a difference makes no odds so that you won't have any difficulties with its portage, and the robot will overpass small elevations in the same easy manner.
Navigation
360 S6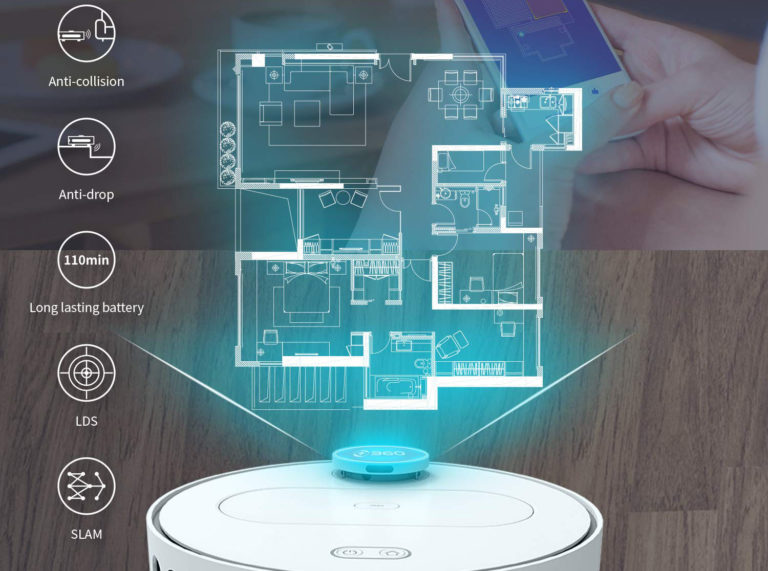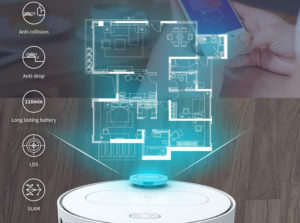 The 360 S6 robot vacuum cleaner plans a cleaning route using a brand Laser Scanner. Lidar covers the whole room and makes 2160 measurements in one second. This allows the bot to accurately determine its location, calculate the distance to obstacles, and avoid a collision.
The SLAM algorithm also contributes to the navigation as it realizes the possibility of creating a room map.
Artificial intelligence is responsible for building the optimal cleaning route and trajectory as well as saving the map and projecting it to your app.
The device's memory contains several maps, so the vacuum is ideal for cleaning multi-story buildings.
The smart assistant is also equipped with 24 high-precision sensors. They prevent collisions with various obstacles and falls from elevations.
You also can set restrictive boundaries for dry cleaning at the app by drawing lines on the map.
360 S7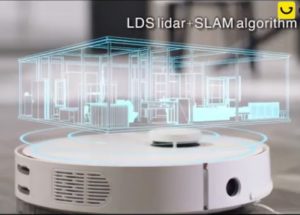 As for navigation, 360 S7 also supports LDS Lidar and SLAM technology.
With their help, the robot cleaner scans the room, draws an accurate map, and plans the most efficient cleaning route.
Engineers have added some improvements over the previous model – the robot can store in memory up to 10 separate maps of rooms and floors.
Additional sensors on the side edges prevent hits on furniture and help the vacuum clean the surface around objects on the floor. When 360 S7 approaches the obstacle, it slows down a bit so as not to collide and damage both itself and the furniture.
By the way, the robot vacuum cleaner can recognize objects through which it may accidentally pass, for example, curtains.
Four special sensors installed in the lower part of the body prevent falling and warn the cleaner about the steps.
In the app, you can set restricted areas not only for dry cleaning but also for mopping mode. This function is useful if you have a lot of wires or carpets, and wet cleaning is undesirable.
Dirt Detection
As for the technology for recognizing dirt and the degree of its complexity, this manufacturer doesn't equip its robots with such a function. Therefore, we don't see Dirt Detection in either S6 or S7 vacuums.
Filter System
360 S6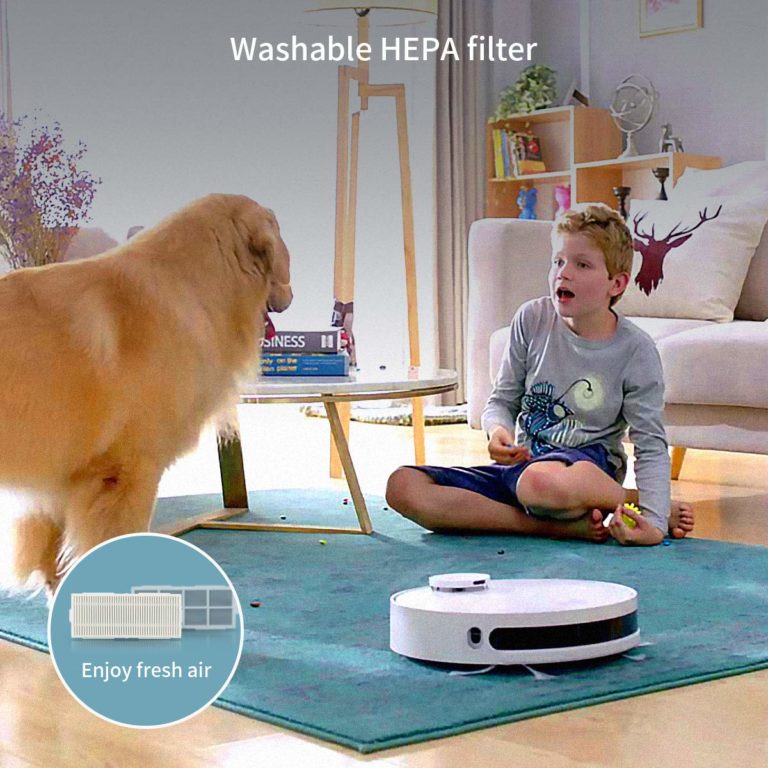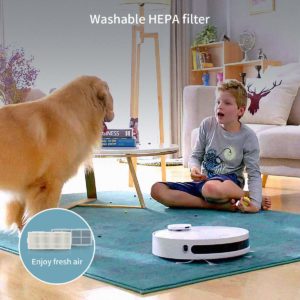 The S6 qualitatively cleans the air both from large particles and from the smallest elements hazardous for health that stay invisible to the eye.
The filter in the vacuum cleaner belongs to the HEPA class; that is, it's incredibly powerful. They're also washable and replaceable.
360 S7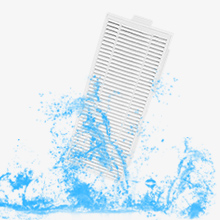 This vacuum also uses the same HEPA filters. These elements purify the sucked air and retain dust, dirt particles, and allergens.
They consist of three parts: a paper louvre-like layer that cannot be washed, a fine black layer, and a protective lattice one. The last two filters are washable.
They require periodic care if you want to maintain a high level of filtration and suction power.
However, the manufacturer claims that once a year, the filters need to be replaced with new ones.
Connectivity
360 S6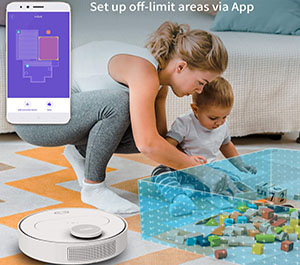 You can control the S6 robot cleaner in two ways: manually (buttons) and remotely (smartphone).
The latter option provides an incomparably wider range of options available through the SMART 360 application.
Here you can set prohibited places, repetitive vacuuming of one zone, modes, maps, schedule, sound alert, etc. The app also shows you the terms of operation of brushes, filters, and sensors.
The bot also works through the voice assistants Alexa and Tmall Wizard.
360 S7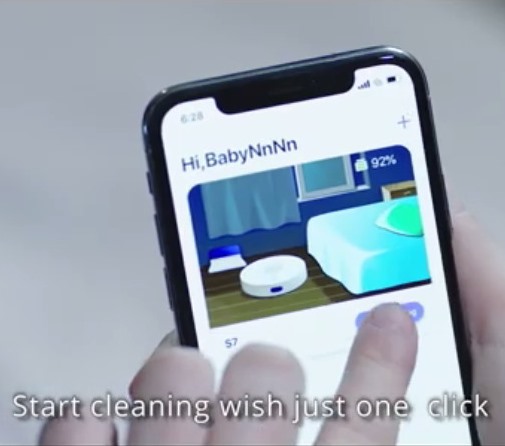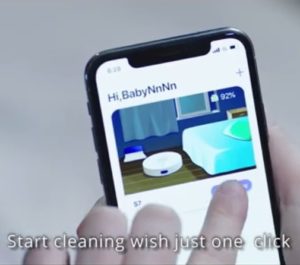 The control of the S7 vacuum is performed in the same two ways.
You can control the robot from the buttons on the body and through the mobile application.
Here you see up to 10 maps of the rooms, set up prohibited cleaning zones (including ones for wet cleaning), plan a cleaning schedule, and make other settings for 360 S7. It is important to note that the bot supports the voice control of Amazon Alexa and Tmall Wizard.
The only difference between 360 S6 and 360 S7 is that in this model, you can limit zones only by drawing rectangles, not individual lines.
Suction Power
360 S6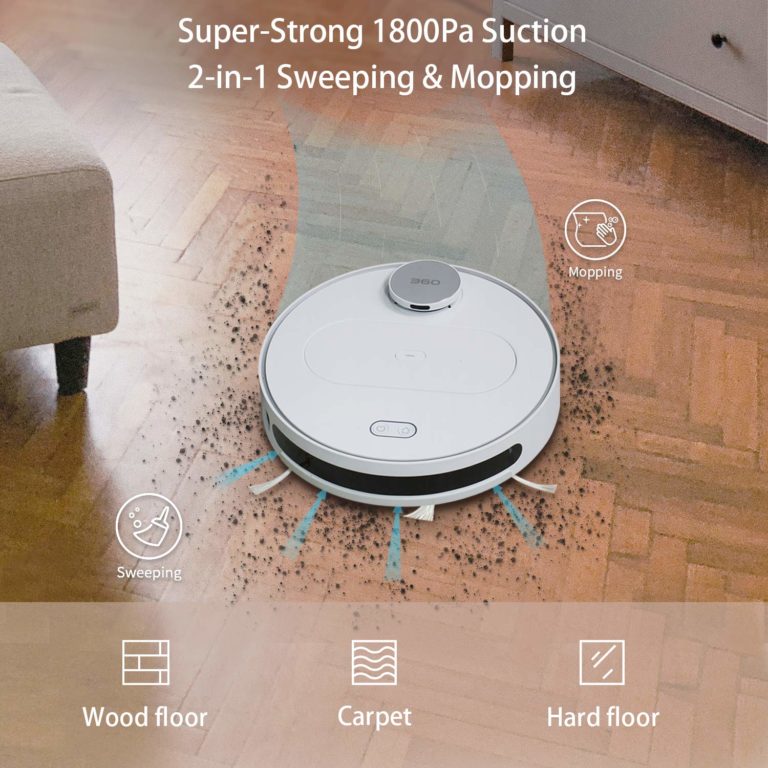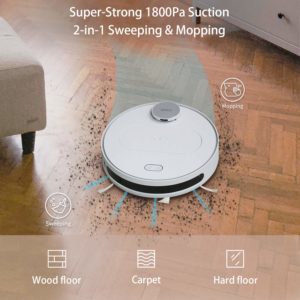 A considerable advantage of this robot is a 2-in-1 function – 360 S6 is suitable for both dry vacuuming and mopping.
Depending on the selected operating mode, the robot changes its suction.

At Quiet mode, the power is 800 Pa;
Balanced and Turbo modes provide 1300-1500 Pa;
Max mode and Carpet Boost guarantee up to 1800 Pa.
Carpet Boost cleaning technology allows the vacuum to increase the suction, and therefore the quality of cleaning when entering the carpets.
In the mopping mode, the cleaner uses a special napkin and a water tank. You pour 150 ml of water into a special block, and then it flows by gravity onto a napkin. Thus, the cloth is wetted automatically.
360 S7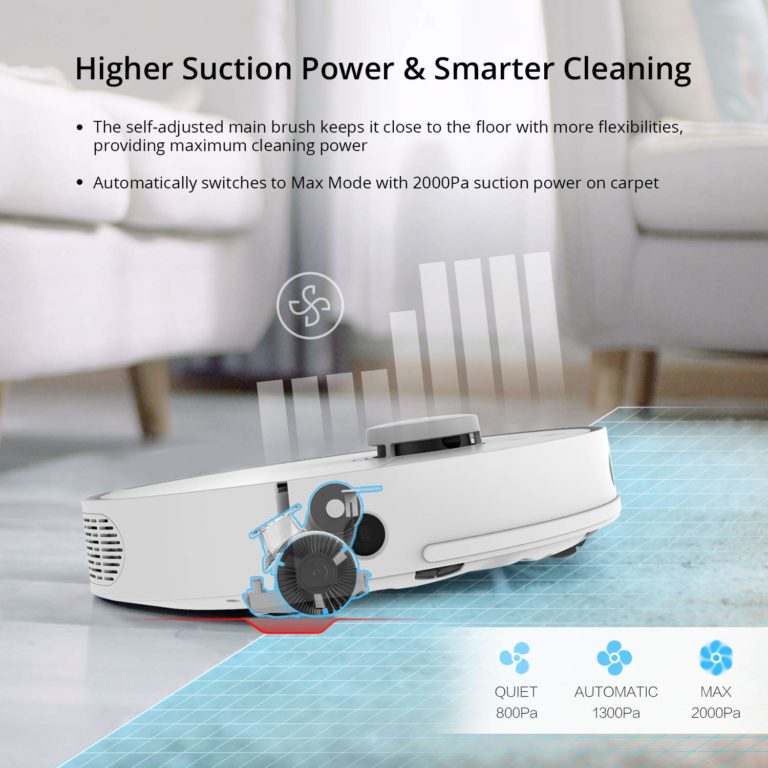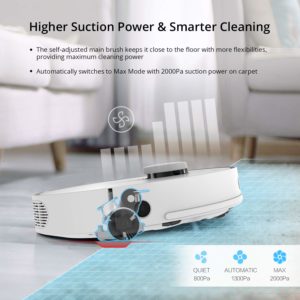 360 S7 continues the tradition of its predecessor and combines two devices in one case. The vacuum cleaner provides up to 2000 Pa of power, and the mop completes the cleaning of hard floors. Moreover, the bot can perform both operations at the same time.
The device automatically activates wet cleaning if a water tank is installed. If the container is removed, 360 S7 switches to dry cleaning mode. You don't need to change the settings in the app.
Also, when on the carpet, the mopping automatically turns off so as not to leave wet spots on the pile.
The 360 S7 engine has a suction power of 2000 Pa. This is enough to collect any debris and animal hair.
The vacuum cleaner offers four levels of suction:

Quiet, Balanced, Turbo, and Max.
The power level automatically changes depending on the coverage. During cleaning on the carpet, the power increases to 2000 Pa for more in-depth cleaning, as the Carpet Boost mode is activated.
Run Time
360 S6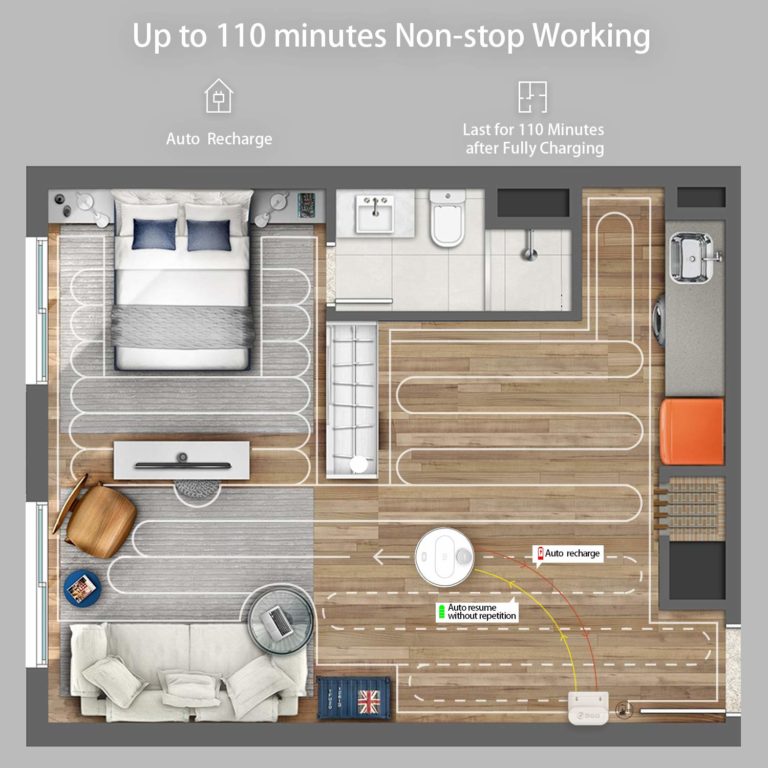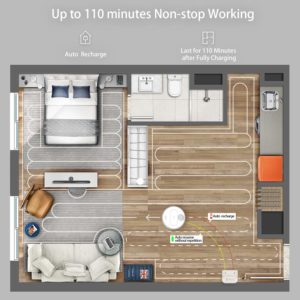 The 360 S6 model is equipped with a 3200 mAh battery.
The operating time reaches 120 minutes on smooth surfaces in Auto and Quiet modes, which is enough for cleaning more than 100 square meters in one cycle.
At Max and mopping modes, the robot works up to 90 minutes.
Charging takes 120-150 minutes.
360 S7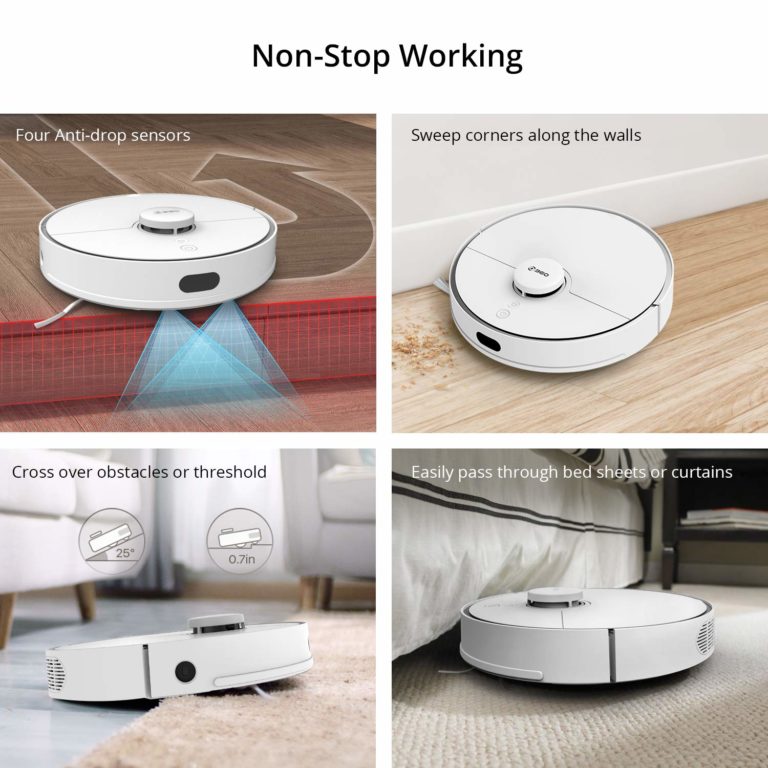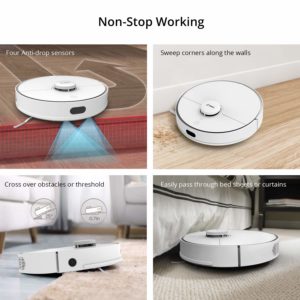 There are no many differences between the models in the question of run time.
Since both robots have the same manufacturer, the 360 S7 has the same 3200 mAh battery as well. It provides up to 120 minutes of dry cleaning and up to 80 minutes of mopping.
Battery charge resumes a bit longer – in 150-180 minutes.
Dustbin Indicator
None of the vacuums uses Full Bin Indicators. But in fact, it doesn't affect the convenience of dustbin service since bots feature big containers.
360 S6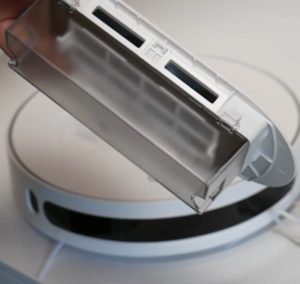 The S6 holds 450 ml of dust and other dry debris, while it also has a water tank for 150 ml.
360 S7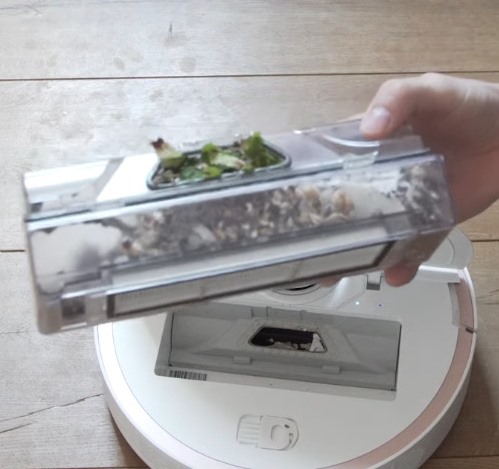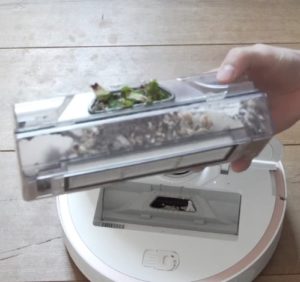 The 360 S7 boasts a bit bigger dustbin and can collect 570 ml of dirt. Though the dust container was improved, the water tank capacity stayed the same – we can use no more than 150 ml of liquid.
Noise
360 S6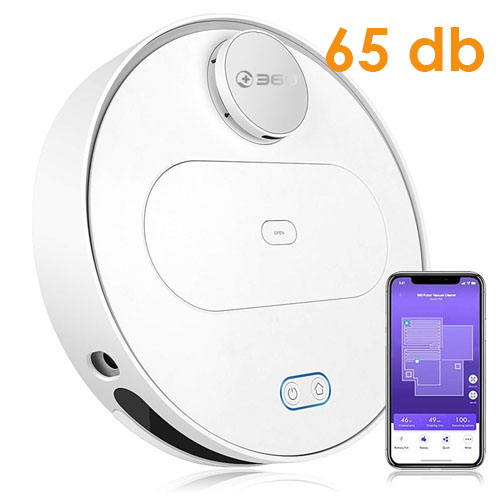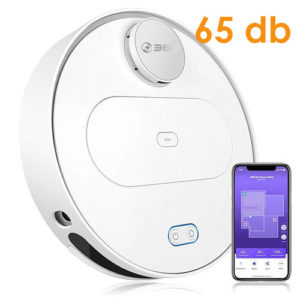 This model cannot be called either too noisy or extremely quiet.
The manufacturer added the Quiet mode, but the maximum noise level produced by the robot is still 65 decibels. This level is comparable to a loud conversation.
360 S7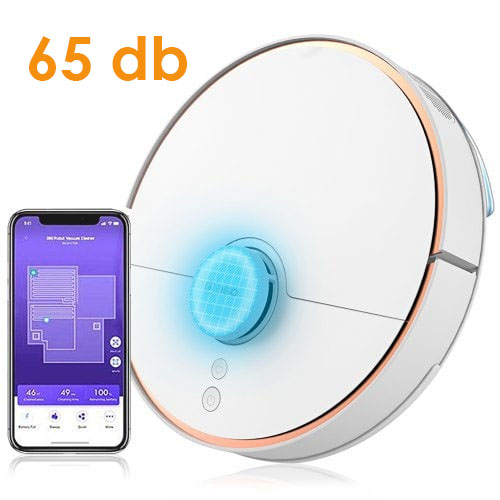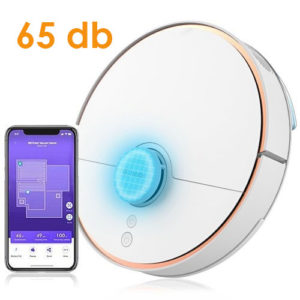 In this modification, engineers tried to reduce the noise level as significantly as possible, but unfortunately, it stayed the same.
360 S7 produces 65 decibels, though the Quiet mode can make the vacuum sound quieter.
Accessories
360 S6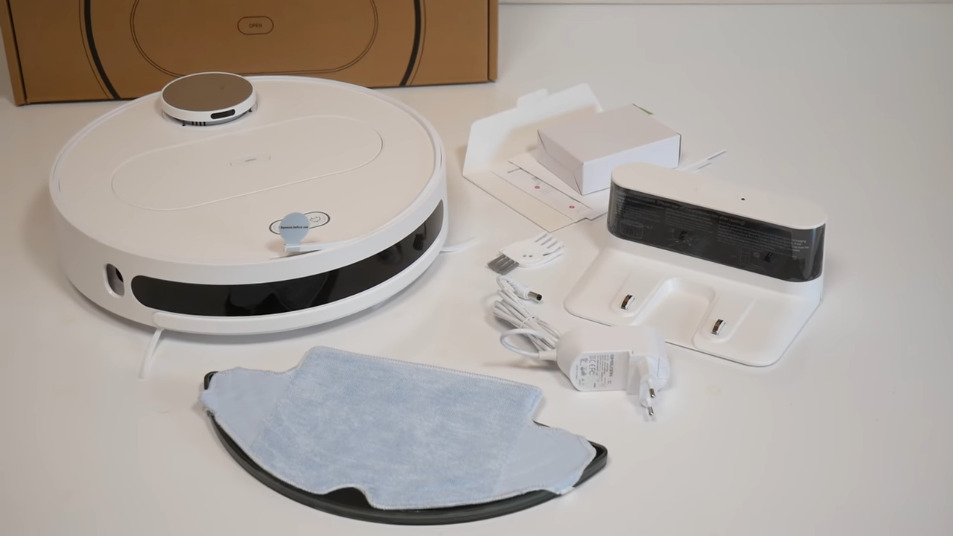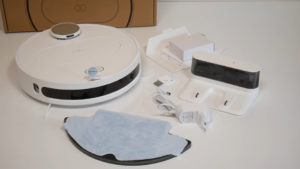 360 S6 set includes

one charging dock,
one power adapter,
a cleaning tool,
a water tank,
2 mopping pads,
10 disposable wipes,
a user manual,
a 24-month warranty.
360 S7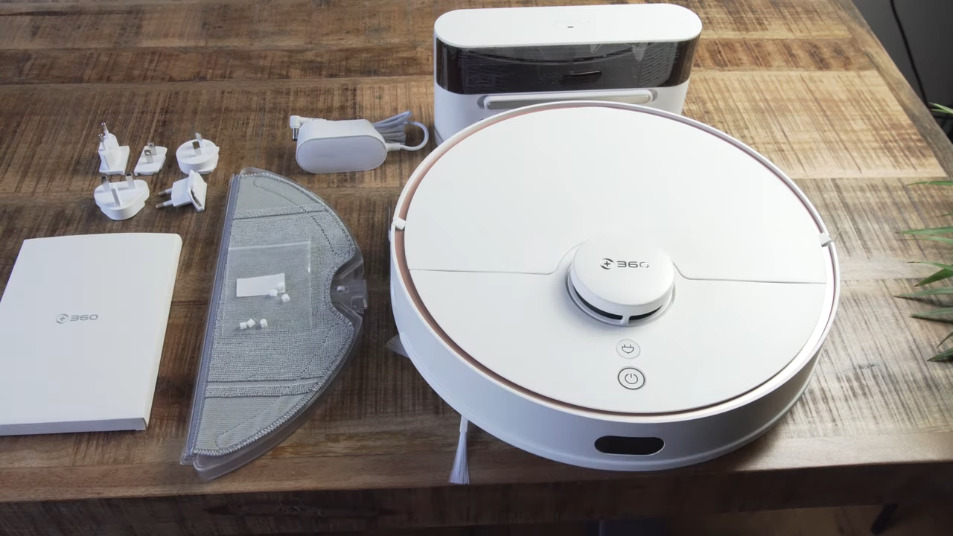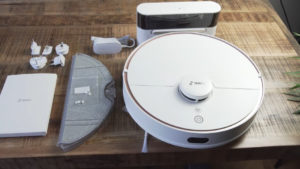 360 S7 comes with

one charging dock,
one power adapter,
a filter,
a cleaning tool,
a water tank,
a mopping pad,
a user manual,
a 12-month warranty.
Tests on different types of floors
The characteristics of both robotic vacuums and tests on various surfaces with real pollution prove the high functionality of the models.
Hard Floor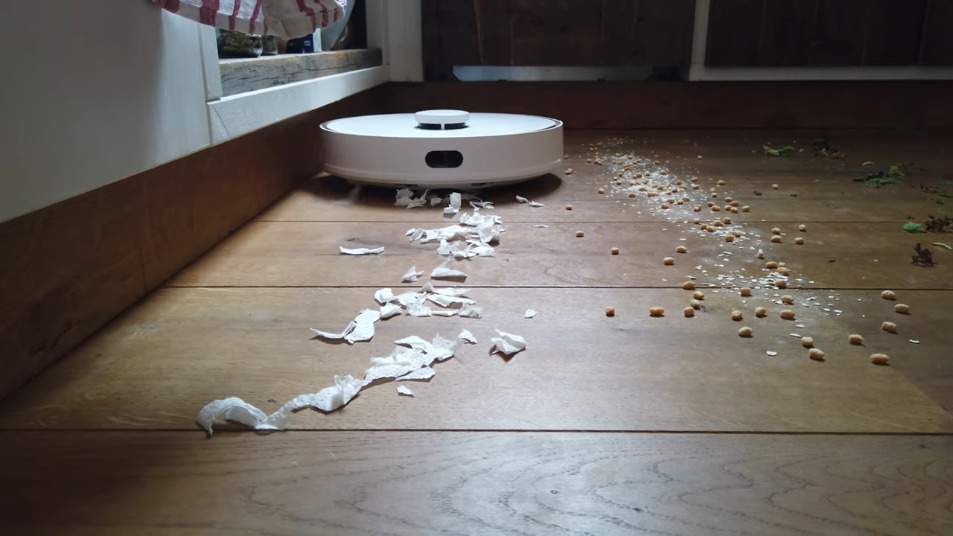 If we talk about hard floors, the models work with this coating as freely as possible.
Brushes and suction collect large debris, and wipes cope with dried spots, stains, and spilled liquids.
It should be noted that in the wet cleaning mode, the S7 can avoid carpets.
Carpets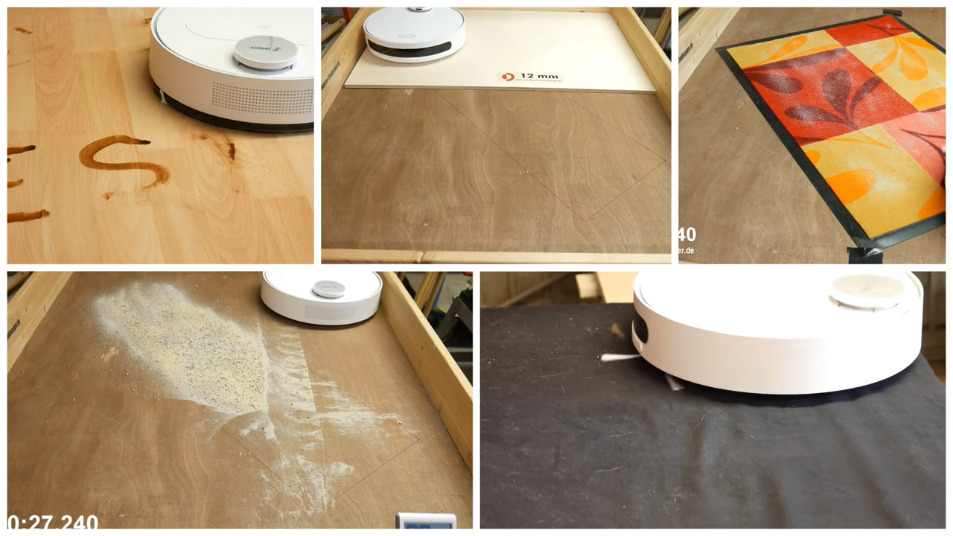 Both 360 S6 and 360 S7 are suitable for cleaning all types of carpets.

Firstly, they have a very high suction power, which is enough to lift a metal ball from the floor. So there's obviously no need to talk about the crumbs remaining in a pile.
Secondly, both models use the Carpet Boost function. This allows them to increase the effort on the piled areas and provide better cleaning.
And thirdly, a well-thought-out brush system contributes to the overall result. Side brushes and a central roller carefully collect all the debris and hair. However, note that the S7 has only one side brush, while the S6 uses two of them.
In general, we see that the vacuum cleaners belong to that high class of models that are capable of performing tasks of any complexity on any area and surface, and we simply couldn't find any shortcomings.
Frequently Asked Questions
What is the difference between 360 S6 and 360 S7 robot vacuums?
First of all, robots differ in power. 360 S6 offers 1800 Pa, while 360 S7 reaches 2000 Pa. You can also find a significant difference in run time when the S6 and S7 last for 90 and 120 minutes. 360 S7 model has a bit enlarged dustbin (550 ml vs 400 ml) and twice bigger water tank (150 ml vs 80 ml).
Besides, 360 S7 has No-Mop zones and Room Cleaning, while 360 S6 doesn`t support these functions. Finally, the younger model can overcome higher obstacles up to 0.8in. 360 S6 vacuum features slightly smaller wheels as cross 0.67in elevations.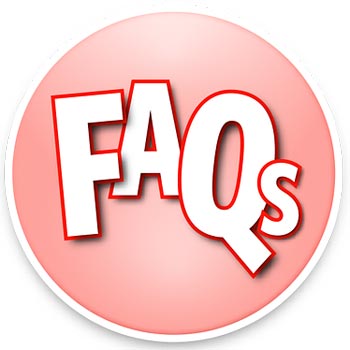 Does LDS sensor prevent 360 robots from cleaning under low furniture?
In their highest point from the bottom to the activated LDS sensor, 360 S6 and S7 robot vacuums reach 3.9in. Cleaners cannot be called too compact, but such height doesn`t significantly disturb cleaning under low furniture.
How can I reset WiFi on 360 S6 and S7 robots?
If your robot vacuum fails to connect WiFi network, or app works incorrectly, you can try to reset WiFi. Please, find ON/OFF and HOME buttons on the robot case, press them simultaneously, and hold for 3 seconds.
Then you`ll hear a sound notification "WiFi has been reset", and the light indicator will change to slow flashing purple light. It means that the reset process has been completed.
Are 360 S6 and S7 robots compatible with Google voice assistant?
Though both models work support 360Smart app and Alexa, at the moment, none of them works with Google assistant.
Conclusion
Taking into account that the average price of 360 S6 and 360 S7 is $380 and $450, respectively, they can be justly called one of the best.
Both models are a worthy analog to their main competitor Xiaomi Mi Roborock Sweep One, whose price stays in the same range.
The functionality and characteristics of these two models are on the same level not only with the Xiaomi robots but also with each other. The main differences in favor of the S7 are a slightly larger suction, a bigger dust collector, the function of avoiding carpets during mopping, and remembering up to 10 maps. The S6 is superior to its "brother" in weight, run time, and accessories.
We believe that the identified differences are not significant. Therefore, the purchase of 360 S6 will be the most profitable and rational decision. If the 360 S7 cost a little cheaper, it would clearly win more interest among buyers. But since the price is higher and the difference is insignificant, it's difficult for the robot to compete with the S6, although it features some success.