Best Robot Vacuum Under $200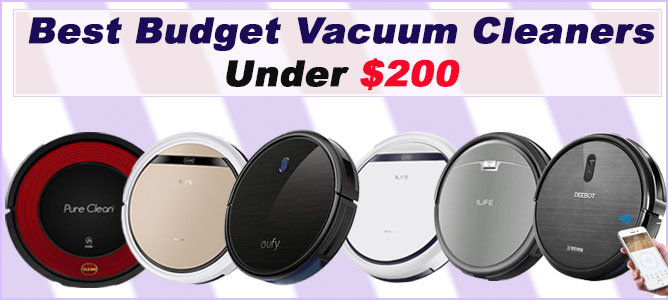 You are probably wondering just how good the best robot vacuum under 200$ can be? It turns out there are plenty of reliable robotic vacuums within this price range.
The bottom line is that budget robot vacuums offer many of the same perks as pricier models. Read along to learn about the best budget robot vacuum on the market.
What are Robot Vacuums?
Robotic vacuums offer hands-free cleaning for those who don't want to spend the better part of their day cleaning. What's more, many boast advanced features that make them even more efficient than traditional vacuums. From advanced navigation to built-in scheduling options, robovacs clean at your convenience.
The best part is:
The eufy Boost IQ RoboVac 11S is a budget-rate powerhouse. While we don't recommend this model for ultra-thick carpets, it does great on hardwood floors, tile, and thin rugs.
Thanks to its low profile and short stature, the 11S can easily navigate beneath furniture to remove stubborn dirt and debris. It has an impressive suction power rating too.
At around 1,300 pascals, not many messes are off limits. Plus, it can power up for a maximum of 100 minutes per charge. As such, the Eufy can clean a standard-sized apartment or single floor home in one session.
Still, there's no need to worry if the eufy's battery dies prematurely. The vacuum boasts a self-charging lithium-ion battery that docks itself when the power falls below a certain level. Simply connect the charging station to a standard wall outlet and let this remarkable robotic picker-upper do its thing.
Another perk of the eufy is the various preset cleaning modes. These allow homeowners to schedule custom cleaning sessions with ease. There is also a battery-powered remote control that can be used to orchestrate on-the-spot as well as preset cleaning sessions.
While the eufy's powerful motor and impressive dustbin are worth noting, the most admirable feature of this robotic vacuum is its slim dimensions. It is a mere 2.85 inches tall, allowing it to slink beneath sofas other low-hanging furniture. It also has a scratch-resistant tempered glass top. Not to mention, the vacuum can climb over door ledges and floor divisions.
Individuals with allergies will also appreciate the high-performance sponge air filter. This nifty add-on traps microscopic dust, dandruff, and hair. As such, the vacuum is responsible for improving the air quality and general livability of a space.
It is important to note that the vacuum also comes with two replacement filters.
What's more, it is backed by a worry-free 12-month manufacturer's warranty. Customers report that eufy's customer service department is easy to work with and highly responsive.
After careful consideration, we're happy to recommend the eufy Boost IQ RoboVac 11S to homeowners looking for an affordable robotic vacuum. While this device doesn't boast Wi-Fi compatibility or remote app control, you can set it and forget it. It's also got a considerably powerful suction for its price range. Not to mention, its slim structure makes it ideal for sneaking under sleek modern furniture.
This bargain-rate robotic vacuum boasts a low-profile design that leaves floors looking incredibly clean. This vacuum is programmable and self-charging. It also has smart sensors that ease its navigation over thresholds and prevent it from stumbling downstairs.
There's a lot to like about the ILIFE V3s vacuum.
The ILIFE also has some nifty navigation built-ins. For one, it has smart sensors that prevent it from bumping into walls. It also has sensors that prevent it from falling stairs. If you need to stop it suddenly, the battery-operated remote-control commands. You can also schedule automatic cleaning sessions at your convenience.
Not to mention, it is more than just a vacuum. The ILIFE also has scrubbing and mopping features. In fact, it comes with an attachable mop holder as well as a water tank. While you cannot automatically schedule mop sessions, it's a greater feature to use overnight.
For those of you who are familiar with the older V3 model, you'll be happy to discover this one is quieter and more powerful. Not only that, but the added mop function allows for far more detailed cleaning sessions. What's more, this one boasts two supplementary side brushes for an even more detailed cleaning session.
While the V3 does require minimal maintenance, it's a small consideration when you consider the amount of time it saves you. All you must do is empty the dustbin, replace the filters, and clean the side brushes.
We highly recommend this powerful robotic vacuum to homeowners struggling to keep up with their pets' and/or children's messes. The vacuum offers effective hands-free cleaning options. However, it is the wet mop feature is what sets this appliance apart from the pack. In fact, the mop is capable of removing the most stubborn dirt and grime, making this an unbeatable pick for bustling households.
The A4S is one of the newest and most powerful creations. Don't let the slim profile of this cleaning machine deter you; it has one of the most powerful suctions on the market. What's more, it is capable of thoroughly cleaning for an extended period. Besides, it has a reliable self-charging feature to ensure that it's always ready for the next cleanup.
The ILIFE A4S Robotic Vacuum Cleaner offers impressive third-generation CyclonePower for a fraction of the price of the competition. While this model does require minimal maintenance, it's not without its fair share of rewards.
For one, the central roller and side brush combo can scrape up more than most stand-up vacuums. Its navigation is on-point too. With multiple smart sensors, you don't have to worry about the A4S tumbling down a set of stairs nor trapping itself in the corner.
Another perk of this ILIFE vacuum is its incredibly extensive battery life. The machine boasts a first-class lithium-ion battery that can last well over 2 hours. Like many of the robot vacuums on our list, it also is capable of self-charging. In other words, it returns to its preset charging station just in time to refresh itself for another run. Essential upkeep includes cleaning the side brushes and replacing the performance filter. Not only that, but you must empty the dustbin regularly.
One major perk of the A4S is ILIFE's stellar customer service. The robotic vacuum comes with a generous 12-month warranty. When problems arise, ILIFE's customer service agents seem understanding and engagement. In fact, they often offer at-home maintenance and repair suggestions.
Considering all this, we're happy to recommend this vacuum to individuals looking for a super low-maintenance solution to home or office cleanup. As we stated before, the A4S requires very little upkeep. All the while, it perpetually cleans your floors at your command.
The Pure Clean robotic vacuum cleaner has what it takes to complete an allergy-friendly cleanup. For one, this puppy boasts a HEPA filter. Beyond that, it offers a total of 90 minutes of suction alongside automatic charging.
While the Pure Clean doesn't have a lot of bells and whistles, it has exactly what it takes to get the job done. For starters, the device allows you to schedule preset cleaning sessions. This way, your floors get tidied up before you arrive home. What's more, this device boasts an automatic charging feature. Built-in sensors tell it when it's time to charge, and it acts accordingly.
One of the Pure Clean's most noteworthy features is HEPA filter. This keeps pet hair, dandruff, and other pesky allergens from reentering your home environment. Not to mention, the vacuum's thin design allows it to meander below furniture and into corners that would otherwise be left to collect dust.
While small in stature, there is little that the Pure Clean can't do that push vacuums can. Not to mention its small size makes it convenient to store. Best of all, it does all the hard work on its own. Finally, it costs a fraction of the price of most well-known robotic vacuums.
We can't help but recommend this petite vacuum to individuals with apartments and small homes. While you're not able to remotely track or schedule the vacuum, it does allow you to pre-schedule cleaning sessions at your convenience. It's also best suited for those with hardwood, tile, laminate, an/or low-pile carpet.
The ILIFE V5 is the eminent all-purpose budget floor cleaning appliance. This masterful robotic vacuum sweeps, sucks, and mops. As such, it's a particularly good choice for homes and offices with hard floors. Whether it be hardwood, tile, or laminate, the V5 cleans thoroughly without you having to lift a finger.
It took us a while, but we found a reliable all-purpose robotic vacuum with the A5s.
First off, this appliance offers strong suction for when you need a reliable dry vacuum. It also has a sizable dustbin for capturing large loads of dirt and debris. What's more, when you give this monster a whirl in its signature Max mode, and you'll be amazed at what it is capable of capturing. Finally, the A5s's wet mop mode is the icing on the cake. This final feature gives you the ability to remove stubborn dirt and grime without expelling so much as a drop of elbow grease.
Of course, the A5s would be nowhere without its comprehensive design. This appliance boasts a low-profile that makes it easier for it to slip under and out of tight places. Not only that, but this innovative ILIFE product features a noteworthy self-charging feature. After 140 minutes of continuous runtime, the vacuum dutifully returns to its base for recharging.
What's more, it offers four unique cleaning modes so that you can target messes in your home. Users can choose between auto clean, spot clean, edge clean, and scheduled clean.
Keep in mind that the A5s requires minimal ongoing maintenance. For one, you need to remove and replace the mop unit and water reservoir as needed. You also need to remove the water reservoir when charging. Finally, the dust box must be emptied, and the filter must be replaced once a month.
Nevertheless, all this is a walk in the park when you consider the amazing cleaning power of the A5s. This incredible vacuum does do it all. Although, we only recommend it for homes with predominantly hard floors.
We're happy to recommend this budget vacuum to homeowners looking for an assortment of cleaning options. While this model does not boast any techy extras, it is capable of thoroughly cleaning floors on a regular basis. It's also considerably quiet.
The Ecovacs Deebot N79 Robotic Vacuum is our number one choice for homes with carpets. While we don't recommend this model for high-pile rugs, it's fully capable of removing dirt and debris from both hard and moderately soft floors. This comes thanks to the rotating helix brush that helps scrape the smallest particles from the surface of a floor. It also boasts nylon side brushes that assist in constricted areas.
The Ecovac is an extremely innovative automatic vacuum. For starters, it has a long-lasting lithium-ion battery with 100-minutes of potential life. It also boasts an integrated sponge air filter that helps eliminate allergens from your home. Meanwhile, the Ecovac has several smart sensors, including anti-collision and anti-drop radars. It also has a total of three cleaning modes, including auto, spot, and edge.
The Ecovac's most noteworthy feature is its Wi-Fi compatibility. Users can download the optional Ecovacs app to access scheduling, cleaning mode selections, accessory status, and location. The app is downloadable on both Apple and Android devices.
One downside of the Ecovac is that it is somewhat tall. For that reason, it occasionally has trouble navigating below furniture. What's more, this vacuum requires regular maintenance. This includes washing the reusable air filter, side brushes, and helix roller brush. Nevertheless, the low noise output makes up for it. Unlike many robot vacuums on the market, you can use the Ecovac while your home.
We recommend the Ecovac to individuals looking for a vacuum with app control. While we didn't find many budget vacuums with smart features, the Ecovac makes up for the shortage. This powerful vacuum is suitable for both hard and soft floors. It also has smart navigation features to prevent inconvenient performance mishaps.
What is the difference between budget robot vacuums and pricey robot vacuums?
Still wondering what the difference between budget and expensive robotic vacuums is?
Here's the deal:

Budget vacuums offer many of the same perks as comparable but pricier models.
Still, you might be wondering what exactly sets the two apart.
Pricier models also tend to have more dynamic navigation options. For one, they have more smart sensors to detect potential hazards, such as stairs, ledges, obstacles, and cords. They also have longer runtimes and typically charge themselves.
Still, many of the budget robot vacuums we looked at had some if not all these extra features. While a long list of extra benefits looks good to consumers, not all of it is necessary.
Ultimately, consumers should look for a well-engineered vacuum with noteworthy suction. The device should be capable of capturing a wide range of household debris. It should also have an integrated filtration system to prevent small dust from reentering the air.
In general, you can find plenty of bargain-rate robot vacuums with expert cleaning power. Many even have extra cleaning amenities that are worth noting.
Final Thoughts
After taking a good look at the specs, we are happy to say that many budget robots are well worth their money.
Here's the deal:
Budget vacuums come with fewer bells and whistles than their pricier counterparts. However, they are priced like stand-up vacuums while offering far more user conveniences. If you ask us, the choice between the two is an easy one to make.
After scrutinizing a variety of automatic floor cleaners, we found that the single helix rotating brushes were standard in both budget and high-end models. We also noticed that many vacuums had extra cleaning elements, like side brushes and mop heads. While additional accessories help tailor your cleaning routine, they also require additional maintenance and replacement.
Our conclusion:
Sometimes less is more.
We hope you enjoyed reading about the best budget robot vacuum 2020 has to offer.