Best Eufy Robot Vacuum of 2020 Comparison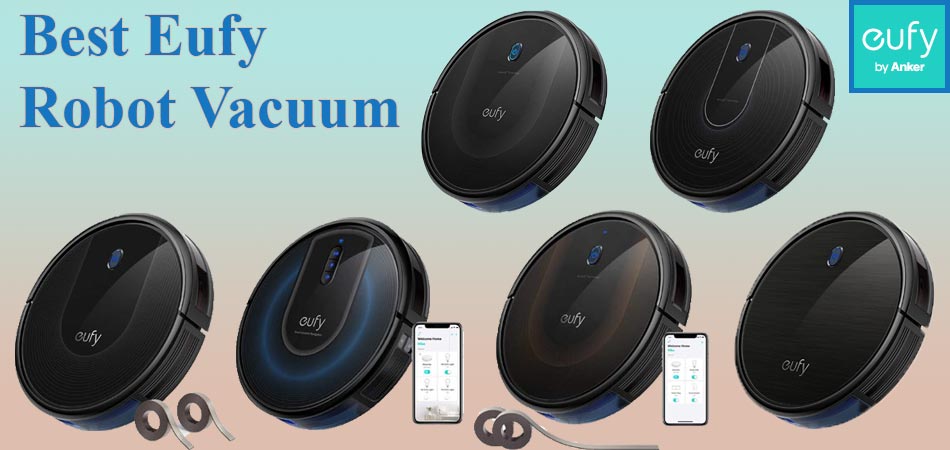 The modern pedestal of domestic vacuum robotics is divided between four brands – Roomba, DEEBOT, Roborock, and Eufy. As we've found out in the course of your other robot vacuum reviews, each of the companies proved the quality and efficiency of their products, though not all of them offer an affordable price.
Eufy is a nice exception. The name managed to develop thanks to this perfect balance of exquisite performance for decent money.
So, let's get acquainted with the brand and best Eufy robot vacuums a bit closer.
Eufy belongs to the well-known Anker Innovation. This Chinese corporation was established in 2011 by Google engineers who dedicated themselves to the development of batteries, charging equipment, wires, and other related goods. The company soon grew into the whole net of consumer electronics brands and now counts five branch productions of smart devices for entertainment, travel, and home.
Eufy was founded in 2016 as a Smart Home project that would produce budget, easy-integrated robotic cleaners for dry floor vacuuming.
By now, it has sold hundreds of thousands of smart devices. Users appreciate high power and excellent carpet cleaning, which can be met even in the most budget models.
Still, the abundance of models often confuses customers. That's why today, we're going to look through the ten most popular Eufy robots:

carpets
, and pet hair.
Main Differences Between the Models
Even a brief comparison will show that Eufy prefers using the same functional base in the majority of its devices. Thus, our today's models are identical in run time, BoostIQ, dustbins, and height.
All these features form a common foundation, which is complemented with unique characteristics later. Here they are:

Table comparison
RoboVac 11S Slim vacuum gained broad public recognition and even became the best robot vacuum of 2018. We cannot call this model fully smart because of the lack of Wi-Fi connection, app and voice control settings, and precise navigation. Nevertheless, control simplicity didn't affect performance. So if you're looking for something plain yet multifunctional and affordable, consider picking up this device.
The brush system doesn't attract too much attention – here we'll find one side brush and one central bristled roller. No height adjustment or anti-entanglement is available, but it copes with multi-surface cleaning and even thorough hair collection.
Capacious dustbin contains up to 600 ml of dirt for as rare emptying as possible. And triple-filter system included consists of a dual-layer foam filter and one high-performance filter. The unit traps about 80% of the smallest dust particles but provides no anti-allergen treatment.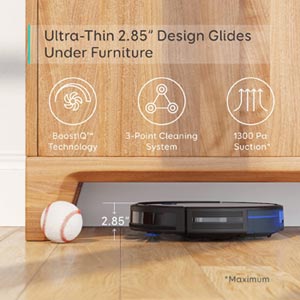 As far as this is the first Eufy vac we're scrutinizing, we'll discuss several features common for all further models. Thus, RoboVac 11S Slim is extremely thin. Its case measures only 2.85″ in height, making it the lowest robotic cleaning device. Also, Eufy offers the best balance between high power and quiet operation.
One hundred minutes of run time is another unifying characteristic. When the charge is over, it automatically returns to the dock. Base recognition works thanks to numerous sensors installed in the case. They also prevent collisions against obstacles and drops.
Though the robot is protected, such primary-level navigation doesn't contribute to cleaning accuracy. The system is called Bounce Navigation and supports random movement only.
The lack of highly precise navigation and smart control options (like scheduling) makes the RoboVac 11S Slim not suitable for large houses. It also won't cope with high carpets, satisfy allergic people, and those who have to spend much time outside and need preprogrammed cleaning.
However, if you live in a small to medium-sized dwelling with combined hard and carpeted floors, $200 is quite a beneficial offer for you. And the power is enough to eliminate even pet hair.
RoboVac 15C MAX is a slightly more advanced Eufy vac for more challenging pollutions. Now, the suction raises up to 2000 Pa to cope with stubborn dirt and deep particles even in thick carpets. The manufacturer mentions only medium-piled carpet cleaning because, despite high power, the robot may get stuck on the soft pile. Traditional BoostIQ technology only contributes to cleaning.
While the central roller and the bin stayed unchanged, users will get improved two side brushes and filtration. A more efficient unibody filter replaced the triple high-performance system. It still cannot perform anti-allergen air treatment but lasts longer and is easier and quicker to clean.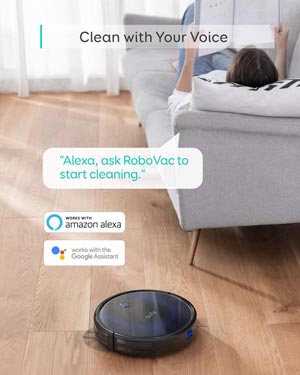 Despite the increased power, the cleaner works for the same 100 minutes and automatically recharges itself. Bounce Navigation is also based on sensors only, which is a pity.
The model would be suitable for large houses but for this random cleaning. However, included Edge and Spot modes allow the robot to make preplanned movements (like in spiral and along the walls).
But Wi-Fi support is our favorite improvement. Though users still can control the vacuum through the button or a remote control included, now they also get an opportunity to customize and run the device via a smartphone.
Eufy 15C MAX is compatible with the EufyHome app and voice assistants. Thus, you can schedule your vac for regular cleaning, set the mode, get maintenance and alarm notifications, and even give voice commands.
RoboVac 15C MAX is specially designed for all floor types, including thick carpets. Pet parents will also like its efficient hair collection though some tangling is possible. Wi-Fi made it perfect for busy people who have no time for daily manual turning on/off and prefer vacuum to clean when they are not at home.
Speaking about contraindications, the vacuum will get lost and miss dirt if applied in large dwellings. Otherwise, the model offers excellent performance for such an affordable price.
The following robot vacuum became an improved version of the 11S Slim model we've already discussed. Together with increased power, the model got an increased price of $250 too. However, it still allows the vacuum to stay within the budget price niche.
Thus, omitting repeated detailed descriptions, we'll state that the bot has the same case and uses the same central brush, dustbin, 100-minute battery with self-charging. The filtration system has need changed. This 11S representative comes with a unibody filter with multiple V-shaped cells.
Unfortunately, engineers didn't improve random Bounce Navigation, so your robot will keep avoiding obstacles and drops but won't build cleaning routes and detect pollutions.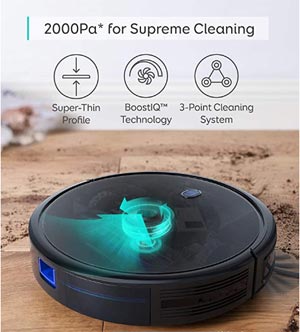 Spot and Edge modes are the only path-planning rudiments with their preprogrammed moving in the spiral and along the walls. However, it's worth mentioning that the 11S MAX now offers Quick Clean mode that will take about 30 minutes.
The MAX name indicates increased suction, which now reaches 2000 Pa. While the 11S Slim fails on thick carpets, its advanced twin will face no difficulties on the high pile. Hard floor cleaning also won thanks to dual side brushes. As usual, the Eufy vacuum supports BoostIQ carpet cleaning.
MAX suction, filter, and some other moments hint that RoboVac 11S MAX is also very similar to RoboVac 15C MAX. It is true except for one huge difference – the 11S MAX lack Wi-Fi support just like the 11S Slim does. No scheduling and voice control are possible here. They are replaced by a remote and one manual button on the case.
In a sort word, everyone who liked the 11S Slim will also find the RoboVac 11S MAX useful. It meets the same requirements and, unlike its brother, efficiently cleans thick carpets. On the other hand, drawbacks stayed the same too. We still miss Wi-Fi compatibility and precise navigation and don't recommend this model for big houses.
The 30C series has become an inevitable continuation of the previous models. But like all other robotics brands, Eufy strains after the best. Consequently, the new series vac collected all the best features of the previous bots.
Right from the start, you can forget about manual programming and running. This robot supports Wi-Fi and provides all the advantages of remote control, including our favorite scheduling and notifications.
The 30C MAX reaches maximum suction of 2000 Pa and features BoostIQ. Thus, all types of carpet cleaning are available, never minding hard floors. The old central roller is the only reason why your cleaner may fail on the high pile. So please check this moment yourself.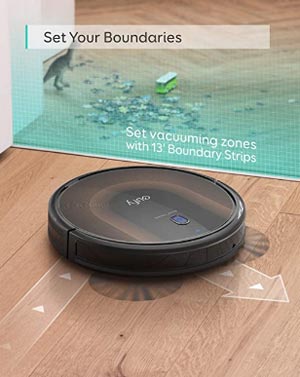 Attentive users have already noticed that Eufy rather bets on power than on precision. Once again, Eufy couldn't improve navigation and offered us old-fashioned sensor-based random moving. Though the model protects itself, it will often need your attention when missing dirt of getting stuck. So, this requirement for your effort is the main drawback.
The battery, dustbin, and filtration characteristics repeat those seen before, so we'll skip them. You may wonder now, «But what are the unique advantages of this model then»? Indeed, having borrowed all the best functions of other Eufys, this vac is the first that offered the Boundary Strip system.
RoboVac 30C MAX comes with two 13.2 ft Boundary Strips. They become somewhat like a wall or border for the robot, which it cannot cross. Strips are applied to prohibit cleaning in certain areas (like in the room with a sleeping child or near pet bowls). Inside, it is equipped with specialized dual-Hall Sensors that detect the Boundary Strips you set.
RoboVac 30C MAX will become a worthy investment if you have combined floors as well as often need only part of the house to be cleaned. Since the model doesn't support Cleaning Zone technology or the like, you can set the strips and make it vacuum only certain rooms. At the moment, the model costs $300.
Recently, the brand presented a new G30 series with two available models – G30 and G30 Edge. Both devices share the same characteristics with one minor difference we're going to discuss later. G stands for Gyro-navigation Technology, which hints on improved navigation. Is it so, and can we expect better cleaning then? Let's see.
When it comes to the 3-stage cleaning system, there are no changes here. Pet owners and allergic people may get disappointed with the lack of anti-allergen air cleaning again. But the whole filtration efficiency stays on the high level.
The manufacturer finally tried to solve the navigation problem. Apart from the classic anti-collision and anti-drop infrared sensors, the models got Smart Dynamic Navigation 2.0. It is based on the operation of a special Path Tracking Sensor that scans the dwelling and creates a neat and logical row-by-row route. The vacuums don't run chaotically anymore.
Also, apart from the standard app possibilities like scheduling, the G30 series robots support the new Cleaning history function. Just open the app to check when and where cleaning was performed.
Improved performance requires more energy, which leads to the battery question. Eufy left its standard run time of 100 minutes but changed the recharge & return function. This time, robots can both automatically return to the dock and continue cleaning after recharging right from the place they were interrupted.
As we've promised, it's time to come to the difference between the G30 and G30 Edge models. It hides in Boundary Strips. The only difference is that RoboVac G30 doesn't include any strips, while its G30 edge modification comes with two 13.2 ft virtual limiters. By the way, the presence of the strips affects the devices' price. The full kit will cost you $350, and its brother is about $30 cheaper.
Extreme suction, smart control, and even improved navigation make these two products a better option for medium and large apartments than all previous Eufy cleaners. They deal with all surfaces. But non-random moving allows for covering a larger surface for a shorter time and minimizing dirt missing.
We've recently scrutinized the 30C MAX model, and you may guess from the name that the current device will be quite similar.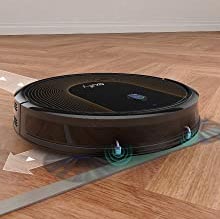 In a short word, the RoboVac 30C shares all the same features related to case design, 3-stage cleaning system, filtration, battery, etc.
As usual, the vacuum uses sensor-based primary Bounce Navigation. When it comes to controlling, this 30 series vac supports Wi-Fi and accompanying technologies for worry-free remote customization.
Among the units included in the kit, we distinguish a remote control for those who prefer old-fashioned control methods and two Boundary Strips. As we've already discussed, the latter allows for significantly improving navigation and cleaning accuracy.
The main difference between the 30C MAX and the 30C is power. This model offers 1500 Pa of maximum suction compared to the previous 2000 Pa. Complemented with BoostIQ, the robot copes with all hard floors and low, medium-piled carpets, but the high pile is a prohibited zone for it.
RoboVac 30C costs about $250. Thus, you get an absolutely identical C series model with a $50 discount for less suction. If you don't have lots of carpets and pets, you can surely save this money and get 1500 Pa of power, which is ok for most houses. And the presence of virtual limiters is a special pleasure for us.
We continue moving downward the 30 series and now come to the RoboVac 30 model. This is the most affordable yet the simplest representative of the lineup. In its core, the cleaner includes the same technologies, but certain changes are noticeable.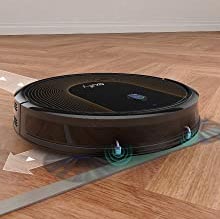 The suction and mode part completely coincides with the one seen in the 30C vacuum. This robot offers users the choice of Auto, Spot, and Edge modes as well as maximum BoostIQ power up to 1500 Pa.
Engineers kept the same charging function, 100 min battery life, sensor navigation, and brushes with the dustbin. As usual, battery life is great, and the noise level is quieter than you'd expect. Besides, despite its simplicity, Boundary Strips are still included in the kit, which is a great addition.
The moments we'd like to focus on are filtration and control. Though its more advanced brothers are equipped with unibody filters, the 30 vacuum uses the older triple-filter system. One high-performance and two foam layers seem to provide more thorough dirt trapping, but in fact, the filter is slightly weaker.
And our greatest pity is the lack of Wi-Fi support. You can set daily cleaning and mode with the help of a remote control only.
To summarize, RoboVac 30 is simple to use and does a great job. It is powerful enough for medium carpets and pet hair cleaning as well as so quiet you can run it at night. However, the sensors and further navigation are mediocre at best. Get ready to have to constantly watch your robot to make sure it didn't miss dirt. Also, we cannot recommend this product to allergic people and people with respiratory diseases.
If you don't have lots of carpets and stairs, this is a great basic level device for routine cleaning. Wi-Fi stays a great loss, but if you don't have to often leave your working vacuum alone at home, you can overcome it.
The model costs $200-$240, and there are even cheaper renewed models under $200.
In the majority of characteristics, RoboVac 12 is similar to the C30 vacuums. Perhaps, such similarity played a trick with the model. Users are not very acquainted with this Eufy device and pay attention to more well-advertised robots.
Anyway, here, users also get so loved BoostIQ smart carpet cleaning with the suction up to 1500 Pa. All this power will last for 100 minutes thanks to an excellent battery (but please mind that the max suction will spend charge within 45-60 minutes).
Navigation is traditionally poor, based on anti-collision and anti-drop sensors spread all over the case. Random coverage tries to pick up all dirt, and standard bristled roller with dual side brushes do their best to help. Please pay attention that Eufy 12 is equipped with the triple-filter system.
The model costs about $240, and for this money, you will get no Wi-Fi connectivity. So what is the robot's advantage then if it is so mediocre and similar to all other Eufy products?
While both characteristics and price range of the vacuum have nothing special to offer, it is the only robotic cleaner that provides a 2-year warranty. All previous Eufy models feature only 12-month coverage.
Thus, Eufy RoboVac 12 is the best option for those worrying about the robot's service life. Performance allows it to deal with the same pollutions and floors as other cleaners but doubles service coverage protects your investment.
Here is another extremely affordable robot vacuum cleaner under $200. RoboVac 15T managed to save nice 1500 Pa suction and run time like its brothers but sacrificed smart control functions.
Unfortunately, we wouldn't find here app control options as well as compatibility with smart speakers. Consequently, scheduling is almost impossible – the maximum you get is a remote control with its cleaning setting that needs to be renewed every day.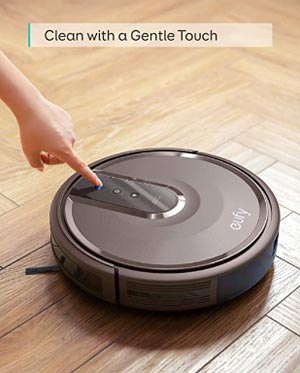 Budget price means that you will have to start cleaning manually. It is not a problem for housewives who can monitor the process and help in real time. So, $200 seems like an excellent offer.
Besides, the vacuum is still quite worth purchasing with all its basic level features thanks to the special Touch-Control Panel. It is installed on the top of the robot case and includes three buttons for manual Turning On/Off, setting Spot Cleaning, and Returning Home. The Panel provides more programming options than common Eufys so that you can run it even without a remote.
Hard floors and carpets up to the medium-piled are a piece of cake for the 15T vac.
But traditionally, tests show it fails of the high pile and may face difficulties with pet hair. A high-performance air cleaning system eliminates about 85% of particles, which is also ok for healthy people.
Let us close the review with the RoboVac 35C model. The robot combined easy setting and controlling both manually and via the Wi-Fi tools as well as cleaning area restriction through strips.
The model provides the maximum of the smart control functions available in the cleaners presented. Here, you can integrate your vacuum into the Smart Home system as both Alexa and Google Assistant speakers are supported. Hard workers who are always at work can start and stop cleaning remotely through the EufyHome app or even program it for a week in advance.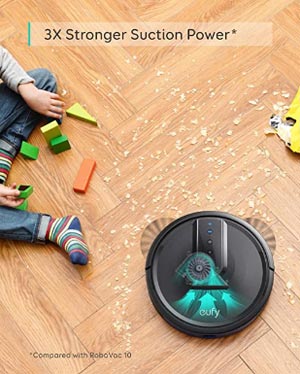 Though sensors make robots avoid obstacles, 6ft Boundary Strips only contribute to accuracy. You have already noticed that walls are shorter than those offered by the 30 series vacs. Still, even twice a shorter length is enough for spot barriers set.
Smart control is reinforced by traditional manual options like a remote and Touch-Control Panel identical to the one in the T15 model.
Other characteristics coincide with those seen in the review. Eufy stays true to itself and uses its classic 1500 Pa suction with BoostIQ, 100 minutes run time and high-performance filtration.
The ultimate control and programming abilities will cost you about $240-$250. Besides, carpet and hard floor cleaning stays on the same level.
Conclusion
Face to face comparison proved that the brand has lots of almost identical models for close prices. The majority come with only 1-2 distinguishing features, like the presence of boundary strips or Wi-Fi support. So is there the reason to purchase?
Undoubtedly!

There are moments we don't approve like weak filtration, random navigation, and pair tangling. Owners of multi-story or cramped houses will not like these devices. If your pets have long hair, you should be ready for frequent roller cleaning or look for another brand.
Still, we certainly recommend Eufy vacuums as affordable options for everyday cleaning in small and medium apartments. Even the most expensive models of this brand cost under $350, which is nothing compared with Roombas or Sharks. Also, these cleaners provide one of the best power and carpet cleaning characteristics.