Best Friday Vacuum Cleaner Deals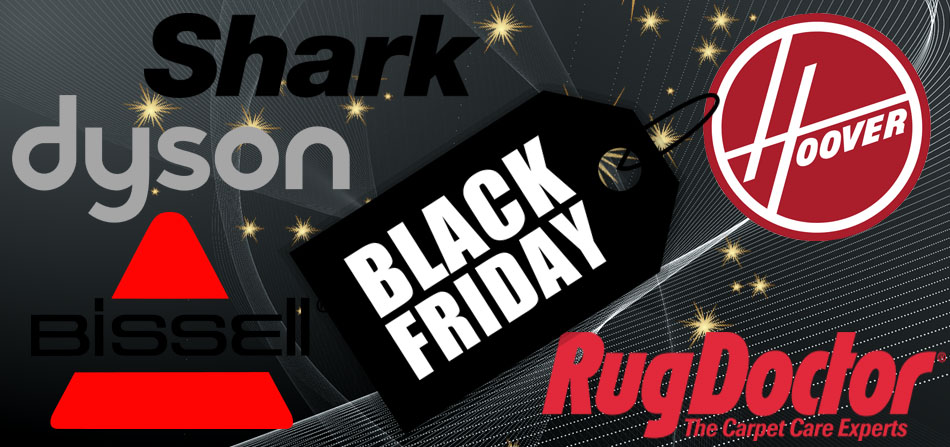 Cleaning your home can feel like a stressful full-time job, especially if you have kids, pets, or a messy roommate.
Thankfully, Black Friday inches closer each day! The most awaited shopping holiday will take place on November 29th this year; hence, you can finally snap a vacuum cleaner at a substantial discount.
However, don't risk yourself buying a cheap vacuum that will crap out within a few months. Do your research while you wait.
This is exactly why we rounded up some fantastic deals on vacuum cleaners from household brands. Read on and learn which one is best for your home!
What Vacuum Cleaner Should You Buy?
Having a vacuum cleaner is the fastest and simplest way of keeping your house squeaky clean. However, you don't just buy whatever unit your friend is using. It is crucial to get the right type of vacuum cleaner to keep up your home.
But if you want a smart cleaner with a futuristic vibe, we also have a list of robot vacuums to choose from.
Here, we focused on bagless upright vacuums and cordless/stick models.
Cylinder vacuums are compact and work by having an extendable tube. However, they are challenging to manage, and they demand more wattage.
Upright vs. Cordless/Stick
Upright Vacuum Cleaners
An upright model is an excellent option if you are looking for a portable and lightweight vacuum cleaner with a lot of suction power.
These units feature belt-driven brushes that run against the surface, as well as an agitator beater bar that loosens dirt before the fan sweeps it up to a tube that leads into the canister. The dirt remains in the container while the filtered air travels across the motor and out of the device.
Upright vacuum cleaners are suitable for large homes with carpets and rugs. While they are reasonably easy to control, their flexibility is limited.
Cordless/Stick Vacuum Cleaners
The wire-free convenience of cordless/stick vacuum cleaners is a growing trend in the market.
Cordless/stick vacuum cleaners are suitable for pet owners living in apartments or small homes. But you can also use one as an alternative if you already have a heavy-duty vacuum cleaner for more demanding tasks.
Although these units aren't as powerful as upright cleaners, their versatility and simplicity make up for that.
You can convert these nifty machines into a handheld vacuum for cleaning delicate furniture. Just keep an eye on battery life.
Bagless vs. Bagged
The reason why we feature bagless upright vacuums in this list is because they have more benefits compared to bagged models.
The primary advantage of a bagless vacuum is that there is no loss of suction while your cleaner fills up.
Another benefit is that you don't have to buy bags; hence, it saves you money in the long run.
Accessories
Some vacuum cleaners specialize at many tasks, while others use tools to make them open to more variety.
So, always check how versatile the unit is and what accessories come along with it.
Energy-Efficiency
Don't forget to check on the energy efficiency of your vacuum cleaner. You may stash a pile of savings on Black Friday, but your electricity bill may skyrocket all year through.
Best Black Friday Vacuum Cleaner Deals
Hoover Black Friday Vacuum Deals
Hoover is notable for providing high-quality vacuum cleaners at affordable prices.
But budget-wise shoppers know that you can stash extra savings on Hoover Black Friday vacuum deals.
The Hoover Linx Cordless Cleaner is powered by WindTunnel® Technology; hence, it gets all the dust and grime from inaccessible areas.
Likewise, its compact and sleek design allows it to scoot underneath furniture and clean those hard-to-reach spots with ease.
This outlet-free vac is particularly handy for those who live in apartments or small homes.
While this cleaner doesn't fare quite well on high-pile carpets and rugs, it does a splendid job on hard floors, particularly on pet hair.
As for longevity, the Linx lasts for 20 to 30 minutes before you juice up the battery.
Currently, the Hoover Linx Cordless Cleaner has a cut-rate price of $129.99, which is 35% off its standard price.
The Hoover Power Drive Pet is a bagless upright vacuum cleaner that uses a carbon HEPA filter and multi-cyclonic technology.
While the carbon HEPA filter eliminates odors and traps microscopic particles from the air, the latter throws dust and debris out of the airflow directly into the canister. Therefore, this tech promotes the cleanliness and longevity of the filter.
The Hoover Power Drive Pet has relatively strong suction, and it comes equipped with a pet turbo tool that makes it suitable for homes with pets and medium-pile carpeting.
Despite its bulkiness, this unit is surprisingly maneuverable because of the swivel steering feature.
You should be able to get this unit for around $140 today. The current price is already 23% off its MSRP.
But like any vacuum cleaner, this model will have a significant discount once again during Black Friday.
Bissell Black Friday Vacuum Deal
We are expecting to see several Bissell Black Friday vacuum deals again this year, but there is one particular unit we are tracking the price savings this coming holiday.
Whether you have a bunch of messy kids or non-stop shedding canines, the Bissell CleanView Swivel Rewind will help keep your home pristine without the strains of cleaning.
This machine boasts of godly suction power paired with a triple-action brush roll.
The unit also comes with multiple specialized accessories to give it a boost.
While the ball-joint swivel makes it a cinch to vacuum bare floors and carpets, the crevice tool works well with cat trees, dog beds, window sills, etc.
This vacuum has a 27-inch cord, so you won't have to stop and swap electrical outlets. Plus, the "cord rewind" feature gives a neat way to store the electric cord.
From $159.99, the Bissell CleanView Swivel Rewind is now down to $139, giving you $20.99 (13% off) worth of savings already.
Shark Black Friday Vacuum Deals
We also look forward to seeing Shark Black Friday vacuum deals this 2019. Last year, we witnessed deep price cuts from this famous brand.
This year will be no different, considering there is a multitude of homeowners who will give their money for this brand.
The Shark Rotator Powered Lift-Away TruePet combines three vacuums into one — a robust upright, a lift-away pod, and a hassle-free canister.
As the name hints, it has a lift-away feature that separates the dust bin from the cleaning head for a floor-to-ceiling vacuuming.
This unit also comes equipped with LED lights on the wand to illuminate dark areas in your home.
Thanks to its fingertip controls, you can switch between modes conveniently as you vacuum.
This powerful vacuum also comes with multiple specialized tools — the best one being the TruePet Motorized Brush.
Although it is a little heavy, the vacuum features swivel steering and a 30-foot power cord.
The Shark Rotator Powered Lift-Away TruePet is listed for $159.99. Thus, you get 30% worth of savings, given that it amounts to $229.99 before.
Vacuuming is not an insufferable chore with the Shark Navigator Lift-Away Deluxe upright vacuum cleaner.
This model looks similar to the Rotator NV752, and it uses the same filtration system, cyclonic tech, and 120-watt motor to boot. However, the NV360 is lighter and easier to maneuver compared to the NV752.
If you want a smaller and lighter vacuum, this model is the way to go.
The Shark Navigator Lift-Away Deluxe upright vacuum cleaner is listed for the same price as the Shark Rotator NV752.
Dyson Black Friday Vacuum Deals
Dyson has a knack for designing stylish and powerful vacuum cleaners, but they are best known for their cordless models.
However, such products carry a premium price tag, which is why we can hardly wait to see Dyson Black Friday vacuum deals again this year.
Mold, dust bunnies, and other impurities can't stand the deadly combination of the high-torque cleaner head and digital motor of the V11.
This model boasts 40% more suction power than previous Dysons. Its whole-machine filtration captures 99.97% of microscopic particles and hurls them straight into the canister.
This vac also has an LCD, which shows its performance and the 60-minute runtime countdown.
We expect to see the V11 Torque Drive with a small price cut this Black Friday.
Given it is Dyson's newest and most powerful model, some would still find it a little too pricey. If you want to suck up bigger savings, you have to pick on older models, such as the V7.
Dyson Cyclone V10 performs flawlessly on all surfaces, as it comes equipped with four accessories and intensities.
Its fully-sealed filtration system picks up particles that are up to 0.3 microns in size. With an excellent 60-minute runtime, it would suit those with spacious homes.
The biggest slash we've seen for the Cyclone V10 is $150.99 or 30% off its original retail price of $499.99. Nonetheless, we predict another significant reduction in this model because of the advent of the Cyclone V11.
The cordless V7 quickly transforms into a handheld vacuum for versatile cleaning. With up to 30 minutes of fade-free run-time, you can ensure the cleanliness of your home each day.
This unit is acoustically engineered to operate 50% more quietly at the same powerful suction.
Therefore, it is ideal for households with toddlers and anxious pets.
The Dyson V7 currently retails for $279, giving you $120 worth of savings since it sells for $399 at first. Still, that is a steep cost for a previous model, and so, it is likely that there will be a chunky price cut during this year's sales.
Rug Doctor Black Friday Deal
Technically, this product is a carpet cleaner rather than a standard vacuum.
But if you have a large home with multiple area rugs and carpeted rooms, you definitely check out this Black Friday Rug Doctor deal.
This machine is a professional-grade carpet cleaner powered by a 1300-watt motor.
It comes equipped with a 26-centimeter rotating brush with crossaction bristles, as well as another row of bristles that oscillate back and forth.
Stains caused by muddy paws will no longer be a problem, thanks to its super boost spray located behind the unit. Likewise, the 3.2-liter capacity tank is located on top of the floor head.
Although the cleaner is heavy at 24 pounds, it is armed with two huge wheels and a handle — both of which you can fold flat for storage.
How to Save Your Money on Black Friday
It Pays to Do Your Research
Stores and retailers will put unbelievable discounts on vacuum cleaners, and suddenly, getting a premium vac no longer becomes a pipe dream.
However, this is also a convenient time for merchants to milk a fortune by selling off unwanted products.
Therefore, choosing the best Black Friday vacuum cleaner deals can be a minefield.
Wait to Grab the Best Deal Possible
Black Friday is greeting us on November 29th this year.
Some retailers will make a head start, but unless you are in a dire need for a vacuum cleaner, we suggest you wait until the date arrives to secure bigger savings. This way, you will have more money to spend on other items.
Shop Online
The most awaited sales event often causes mayhem, so we appreciate the peace and quiet of online shopping.
Another benefit of shopping online is that you can browse through and compare deals with just a few clicks.
Note:
Amazon usually runs its
Black Friday deals
longer than most retailers and may again extend for an additional week after
Cyber Monday
.
Conclusion
Back in the days, the vacuum cleaner market was once ruled by Hoover. In fact, people used to use "hoover" as a general term referring to any vacuum cleaner. Today, the diversification of vacuum cleaners has taken off exponentially and given us plenty of options to choose from.
Among the famous brands that now dominate the market alongside Hoover are Dyson, Bissell, and Shark. Each brand has a unique approach to vacuum cleaning, although frequently they yield similar results.
We can only hope that this year's deals will be as great — or perhaps even better than last year's offers.
Remember, there will be a swarm of poorly rated units alongside the top performers. Hopefully, this guide will help you separate the low-price units from the genuinely great deals.
Better yet, just choose among our recommendations to get more bang out of your buck!