Bissell 1806 vs Bissell 1940 vs Bissell 1940W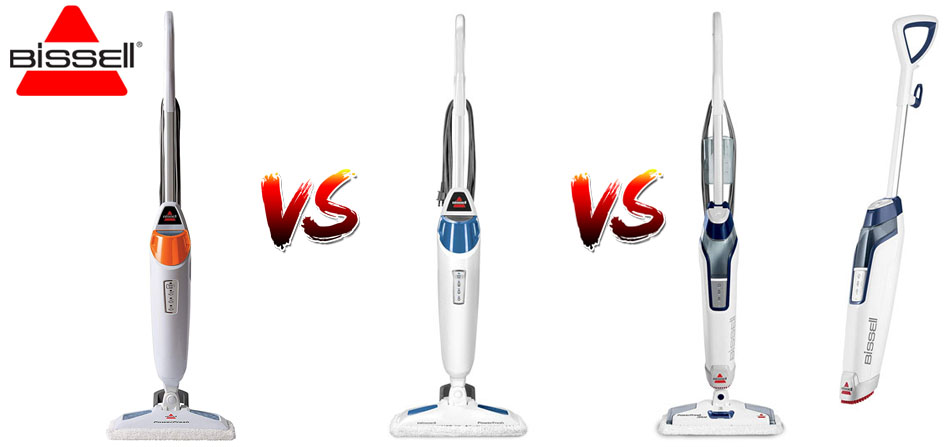 Experts and users note that such cleaning appliances as steam mops have been becoming increasingly popular around the world.
This phenomenon is entirely explicable, for they combine a number of beneficial qualities that distinguish them even from vacuums and robot cleaners.
Using a steam mop, you can easily clean all types of hard surfaces, including sealed hard floors.
A portable handheld steam cleaner is perfect for cleaning kitchens, bathrooms, garden furniture, and many others.
Besides, no hazardous household chemicals or additional cleaning agents are required. The device makes it possible to clean and disinfect the surface only with heated steam, which destroys dirt, deeply ingrained contaminants, and bacteria, leaving it completely clean.
Bissell brand
, which has long been engaged in the production of various cleaning equipment. So, let's begin the comparison of Bissell 1806, Bissell 1940, and Bissell 1940W.
Main Differences Between the Models

The first difference is dimensions, especially the height of the steam cleaners. Though all three mops weigh the same 6 pounds, the 1806 model features 9.5 x 13 x 46 inches, the 1940 cleaner has 11.6 x 7.1 x 28.6 inches, and the 1940W is as compact as 11.3 x 7.3 x 26.1 inches.
The models have different lengths of the power cords, too. Bissell 1806 and 1940W are similar in their 25 ft wire, while Bissell 1940 uses a bit shorter cable of 23 feet.
Though the 1806 and the 1940 mops come with white and blue colors, the 1940W boasts of orange spectrum in its water cup.
The first appliance of our review has only two steam control levels – low and high ones, while the others provide three levels, i.e., low, medium, and high.
For local cleaning and complicated pollutions, Bissell 1806 applies a SpotBoost brush, which needs a particular installation. Bissell 1940 and 1940W use an easy scrubber that is set on the mop body and can be prepared for exploitation with one press of the button.
Price: as we see, the first two steam mops cost the same $90, while the last model is a bit pricier with its $96.
Surface Type
Sealed hardwood, ceramic, linoleum, granite, marble
Sealed Hardwood, Ceramic, Linoleum, Granite, Marble
Sealed Hardwood, Ceramic, Linoleum, Granite, Marble
Surface Type
Sealed hardwood, ceramic, linoleum, granite, marble
Surface Type
Sealed Hardwood, Ceramic, Linoleum, Granite, Marble
Surface Type
Sealed Hardwood, Ceramic, Linoleum, Granite, Marble
Bissell 1806 is a fairly compact, portable wired steam mop cleaner for hard floors like hardwood, linoleum, ceramic, tile, marble, and granite.
The height of 46 inches, 6 lb weight, and 25 feet of wire help ensure easy use and access to all contaminated areas. The device also features swivel steering for cleaning under furniture and near the legs.
The steam mop allows the user to select a cleaning mode depending on the degree and location of contamination. So, in addition to the main washable soft pad, the kit includes the washable scrubby pad and the sturdy SpotBoost brush for more thorough local cleaning.
Above the pad platform, we see the body of the device, where the water container and several control buttons are located.
The container holds 16 ounces or 470 ml of pure water that can be measured by a special measuring cup. A 12-amp heater that consumes 1500 watts turns it into steam in 30 seconds and spreads over the surface.
There are three buttons on the body: an on/off one, as well as two buttons "low steam" and "high steam" for digital steam control.
Bissell 1806 doesn't need any chemicals as it can refresh the air with its spring breeze scent disc inserted into a built-in disc tray. And for those who want to provide even greater freshness and a pleasant aroma after cleaning, Bissell scent waters are available for extra purchase.
One item costs about $90, but you can get the whole set with additional pads and scent discs for a total of $120.
Why we like it: The combination of an affordable price and a full kit that includes several types of pads and brush, aroma discs, and a measuring cup. We also highlight compact dimensions and two steam settings.
Bissell 1940 is very similar to the previous model, but it still has a number of improvements.
Like every mop of that kind, this cleaning device works from the network and consumes 1500 watts. The cleaner is connected to the socket using a 23-ft wire, and the water in the 16 oz or 470 ml water tank is heated to a high temperature, providing steam. The device is ready for use within 30 seconds after turning on.
The steam mop weighs 6 pounds at the height of 28.6 inches from the handle to the pad. The case of the steam generator itself consists of a water cup and four buttons. Buttons provide turning the device on and off and are also responsible for adjusting the three main steam levels – high, medium, and low.
For various types of contamination, engineers provided several nozzles. The standard one is a washable soft pad; others are a washable scrubby pad and the flip down easy scrubber for tough, sticky messes. The easy scrubber is already mounted in the mop body and can be set to work with a press of a clip button. Swivel steering provides better and faster access to hard-to-reach places.
The 1940 model perfectly disinfects surfaces, moisturizes the air, and neutralizes unpleasant odors with just one aroma disc or extra scent liquids. At the same time, the mop works with minimal water consumption, and no chemical agents are required.
This device is suitable for use on the hardwood floor, linoleum, granite, marble, and ceramic.
You can get this steam mop for $89 while the full kit (the mop with extra pads, fragrance discs, and liquids) will cost you $121.
Why we like it: Three digital steam levels, handier scrubber, and more compact size for the same money.
As the name implies, Bissell 1940W is a modified steam cleaner based on the design of the 1940 mop model. The new device has the same weight of 6 pounds, but a more compact size of 26.1 inches. The mop is plugged in and has a 25 ft wire that can be conveniently attached to the handle. If we talk about the color scheme, here we see the insertion of orange plastic in a water container. The steam mop is perfect for all types of hard floors except for waxed parquet and laminate.
Unfortunately, the manufacturer did not indicate the power and energy consumption of the device; however, the similarity with the previous model and the presence of the same three levels of steam intensity allow us to assume that the voltage remains at 1500 watts. Set low, medium, or high steam with the three control buttons on the case. The model also has a removable water tank of 16 ounces or 470 ml.
The device is capable of destroying up to 99.9% of dangerous bacteria without the use of household agents. However, for more freshness and pleasant aroma, manufacturers added a scent disc inserted into a special disc tray. The device uses a washable soft pad as the main means of collecting dirt and debris. Additionally, there are a washable scrubby pad and an easy scrubber. You may use robust scrubber even for refreshing the pile of small rags and low carpets.
The bare Bissell 1940W costs $96. If you'd like an additional set of discs or scent waters, you'll have to pay extra dollars.
Why we like it: Smaller height with longer power cord makes it both more compact for storage and more maneuverable. Plus, mind striking bright color.
FACE TO FACE COMPARISON
Cleaning Performance
All Bissell mops eliminate almost 100% of dirt and disinfect hard surfaces with steam under pressure. They also heat water for less than a minute and are ready to work within 30 seconds.
Bissell 1806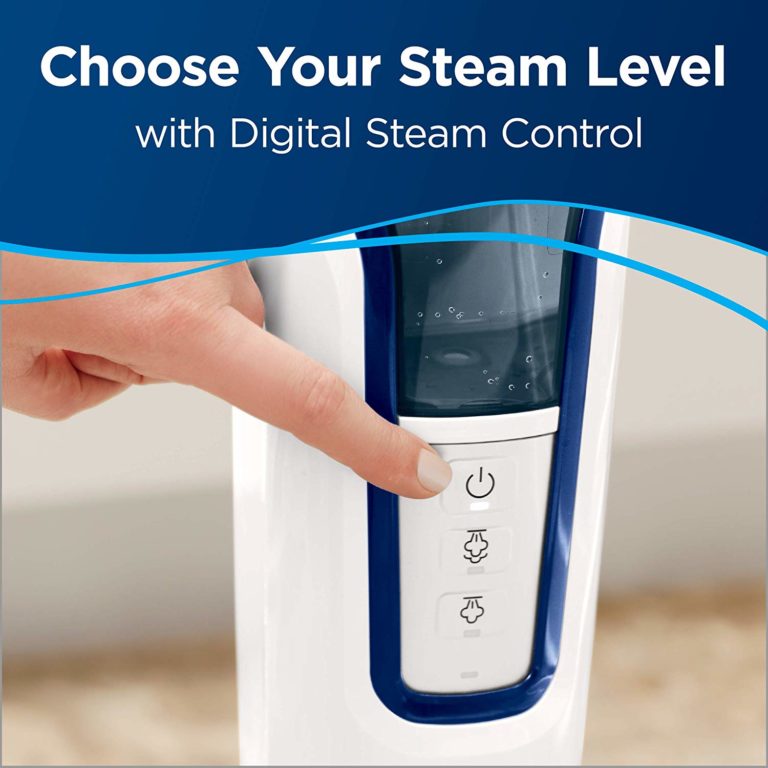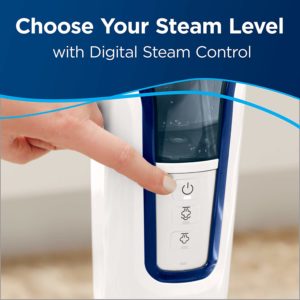 This steam mop performs high-quality cleaning using two steam levels.
Two buttons for digital control provide high and low steam pressure for different types of pollution and floors.
This device is applicable to the hardwood floor, marble, tile, and granite.
Bissell 1940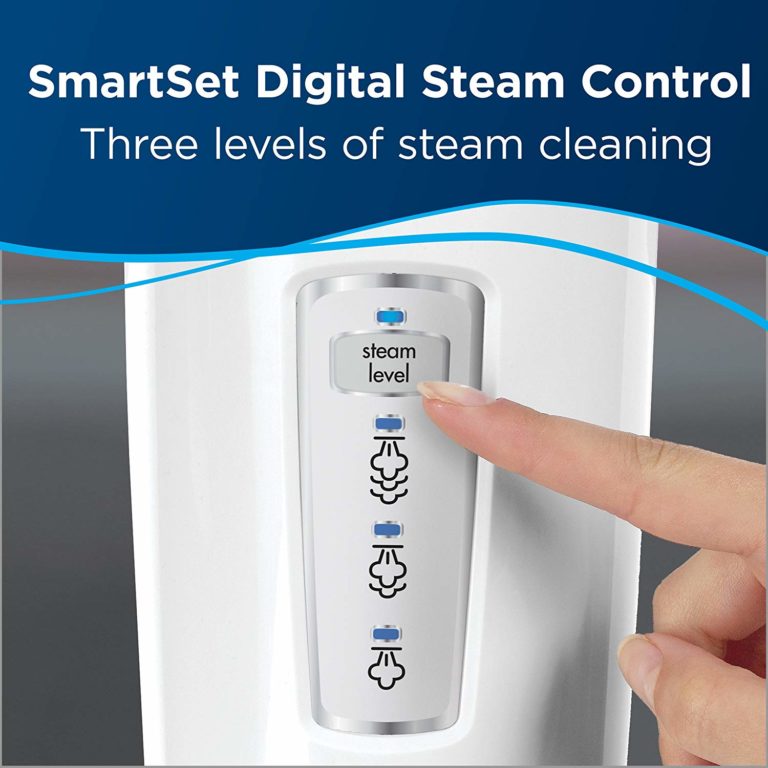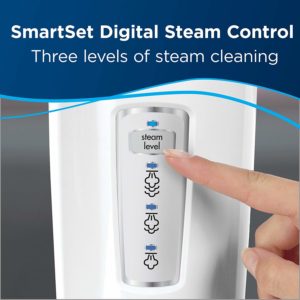 The 1940 model provides you a choice of three steam levels – low, medium, or high – for hardwood and linoleum of bedrooms and living rooms, ceramic and tile of bathrooms or kitchens, as well as marble and granite floors of the house.
Bissell 1940W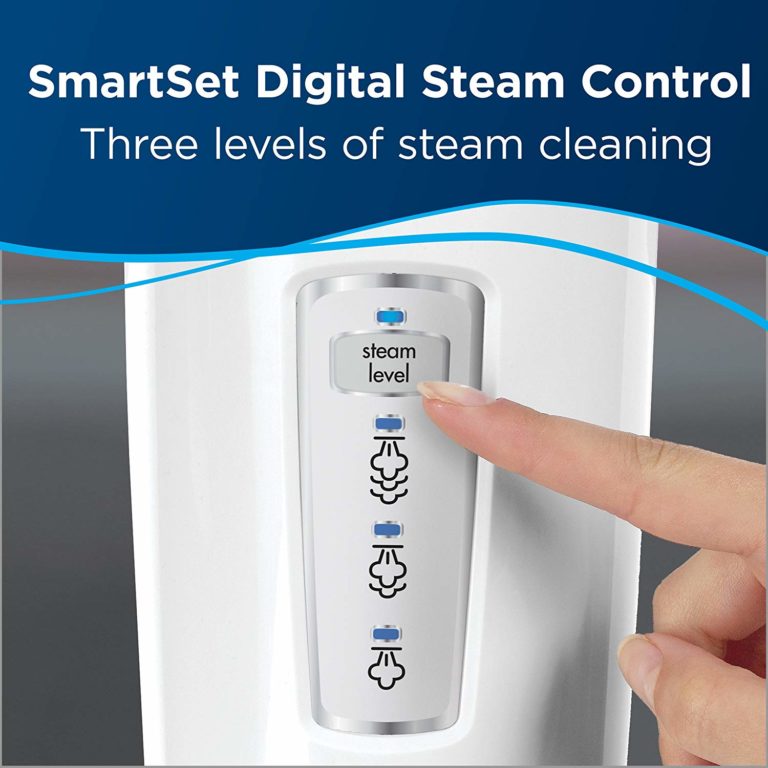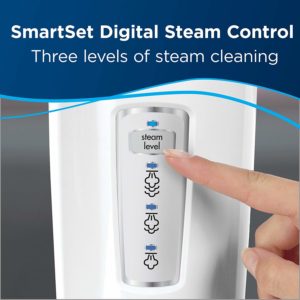 Here we see the same low, medium, and high steam levels and elimination of 99.9% of bacteria.
Moreover, the cleaner moisturizes and refreshes the air, which is extremely important for respiratory system health.
Cleaning Technologies
Bissell 1806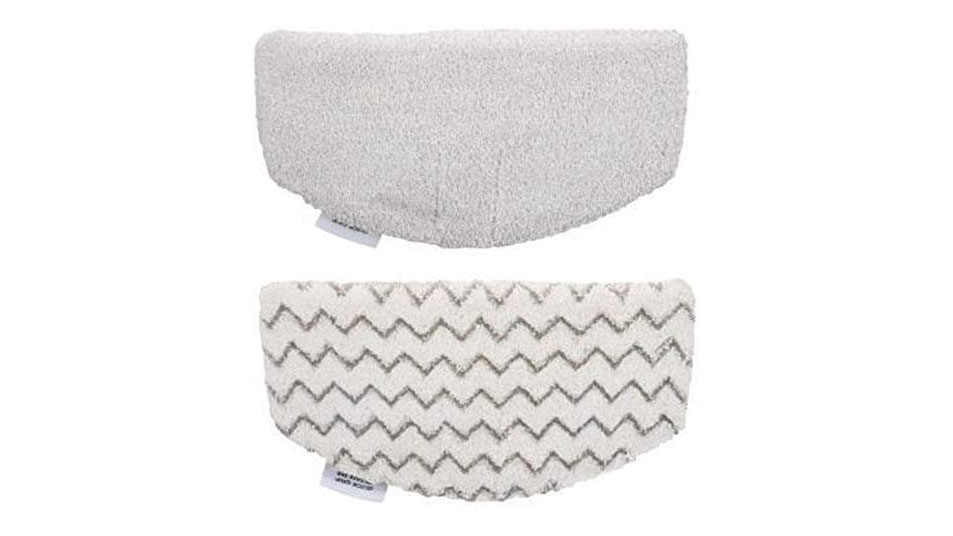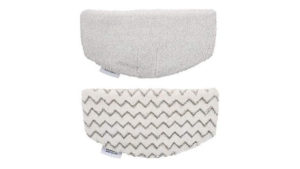 Surface cleaning is performed due to the usage of special pads and nozzles.
The main cleaning tool is a washable soft pad, which collects big and small debris as well as hair. The second washable scrubby pad is designed for stickier messes, and the tough SpotBoost brush copes with extra difficult dirt and local spots.
You can easily cover every piece of your floor, even the one full of furniture, due to the swivel steering.
Bissell 1940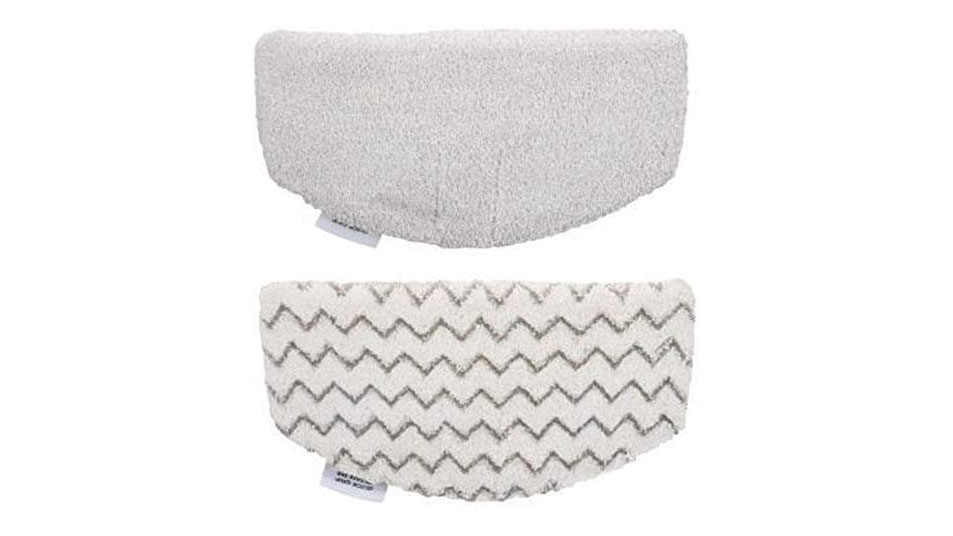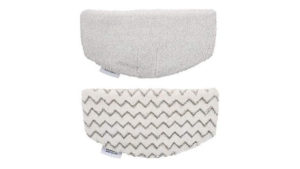 Bissell 1940 uses the same soft pad for everyday cleaning and the same scrubby pad for more challenging cases. Nevertheless, the worst dirt can be deleted by the easy scrubber.
There is also swivel steering for areas around the furniture legs and some fragrance discs for freshness.
Bissell 1940W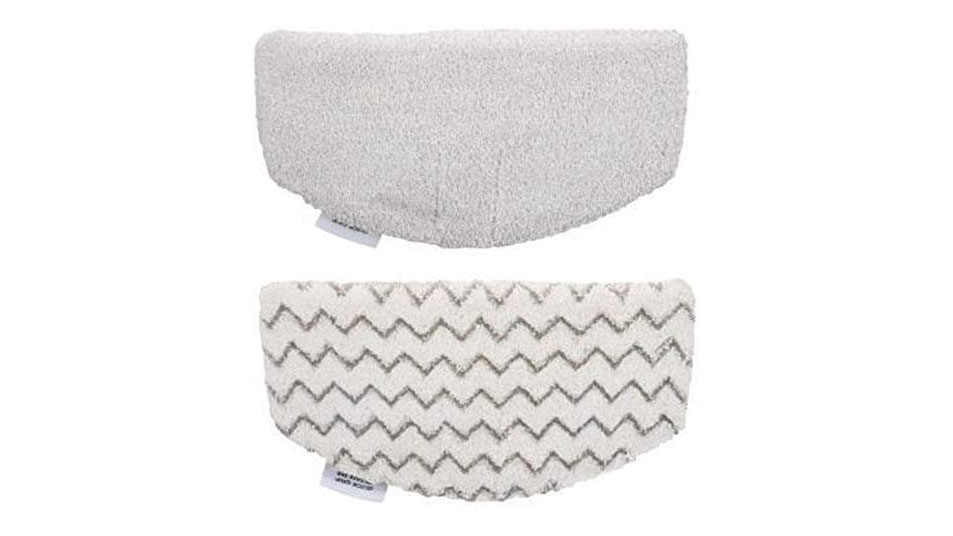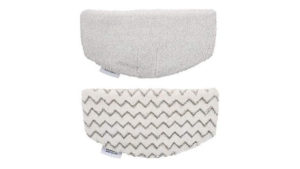 As this device is similar to the previous one, it applies identical cleaning technologies – a washable soft pad, a scrubby pad, and an easy scrubber.
Scent discs and scent waters obtain a pleasant smell.
Size and Dimensions
Bissell 1806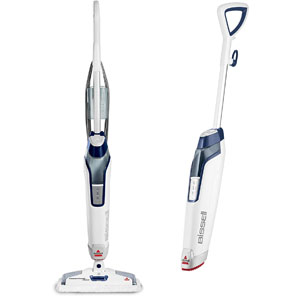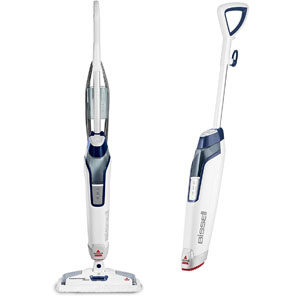 The presented item weighs 6 pounds, and its dimensions are 9.5 x 13 x 46 inches.
Bissell 1940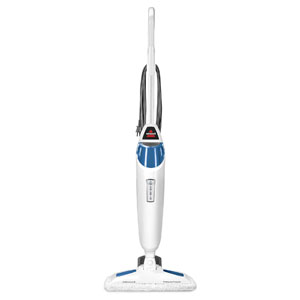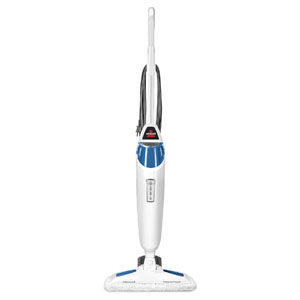 Bissell 1940 features 11.6 x 7.1 x 28.6 in. size and, though being smaller, weighs the same 6 pounds.
Bissell 1940W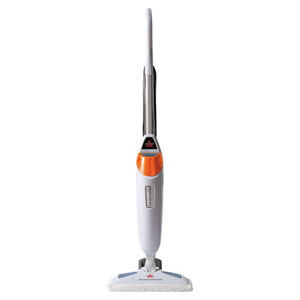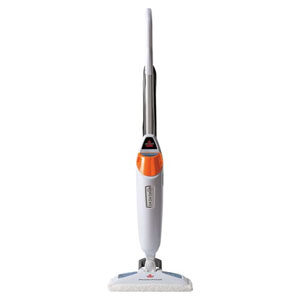 The 1940W model is the most compact of the three, with its 11.3 x 7.3 x 26.1 in. dimensions. And the weight of the mop didn't change – it measures 6 pounds.
Pet Hair Removal
Bissell 1806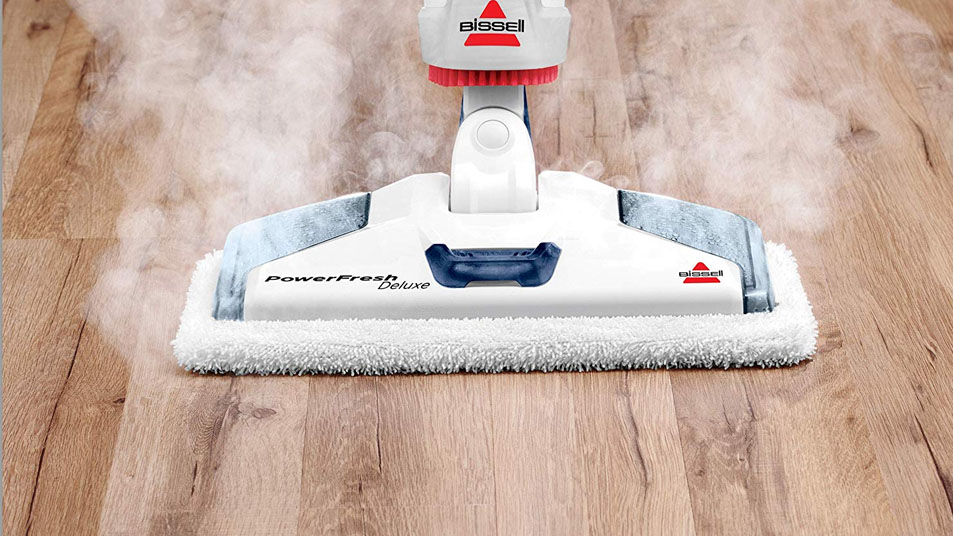 As we already found out, the 1806 uses various pads to collect garbage. They retain large debris and crumbs very well and deal with a small amount of hair.
However, if you have a lot of hair spread over your house, then this mop fails to hold all such pollution and needs regular cleaning of its own pads.
Bissell 1940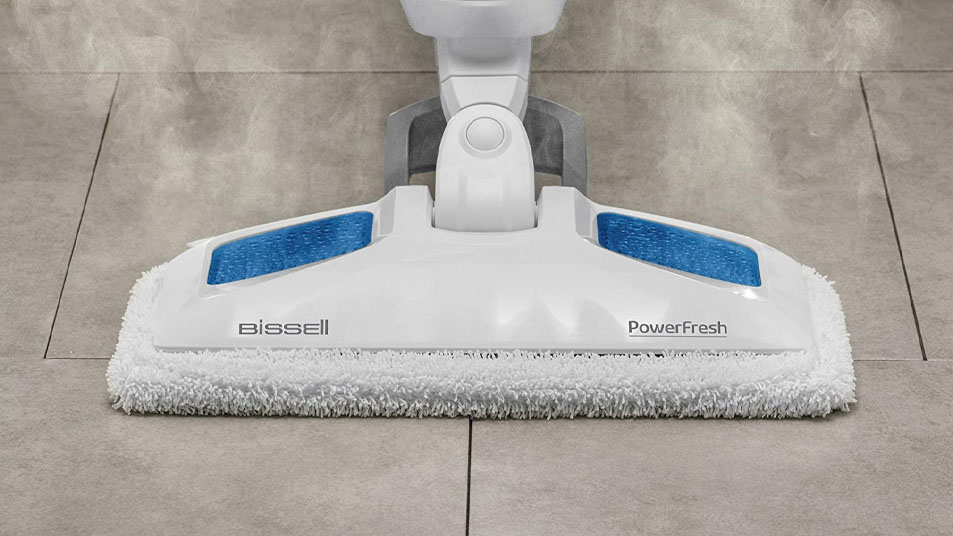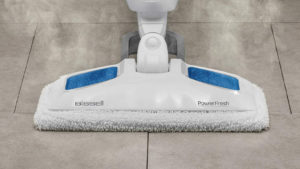 The 1940 is also able to handle only a small amount of hair.
Since the device is not equipped with a special turbo brush, the hair just clings to the pile of the pad, quickly clogs it, and may fall back to the floor.
Bissell 1940W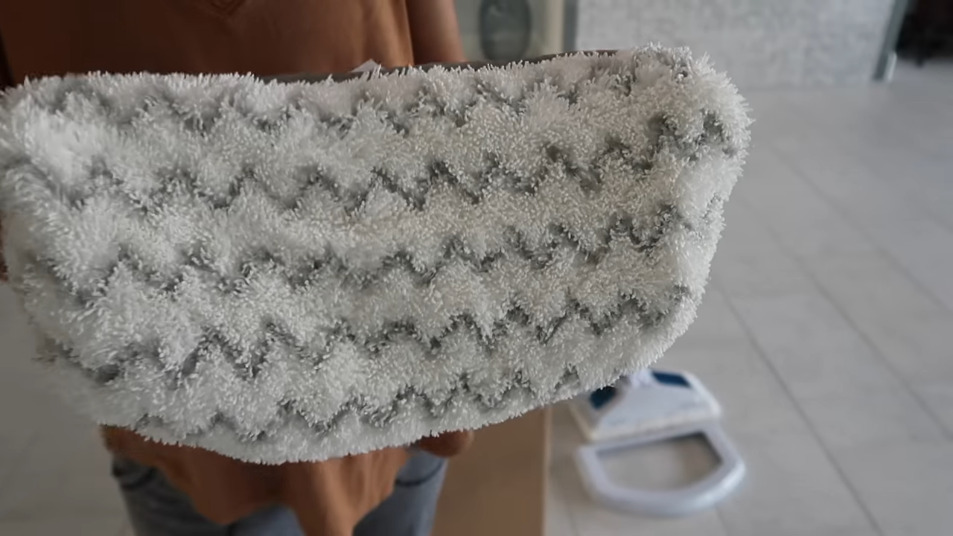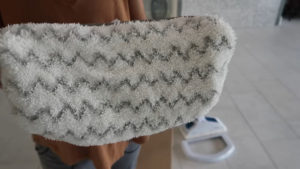 Like previous models, this one doesn't do very well with hair cleaning. Before using the steam mop, we advise you to sweep the floor to make cleaning more effective.
Otherwise, try to remove the collected hair from the pad periodically.
Cleaning Tests
Bissell 1806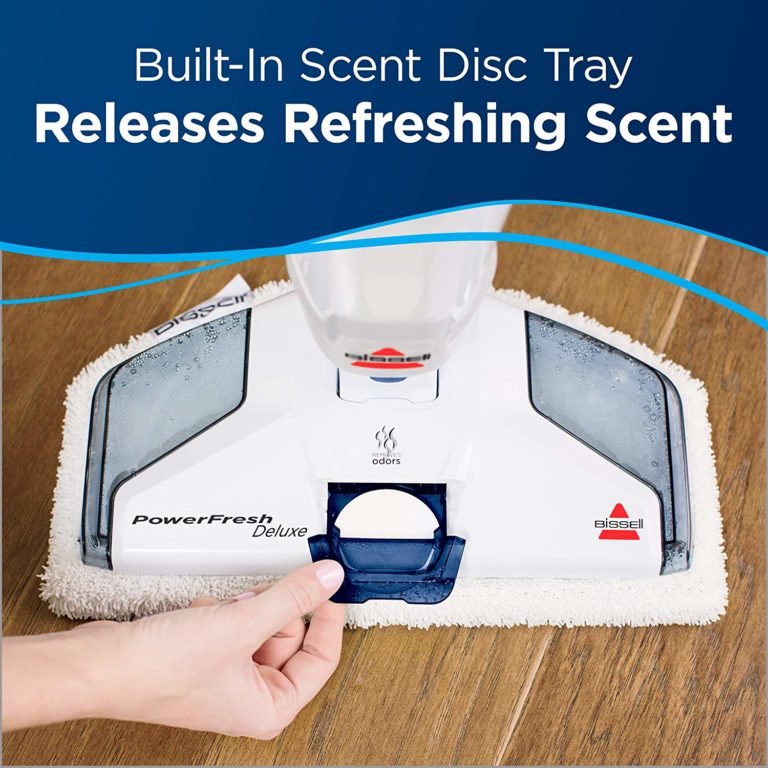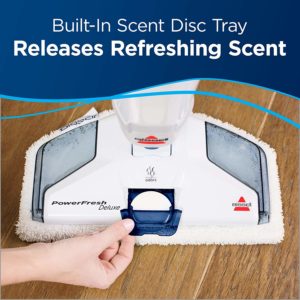 Tests have shown that the device really does a good job cleaning hard floors. Firstly, steam evenly covers the cleaned area of the floor and destroys the structure of pollution. The soft pad reliably holds small debris such as sand and absorbs dirty water without leaving stains.
At the same time, tests proved that two levels of steam are quite enough for cleaning both ordinary and more complex garbage. In the latter case, the SpotBoost brush provides additional assistance.
Of the minuses, we note that the installation of the SpotBoost brush takes some time, and the water cup has to be filled with water more often than we wished.
Bissell 1940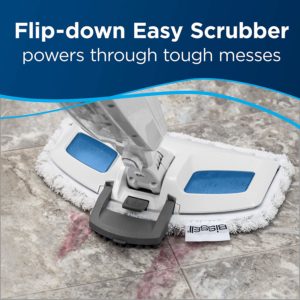 Bissell 1940 also easily removes even old stains and significantly refreshes indoor air. We noted a pleasant, unobtrusive smell that remained after cleaning with the scent disc.
An exclusive plus is that after cleaning, the floor has dried much faster than after washing with an ordinary mop. And preparation of the easy scrubber for work took a couple of seconds.
The test showed that the shortcoming of the model is a small water container volume.
Bissell 1940W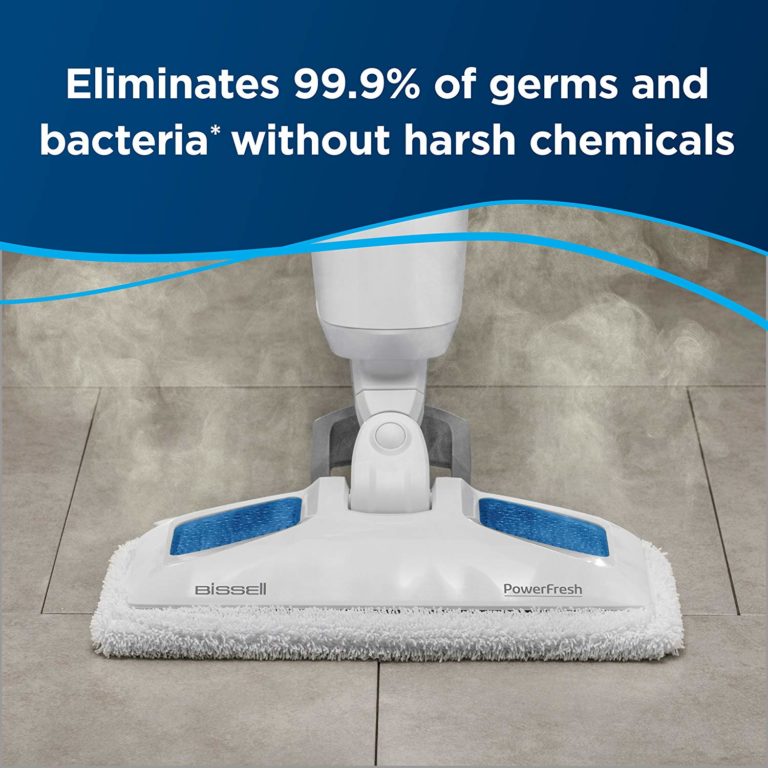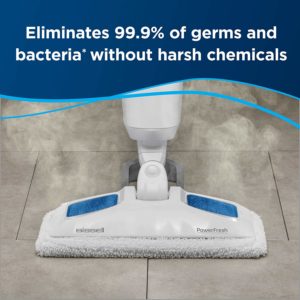 As in the previous models, the 1940W has a rather small water tank and doesn't deal with hair and large debris as great as we wish.
However, speaking about the rest, the steam mop proved to be an impeccable and handy cleaning assistant.
The model easily dissolves dried spots on the floor, cleans even the joints between tiles and other recesses. Thanks to the swivel steering, the device is controlled in one easy push.
After cleaning, we got a dry, clean, and sterile floor without stains, but with a delightful smell.
Frequently Asked Questions
Are Bissell mop steamers expensive?
Bissell steamers cost under $100, which makes them quite affordable. At the moment, the 1806, 1940, and 1940w models all have $89 price. If you`d like a wider kit with cleaning solutions and fragrance discs, you`ll have to pay extra 8-10 bucks.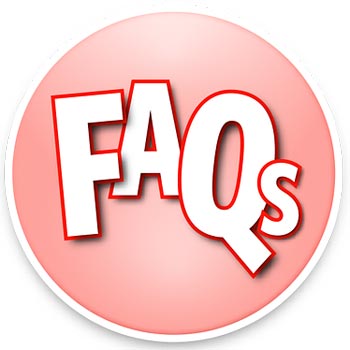 Can I burn myself with a Bissell steamer?
Bissell steam mops heat water to the boiling point and use the steam. If you follow all precautions, you`re absolutely safe. Please do not direct the working steam on your legs, body parts, pets, and other people. Also, when you need to refill the steamer, wait for several minutes to let it cool itself.
What is the difference between Bissell 1940 and 1940w steamers?
The models are absolutely the same. The only difference is their color designs. The 1940 is blue, while the 1940w is orange.
Can I use Bissell 1940 and 1806 mop steamers on carpets?
Yes, you can use them on carpets to refresh the pile. However, please make sure the steam is safe for your carpet material. You can check it beforehand or test the steamer on a small part of the carpet. Also, mind that Bissell steam cleaners do not deal with large debris, dust, and hair.
How much are mop pads for Bissell steam cleaners?
Over time, mop pads tend to lose their efficiency and require replacement. If you worry that regular pad changing will cost you a lot, you do it in vain. Amazon offers nice sets of Bissell mop pads that include four pads for different messes and cost as cheap as $14. One kit is enough for several months of cleaning.
Which Should You Buy?
So, based on the designs, functions, and cost of these three so similar models that we have examined, we can conclude that Bissell 1806 is the most profitable option for acquisition.
This device has parameters standard for all participants, such as water cup volume, pads set, cord length, and power. And although it has only two (not three) steam levels and the largest dimensions, tests have shown that low and high steam settings are quite enough to clean any pollution. With the dimensions of the device, there were also no problems either in operation or in storage.
At the same time, the price of the device is the same as for Bissell 1940, and even lower than for Bissell 1940W. In practice, we see no sense to overpay for extra steam mode, easy scrubber, or orange color.