Bissell CrossWave vs. Symphony: Which is Better?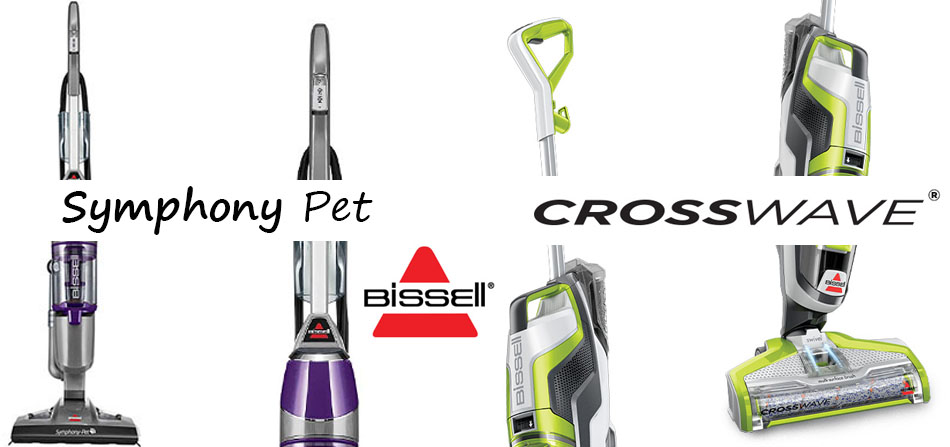 Bissell is among the biggest household names in the vacuum industry. The company is notable for producing quality cleaners that the masses can afford.
Their lineup includes full uprights, canisters, stick vacuums, and combo units, such as the CrossWave and Symphony.
The Bissell CrossWave and Symphony Pet aim to make household chores as seamless as possible by tackling both wet and dry messes. With these specialty models, you won't have to get yourself a mop.
But although these two machines have the same objective, they operate quite differently from each other. So, let's compare the Bissell CrossWave vs. Symphony Pet to see which model works best for your home.
Keeping floors clean is a real struggle, particularly if you
have pets and kids
. It gets even tougher if your home has mixed flooring.
So, you might want to consider getting any of these two-in-one vacuum cleaners from Bissell to cut some time out of cleaning.

Surface Type
Tile, sealed wood floors, laminate, linoleum, rubber floor mats, pressed wood floors, rugs
Sealed hardwood, ceramic, linoleum, granite, marble
Drop It Pet Hair Removal Technology
Operation
"Area Rug" and "Hard Floor"
"Vacuum," "Low Steam," "High Steam"
Surface Type
Tile, sealed wood floors, laminate, linoleum, rubber floor mats, pressed wood floors, rugs
Drop It Pet Hair Removal Technology
Operation
"Area Rug" and "Hard Floor"
Surface Type
Sealed hardwood, ceramic, linoleum, granite, marble
Drop It Pet Hair Removal Technology
Operation
"Vacuum," "Low Steam," "High Steam"
The Bissell CrossWave performs exceptionally well as a dry vacuum. In fact, its performance is at par with some of the best upright vacuums in the market.
This unit comes equipped with an innovative brushroll that spins at a high rate of 3 000 rpm. Not only does it eliminate a horrifying amount of dirt, but it adds luster to your floors, as well.
The CrossWave uses a cleaning solution to remove stubborn grime and dried spillage.
Likewise, the unit has two tanks that work in unison to do the job.
But although the CrossWave is what you would call a more traditional floor cleaner, it is well suited for the modern household with mixed flooring.
Only the CrossWave is engineered to work on area rugs and low-pile carpeting. With this machine, you don't have to spend a fortune on cleaning services to make your shabby rugs look mint.
We like the Bissell CrossWave for its strong suction power and its ability to clean not only hard floor surfaces, but also area rugs and low-pile carpeting. With the CrossWave, you will enjoy the functionality of an upright vacuum cleaner, a mop, and a buffer in a single device.
The Bissell Symphony Pet is a hybrid cleaner that will save both your time and energy. As the name suggests, it will tackle all kinds of pet messes, including pet hair, dirt, and dander.
You can cut your cleaning time in half with this model since you can vacuum and steam your floors simultaneously. Most importantly, it sanitizes your floors.
Simply put, this unit is something you shouldn't miss, particularly if your home has a lot of bare floors.
Lastly, I want to point out that it is lightweight and easy to use. This unit features edge-to-edge suction, hands-free emptying, and a tangle-free brush roll.
The best thing about the Bissell Symphony Pet is that it disinfects your floors, thanks to the heated water from the steam function. This feature is critical if you live with pets.
The Main Difference Between the Bissell CrossWave vs. Symphony Pet
The cleaning head has to be the biggest difference between these two Bissells, as it makes a significant impact on how each model clean floors.
The Bissell CrossWave features a multi-surface brushroll consisting of nylon bristles and cloth strands. While the bristles agitate dirt, the cloth strands absorb spills. The brushroll is motorized, spinning at 3 000 rpm.
On the contrary, the Bissell Symphony Pet uses a microfiber pad and relies mostly on steam to eliminate grime and sanitize floors.
Therefore, the Bissell CrossWave gives you the suction action of a vacuum cleaner and the washing action of a mop. Whereas, the Bissell Symphony functions more closely to a steam carpet cleaner.
Face to Face Comparison
Design
The Bissell CrossWave and the Bissell Symphony Pet sport a typical upright vacuum appearance, given their shape and size.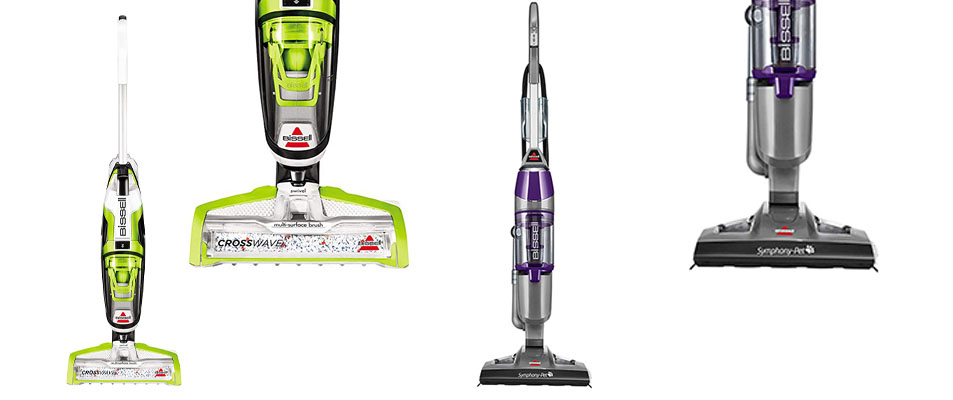 But once you move past that, you'll see that the makeup is different for each model.
To start, the CrossWave has a cleaning head that resembles more like a vacuum with a motorized brushroll.
Whereas, the cleaning head on the Symphony Pet looks like a cross between a vacuum head and a steam mop.
The color schemes are different, too. The CrossWave exhibits a luminous yellow-green color scheme, while the Symphony Pet has a purple colorway.
Sizes and Dimensions
The Bissell CrossWave is a streamlined unit with a base measuring 10.5 x 12 inches.
Likewise, the Bissell Symphony Pet is a compact appliance with a base measuring 9.8 x 11 inches.
The manufacturer made them both stand at 46 inches, so you wouldn't have to bend over frequently.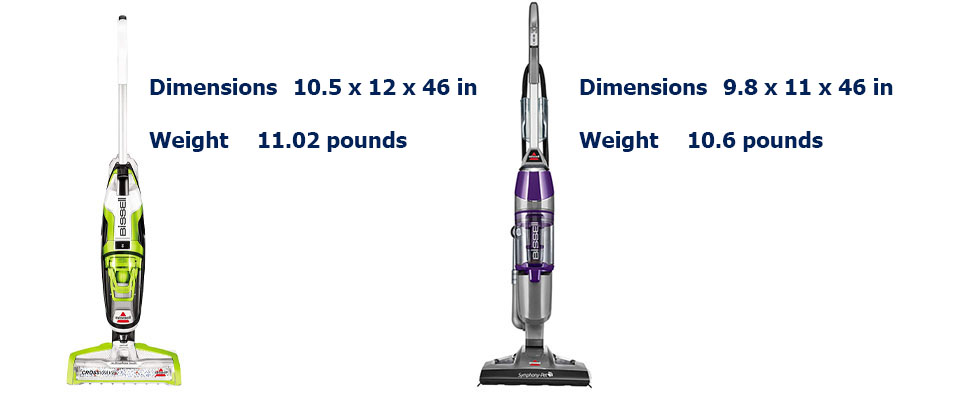 As for the weight, the CrossWave and the Symphony Pet tip the scales at 11 pounds and 10 pounds, respectively. The differences are negligible. Whichever you choose, you will get a great deal of performance without being burdened by a bulky machine.
Therefore, you should find the CrossWave and the Symphony Pet to be manageable.
These vacuum cleaners should also fit in limited spaces for convenient storage.
Tanks
Both Bissells use two separate containers. The CrossWave has a 0.8-liter tank for the cleaning solution and a 0.4-liter tank for storing dirty water and debris.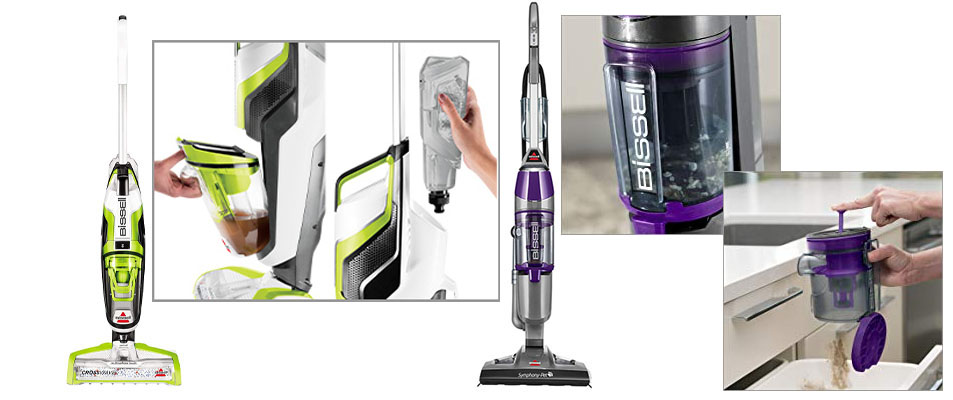 We like that the transparent dirt tank is located at the front, so you can immediately tell when it needs emptying.
Unfortunately for the CrossWave, you have to get your hands dirty and wash the canister with soap and water.
The water tank of the Symphony Pet also has a 0.4-liter capacity. However, its bin can only hold dust and dry debris.
You have to put on the washable microfiber pad on the cleaning head to wipe up spills. Better yet, use the Swiffer Steam disposable pad for wiping up pet messes that you need to discard right away.
Nevertheless, the Symphony Pet features the "Drop It Pet Hair Removal Technology," which is a very convenient way of emptying the dirt tank. With it, you don't have to shake or grab the contents out of the bin.
Operation
Along with the handle of the Bissell Crosswave are two buttons: the "Area Rug" and the "Hard Floor." The suction power and the amount of detergent being dispensed to the rollers are increased during the "Area Rug" mode.
Adding to that is a trigger that supplies the cleaning solution to the brushroll. As soon as you turn on the unit, you can squeeze some detergent to the brushroll and choose the appropriate cleaning mode.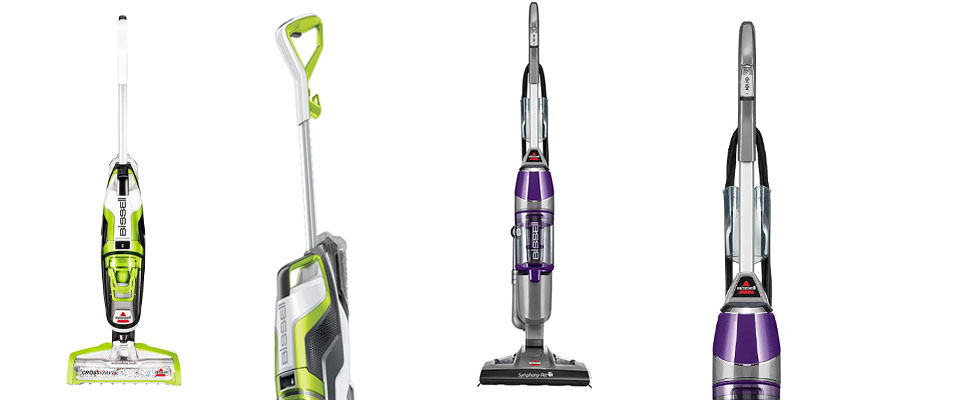 In the same vein, you can choose between three cleaning options for the Bissell Symphony Pet: "Vacuum," "Low Steam," and "High Steam." There is also a steam trigger on the underside of the handle.
Not all messes require a lot of steam, but sometimes, you also need to melt away stubborn grime. So, being able to select the appropriate degree of force would be ideal. You may also choose "Vacuum" and any of the two steam options simultaneously.
Filters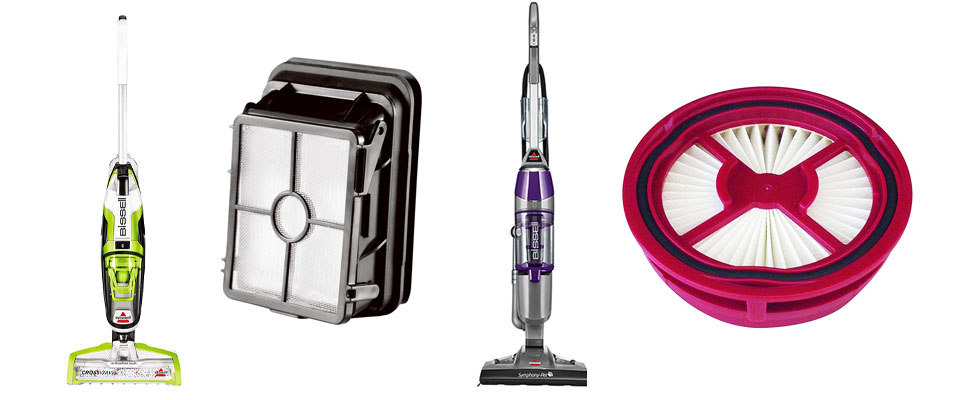 The Bissell Symphony Pet comes equipped with two filters — a vacuum filter and a water filter. Maintaining these filters is a cinch, as you only need to knock the dust off of them and install them back on.
Do take note that you need to replace the filters periodically.
The water filter has green grains that will turn blue when it finally expires.
The Bissell CrossWave also comes equipped with a single filter that you need to wash after each major cleaning cycle. Although it's washable, you still need to replace it over time.
Multi-Surface Cleaning
Both Bissells can tackle any hard floor indoor surface, including textured ceramic tiles, sealed parquet floors, pitted travertine floors, and whatnot.
Each model may have a unique take of cleaning your floors, but you can be sure that they bring phenomenal results in the end.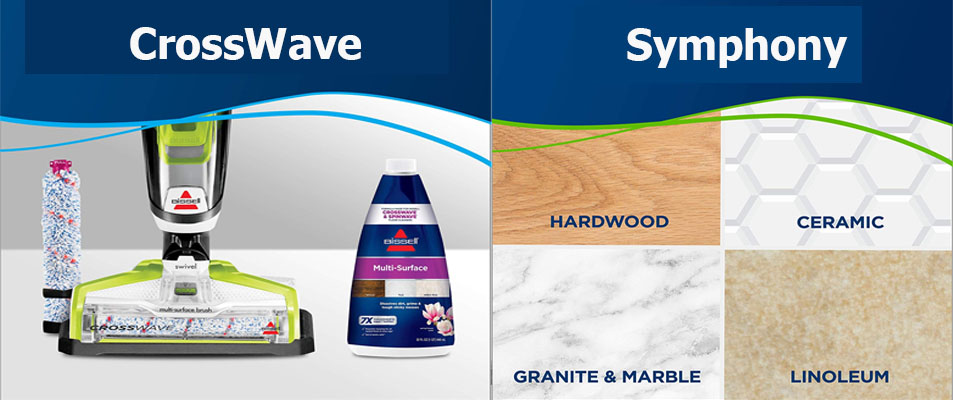 That said, we do believe the CrossWave has the edge in terms of versatility, as it can move seamlessly from bare floors to area rugs or low-pile carpets.
Pet Hair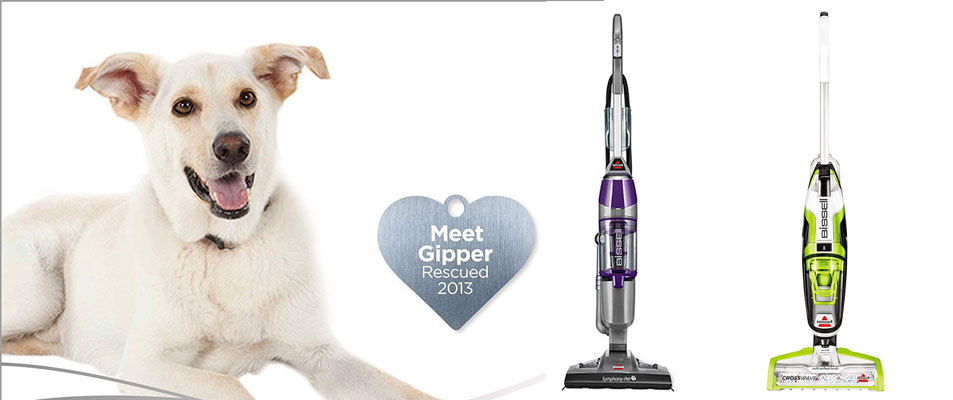 The Bissell CrossWave and the Bissell Symphony can both get rid of pet messes from hard floor surfaces with just a pass by.
But if you have multiple pets at home, particularly long-haired dogs or cats, you are better off with the Bissell Symphony Pet.
The CrossWave kicks in a lot of power, but pet hair tends to get tangled around the brushroll often. Whereas, the hot microfiber pad of the Symphony Pet attracts pet hair to prevent a clogged-up vac.
Cleaning Performance
We put the Bissell CrossWave and Bissell Symphony Pet to the test to see what types of debris each model can clean.
Then we counted how many passes it took for each model for cleaning a specific area without leaving any residue.
Dry Vacuum Test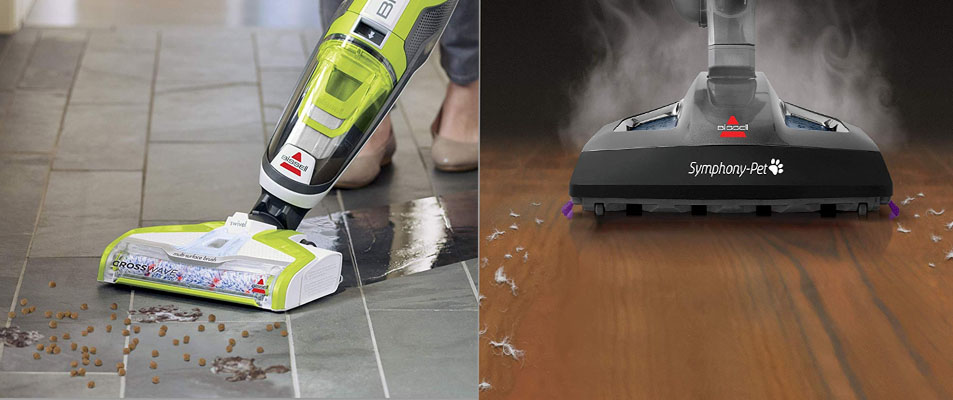 For this round, we made a debris trail consisting of a cupful of instant coffee, cornflakes, cotton balls, crushed eggshells, and Cheerios.
The Bissell CrossWave wasn't able to pick up the Cheerios since the particles were nearly the exact size as the opening of the cleaning head. Nevertheless, it gobbled up everything in a single swipe.
After three swipes, the Bissell Symphony Pet removed 70% of the. It struggled to pick up Cheerios and eggshells.
Wet Pick-Up Test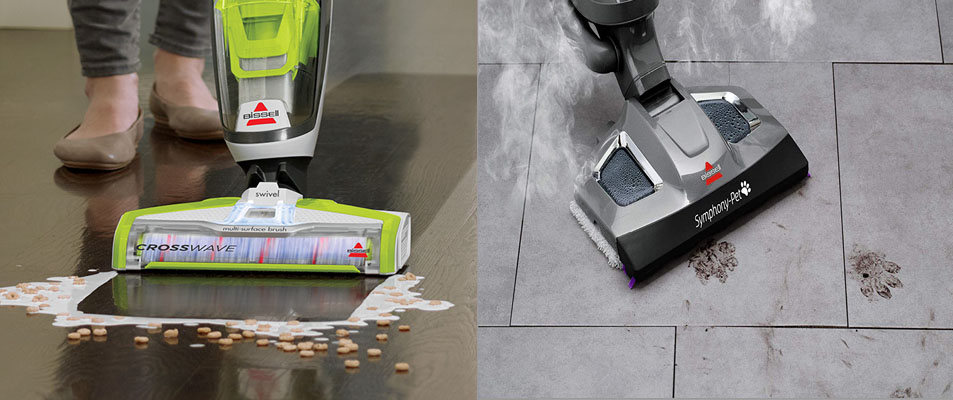 To simulate muddy tracks, we spilled two cups of instant coffee and left it to melt at room temperature for 15 minutes. We also dropped a cup of honey and yogurt in a separate area.
Both the Bissell CrossWave and Symphony Pet were able to wipe all the viscous fluids in one go, but we went slow with the CrossWave to give it enough time to vacuum, moisten, and clean the floor.
Otherwise, it won't be able to remove all the honey in a single pass. The CrossWave struggled a little with the melted coffee, but it got rid of all of it eventually.
For this round, we'd say the Bissell Symphony outperformed the Bissell Crosswave. Thanks to its High Steam mode, it was able to get rid of the melted coffee in three slow swipes.
Bissell CrossWave vs. Symphony: Which is Better?
Either the Bissell Crosswave or the Bissell Symphony Pet are excellent options designed to allow you to vacuum and
mop floors
.
The CrossWave will be perfect if you like a strong performer that can clean area rugs aside from hard floors.
But if you are looking for a less expensive unit, the Symphony should fit the bill. You won't have to buy cleaning solutions now and then since you only need water for steam cleaning.
Whichever you choose should mostly depend on your situation and which unit you feel is more comfortable for you.