Bissell EV675 vs Roomba 675 vs Roomba 671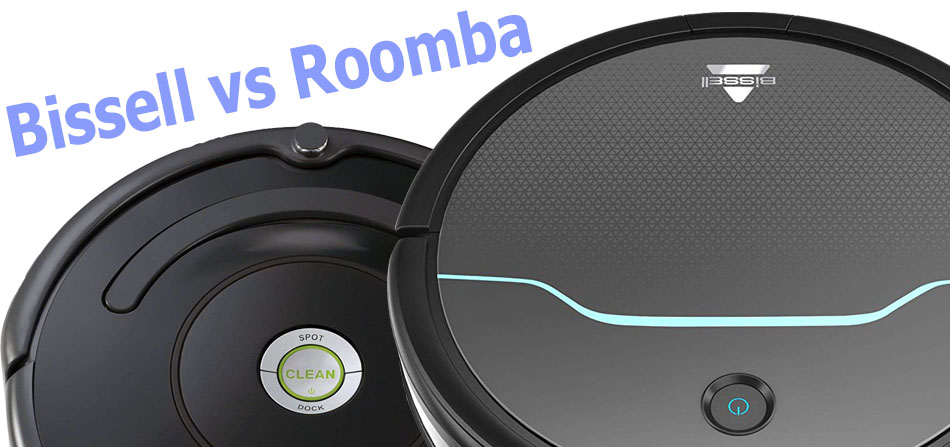 Today we`re going to analyze three robot vacuum cleaners manufactured by two well-known American companies – Bissell and iRobot.
Bissell EV675, Roomba 675, and Roomba 671 are quite simple models and may become an excellent choice for those who`re looking for affordable effectiveness without extra innovations.
BISSELL EV675 Robot Vacuum Cleaner for Pet Hair with Self...
iRobot Roomba 675 Robot Vacuum-Wi-Fi Connectivity, Works...
iRobot Roomba 671 Robot Vacuum with Wi-Fi Connectivity,...
Model
Connectivity
Mobile app or voice assistants
Mobile app or voice assistants
BISSELL EV675 Robot Vacuum Cleaner for Pet Hair with Self...
Model
iRobot Roomba 675 Robot Vacuum-Wi-Fi Connectivity, Works...
Model
Connectivity
Mobile app or voice assistants
iRobot Roomba 671 Robot Vacuum with Wi-Fi Connectivity,...
Model
Connectivity
Mobile app or voice assistants
1. Bissell EV675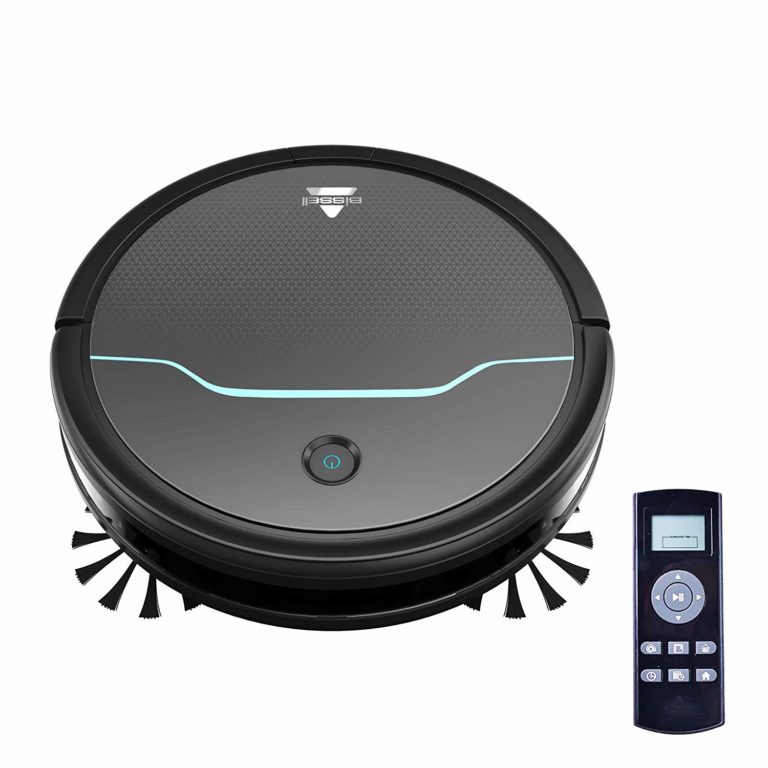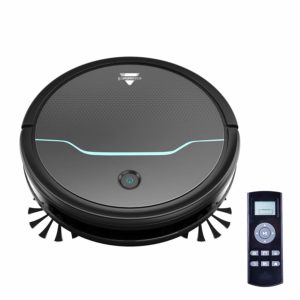 The Bissell EV675 robot vacuum cleaner isn`t as widely known as the other two models of our review. Still, it`s rightfully considered one of the most budget and comparably effective models on the market.
First of all, the robot has everything you need for dry cleaning. The central silicone roller with several rows of bristles and two side brushes are responsible for a quick and thorough vacuuming.
The design of the side brushes provides extra care, as each of them has 12 bristle rays! The dirt in the corners and along the baseboards has no chance to escape the vacuum.
Also, the Bissell features good suction power and a system of built-in sensors that allow the vacuum to build an optimal route and avoid dangerous obstacles and falls.
Several cleaning modes are suitable for various situations such as ordinary daily floor cleaning, elimination of heavy dirt, or cleaning around the perimeter and corners of the room.
Management, mode selection, and setting of a cleaning schedule are carried out through the remote control. This model doesn`t support Wi-Fi connections and smart speakers.
The robot is suitable for small to medium-sized rooms with hard floors and low carpets.
Triple-Action cleaning system helps cope with hair. So the vacuum cleaner will be a good helper for families with cats and dogs.
Though the robot lacks some innovative features like mapping, app, and so on, it guarantees a nice result and does its work pretty well.
Pros
compact dimensions
an effective set of brushes
several modes
filter
cliff and obstacle sensors
powerful battery
copes with pet hair
quiet work
affordable price
Cons
small dustbin
no virtual walls
no Dirt Detection
no smartphone app and voice assistants support
navigation based only on sensors
2. Roomba 675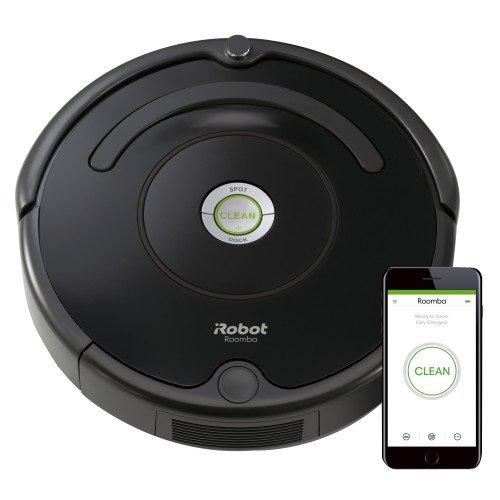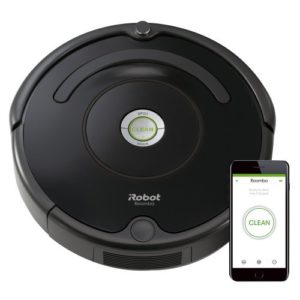 iRobot Roomba 675 uses a patented three-stage cleaning system that is presented in three levels – the side, the dual counter-rotating central brush, and the suction port.
It`s also equipped with the Auto-Adjust adaptive head, thanks to which the vacuum reaches closer contact with the surface, consequently collecting more garbage.
The AeroVac filter traps dust and small particles flying in the air. The maximum suction power on this model is 600 Pa.
Model navigation is based on infrared sensors and iAdapt 1.0 technology. Thus, the robot determines its location, position of obstacles on the way, and the type of the surface.
It has two movement modes – spiral and along the walls, and several cleaning modes. Roomba 675 forms a cleaning route and sequentially performs it, trying not to miss a single section.
This model supports Wi-Fi and smart speakers.
The suction mentioned above is comparatively small, so it`s not very suitable for pet owners, as it does poorly with hair cleaning. Nevertheless, all the features in combination with elaborate brushes and 90 minutes of runtime make the robot vacuum an inexpensive but high-quality bot for hard floors and low pile carpet cleaning.
Pros
compact dimensions
double counter-rotating brush
Dirt Detect function
Auto-Adjust Head
iAdapt 1.0 and sensors navigation
Wi-Fi and voice assistants
good battery capacity
affordable price
Cons
difficulties with hair vacuuming
insufficient suction for thick carpets
weak filter
small dustbin
no virtual walls
3. Roomba 671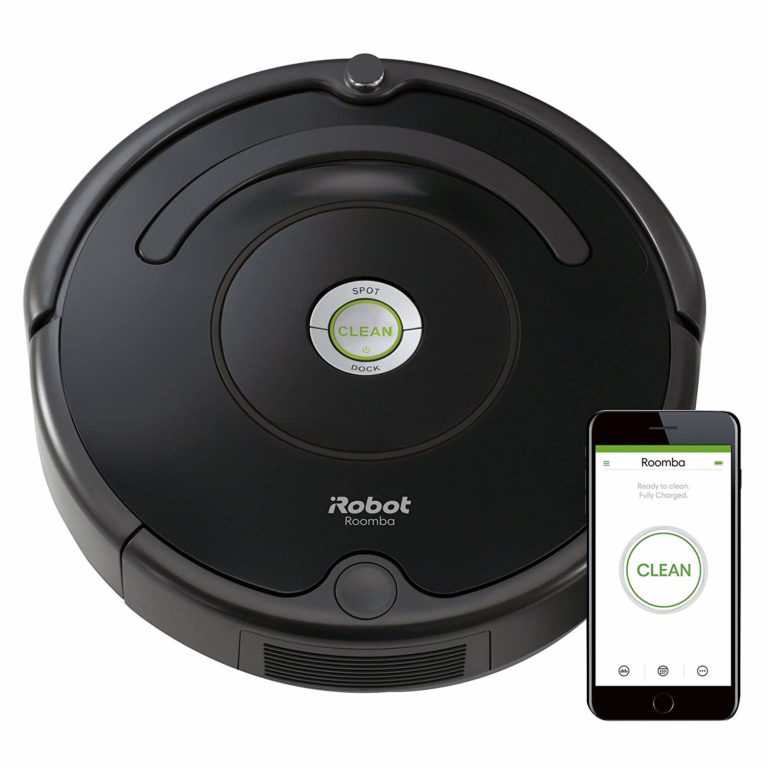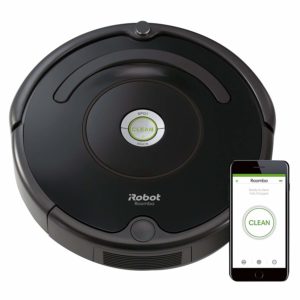 Roomba 671 is a lot like the 675 model. Like all Roomba vacuum cleaners, it uses a three-stage cleaning system with a dual multi-surface brush and an Automatically Adjustable head. However, this robot has only one side brush for sweeping dirt along the walls.
With AeroVac technology and brushes, the robot cleaner copes with dust, sand, spots, and other dirt on any hard and low-piled flooring.
However, the suction power of 600 Pa is not enough for thicker carpets and hair.
When cleaning, you can choose one of two operating modes – Auto and Spot. The maximum battery life is 90 minutes.
Thanks to the combination of iAdapt 1.0 technology and cliff sensors, Roomba 671 robot vacuum has good navigation and passability. It plans a route and avoids stairs, elevations, drops, wires, and similar obstacles.
However, the robot doesn`t work with virtual walls.
To control the vacuum cleaner, the engineers provided the mobile app connection and full integration with the main voice assistants.
Like the Roomba 675, this model is suitable for small houses and apartments with pets and mostly hard floors.
Pros
compact dimensions
Auto-Adjust head
iAdapt 1.0 and sensors navigation
nice battery
mobile app and voice control
affordable price
Cons
weak suction
no Dirt Detect function
no virtual walls
weak filter
small dustbin
Design, Size, and Dimensions
Bissell EV675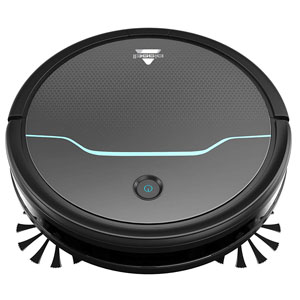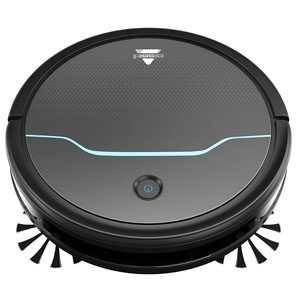 The Bissell robot vacuum features a black case.
Light and solid plastic forms a circle of 12.75 x 3.5 in. Such dimensions make it the most compact model of our review.
Moreover, Bissell EV675 is the lightest vacuum too, as it weighs 6.62 pounds.
Roomba 675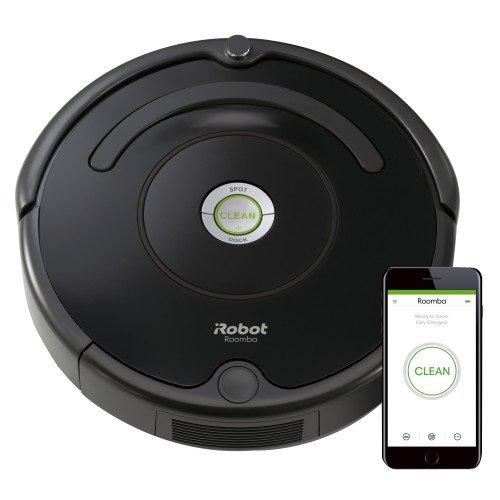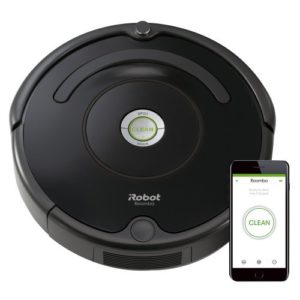 The robot has a round shape. The case is made of black plastic and has a protective bumper against scratches and damages of both furniture and the device itself.
The dimensions are 13 x 3.7 inches; weight is 6.77 pounds.
Roomba 671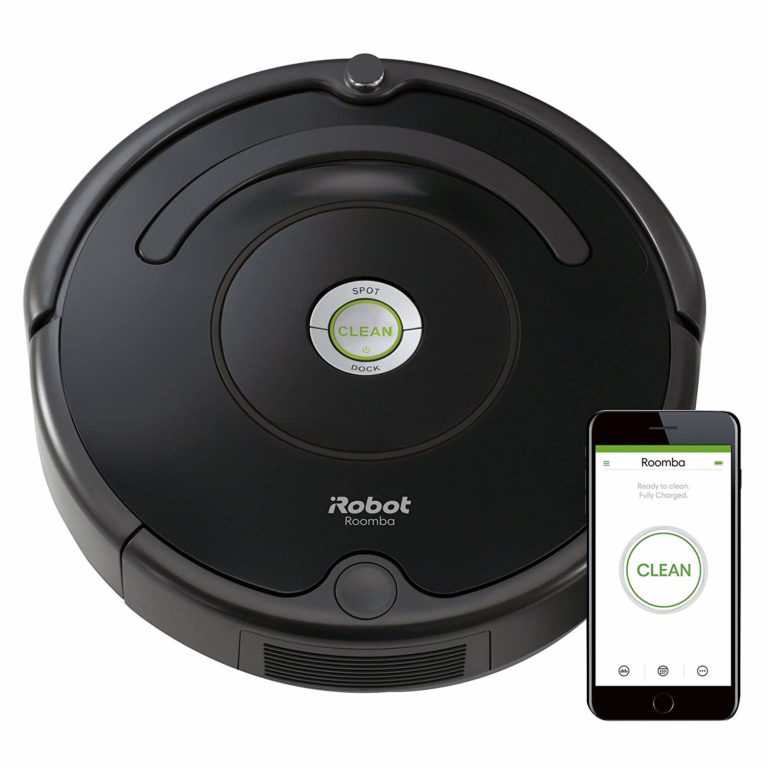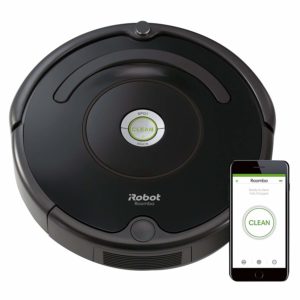 As two previous robots, this one has the same black round form. The bot looks quite attractive and contributes to any interior.
Speaking about the dimensions, Roomba 671 turns out to be the biggest of the three models.
It measures 13.39 x 3.58 inches while weighing 7.94 pounds. Anyway, such height and width don`t prevent thorough cleaning in challenging areas.
Navigation
Bissell EV675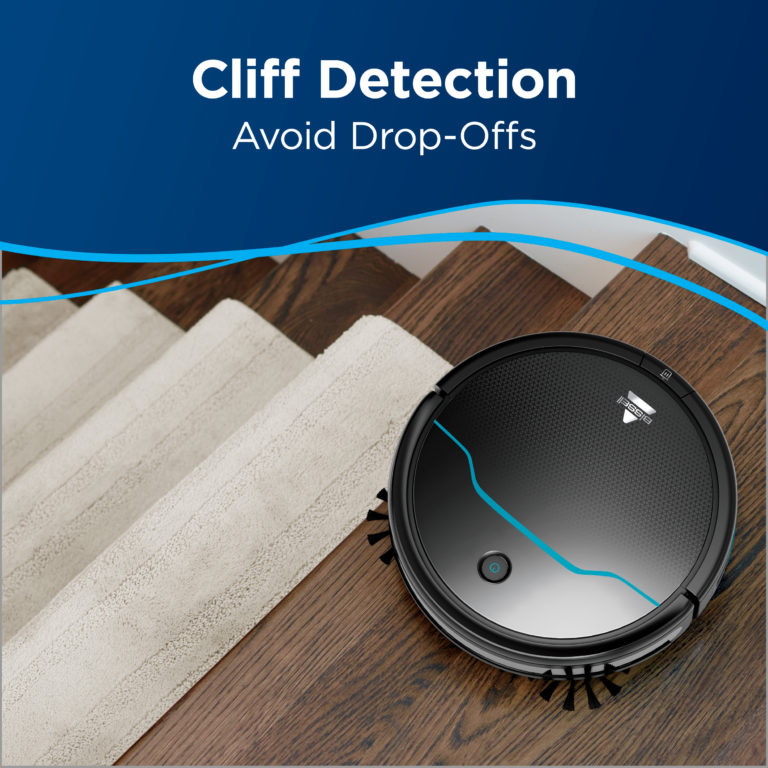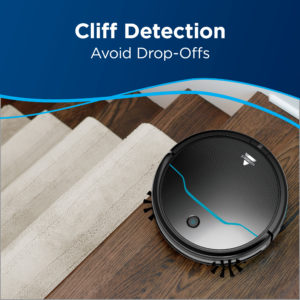 This robot cleaner uses a broad set of cliff and obstacle sensors. They both protect the case from falls, bumps, and breakages and help navigate in the room.
However, sensors are the only way of navigation for this bot.
You won`t see either laser or mapping here, the presence of which could make navigation and result much better. It also doesn`t apply virtual walls for organizing restrictive zones.
Roomba 675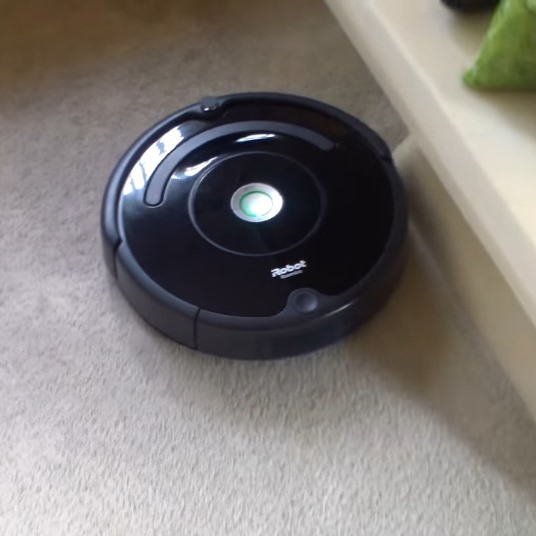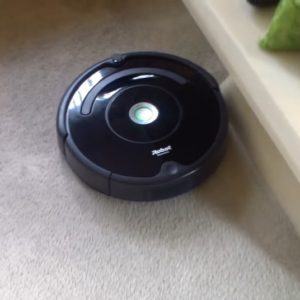 Roomba 675 also uses anti-collision and cliff sensors set in the bumper and underbelly.
Besides the basic sensor navigation, engineers equipped it with iAdapt 1.0 technology, which makes it a bit more precise in comparison with the bare sensor method.
Unfortunately, it doesn`t work with virtual walls either.
Roomba 671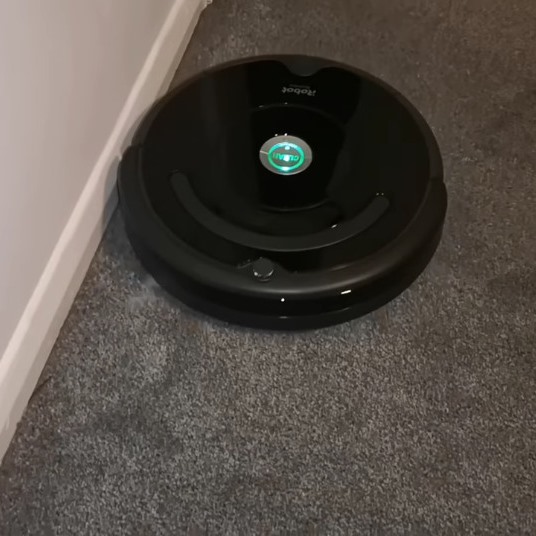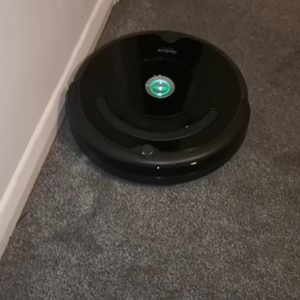 In the matter of navigation, Roomba 671 is identical to the Roomba 675 model.
The bot relies on its sensors and iAdapt 1.0 system. Thus, it successfully avoids hits and falls as well as preplans the route.
If you want to have an option of cleaning area limitation, you`d better choose some other robot vacuums as this one can`t use any type of virtual barriers.
Dirt Detection
Dirt detection always contributes to the cleaning as this function helps the robot recognize the most polluted areas and apply the best cleaning strategy. A robot vacuum cleaner equipped with such technology provides better vacuuming, so this factor is quite essential.
Bissell EV675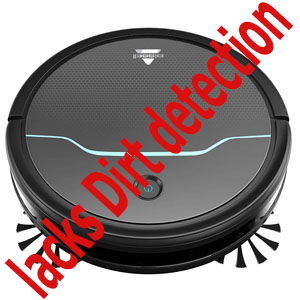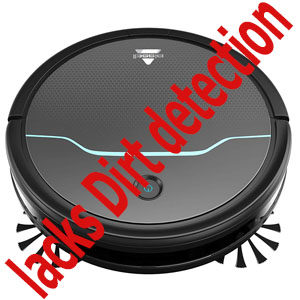 Though Bissell company is one of the leading manufacturers, it doesn`t equip all its vacuums with such a technology.
So Bissell EV675 robot cleaner cannot determine the level of pollution and make extra efforts to eliminate it.
Roomba 675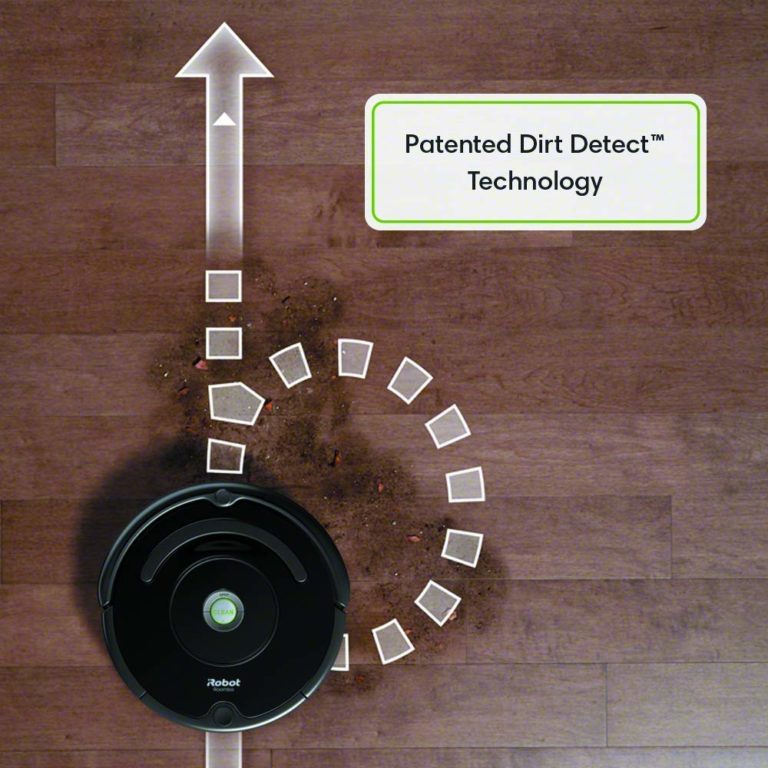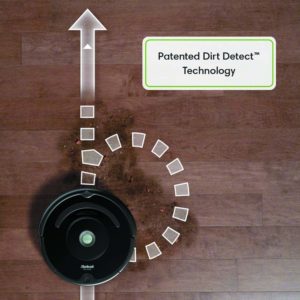 iRobot Roomba 675 robot vacuum cleaner is the only model in our review that has the patented Dirt Detect technology.
With the help of built-in optical and acoustic sensors, it finds places more contaminated and does its best to clean them thoroughly.
Roomba 671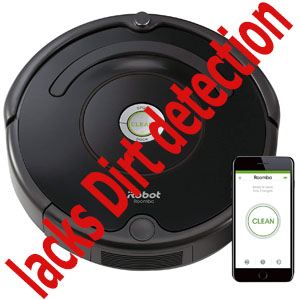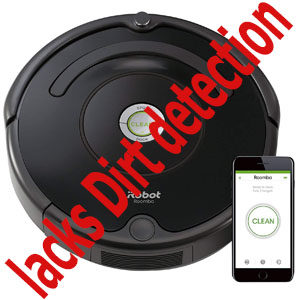 Unfortunately, this iRobot model lacks the function and cannot determine extra dirt and spots.
Filter System
Bissell EV675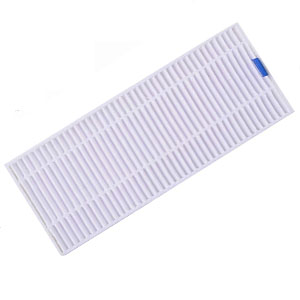 Bissell EV675 has several filters located inside the case for the purification of the incoming air from the smallest dust particles.
These filters are not washable and don`t belong to the HEPA category; therefore, they don`t have such a high-quality result.
However, the design of the robot allows you to replace the original filters with HEPA filters if you have such a desire.
Roomba 675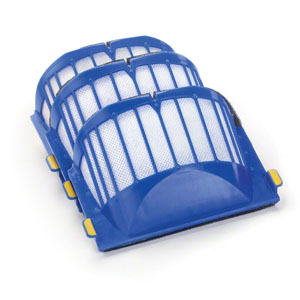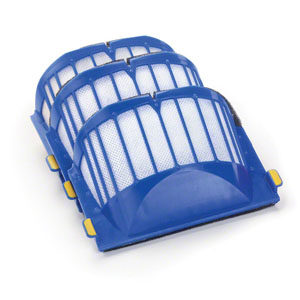 Since the 675 model belongs to one of the earliest 600 iRobot series, it uses AeroVac filters, which are a bit weaker than modern HEPA filters.
Nevertheless, they conduct a sufficiently thorough air purification.
Roomba 671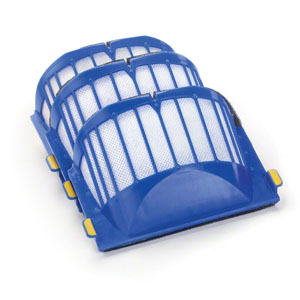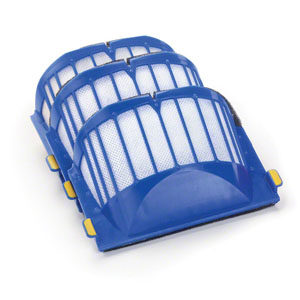 Like the 675, Roomba 671 works with AeroVac filters. Thus, it captures most of the dangerous particles.
Connectivity
Bissell EV675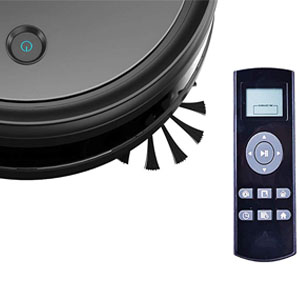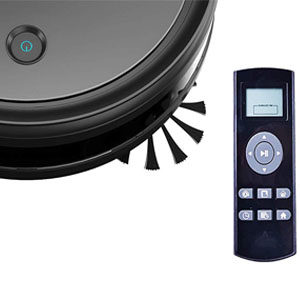 This model can be attributed to the category of the simplest robots since it has neither Wi-Fi nor voice assistants support.
The only possible ways to control the device are the buttons on the case and the remote control panel.
Roomba 675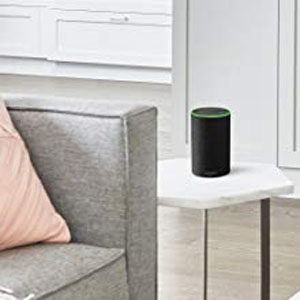 In the Roomba 675 vacuum, users have three variants of robot management.
They can push buttons on the device body or apply the app and voice assistants.
The latter two options give broader control over the settings and the device. We can form a cleaning route, week schedule, track the location of the robot, etc.
Roomba 671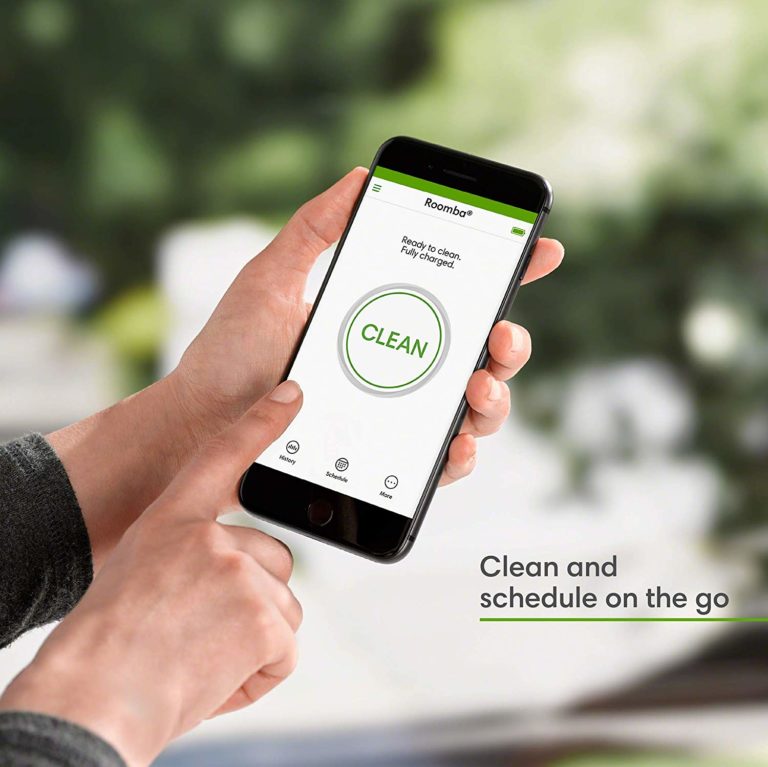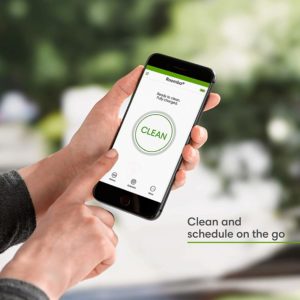 Roomba 671 supports IROBOT HOME mobile app.
The robot also performs voice commands as it syncs with popular voice assistants (Alexa and Google Home).
Suction Power
Bissell EV675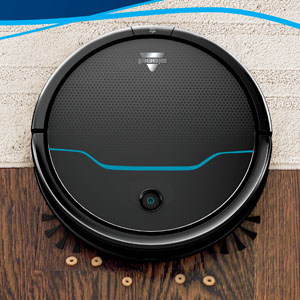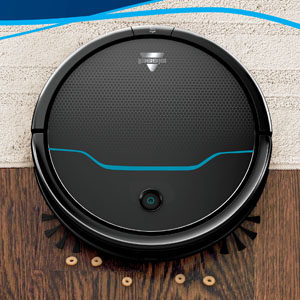 Unfortunately, there`s no accurate information about the suction power of this robot.
However, given customer reviews, test results on various surfaces, and comparative reviews with similar vacuums, we can assume that Bissell EV675 power is somewhere in the range of 600-700 Pa.
Roomba 675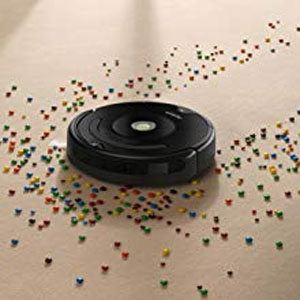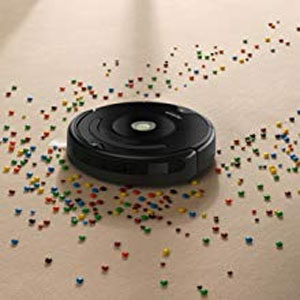 The standard suction of the vacuum is helpful for daily cleaning. It produces 600 Pa and copes with hard and low-piled floors.
But please mind that it`s insufficient for medium and high carpets.
Roomba 671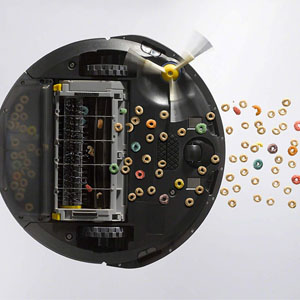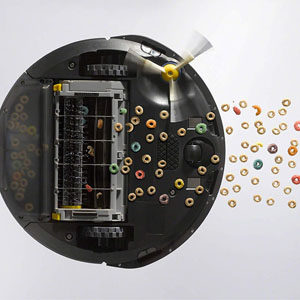 Engineers equipped Roomba 671 model with 600 Pa suction, too.
Run Time
Bissell EV675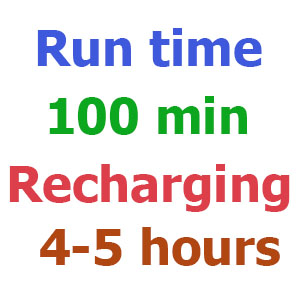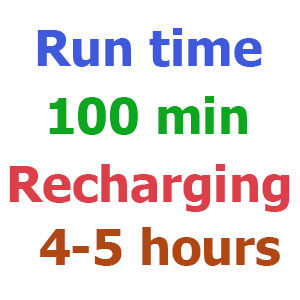 Bissell provides up to 100 minutes of cleaning and can automatically recharge and resume.
The info on the lithium-ion battery capacity and recharging time isn`t available, though some users say the recharging takes 4-5 hours.
Roomba 675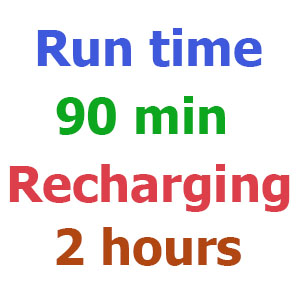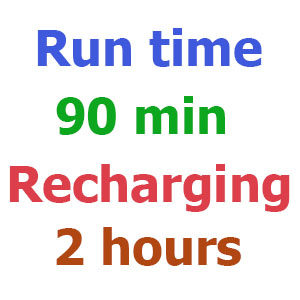 The Roomba has a 1800 mAh battery that guarantees 90 minutes of work.
Recharging takes about two hours.
Roomba 671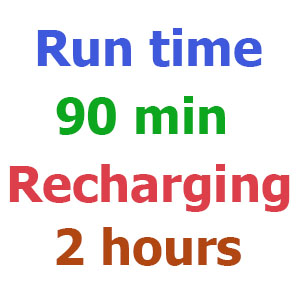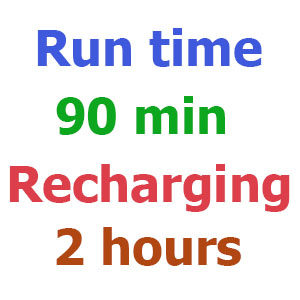 Roomba 671 has the same battery capacity of 1800 mAh.
Its recharging takes 120 minutes, and it gives 90 minutes of run time.
Dustbin Indicator
Bissell EV675
With such a small 400 ml dustbin, the bot has no Full Bin Indicator, so you`ll have to monitor the degree of its fullness by yourself.
Roomba 675
This model features even smaller container, which keeps as little as 350 ml of dirt.
It doesn`t have any bin indicator either.
Roomba 671
Holding the same 350 ml of garbage, Roomba 671 also lacks Full Bin Indicator.
Noise
Bissell EV675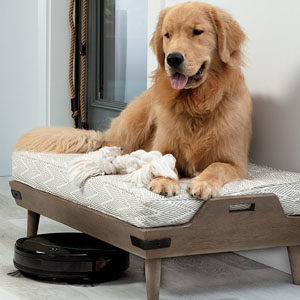 There is no information about the noise level of the model measured in decibels.
Nevertheless, many users state that it does work very quiet.
Roomba 675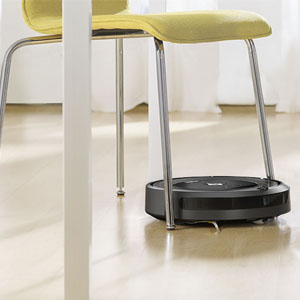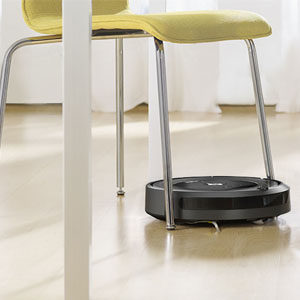 The 675 model produces 62 decibels, which is a comfort noise level.
It won`t disturb or irritate you even when you`re in the same room.
Roomba 671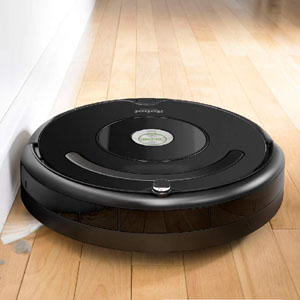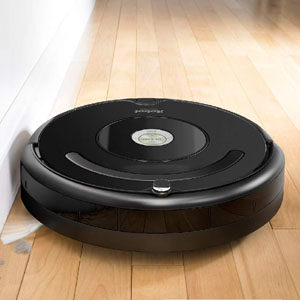 Roomba 671 is identical to the previous iRobot model, as it has 62 decibels.
Accessories
Bissell EV675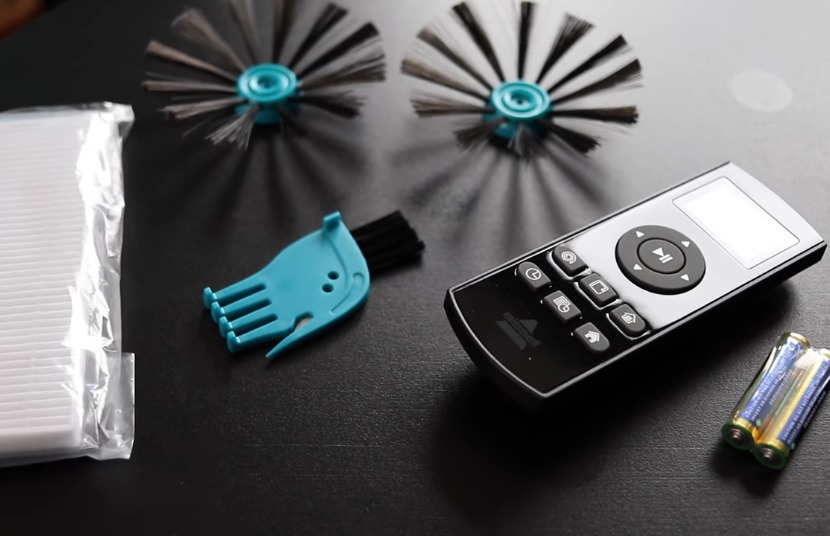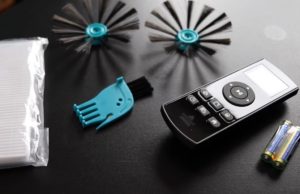 Bissell EV675 set includes one charging dock, one power adapter, two additional side brushes, one remote controller, two replaceable filters, and a 12-month warranty.
Roomba 675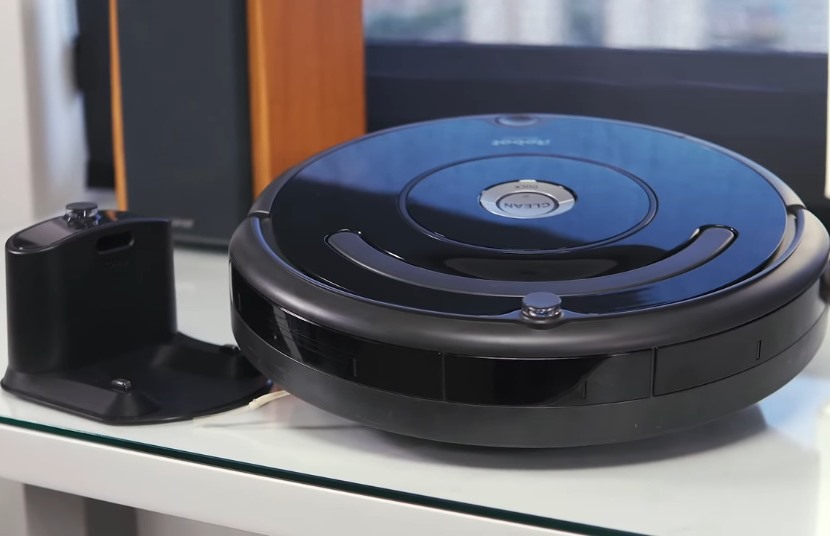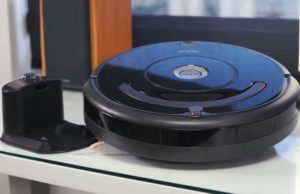 Roomba 675 comes with a dock station, an adapter, owner`s guide, documentation package, and a 12-month warranty.
Roomba 671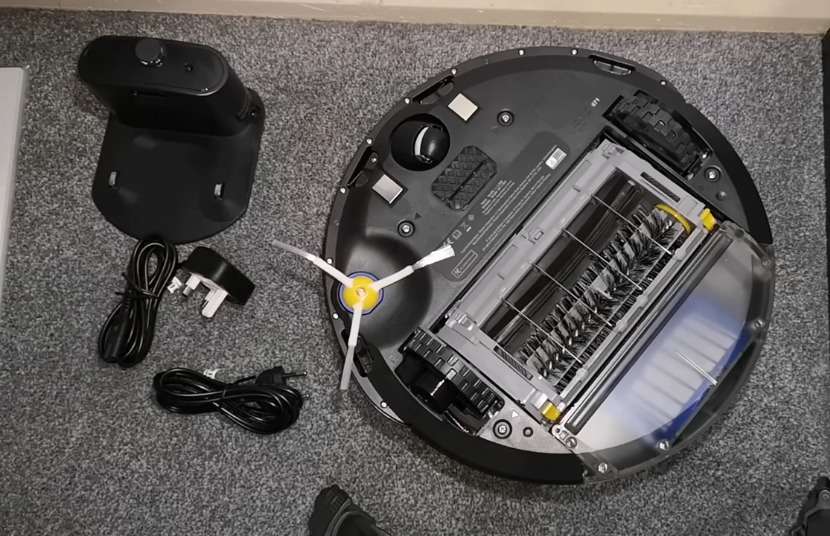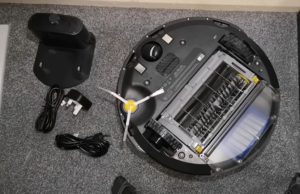 Roomba 671 has one charging dock, an adapter, owner`s guide, documentation package, and a 12-month warranty.
Tests on different types of floors
The data announced by the manufacturers and user reviews allow us to conclude that all three models of considering robot vacuum cleaners show almost the same cleaning results on different surfaces.
Hard Floor
Sophisticated brush systems, which are based on three stages of sweeping, allow each of the robots to collect any garbage on any surface.
Bissell and two Roombas easily vacuum hair flocks, dust, sand, sprinkled flour, cereals, flakes, and other large and small litter.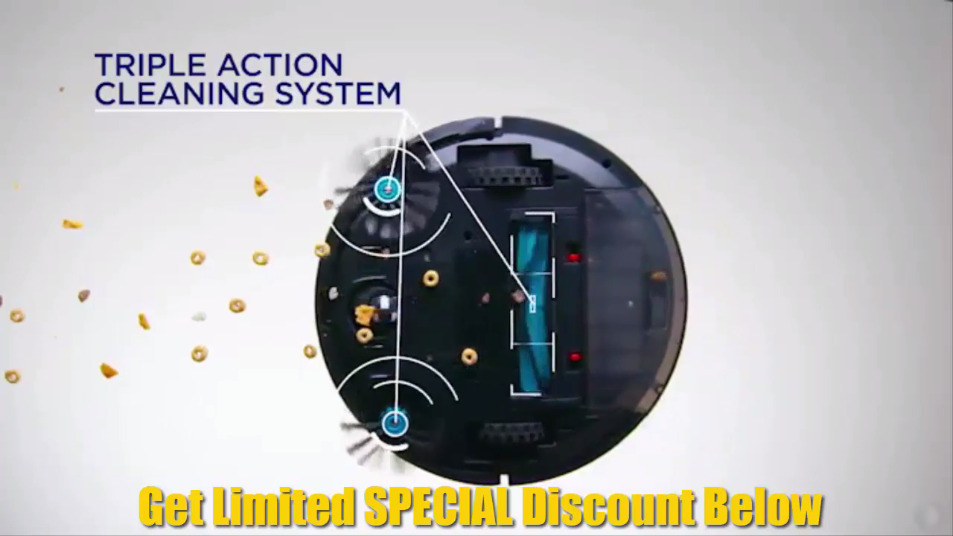 At the same time, weak navigation systems are compensated by well-thought-out movement modes. Thanks to them, the cleaners never miss sections of the floor.
Low Carpet
The brushes and 600 Pa suction help models cope with low carpets and rugs.
The power of the bots is enough to extract up to 100% debris from low pile and collect clinging hair.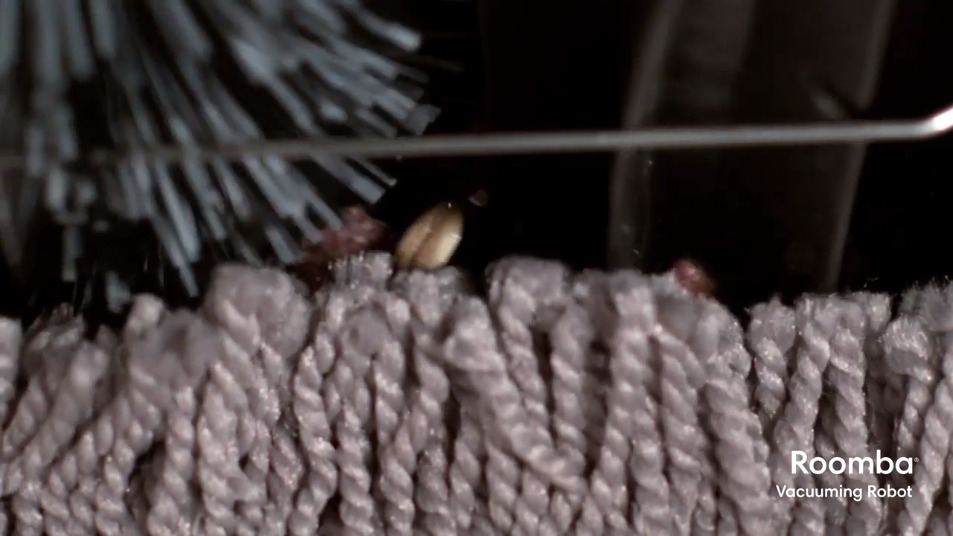 High Carpet
However, if you have a lot of fluffy thick carpets at home, these vacuum cleaners are not for you.
Unfortunately, they can`t produce high-quality cleaning of the high pile. This is confirmed by numerous tests and user reviews.
Frequently Asked Questions
Are Bissell EV675, Roomba 671 and 675 robot vacuums suitable for carpet cleaning?
All three models were designed for mainly hard floor vacuuming. Their low suction for 600 Pa doesn`t allow them to deal with thick and soft pile. The maximum you can get from these cleaners is low-piled carpet cleaning.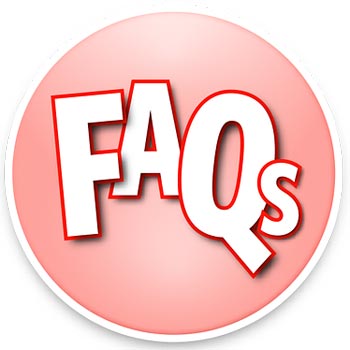 How many square feet can Roomba 671, 675 and Bissell EV675 clean on a single charge?
Roomba 675 and 671 models last for 90 minutes. During this time, both robots can cover up to 1615 ft2 or 150 m2 of floor. Bissell EV675 cleaner features a bit longer run time. Within 100 minutes, it will clean bigger apartments over 1700 ft2.
Can I set virtual walls on my Bissell EV675?
Bissell EV675 robotic cleaner doesn`t work with virtual limiters. So, you cannot set restrictive areas for your vacuum.
Do Roomba 671 and 675 have remote controls like Bissell EV675?
Roombas vacuums do not come with IR remote controls. All settings and running are performed either through physical buttons or through the app and voice assistants.
Conclusion
We examined and compared three budget models of robotic vacuum cleaners in detail and saw that they are very similar in many respects. However, the detected differences allow us to choose the best option for the purchase.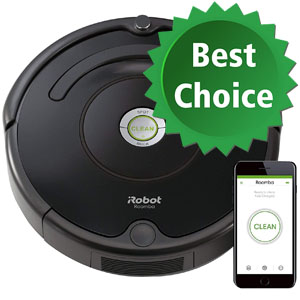 We believe the Roomba 671 model is the best offer in this price and technology category. At the cost of $190, you get a good set of functions sufficient for efficient cleaning of small and medium-sized houses.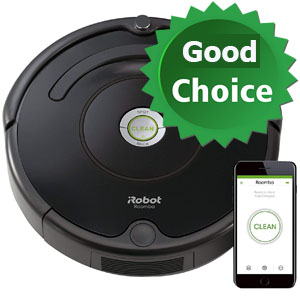 Roomba 675 is almost identical to the 671. The only positive differences that we identified are the smaller dimensions and the presence of Dirt Detect function. However, the price of this model is about $210. In our opinion, the advantages of this robot don`t cover the higher cost compared to the 671 model.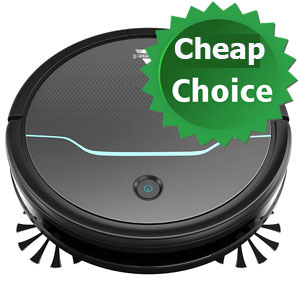 If we talk about Bissell EV675, we weren`t completely satisfied with this device. Of course, it`s the cheapest of the three models ($179), it perfectly copes with hair cleaning and cleaning hard-to-reach spots. But at the same time, the robot is the most low-tech of all. While all even outdated models are equipped with Wi-Fi and voice control, it supports neither of these technologies. In practice, a 100-minute battery is consumed much faster, since weak sensor navigation doesn`t allow the robot to quickly and clearly identify dirty areas from already cleared ones. So, now, for the same money, you can find devices with equal quality of vacuuming, but with a significantly larger set of functions. However, if you don`t need additional amenities, this bot will perform dry cleaning unconditionally well.