Bissell Little Green vs Spot Clean Face to Face Comparison
Portable mini-vacuums are an excellent option for quick elimination of spot messes on all surfaces from hard floors to curtains.
Such appliances include many features of full-size carpet cleaners but allow you to avoid the noisiness and bulkiness of common vacuums.
The market offers lots of models, and today, we'd like to discuss Bissell bland options – Bissell Little Green vs Spot Clean vacuums.
The products are notable for a budget price, nice power, and ability to provide wet cleaning, so let's find out which is better!
Main Differences Between the Models
Before we start, let's quickly list the most significant differences you'll see in the models:

Bissell Spot Clean is the most powerful portable cleaner of the brand and is, consequently, more potent than the Little Green.
However, the Green device comes with a built-in heater and processes surfaces with heated water.
Our products use the same main brush. But the first cleaner comes with an additional crevice tool, while the second has a stair tool.
The Spot Clean is equipped with twice bigger water tanks.
It also has a longer cord and slightly longer hose.
Bissell Little Green justifies its name and offers a lighter case and more compact dimensions.
Comparison Table
BISSELL Little Green ProHeat Portable Carpet and Upholstery...
Bissell 3624 Spot Clean Professional Portable Carpet Cleaner...
BISSELL Little Green ProHeat Portable Carpet and Upholstery...
Bissell 3624 Spot Clean Professional Portable Carpet Cleaner...
Bissell Little Green ProHeat 14259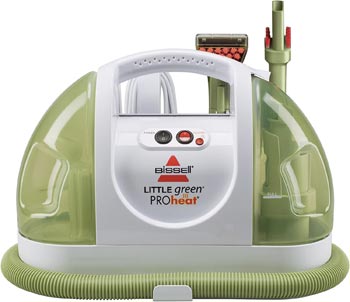 The Little Green is a quite popular series, which includes several models. This time, we're going to discuss the ProHeat version with built-in heating.
The Little Green ProHeat is one of the best affordable portable cleaners by Bissell. This small device deals with spot messes and stubborn dirt on all surfaces. The model is used on upholstery, carpets, car interiors, soft toys, stairs, etc.
Portable design is slightly limited by a 15 ft cord, but it's enough for comfortable cleaning. The system also includes one flexible hose and two nozzles – a 3″ Tough Stain brush for most tasks and an additional crevice tool.
The Little Green provides wet cleaning. Users can also add included cleaning solutions for better results. The heating system is one of the main advantages of the product. Boiled water cleans better and dries faster.
Finally, the manufacturer developed a dual tank system.
When it comes to drawbacks, users mostly complain about weak suction and complicated tank release. Unfortunately, budget plastic construction is a short-lived construction. So, on average, the cleaner lasts for a couple of years.
Bissell Little Green ProHeat provides worry-free and thorough deep cleaning. It perfectly eliminates spot pollutions and will be of special use for pet owners – pet accidents and even hair are not a problem for this cleaner.
Besides, the price of $110 is one of the most beneficial in the market.
Pros
deep wet cleaning of spot debris
suitable for almost all surfaces
reaches the most inconvenient pollutions
perfect for pet messes
two brushes included
heating system for better cleaning and faster drying
long cord
big dual water tanks
can be used with a cleaning solution (included)
budget price
Cons
not very high suction
tanks are difficult to clean
not as durable model as wished
Bissell Spot Clean 3624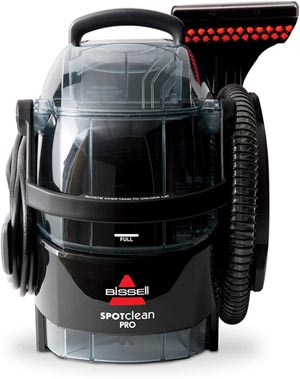 The Spot Clean is one of the most popular mini-cleaner products of the brand, suitable for extensive home use and even car cleaning. This series offers slightly improved features, though it lacks a heating system.
The Spot Clean is easy to carry around the house. Once again, we get two brushes for multi-surface and stair cleaning. The latter was enlarged. So was the water tank, and you can also use Bissell cleaning solutions.
The cleaning area is limited by a 20 feet cord. But together with a hose, the cleaner covers larger space.
Bissell Spot Clean is the most powerful portable cleaner for carpets, stairs, upholstery, auto interiors, and more. Its brushes provide superior suction and excellent scrubbing action while supporting elements help clean large areas with ease.
The model is recommended for bigger houses and is a must-have for pet owners and dwellings full of carpets. Users note its worry-free and much quicker elimination of pet accidents compared with full-size carpet cleaners.
Among the minuses, people wish quieter operation and lighter weight as the vac is bulkier than other portable cleaners.
Due to the higher suction, Bissell Spot Clean has a higher price. Still, $159 is something that everyone can afford.
Pros
deep wet cleaning of spot debris
suitable for almost all surfaces
reaches the most inconvenient pollutions
perfect for pet messes and carpets
the highest suction
two brushes included
wide stair brush
longer cord and hose
big dual water tanks
can be used with a cleaning solution (included)
budget price
Though descriptions gave us certain ideas on the cleaners, we also suggest conducting a more detailed characteristic comparison.
Design and Dimensions
Bissell Little Green has the following dimensions: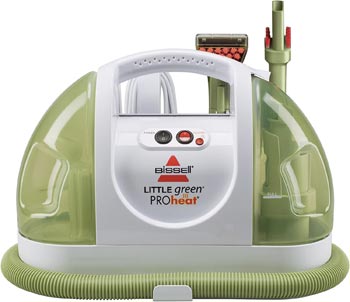 8.25″ x 17.25″ x 12.5″
13.37 pounds
Bissell Spot Clean measures: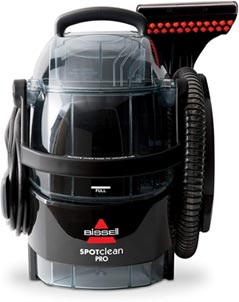 10″ x 14″ x 14″
16.43 pounds
As we've noted above, the cleaners are almost identical in dimensions, but the Spot Clean is wider and heavier than its rival. Such difference (insignificant at first sight) turns out to be more important for the application, especially when the models are full.
Anyway, both devices are quite portable and offer nice carry handles. The only limitation is the cords.
Despite the difference in shape, their cases share similar hoses and brushes, which are conveniently attached to the bodies with clips. Transparent water tanks allow for easier water level monitoring.
Both cleaners have lots of plastic details. The Little Green prefers green colors, while the Spot Clean features a stylish black design.
Power

Despite the ubiquitous speeches about 9 amp power, Bissell Little Green ProHeat uses a 3 amp motor. The official website provides clear tech information on this point.
Bissell Spot Clean comes with a 5.7 amp motor, which is the largest motor they offer in a portable machine.
Verdict: If you're looking for ultimate suction, choose the Spot Clean. Its power is more than enough for deep carpet cleaning and hair collection. The Little Green device has some problems with suction. But when used on low rugs and medium carpets, it guarantees thorough cleaning.
Brushes

Both models come with dual brush systems. The main element is presented by 3″ Tough Stain Tool that features bristles for deep and efficient multi-surface cleaning. The tool design allows for vacuuming in most hard-to-reach places unavailable for common vacuums.
When it comes to the deep processing of crevices and corners, the Little Green offers 2-in-1 Spraying Crevice Tool.
The Spot Clean device lacks such a nozzle, but it has 6″ Stair Tool for more thorough stair cleaning.
Anyway, all elements clean with spray and suction when you spray liquid pushing the triggers and collect it with dirt with bristles and suction.
Please pay attention that neither of the brushes is motorized, so you do all the scrubbing. Tough bristles may also cause hair tangling, which leads to more complicated brush maintenance.
The manufacturer also offers several additional nozzles available for separate purchase. There are Powered TurboBrush Hand Tool, 4″ and 6″ Upholstery Tool, Spraying Crevice Tool, and Deep Reach Pet Tool.
Verdict: Considering the brushes, the Little Green better suits for upholstery and car cleaning, while the Spot Clean is perfect for carpets and especially carpeted stairs. Otherwise, the main brushing elements make them equally useful for multi-surface cleaning, including pet hair collection.
Cord
The cleaners work from a common outlet. Though wired design somehow limits the freedom of movement, it also saves us from battery dying and constant need for recharging.
The first device is equipped with a 15 ft cord,
while the second option has 20 feet.
Both appliances require 110-120v.
Verdict: The difference is not so great to make any significant conclusions. The models can be used in the same areas without much hindrance.
Hose


However, the cleaning radius doesn't depend on the cord only. They are complemented by hoses, which together cover a larger area. The tubes are soft and corrugated to provide you maximum flexibility. And plastic material is resistant to tears and burst.
The Little Green comes with a 4 ft hose.
The Spot Clean uses a slightly longer 5 ft unit.
Once again, the difference is negligible.
Water Tanks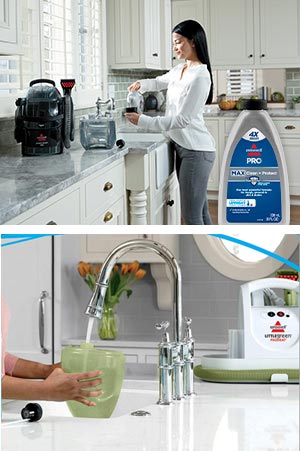 Bissell equipped both models with dual water tank systems for separate clean and dirty liquid storage. While tanks differ in shape and location on the cases, we're mostly interested in their capacity.
The Little Green tanks measure 48 oz. or 1.4L.
The Spot Clean vacuum can hold up to 3/4 gallon or 2.8L.
As you see, the second cleaner offers twice bigger water tanks. It means the model lasts twice longer without the need for filling or emptying.
However, it's worth mentioning that the Green device also has a trick up its sleeve. It is the only model of the review that uses the heating system. The cleaner heats water, which contributes to the efficiency and bacteria elimination as well as surface drying.
No matter what option you'll choose – in both cases, you'll be able to use cleaning solutions with your cleaners. The manufacturer added one formula to each kit and can also purchase specialized Pet Odor & Stain Removal Formula, Professional Deep Cleaning Formula, and many others.
Verdict: We're struggling with choosing the winner here, as the choice depends on your preferences. The twice bigger Spot Clean tanks seem to be an incomparably better option, which is excellent for large houses. But on the other hand, the Little Green offers a heating system, and you should choose this model for deeper and safer pile cleaning.
Noise
Unfortunately, the manufacturer doesn't provide us with information on the dB noise level. So, this part is based on real users' reviews and our tests.
Practice shows that portable spot cleaners are as loud as regular vacuums. Our both competitors work quite noisy as engineers preferred to focus on power. In general, cleaners produce up to 80dB.
Accessories
Bissell Little Green cleaner comes with: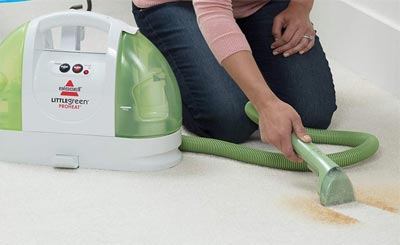 2-in-1 Crevice Tool
3″ Tough Stain Tool
Stain & Odor Formula
Bissell Spot Clean kit includes: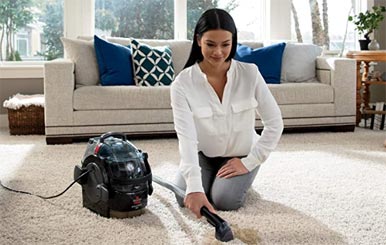 6″ Stair Tool
3″ Tough Stain Tool
trial-size bottle of Pro Max Clean + Protect Formula
The sets are not too rich, but users get everything they may need for cleaning. Besides, as we've already mentioned, you can buy additional brushes and solutions if needed.
Buyer's Guide – How to Choose the Best Portable Carpet and Upholstery Cleaner?
Portable vacuum cleaners for carpets and upholstery can bring you so much help and convenience of cleaning. And though they are usually very affordable, we recommend you to assume some responsibility for the choice process. Thus you'll be sure to get the most efficient model for the money. Here are several pieces of advice.
Brushes
Brushes are one of the most important elements of any vacuum, especially the one for spot cleaning. The more nozzles, the more messes you'll be able to remove. Try to choose portable cleaners with crevice tools for narrow places, brushes for pet hair, pile, dusting, stubborn dirt. Please also mind that portable cleaners may be used for car cleaning. So, if you have one, make sure to get the vac with all the necessary elements.
Weight
The weight of the cleaner directly influences the ease of its transportation and use. As a rule, manufacturers remember this and try to make their products as light as possible. But if you have an opportunity to try the chosen models before purchase, please do it; or at least check the weight beforehand.
Power type
Power type is another essential moment to discuss. Spot cleaners may be cordless and corded. If you prefer a cord-free device, please check the battery type, its duration, and charging time. Those who feel ok using corded cleaners should pay special attention to its length. Obviously, the longer, the better for cleaning radius.
Dirt cup capacity
Just like the battery, dirt cup capacity can either prolong or shorten the time of cleaning. Big houses with lots of messes or volume dirt (like hair) require big containers. Many carpet models provide wet cleaning. In such cases, please try to choose a cleaner with dual water tanks for clean and dirty water.
Cleaning solutions
The latter models for wet cleaning can provide even more efficient results if used with cleaning solutions. However, not all manufacturers allow it. So, it's a wise idea to check this moment in advance. Also, pay attention to the kit as some brands add bottles of solutions to save your money. Nice compliment, isn't it?
Frequently Asked Questions
Can Bissell Little Green ProHeat and Spot Clean be used for car interior cleaning?
Certainly! Both models have everything you may need for thorough interior cleaning of your car, from large particle collection to wet processing.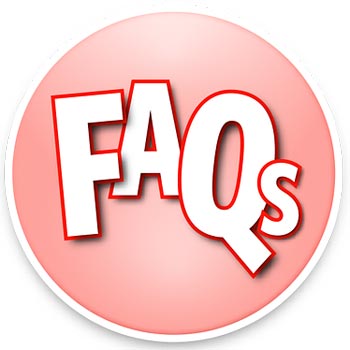 Does Bissell Little Green ProHeat provide optional heating? Can it be dangerous for my furniture?
Yes, the heating is absolutely optional. The Little Green has a separate on/ off switch for heat. Users are free to choose any mode, depending on the task and surface being treated.
Please pay attention that heated water can damage some surfaces and materials. So don't forget to check whether your furniture withstands high temperatures.
How to prepare Tineco iFloor cleaner for self-cleaning?
Before you put your vacuum on the self-cleaning tray, you should remove the brush and clean it from hair tangled. Then rinse it and put back. Clean the dirty water tank and fill the clean tank (no less than by 40%). Put the cleaner on the tray and press the Self-Cleaning button. After the end of the process, clean the dirty tank one more time.
Do Bissell portable cleaners help get smells out of upholstery and carpets?
All Bissell models that can be used with cleaning solutions (like the Little Green ProHeat or the Spot Clean) perfectly remove unpleasant odors out of surfaces and textiles. It's a nice purchase for pet owners or sensitive people.
What is the required water temperature for the Bissell portable cleaners?
Users' manuals recommend filling water tanks with hot but not boiling water.
Can I rinse the brushes and other elements of my Bissell portable cleaner for spot messes?
Yeas, you can safely rinse brushes and water tanks of the cleaners with warm water. Such maintenance is required after every cleaning cycle. Please make sure the elements dried before putting them back into the case.
Conclusion
Despite the release of newer models, the Little Green ProHeat stays more than a reliable and decent device. We would recommend it for deeper spot cleaning, especially old and stubborn stains, thanks to the heating system. Pet owners will also like its anti-scent abilities. And a $110 price makes it affordable for everyone.
Bissell Spot Clean is much more powerful and durable. This model is suitable for more frequent use, more dirt, and larger cleaning spaces. If you have high carpets, this option will provide deeper cleaning.