Bissell Spinwave vs Spinwave Plus
Bissell Spinwave cleaners have proved to be an excellent budget purchase or a gift that will hardly gather dust in a storeroom.
Appliances save effort and time and take care of your back, hands, and knees like nothing else.
However, many customers get lost in an attempt to pick up their perfect model among the series.
Today, we'd like to discuss two leading corded mops for hard floors and conduct the Bissell Spinwave vs Spinwave Plus comparison.

Main Differences Between the Models
The Spinwave and Spinwave Plus are actually the same mops with different accessories included. The differences we highlight are:

The first mop comes with 2 soft pads, while the second model is equipped with 4 soft cloths for everyday cleaning.
The Plus device offers two bottles of Bissell patented formulas made especially for Wood Floors.
Comparison Table
Pads
2 soft and 2 scrubby pads
4 soft and 2 scrubby pads
Cleaning Solutions
2 Multi-Surface Formulas and 2 Wood Floor Formulas
Pads
2 soft and 2 scrubby pads
Pads
4 soft and 2 scrubby pads
Cleaning Solutions
2 Multi-Surface Formulas and 2 Wood Floor Formulas
The Spinwave is a corded modification for powered hard floor cleaning. The product performs wet processing and successfully combines water, cleaning solutions, and gentle powered scrubbing.
Users get two types of pads – soft units and scrubby pads for more stubborn messes. Pads are powered to spin, which is more efficient than manual cleaning.
With any pads, Spinwave is safe for most hardwood floors, including sealed surfaces.
However, please pay attention that the cleaner doesn't work with carpets.
Engineers provided a convenient manual spray, so you can dispense as much solution as you need. Bissell Cleaning Formula for the hard floor is included.
A water tank is big enough for you to clean rooms of almost any size without much disturbance. There is also a swivel steering to mop under the angle. However, the mopping head feels too thick to fit in corners and under low furniture.
Unfortunately, many users note that the cord is shorter than one would like.
Bissell Spinwave certainly costs its money. The offered performance amazes, and the current price is only $100.
Pros
lightweight, portable design
powered scrubbing pads
cleans quicker and more efficient compared with manual mopping
28-ounce clean water tank capacity
2 bottles of Bissell Multi-Surface Formula included
2 soft and 2 scrubby pads included
suitable for all hard floors
quiet
budget
Cons
may leave circular smudges
short cord
doesn't clean in corners and under furniture
The main advantage of the Plus modification is an extended kit. The product offers the same 2 scrubby pads and 4 soft pads. Also, you get 2 trial-size Multi-Surface Formula and 2 trial-size Wood Floor Formula.
Otherwise, the Spinwave vs Spinwave Plus comparison shows no differences in performance and functionality.
The improved version features the same scrubbing action, customized solution spray, swivel steering, and portable design.
On the other hand, drawbacks were preserved too. We get a short cord and a quite thick cleaning head. Besides, the use of a great amount of solution may leave smudges.
In general, Bissell Spinwave Plus will suit houses of any size with mainly wood floors. Even expensive parquet and sealed surfaces will be absolutely safe and clean. Besides, the difference in price is exiguous compared with the first Spinwave. You'll pay about $120. The separate purchase of extra pads and formulas will cost you more, so this model is more beneficial in terms of accessories.
Pros
lightweight, portable design
powered scrubbing pads
2 soft and 2 scrubby pads included
2 extra soft pads included
2 Multi-Surface Formulas and 2 Wood Floor Formulas included
cleans quicker and more efficient compared with manual mopping
28-ounce clean water tank capacity
suitable for all hard floors
quiet
budget
Cons
may leave circular smudges
short cord
doesn't clean in corners and under furniture
Face to Face Comparison
Design and Dimensions
Everyone notes an excellent balance of weight and dimensions of the Spinwave series.
Bissell Spinwave measures: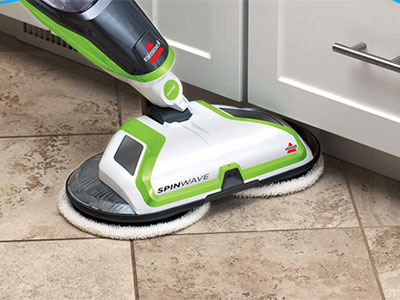 8″ x 16″ x 45″
9.5 pounds
Bissell Spinwave Plus is absolutely identical: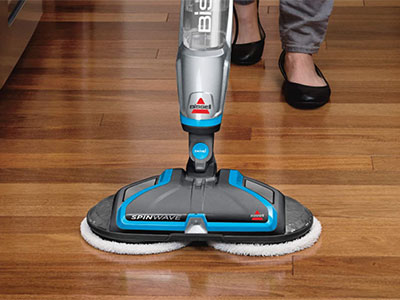 8″ x 16″ x 45″
9.5 pounds
The mops are not heavy and not too light. It means that you don't have to make an extra effort to scrub stubborn dirt – cleaners' weight is enough. Carrying and storage also won't cause any problems.
Both models feature plastic cases that look nice and durable. However, plastic handles feel quite slippery, so many users would like to see a rubber cover or something of that kind.
Tanks are also made of transparent plastic, which contributes to the ease of water level control.
Though the Spinwave and the Spinwave Plus are identical in performance, engineers changed the design. The first option has a light design with white and green colors, and the second is a dark model with grey and blue parts.
Power
Since the mops are designed for wet cleaning only, there is no suction presented.
Attention! Vacuuming is needed before the use of the Bissell Spinwave mops so that no dry particles and hair disturb you.
Motor performs powered pad scrubbing. The rated power is 0.9 amp, which is quite enough for continuous rotation without overloading and overheating.
The cord requires a standard 120V outlet.
Pads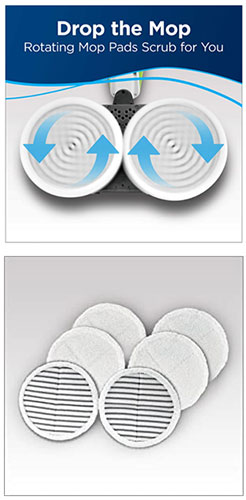 Though the products differ in the number of pads included (which we discussed above), their types are the same for both mops.
There are soft pads for everyday use and common contaminations and scrubby pads recommended for challenging, old, stubborn dirt.
Soft touch pads are made of weft-knitted fiber that includes 20% chinlon fabric and 80% polyester.
Scrubby pads are made of polyester-polyamide filamented coralline velvet that includes 10% nylon yarn, 15% chinlon, and 75% polyester). This mixture provides increased abrasiveness and absorption.
As we've mentioned, pads are mounted on the powered counter-rotating platforms that spin as floor polishers do. Tests show that
pads cope with most domestic pollutions
.
However, scrubby cloths sometimes fail of old dried stains. To remove them, you'll have to scrub such areas several times.
All pads are reusable and need simple machine washing.
Attention! Please mind that pad changing requires certain skills. It's not too complicated, but you'll have to get used to the process.
Cleaning Head


Thus, dual pads form a 14″ cleaning path. We like the width as cleaning takes less time. Swivel steering helps turn the mops in seconds and change the direction of cleaning to process one spot at different angles.
On the other hand, engineers ought to do something with the head height. This part has flattened sides that allow the head to partly go under the furniture. However, only 1/3 of the pads fit there. The central part is extremely bulky.
Water Tank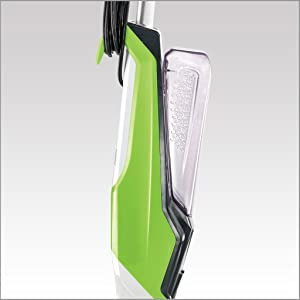 The reservoir is not separated into two tanks like in Karcher FC5 and Bissell CrossWave models. But it has special measuring lines that help you fill the right amount of water.
The maximum water tank capacity is 28 ounces. If you're going to perform local mopping, we recommend using a small area cleaning volume, which is approximately twice smaller.
The solution is added right into the tank. There are also additional lines that mark how much solution is required.
Bissell Spinwave and Spinwave Plus don't wet the pads. You spray liquid directly on the floor by pressing a special button. Thus, the formula better destroys dirt, and you can use as much water as you want without overwetting.
Mops offer no drying function, but evenly sprayed water allows floors to dry quickly.
Control
Bissell Spinwave models belong to simple cleaning devices. All you have for control is an ON/OFF button and spray trigger.
We found no rotation adjustment and the like. But frankly speaking, we didn't feel like needing them. Such simplicity of application and control has its charm.
Cord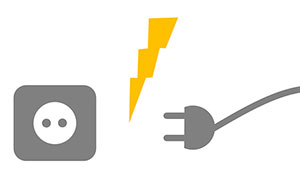 Mops use the simplest cord with no anti-tangling and no automatic cord rewind systems.
When it comes to its length, users seem to divide into two groups.

Some claim 22 feet are too short for convenient operation.
Others suggest that it's enough if you plug the unit into different outlets during the process.
In our opinion, the cord length feels comfortable for small rooms and apartments, but owners of large houses will find it critical.
If you don't like the cord, the manufacturer has an option for you. It also offers a cordless CrossWave modification.
However, it's a disputable moment that depends on your preferences. With corded models, we're limited in the cleaning radius but get the full freedom of cleaning time. This freedom is lost in battery-powered devices.
Noise
Neither manufacturer nor experts give exact dB data on the Bissell Spinwave cleaners. However, all users' reviews prove the models work very quietly.
During tests, we heard only gentle buzzing and vibration. We also noted good body sealing that suppresses some noises and gentle vibration.
The only disturbing noise is the strange beeping that sounds each time you press the spray button. The sound is seemed to be a useful notification, but we consider it unnecessary.
Accessories
Bissell Spinwave kit includes: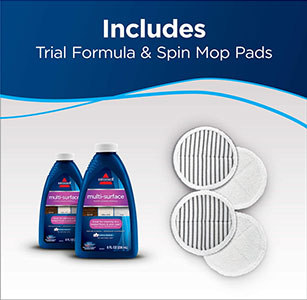 2 soft pads
2 scrubby pads
2 bottles of Bissell Multi-Surface Formula
Bissell Spinwave Plus kit consists of: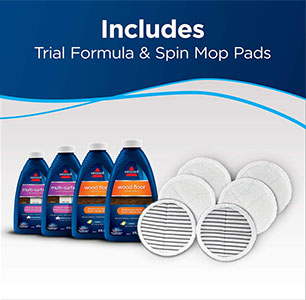 4 soft pads
2 scrubby pads
2 bottles of Bissell Multi-Surface Formula
2 bottles of Wood Floor Formula
Once again, accessories form the only difference between the models. The Plus provides more pads and cleaning solutions, which makes it a more beneficial purchase.
Guide – How to Choose the Best Mop Cleaner?
While choosing a mopping cleaner, one should pay attention to several characteristics. The key parameters include:

Power Supply Method:
Manufacturers offer corded and cordless devices. In the first case, attention should be paid to the wire length, and in the second – to the battery capacity. Most models are able to work continuously for 15-20 minutes, which is usually not enough to fully refresh floors in the entire apartment. The best option for large dwellings is at least 30 minutes.
Power Characteristic
Power Characteristic is crucial as it influences the brush/pad rotation, water heating time and temperature (if the model has a heating system), etc. For comparison, low-power models provide 1200-1500W, and in the top devices, the power exceeds 2000W.
Heating:
Some mop cleaners heat water and can automatically dry floors. Cleaners with built-in heating cost more but justify their price. However, it's recommended to mind the power and the presence of an anti-scale filter.
Water Tank Capacity:
The tank volume choice directly depends on the number of rooms in the house. For a small apartment, a device with a 250-300 ml (8-10 ounces) tank is enough. Larger dwellings require an electric mop with 600+ ml / 20+ ounces.
Dimensions and Weight:
Even the lightest models weigh at least 3-4 pounds; however, such models feel flimsy. The most functional and powerful mops can reach 15 pounds. If you plan to carry out horizontal cleaning and deal with stubborn dirt, you're better purchase heavier modifications. But for multi-floor houses, it's better to use lightweight units.
Pads:
Please always pay attention to the pads' material, quality, and durability. Besides, the more pads you have in the kit, the better. High-quality cloths significantly increase the quality of cleaning and eliminate smudges.
The best models also feature:

flexible hand and cleaning head
extra accessories (such as pads for different floor types, nozzles)
overloading and overheating protection
water level control
automatic turning off in case of an empty tank
quiet operation
Frequently Asked Questions
Bissell Spinwave vs Bissell CrossWave: which mop cleaner is better?
Bissell CrossWave
is a more complex cleaning device designed for hard floor and carpet cleaning. The unit performs suction and has two water tanks (for dirty water). We also note cordless construction, self-cleaning technology, digital display, and Wi-Fi connectivity.
The CrossWave is a better and smarter cleaner for large dwellings with combined floors. The Spinwave wins with its budget price and ease of use. It perfectly copes with hard floors, but carpets are not its area of responsibility.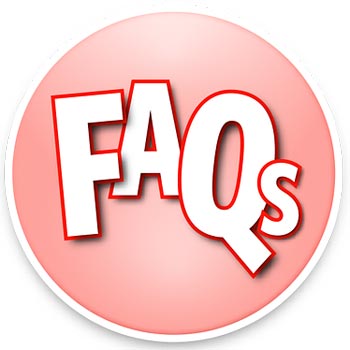 2Should I use cold or hot water for my Bissell Spinwave?
Bissell Spinwave mops require warm water. The maximum temperature allowed is 60°C or 140°F. The use of hot and boiled water is prohibited as it can damage the water tank and the cleaner.
How much are original Bissell pads and Bissell Formulas for the Spinwave cleaners?
Bissell pads are sold in packages. An average price reaches $20-$25.
Cleaning Formulas will cost you the same $20-$25 per bottle. The most popular solutions are Floor Sanitize, Pet, and Deep Clean Formulas. (сюда наверное можно добавить ссылочки на самые популярные составы и губки).
How long do Bissell Spinwave mop cleaners last?
With proper maintenance, the Spinwave mops can last for several years.
Conclusion
The Spinwave series was developed to perform simple automatic floor moping. So, one shouldn't expect too much from these models. However, we love the way they do their job. When purchasing one of these cleaners, you'll definitely get clean floors for little money.
As you see, Bissell Spinwave Plus is an extended version of the Spinwave model that can offer a richer accessory set. You can safely pick up any of the two in terms of functionality and performance.
However, the Plus product is a preferable option for those who care about extra pads and solutions.