For the last several years, more and more people have been buying Chinese goods. Although before things from this country were associated with poor quality, now this stereotype is gradually becoming a thing of the past.
Many Chinese companies have established themselves as reliable suppliers of inexpensive goods of decent quality.
For example, Ecovacs company produces robot vacuum cleaners that can compete with such market giants as the American iRobot.
Today we are going to take a closer look at two Ecovacs vacuum cleaners – Deebot 500 and Deebot n79s.
ECOVACS DEEBOT N79S Robot Vacuum Cleaner with Max Power...
Ecovacs DEEBOT 500 Robot Vacuum Cleaner with Max Power...


Automatically Docks and Recharges
Cleaning Modes
Auto, Edge, Spot and Single room
Auto, Edge, Spot, MAX mode
Connectivity
Alexa or Google Home voice
Alexa & Google Assistant voice
ECOVACS DEEBOT N79S Robot Vacuum Cleaner with Max Power...

Automatically Docks and Recharges
Cleaning Modes
Auto, Edge, Spot and Single room
Connectivity
Alexa or Google Home voice
Ecovacs DEEBOT 500 Robot Vacuum Cleaner with Max Power...

Automatically Docks and Recharges
Cleaning Modes
Auto, Edge, Spot, MAX mode
Connectivity
Alexa & Google Assistant voice
1. Deebot 500 Robotic Vacuum Cleaner
Read more about Deebot 500
Ecovacs Deebot 500 is a robotic vacuum cleaner that can significantly facilitate any home cleaning. This model quickly and efficiently carries out vacuuming of floors, at the same time giving you the freedom of control and management.
It has a built-in Wi-Fi module so that the vacuum cleaner can be controlled through a smartphone from any place in the world. The battery life is 110 minutes, which is enough for medium-sized rooms (about 1290 sq. ft / 120 sq. m).
Ecovacs Deebot 500 is enclosed in a dark round case. The absence of sharp corners positively affects the movement of the device in the room. Many built-in optical sensors scan the location. Due to its low height, the vacuum cleaner can carry out cleaning even in hard-to-reach places.
Ecovacs Deebot 500 guarantees efficient indoor cleaning on various types of coatings. The vacuuming is facilitated by the side brushes, the main V-shaped roller, and suction.
The volume of the dust bag is 520 ml, and the noise level during operation does not exceed 65 dB. Several modes of movement will provide the most effective cleaning indoors without any difficulties.
Besides, the robot can adjust its power depending on the flooring and type of pollution. There is standard cleaning mode for daily cleaning and Max Mode for extra-polluted spots and resistant dirt.
Pros
compact dimensions
HEPA filter
Max mode and other several modes
wide range of sensors
Smart Navi navigation system
powerful battery
mobile app and voice control
affordable price
Cons
average suction
small dustbin
no Dirt Detect function
2. Deebot n79s Robotic Vacuum Cleaner
Read more about Deebot N79s
The Deebot n79s is the latest model of Ecovacs robot vacuum cleaner in 2019. The robot is designed to sweep and suck garbage on various types of flooring (parquet, tile, laminate, wood, marble, linoleum, carpet, and carpet).
Despite the apparent external simplicity, the robot is equipped with several intelligent operating modes and has useful functions and proper technical parameters. Besides, Ecovacs Deebot n79s provides work through voice assistants and is controlled both from the remote control and from the smartphone via the Wi-Fi network.
In operation, the vacuum cleaner is similar to the previous model Deebot 500. It uses the same three-stage cleaning system with two side brushes, the main V-shaped roller with bristles, and a suction port.
Among the modes of the model

We can distinguish Auto mode for everyday cleaning;
Edge mode when the cleaner works only around the perimeter of the rooms and in the corners;
Spot mode for intensive vacuuming of a given area;
Maximum power mode when the device automatically doubles the suction power working with heavy contaminants.
Built-in Smart Motion navigation technology ensures Deebot n79s not to miss areas during automatic surface cleaning. The robot builds a "smart" route within the rooms, repeatedly processing each section of the floor.
The battery lasts for 120 minutes of cleaning. In this case, the device covers up to 1076 sq.ft/100 sq. m.
The model sells for just $ 250. Taking into account the functionality and characteristics, it has no competitors in this price segment.
Pros
compact dimensions
great suction
several modes
a good collection of hair
in-built sensors
HEPA filter
powerful battery
app and voice control
affordable price
Cons
small dustbin
no virtual walls
no Dirt Detect and Carpet Boost functions
Design, Size, and Dimensions
The two robot vacuum cleaners have the same design. They are typically black, round-shaped devices made of high-quality materials (mostly plastic).
Deebot 500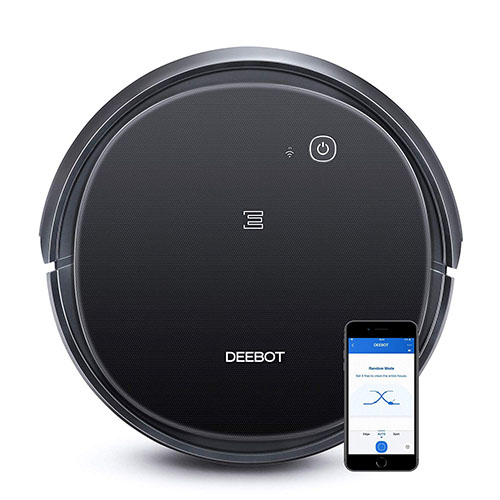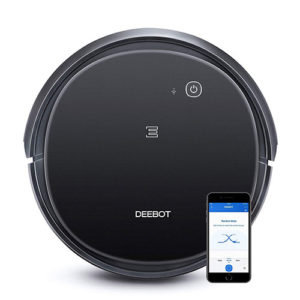 Deebot 500 has a width of 12.9 inches, and its height is equal to 3.1 inches. .
Speaking about the weight of the robots, we can note that this model is also the lightest as it weighs 7.28 pounds.
Deebot n79s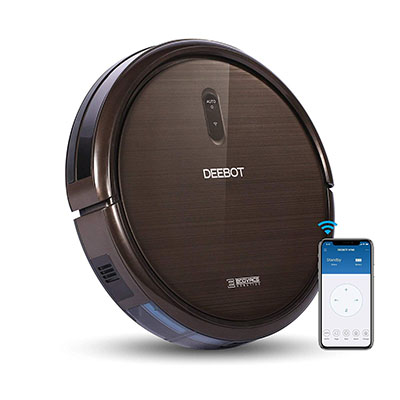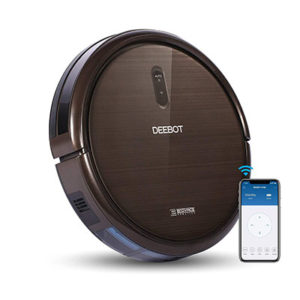 Deebot n79s is bigger since it measures 13.9×3.11 inches. A more massive robot will be inferior to a smaller one in maneuverability and performance. It just won`t be able to crawl under low furniture or get to challenging places.
Deebot n79s weighs 9.48 pounds. So you can have some difficulties with its portage.
Navigation
Most often, the navigation of robotic vacuum cleaners goes due to the work of built-in sensors. More sophisticated vacuum cleaners also use additional systems such as lasers, mapping, ceiling markings, cameras, etc.
Deebot 500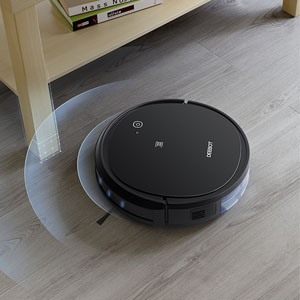 Deebot 500 orientates in space thanks to the Smart Navi laser system. The robot is also equipped with primary obstacles and height sensors. Such complex navigation guarantees high-quality cleaning and the safety of the vacuum cleaner itself.
Deebot n79s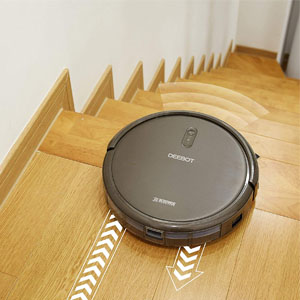 Built-in Smart Motion navigation technology ensures the Deebot n79s eliminates missing areas during automatic surface cleaning.


The robot builds a "smart" route within the rooms, repeatedly processing each section of the floor. The device is equipped with sensors that prevent falling because of a height difference. Moreover, in addition to the soft bumper, a set of sensors that "feel" approaching obstacles protects the robot cleaner from collisions.
You can make the robot navigation even more accurate if it supports limiters. Such virtual walls do not allow the device to cross the established border and clean in undesirable places.
You can set a virtual barrier for Deebot 500 in the application. Just draw a line, and it won`t cross the «wall.» If you want to buy Deebot n79s, please mind that it doesn`t support such technology.
Dirt Detection
Neither Deebot 500 nor Deebot n79s supports Dirt Detect function. It`s doesn`t crucially influence the cleaning, but could make it a little bit more thorough.
So the lack of this function is a disadvantage.
Filter System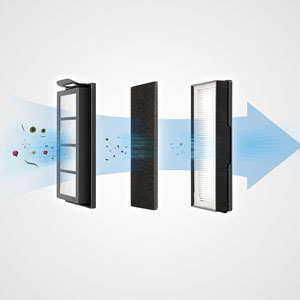 Both robots have so-called high-performance filters.
These elements purify the sucked air and retain dust, dirt particles, and allergens.
The filters do their work nicely and provide noticeable air cleaning.
High-performance filters are used in all
Deebot robots
by Ecovacs and are similar to HEPA filters of
Roomba
and some other vacuums.
Connectivity
Both Deebot 500 and Deebot n79s support Wi-Fi connection and ECOVACS HOME mobile application.
In the app, you can plan the daily cleaning schedule by setting the day and time for an automatic start.
There is also synchronization with Amazon Alexa and Google smart speakers for voice control.
Suction Power
Deebot 500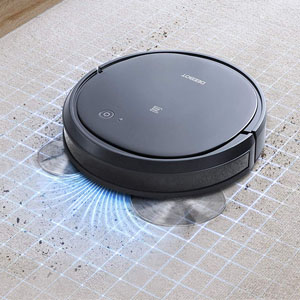 Deebot 500 robot can adjust its power depending on the flooring and type of pollution.
The standard suction power is excellent for daily cleaning. But if you need to carry out intensive cleaning, turn on "Max Mode" that doubles suction up to 1000 Pa to clean more resistant dirt.
Deebot n79s

The n79s can also work in several modes, which allow you to diversify the cleaning technology to improve the final result.
These modes change the suction power of the robot from 500 Pa to 1000 Pa. For example, a minimum level is sufficient for Auto cleaning. But Max mode demands the highest suction.
Please note that 1000 Pa is sufficient for hard floors and medium-piled carpets. If you have thick carpets at home, our vacuum cleaners won`t be able to provide perfect cleaning on such a pile.
Run Time
If we talk about batteries, we see that there are no differences between models in this characteristic.
Since both robots have the same manufacturer, it is predictable that their batteries are the same.
Deebots are equipped with a 2600 mAh lithium-ion battery, which provides 100 minutes of cleaning.
Battery charge resumes from a special charging station in 240 minutes. When the charge level comes to an end, the vacuum cleaners stop and return to the station.
Dustbin Indicator
Both models have relatively small dust collectors. Deebot 500 holds 520 ml of dust, and Deebot n79s can collect no more than 450 ml. Such volumes force owners to maintain vacuum cleaners frequently and empty dustbins after each cleaning.
In the case of heavy pollution, you may have to clean the dust container several times during one cleaning cycle.
In such a situation, the Full Bin Indicator may be useful. This in-built element notifies the person of the degree of the bin fullness. Therefore, there is no need to monitor the situation all the time.
Deebot 500
Deebot 500 gives you notifications about bin fullness.
Deebot n79s
Deebot n79s doesn`t have Full Bin Indicator.
Noise
Both models cannot be called either too noisy or extremely quiet. The manufacturer claims that the maximum noise level produced by these robots is 65 decibels.
This level is comparable to a loud conversation. It allows the vacuum cleaner to work unnoticed during the day when many different sounds are made inside and outside the house.
However, if you turn on any of these robots at night, you will hear it even in the next room.
Accessories
As a rule, when you buy a robot vacuum cleaner and open the box, there is not only one vacuum cleaner inside. In the kit, you can see various additional accessories.
And self-respecting manufacturers are trying to maximize the scope of supply to provide the user with everything necessary for the maintenance of the robot.
Often you can also find replaceable items, such as filters or wipes for wet cleaning in the box. These nice little things allow you to save money in the future.
Deebot 500
So, Deebot 500 set includes

one charging dock,
four dual-length side brushes,
two replaceable high-efficiency air filters,
one remote controller,
one cleaning tool to service brushes
other parts of the robot after cleaning.
Deebot n79s
Deebot n79s comes with

a dock station,
one remote controller,
two side brushes,
one main brush,
a 12-month warranty.
Alas, but there are
no high-performance filters
.
So, the set of this Deebot is not so broad as the set of Deebot 500.
Tests on different types of floors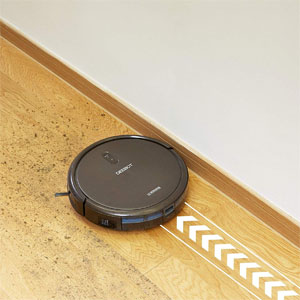 As we noted earlier, these robots cover rooms up to 100-120 square meters. Therefore, they are suitable for medium-sized apartments and houses, as well as for small offices. You can use Deebots in multi-story buildings, but, as a rule, it complicates the work of vacuum cleaners.
As for the types of floor, both models cope well with laminate, parquet, linoleum, tile, wooden and concrete floors, as well as low- and medium-piled carpets.
Tests showed that the brushes don`t damage the floor and carefully collect garbage. Thanks to more advanced navigation systems, robots don`t miss surface areas.
Deebot 500 and Deebot n79s can vacuum flour, cereals, sand, dust, hair, and other scattered, stocked, or street garbage.
Frequently Asked Questions
What is the main difference between Deebot 500 and n79s?
We suppose the main difference between the two Deebot models is the presence of smart navigation. While the N79S uses Smart Motion, Deebot 500 has random navigation based on sensors.
There are several more differences, such as:
weight – 7.05 lb of the N79S compared to 4.4. lb of Deebot 500;
dustbin capacity – the N79S model can contain 450 ml, and Deebot 500 has a 520 ml collector;
Dustbin Indicator – Deebot 500 is equipped with it, and Deebot N79S is not.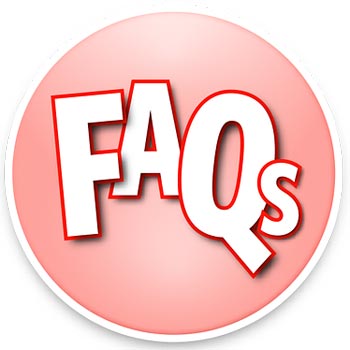 How do I connect my Deebot n79s to WIFI?
To connect your Deebot N79S to the WiFi net, you should install the Ecovacs mobile application. Connect the phone to 2.4G Hz WiFi and choose the N79S series in the app.
Then make sure the robot is 5 feet or closer to the router and that its power switch is on. Take a remote control and press the WiFi button until the sound signal. You`ll see the app starts the connection. Done!
Does Deebot 500 need WiFi?
Deebot 500 requires 2.4 G Hz WiFi network, as it supports remote control through the ECOVACS HOME mobile app. Here you can monitor the vacuum, set schedule, cleaning modes, etc.
WiFi connection is also necessary for Alexa and Google voice assistants.
How long does Deebot n79s take to charge?
Deebot N79S charges for approximately 3-4 hours.
Deebot 500 or Deebot N79S: which model has higher suction power?
Both models have the same suction power up to 1000 Pa, which may vary depending on the cleaning mode (for example, Auto, Spot, or Max modes).
So, Deebot 500 and Deebot N79S vacuums are equal in the characteristics.
How do I reset my Ecovacs Deebot n79s?
To reset your Deebot N79S, you should take a remote control, find the Start/Pause button, then press it and hold for 3 seconds till the vacuum beeps.
Conclusion
One of the reasons why the Chinese high-tech company Ecovacs has managed to gain international recognition in such a short time is that it produces really high-quality, smart products at an affordable price.
And our Deebot robot vacuum cleaners are the direct proof of it. Both models cost no more than $ 250, so they are available to everyone. At the same time, each of them is equipped with an excellent navigation system, good suction, Wi-Fi and voice support, a mobile application.
In a word, buying a robot for $ 250, you get the same features that you can find in robots for $ 400 and even $600+ models.
Of course, they also have some drawbacks:

Lack of Carpet Boost technology,
Small dust collectors,
Somewhat noisy work.
There may also be problems with the app, as the product is oriented to the Asian market. So in countries of other regions, the app may fail even if you use a VPN.
If you choose between Deebot 500 and Deebot n79s models, you`d better select the first robot. Although the price of the vacuum cleaners is the same, the 500 has a bit more features. They are a slightly more extensive set of accessories, Full Bin Indicator, a virtual wall, a larger dust collector, and smaller dimensions.