Best Deebot Black Friday Deals 2019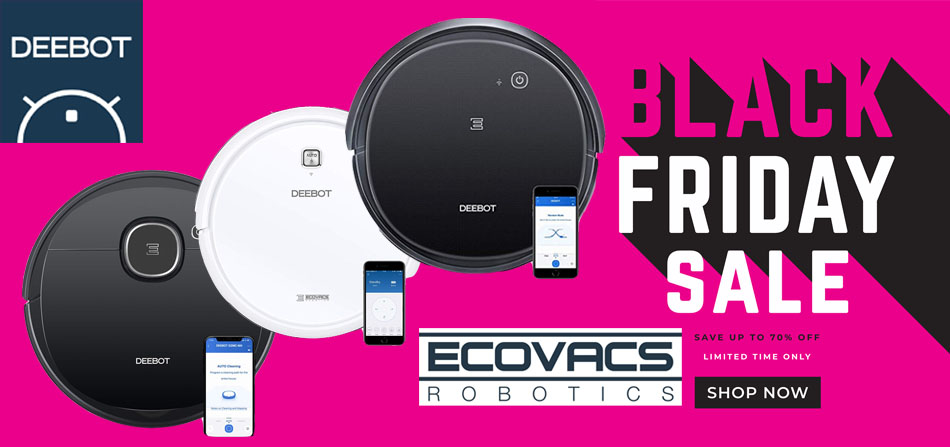 Best Black Friday Deebot Deals 2019
The Chinese company ECOVACS Group was founded in 1998 and has since been engaged in the manufacture of electronics.


In 2006, it acquired the ECOVACS ROBOTICS division, which specializes in the development, production, and sale of household robots.
The company annually sells thousands and tens of thousands of smart assistants that help people with their daily household chores, improving living standards, and comfort.
Today we'll talk about the range of devices for robotic floor cleaning called Deebot.
Despite the already low price, many customers around the world are looking forward to Black Friday sales to get a device with even more significant benefits.
Last Black Friday, the Deebot robots were one of the most affordable and profitable acquisitions. On average, discounts on the lineup were at 30%, and in some cases, reached 50%.
Why Should I Buy a Deebot on Black Friday, and Which One to Choose?
Over almost two decades, ECOVACS has released more than a dozen smart robotic vacuum cleaners that can maintain cleanliness in any home under the most complex conditions and pollution.
This year, the company introduced several new robot vacuum cleaners with different specifications and price categories.
Therefore, Black Friday 2019 is your first opportunity to get brand new devices at a discount.
It's especially nice that many devices are low-cost robots so that everyone can afford them.
The average price of ECOVACS Deebot cleaner is $250. But if you wait for the Black Friday sales season, you can get an excellent household assistant with even greater benefit.
First of all, before buying, you should decide on the requirements for the robot.
Understand what functions you want to receive and what tasks the vacuum will have to solve in your home.
Mind the size of the house, the type of coating, the need for accurate navigation and wet cleaning, etc.
For an easier choice, we'll have a closer look at some of the most popular Deebot robot vacuum cleaners and their estimated discounts.
Deebot Ozmo 950 is an intelligent robot vacuum cleaner for both the dry cleaning and mopping of medium and large houses.
The model has an excellent set of brushes, three hours of runtime, and several cleaning modes with different suction power.
The maximum power of 1500 Pa is achieved with the Max+ mode and applied to thick carpets. Laser Mapping Smart Navi 3.0 navigation also contributes to efficient cleaning.
Black Friday 2019 will become the first sale for the Ozmo 950, as this model was released just a few months ago.
Being an absolute technical innovation, the robot has a rather high price of $799. Despite the functionality of the model, we consider the cost a bit overpriced due to the recency.
During the sales period, we are unlikely to receive offers with a discount of more than 10%, although even such a concession will allow you to save up to $80. Anyway, we don't have any official information yet, so we'll continue to monitor the situation and update the sale list.
In August of 2019, along with the Ozmo 950, ECOVACS announced the Deebot Ozmo 920 vacuum robot.
This device also carries out wet cleaning, supports Wi-Fi and app, remembers the layouts of the house or apartment, develops suction up to 1500 Pa.
Among the differences, we note a little noisier operation, less runtime, and a little less powerful work. Otherwise, this Deebot is just as good.
Moreover, it's almost as expensive. The average price for the Ozmo 920 is $699. As in the previous case, Black Friday 2019 will be the first sale where you'll be able to buy this robot with a probable 10% discount. For now, we can only presume and hope for such a benefit.
ECOVACS Deebot 711S is less innovative but more affordable.
This robot also uses Smart Navi Mapping 2.0, which is a navigation of the second generation, it can double the suction in Max mode and is controlled through the application, but it doesn't carry out mopping.
The battery lasts for 130 minutes of cleaning, and the central brushes consist of a combination of a rubber roller and a bristle brush.
The 711S adequately copes with the majority of the pollution, while having a more affordable price of 550 dollars.
This vacuum cleaner is also a novelty of this year, so it doesn't have a history of the Black Friday sales yet. Let's hope for $50 off of the main price.
The Deebot 500 smart assistant offers ease of operation, changeable modes (including Max Mode), a 3-stage cleaning system with a V-shaped roller, and control through the app or speakers.
Deebot 500 can adjust its power depending on the flooring and type of pollution. So it copes with any hard floor, low-piled carpets, extra-polluted spots, and resistant dirt.
In Auto mode, its battery lasts for 110 minutes. Deebot 500 has enough capabilities and power for regular cleaning of medium-sized rooms up to 1290 sq.ft/120 sq.m.
The vacuum cleaner also removes the hair and pet fur pretty well.
This robot is relatively popular among users, as it's considered to be an improved version of the popular Deebot N79S, but such an extended configuration costs only $280.
The 500 model went on sale this summer and, as you can see from the price history, managed to come up for sale with a 35% discount. So, the minimum price for a product was $180. Let's hope that in honor of participating in its first Black Friday, the robot will be available at no less discount.
ECOVACS 661 compares favorably with a stylish appearance that fits into any interior.
The robot is designed for both dry cleaning and mopping, which makes it multifunctional.
Smart Motion navigation, double suction in Max mode, 110 minutes of operation, and intelligent control through the app, Google and Alexa assistants put it on a par with the best robot vacuum cleaners.
At the same time, manufacturers conceived the 661 as a high-tech, but a budget model for the average user, so the price per unit doesn't exceed $399.
The price history shows that immediately after the start of sales, the robot cost $299, and then the price began to rise. Now, on the eve of major Christmas deals, sites are starting to offer Deebot 661 at a discount of $40 to $80. So we have the opportunity to save up to 20% of the cost of the device.
Deebot N79W+ is a budget robot vacuum cleaner that can't be called notable for any special skills or features.
Still, it has all the components necessary for regular dry cleaning of premises.
The robot uses a three-stage system with random movement and navigation, works up to 110 minutes, is capable of reaching 1000 Pa of suction, and is remotely controlled.
Such a model will cost you only $159, and for this money, you will get a cleaning assistant for small rooms with mostly hard floors and low carpets. Deebot N79W+ is a modification of Deebot N79W, the only difference between which is that the + model has a two-year warranty, while the N79W comes with only 90 days limited warranty.
The regular price for this model has dropped significantly since last year. In 2018, the full cost of the N79W+ was $199, and on Black Friday, sellers made a 25% discount of $50.
Today, the robot can be bought for $159 on any day convenient for you. But if you want to save even more, we advise you to look for similar promotional offers at the end of November.
So far, we do not have accurate information on Deebot N79W+ deals, but we continue to monitor the progress of the Black Friday sale and update the reviews.
The Deebot N79S is another well-known model of ECOVACS robot vacuum cleaners.
The robot is designed to sweep and suck garbage on various flooring in dwellings up to 1076 sq.ft/100 sq. m.
As we noted before, in operation, the vacuum cleaner is similar to the improved Deebot 500 model.
It uses the same three-stage cleaning system with two side brushes and the main V-shaped roller, has several modes, Wi-Fi connectivity, and built-in Smart Motion navigation. The battery lasts for 120 minutes of cleaning.
The model sells for just $230. Last year, it was available with $50 off of the price. At the moment, there are offers which help you save up to 40% of the regular price.
Taking into account the functionality and characteristics of this Deebot, we think it's the best Deebot Black Friday deal we've seen so far.
How to Find the Best Deebot Deals on Black Friday?
So, you carefully studied all the best Deebot Black Friday deals, took into account your actual needs, and chose one or two robot vacuum cleaners. Now all you need is not to miss the best offer.
To buy the desired device, we advise you to subscribe to the newsletter of our site and similar hi-tech advisors. We continuously monitor the most profitable and relevant offers and promptly inform our readers about them.
It will also be useful to log in and create a personal account on those sites where you intend to make a purchase. It will also help you keep abreast of the discounts start. And if you are fortunate enough, you can even get a promotional code or coupon for an additional discount.
So keep your eyes open, look for new offers, and buy goods at the very beginning of sales until they are over. We wish you success in shopping!