Deebot Ozmo T8 AIVI vs Roborock S6 MaxV Face to Face Comparison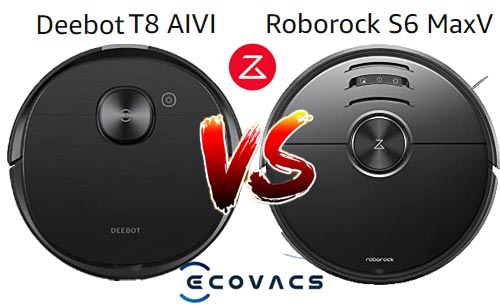 The year 2020 is definitely quite eventful in all its spheres, including household robotics. Thus, two leading competing brands, ECOVACS and Xiaomi, have almost simultaneously released their new flagships – Deebot Ozmo T8 AIVI and Roborock S6 MaxV.
Experts and users note similar innovations, integrated visual control, improved navigation, and accent on customization.
Besides, both appliances entered the same price category, which makes a choice even harder. So, let's get it sorted out, folks!
Main Differences Between the Models
In the course of the comparison, we highlighted the following differences between the models:
Deebot Ozmo T8 AIVI provides 1500 Pa suction. The Roborock S6 MaxV reaches the ultimate 2500 Pa.
Both devices support Multi-Floor Mapping. Still, the first robot remembers three maps, and the second cleaner saves four plans.
The ECOVACS appliance allows for setting an unlimited number of restrictive zones. The MaxV will remember 10 No-Go Zones, 10 No-Mop Zones, and 10 Invisible Barriers on each floor.
The AIVI Smart Object recognition system works with one HD camera. Roborock's ReactiveAI technology offers the same obstacle detection but uses two cameras.
In the first case, air treatment is performed with a High-Efficiency filter that traps 99% of particles, including allergens. In the second case, we deal with a HEPA-type filter that eliminates 95% of pollutions and misses allergens.
The dustbins contain 420 ml and 460 ml, respectively.
The water tanks contain 240 ml and 297 ml. The latter reservoir can be programmed to release different water flows for different rooms.
In addition to the two above-mentioned characteristics, the Ozmo T8 AIVI can also be complemented with Ozmo Pro Mopping System and Auto-Empty Station.
Comparison Table
ECOVACS Deebot T8 AIVI Robot Vacuum Cleaner, Vacumming and...
Roborock S6 MaxV Robot Vacuum Cleaner with ReactiveAI and...
Navigation
TrueMapping and advanced dTOF sensors
Precision LiDAR Navigation
Camera
twin stereoscopic cameras
ECOVACS Deebot T8 AIVI Robot Vacuum Cleaner, Vacumming and...
Navigation
TrueMapping and advanced dTOF sensors
Roborock S6 MaxV Robot Vacuum Cleaner with ReactiveAI and...
Navigation
Precision LiDAR Navigation
Camera
twin stereoscopic cameras
DEEBOT OZMO T8 AIVI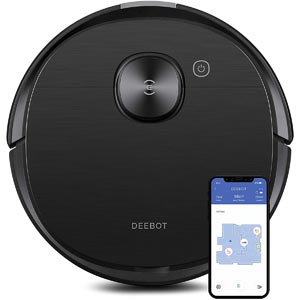 This August 2020, ECOVACS launched its brand-new Deebot Ozmo T8 AIVI robot vacuum with improved mapping and lots of innovations. The model was presented as an updated version of the Ozmo 950 and the Ozmo T5 devices, which dropped the prices for other vacuums at once. Now, the vacuum takes leading positions in sales lists. So, let's take a closer look at its peculiarities.
The new model boasts of significant improvements in mapping and adaptation. Thanks to the built-in HD camera, it can stream video right to your smartphone and show the cleaning process.
Besides, the bot made pre-vacuuming cleaning absolutely unnecessary, as it is much more attentive to small obstacles lying on the floor. The camera and unique AIVI Smart Objection Recognition allow it to avoid them and notify you of the items met and spots missed.
Like all Ozmo series models, it performs simultaneous dry and wet cleaning. Smart Carpet Detection both increases suction on carpets and avoid them when mopping. The ultimate water flow control is included.
The T8 AIVI is one of two ECOVACS robots that are compatible with Auto-Empty Station. The T8 series also support the unique Ozmo Pro Mopping System for dealing with stubborn dirt.
In a short word, Deebot Ozmo T8 AIVI became a true flagship of the brand and won the title of "the most feature-rich robot vacuum/mop hybrid» ever been tested.
While the smart side is off the charts, basic cleaning features such as runtime, filtration, etc. live up to the brand's ambitions.
Experts recommend it for large houses, including the cluttered ones, with any floor types and pollutions. The model is capable of coping with absolutely all tasks except for thick carpets.
The current price reaches $800, which makes it one of the most expensive ECOVACS products. Still, the innovations presented are really worth it.
Pros
both dry and wet cleaning
suitable for hard floors, carpets, and pet hair
high three-level suction
multi-surface roller
Smart Carpet Detection
Advanced Laser Multi-Floor Mapping
AIVI Smart Object recognition
HD camera for remote monitoring of the cleaning process
High-Efficiency filter
big water tank
electric water level adjustment
Wi-Fi support
unlimited Virtual Boundaries
3+ hours of run time
Recharge & Resume
compatible with Ozmo Pro Mopping System and Auto-Empty Station
Cons
small dustbin
Western users may face problems with Chinese app
expensive
Roborock S6 MaxV
Check Deals[/caption]
Roborock S6 MaxV wasn't expected earlier than this fall, but we were pleased to see the new flagship this June 2020. The manufacturer added a brand-new motor with extreme 2500 Pa suction, top-rank battery, controlled water flow for 2-in-1 cleaning, and improved Laser Navigation.
While all characteristics were improved, the model can also boast of its calling card – a unique ReactiveAI system of object recognition. Thanks to two stereoscopic cameras, the vacuum sees and determines the type of objects, their size and location as well as analyze how close it can approach.
Cameras also allow users to monitor the cleaning remotely and even speak through the robot with their pets (for example).
Don't forget about Precision LiDAR Navigation with automatic room recognition and Multi-Level Mapping systems that support up to four floors. The app provides up to 10 No-Go Zones, 10 No-Mop Zones, and 10 Invisible Barriers on each level.
Roborock S6 MaxV was also called the smartest robot vac ever made by Xiaomi. Moreover, since the manufacturer collected all its innovations and the best functions in this model, you'll hardly find any drawbacks under this case.
The vacuum is suitable for absolutely every cleaning task, from intelligent floor mopping to even thick carpet vacuuming.
Perhaps, its only minuses are the lack of self-emptying function and anti-allergen air treatment.
If you like the device, be ready to pay about $800 per item.
Pros
compact case
both dry and wet cleaning
suitable for hard floors, all carpets, and pet hair
the highest suction
multi-surface roller
Carpet Boosting
Advanced Precision LiDAR Navigation
Multi-Floor Mapping
ReactiveAI Object recognition with twin cameras
streams video and sound
the E11 rated HEPA-Type filter
big water tank
electric water level adjustment
Wi-Fi support
10 No-Go Zones, 10 No-Mop Zones, and 10 Invisible Barriers
3 hours of run time
Recharge & Resume
Cons
expensive
small dustbin
no self-emptying function
no anti-allergen filtration
Face to Face Comparison
After the short description, let's come to the detailed comparison of characteristics.
Design and Dimensions
Deebot Ozmo T8 AIVI has the following dimensions: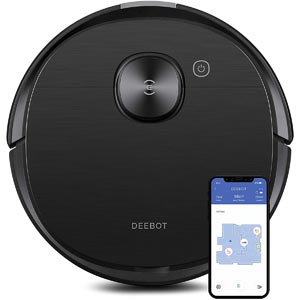 13.7″ x 13.7″ x 3.6″
7.8 pounds
Roborock S6 MaxV measures: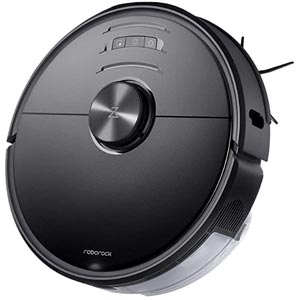 13.8″ x 13.8″ x 4.5″
12.1 pounds
As we see, the models are identical in length and width, but the S6 MaxV is higher. Such a difference in one inch is significant, especially minding that both devices use laser bases set on the top panels that can cling.
So, while the Deebot will come under any furniture, it's not recommended to use the Roborock device under too low furniture as can get stuck. We also noted that the second vacuum is heavier, but here, there is nothing criminal.
Otherwise, the models are quite similar. Both feature black round plastic cases. The Ozmo T8 AIVI has only the laser base, the On/Off button, and a carry handle. If you look at the side, you'll see a camera.
Roborock S6 MaxV offers a similar laser base and three buttons for manual control. Visual assistance is also provided, but this time, there are two cameras on the side.
Verdict: While design stays the purely individual choice of taste, compactness is an obligatory factor. Thus, here, we give our preference to the Deebot device with a lower and lighter case.
Navigation
When it comes to navigation, face to face comparison shows that models use the same systems with minor differences. We'll divide it into three groups.
Mapping
First of all, we'd like to highlight Smart Mapping, which became so popular among users. Not only can the T8 AIVI and the S6 MaxV scan the space, but they also save several plans for different floors.

Multi-Floor Mapping involves three maps for the Deebot and four maps for the Roborock.
At the same time, both devices can recognize floor types. Smart Carpet Detection allows for increasing suction during vacuuming and avoiding the pile during mopping.

The S6 MaxV provides 10 No-Go Zones, 10 No-Mop Zones, and 10 Invisible Barriers on each level.
The Ozmo T8 AIVI has an unlimited amount of barriers.
Laser Navigation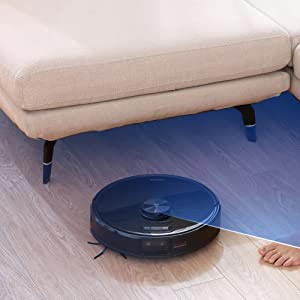 Secondly, the ECOVACS device's TrueMapping is 4 times faster and 2 times more precise than standard mapping. Such a result is possible thanks to the laser system and unique direct time-of-flight (dTOF) sensors.
The Roborock is also equipped with Precision LiDAR Navigation, the laser base and advanced algorithms of which enable accurate navigation and automatic room recognition.
Moreover, the newest Roborock is so smart that it analyzes the room size and estimates the amount of power needed for its cleaning. If the charge left is not enough, the cleaning will be continued after the recharging.
Visual Support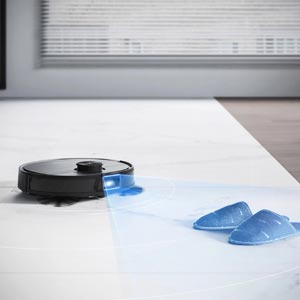 Finally, navigation of both devices can boast of visual reinforcement.
The Deebot uses AIVI or Smart Object recognition intelligent navigation. It spots small obstacles on the floor (slippers, wires, socks, etc.) and simply avoids them. Later, you'll get notifications about all items met and spots missed for a repeated cleaning session. The system is based on an On-Demand HD camera that also streams HD video right to your smartphone.
Roborock S6 MaxV offers a very similar technology called ReactiveAI. But here, you'll get twin cameras that repeat the location of human eyes for a more precise stereoscopic picture. The system allows the MaxV to recognize and avoid everyday objects as well as determine their size and distance to them.
You can also use the app to connect to the cameras and monitor cleaning. Built-in speakers transmit sound, so you can speak to your family members and pets being miles away from home.
Verdict: We bet you won't find a more precise robot vacuum in the market than these two cleaners. Both models are perfect for the largest dwellings of the most complex architecture and furnishing.
Filter System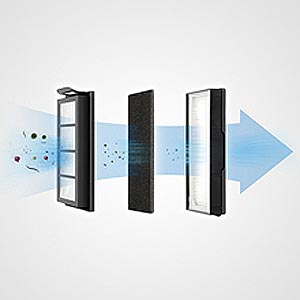 Deebot Ozmo T8 AIVI uses a High-efficiency filter that consists of three separate layers. Each traps certain types of pollution, and all together, they
effectively capture 99% of all particles
, including allergens and pollen as small as 6 microns.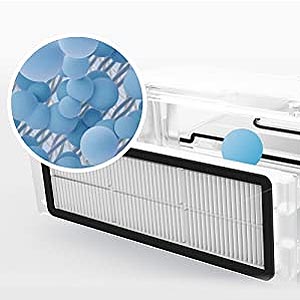 The S6 MaxV prefers an E11 rated HEPA-Type filter. The unit
captures up to 95% of home particles but cannot retain allergens
. However, we like its washable construction, which makes it more durable compared to non-washable filters.
Verdict: Though both filters do not correspond to the HEPA requirements, they provide more than efficient air treatment. Parents, pet owners, and people with respiratory problems should pay attention to the Deebot more thorough and anti-allergen unit. Others will be quite satisfied with the simpler Roborock option.
Connectivity


Customers can be sure of using all smart connectivity features such as app and voice control. Both devices support Wi-Fi, so all you need is to activate your vac, download the app, and connect your phone or Alexa/Google Assistant with the robot.
Let us note that the AIVI and the MaxV differ from other robot vacuums with app support. The new models provide much more customization of cleaning.
Using the app for the Deebot, you can choose only one or several rooms to be cleaned and schedule it. The vac also remembers areas it missed due to the obstacles and send you cleaning reports. Open the map to set an unlimited number of restrictive boundaries.
The AIVI is also compatible with Ozmo Pro Mopping System and Auto-Empty Station, specially designed for the T8 series. Both devices are sold separately.
Roborock S6 MaxV has no additional devices to synchronize with. However, easy custom cleaning means you can set the cleaning of specific rooms and up to 10 No-Go/No-Mop Zones through the app. Moreover, it's allowed to set different suction and water flow level for each room.
Verdict: The brands offer us the ultimate connectivity functions. Both robots have several remote control methods and can easily become a reliable part of your Smart Home system. Besides, focusing on maximum customization corresponds to your habits and makes cleaning easier and more convenient for you.
Suction Power

Deebot Ozmo T8 AIVI thoroughly processes every inch of your floor, automatically adjusting suction up to 1500 Pa on carpets. It is the already well-known Carpet Detection system. You can also set the most suitable suction manually, choosing one of three modes available – Standard, Max, and Max+. In this case, the power will level up 600, 1200, and 1500 Pa, respectively.
Roborock has always been famous for its exceptionally potent vacuums, so it's not surprising that the S6 MaxV is much more powerful. This time, engineers applied a new motor of upgraded HyperForce airflow design. Thanks to it, the vacuum can reach 2500 Pa.
The suction has been increased not only in comparison with the Deebot device but also in comparison with the previous S6 generation. Roborock S6 MaxV is one of the most powerful robotic vacuums in the market.
It also supports Carpet Boost technology, and power may be changed by setting definite modes.
Verdict: ECOVACS can boast of several more powerful Deebot robots than the new Ozmo T8 AIVI. This model takes by its smart self-adjustment and brushes. Still, thick carpet cleaning is beyond its capacity. That's why the second appliance, suitable for absolutely all tasks, wins this fight.
Brushes
In the core, brush systems coincide. We see the same 3-stage technology based on side brushes, central elements, and suction ports with bins.
The first device comes with two side brushes and one central V-shaped roller. The roller is truly multi-surface as it works on all floors. But numerous bristles refute any possibility of tangle-free cleaning.
The second vacuum has only one side brush for edge sweeping. There is a similar multi-surface V-shaped central roller with bristles. But this time, we note combined design with rubber blades for fine dirt grabbing. Despite blades, this roller also tangles hair.
Verdict: We slightly miss the floating design, which would provide a more thorough and quick dirt collection on all surfaces. Anti-tangling is also a loss as the brushes perfectly eliminate hair, but their own cleaning may be tough. Otherwise, the rollers are quite OK.
Mopping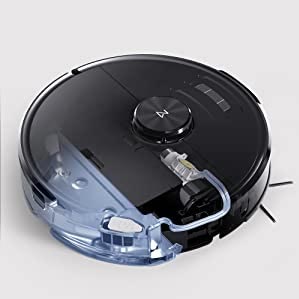 The Deebot and the Roborock can vacuum and mop and do it simultaneously. The main difference lies in water tanks.
The AIVI uses a big 240 ml water tank. Such capacity is enough to cover over 2000 ft2 of mopping. If you want to reduce water consumption even more, just set the electrical water level adjustment. As we've mentioned, unlimited No-Mop Zones and automatic carpet avoidance are included.
For perfect wet cleaning, the brand offers the Ozmo Pro Mopping System. The unit is sold separately and significantly increases the efficiency of stubborn dirt elimination. The System emits 480 electrically powered high-frequency vibrations in a minute that impact on challenging pollutions.
The S6 MaxV uses a 297 ml tank. A bigger reservoir means larger spaces to be cleaned; this model will process up to 2150 ft2. Water flow control is also supported and makes mopping much smarter. Besides, you can schedule mopping and even set different water flow for different locations. This function is not available in the Ozmo T8 AIVI.
The only drawback is the limited number of No-Mop Zones – no more than 10 for each floor.
Verdict: Choosing any of the two devices, you save lots of money because you get two full-fledged robots in one case. Even without additional investments (Ozmo Pro Mopping), the devices truly mop and do it very intelligently, without dirt smearing. We also note close capacities. So, the only things you" ll have to choose between are unlimited no-mop zones in the Deebot and scheduled water flow for separate rooms in the Roborock.
Dustbin
While we get quite capacious water tanks, the dustbins can be considered a drawback.
Deebot Ozmo T8 AIVI can contain 420 ml of dirt. The vacuum is designed for dwellings up to 3200 ft2; so, such capacity is too small for the power and footage discussed.
However, the manufacturer seemed to think over this minus and offered an alternative to manual bin emptying. Customers can purchase an additional Self-Emptying base and forget about any robot maintenance for a month.
Roborock S6 MaxV provides a 40 ml bigger bin for 460 ml. Unfortunately, the difference doesn't save the situation. So get ready for non-stop emptying as there is no self-empty function.
Verdict: Undoubtedly, the ECOVACS device is far superior in terms of bin capacity. But please mind that a self-emptying base is pricey, and improvements will mean additional investments.
Runtime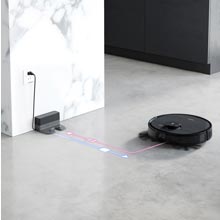 Being the top-range devices, our competitors apply only the industry-leading, most capacious 5200 mAh batteries. The units provide 3+ hours of runtime (in Standard and Quiet modes).
The AIVI's optimized energy consumption system covers 3200 ft2. The Roborock ends faster but still runs until it covers 2580 ft2.
Both models have Recharge & Resume. It means that they monitor the level of charge, and when it's low, the bots return to the dock. Later, cleaning will be continued right from the place where it was interrupted.
Verdict: Customers can rely on both robots as they offer the ultimate durability enough for cleaning a whole castle at one charge.
Noise
High power inevitably means noisy operation. However, the manufacturers did their best to solve the problem.
The AIVI and the MaxV produce the same noise level, which varies from 67 dB (in Quiet, Balanced, and Standard modes) to 72 dB on max suction. It is the upper limit of the standard noise level. So, we cannot say these robots are silent, but they are not unpleasantly loud either.
Accessories
Deebot Ozmo T8 AIVI comes with: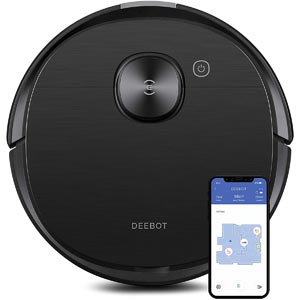 a charging dock
two bonus replacement side brushes
one bonus replacement high-efficiency air filter
one washable mopping pad
five disposable mopping pads
an instruction manual
a 12-month limited warranty
Roborock S6 MaxV provides the following official information on its kit: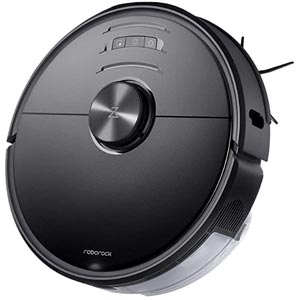 a charging dock
a cleaning tool (next to the dustbin)
a power cable
one extra filter
a moistureproof mat
a mopping pad
a user manual
a 12-month warranty
Kits are rather rich and provide approximately the same elements. Customers have a small stock of additional filters, brushes, and pads. Besides, we like a warranty that covers all breaks within the whole year after the purchase.
Tests on Different Types of Floors


Among the most wide-spread domestic pollutions, we note fine dirt, large debris, and hair. So, to test the actual productivity of our robots, we decided to imitate these pollutants on hard floors and carpets. The vacuums had a small dirty area and five minutes to collect sugar (as fine dirt), cornflakes (as awkward particles), and pet hair.
Quite predictably, dirt on hard floors caused no problems. Both Deebot and Roborock needed twice less time than was allowed to eliminate every piece of sugar and cornflakes from laminate. Pet hair tried to fly away under the airflow impact, but finally, all 100% were trapped.
Medium carpets required a more thorough approach. We didn't hurry the vacuums up and left them working for all five minutes. The results are 99% of sugar (1% is taken as an error), 100% of cornflakes, and 99% of hair.
When it came to the tests on thick carpets, robots activated all their powers. Boosted suction caused to 85% of pollutions collected by the Deebot Ozmo T8 AIVI. Roborock S6 MaxV managed to eliminate over 95% of particles and hair.
Buyer's Guide – How to Choose the Best Robot Vacuum Cleaner?
If you still feel uncertain about which device to choose, we recommend you look through our brief purchase instruction. Here are the crucial moments to pay attention to while choosing a perfect robot vacuum exactly for your needs and opportunities.
Size of your house and floor types: Before you start hunting for the flagships and best-selling models, we recommend you to consider your house conditions and, consequently, requirements. If you live in a small apartment with mostly hard floors, the newest, most powerful bot may become a waste of money. 1000 – 1200 Pa suction and simple brush design will satisfy all your needs.
The higher power will be a worthy investment for the owners of large dwellings and houses with both hard floors and carpets. In this case, don't save money as it may lead to insufficient cleaning results.
Navigation:
This factor directly comes from the previous paragraph. Houses with complicated architecture and furnishing will require more intelligent navigation systems such as laser or mapping—otherwise, simple sensors and random moving look OK.
Battery:
The size of the dwelling and the vacuum's power also influence the choice of battery. Always pay attention to the runtime. Match it with other robot characteristics and cleaning conditions to make sure it will last long enough to cover the whole dwelling and provide enough energy for Max or Boosting modes.
Pets:
Pet hair is one of the most difficult pollutions, so we highly recommend you to look for specially designed robot vacuums. The most suitable devices have high suction, thorough or even anti-allergen filters, silicone tangle-free rollers, capacious bins, intelligent power-boosting technologies.
Dry or Dry & Mop Cleaning:
Many customers would like to get a 2-in-1 model with integrated wet cleaning. However, such a device will be of use only in houses with hard floors. If you have carpets and don't want to remove them each time before cleaning, look for smarter robots with automatic carpet detection, No-Mop zones, and water flow control. Besides, don't forget to read reviews on the mopping efficiency of the chosen robot. Combined cleaning costs a lot, but many devices tend to smudge dirt instead of removing it.
Smart control:
Almost all modern robot vacuums support Wi-Fi and can be run via smartphones and voice commands. These technologies greatly simplify control, management, and cleaning customization.
Frequently Asked Questions
Roborock S6 MaxV vs Deebot Ozmo T8 AIVI: which vacuum is better for carpets?
We would pick up the S6 MaxV model for carpet cleaning as it provides the highest 2500 Pa suction, which is 1000 Pa more compared to the T8 AIVI product.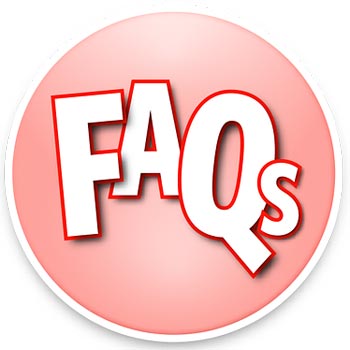 Can the mopping tank be left installed in the Deebot and the Roborock while vacuuming?
Since both cleaners support simultaneous dry and wet operation, users can leave mopping modules. If you want your bot to vacuum only, you should remove the tank.
What is the difference between Deebot Ozmo T8 AIVI and Deebot Ozmo T8?
The vacuums are almost identical, except for the HD camera and Smart Object recognition technology. Small obstacles are determined by laser-based TrueDetect 3D Technology and not by AIVI. And the Ozmo T8 does not offer a camera.
How much is the Self-Empty station for the Deebot Ozmo T8 AIVI?
At the moment, Amazon offers the original Deebot Self-Empty station for $249. The base is compatible with the T8 series only, i.e., with the Ozmo T8 and the Ozmo T8 AIVI cleaners.
How can I reset Wi-Fi on my Roborock S6 MaxV?
In case of any problems and malfunctions, please press both Spot Clean and Dock buttons on the top panel and hold them for 3 seconds. For more information, please read the user's manual.
Conclusion
Both novelties definitely managed to impress us. The manufacturers didn't just relaunch older models but added several completely fresh decisions, the most important of which are small obstacles recognition and video streaming. As you see, we noticed almost no drawbacks except for the small bins and filtration. Thus, the bots cost their money and perfectly cope with the most challenging tasks.
The final choice will depend on you as usual. If you need more attention to carpets and pet hair, pick up the unbelievably powerful Roborock S6 MaxV. Fans of completely independent devices that are not limited in the budget will like Deebot Ozmo T8 AIVI with Self-Empty station.