Deebot Ozmo T8 vs Roomba S9 Face to Face Comparison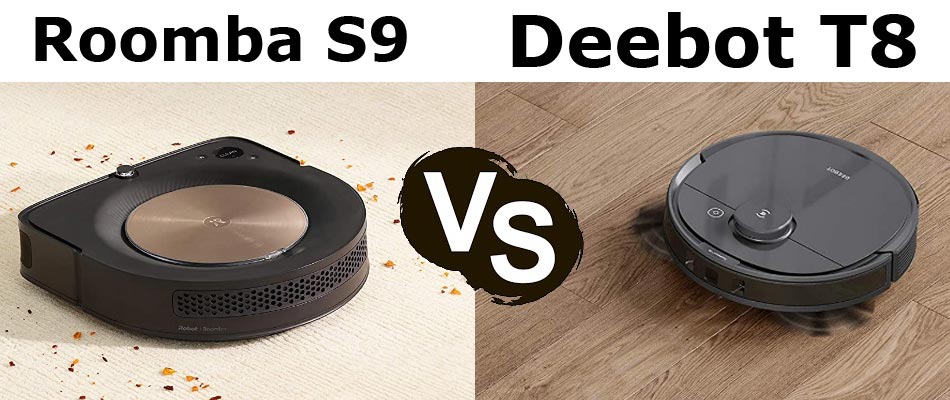 Hello to all tech fans! Our today's article is dedicated to the Deebot Ozmo T8 vs Roomba S9 battle. The models are justly considered the best representatives of their brands – ECOVACS and iRobot.
Robots were released a year apart from each other but share lots of similarities. Multi-Floor Mapping, precise navigation, self-emptying function – here are the main attraction points. Do you want to learn more? Then stay with us!
Main Differences Between the Models
Like all Roombas, the S9 is designed for dry cleaning only. The new T8 series by Deebot belongs to the Ozmo lineup, which means it can perform both vacuuming and mopping.
The ECOVACS product has three suction levels up to 1500 Pa, while the iRobot device reaches 2200 Pa.
TrueDetect 3D Object Recognition is the main advantage of the Ozmo T8 and distinguishing feature between the vacuums.
The models use similar navigation systems, but the first is based on laser, and the second works with a camera.
You'll find Multi-Floor Mapping in both appliances. However, the Deebot remembers 3 plans, and the Roomba saves up to 10 maps.
Different batteries lead to different runtime – 180 and 120 minutes, respectively.
Roomba S9 offers a more thorough filtration with improved anti-allergen air treatment.
The iRobot can also boast of more sophisticated dual silicone rollers with floating and anti-tangle design. Deebot Ozmo T8 uses one bristled roller with no adjustment to the surface.
Roomba S9 also comes with the iRobot patented Dirt Detection function. Thus, it can find extra-polluted areas and clean them with more attention.
Finally, engineers equipped the Ozmo T8 with a classic round case, while the S9 cleaner got a D-shaped body with additional PerfectEdge technology for more thorough edge sweeping.
Comparison Table
Ecovacs Deebot T8 Robot Vacuum and Mop Cleaner, Precise...
iRobot Roomba S9 (9150) Robot Vacuum- Wi-Fi Connected, Smart...
Navigation
TrueMapping based on laser
iAdapt 3.0, vSLAM and Mapping
Object Recognition
TrueDetect 3D Advanced Technology
Filter
High-Efficiency filter and Anti-Allergen System
Ecovacs Deebot T8 Robot Vacuum and Mop Cleaner, Precise...
Navigation
TrueMapping based on laser
Object Recognition
TrueDetect 3D Advanced Technology
iRobot Roomba S9 (9150) Robot Vacuum- Wi-Fi Connected, Smart...
Navigation
iAdapt 3.0, vSLAM and Mapping
Filter
High-Efficiency filter and Anti-Allergen System
DEEBOT Ozmo T8 – More Affordable Object Detection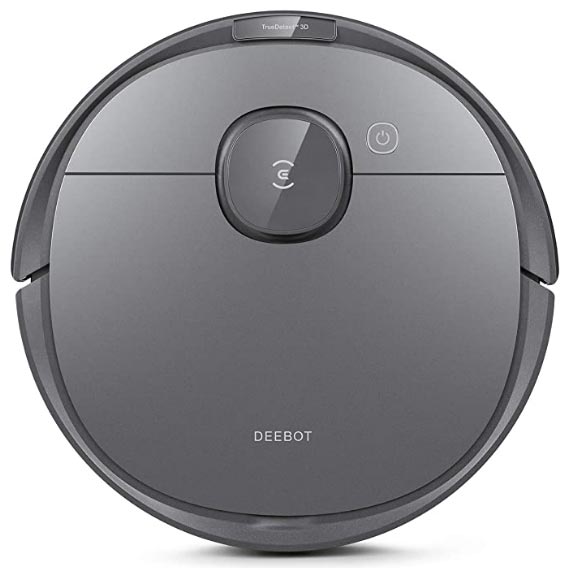 At the end of August 2020, shortly after the release and success of the Ozmo T8 AIVI model, ECOVACS expanded the T8 series and launched its second representative Deebot Ozmo T8. The new device borrowed the core features from its advanced predecessor. At the same time, experts noticed the lack of some functions, which made the Ozmo T8 a more affordable alternative for comprehensive cleaning.
Once again, the model performs simultaneous dry and wet cleaning with all accompanying innovations. Nice suction, filtration, brushes, and intelligent mopping make it perfect for all floor types and pollutions except for thick carpets.
The manufacturer saved Smart Object Recognition technology, though now it isn't based on visual support and is called TrueDetect 3D, not AIVI. We see a laser system reinforced by Advanced Laser Multi-Floor Mapping.
The lack of an HD camera is the Ozmo T8 main difference from its T8 AIVI brother. We cannot monitor the process from our smartphones anymore, but cleaning stays custom-oriented.
Moreover, together with this device, the brand released the Ozmo Pro Mopping System and Auto-Empty Station compatible with the T8 series only. Both systems are sold separately and greatly contribute to the cleaning quality. We especially appreciate the self-emptying function that improves a small dustbin's problem and eliminates the need for manual dirt throwing.
In a word, Deebot Ozmo T8 is recommended for all houses, especially large and multi-story ones. The model is ideal for innovation hunters on a budget who can sacrifice video streaming. Pet owners will also like it. The cleaner is almost perfect and costs about $650 – truly funny money for such performance.
Pros
both dry and wet cleaning
suitable for hard floors, medium carpets, and pet hair
high three-level suction
multi-surface roller
Smart Carpet Detection
Advanced Laser Multi-Floor Mapping
TrueDetect 3D Object recognition
High-Efficiency filter
big water tank
electric water level adjustment
Wi-Fi support
unlimited Virtual Boundaries
3+ hours of run time
Recharge & Resume
compatible with Ozmo Pro Mopping System and Auto-Empty Station
Cons
small dustbin
no HD camera
Ozmo Pro Mopping System and Auto-Empty Station are sold separately and require additional investment
Western users may face problems with Chinese app
Roomba S9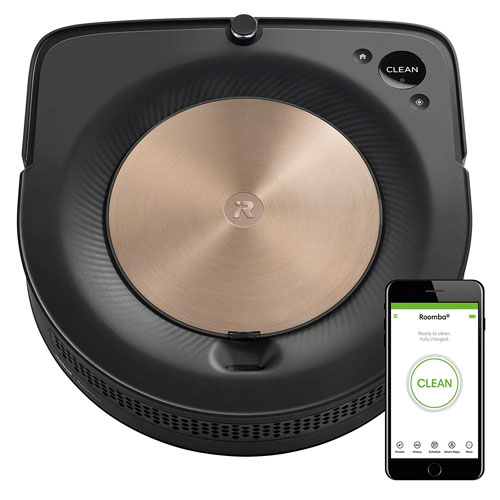 Read more about Roomba S9
S9 was presented in 2019. The year passed showed that engineers made the right bet. One and a half years later, demand is still high. Besides, the well-thought-out design of the model stays one of the best, even though many fresh devices were released. Roomba S9 stands the competition pretty nice, and here are the reasons for this.
Roomba S9 is the most advanced bot among iRobot vacuums. The manufacturer built the novelty upon the previous i7 series. Thus, we see the same intelligent navigation, including Multi-Floor Mapping, Keep Out and Clean Zoning.
However, all characteristics underwent significant improvement. Firstly, we'd like to note a new D-shaped case and PerfectEdge technology. Engineers made focus on edge sweeping and hard-to-reach areas cleaning.
Suction reached record 40X air power and is supported by Carpet Boost, while classic Multi-Surface rollers became 30% longer. Let us note it separately that dual extractors are tangle-free. Thus, Roomba S9 easily deals with carpets up to the thick-piled as well as with pet hair.
The device performs dry cleaning only. But its integrated synchronization with iRobot Braava jet m6 robot mop through Imprint Link technology allows for setting comprehensive 2-in-1 cleaning.
The main advantage of the vacuum is its self-emptying function. However, the special base is not included in the kit. If you need one, you can buy it separately or try Roomba S9+ modification with the base included. Anyway, please mind that the dust bin is not big, which is a drawback.
As we said, Roomba S9 is an excellent choice for large houses, pet owners, and parents. We'd also highly recommend it to allergic people due to its unique Anti-Allergen air treatment.
Since the model is relatively new and provides the most advanced cleaning, its price hasn't fallen lower than $1000 yet. So, be ready to pay a lot.
Pros
innovative D-shaped case
excellent battery
enlarged Dual Multi-Surface Adjustable silicone rollers
high suction power
Power Boost
PerfectEdge technology
Dirt Detection
HEPA filtration with Anti-Allergen air treatment
adaptation to the cleaning of any surfaces
Multi-Floor Mapping
iAdapt 3.0 and vSLAM navigation
Keep Out Zones and Clean Zones
app and voice control
Imprint Link technology
Dirt Disposal Base support
perfect for pet hair
Cons
Dirt Disposal Base is not included
small dustbin
high price
Face to Face Comparison
Now when we're familiar with the robots' main pros and cons, let's perform a more detailed characteristics comparison.
Design and Dimensions
When comparing dimensions, we noted Roomba's more compact and lightweight case.
Deebot Ozmo T8 measures: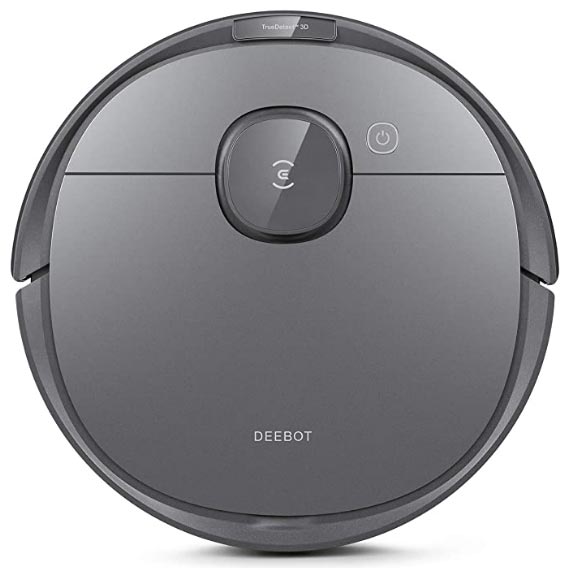 13.9″ x 13.9″ x 3.7″
13.42 pounds
Roomba S9 can boast of «slimmer» dimensions: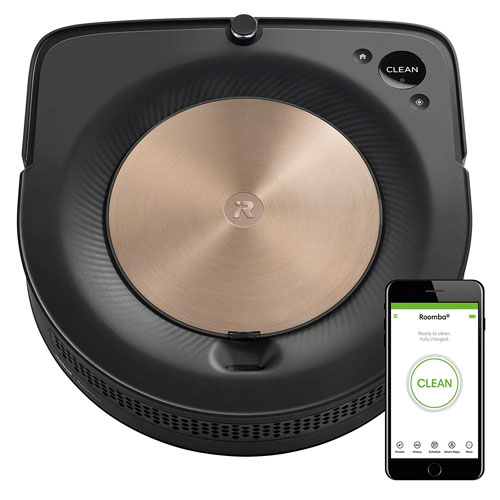 12.25″ x 12.25″ x 3.5″
8.2 pounds
A smaller and lighter body means better passability and maneuverability. Indeed, the difference is not so dramatic, but Roomba S9 will better suit for cleaning under low furniture without getting stuck. The Deebot slightly loses here, especially minding its protruding laser base on the top panel.
Deebot Ozmo T8 is encased in a grey round plastic body with the only laser base and On/Off button on its top. There is also a carry handle. Sensors and additional lasers are spread over the sides and bottom parts of the cleaner.
When it comes to the Roomba, iRobot completely rejected its traditional round design and made the S series D-shaped. The basic colors are black and gold. The top panel has On/Off/Clean, Home, and Spot Cleaning buttons, as well as a camera on its opposite side. A handle, anti-drop and anti-collision sensors are also included.
Navigation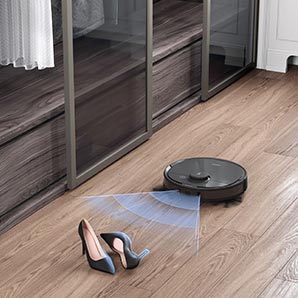 The ECOVACS device uses a
TrueMapping system
with an improved laser that works 4x more precisely than previous Deebot robots. Mapping allows for creating neat cleaning paths and saving 3 maps for different floors.
While Mapping is aimed at remembering all stationary details of your dwelling, new Advanced Object Detection complements it. The system called TrueDetect 3D technology makes 3D laser scanning of space to find and monitor constantly moving and changing domestic objects.
You don't have to remove socks, toys, shoes from the floor anymore as the vacuum will notice and avoid them automatically.
Finally, Smart Carpet Detection contributes to navigation precision and performance. Thanks to it, the Ozmo T8 will avoid carpets during mopping and increase suction during vacuuming.
The advanced S series also comes with
Multi-Floor Intelligent Mapping
. It works in a similar way and saves 10 level plans.
However, navigation is also improved by iRobot patented iAdapt 3.0 and vSLAM technologies. The first works with improved sensors, while the second uses a camera that scans the room. Carpet Boosting is also included.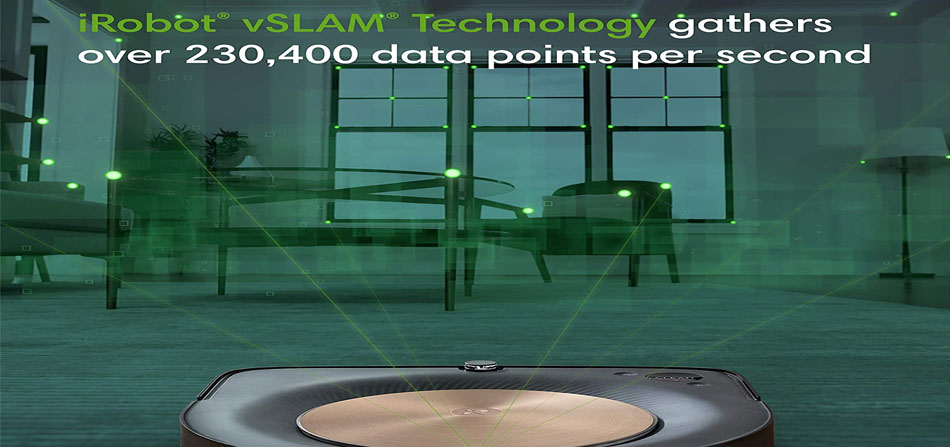 Verdict: Both devices show excellent precise navigation. The efficiency is equal, so it's difficult to mark out one winner. The Deebot offers unique Object Recognition, while the Roomba uses triple navigation and can remember ten maps. The choice depends on your needs and is entirely yours.
Filter System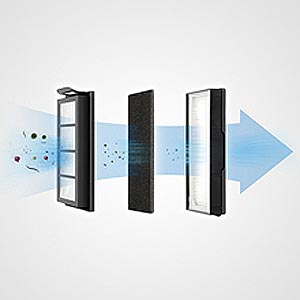 At its core, our competitors share the same filtration systems.
Both devices use High-Efficiency filters that eliminate 99% of dust, dirt particles, mold, and even pet allergens.
However, the Deebot's filter consists of three layers and stops particles over 6 microns in size.
Roomba S9 has a unibody filter that traps dirt as small as 0.3 microns.
Such efficiency meets the requirements of the HEPA certification. Additionally, the air treatment is reinforced with Anti-Allergen case sealing and AllergenLock dustbags in the Dirt Disposal Base.
Verdict: Roomba S9 will be a wiser option for people with allergies and respiratory problems. Although Deebot Ozmo T8 slightly loses against the Roomba, it has much better filtration than the most modern robot vacuums.
Connectivity


Predictably, these top-level robots support Wi-Fi connectivity. It means you can connect them with your smartphone or smart speakers like Alexa and Google Assistant for remote control. Depending on the method chosen, you run the bot via ECOVACS HOME/ iRobot Home app or via voice commands.
Apart from standard mode setting, scheduling, and notifications, apps allow for creating unlimited custom boundaries (and No-Mop zones for the Ozmo T8). In Roomba S9, the function is called Keep Out Zoning.
The S9 users also have Clean Zones to make robots clean individual rooms instead of the whole dwelling.
Besides, the iRobot vacuum is compatible with iRobot Braava jet m6 mop. Imprint Link technology allows them to communicate to know when one finishes work, and the other can start its part.
Verdict: To summarize, both robots provide wide connectivity functions. Engineers focused on maximum customization to make cleaning as convenient and flexible for users as possible.
Suction Power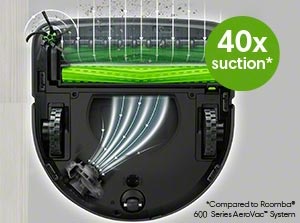 Owners of the first model can manually control the power and change it according to the current task. Here, Standard, Max, and Max+ modes are available that provide 600 Pa, 1200 Pa, and 1500 Pa.
The vacuum can also automatically adjust suction depending on the floor type it processes. Smart Carpet Detection increases effort on the pile and decreases it once the bot returns to the hard floor.
Our second appliance also supports several cleaning modes from the Quiet to the Max, where power reaches 2200 Pa. The S series vacuums became 40X more powerful than the iRobot's weakest 600 series robots. Carpet Boost works identically to the Deebot's Carpet Detection. It determines carpets and independently adapts suction.
Verdict: ECOVACS model doesn't amaze but has quite standard efficient suction. Like the majority of robot vacuums, it works on hard floors and carpets up to medium and is powerless on the thick pile. Roomba S9 can be tried on thick carpeting. The only restriction is the possibility of getting stuck.
Brushes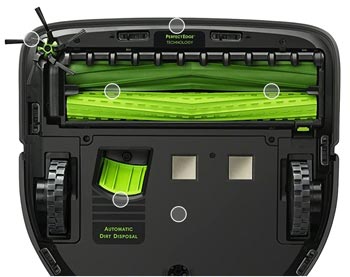 The Ozmo T8 is equipped with two side brushes and one central V-shaped roller. The main element has several rows of bristles and is universal for all floors. Simultaneously, such design tends to hair tangling, which is a minus for pet parents.
Roomba S9 comes with a single side brush. However, its design, as well as PerfectEdge sensors, point at excellent sweeping in the corners and along walls.
Dirt collected on edges come to Dual Multi-Surface Adjustable rollers. Extractors are fully made of silicone, rotate in opposite directions, and have different blade patterns for optimal dirt catching. The lack of bristles and sophisticated design make them free of entanglement. A similar brush system can be met in the Roomba I series, but our rollers were enlarged by 30%.
Verdict: Roomba S9 can boast of a more complex and efficient brush system. Not only do they avoid tangling and clean larger paths at one time, but they also adjust the position to the surface for tight contact.
Mopping
Among the two robots of our review, only Deebot Ozmo T8 provides an integrated mopping function. As we've already mentioned, Roomba S9 cannot mop itself, but mopping is available for users through the Imprint Link. Indeed, it will require additional investment in Braava mop.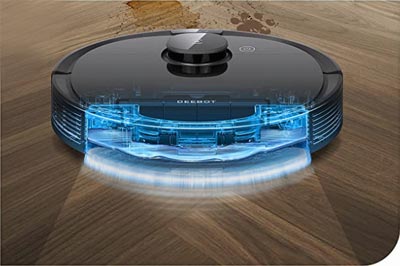 Well, returning to the Ozmo's mopping, the model already comes with a rather capacious 240 ml water tank. Such volume is enough to cover over 2000 ft2. And if you use electric water flow control, the footage may be increased. The kit also includes reusable pads.
For more thorough mopping, the manufacturer offers the Ozmo Pro Mopping System. This add-on accessory works as a vibrating attachment that runs at the speed of 480 electrically powered high-frequency vibrations in a minute. The system destroys stubborn dirt elimination.
Dustbin
You've already known it from the brief products' reviews that dustbins are their weak points. Indeed, minding that both devices were developed for dwellings over 3000 ft2, 420 ml (the Ozmo T8) and 500-550 ml (the S9) capacities will cause endless manual emptying.
Roomba S9 has a full bin indicator that partly saves the situation. It notifies you when emptying is needed, so at least you don't have to monitor it by yourself all the time.
But what really can change the situation is self-emptying technology. Luckily, both cleaners have something to offer.
Deebot Ozmo T8 is compatible with ECOVACS Self-Empty Station. The unit is sold separately and comes with disposal bags for 2.5L of dirt. The speed of its filling depends on the frequency of use; on average, it will last for a couple of weeks.
Roomba S9 supports iRobot Auto Dirt Disposal Base with AllergenLock bags. Bags are completely sealed, prevent allergens from escaping, and eliminate any contact with dirt inside them. One bag lasts for 30 cleanings, i.e., for a whole month of maintenance-free use.
If you don't want to spend your time on additional shopping for self-empty units, pay attention to the Roomba S9+ and Deebot Ozmo T8 kit with bases included.
Verdict: Manufacturers seemed to add such small dustbins on purpose to make customers purchase self-empty docks. Surely, their efficiency and benefit are undisputed, and we highly recommend you buy some for you bot. Still, customers with a limited budget will face a problem.
Runtime
The Chinese vacuum runs for 3+ hours (180 minutes) thanks to a 5200 mAh battery. The optimal runtime is reached at Standard mode. The more power you set, the faster your charge will end.
The American brand offers a more moderate 3300 mAh battery for 2 hours (120 minutes) of non-stop cleaning at the lowest mode. Max and Carpet Boost mode will halve the runtime.
Besides, both devices support Recharge & Resume technology. It means they will return to the docks when the charge is low and automatically continue cleaning later.
Verdict: Two hours of runtime is enough to cover even a large house, especially when it's supported by self-recharging. But Deebot Ozmo T8 offers a more capacious battery; so we give the win to it in this category.
Noise
ECOVACS claims its new T8 series produces from 67 dB to 72 dB. The noise level increases with the increase of power but never crosses the line of safety and comfort.
When it comes to Roomba, we have no official tests or information from the manufacturer. According to our experiments and other users' reviews, the S9 model shows the same 60-70 dB that vary depending on the mode.
Accessories
Deebot Ozmo T8 kit includes: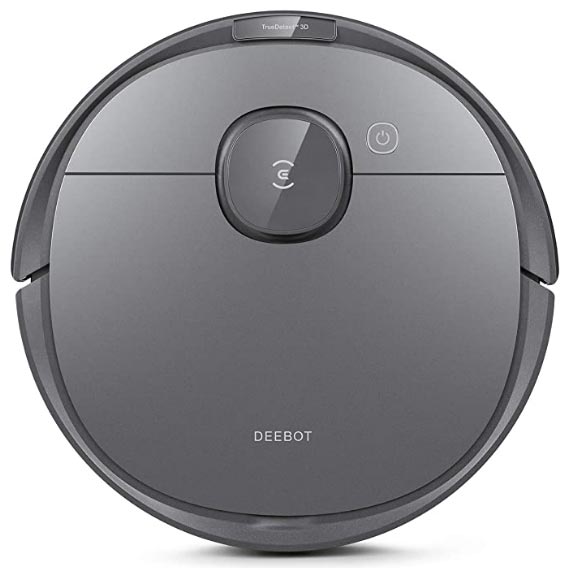 a charging dock
two bonus replacement side brushes
one bonus replacement High-Efficiency air filter
one washable mopping pad
five disposable mopping pads
an instruction manual
Roomba S9 comes with: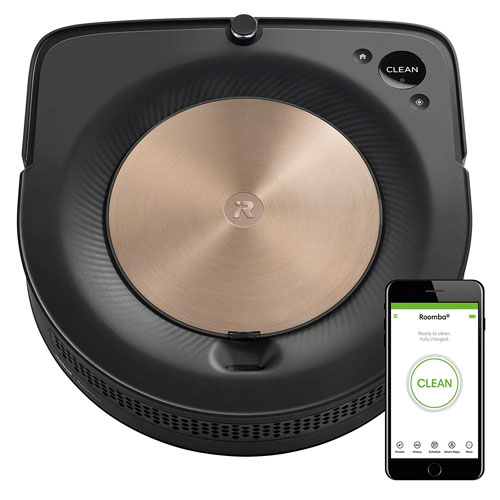 a dock station
a North American line cord
one extra High-Efficiency filter
one extra corner brush
an owner's guide
documentation package
Manufacturers didn't save on the kits. Apart from the compulsory charging docks and manuals, they added several necessary replaceable elements. We like extra filters and side brushes that will allow you not to worry about maintenance for the first months.
Deebot mopping device is also equipped with additional pads, which is another plus.
In general, the kits are almost identical.
Tests on Different Types of Floors


For cleaning success, robot vacuums need two elements – suction and brushes. After the detailed description, we decided to try these parts of our cleaners on real dirt.
Fine and large debris, as well as hair, are the most widespread domestic pollutions. So, we took our traditional sugar, cornflakes, and pet hair samples and spread them on laminate and carpets. Let's find out how well our devices coped with them!

Though Deebot Ozmo T8 features a medium-ranged suction and a typical roller brush, it was more than enough to eliminate all three types of pollution on hard floors. We noted a 100% efficiency.

Roomba S9 has much better suction and roller-extractors, so no one would wonder to hear it also picked up every particle and hair from the floor.

Let us give additional points to the Ozmo T8 device as a better option for hard floors for its mopping technology. Even if something were left on the floor, wet cleaning would definitely wipe it.

Medium-piled carpets caused automatic activation of power boosting on both cleaners. A higher power was quite welcomed as heavy pollutions immersed into the deep pile, while clingy hair and sugar stack to it.

Once again, the robot showed similar performance. Deebot Ozmo T8 and Roomba S9 collected 100% of cornflakes. Sugar was removed by 99% – we took 1% as visually there was no track of sugar particles, but the smallest parts could stay deep inside. Pet hair vanished by 99% too.

Thick carpets became the final stage of our testing. The Roomba showed more efficient results – 95% of sugar and cornflakes and 90% of pet hair. Deebot Ozmo T8 did its best but managed to pick up no more than 85% of fine and large debris, while hair we removed by 80% maximum. The last cleaning took more time than with the S9, and we had to help the bot two times when it got stuck on the soft pile.
Buyer's Guide – How to Choose the Best Robot Vacuum Cleaner?
A robot vacuum cleaner is a too expensive purchase to make it without proper investigation. So, before going shopping, please make sure your model features all the necessary functions and require all your needs. Here, we'd like to discuss several criteria for a wise choice.
Size of your house and floor types:
First of all, please consider the size of your dwelling and floor types you have in it. Use this information as a starting point for a robot vacuum choice. Small apartments and hard floors don't require anything extraordinary. Budget vacuums with standard suction and even random navigation will suit. On the contrary, large or multi-story houses with lots of carpets won't stand cheap devices. So look for more intelligent, powerful, and expensive robots.
Navigation:
The more precise navigation you have, the better for cleaning efficiency and speed. Still, owners of small houses can save on this characteristic and pick up random or sensor running devices. Owners of medium and large dwelling will regret such an economy in the future. SO, please be attentive to this factor.
Suction Power:
Suction also much depends on the floor types as well as on the pollutions. The higher the vacuum cleaner's suction power, the more garbage it will collect after the first pass. As a rule, 900-1000 Pa is enough for cleaning on hard floors. If you have lots of carpets and heavy messes are usual for your dwelling, it's advisable to choose more powerful models over 1500 Pa.
Pets:
Pet hair is one of the most challenging domestic debris. Owners of fluffy pets should pay special attention to robots' brushes, suction, and filtration.
Runtime:
Long-lasting power supply guarantees longer cleaning. The battery is especially important for large houses. Besides, if you chose a powerful device, it should also provide extended runtime to support suction.
Wi-Fi and control:
Smart technologies don't greatly influence cleaning and are mostly aimed at customization and user's convenience. Still, compatibility with smartphone apps and voice assistants means you'll be able to program and run your cleaner from any place in the world. Here, the choice is yours, but we recommend you learn everything about these bot's functions.
Frequently Asked Questions
Roomba S9 vs Deebot Ozmo T8: which robot is better for pet hair and carpets?
Both models will provide excellent hair and carpet cleaning. Still, Roomba S9 is equipped with more powerful 2200 Pa suction and Multi-Surface rollers that automatically adjust their position for optimal contact with the floor. They also have a tangle-free design. So, all these features make Roomba S9 a better choice.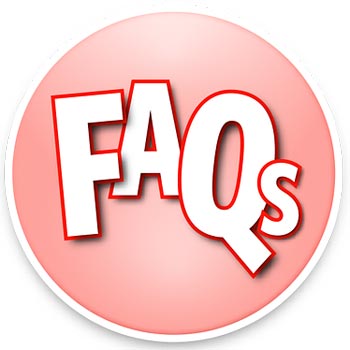 How much are High-Efficiency filters for Deebot Ozmo T8 and Roomba S9 vacuums? How often should I replace them?
Both Deebot and Roomba offer packs of 8 High-Efficiency filters at $15-$20.
High-Efficiency filters are not washable but require regular maintenance (tapping and dry cleaning) once per week. Change your filter every 3-6 months, depending on the frequency of robot use.
How much are the Self-Empty bases for Deebot Ozmo T8 and Roomba S9 vacuums?
Since both models only support self-empty bases but don't come with them included in the kit, users who need this function will have to purchase them separately.
The Auto Dirt Disposal Base for Roomba S9 costs $249. So does the Self-Empty Station of the T8 model – you'll pay $249 too.
How to reset the Deebot Ozmo T8?
Deebot Ozmo T8 is equipped with a special RESET button, located on the top panel next to the Power Switch. Press the button and hold it for several seconds.
Is Deebot a Chinese brand?
Deebot is a branch of the Chinese ECOVACS company. All its products are produced in Asia.
Conclusion
This year's novelty Deebot Ozmo T8 and the last year's breakthrough Roomba S9 are definitely worth purchasing. Engineers did their best to eliminate the drawbacks of previous generations; that's why we witness almost perfect products.
At the same time, customers are still scared off by too high prices. Besides, in both cases, you'll highly probably need to purchase a self-emptying base. So, let's hope for discounts.
The models will optimally unlock their potential in large multi-story dwellings with combined flooring, pets, and complex furnishing. We also highlighted narrower spheres of application for each device.
Roomba S9 keeps a balance between cleaning efficiency and navigation. High power and excellent roller-extractors make it the best option for carpet and hair cleaning. We would also recommend it for office buildings as it saves the largest number of floor plans.
ECOVACS seemed to focus on navigation precision rather than on power. Smart Object Recognition is a very young technology presented in a couple of products yet. And the Ozmo T8 is an excellent opportunity to try it. Choose it for private use in your house, especially if it's full of kids' toys and other messes. We also recommend the model to customers with a limited budget, as the Deebot costs less than the Roomba and hides inside itself a perfect mopping robot.