Dyson V11 Outsize vs Animal vs Torque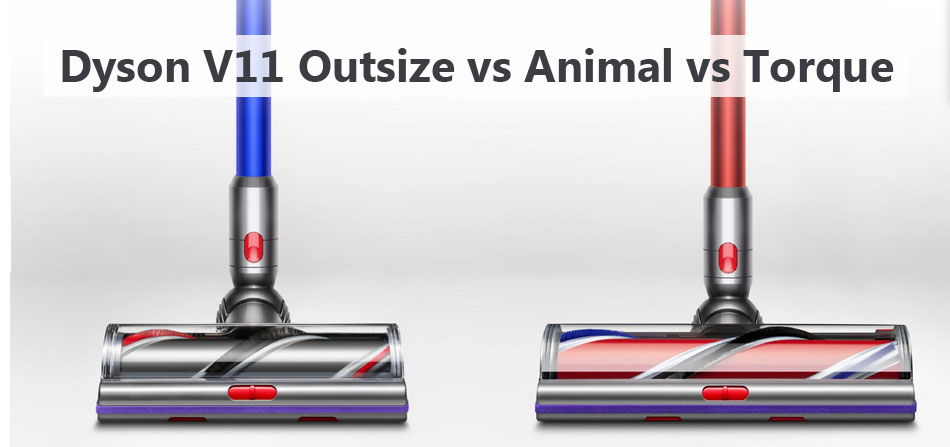 After the successful release of the Dyson Cyclone V10 cordless vacuum designed to replace a conventional corded floor vacuum cleaner, Dyson continued to work in this direction. The process led to the development of the Dyson V11 vacuum cleaner, which looks very much like the Dyson Cyclone V10 but features a number of improvements.
Consumers are attracted by a new and more capacious battery, a 20% increase in suction power, an informative LCD display, and the adjustable nozzle with High Torque.
We decided to compare and test three Dyson V11 Outsize vs Animal vs Torque modifications. So, let's find all the strong and weak points!
Main Differences Between the Models
Though all three vacuums belong to one series and are nothing but variations of one cleaning device, we noticed a lot of important differences:

Dyson V11 Animal and Torque Drive offer excellent 185 AW power, while the Outsize model reaches 220 AW in Boost mode.
Although all vacuums use the Torque Drive cleaning head, the Outsize is equipped with a 25% larger brush called Torque Drive XL head.
The Outsize is the only model of the V11 series that uses two batteries simultaneously. Thus, its run time consists of 120 minutes. The Animal and the Torque last for 60 minutes.
Dust cup continues the list of the Outsize enlarged elements. While the other two vacuums have 0.2 gal/750 ml bins, it uses a twice bigger 0.5 gal/1900 ml dust cup.
The V11 Animal is the only vacuum that comes with a LED screen. Its opponents are equipped with more high-tech LCD screens. Besides, the LED cannot display the real-time charge with countdown.
The Torque and Outsize kits include five extra cleaning tools. The Dyson Animal comes with four brushes and lacks a mini-soft dusting brush.
Comparison table
Cleaner head
High Torque cleaner head with Dyson Dynamic Load Sensing
High Torque cleaner head with Dyson Dynamic Load Sensing
High Torque XL cleaner head with Dyson Dynamic Load Sensing
LCD display with run time countdown
Intelligent cleaning modes
Automatically adapts suction across floor types
Advanced whole-machine filtration
Cleaner head
High Torque cleaner head with Dyson Dynamic Load Sensing
LCD display with run time countdown
Intelligent cleaning modes
Automatically adapts suction across floor types
Advanced whole-machine filtration
Cleaner head
High Torque cleaner head with Dyson Dynamic Load Sensing
LCD display with run time countdown
Intelligent cleaning modes
Automatically adapts suction across floor types
Advanced whole-machine filtration
Cleaner head
High Torque XL cleaner head with Dyson Dynamic Load Sensing
LCD display with run time countdown
Intelligent cleaning modes
Automatically adapts suction across floor types
Advanced whole-machine filtration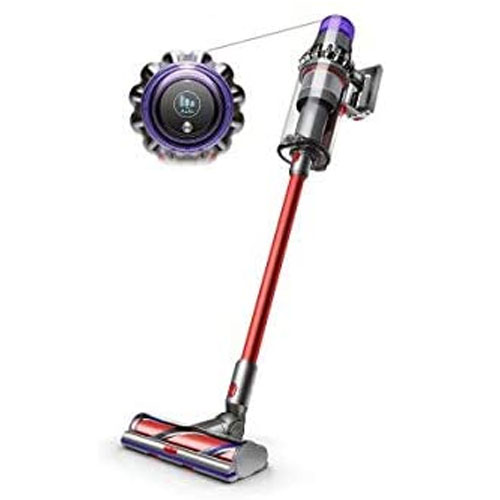 The V11 Outsize can definitely be called the most capacious, lasting, and efficient vacuum of the series. Though the manufacturer left it with the standard 14 cyclones Dyson-brand motor with 125 000 rpm, users will notice a lot of other improvements.
Speaking about common V11 features, we'd like to highlight adaptive suction and power for optimal performance, three cleaning modes, HEPA filtration, and a useful digital screen for charge and mode control.
The model has an extremely large dustbin and torque cleaning head. The bin is 150% bigger compared to the previous Dyson V series and is twice bigger than other V11 vacuum dirt cups. The cleaning head was named High Torque XL for its 25% enlarged surface.
The V11 Outsize is the only Dyson vacuum that comes with two batteries, each designing for 60 minutes of operation in Eco mode. Thus, all the above-mentioned features and 120 minutes run time make this model the best option for large houses and extra complicated pollutions.
Apart from the main head, the kit includes five more tools: mini-motorized brush, crevice tool, combination tool, stubborn dirt tool, and mini-soft dusting brush.
If you're looking for the most capacious and powerful cordless stick vacuum with handheld design, you will hardly find something better than Dyson V11 Outsize. Though it is slightly heavier than the other two V11 vacs and costs as unmerciful as $1225, it's an optimal option for large and multi-floor dwellings with pets and extensive messes.
Pros
handheld mode
five nozzles
25% enlarged High Torque XL cleaner head
14 cyclones of high suction
automatically adapts suction to a surface
three cleaning modes for different pollutions
provides ultimate 120 minutes of run time
HEPA filtration
150% more capacious dustbin
LCD digital display
Cons
A bit heavier and larger than other V11 vacuums
noisy performance
expensive
The majority of the V11 Animal configuration repeats the V11 Outsize vacuum. However, we notice a more compact design. Also, the manufacturer claims this model is specially made to cope with pet hair and partly carpets.
The basic equipment includes a standard 14 cyclones Dyson-brand motor for 125 000 rpm, automatic power adaptation, advanced filtration that traps 99.97% of particles up to 0.3 microns in size, one-touch bin emptying, and three modes.
The V11 Animal comes with a single battery, so its users will have 60 minutes of run time.
The Animal didn't become an exception in terms of a digital screen. Still, it has a slightly simpler LED display. Users of this model can also visually control the mode and other error and maintenance features. You can also monitor the battery level, but the lack of real-time countdown can be called the system's only drawback.
However, the main advantage of the modification is its tool set. Apart from the standard High Torque cleaning head, the vacuum comes with four additional elements: mini-motorized tool, crevice tool, stubborn dirt brush, and combination tool.
A mini-motorized tool in combination with a much lighter handheld modification allows for quicker, easier, and more efficient pet hair cleaning, especially on upholstery and in hard-to-reach areas.
Despite some minor drawbacks, this Dyson V11 is equal to its brothers and powerful enough to cope with all pollutions. At the same time, many users prefer this very model for the most beneficial $495 price.
Pros
compact body
handheld mode
four nozzles and the main High Torque cleaner head
14 cyclones of high suction
auto suction adaptation to a surface
three cleaning modes
up to 60 minutes of run time
HEPA filtration
capacious dustbin
LED digital display
the best price of the V11 series
Cons
the screen doesn't display charge level in a real-time countdown
noisy performance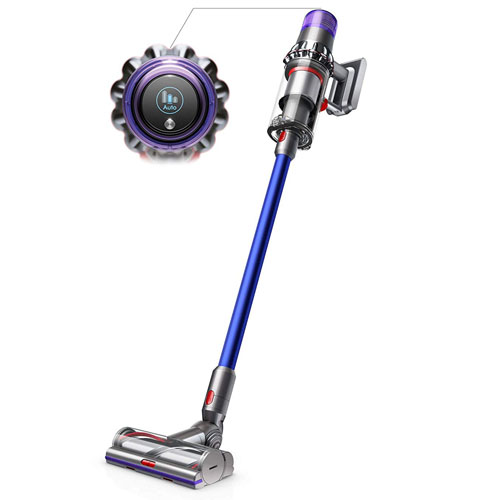 Dyson V11 Torque Drive has incorporated all the best features of the two previous vacuums. It was designed as a golden mean for those who need excellent performance and compact size.
Once again, the core of the model stayed unchanged. Let us briefly note its ultimate HEPA filtration with anti-allergen air treatment, 60 minutes of run time, hygienic one-touch bin emptying, and a powerful patented Dyson 14 cyclones motor.
The LCD screen comes in its full function set, including not only mode, maintenance, and error notifications but also charge control like in the V11 Outsize vac.
Another great moment is the presence of five additional tools. The kit is absolutely identical to Dyson V11 Outsize, except for a smaller multi-surface High Torque head.
On the other hand, the Torque Drive offers a lightweight and compact body that easily transforms into a handheld vac. It also takes the medium price niche, costing slightly over $600.
Thus, Dyson V11 Torque Drive will suit any house with hard floors and carpets. Families with kids can be sure of perfect anti-allergic air treatment, and families with pets can now cope with hair on literally any surface, including the car interior.
Pros
compact body
handheld mode
five nozzles and the main High Torque cleaner head
14 cyclones of high suction
auto suction adaptation to a surface
three cleaning modes
up to 60 minutes of run time
HEPA filtration
capacious dustbin
LCD digital display with the maximum functionality
Though the models belong to the same series, even such a short description displays many differences in the vacs' performance and design. So, let's take a more detailed look at their functions.
Face to Face comparison models
Design and Dimensions
V11 Animal and Torque Drive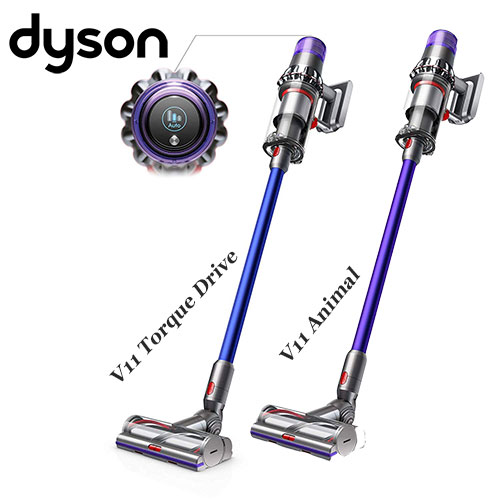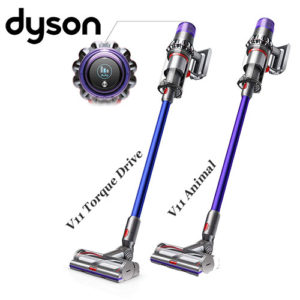 Dimensions and design comparison shows that two out of three vacuums are completely identical. As we have mentioned before, the V11 Animal and Torque Drive share the same dimensions:

50.6″ x 10.3″ with 9.8″ head width;
6.68 pounds;
V11 Outsize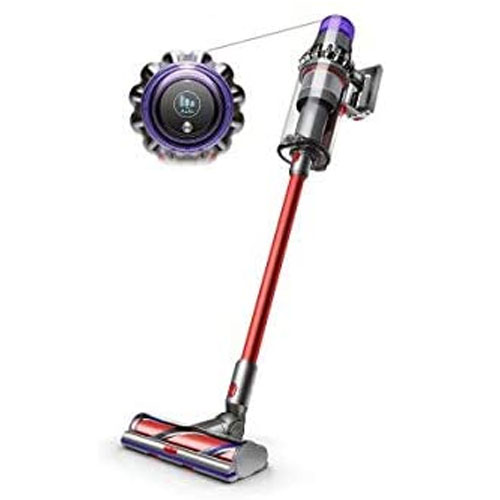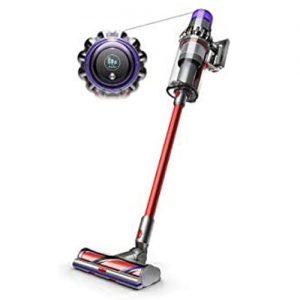 When it comes to the V11 Outsize, it differs from the previous models but only in terms of physical dimensions.
Engineers added a twice bigger dustbin and one quarter wider cleaning head but left the same stick height. Thus, altogether, the vacuum became heavier and seemed bigger visually.
The dimensions are:

50.6″ x 10.3″ with 12.5″ head width;
7.8 pounds;
Dyson continues the application of one design used in the V10, V8, and V7 series. We see wide cleaning heads, long and thin sticks that are topped with dust cups, filters, and handles. However, this time, each model comes with a digital screen.
Speaking about color options, one should say that all three devices feature unique orange, purple, and blue sticks for the Outsize, Animal, and Torque, respectively.
Verdict:
Dyson V11 series didn't get too many design changes. The Animal and Torque Drive models continue the previous V series's tradition and offer very lightweight and compact bodies.
On the other hand, the enlarged Outsize cleaner can deal with more dirt quicker. It is still light enough to be used in a handheld mode, but you should note its increasing weight when full.
Motor
While the previous Dyson V10 came with a V10 cyclone motor, the new series was significantly improved. Engineers developed a brand-new Dyson motor.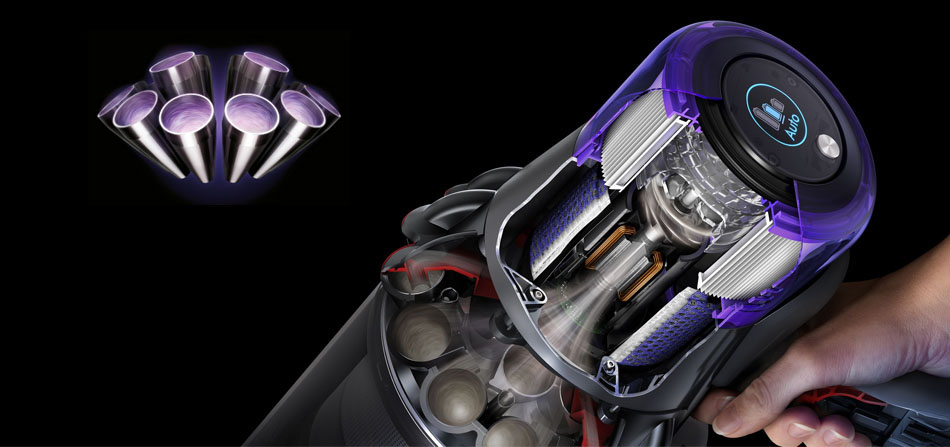 This time, it uses as many as 14 connected cyclones that rotate with the speed or 125 000 rpm and generate forces over 79 000 g. Its 525 W power is enough to lift and suck any particles on any surfaces, still staying quite energy-saving.
We'll discuss the suction power this motor generates in the next paragraph.
Verdict: Currently, Dyson 14 cyclones motor is the best invention of the brand and the most powerful equipment for cordless stick vacuums. All three V11 models use this motor and provide almost the same suction. Still, let us note that the manufacturer seems to sacrifice quiet operation for a higher power. So, be ready for noisy work.
Suction Power
Though all three Dyson V11 vacuums use the same motor, we notice some difference in their suction rates. The Animal and Torque Drive reach 185 Air Watts level, while the Outsize model provides 220 AW suction.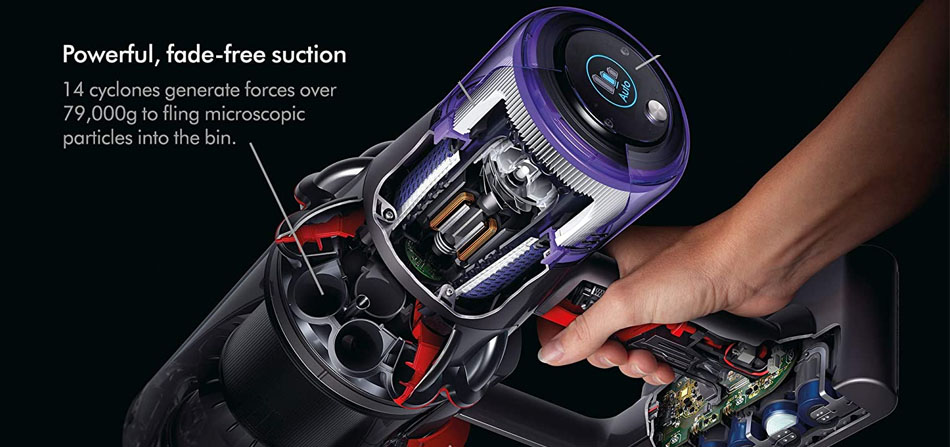 However, suction differs only in the most powerful mode. Cleaners have:

Eco mode for the quietest and most energy-saving cleaning;
Auto mode for standard operations;
Boost mode for the most challenging spots;
Apart from the manual suction adjustment through the mode choice, your vacuum will also automatically adapt to the surface. Dyson V11 cleaners have the in-built Dynamic Load Sensor (or DLS) technology. It determines the change of the surface and makes its best to set an optimal cleaning performance.
Verdict: Cordless vacuums are considered to be rather supportive cleaning devices because of their short run time and mediocre suction. Still, all three models are extremely powerful and can cope even with carpet and pet hair cleaning.
We cannot choose one best option from the V11 series. But if you have lots of challenging messes, the Outsize vacuum will eliminate them quicker.
Filter System
Dyson V11 devices are among those rare vacuums that both trap dust and provide thorough anti-allergen filtration.
All models come with the three filters. There is one pre-motor, one post-motor, and one main HEPA filter. Though the manufacturer doesn't state its main filter to be HEPA, we call it thus since it meets all international HEPA standards.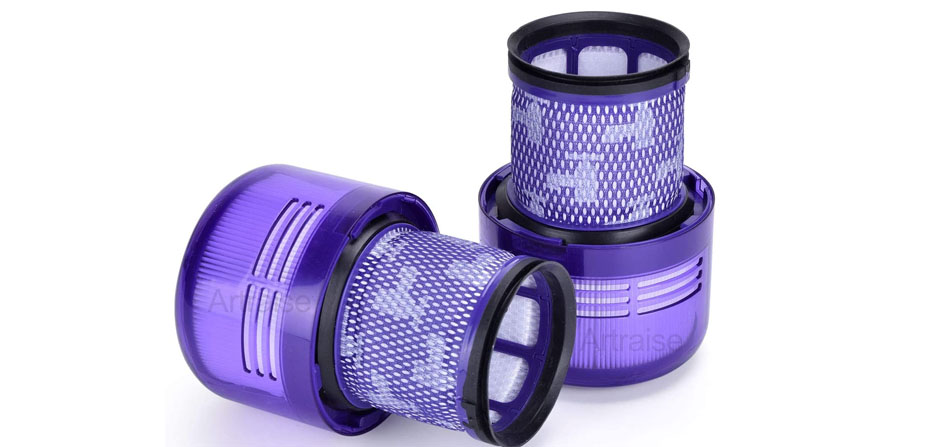 Dyson V11 vacuums eliminate up to 99.97% of dangerous particles, trap even the finest 0.3 microns elements and allergens.
Verdict: We have nothing to wish for in terms of filtration since all V11 vacuums provide the best air treatment possible. Vacuums are perfectly safe and useful for allergic people and people with respiratory problems, families with kids, pet owners, and everyone who cares about his/her health.
Run Time
Run time is one of the main distinguishing features within the Dyson V11 series. When we had a chance to get acquainted with the vacuums' batteries, it's time to make it more thoroughly.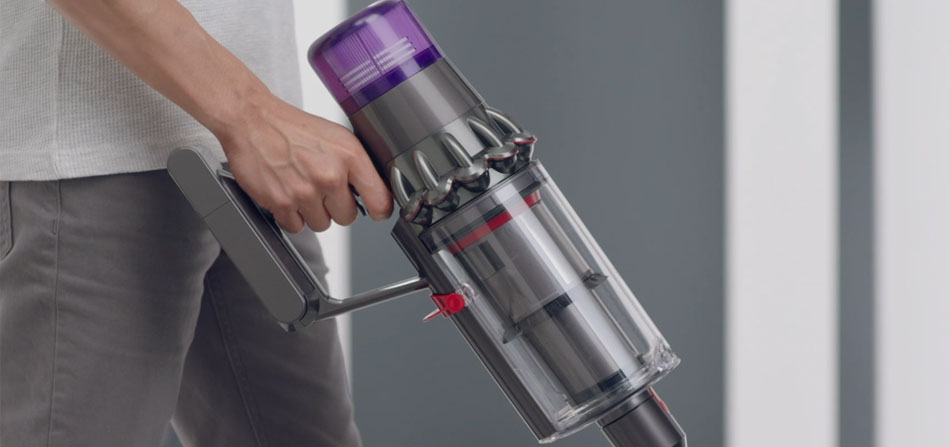 Starting with the Animal and Torque Drive devices, we'd like to note their 100% similarity. Both vacuums use only one 7-cell Li-Ion battery. The element became significantly lighter compared with previous V7 and V8 vacuums, but its capacity, on the contrary, was greatly increased. At the moment, Dyson V11 vacuums can provide 60 minutes of non-stop cleaning in Eco mode.
Dyson V11 Outsize stepped forward and came to use two such Dyson 7-cell batteries at once. Not only did it become the only Dyson vacuum with two batteries but also the most durable vacuum of the V11 series with 120 minutes operation.
Indeed, all three cases are impressive. Still, we'd like to draw your attention that the run time given was measured in the quietest Eco mode. When you use your vacs in more powerful Auto and Boost modes, please remember that the charge will end faster.
Verdict: Definitely, Dyson V11 Outsize is a winner of this comparison. None of the Dyson vacuums can boast of equal performance for 120 minutes. But if you're looking for a more budget option, the Animal and Torque Drive cleaners can become such worthy investments. Even though they last twice less, one hour is more than adequate run time for medium houses.
Digital Display
Another excellent addition of the V11 vacuums is their informative and compact digital screens. They are located on the tops of the vacs and come with a useful button for the setting.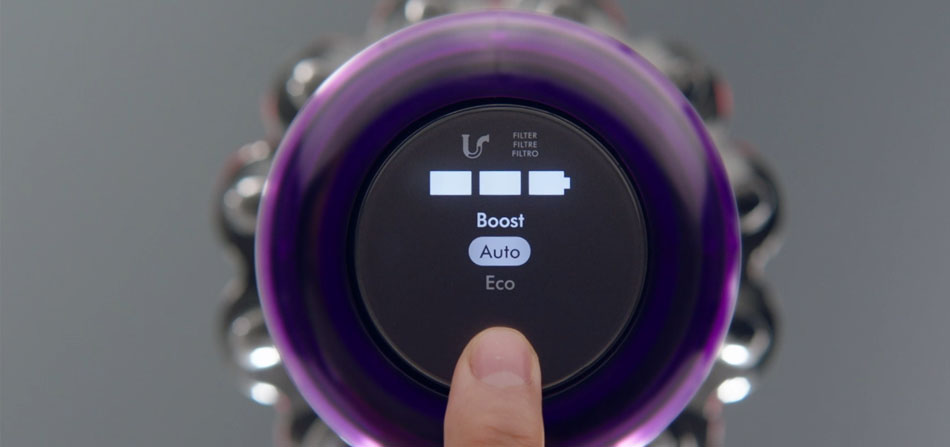 All three screens display brief visualized information on the chosen mode, battery level, filter state, clogs, and other alarms and maintenance moments.
Cool new screens help select between Eco, Auto and Boost power. They also show the estimated battery life you have left. The screen is pretty smart as whenever you change the power mode or change the attachment, it recalculates the battery life. The battery is vastly different, depending on whether you're using a suction attachment or a motorized tool.
The screen also displays things like charge percentage and alerts like when it's time to change the filter.
However, displays are not completely identical on all models. While the Outsize and the Torque Drive use the same equipment, the V11 Animal slightly differs. The difference between the versions is that while the two first cleaners have the LCD screens, the Animal only has the LED screen.
Basically, the LED panel is just lights and a button, so it has all the same functions as the LCD screen, except it doesn't show the remaining battery life in real-time with a countdown as the LCD does.
Verdict: There is a fine line between the V11 vacuums' screens, and it hardly influences the cleaning or control convenience. Though some people may worry about the lack of the countdown, it didn't become a problem for us. So, we can recommend you to choose any of the vacuums.
Dustbin
We loved the V11 dustbin construction and emptying process, as it turned out to be very hygienic and easy.
As stated earlier, the dustbins are located on the upper parts of the vacuums and look like cylindrical cups. Transparent plastic walls provide a perfect opportunity to evaluate the fullness of the bin, and quick 'point and shoot' bin emptying system saves you from any contacts with the collected dirt. All you need is to push the red button, which opens the bottom lid, throws the debris, and cleans the walls with special rubber rim.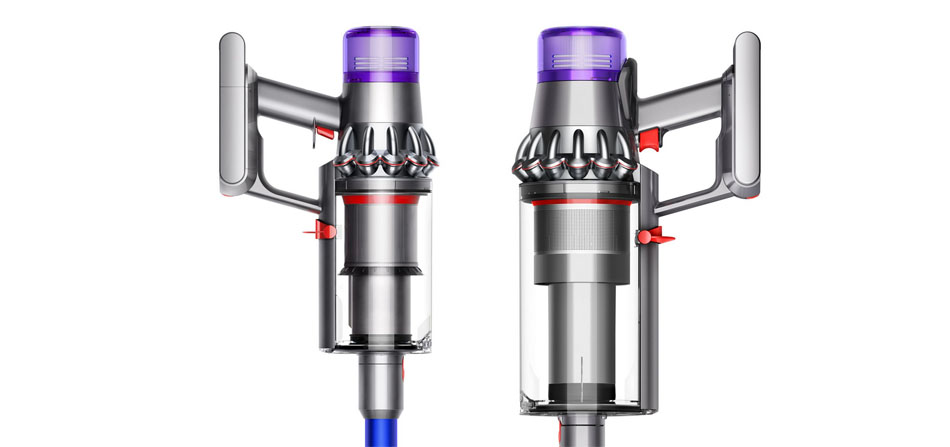 The dustbin capacity is the only distinguishing feature of the vacs. Dyson V11 Animal and torque Drive come with 0.2 gal or 750 ml cups. The Outsize model uses more than twice a bigger bin, designed for 0.5 gal or 1900 ml.
Verdict: Even 0.2 gal/750 ml capacity will be enough to collect all the dirt from the whole house. One such cup can contain fine debris like sand, large, awkward particles like cornflakes, and space-consuming hair.
The Outsize may become the best option for large dwellings, but medium and small apartments will hardly be able to use all its potential. So, if you live in the latter house, you can save on it.
Noise
Unfortunately, the noise level seems to be the only drawback of the vacuums. High suction power and potent motors produce up to 80 dB noise when operating on the max. It feels like staying in the middle of a busy street. However, Eco and Auto modes provide much quieter work and don't exceed 70-75 dB.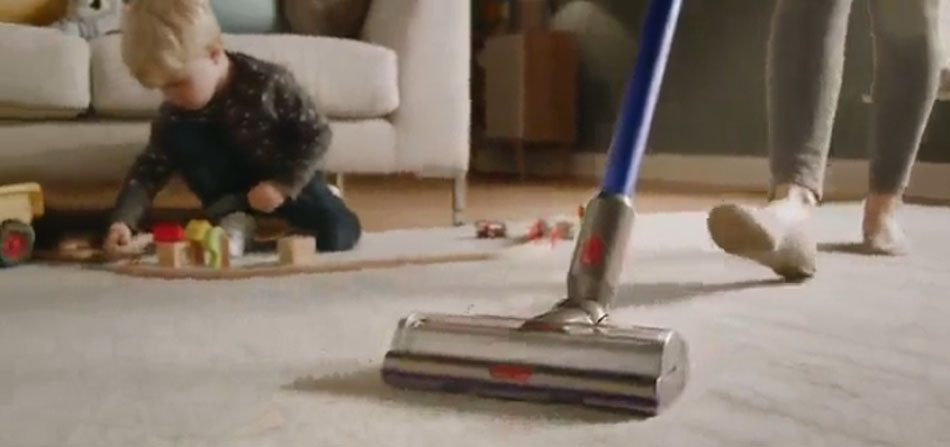 Verdict: The noise level doesn't feel too comfortable, but we're ready to accept it for the sake of high power and perfect cleaning.
Accessories
Numerous tests prove that Dyson cordless stick vacuums are very popular not only because of their performance but also due to wide sets of extra tools. Before a more detailed examination, let's name all the elements of the three kits.
Dyson V11 Outsize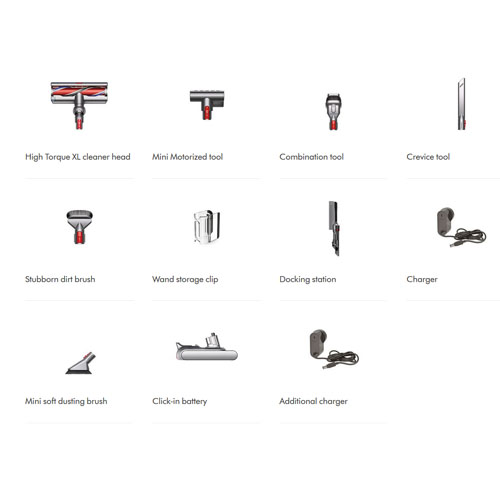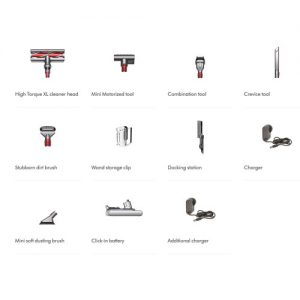 Dyson V11 Outsize comes with:

Torque Drive XL head
mini-motorized tool
crevice tool
stubborn dirt brush
combination tool
mini-soft dusting brush
wand storage clip
docking station, & charger
Dyson V11 Animal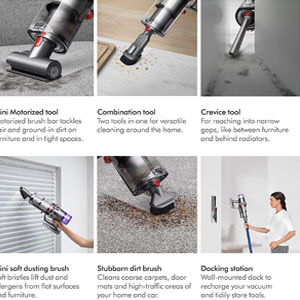 Dyson V11 Animal includes:
Torque Drive head
mini-motorized tool
crevice tool
stubborn dirt brush
combination tool
wand storage clip
docking station, & charger
Dyson V11 Torque Drive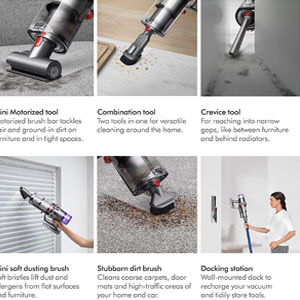 Dyson V11 Torque Drive has:
Torque Drive head
mini-motorized tool
crevice tool
stubborn dirt brush
combination tool
mini-soft dusting brush
wand storage clip
docking station, & charger


As we see, the majority of elements are the same for all models. Let's discuss them first.
Dysons V11 have the same main Torque Drive head with two ranks of soft and stiff bristles. The brush is universal and can be used on hard floors and carpets with equal success. Bristles gently scrub, lift, and pick up the debris without damaging the surface. The only moment to mention is that the Outsize comes with the so-called XL head, which means it's 25% bigger than the same brushes of the Animal and Torque.
A docking station is a compulsory element of all kits that provides fast recharging as well as a convenient storage place for the vac and all its tools.
A wand storage tool clip is another great addition that empties your hands during cleaning. You can clip it to the wand and carry two tools for further replacement.
Other same cleaning tools for all vacuums are:

the mini-motorized brush, which is a mini version of the High Torque head. It's a great tool made for spot hair, stairs, upholstery, or car cleaning;
the crevice tool for vacuuming in narrow and the most challenging places;
the combo tool that you can use both with or without bristles, depending on the debris. We think it's one of the best dusting brushes on the market;
the stubborn dirt brush that has stiffer bristles for better scrubbing. It will perfectly suit dried stains and other old debris;
Besides the two size options of the High Torque head, there seems to be only one more difference between the kits. The Animal vacuum doesn't come with the mini-soft dusting brush. This tool is used for spot dust cleaning, but our team's opinion, it's no big loss.
Verdict:
All kits are excellent, and a couple of minor differences we found cannot dramatically change the cleaning results.
Still, the Outsize vacuum deals with floor cleaning slightly quicker thanks to its bigger head.
The V11 Torque Drive has no drawbacks at all. And when it comes to the Animal device, we were disappointed by the lack of any specialized pet cleaning tools. The vacuum provides absolutely the same pet cleaning as its two opponents. Not that the cleaning is bad – it's great but just isn't any different from the other cleaners' performance.
Buyer's Guide – How to Choose the Best Cordless Stick Vacuum Cleaner?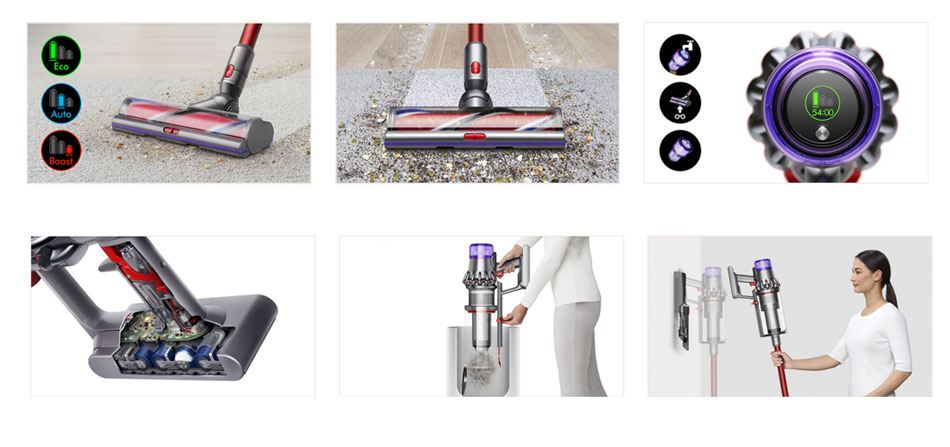 Stick cordless vacuums seem to gradually supersede their wired colleagues, which is proved by sales statistics. Cunning manufacturers always follow trends and increase the production of the devices, making a choice even more complicated. So, let us briefly mention several main characteristics that play a crucial role in every cordless vacuum performance.
First of all, please mind that though being much more maneuverable and handy in use, cordless stick cleaners often do not have high power and usually purchased as additional devices for a spot or specialized cleaning. You can use the appliance daily to clean both small and large areas.
A device will become especially convenient in such conditions as:

living in a studio or a one-room apartment;
living in a private house;
the need for regular spot cleaning;
the need for cleaning in complicated locations like upholstery, narrow stairs, curtains, etc.;
lack of time for cleaning with a conventional vacuum cleaner;
desire to combine several cleaning devices in one (vacuum for floors, carpets, upholstery, and ever car);
the presence of young children in the family;
frequent allergic reactions;
the presence of pets.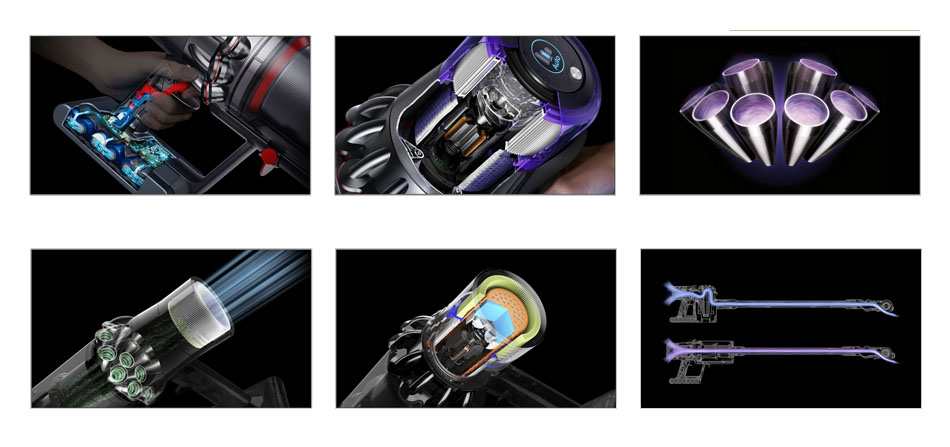 When choosing a cordless vacuum cleaner, special attention must be paid to the following parameters:
Suction power.
The more powerful the engine, the higher the airflow and suction. You can often find models with a suction power of 20-150 W. Suction will depend on your needs and requirements. Thus, hard floors can do with decent suction, while carpets and regular pet hair cleaning need the highest power. Spinning motorized heads will also contribute to the debris elimination.
Dust collector volume.
For high-quality cleaning of small rooms, devices with 300-500 ml dustbins will be an ideal choice. However, if the cleaning will be carried out on large areas, it's worth purchasing a vacuum designed for 750-900 ml. Another important moment to consider in terms of the dustbin is the emptying system. The less you have to contact with the dirt, the better.
Battery type and run time.
Many experts call models equipped with a lithium-ion battery best options in the market. They are distinguished by a small self-discharge, as well as the ability to instantly clean surfaces from contamination without overheating.

When it comes to the run time, cordless vacuums may lose compared to the wired cleaners. Still, they can thoroughly clean contaminated areas without recharging for 20-80 minutes. The most convenient are electrical appliances with the possibility of long-term cleaning of large areas.

The number of cleaning tools.
The handheld option is one of the greatest advantages of cordless stick vacuums. If you found such a model, you're a lucky man. However, this feature can be even improved with the help of additional brushes and tools.

We recommend you to choose the models with mini brushes for furniture and local hair cleaning, crevice tools for narrow hard-to-reach places, dusting brushes for daily dust elimination, etc.

Noise level.
Loudness will greatly depend on the power of your vac. The best noise level should stay within 60-70 dB frames and shouldn't exceed 70-80 dB. However, please mind that the indicators stated by the manufacturer are not always true. Therefore, before buying, test the device in the store.
Frequently Asked Questions
Dyson V11 Outsize vs Animal vs Torque Drive: which cordless stick vacuum is best for carpets?
Dyson V11 Outsize has the highest 220 AW power and 25% bigger main cleaner head. So, if you're looking for the best cordless vacuum for carpets, this model can offer you more.
Still, the Animal and Torque Drive devices use the same brushes and very close 185 AW suction for less money. So, being slightly inferior, they are efficient enough for carpet cleaning.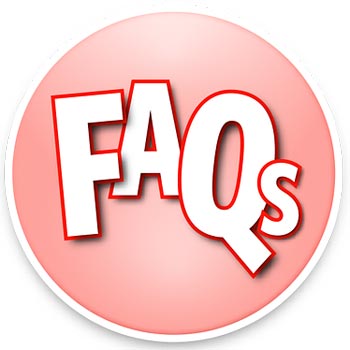 Can I purchase and use a Soft Roller cleaner head for the Dyson V11 vacuum?
Yes, you definitely can. A Soft Roller provides better and more gentle cleaning on hard floors and is compatible with all Dyson V series. At the moment, Amazon offers a Soft Roller cleaner head for Dyson V11 costs $130.
Do Dyson V11 vacuums have a trigger lock?
Unfortunately, Dyson doesn't seem to fix this long-aching moment, and its new V11 vacuums don't come with trigger fixation.
Still, owners of the V11 Animal and Torque Drive models can purchase a special trigger lock separately for $13. Please mind that it is not compatible with the V11 Outsize cleaner.
How often should I clean and change filters on my Dyson V11?
To maintain proper filtration of all Dyson V11 vacuums, users are recommended to clean the filters at least once per month. All you need is to rinse it with cool water and dry.
Since with time, filters lose their efficiency, every 6 months replacement is needed.
How long does it take to charge the fully discharged battery?
One Dyson V11 7-cell Li-Ion battery needs from 3 to 5 hours to recharge. All you need is to put the vacuum back on the bock station. Besides, it is perfectly safe to store the device on the dock all the time.
Conclusion
Without a doubt, Dyson V11 is the best cordless series of the manufacturer.
The V11 Outsize seems to be the most powerful and durable option, which is true. This vac will suit owners of large dwellings and multi-story houses with complicated floors and pets. On the other hand, one should remember about its heavier construction and a twice higher $1225 price. So, if your conditions don't coincide with the above-mentioned, this purchase may become not too rational for you.
The Animal vacuum may upset you as it doesn't offer unique pet tools and improved hair cleaning. Still, it doesn't yield to other Dyson V11 models and costs under $500. The more affordable price is caused by the simpler LED screen and the lack of a mini-soft dusting brush. Since you don't lose too much with these drawbacks, this is the best option for customers on a budget.
The detailed comparison allowed us to conclude that Dyson V11 Torque Drive offers the optimal combination of performance, tools, and price. Being slightly more expensive than the Animal device, it comes with all Outsize features except for the bigger head, dust cup, and dual battery.