Eufy 15C Max vs. 30C vs. 35C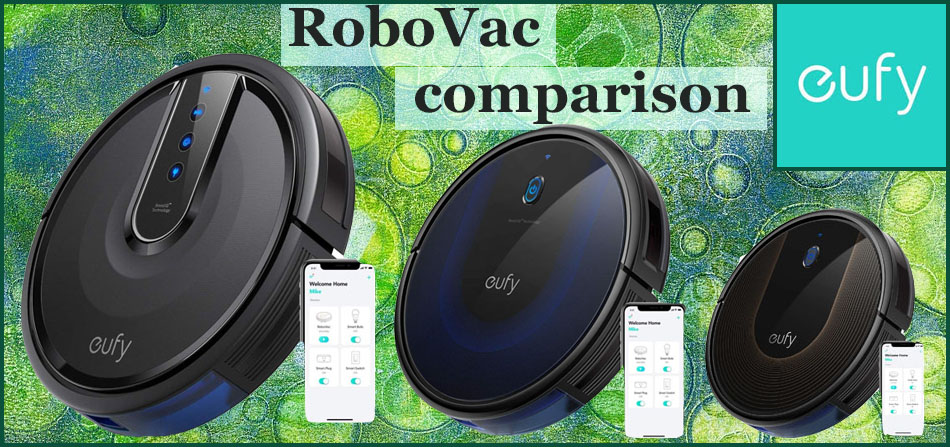 There's no reason to fear the robot takeover! These preprogrammed automatons are just here to do your household chores.
While we can't vouch for all machines, we're more than willing to endorse the following three Eufy vacuums.
With one of these cleaners, you'll be able to maintain a spotless floor without lifting a single finger.
Of course, you'll need a little background before you can settle on just one. We've lined these cleaners up side-by-side in hopes of identifying a clear winner.
See how well the Eufy 15C Max, 30C, and 35C vacuums do in the detailed comparison below.

The Eufy 15C Max is a Wi-Fi-connected vacuum with sample suction and robotic tendencies. The thin black disc hovers over hard floors and medium-pile carpets with ease, gathering dust and debris as it goes.
At just 2.9 inches, the 15C can easily squeeze under low-hanging furniture. It's also small enough to fit into corners without getting trapped. It's not just profoundly limber.
It also can charge itself. Not to mention, you can control it through common phone programs, including Google Voice and Amazon Alexa.
The EufyHome app is fairly easy to navigate and offers plenty of obvious commands, including power and location controls.
Advantages
The main advantage of the Eufy RoboVac 15C is its small size.
This tiny vacuum has no problem navigating under and around household hazards.
It's also incredibly powerful, offering as much as 2,000 Pa of suction.
The vacuum is even capable of increasing its suction.
The Eufy app is also super easy to navigate.
Not to mention, the voice control option makes your vacuuming experience hands-free.
Disadvantages
While the Eufy 15C Max offers enough suction to eradicate most messes, it does struggle to let go of hair and fur.
These stringy substances have a way of getting caught up in the Eufy's twisted bristles.
More often than not, you need to take the vacuum apart to cut the particles free.
Pros
2,000 Pa of suction
Wi-Fi connectivity through EufyHome app
100 minutes of battery power
Quiet performance
Only 2.8 inches tall
BoostIQ
Three brushes
Senses stairs
Cons
Minimal parameter discretion
Struggles to let go of hair and string
The Eufy RoboVac 30C is yet another powerful robotic floor vacuum. It produces 1,500 Pa of power, enabling it to eradicate most messes. It also offers expert navigational skills.
Not to mention, it can bound across both hard and soft floors. With up to 100 minutes of non-stop battery power, the Eufy 30C can clean most homes in one fell swoop.
You can even control it from a remote location with the help of the EufyHome app.
Advantages
The 30C's suction is a bit weaker than the 15C Max's.
Nevertheless, it comes with boundary strips that can be used to mark off clean-free zones.
These navigational assistants make the 30C far more efficient than previous Eufy models.
This new and improved vacuum also comes with a set of complimentary cleaning accessories.
Disadvantages
On the downside, the 30C takes nearly 30 minutes to come to a full charge.
Homeowners with ample square footage can be left waiting.
Of course, the vacuum still provides around 100 minutes of uninterrupted cleaning.
When you use the boundary strips and EufyHome app commands to your advantage, you can make the most of the device's limited time parameters.
Pros
1,500 Pa suction
100 minutes of cleaning time
Includes boundary strips for no cleaning zones
Complimentary accessories
Three-point cleaning system
2.85 inches high
Navigates over carpets and ledges
Senses unsafe drops
Infrared sensors
Quiet cleaner
The Eufy RoboVac 35C is yet another self-charging robotic vacuum. Like the 15C MAX and 30C, this vacuum comes in the form of a small black canister.
It's just 2.85 inches high, making it a sliver taller than the 15C.
Like both of the other models, the 35C provides 100 minutes of uninterrupted cleaning. What's more, this vacuum possesses a self-charging feature.
While users are still responsible for emptying the dustbin, they can control the vacuum from a distance. With BoostIQ technology, the Eufy is guaranteed to tackle stubborn messes better than single-speed models.
Not to mention, the vacuum's three-point cleaning system can traverse over both hard and soft floors.
The vacuum's triple-filter system and oversized dustbin ensure that even the smallest of particles cannot escape its powerful suction. What's more, its ledge and hall sensors keep it within productive parameters.
Advantages
The Eufy 35C offers many of the same vacuuming technologies as the 30C.
What's more, it has an identical suction.
Even the core cleaning systems are the same.
The only profound difference between the 30C and 35C is that the latter is newer.
The vacuums also feature the same list prices.
With all that said, if you're after the most current model, the 35C is an obvious option.
Disadvantages
One thing that frustrated us about the 35C is that it doesn't have a clear cleaning route.
The vacuum seems to go in random directions, leaving some parts of the floor untouched. When the battery dies in the middle of a cleaning session, it has no way of picking up where it left off.
If you have a large home, this can be frustrating. We were also disappointed that the 35 only came with a limited number of perimeter strips.
Pros
1,300 to 1,500 Pa of suction
BoostIQ technology
Four dynamic cleaning modes
Triple Filtration
Charges itself
0.7-liter dustbin
Compatible with EufyHome app
Find my Vacuum location service
Quieter than traditional vacuums
Includes less than 7 feet of boundary strips
Cons
Inefficient, random cleaning patterns
Does not pick up where it left off
How They Compare
Now that you've been introduced to the Eufy 15C Max, 30C, and 35C vacuums, it's time to see how they compare. We've taken the time to compare all three Eufys. To do this, we used seven performance parameters.
Design
All three vacuums consist of a frisbee-sized cylinder that is no taller than 3 inches. At 2.8 inches, 15C is the shortest vacuum. Meanwhile, the 30C and 35C are both just 0.05 inches taller.
All three Eufys have underbellies with pivoting wheels and twirling brushes. The tops of the vacuums feature illuminated blue designs and touch buttons.
The 15C Max and 30C feature illuminated power buttons as well as wireless connectivity indicators. Meanwhile, the 35C features illuminated power, start/stop, and wireless connection buttons.
On top of that, it has an illuminated wireless connectivity indicator.
All three vacuums blend into their surroundings. They seem to blend into their surroundings, offering minimal visual disruptions.
With all this said, we'd say that the Eufy 35C features the most user-friendly design.
Size and Dimensions
The Eufy 15C weighs 9.4 pounds. It's just 2.85 inches tall and boasts a 12.8-inch diameter.
On the other hand, the Eufy 30C weighs a mere 5.95 pounds. Meanwhile, it's 12.8 inches wide and 2.83 inches tall.
Last but not least, the 35C weighs approximately 5.73 pounds. It's 2.85 inches tall and 12.8 inches wide.
That makes the 35C the lightest vacuum of the bunch. While all three Eufys have the same diameter, the 15C is a fraction of an inch smaller than the other two.
For this reason, it has better luck navigating under low-hanging furniture. This roundup comes down to the Eufy 15C Max vs. the 30C. However, the real winner is the 15C.
Cleaning Parameters and Vacuuming Technologies
All three of these vacuums boast similar technologies.
For one, they all feature BoostIQ technology. BoostIQ is an AI suction boosting function that kicks in when debris proves to be too challenging for the standard power settings. BoostIQ reserves battery power for when it's needed most. All three vacuums are also engineered to clean both hard and soft floors. However, we don't recommend testing these automatons on anything thicker than medium-pile carpets.
Another correlation between the Eufy models is their batteries.
All three vacuums provide 100 minutes of unbroken suction. A rechargeable lithium-ion battery comes with each cleaning device.
All three vacuums are also compatible with the EufyHome app.
This app pairs with a variety of voice recognition programs, including Amazon Alex and Google Voice. It enables users to take control of their vacuum from a remote location.
While the 15C offers 500 Pa of suction on most surfaces, the 30C and 35C vacuums have more limited cleaning parameters. The later model Eufys come with proprietary perimeter strips that can be used to mark off areas that are unfit for cleaning.
The 30C comes with 13.2 feet of perimeter strips. Meanwhile, the 35C comes with an underwhelming 6.6 feet.
With all this to consider, we're confident that the 30C is the winner of this roundup. While this vacuum may not have the most powerful suction, it's strong enough to clean up most dust, dirt, and debris.
Its navigational skills and vacuum technologies are what truly set this vacuum apart from the competition. After all, it comes with a long roll of perimeter strips that can be used to square off clean-free zones. On top of that, this vacuum connects to Wi-Fi. It also has large wheels that can roll over carpets and ledges. The vacuum's drop-sensing, anti-collision, and dual-hall sensors keep it out of harm's way.
Cleaning Quality on Different Surfaces
When it comes to most robotic vacuums, high carpets and door ledges are off-limits.
Still, the Eufy 15C has a 0.3 clearance that enables it to roll over raised surfaces with ease. Its drop-sensing technology makes it well-suited for second-floor cleaning. It won't fall off of stairs or ledges. The device will automatically sense and return to its base.
The 30C does just as well on dynamic surfaces. Like the 15C, it features an abundance of navigational features. These include sensors that keep it from falling over ledges and tumbling down stairs. Medium-pile carpets and rugs are safe zones with this effective cleaner. Like the 30C, the 35C can ramble its way over most floors.
With all that said, the 15C is the winner of this roundup. For one, its robust suction does a marvelous job of raising grime out of high carpets. On top of that, the vacuum's gaping distance from the floor gives the cleaning system room to work its magic.
Usability
All three Eufy vacuums feature simple setups. To start things off, you need to plug in the base, download the app, and connect to Wi-Fi.
The 15C and 35C are self-charging. However, you need to manually return the 30C to its base.
The 30C and 35C come with optional perimeter strips. You can install these if you wish to restrict your vacuum's movement or establish off-limit areas. While installing these strips is a little labor-intensive, it does not require any special programming.
Once the vacuums have been installed, you can start cleaning with the touch of a button. The EufyHome app simplifies the process. It enables users to start, stop, and locate their vacuums.
Since all three vacuums are easy to use, we'd say this roundup is a three-way tie.
Maintenance and Dustbin
All three vacuums feature easy-to-remove brushes and high-capacity 0.6-liter dustbins. The dustbins need to be emptied periodically.
However, they can hold a generous number of particles. The brushes also need to be removed and cleaned. Hair and string can become ensnared in the brushes' bristles, making it difficult for them to spin.
The vacuums' filters that need to be removed and washed after periods of heavy use. Regular maintenance will keep your vacuum running strong.
Pricing
Despite their differences, all three Eufy vacuums are priced alike. According to the Eufy website, the 30C and 35C are priced at $299.99.
Meanwhile, the 15C Max is priced at $279.99.
As such, the 15C an excellent option for consumers with big budgets.
Frequently Asked Questions
What is the difference between EUFY 30c and 35c?
As a matter of fact, Eufy 30C and Eufy 35C don`t feature some significant differences. Still, we distinguish the following:
The first difference lays in design. While the 30C has only one on/off button on the top panel, Eufy 35C is equipped with three control buttons (start/stop, power, and wireless connection) and offers slightly altered appearance.
Both vacuums come with boundary strips, but Eufy 30C offers 13.2 ft set, while the 35C kit includes 6.6 ft limiters.
And the final distinguishing feature of the cleaners is their prices. Eufy 30C costs $269, Eufy 35C requires $290.
What is the best EUFY?
We believe Eufy 15C to be the optimal option among all three vacuums. It has the most powerful 2000 Pa suction, the thinnest case for under furniture cleaning, and the most beneficial price, which is slightly over $250.
All other functions and characteristics are absolutely identical to the 30C and 35C models. Only mind that the 15C doesn`t include boundary strips.
Does EUFY learn your house?
None of the three Eufys offer mapping or scanning. Thus, we can`t say they learn and remember your house. Nevertheless, all models can determine floor type, obstacles, drops, and location of the charging base.
Which vacuum is quieter – Eufy 15C or 35C?
Both Eufy 15C and Eufy 35C are quiet robot vacuum cleaners, as they produce only 55 dB. So, they have identical noise characteristics.
Eufy 15C or Eufy 30C – which is better?
Though the 15C and 30C have a lot of common features, we consider the first model to be the best. It can cope with more complicated pollutions and surfaces, as it produces 2000 Pa suction compared to 1500 Pa of the 30C bot. And it`s also cheaper.
The only superiority of Eufy 30C is its 13.2 ft boundary strips, which aren`t included in the 15C kit.
How does EUFY vacuum work?
All Eufy vacuums perform the same 3-point cleaning. Two side brushes collect the dirt along the sides and direct it to the central roller brush. The roller picks up and extracts debris and then sucks it into the dustbin.
The final stage of the process is air refreshing, as it goes through the high-efficiency filter to get rid of the tiniest dust particles.
Final Thoughts
We were impressed by the cleaning parameters of all three Eufy robotic vacuums.
The Eufy 15C Max offers tremendous suction paired with plenty of high-tech controls. Meanwhile, the 30C and 35C offer premium navigational and cleaning performances.
All three are great options!