Eufy Robovac 11S vs 11S Max vs 15C Max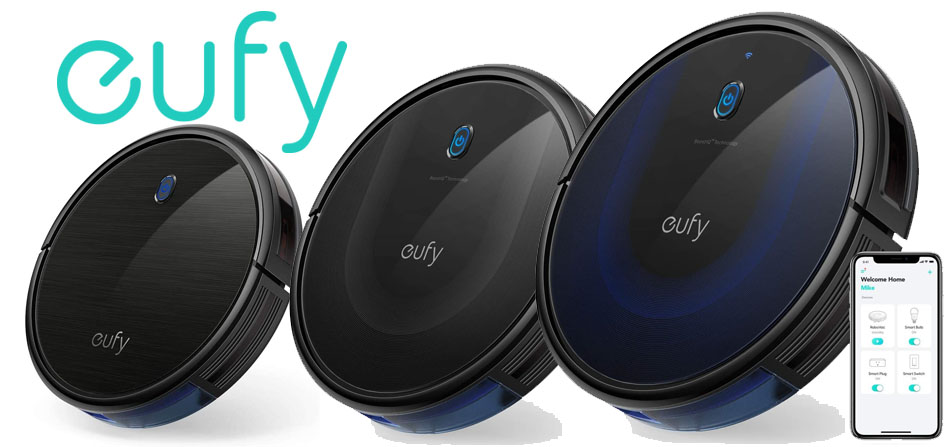 It's not a secret that iRobot Roomba vacuums are in great danger. For the last years, they've faced significant competition from new household robotic brands that offer very close performance for much more moderate money. And Eufy Anker is one of them.
Perhaps, its robots can be justly called one of the best affordable options. Statistics show the customers on a budget mostly prefer three vacuums under $300. So, our today's comparison will be dedicated to Eufy 11S vs 11S Max vs 15C Max robot vacuum cleaners.
Are they worth such attention? Do they suit hard floors only or also please the owners of pets and carpets? Can low prices go hand in hand with excellent performance? Let's find it out together!
Main Differences Between the Models
Surprisingly, but Eufy 11S, 11S Max, and 15C Max are rather similar than different. That's why many customers find it difficult to decide on the most suitable model. To make a choice easier, we'll start by listing crucial differences between the three robots. They are the following:

Suction forms one of the main differential moments. Robovac 11S has 1300 Pa suction, while its 11S Max and 15C Max brothers are more powerful and reach 2000 Pa in BoostIQ mode.
Though the majority of modes coincide, the 11S has Single Room Cleaning and lacks Quick Cleaning modes. The Max vacuums feature the opposite situation – Quick Cleaning within 30 minutes and no Single Room mode.
Owners of Eufy robots get different filtration systems. The first vac uses a high-performance filter that consists of 3 layers (a pre-filter, a high-performance filter, and a foam filter). The second and third vacuums have a unibody filter, which is one element with improved V-shape cells.
WiFi connection is a final and decisive feature. The 11S and the 11S Max do not support WiFi and, consequently, cannot work with app and voice assistants. They can be run via remote control only. Robovac 15C Max is the only device of our review that supports WiFi, the EufyHome app, Alexa, and Google Assistant.
Table comparison
Dimensions
12.8 x 12.8 x 2.85 inches
12.8 x 12.8 x 2.85 inches
12.8 x 12.8 x 2.85 inches
Multi-Surface Cleaning
Hard Floors to Medium-Pile Carpets
Hard Floors to Medium-Pile Carpets
Hard Floors to Medium-Pile Carpets
Dimensions
12.8 x 12.8 x 2.85 inches
Multi-Surface Cleaning
Hard Floors to Medium-Pile Carpets
Dimensions
12.8 x 12.8 x 2.85 inches
Multi-Surface Cleaning
Hard Floors to Medium-Pile Carpets
Dimensions
12.8 x 12.8 x 2.85 inches
Multi-Surface Cleaning
Hard Floors to Medium-Pile Carpets
Let's start with one of the best robotic models of 2019 – Eufy 11S. Surely, this vacuum is far from being perfect or the most innovative, but we are not perfect either. Anyway, you can hardly find anything close to its efficiency and universality for such a price.
Thus, the robot comes with an excellent brush system used in many flagships. Working with its two side brushes and one V-shaped combined roller, the 11S collects the majority of contaminants, including pet hair.
Why did we mention universality? Because these brushes, 1300 Pa suction, and lovely useful BoostIQ technology allow you to run the vac on hard floors, rugs, and carpets up to the medium-piled ones. However, please mind that it is not equally efficient on thick carpets.
Let us also quickly note the extra slim 2.85″ design to pass under the lowest furniture, extended 100 minutes run time, and high-performance filtration. The last feature greatly improves the air quality but do not cope with allergens.
The two moments left to discuss are navigation and control. That's where users have to sacrifice innovations for a lower price.
Eufy 11S has a very moderate sensor-based navigation that helps it only avoid obstacles and falls. The bot cannot plan a cleaning route or save a map.
This is also one of few modern robot vacuums that do not support WiFi connection and, consequently, cannot be controlled via smartphone apps and voice assistants. We settle for manual buttons and a remote control. However, even with such options, you can set cleaning modes and schedules.
Despite the lack of high-precise navigation and app control, we can still conclude that Eufy Robovac 11S gives us much more functions than we could expect for a $230 price. The robot is a truly worthy investment for small and medium apartments with mixed floors and pets.
Pros
compact design
efficient side brushes and central roller
several cleaning modes
1300 Pa suction
BoostIQ for better carpet cleaning
suitable for pet hair cleaning
high-performance filter
100 minutes of run time
non-random sensor navigation
nice 600 ml dustbin
a remote control included
quiet
affordable price
Cons
no app, Alexa, and Google Assistant support
weak navigation
no allergen filtration
not suitable for thick carpets
After the S11 model's obvious success, Anker decided to release a slightly improved version of the bestseller – Eufy 11S Max. What were the improvements? Let's get this sorted out.
The main changes touched the suction only. While the brush systems consisting of two side brushes and one V-shaped roller stayed unchanged, the robot's power has been increased up to unprecedented 2000 Pa.
Though the manufacturer still doesn't recommend this robot for thick carpets, our tests proved otherwise. 2000 Pa with BoostIQ does its best to lift dirt even from the high pile. Hard floor and pet hair cleaning is still up to the mark.
Secondly, when the 600 ml dustbin stayed the same, we see an interesting addition to the filtration. Now, instead of the high-performance filter, the 11S Max uses the so-called unibody filters. They have a slightly altered blade shape and are supposed to provide HEPA-style air treatment. This feature turned out to be quite controversial and seems to have more drawbacks than pluses. We'll discuss it in detail later.
When it comes to other characteristics, we see the exact copy of the 11S vacuum. There is the same thin body with anti-collision and anti-drop sensors all over the case and several modes with silent operation. Besides, like its brother, the vacuum can last for 100 minutes and doesn't support WiFi.
Though the smart features of the new Eufy 11S Max didn't undergo improvements, this robot has become the most powerful budget option. For an extra $20 (compared with $230 for the Eufy 11S), we can now combat absolutely all types of pollution on any surfaces. Isn't it great?
Pros
compact design
efficient side brushes and central roller
several cleaning modes
improved 2000 Pa suction
BoostIQ for better carpet cleaning
suitable for pet hair and thick carpet cleaning
unibody HEPA-style filter
100 minutes of run time
non-random sensor navigation
a 600 ml dustbin
a remote control included
quiet
affordable price
Cons
no app, Alexa, and Google Assistant support
weak navigation
most users complain about filters being too expensive and unavailable
Robovac 15C Max has become the top model in the series of budget Eufy robot cleaners. Sharing the majority of characteristics with the two previous vacs, it has something unique to boast of.
As usual, we get a super-thin 2.85″ body that reaches even the narrowest room areas. On the bottom of this body, there are two side brushes and one standard roller that collects fine dirt, large debris, and hair. Speaking about power, we'll note the same extreme 2000 Pa suction that we met in the 11S Max and BoostIQ.
Dustbin, run time, modes, noise level, sensor navigation, unibody filters – all these were left unchanged. Still, let us notice that the navigation and complicated filtration have been waiting for renovation since the release of Eufy 11S Max.
The feature we're most interested in is the long-hoped-for WiFi connection. Indeed, its role is difficult to overestimate. Thanks to this significant improvement, you have no limits in control distance as it used to be with remote controls. Just install the app on your phone and run the vac from any place in the world. Besides, Alexa and Google support allows us to run the 15C Max with voice commands only.
Thus, Robovac 15C Max can be called the optimal choice with both extreme suction and smart control. Though main drawbacks like the lack of visual or laser navigation leave much to be desired, all other functions are worth every cent in its $280 price.
Pros
compact design
efficient side brushes and central roller
several cleaning modes
improved 2000 Pa suction
BoostIQ for better carpet cleaning
suitable for pet hair and thick carpet cleaning
unibody HEPA-style filter
100 minutes of run time
non-random sensor navigation
a 600 ml dustbin
app and voice control through WiFi
a remote control included
quiet
affordable price
Cons
weak navigation
most users complain about filters being too expensive and unavailable
However, even if you know all the main pros and cons of the models, close face to face comparison where each robot is considered against its rivals will give you more information. Let's look at all features of our Eufy Robovac 11S vs 11S Max vs 15C Max robots. Thus, each customer will be able to make his/her decision on the most suitable option.
Main pros and cons of the models
Design and Dimensions
If you put the three vacuums next to each other, we bet you'll hardly be able to distinguish them. The models we're scrutinizing are so similar both in design and dimensions that an inexperienced person will easily mix them up.
It's a curious fact, but all three Eufy vacuums have absolutely identical dimensions.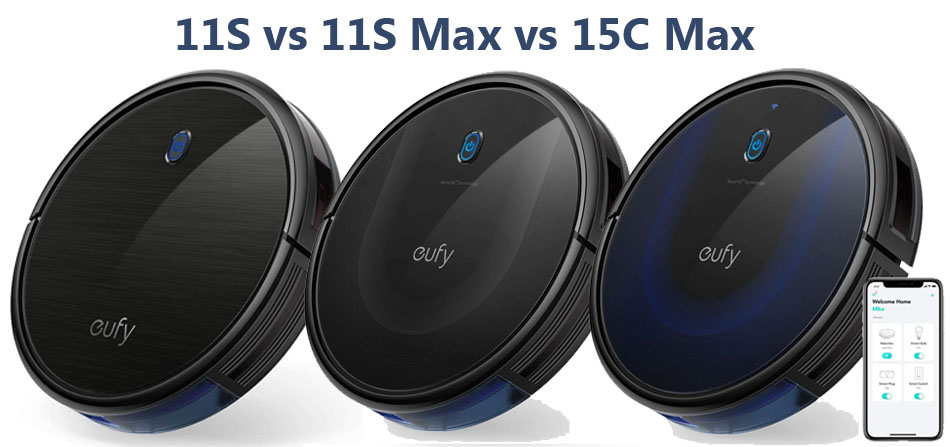 They measure 12.8″ x 12.8″ x 2.85″. The only difference you'll notice is the weight. While the 11S and the 11S Max models share the same 5.73 pounds, the 15C Max is slightly heavier with its 6 pounds.
Both experts and users note that the robots are one of the thinnest and maneuverable vacuums in the market. Even the generally recognized Roombas can boast of 3.6″ height only. Indeed, compact dimensions, light body, and powerful brushes help robots run in cluttered rooms as well as overcome small elevations and climb soft carpet pile up to 0.63″ high.
The appearance of the models is identical as well.
They have the same black round body made of plastic with protective anti-scratch tempered glass-top cover. Also, a blue LED ON/OFF button is located on the top panel.
The only distinguishing feature is a U-shaped strip pattern. When Eufy 11S is uniformly black, the 11S Max and the 15C Max are decorated with grey and blue U strips, respectively.
Verdict: When you look at the 11S, 11S Max, and 15C Max, you see real triplets. We hardly managed to notice two differences between the vacuums, and all they do not influence the cleaning. The dimensions, weight, and climbing abilities of these Robovacs do them a favor.
Navigation
Carrying on with a triplet theme, we should note one more time that all participants of our comparison use the same navigation system. It is called Bounce Navigation and based on the operation of over a dozen infrared and advanced sensors.
These sensors serve two aims. Anti-drop elements inform robots about dangerous cliffs like the top of the stairs, platforms, etc. Having noticed something like this, a robot changes its direction to avoid falling. Anti-collision sensors monitor approaching the obstacles like walls, furniture, people, or pets. Once again, it allows your device to slow down, bypass the object, or change the direction.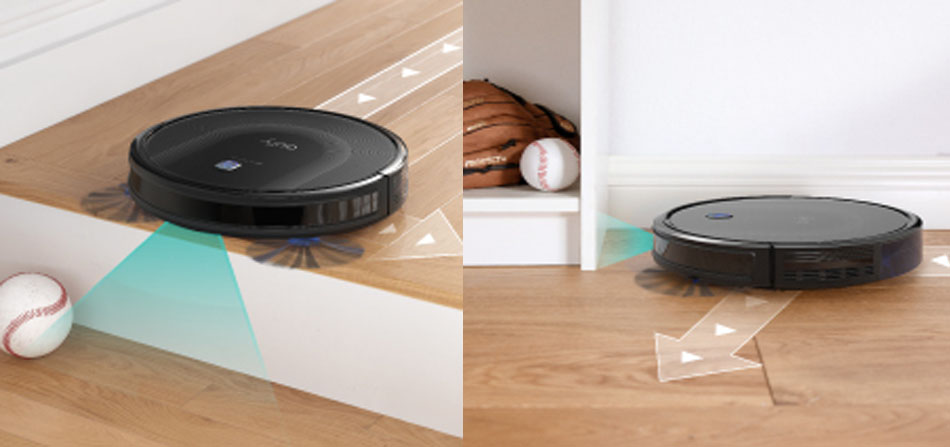 Undoubtedly, sensor navigation is much better than the random moving of old cleaning devices. Still, protecting the robot itself, it does not contribute to the quality and speed of cleaning.
Bounce Navigation doesn't allow for planning cleaning routes, determining high traffic areas, not mentioning map saving. Even though a robot avoids obstacles, it cleans the entire room and passes one and the same location several times. As you guess, missing spots also happen.
Navigation of the Robovacs provokes conflicting feelings. On the one hand, we'd love to get a more innovative visual or laser navigation, which would help the robots save energy and improve cleaning accuracy. But on the other hand, Bounce Navigation is one of the best options the owners of budget robots under $300 could dream of.
Verdict:
Though sensor navigation may seem more like a drawback, we have to admit that it's a question of a lesser evil compared with completely random movement.
This system is OK for small and medium apartments. But if you live in a large dwelling or a multi-story private house, these Robovacs are not for you. Tests show that robots need a lot of time to process the whole surface when operating in spacious rooms. At the same time, a significant amount of the charge is spent, and missing dirt is possible.
Dirt Detection
Dirt Detection is a function that could greatly improve the quality and pace of our Robovacs` cleaning.
Thanks to the built-in sensors, robots with Dirt Detection can automatically find extremely polluted areas and pass them several times to provide a perfect result. This technology is especially useful for dealing with high traffic zones, rarely vacuuming dwellings, and spot dirt.
Unfortunately, none of the Eufy robot vacuums have Dirt Detection.
Verdict: There are no losers and winners in this category. Dirt Detection is a nice complementary function, and minding the minuses of navigation, we would appreciate it a lot. Still, high suction and BoostIQ in all robots significantly reimburse this lack.
Filter System
All three Eufy robots provide compulsory air treatment and collect dirt both from the surface and the air.
Robovac 11S comes with a complex filtrating system. It consists of three layers – a pre-filter, a high-performance filter, and a foam filter. While the first and the third parts serve as supportive elements, a high-performance filter does the main job. It traps most of fine particles and greatly contributes to the air quality.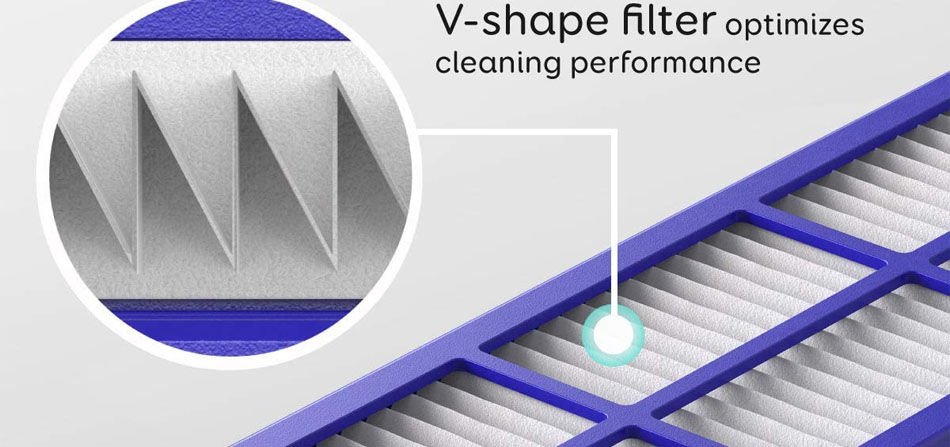 Robovac 11S Max and 15C Max received another type of filtration. They use unibody filters where all parts are united in one item and cannot be demounted. Unibody filters are considered to be slightly better than high-performance units thanks to changed V-shaped blades. Besides, the cleaning process takes less time.
During tests, we didn't manage to notice any difference between the filtration systems. They do collect large and fine dirt. But the pet owners and parents should note that neither high-performance nor unibody filters can trap allergens.
Apart from the efficiency, we'd also like to discuss one more important moment. Many users face problems with finding unibody filter replacement kits. For some reason, this good is seldom available. Besides, 2 unibody filters will cost you about $10-$15, while the kit of 6 high-performance units costs $13.
Verdict:
Despite the manufacturer's assurances that unibody filters are better than high-performance filters, we didn't get practical proofs for them. Both types are close to HEPA-style filters and provide nice dust collection. However, please note that they will not help you eliminate hazardous allergens.
Choosing between the equal options, we'd like to vote for Robovac 11S. Its filters are cheaper and more available.
Connectivity
Two out of three of our participants cannot be called smart robot vacuums since they don't support WiFi. We're talking about Eufy 11S and 11S Max models.
Missing this function, they partly compensate it with remote controls. Controls allow users to set modes, send robots to the dock, and plan schedules. Still, the app control provides much more options.
Eufy Robovac 15C Max is the only lucky bot that features WiFi connection with all its consequences. You can run your vacuum through the EufyHome app or Alexa and Google voice assistants. Fans of more classic management will be glad to know that the 15C Max also comes with one remote control.
Many may wonder what is the difference if both controllers and the app offer the same number of functions. While each option allows you to choose between cleaning modes and turn on/off the vacs from a distance, the EufyHome app has several advantages.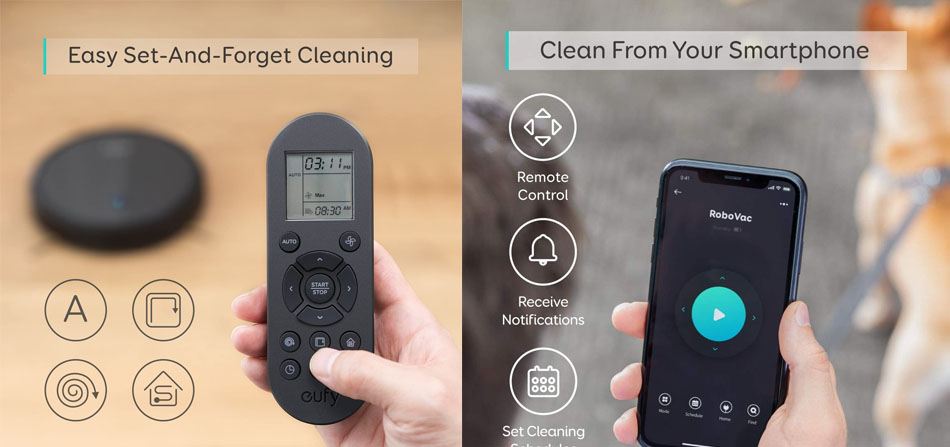 Firstly, you can control your robot through the phone from work or even journey, and a remote control works only within the dwelling.
Also, the smartphone control allows you to set a schedule for any hour and date in advance (like three times per week). A remote control offers a limited 24 hours schedule with only am/pm options.
Finally, the app sends you maintenance notifications, which is impossible with a control.
Verdict: Robovac 15C Max is a 100% winner here. None manual running or remotes will give you such freedom and customization as the app support. Moreover, if you're always too busy even for entering the app, just purchase a voice assistant. One phrase and your vacuum will do whatever you want.
Suction Power
As we have mentioned before, the suction power of the 11S, 11S Max, and 15C Max robots is:

1300 Pa;
2000 Pa;
2000 Pa;
Suction is crucial for every robot vacuum since the variety of surfaces and pollutions to clean depends on it. Eufy 11S is a lovely device for hard floors, low and medium carpets, and pet hair. When it comes to thick carpet cleaning, 1300 Pa isn't enough.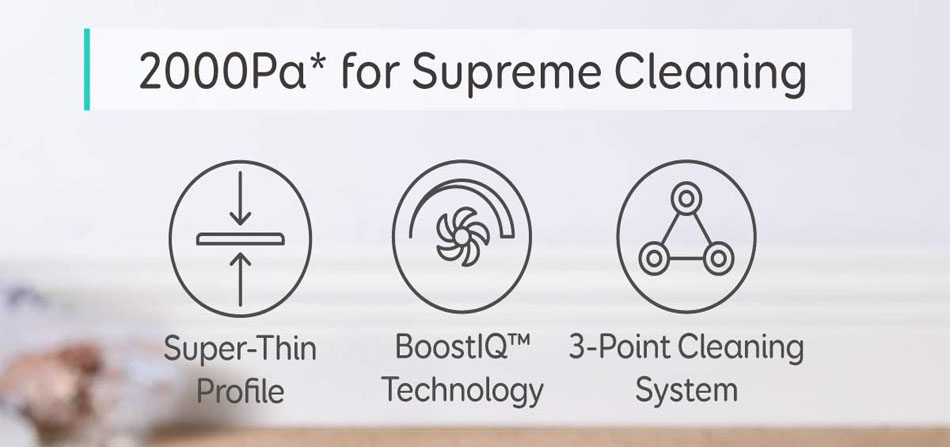 On the contrary, the Max models with their 2000 Pa suction will cope with any surfaces, including thick carpets. Only mind that on the thick pile, they will need more time, and jams are possible.
Let us also list the main cleaning modes of each model.
Robovac 11S
Robovac 11S has:

Auto mode;
Spot mode;
Edge mode;
Single Room Cleaning;
Robovac 11S Max
Robovac 11S Max works in:

Auto mode;
Spot mode;
Edge mode;
Quick Cleaning;
Robovac 15C Max
Robovac 15C Max features:

Auto mode;
Spot mode;
Edge mode;
Quick Cleaning;
All three vacuums share the same Auto, Spot, and Edge cleaning. These are standard options used for routine vacuuming, cleaning in certain areas, and along the perimeter.
The last modes differ in names but have close meaning. Single Room Cleaning is useful when you don't need to clean the whole apartment but only one room. Quick Cleaning means the robots work in one room either, but the session is limited to 30 minutes.
Different modes activate different suction levels to keep the optimal balance of energy consumption and efficiency. The top 1300 Pa and 2000 Pa are achieved in BoostIQ mode.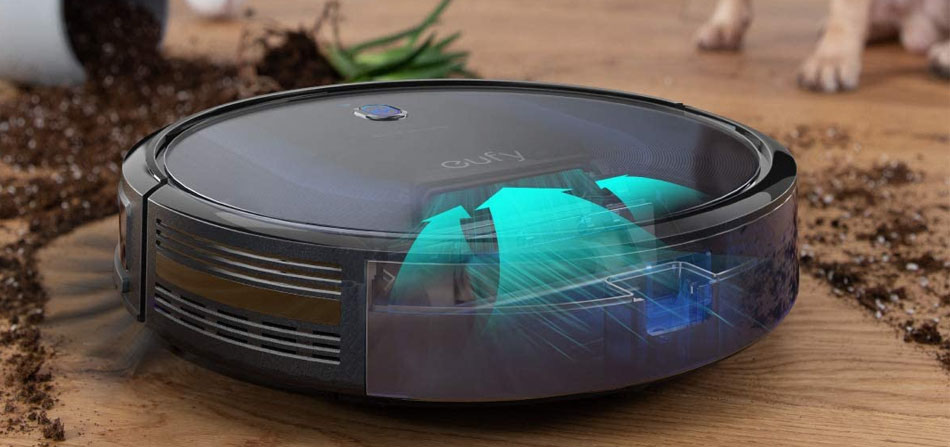 BoostIQ is a mode that is activated on the carpets only. When the robot comes to the pile, it automatically boosts suction to ensure the best and quickest result. Apart from the pile, you can also use this mode to sweep challenging messes. Please also mind that BoostIQ only works in Auto or Single Room Cleaning.
Verdict: Robovac 11S Max and 15C Max offer higher suction and, consequently, better performance. That's why there are our winners. Nevertheless, if you don't have thick carpets or carpets at all, you can easily save several bucks on suction and choose an excellent Robovac 11S vacuum.
Run Time
All three robots are equipped with one Lit-Ion battery with 2600 mAh capacity. Consequently, we will also face no differences in maximum run time. Each Eufy lasts for 100 minutes.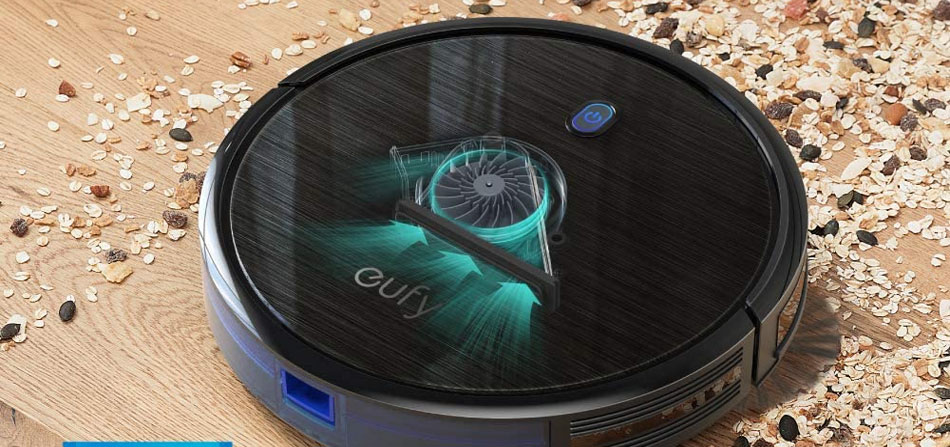 However, it's important to remember that the chosen cleaning mode may significantly decrease the run time as more powerful suction requires more energy.
100 minutes of continuous operation is typical for Auto mode. BoostIQ and Spot cleaning will spend the charge faster. Thus, Robovac 11S will last for 50 minutes, and Robovac Max robots will last for 40 minutes.
Before the complete discharge, robots will stop cleaning and automatically return to the dock. Recharging takes about 4 hours.
Verdict: 100 minutes form great durability. It is especially important since we remember that our Robovacs need lots of time to clean one room. Thus, extended run time allows cleaners to fulfill their work without unpleasant interruptions. And even in the BoostIQ mode, their performance will be at the top level.
Dustbin Indicator
Dustbins are another nice feature that unites all three models. Semi-transparent washable plastic dustbins can contain up to 600 ml of dirt and provide quick cleaning.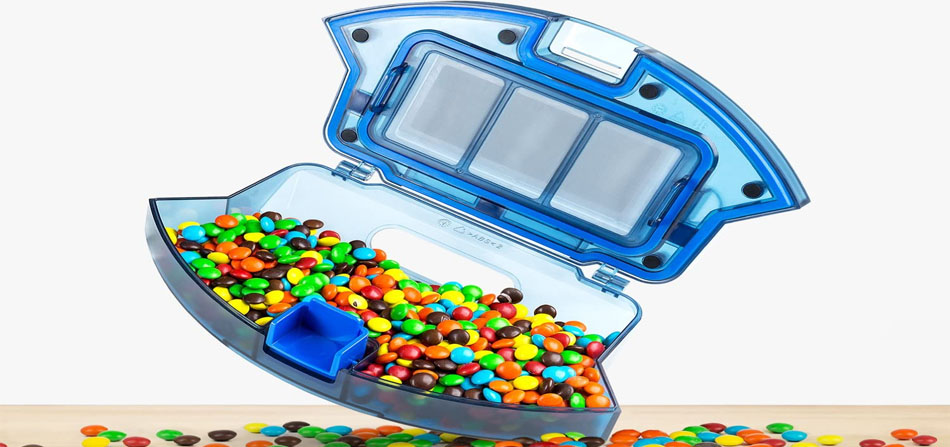 Speaking about the bin volume, we'd like to note that 600 ml are enough for daily vacuuming. At least, you won't have to stop the process to throw the debris.
However, constant monitoring of the bin filling is your duty now. Robovacs do not have Full Bin Indicator or any other technology, which would inform you about the dustbin state.
Verdict: The lack of the dustbin indicator could be a drawback but for the excellent capacity of the bin. Even without sensors, you can be sure your vac will collect all the dirt. Only please mind that the rarer you use your robot, the more dirt it will have to pick up at once. So, for weekly cleaning, don't forget to check the bin.
Noise
The silent operation has always been and stays one of the most prominent advantages of Anker Eufy robot cleaners. Indeed, even in the BoostIQ mode, the 11S, 11S Max, and 15C Max do not exceed 55 dB noise level. For comparison, the majority of modern robot vacuums produce about 65-68 decibels in Auto mode.
Verdict: These Robovacs will suit families with small kids, shy pets, and light sleepers. Even when the robot is working in your room, it feels like a tender whisper or buzz.
Accessories
Apart from the robot vacuums, customers also get several additional items. Besides, Robovac 11S, 11S Max, and 15C Max share the same accessories.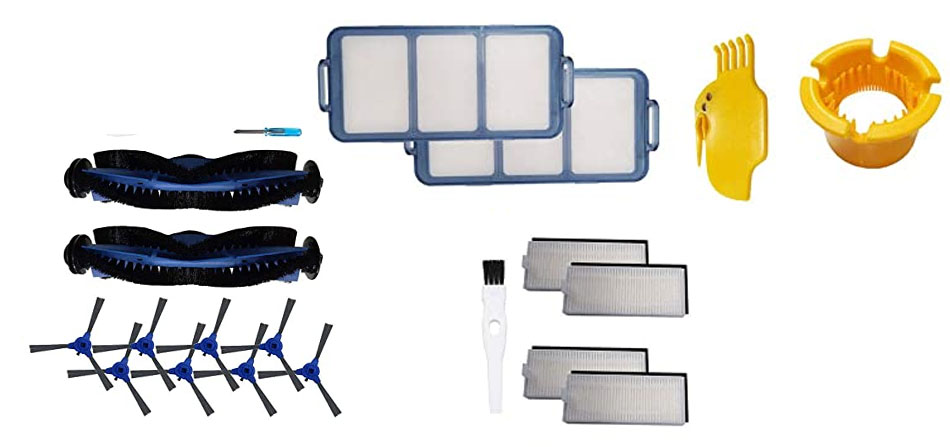 They are:

one remote control (2 AAA batteries included);
one charging base;
extra set of high-performance/unibody filters;
4 side brushes;
one AC power adapter;
one cleaning tool;
5 cable ties;
one-year warranty;
While remote controls and charging bases are compulsory elements, such replaceable accessories such as AAA batteries, side brushes, and filters please us a lot. Thanks to the wide kits, you won't have to worry about replacement purchases for the first months.
Let us also mention the lack of boundary strips in all kits. Limiters would be quite useful for robots with sensor navigation. Unfortunately, none of them come and even support strips.
Verdict: All three kits are quite profuse, making the purchase of these Robovacs even more beneficial. We'd also like to see boundary strips like in the Eufy 30C kit. But that's why budget vacuums are called budget – you always have to sacrifice something for the price.
Tests on different types of floors
You can never know the vacuum well until you try it with real dirt. Dust, sand, scattered domestic debris, and hair are classic contaminants for all houses. That's why we decided to imitate them on the three surfaces – hard floor, low-piled rug, and thick carpet. So, we limited 6ft x 6ft areas and covered them with sugar, rice, and pet hair as examples of fine, large, and tangling debris.
Hard Floor
As it was expected, the hard floor is a too simple surface to cause any difficulties to vacuums. For test purposes, we set Auto mode, though, in everyday life, Spot cleaning would be more efficient for such areas.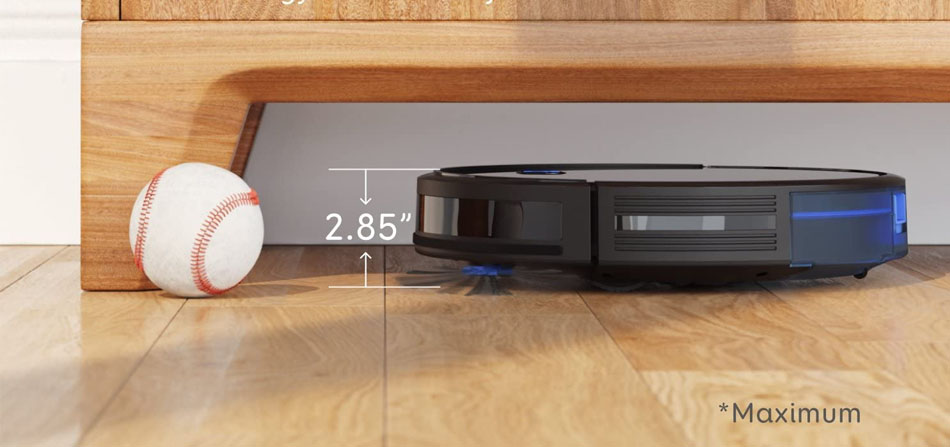 All three Robovacs coped with sugar, rice, and hair lines. When most pollutions were collected from the first pass, 100% cleaning result was achieved later after several more turns. Cleaning sessions took approximately the same time – the 11S, 11S Max, and 15C Max needed about 2 minutes.
Still, the result and speed could be even better but for almost random sensor navigation. Besides, we should note that, though the greatest part of the hair went to the bins, about 30% stayed on the rollers. And we noticed the same situation in all further tests on rugs and thick carpets. So, get ready for frequent brush cleaning.
Low-Piled Rug/ Carpet
Piled surfaces are considered to be a more difficult task for robot vacuums than hard floors. Indeed, fine particles fall deep into the pile, and hair clings to each fiber. On such a background, large debris seems to be the easiest option.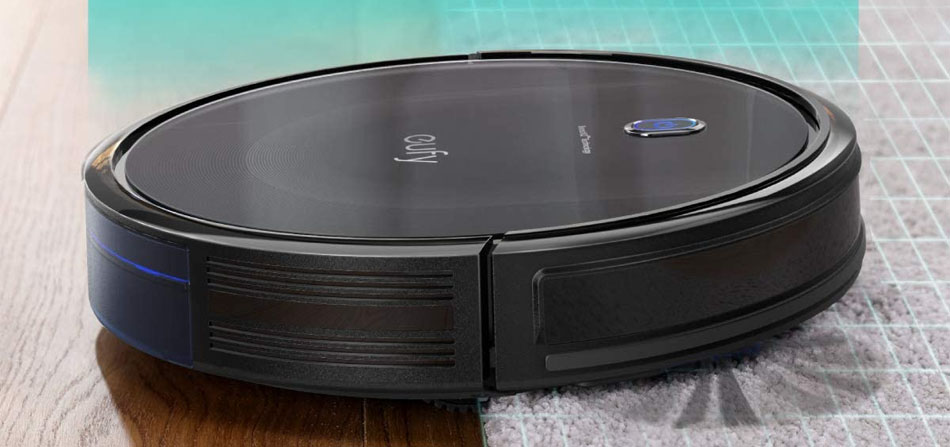 Rug cleaning took a bit more time compared with hard floors. However, all devices automatically switched from Auto mode to BoostIQ, which somehow simplified and speeded the process. Apart from the suction, increased air flow helped robots a lot.
As we said, rice took the least time. The 11S Max and the 15C Max picked it all up within 4 minutes. The suction difference between the 11S and the Max models was slightly noticed as the first vacuum cleaning took about 1.5 more time. However, neither of the robots collected all rice from the first pass. They had to cross the rug trice.
When it came to sugar and pet hair, robots were vacuuming for about 6 minutes. Once again, several passes were needed, and hair tangled the brush but didn't clog the suction port.
Thick Carpet
Unfortunately, we have to admit that Eufy 11S failed this test. The robot got stuck three times and picked up only 50% of all test pollutions. Even BoostIQ mode turned to be insufficient for such a pile, that's why we do not recommend this model for thick carpeting.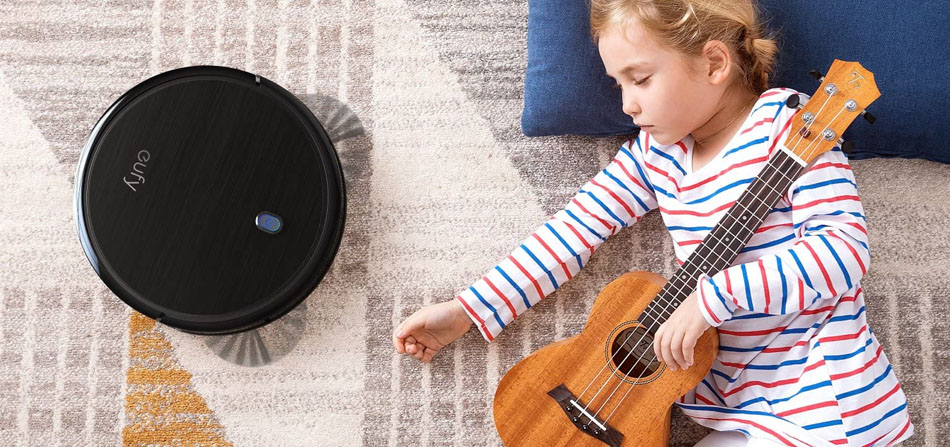 Featuring the same air flow, sealing, and BoostIQ, Eufy 11S Max and 15C Max were more productive. It seems as 700 Pa suction difference played its role. Please mind that, like the 11S, none of them managed to collect 100% of the dirt. And they got stuck as well. However, after 10 minutes of struggles, 70% of sugar and rice were eliminated from the carpet. By the way, hair cleaning turned to be 10% better.
Thus, we cannot say that Robovacs Max are perfect for thick carpets. Users will have to monitor them and save from jams. That's why you should decide whether you're ready to spend your time on it or not. But if you have one thick carpet and are looking for a multi-purpose budget vac that will treat it, the 11S Max and 15C Max are a nice choice.
Buyer's Guide – How to Choose the Best Robot Vacuum Cleaner?
The purchase of a robot vacuum cleaner may become a challenging task. However, there are several main factors that can help you narrow down the search and focus on several most appropriate models.
Type of Your Dwelling and Floors

This is quite a logical moment, but in the race of bestsellers, many customers tend to forget it.

If you live in a small apartment with mostly hard floors, don't waste money on expensive super-powerful vacuums. 900 – 1300 Pa suction and simple brush design will satisfy all your needs.

The power over 1700 Pa will be a worthy investment for the owners of large dwellings and houses with carpets. Such people should not save money as it may lead to insufficient cleaning results.

The size of the dwelling also directly influences the choice of navigation and battery. The largest houses need visual and laser technologies, but smart mapping is the best choice.

Pets

Pet hair is one of the most difficult pollutions, that's why specially designed robot vacuums are needed for its cleaning. Please always pay attention to whether the robot you choose deals with hair. As a rule, such models have silicone tangle-free rollers, capacious bins, high suction, Carpet Boosting. Besides, robot vacuums for pet hair must use efficient filters with anti-allergen air treatment.

Dry or Dry & Mop Cleaning

2-in-1 models have become quite popular in the market, and many users are haunting for such devices. However, combined dry and wet cleaning is not always a great feature.

Since the majority of mopping robots don't have No-Mop zones and the like, they are not suitable for dwellings with mainly carpeted floors.

Besides, even if you live in a house with hard floors, always read reviews on the mopping efficiency of your robot. Dry & mop vacuums cost more than common vacuums, but many devices tend to smudge dirt instead of removing it.

Run Time

While suction, brushes, and filtration are specified by the size of the dwelling, its floors, and pet presence, battery life is a kind of unifying feature. This basic element decides on whether your vacuum will last long enough to clean the whole house, to provide energy for Max or Boosting mode, etc.

Always pay attention to the run time and match it with other robot characteristics as well as cleaning conditions.

Smart Control

The majority of modern robot vacuums support WiFi and can be run via smartphones and voice commands. It's a great feature, which significantly simplifies your life and broadens cleaning opportunities. For example, only through the app can you set a cleaning schedule for weeks and months in advance.

We do recommend choosing such innovative models. However, if you really don't need all these high-tech things, you can save a lot by purchasing simpler devices.
Frequently Asked Questions
What is the difference between Eufy 11S and 11S Max and Eufy 15C and 15C Max?
The only and the main difference between these robots is their suction power. Standard models, i.e., the 11S and the 15C have 1300 Pa suction. The Max modifications feature an improved 2000 Pa performance.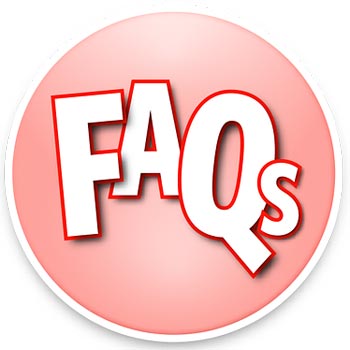 How to clean filters on Eufy 11S, 11S Max, and 15C Max?
Eufy 11S uses the combination of pre-filter, high-performance filter, and foam filter. To clean the unit, please open the dustbin and remove filters. Take them one by one and clean with a vacuum cleaner or a cleaning brush. You can also wash the pre-filter and the foam filter. But pay attention that the high-performance filter is not washable!
Eufy 11S Max and 15C Max come with unibody filters. Their cleaning is similar to the previous process. Remove the dustbin, take the filter, and tap it or vacuum to eliminate dust and dirt. Also, do not rinse unibody filters as it may damage their efficiency.
How to set a cleaning schedule on Eufy Robovac 11S and 11S Max?
Set a schedule on Robovacs 11S and 11S Max through a remote control. Press the Schedule Auto cleaning start time button to activate the display. Then use up/down/right/left arrows to choose the hour, minutes, AM, and PM. To save the settings, press the Schedule Auto button one more time. A single beep sound will indicate the schedule has been set.
Does Robovac 15C Max model support 5 GHz WiFi?
Eufy Robovac 15C Max works only with 2.4 GHz WiFi network.
Why did my Robovac 11S stop working?
There can be several reasons why your Robovac suddenly stopped working.
If your robot is on but doesn't move:
the robot can get stuck;
the robot suction port can be clogged;
If the 11S is completely off:
its battery charge may be too low for further operation;
there can be robot failure. To fix it, try to turn it off/on or reset;
If none of these reasons takes place and your device is still malfunctioning, please contact the Eufy User Service.
Conclusion
Numerous tests and real users` reviews prove that Robovac S11, S11 Max, and 15C Max are indeed among the best budget robot vacuums in the market. Though they lack navigation, anti-allergen filtration, and smart control, each of these models offers you suction and performance equivalent to the flagship cleaners like Roomba i7 and S9, Roborock S5, etc.
Eufy 11S is a basic option with nice power and solid essential characteristics. It will not suit large houses with thick carpets. But if you live in a medium-sized apartment with combined hard/medium-piled floors and fluffy pets, you'll be quite satisfied.
Eufy 11S Max represents the next stage. This model will suit any floors and pollutions. The only restriction is the dwelling size since the 11S and 11S Max lack smart navigation.
Finally, Eufy 15C Max can be justly considered the best option. Costing about $40 more than the 11S and the 11S Max, it is the only that comes with WiFi support.