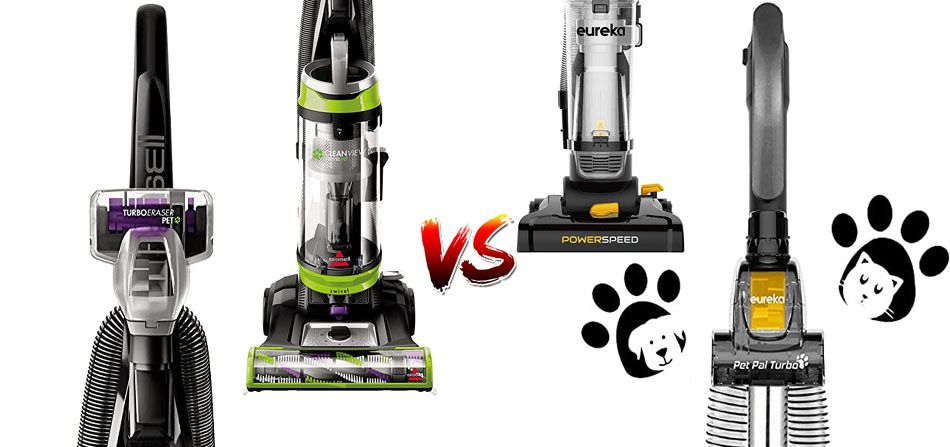 Our today's review will be dedicated to the comparison of two popular multi-surface upright vacuums. During this Eureka vs Bissell battle, you'll know everything about their characteristics, strong and weak sides as well as will be able to compare main functions to pick up the best option for your needs. Let's go!
Main Differences Between the Models
Before the main face to face comparison, we'd like to list the most important (from our point of view) differences between the vacuums that may influence both cleaning performance and your choice:

The Bissell cleaner uses a wider Multi-Surface brush roller. Besides, though both vacuums have brush height adjustment, this model is equipped with a more high-quality and efficient system.
Also, Bissell CleanView Swivel Pet has the Multi-Cyclonic Suction System with a bit more powerful suction and unique anti-fading protection.
The Eureka model is equipped with one foam filter. The Bissell one is equipped with two screens – pre-motor and post-motor elements.
Eureka PowerSpeed lit includes one turbo pet tool, while Bissell CleanView comes with two pet nozzles.
However, the first vacuum is the only model of the review with a dusting and upholstery tools.
The Eureka device is twice lighter than the Bissell.
The first upright cleaner holds up to 4.1L of dirt in its dust cup. The second can contain 1L.
Eureka PowerSpeed uses a 25 ft. cord, and Bissell CleanView uses a 27 ft. cord.
Comparison Table
Filter
one simple washable foam filter
Filter
one simple washable foam filter
The first model of the review provoked numerous discussions among users and experts. Eureka brand claims that its PowerSpeed cleaner provides excellent dry cleaning on all floor surfaces for a relatively budget price. The cost varies from $70 to $200, so it's better to monitor the current offers.
So, the vac is indeed designed for thorough dry cleaning. For this reason, the case is equipped with a 960W motor with nice suction and one adjustable brush. The brush supports as many as five height options to suit all floor types from the hard wooden floor to thick carpet.
However, let us say that real tests showed certain malfunctions of brush height adjustment. There is a difference between the first and the fifth position. But the height in two closest positions doesn't change too much to provide serious cleaning difference.
Apart from the main Multi-Surface brush, the kit also includes accessory tools: a pet turbo tool, a crevice tool, a dusting brush, and upholstery tool. Such a diversity of tools makes the cleaner truly multi-functional. With just one device, users can clean floors, upholstery, curtains, dust shelves, etc. All items can be stored on board for easy access. An included 7 ft. hose contributes to easy above-floor cleaning.
Besides, there are no dirty dust bags anymore. Collected dirt goes into an extremely large 4.1L dust cup, which can be emptying with one press and rinsed.
Despite the visual bulkiness, this upright vacuum is quite compact and easy to carry. The feather-light case weighs 10 pounds, and there is a useful carry handle. However, the vacuum is still kind of hard to push on carpets.
Of the pluses, we like its pet hair oriented cleaning and coverage of all house surfaces. For its money, the model will be a worthy budget investment for pet owners.
Pros
suitable for dry cleaning of all floor types
can be used for comprehensive house cleaning
4 additional cleaning nozzles included
nice pet hair cleaning
nice suction power
extremely capacious dust bag
easy one-push emptying
primary filtration
lightweight
long cord
affordable option
Cons
in fact, there are less brush height positions than 5
no swivel steering
hard to push on carpets
weak filtration
Well-known Bissell vacuum company follows its opponents and produces various models for floor vacuuming in response. So, its CleanView Swivel Pet upright cleaner features lots of common characteristics described in the previous device. Still, there are several worthy differences.
Well, the vacuum is designed for comprehensive dry cleaning of all floor types and some additional surfaces. It uses the so-called main Triple Action brush roll that fulfills the majority of tasks. Brush design and especially location and material of bristles allow it to loosen, lift, and remove the dirt. They are the three basic functions of the roller.
Though the vacuum looks quite big, it can easily clean in hard-to-reach places like along the walls (thanks to the brush design), under the furniture, and in tight places. The latter is possible due to the Swivel steering technology.
This main element perfectly suits both hard floors and carpets of any density and height. Besides, a manual knob on the case allows users to adjust brush height to the current surface for the best contact. Five positions are available.
Pet owners would be glad to hear that the kit includes several additional tools for more targeted hair vacuuming on numerous surfaces. There are a pet hair corner tool and the main pet tool. Apart from these elements, you'll also get a crevice tool and a 6 ft. hose for easy above-floor cleaning. Tools can be stored inside the vacuum, which promotes easy transportation and quick access.
Fade-free suction is guaranteed by the Multi-Cyclonic Suction System. All the dirt collected goes through two filters and comes into a 1L dust cup with quick one-touch emptying.
Since the models belong to the budget category with a quite low $100 price, we can call it an excellent affordable option for the whole house with pets.
However, please mind that many users faced such drawbacks as a non-durable cord that melts after several months of use and the same short-living belt. Belts wear out quickly since the floor roller continues spinning even when you switch to the hose or pet tool.
Pros
suitable for dry cleaning of all floor types
can be used for comprehensive house cleaning
efficient Triple Action brush roll
5 brush height adjustment options
Swivel steering
3 additional nozzles including two pet tools
nice pet hair cleaning
fade-free Multi-Cyclonic suction
a bagless dust cup with easy one-push emptying
primary filtration
lightweight and easy to push on carpets
long cord
affordable option
Cons
cord melts
not durable belt due to non-stop spinning main brush
weak filtration
To make a choice easier, let's examine each characteristic separately and compare the crucial moments of two vacuums.
Face to Face Comparison
Design and Dimensions
When it comes to dimensions, both cases have almost the same size.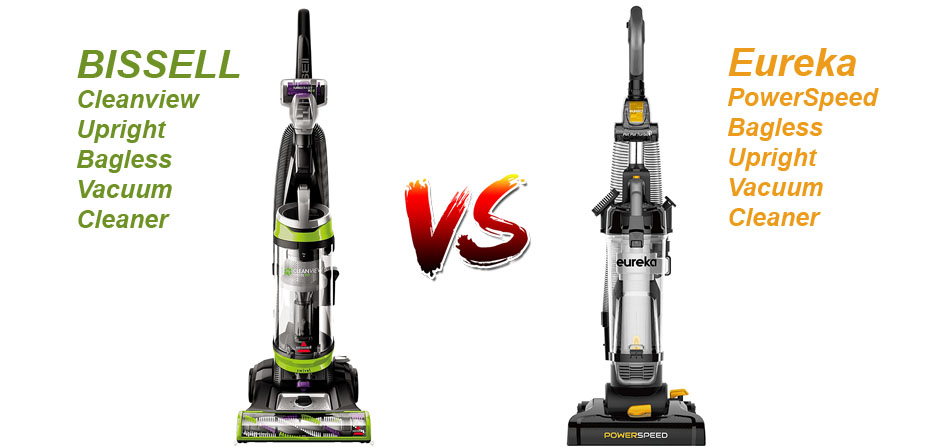 The Eureka PowerSpeed Pet Turbo and the Bissell CleanView Swivel Pet measure:

13.4'' x 14'' x 44.5'';
13'' x 14'' x 44.5'';
Weight and cord length comparison shows greater differences. Thus, as we've stated before, the Eureka vacuum is known for its extremely lightweight body for such an upright model. An empty item weighs only 10 pounds, and it offers a 25 ft. cord. The Bissell is almost twice heavier with its 17.7 pounds. However, its cable is also longer and provides 27 ft. of cleaning radius.
Both products have convenient handles for carrying and use on the floor.
As for the design, models share very similar construction and color options. The Eureka is fully black with several yellow insertions, while the Bissell vac is black and green.
Verdict: Both vacuums will be equally beneficial for various interiors. Besides, they are handy in terms of storage and use. Their compact bodies need little space, and the weight feels OK for people of any physique, age, and health condition.
Motor
The vacuums are corded, which means they work from a common outlet. Motors require a standard 110V -120V network.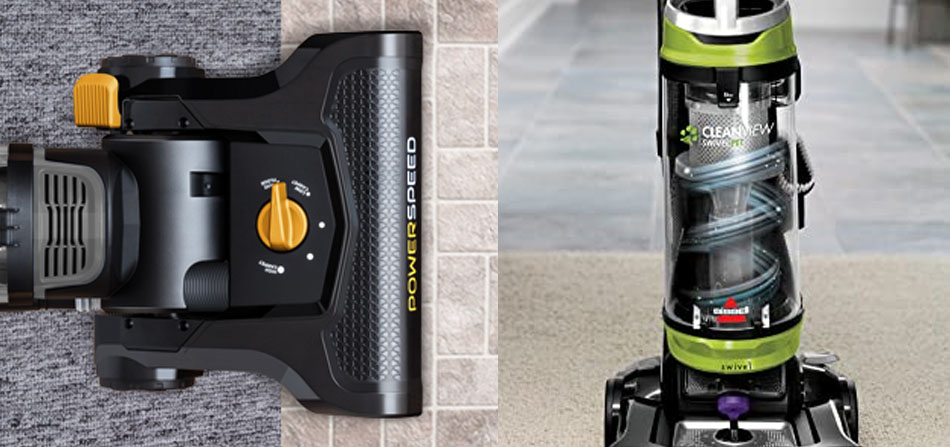 According to the official information, both manufacturers use identical motors. They are rated 8 amps and provide enough power for suction and brush rotation support. Also, please pay attention that turbo tools have their own small motors.
However, it is worth mentioning that many users complain about the motors' duration. The lack of a cooling system and the range of other drawbacks lead to the cleaners' short service life. On average, both devices work for 1.5-2 years before their motors are out of order.
Verdict: The 8 amps and standard electricity requirements add the convenience of use to the Eureka and the Bissell. However, it seems that we cannot expect 10-year service life from these budget models.
Suction Power
Suction power is a controversial moment to be discussed. On the one hand, cleaners are designed both for hard floors and carpets, which imposes certain obligations on their suction rate. It must be strong enough to deal with deep debris in the pile.
On the other hand, since both models belong to the budget-level segment, we also cannot expect something extremely powerful like in Dysons.
Thus, both cleaners provide non-adjustable suction, i.e., you cannot increase or reduce the power either manually or automatically for the current surface.
Eureka PowerSpeed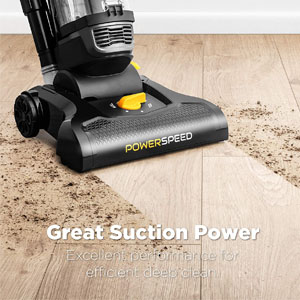 Eureka PowerSpeed Pet Turbo has nothing special to offer. Its power is enough to lift all debris from hard floors and up to 85%-90% of debris on carpets.
Still, the cleaner may face problems when working with the most challenging pollutions and old spot stains.
Bissell CleanView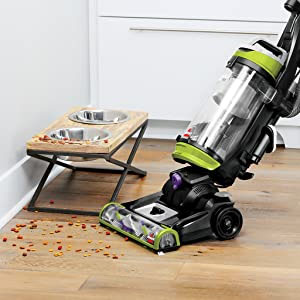 Bissell CleanView Swivel Pet provides a more powerful dirt collection thanks to the Multi-Cyclonic Suction System. Firstly, cyclones develop certain suction level faster.
And secondly, they guarantee its stability without fading even after hours of operation.
Verdict: Power is neither the pride nor the disadvantage of the models. It completely corresponds to the price and function conditions though sometimes 100% efficiency is out of their reach. But if we were to choose between the two, we'd pick up the Bissell option with cyclones.
Brushes
Eureka PowerSpeed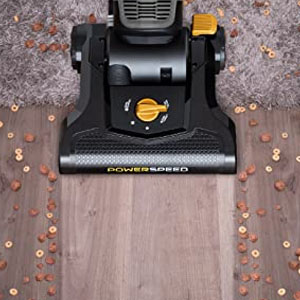 The Eureka is equipped with a removable Multi-Surface brush roll. The item features two rows of bristles that sweep fine and large debris, scrub stubborn stains, and trap hair. The cleaning path is 12.6″ wide. Bristles may tangle hair if they're dealing with too long or too much hair, but their cleaning is quite easy.
The case design provides 5 brush height adjustment options to match different surfaces perfectly. All you need is to set a manual knob above the roller into the necessary position. As we've stated in the intro part, height adjustment seems to need improvements because the closest height options don't change the roller position as we wish.
So, we'd say there are three real height options – the first, the third, and the fifth. The brush system will suit all types of hard floors as well as carpets.
Bissell CleanView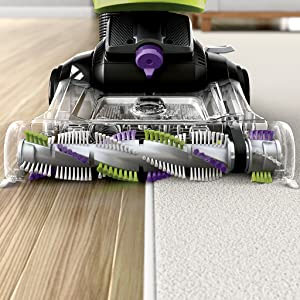 The Bissell CleanView uses a similar cleaning element. It is called the Triple Action brush roll and also features several rows of bristles – this time, they differ in softness degree. The 13.5″ cleaning path width is enlarged compared to the Eureka.
The roller is also multi-surface as you can use it equally efficiently on the hard wooden floor and a high carpet. Users will find here the same roller height adjustment with 5 positions. Review analysis showed that its design is more elaborate. The position is set via a similar manual knob.
The first is hidden under the black cover. The second item is protected by a transparent removable brush cover. The latter option is preferable since it provides constant visual monitoring of the brush operation process, maintenance, and possible clogs/entanglement.
Verdict: Despite quite similar multi-functional design and functionality, Bissell CleanView Swivel Pet does it work better. Its wider roll will collect more dirt in a shorter time, and swivel steering guarantees easier and quicker access to challenging places. Besides, the height adjustment works better.
Filter System
Eureka PowerSpeed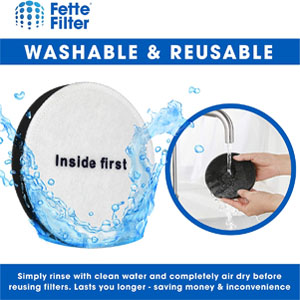 The Eureka uses one simple washable foam filter. This element is installed in a special plastic filter screen that is located in the upper part of the dust cup.
Bissell CleanView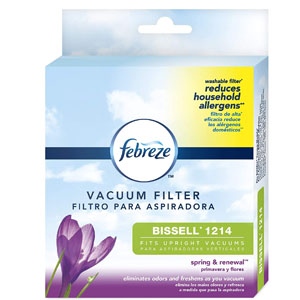 The Bissell upright vacuum uses dual filtration. The first pre-motor filter is also foam and washable and installed in the dust cup lid. The post-motor filter can be found in the lower part of the vacuum. This element is lifetime durable, which means it cannot and need not be washed and replaced.
Both systems provide primary air filtration and trap large and fine dust particles. Unfortunately, they are not thorough enough to perform anti-allergen air treatment.
Verdict: Due to the dual filter elements, Bissell CleanView is more efficient for air improvement. Foam filters presented in the vacs are inexpensive, easy to maintain and replace, which is a plus. However, pet owners and allergic people may find these systems insufficient.
Dust Cup
The dust cups are very similar. Both are transparent for visual evaluation of fullness, bagless, and one-touch emptying for more hygienic cleaning.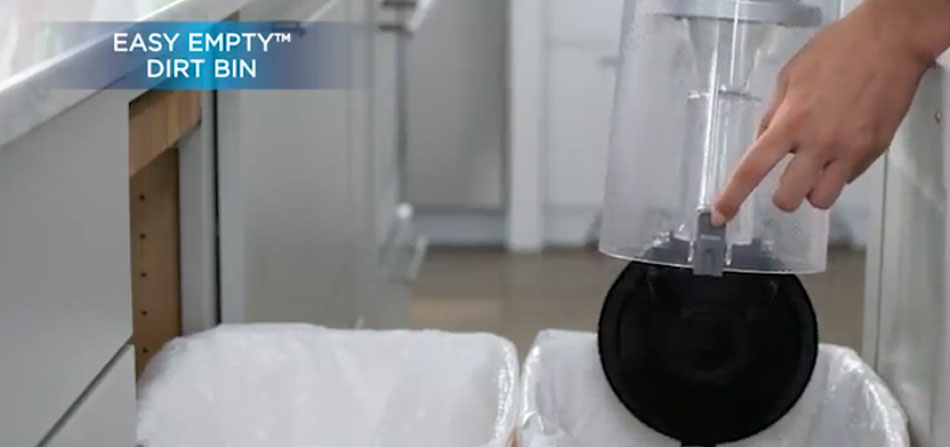 When the cups are full, users should only remove them from the body, place over the bin, and press one button. It will open low lids, and the trash will fall down.
The only difference is the cups' capacities. While Bissell CleanView Swivel Pet can hold 1L of dirt, its Eureka rival is four times more capacious. The vacuum contains record 4.1L.
Verdict: Dust cups are the true pride of the upright vacuums. Easy empty and clean systems need zero effort from you and protect you from the slightest contact with dangerous dirt.
Noise Level
Regarding noise level evaluation, we have to admit that this is a negative factor in both devices' descriptions.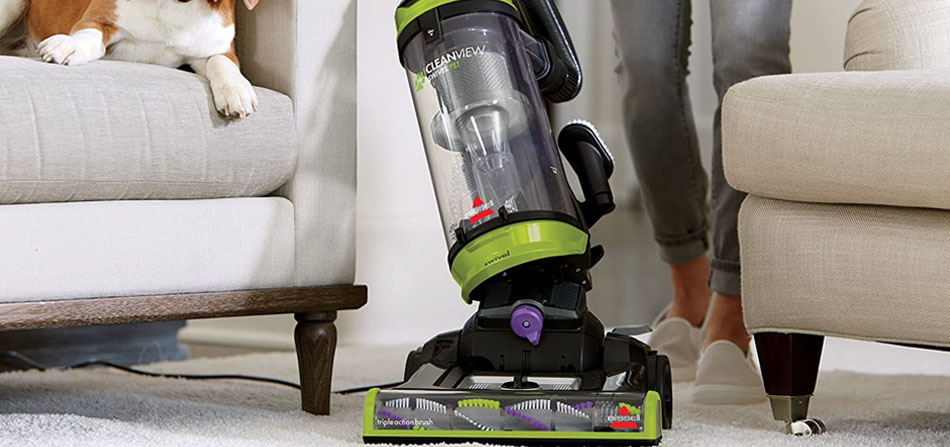 Manufacturers seemed to sacrifice quiet operation for power. Bad soundproofing, mostly plastic elements, and noisy motors led to the loud operation.
Verdict: The majority of common vacuums work quite noisy. If you're used to the fact, one hour of low cleaning will be a nuisance but not a tragedy for you. However, these models may frighten your pets and wake up children, so please consider this moment beforehand.
Accessories
Eureka PowerSpeed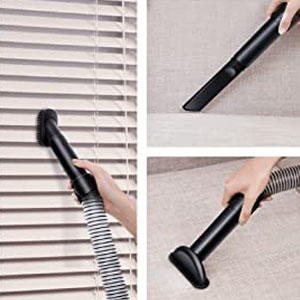 Eureka PowerSpeed Pet Turbo comes with:

a pet turbo tool
a flexible telescoping crevice tool
a dusting brush
an upholstery tool
a 7 ft. hose
Bissell CleanView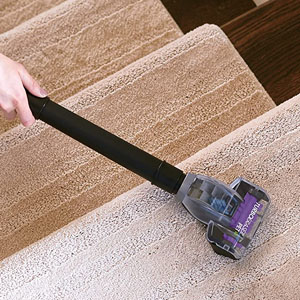 Bissell CleanView Swivel Pet includes:

a pet hair corner tool
the main pet tool
an extension wand with a crevice tool
a 6 ft. hose
If we talk about coinciding elements, let's draw our attention to pet and crevice tools as well as to hoses. Both models come with highly useful crevice tools, thanks to which you'll be able to vacuum the most hard-to-reach and the tightest areas like space between couch cushions, a zone between the furniture backs and the walls, keyboards, dusty books, etc. Almost identical hoses are compatible with additional nozzles, extend the cleaning radius, and contribute the use of vacuums for above-floor cleaning.
Hoses are also compatible with pet tools. The Eureka offers one compact pet turbo tool. The Bissell comes with identical main motorized pet pool and additional hair corner element. Powerful, spinning turbo nozzles take pet hair cleaning to a new level. They can be applied to carpets, carpeted stairs, upholstery, curtains, and even clothes to eliminate all hair without much effort.
However, as we see, the PowerSpeed Pet Turbo has something more to boast of. It is the only cleaner with a dusting brush and upholstery tool for even more comprehensive house cleaning.
It is also worth attention that all tools of both vacuums can be stored right on the bodies.
Buyer's Guide – How to Choose the Best Upright Vacuum Cleaner?
There is no one perfect vacuum cleaner for every user and every dwelling. Each customer should choose the most appropriate model relying on his/her needs and requirements as well as paying attention to certain vacuum characteristics. So, let's briefly list these characteristics that will depend on your preferences and influence further use.
Power

The suction power is one of the fundamental characteristics of any vacuum cleaner. It is mainly suction that allows you to achieve an excellent cleaning result in use when cleaning residential premises.

The higher the suction power, the better the cleaning result. However, not always do we need the most powerful devices. If you have hard floors only, you can save and purchase a simpler model. Houses with carpeted floors and pets will need the ultimate suction. Usually, a nice power range varies from 250 to 500 watts.

Please also note that in some models, the suction efficiency can decrease when the dust container is full. Therefore, when buying, pay special attention to such capabilities of different models. Cyclone cleaners are the best since this technology specially swirls the sucked air, thus eliminating the decrease of efficiency. If you have a cyclone vacuum cleaner, there will be no problem with the suction power fading.

Filtration

Filtration is a compulsory function of all modern vacuums. The only difference lies in its thoroughness and the degree of air treatment.

The cheapest models use simple filters for primary dust elimination. Several filter layers will also increase efficiency. But it is the degree of purification that can dramatically improve the air quality.

If you want your vacuum to deal with both dust and allergens, look for High-Efficiency or HEPA filters. A HEPA filter will trap allergens and harmful particles that can provoke health problems. There are five classes ranging from HEPA11 to HEPA15.

Dustbin Capacity

Bin emptying is not the most pleasant and hygienic thing in the world. That's why many users and manufacturers have been increasingly rejecting bag vacuums.

Dust cups with one-touch cleaning are an excellent replacement. If you don't want to throw the dirt often, choose the models with big bin capacity.

Noise Level

All vacuums are noisy to some degree, which is inevitable. However, the noise mustn't be too disturbing, and certainly, it must not be painful and harmful.

The average noise level of the vacuum cleaner fluctuates between 65-75 dB. This is a safe level.

Also, the type of nozzle may affect the loudness of work. However, we highly recommend that you not rely on other people's feelings and check whether the chosen model feels comfortable to you.

Model Dimensions and Weight

The weight and compactness of the vacuum directly influence the comfort of use as well as the ease of storage and transportation. However, the smallest models provide less powerful performance.

For small apartments, small-sized and lightweight devices will be the most convenient. It's also better to purchase compact products if they are supposed to be often used by children of senior people. So, here, the choice is yours.

Cleaning Radius and Number of Nozzles

The cleaning radius comprises the cord length and the length of the nozzle. And the choice of the most suitable cleaner will depend on the needs and capabilities of your room.

Additional accessories can greatly increase the radius. The presence of a telescopic tube and a hose will allow you to fold the device compactly and optimize the work with the unit. A large selection of other attachments for all types of surfaces will make cleaning much more efficient.

Experienced users recommend purchase models with dusting, crevice, upholstery, and especially pet tools.
Frequently Asked Questions
Eureka PowerSpeed Pet Turbo vs Bissell CleanView Swivel Pet: which upright vacuum is better for pet hair?
Both models provide excellent pet hair cleaning. Apart from the main roller, the Eureka comes with an additional pet turbo tool. The Bissell device also offers a turbo tool for pet hair cleaning, as well as one more corner pet nozzle. Thus, the vacuums are equally efficient, but the CleanView cleaner can get to more challenging places.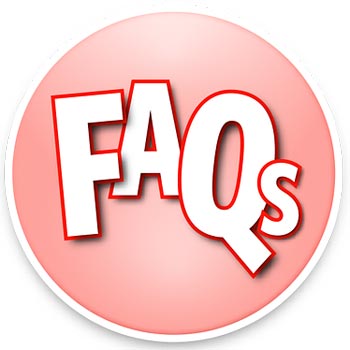 Do Eureka PowerSpeed Pet Turbo and Bissell CleanView Swivel Pet work well on high-piled carpets?
Both upright vacuums use multi-surface rollers with height adjustment. They provide excellent hard floors and low carpet cleaning. They also work really well on the medium pile and with pet hair. High carpets may be a problem since their suction is not too great. So, thick pile cleaning will depend on many factors.
How to adjust the brush height to the floor on Eureka PowerSpeed Pet Pro and Bissell CleanView Swivel Pet vacuums?
Brush height adjustment on both models is set manually. Find a dial on the vacuum's brush case and turn it to the desired setting. The lowest positions are designed for hard floors and low carpets, while the following higher settings will better suit higher carpets.
How to clear a blockage in my upright vacuum cleaner?
First of all, please make sure your vac is turned off and is unplugged. This is an obligatory safety measure. Then remove the dust cup and filter. Empty and clean them to check whether the blockage is located in this part.
If the bin and filter are OK, remove a hose and take off the nozzle. You can use a rod or similar blunt implement to check and clear a blockage in these elements. You can also flex the hose to loosen debris.
After the blockage elimination, reinstall filter, dustbin, hose, and nozzle.
In case of any trouble or questions, please consult the user's manual or contact the User's Service.
Are nozzles and additional tools of Bissell upright vacuums interchangeable?
The manufacturer recommends using original tools and accessories for each Bissell vacuum model. In case of loss or breakage, you can purchase a new item on the official website or retailers.
However, some similar models from one series may share identical tools. Please, check the details from official representatives only!
Conclusion
Eureka PowerSpeed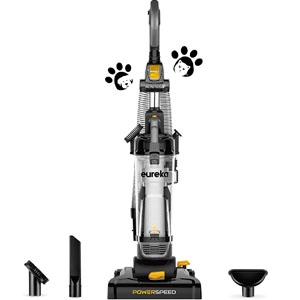 Eureka PowerSpeed is a nice model for standard home cleaning. We like its brush, extremely capacious dust cup, and a wide set of accessory tools.
However, customers should mind that the vacuum is not very suitable for thick carpets as it has some difficulties with pushing and brush adjustment. Though the price varies greatly from $70 to $200, we think it is worth buying for something under $100. So, search for discounts and best offers.
Bissell CleanView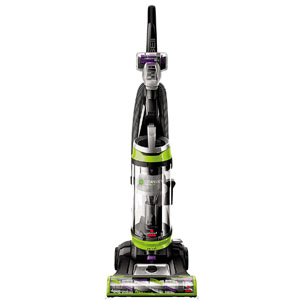 Bissell CleanView is the best option, in our opinion. Its 5 height positions are a truly efficient function and not a marketing ploy.
The vac is actually usable on all floors, It features nice pet hair cleaning, higher and more stable suction, and twice better filtration. This is a perfect combination for $100 only.