Hoover FloorMate Deluxe vs Bissell CrossWave Max Face to Face Comparison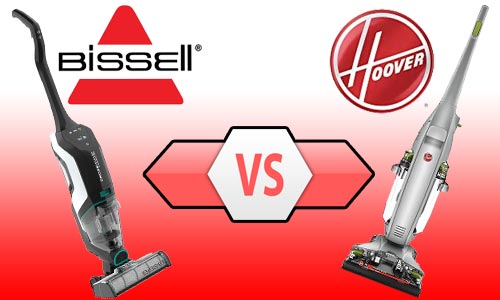 We continue the series of reviews on the best dry and wet cleaners for hard floors.
Today, we'd like to take a closer look at two American companies and perform a real battle between their leading lineups – Hoover FloorMate vs Bissell CrossWave.
The FloorMate Deluxe and the CrossWave Max All in One will be desired additions to your house cleaning kit.
Cleaners combine the functions of vacuums and mops in one case and allow you to save your time, effort, and money. The only question left is what model to choose. Let's try to answer it.
Main Differences Between the Models
Though the FloorMate Deluxe and the CrossWave Max were designed to perform the same work, they feature lots of differences. Here are the most important of them:

The Hoover model is made for hard floors only. The Bissell cleaner also deals with area rugs.
The first cleaner is corded and works from an outlet, while its rival is cordless and has a battery.
Brush systems of the cleaners significantly differ. The FloorMate has a patented system with four separate scrubbers. The CrossWave uses a standard multi-surface roller.
Bissell brand developed a swivel brush head for its device for more convenient cleaning.
Bissell CrossWave is also the only cleaner that uses self-cleaning brush technology. It is possible thanks to a multi-functional storage/docking/cleaning tray.
Floors will dry faster after the first device as it features a special Dry mode.
Hoover FloorMate also offers bigger water tanks with anti-leakage design.
Speaking about smart features, Bissell CrossWave Max outperforms its rival as it has a digital display and Wi-Fi connection.
However, the Max cleaner is lighter and quieter.
Comparison Table
Brush
SpinScrub brush system (11.5" wide)
multi-surface roller (10.5" wide)
Brush
SpinScrub brush system (11.5" wide)
Brush
multi-surface roller (10.5" wide)
The FloorMate Deluxe is quite an affordable cleaner for all types of hard floors, including the sealed ones. The model provides thorough dry and wet cleaning.
Unlike regular vacuums, this device uses water with cleaning solutions as well as unique patented spinning brushes for surface scrubbing. Large dirt particles and extra liquid are eliminated by suction.
Dirty and clean water never mixes as engineers provided a dual water tank system.
Users are free to control the amount of solution released as there is a Fingertip control. Press the trigger to add more formula on stubborn stains. Drying time is also improved thanks to the Wash-Dry modes when you can suction up excess water.
Hoover FloorMate Deluxe is quite lightweight and portable despite large dimensions and corded design. Users can carry it around the house and up/downstairs. However, many claim that the case is heavier than expected.
If speaking about minuses, we'd also note loud operation and limited cleaning area caused by the cord. Please also mind that the brush head cannot fit under and behind some furniture.
Otherwise, the model provides one of the most powerful suction, leaves no wet spots and messes. The FloorMate Deluxe is suitable for pet owners and large houses.
The price of $159 makes it even a worthier investment.
Pros
dry and wet cleaning
excellent suction
unique multi-surface SpinScrub brushes
suitable for all hard floors and pet messes
dual water tank technology
big water tanks
can be used with cleaning solutions
Fingertip solution control for challenging spots
Wash-Dry modes to control the water flow and drying time
budget option
Cons
cord
heavy
noisy
cannot fit some narrow and hard-to-reach places
Bissell CrossWave Max features lots of similar characteristics, but it significantly differs from the previous device.
First of all, it's designed for dry and wet cleaning of hard floors as well as area rugs and low carpets.
Bissell CrossWave series includes several models, but this is its only cordless representative. The cleaner works from a battery and is not tied to an outlet.
The Max All in One has separate tanks for clean and dirty water and a multi-surface brush roller. The brush head itself is swivel and pays special attention to edge cleaning.
Users don't have to clean the roller manually thanks to the unique self-cleaning function. A storage tray included in the kit serves as a dock station, storage place, and cleaning device.
Apart from usual buttons and triggers, the model comes with a digital display for easy monitoring and Wi-Fi connection capabilities.
If you have combined hard and low carpeted floors, Bissell CrossWave Max is a must for you. It also deals with pet hair and messes and provides an unlimited cleaning experience. We also note worry-free maintenance and state control.
On the other hand, it's worth being aware of such drawbacks as short runtime, weak suction, and not very thorough self-cleaning.
Also, the model cannot be called budget because of the $350 price.
Pros
simultaneous dry and wet cleaning
suitable for hard floors and rugs
cordless portable design
the multi-surface brush with swivel head
suitable for pet hair cleaning
two water tanks
can be used with cleaning solutions
convenient and multi-functional storage tray
self-cleaning technology
improved edge cleaning
digital display
Wi-Fi connectivity
Cons
runs for 25-30 minutes only
weak suction when dealing with liquids
there are many complaints about self-cleaning cycle efficiency
Design and Dimensions
Hoover FloorMate Deluxe measures: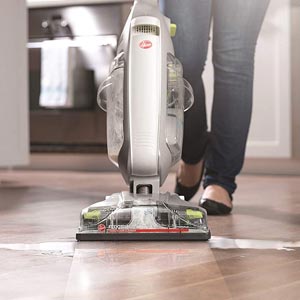 14.4″ x 12.8″ x 32.8″
13.8 pounds
Bissell CrossWave Max measures: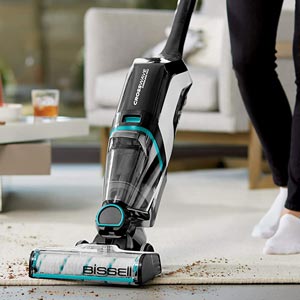 10″ x 10.25″ x 45.5″
11.5 pounds
As you see, the second option provides more convenient dimensions for a portable cleaner. Besides, its cordless construction only contributes to the ease of use.
The Hoover cleaner has a white and green body with mostly plastic parts and nice transparent tanks and brush cover.
The Bissell model prefers black color, but materials stayed the same. We also note transparent elements for simple monitoring.
While the devices differ in colors, dimensions, and supply methods, they have a similar shape and handle design.
Power
The question of power comparison is rather complicated since the manufacturers give stingy information and different rates. However, we can safely say that both appliances have one-speed motors under 4 amps.
Hoover official website states its FloorMate Deluxe is equipped with a 3.5 amp motor. Real users' reviews and our tests show excellent suction, one of the best among mopping cleaners, we would say. It even collects excess liquid left on the floor after cleaning.
Bissell doesn't tell us the motor rate it uses, but it reveals the AW data. Its CrossWave Max has 100 AW suction. While the model copes with rugs and hard particles, it still may leave wet spots on hard floors.
Verdict:
It isn't easy to conduct a power comparison between these models. However, we would say that both devices certainly meet the requirements and provide nice power.
Though the Bissell can deal with the pile, we'd like to note the Hoover model for its excellent water collection and dry mode we'll describe later. Perhaps, it would also cope with rugs but for brush design.
Brushes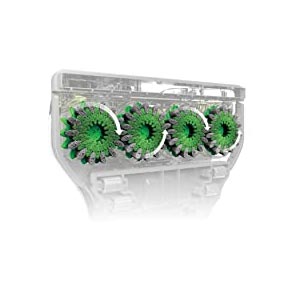 For the FloorMate series, Hoover has developed and patented the SpinScrub brush system.
It consists of four separate circle elements that rotate in opposite directions.
These 360-degree brushes with soft bristles gently but persistently scrub all hard surfaces, eliminate old stains, and collect hair.
However, tangling may happen with the last type of pollution. All maintenance is performed manually.
Brushes also change angles to adjust to the floor and process an 11.5 in path at one pass.
Bissell CrossWave uses a single brushing element – a soft-bristled roller. It also suits all hard floor types and deals with hair.
However, this time, we have a flexible brush head. The path width is 10.5 inches.
While the original roller is designed for multi-floor tasks, users can also purchase replaceable rollers for sealed floors, pet messes, super-soft gentle wood floor cleaning, and intensive rug vacuuming.
One of the best advantages of the CrossWave brush is its self-cleaning function. The model comes with a storage/charging tray that also can clean the brush. All you need is to place the cleaner on the tray and press the self-clean button.
Verdict: In our opinion, the self-cleaning system definitely outperforms all other advantages of the first device even though some users say you'll have to run the cleaning cycle twice. We like its pile vacuuming ability and hair collection. Moreover, the CrossWave wins thanks to the flexible brush head and improved edge cleaning.
Water Tanks


As we've already mentioned, both cleaners come with separate clean and dirty water tanks. Besides, you'll be able to wash your floors with cleaning solutions.
When it comes to the tank capacity, the first device offers two identical cups for 1.5 quarts or 1.4L. Tanks are big enough to clean two large rooms without the need for refilling or emptying.
Unfortunately, the FloorMate won't notify you of the state of its clean tank, so you should monitor it yourself. But an automatic suction shut-off is built into the dirty water tank to prevent the tank from overflowing. When the shut-off activates, the cleaner will not pick up water or debris, and the sound of the motor will change. The dirty water tank is full and must be emptied.
We love its release buttons for easy and quick tank removal. Please also mind that the Deluxe is protected against leaks.
Bissell CrossWave Max has a 0.8L clean water tank and a smaller 0.5L tank for dirty water. However, the volume is not the only difference. The clean water tank is divided into a Large Area volume and a Small Area volume. The Large Area is enough to cover 700 ft2, and the Small Area is for 350 ft2. Users are free to choose the volume that better suits the current task.
This time, your cleaner will notify you when its dirty tank is full. The cup is equipped with the full detection sensor, and information pops up on display.
Verdict: Though the first tanks are almost twice bigger and leak protected, the second option is also quite decent, not even mentioning its smart notification. So, here the choice is yours.
Filter
Hoover and Bissell add simple foam filters to their dry and wet cleaners to protect motors and tanks from damage. Filters require minimum maintenance and are very durable – just rinse them after every use.
Unfortunately, they don't contribute to air quality or anti-allergen treatment.
Runtime

The FloorMate Deluxe is a corded appliance that needs a standard 120v outlet. The cord length is 20 feet. In general, it's enough for free room cleaning.
Bissell CrossWave Max offers an alternative power method – it is the only cordless device of our comparison. The unit comes with a 36V lithium-ion battery that provides about 30 minutes of runtime. However, please mind that the more powerful Area Rug mode consumes more energy and spends the charge faster. The cleaner will need 4-4.5 hours to recharge.
Verdict: Runtime characteristics poses a dilemma. On the one hand, we can clean as long as we wish, but a cord limits the area. On the other hand, there are no limitations except for the runtime (which is only 30 minutes). We believe there cannot be the right answer, and you should be guided by your house size.
Control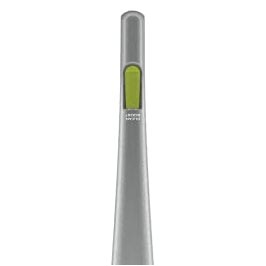 The Hoover cleaner cannot be called a smart device. All it offers are simple buttons for switching on/off and a trigger for liquid release.
Additionally, engineers gave us the Clean Boost Control or Fingertip Control. It means you can release extra detergent for better results on old and stubborn stains, heavy traffic areas, etc.
There is also a switch for Wash and Dry modes. When you choose Wash mode, the cleaner uses both brushes and suctioning. When Dry mode is activated, it stops brush scrubbing and only suctions up excess water to improve drying time.
If you're looking for a smarter option, try Bissell CrossWave Max. Apart from the usual buttons and triggers, you'll also get Wi-Fi support and a digital screen. The latter option cannot program the cleaner, but you see its state and maintenance needed thanks to it. The screen shows Battery Status, Dirty Water Tank Full, Area Rug or Hard Floor Mode activated, and Wi-Fi
Connection.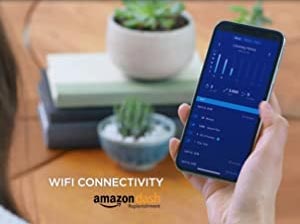 When it comes to Wi-Fi, there will also be no programming functions.
Users can connect their cleaners with smartphones for the latter to analyze the frequency of cleaning and preplan consumables reorder.
Verdict: Perhaps, the digital display is the only worthy reason to prefer the Bissell to the Hoover model. Wi-Fi support seems to be rather a marketing trick.
The Deluxe may become even a better option for more challenging pollutions and those who need faster floor drying.
Noise
If you thought that wet hard floor cleaners should be quieter than regular vacuums, you're wrong. Both manufacturers did their best to provide high power and forgot about proper soundproofing.
The first cleaner is undoubtedly as loud as regular vacuums for carpets. We don't have official dB data, but it feels like 80 dB or higher.
Bissell CrossWave runs quieter than its rival. It produces about 70-75 dB, depending on the Hard Floor or Rug mode. This is a more comfortable noise level.
Accessories
Hoover FloorMate Deluxe kit includes:
Additional SpinScrub Tile & Grout Brush
Hard Floor Detergent Cleaning Solution
Please pay attention that the brand produces several series of the FloorMate Deluxe cleaners. So, depending on the series, the number of brushes and solutions included may vary.
Bissell CrossWave Max All in One kit consists of: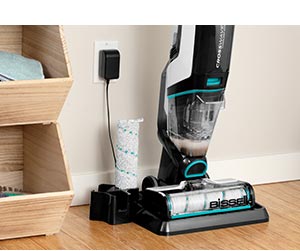 3-in-1 Docking Station
Brush Roll Drying Tray
Two Multi-Surface Formulas
Two Hard Floor Sanitize Formulas
Two Multi-Surface Brush Rolls
Buyer's Guide – How to Choose the Best Vacuum & Mop Cleaner for Hard Floors?
We've already discussed the main moments to mind before buying a dry & wet cleaner for hard floors in our previous reviews.
For example, you may find lots of interesting tips in our Tineco iFloor vs Bissell CrossWave and Tineco iFloor vs Tineco iFloor3 comparisons. Now let's quickly remember the crucial characteristics that influence your choice.
Brush:
Brush design is especially important as it should meet all types of hard floors you have. If you have pets, please look for brushes that can deal with such pollution as hair.
Flexible brush head:
If your brushes can adjust the angle and move around furniture legs, cleaning will be easier and more efficient.
Ease of cleaning:
Also, don't forget to check whether your cleaner tangles hair, clogs, and how easy it is to maintain its brushes and tanks.
Suction power:
Not only carpet vacuums need to be powerful. Please, look at your wet cleaner's suction to make sure it will pick up all dry dirt and collect extra water after mopping.
Water tank capacity:
We think there is no need to explain this moment – the bigger the tanks, the larger area you'll be able to clean without interruption. We would only recommend paying extra attention to the ease of their removal and quality of sealing to avoid leakages.
Energy supply and runtime:
As you now see, hard floor cleaners may be both corded and cordless. Each design has its pros and cons, so here the choice is fully yours. However, please check the cord length or battery durability beforehand. Such precautions will help you choose the optimal device.
Weight:
Lightweight cleaners are easy to use and carry around the house, especially if you live in a multi-story dwelling. Full tanks add extra weight to the construction, so don't forget about it too.
Noise level:
When a cleaner works silently, you and your family members feel comfortable. The standard noise level shouldn't exceed 75 dB.
Accessories included:
Those manufacturers that add replaceable accessories to the kits you're your money. It is especially important referring to cleaning solutions and brushes for definite floors and dirt.
Frequently Asked Questions
Are Hoover FloorMate Deluxe and Bissell CrossWave Max suitable for cleaning pet messes?
Yes, they are. Both models eliminate
pet hair
, accidents, and even odors without much effort.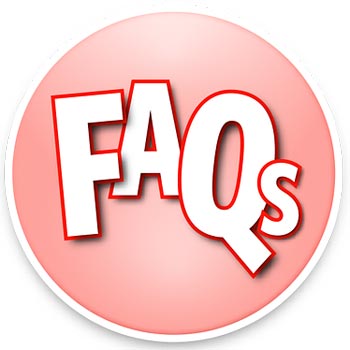 Are Hoover FloorMate Deluxe and Bissell CrossWave Max safe for wooden floors and tile floors with grout?
Both cleaners gently treat wooden floors, laminate, and tile. They release a small amount of liquid that cannot damage the floor and vacuum it immediately. If you used to mop your floors before, these cleaners will be perfectly safe for them too.
Are Hoover FloorMate Deluxe and Bissell CrossWave Max steam mops? Do they heat water?
Users fill the cleaners with cold or warm water under 140F/60C. These dry and wet cleaners cannot heat the water and do not belong to the steam mop category.
How to clean the SpinScrub brushes on Hoover FloorMate Deluxe?
Pull on nozzle release latch upward, remove the cover and the nozzle itself. Then remove debris like hair and large particles. Rinse nozzle under running water and wipe with a damp cloth. After cleaning and drying, put the brush back. For more details, please consult the user's manual.
How to connect Bissell CrossWave Max to Wi-Fi?
To connect the CrossWave Max and your smartphone through Wi-Fi, you should download the Bissell Connect app on your smartphone. After it, please open the app, create an account, and select your model from the list of Bissell products. Find the unique QR code behind the clean water tank and scan it. The app will open the instruction to pair the cleaner with the phone.
Conclusion
Hoover FloorMate Deluxe will be a nice budget addition to your set of cleaning tools. We would recommend this very model to owners of big houses since this vac doesn't depend on the battery charge and offers twice bigger tanks. You should also pay attention to this model if you have lots of high traffic areas and stubborn spots. However, please be ready for its noisy work, heavy body and the need for an outlet.
Bissell Crosswave Max All in One is the best for mixed floors with rugs and small low carpets. We note much better passability thanks to swivel head and edge cleaning. The cleaner is way more portable and independent of cords. But as long as it can last for 30 minutes only, the Max cleaner suits smaller houses or spot cleaning tasks.