🥇 Neato D5 vs. D7 – A Comparison Review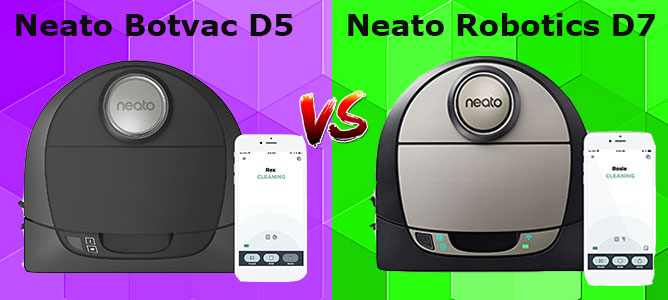 Curious which product will triumph over the other in Neato D5 vs. D7? We've broken down these products side-by-side with detailed products specs and a comprehensive side-by-side comparison. In the end, we give you our final thoughts on which is better and why.
It's official; robots are taking over the world. Well, at least they're enlisting the futile yet unavoidable housekeeping tasks. When we compared the Neato D5 vs. D7, we found that the new robotic vacuums have a tremendous amount of potential.

Image
Name
Neato Botvac D5 Connected Laser Guided Robot Vacuum, Pet &...
Neato Robotics Botvac D7 Connected Robot Vacuum - Laser...
Design
D-Shape with Corner Clever
D-Shape with Corner Clever
Size & Dimensions
Weight – 8 lbs. 12.7 x 3.9 x 13.2 inches
Weight – 8 lbs. 12.5 x 13.2 x 3.9 inches
Smart Assistant
Apple Watch, Amazon Echo, Google Home, Neato Chatbot for Facebook, IFTTT
Apple Watch, Amazon Echo, Google Home, Neato Chatbot for Facebook, IFTTT
Image
Name
Neato Botvac D5 Connected Laser Guided Robot Vacuum, Pet &...
Design
D-Shape with Corner Clever
Size & Dimensions
Weight – 8 lbs. 12.7 x 3.9 x 13.2 inches
Smart Assistant
Apple Watch, Amazon Echo, Google Home, Neato Chatbot for Facebook, IFTTT
Image
Name
Neato Robotics Botvac D7 Connected Robot Vacuum - Laser...
Design
D-Shape with Corner Clever
Size & Dimensions
Weight – 8 lbs. 12.5 x 13.2 x 3.9 inches
Smart Assistant
Apple Watch, Amazon Echo, Google Home, Neato Chatbot for Facebook, IFTTT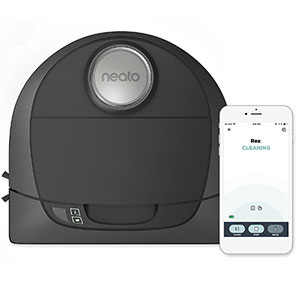 The Neato Botvac D5 is a robotic vacuum with a built-in camera and laser navigation system. It connects to your smartphone for easy-to-use remote control and voice command options. The device features a high-capacity 700-milliliter dustpan, a high-efficiency HEPA filter, and a rechargeable lithium-ion battery.
What's more, it is compatible with a wide variety of floor surfaces, including low and medium-pile carpets. Beyond that, this robotic vacuum can be synced to the Neato app.
ADVANTAGES
While the D5 offers fewer tech specs than the D7, it is a high-capacity robot vacuum with up to 90 minutes of runtime and a 4,499 square-foot cleaning area capacity.
It features a detail-oriented navigation system that relies on a sophisticated laser sensor. What's more, you can connect the robotic vacuum to WiFi. Users can download the smartphone app to control the device and strategically schedule 90-minute cleaning sessions remotely. They may also use Google Assistant or Alexa to troubleshoot issues.
The 700-milliliter dustpan can cover an entire house or office without needing to be emptied. Plus, the HEPA filter prevents dust particles and allergens from re-entering the air.
DISADVANTAGES
The Neato D5 does not feature virtual no-go walls. Therefore, you can not restrict its movement within a particular area. This can be a minor issue in spaces with loose rugs, toys, or pet's bowls. What's more, this model does not offer a wet mopping feature. Though, neither does the D7.
Beyond this, we found that the D5 was significantly loud. Therefore, this vacuum is best to use during the day or when not home. It also tends to bang up against wall corners and furniture.
Pros
Anti-drop cliff sensors for homes and offices with stairs and balconies
Recharge and resume feature allows the device to dock itself when it runs out of battery power and then resume exactly where it left off
Only weighs around 7.5 pounds
12.4 inches wide by 2.94 inches tall
Cons
Does not detect between different levels of soil or dirt
Does not identify the floor type
Does not recognize or provide a warning for a full dirt bin
No virtual wall feature
The Neato D7
Neato Robotics D7 the Best Robot Vacuum Cleaner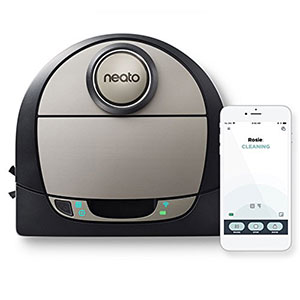 Read more about Neato Robotics D7
Wi-Fi enabled robot vacuum offers improved technological amenities for a slightly steeper price tag.
For one, the redesigned device can be controlled through voice-activated Alexa devices. It also provided users with automatic remote notifications.
Beyond that, it offers top-notch navigation and extended battery life.
So, this vacuum has a dynamic virtual walls feature and D-shaped design for cleaning corners and small spaces.
ADVANTAGES
There's a lot to love about the D5. It is a low-profile robotic cleaner with improved third-party connectivity. What's more, it's rechargeable Ion battery offers well over an hour of performance. When the juice runs low, the device pauses merely its actions and re-docks.
It features programmable virtual boundaries that allow you to restrict cleaning to specific areas in your home. Plus, the kit includes a small magnetic strip used for setting physical barriers, which is not to say this cannot also be done via the app.
The D7 also tracks statistics for up to 20 hours of prior cleaning sessions. It helps owners understand the robot's path of action and performance time.
Beyond that, this vacuum is fully equipped to thoroughly clean a variety of surfaces, including wood, carpet, and tile. It also features an anti-drip feature to prevent stair-based accidents.
DISADVANTAGES
On the downside, the dustbin is small, and you will need to be empty it frequently. In many cases, it will need to be monitored and drained before the end of a cleaning session. With that being said, users can schedule intermittent bin alerts depending on the level of soil in their home.
Furthermore, the D7 is loud. While it's difficult to find a silent or quiet vacuum, we do wish the manufacturer had considered this. Most users will not find it suitable to use the D7 during the evening.
Pros
Lithium-ion battery with up to two hours of life
Compact dimensions (12.5 inches long, 13.2 inches wide, 3.9 inches high)
Weighs 7.7 pounds
Compatible with an app as well as third-party voice-activated docking systems
Cons
Expensive
Very loud
Small dustbin needs to be frequently emptied
Comparison Neato D5 and D7
Design
Both the D5 and D7 feature Neato's signature D-shaped CornerClever body. This design feature enables the Botvac to squeeze into tight corners.
With that being said, the Neato vacuum.
The D5 features two LED indicator lights, including one for the battery and one that indicates the cleaning mode. There is also a multi-signal start button that commences a variety of cleaning cycles.
Meanwhile, the D7 features a total of four LED indicator lights, including ones for the battery, cleaning mode, and Wifi status. This model also features an off-centered start button that is identical to the D5's.
Both models feature a quick-release topside dirt bin. The top panel features a pull tab that reveals a transparent, reusable container. The tool-free brush removal feature also makes it easy to clean or replace the brush. They also feature a 360-degree sensor that extends a few centimeters above the surface of the bot.
Size and Dimensions
The D5 weighs just under eight pounds. Its dimensions are 12.7 inches long, 12.3 inches wide, and 3.9 inches high. Meanwhile, the D7 weighs eight pounds. It is 12.5 inches long, 13.2 inches wide, and 3.9 inches high.
The small difference in size is hardly noticeable. Both devices can navigate under furniture pieces, such as tables and chairs. What's more, they can operate in small spaces, such as room corners and halls.
Keep in mind that both the D5 and D7 feature top-mounted laser navigation systems. While this system is included in the height dimension of the product, it is more elevated than the sides of the vacuum. For this reason, both models have difficulty clearing some low-clearance furniture, such as couches or chairs. Nevertheless, the D-shaped design makes up for it with corner maintenance made easy.
Cleaning Parameters and Vacuuming Technologies
The D5 features a combination roller brush, spiral blade brush, and two wheels. These moving parts are controlled by the device's laser navigation system, which connects to an idiot-proof app through WiFi connectivity.
Unlike the D5, the D7 only features a spiral combination brush. Once charged, the robotic vacuum automatically generates a coverage map based on the perimeters of a room and its contents.
It can seamlessly switch between hard flooring and carpet. What's more, it is capable of smart charging, meaning it will return to the docking port to charge before resuming a cleaning route. Since the battery provides up to 90 minutes of room-to-room gliding, you may need to empty the dustbin during this time.
However, you can rest assured that your D5 will provide thorough coverage around and under most low-clearance furniture and adapt to sudden changes without toppling over any ledges. It also features strong duction that retrieves dirt in highly soiled areas.
The D7 Connected also uses laser mapping to generate a cleaning route automatically. However, the 360-degree laser smart sensor allows this device to scan multiple rooms at a time. In return, you get a greater expanse of coverage and more detailed cleaning around furniture, walls, doorways, and objects.
What's more, the virtual no-go lines allow users to preprogram areas for your Neato to avoid. Keeping your vacuum away from pet and child play zones, for example, prevents your device from getting stuck and gives you a greater depth of control.
Unlike the smart camera navigation system on models such as the Roomba, the Neato Connected laser navigation system can be used in low-light conditions. What's more, it maps out entire rooms to maximize its distance traveled. The vacuum also doubles back to ensure that highly soiled areas are removed.
As such, it can pick up small particles, pet hair, and large debris. The advanced brush bristles pick up and transfer it to the dirt bin. Both models have a high clearance that provides room for a brush that is 70 percent bigger than the competition.
The D7 also features an eco/turbo SpinFlow power cleaning system. It allows users to boost the vacuum power for faster performance. What's more, it works with SmartLife, a program designed to improve third-party connectivity with docking systems such as Alexa and Google Home.
When put to the test, both the D5 and the D7 provide flawless pickup of debris of varying sizes. From small particle sand to chunky pieces of cereal, What's more, they offer a deep clean on both hard and soft floors. Compared to the Roomba, both vacuums have higher air flow.
The D5 features a high-performance filter that optimizes the vacuum's efficiency and air filtration. Meanwhile, the D7 features an ultra-performance filter which offers very high efficiency and excellent air filtration. For customers concerned with ridding their homes of allergens and fine particles, the ultra-performance filter is the way to go.
Cleaning Quality on Different Surfaces
The D5 has no problem transitioning between hard and soft flooring. However, it can only clear objects that are 3/4 inches (19 mm) high. Therefore, shag carpets are a no-go. The same goes for the D7.
When put to the test, both Neato vacuums were able to deep clean in narrow crevices. Therefore, they would perform well in homes with slatted wood floors or grout.
The only difference is, the D7 features a spiral comb brush. Nevertheless, these brushes are interchangeable. What's more, the difference between the two is insignificant.
Usability
Using the D7 is easy. The entire device is preassembled. In fact, all you have to do to start the product is download Neato's SmartLife Edition and pair the device with your Wi-Fi network. It is important to note that you will need an up-to-date Android or iOS phone to do this.
Lastly, you need to connect your vacuum docking device to a power source. After that, you can utilize the app to track the status of your vacuum cleaner, follow along during cleaning routes, monitor its battery status, and track its progress.
The Neato SmartLife Edition can be used to schedule cleaning sessions once a day, seven days a week. What's more, it can be used to designate no-go zones or to remote steer. Beyond that, you can switch between a variety of cleaning modes as well as alternate between eco and turbo modes.
The D5 offers a comparable level of usability. With that being said, you can not designate no-go zones with this product. What's more, it has less third-party connectivity.
Nevertheless, both products require no assembly and are mostly autonomous. The D7 also offers a longer runtime per charge and therefore can cover square footage per cleaning cycle.
Wi-Fi and App Connectivity
The Botvac D5 works with 2.4GHz Wi-Fi. You also need the Neato app for iOS or Android. With the app, you can control on the remote. It can also be paired with Google Home, Facebook, or IFTT (if this, then that).
The D7 works with both 2.4GHz and 5GHz Wi-Fi networks. It is compatible with iOS devices eight and newer. It is also compatible with the Apple iPhone 4 and never, the Apple iPad2 and later, Apple iPod Touch 5th Generation, and iPad Mini and newer. Furthermore, it can be paired with Android 4.0 and later systems.
If you experience connectivity or pairing issues with Wifi or the Neato app, you may need to change the physical placement of your Wi-Fi router. What's more, consider re-pairing your robot. Occasionally, issues with connectivity may be related to changes in your WiFi network, such as password keys or outages.
Battery life and Rechargeable Time
The D5 Connected runs for around 90 minutes on a single charge. Meanwhile, the D7 can run for a whopping 120 minutes on a single charge. Since the D7 also boasts eco/turbo mode options, users can increase the speed of their vacuum bots to optimize runtime. Both products feature high-capacity rechargeable lithium-ion battery packs.
All Neato Robots take two to three hours to recharge fully. However, charging time varies depending on some factors. For one, both D5 AND D7 robots automatically return to their charging docks at the end of a cleaning session or when their battery runs low. If the battery is fully drained, it can take up to three hours to entirely reboot. At which point, the status light will change from red to green. If the battery is only partially drained, it will take less time.
The lithium-ion batteries perform better when they complete multiple deep cycles. To do this, allow your battery to charge at least three times. What's more, the temperature and humidity level in a home can affect a battery's performance. Cool, dry environments are ideal for lithium-ion batteries.
Beyond that, even rechargeable batteries have limited lifespans. Neato Bovac replacement batteries can be purchased directly from the manufacturer.
Maintenance and Dustbin Indicator
The D7 require you to clean and reinstall the dirt bin and the air filter periodically. What's more, you should remove and clean brushes frequently to prevent the accumulation of hair and debris. Fortunately, you can remove these parts without additional tools or order them online.
It is important to note that after you remove the brush guard, you will be required to align the belt teeth and brush. Keep in mind that this process is somewhat messy and time-consuming. Furthermore, this maintenance task may reveal the need to replace the brush or blade.
Beyond that, the D5 Connected does not have a full dustbin indicator. Therefore, the device must frequently be emptied to avoid overtaxing the system. With that in mind, the device does beep and report to the app when the bin has not been emptied after several cleaning sessions. However, this is not a concise indication of the bin's contents.
The D7 provides more in-depth filter change, brush change, and dustbin fullness alerts via the Neato app. While these parts do not contain sensors to indicate their capacity nor cleanliness, the app allows you to schedule reminders for periodic cleanings.
Pricing
The D7 has a longer battery life, better navigation, and smoother third-party integration. If you've got the green to shell out, we guarantee its worth the extra cost.
Nevertheless, the budget and how many modern accessories your willing to pass on.
Both models feature a competitive 1-year limited warranty as well as comprehensive customer service. There are also three authorized repair facilities that offer service products that are past their warranty.
Frequently Asked Questions
What is the difference between Neato D5 and Neato D7 robots?
Detailed comparison shows that these Neato Botvac Connected models are rather similar than not. However, we can also distinguish several crucial differences. Thus, Neato D7 is a bit improved version of the D5.
It has enlarged run time (120 minutes instead of 90 minutes of the D5 robot), supports virtal walls and Zone cleaning. Besides, Neato Botvac D7 Connected can work with both 2.4 and 5 GHz WiFi.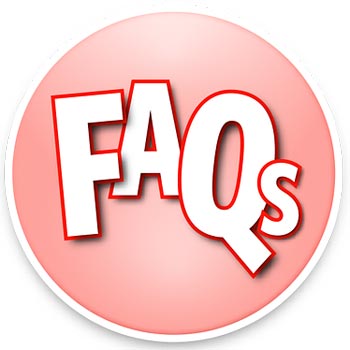 Neato Botvac D5 vs D7: what is the best robot for large houses?
You can safely choose any of the two robots since they provide equal cleaning features. Both models have multi-floor mapping to save separate plans for different floors. They also offer the same 2000 Pa suction, 700 ml dustbins, and roller brushes.
Power of both vacuums is enough to clean a multi-story house over 45000 ft2. The only difference in favour of the D7 robot is its longer run time. While Neato D5 lats for 90 minutes, Neato D7 can work up to 120 minutes.
Do Neato robot vacuums provide better cleaning in corners than other robots?
Thanks to the unique D shape of the cases, all Neato robotic cleaners guarantee the best cleaning along walls and in corners. Tests prove that D-shaped bodies can sweep hard-to-reach areas much easier than round modifications.
What should I do if my Neato Botvac Connected robot cleaner has disconnected from Wi-Fi?
There are three possible ways to solve this problem.
Firstly, your phone may lost its WiFi connection, so please make sure your Internet connection is OK. If the problem is not in the WiFi connection and app, try to reset your Neato robot. To do it, please press and hold the Start button for 10 seconds to turn it off, and then press Start button one more time to turn it on.
Wait a few minutes and check the Neato app. If you still cannot see your device in the app, try to delete your robot from the Neato app and add it one more time. These steps should help you restore WiFi connection. If they didn`t, please contact the User Service.
Are Neato Botvac Connected robot vacuums suitable for allergic people?
All Neato Botvac Connected robots are equipped with filtering systems. The older D3 and D4 models use weaker Standard and High Performance filters. They are powerful enough to collect the majority of dust and refresh the air but cannot trap the finest pollen and allergic particles.
The latest D5, D6, and D7 vacuums got an improvement and now use Ultra Performance filters.
These elements provide more thorough air filtation when 99% of particles up to 10 microns stay inside the filter. Thus, we can say that the newest Neato Botvac Connected robots are an excellent choice for allergic people and families with small children and fluffy pets.
Final Thoughts
After careful consideration, we're happy to name the Neato Botvac D7 as the top robotic vacuum. While the D5 offers powerful suction and easy whole-level navigation, the D7 features essential technological advancements we can't live without.
For example, the newer model offers advanced virtual mapping options such as no-go areas. What's more, it boasts a variety of speeds and cleaning settings for optimal power usage and efficiency. It also offers more seamless connectivity with third-party devices.
Both the D7 are low-maintenance alternatives to traditional stand and push vacuums. What's more, they can be controlled and tracked on the go from most popular iOS and Android phones and devices. While the Neato D7 is the manufacturer's most expensive model to date, but it houses the same motor and battery as the D5 just with more advanced connectivity options and controls.
Overall, both devices are comparable to high-end devices such as the Roomba. Their well-designed laser navigation systems and smart sensors make whole-floor cleanup a breeze. If you ask me, never having to sweep or vacuum again is well worth the investment.
It is important to note that the filter recurring price is associated with the purchase of a Neato Connected vacuum bot. The manufacturer recommends that owners clean them on a regular basis and replace them every two months. What's more, the high capacity lithium-ion batteries will need to be replaced at some point.