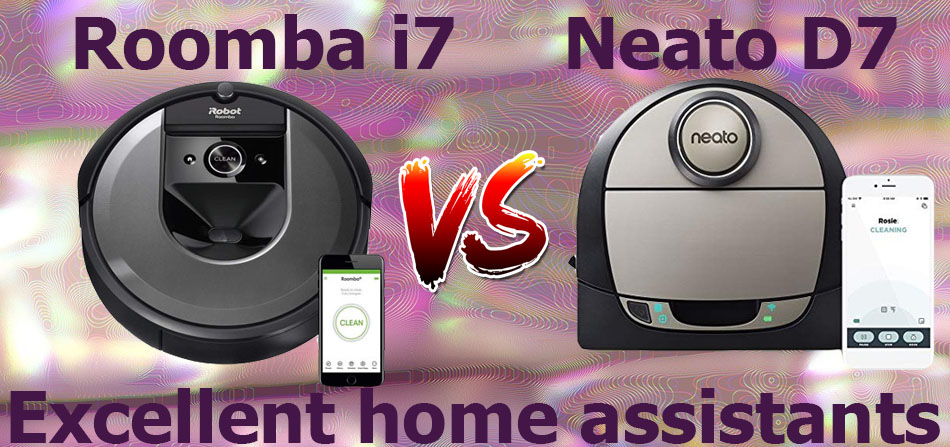 Today we're going to have a look at two expensive models of robot vacuum cleaners from two well-known reputable companies.
In 2019, the American iRobot brought to our attention Roomba i7 vacuum cleaner, equipped with all the latest technologies in domestic robotics.
In its turn, another American manufacturer Neato Robotics presents the model Neato D7 Connected, which can hardly be called an inferior to its rival.

Model
Name
iRobot Roomba i7 (7150) Robot Vacuum- Wi-Fi Connected, Smart...
Neato Robotics Botvac D7 Connected Robot Vacuum - Laser...
Model
Name
iRobot Roomba i7 (7150) Robot Vacuum- Wi-Fi Connected, Smart...
Model
Name
Neato Robotics Botvac D7 Connected Robot Vacuum - Laser...
Neato D7 Laser Guided Robot Vacuum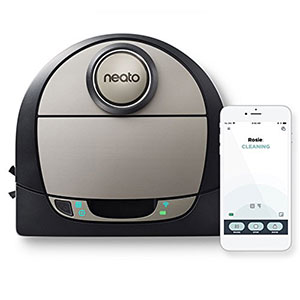 The American robot vacuum cleaner Neato Botvac D7 Connect is one of the most functional models in the robotics market. Neato Botvac D7 is designed for dry cleaning. It is important to remember that it's not suitable for collecting liquids from the floor and is particularly sensitive to moisture. Therefore, to avoid malfunctions, we don't recommend you to use the cleaner in rooms with a high level of humidity.
The device has a unique D-shape, which significantly increases the maneuverability of the robot.
The vacuum cleaner copes with any flooring, thanks to a well-thought-out cleaning system. The five-pointed side brush, the central turbo brush, and the most powerful suction of 2000 Pa capture all the garbage to the last crumb.
Neato Botvac D7 Connected can adapt independently to different types of surfaces.
There is only one button on the case to start it in operation; the rest of the control is wholly carried out through the mobile application Neato app for a smartphone. In the application, you can set the virtual borders, configure the desired mode, set the schedule, and independently control the movement of the robot.
A powerful drive on driving wheels ensures unhindered access to the carpets and successful overcoming of thresholds.
And the unique technology of laser scanning and room mapping allows the robot vacuum cleaner to orientate itself with the highest accuracy, thereby improving the quality of cleaning and shortening its duration.
Pros
compact dimensions
great suction
several cleaning modes
adaptation to any surface
thorough laser navigation
mapping system
virtual limiters
powerful battery
capacious dustbin
mobile app and voice control
Cons
high price
no Dirt Detect function
no Carpet Boost function
Roomba i7 Ideal for Pet Hair, Carpets, Hard Floors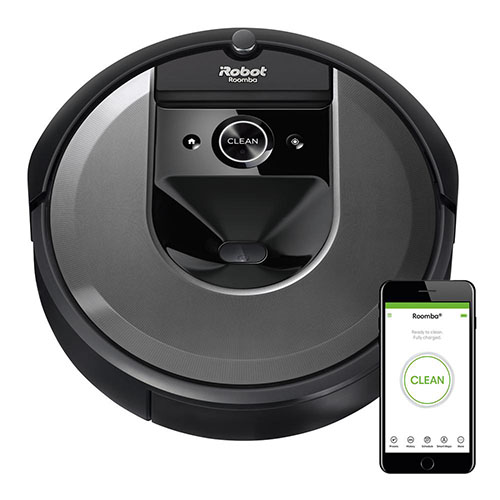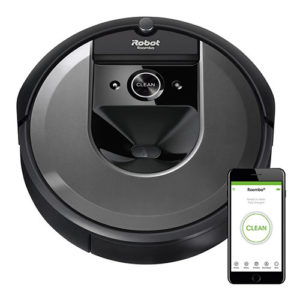 iRobot Roomba i7 is a novelty on the market that has many innovations in functionality. It was presented in 2019 and had a high suction power and advanced navigation system, which allows it to avoid obstacles or not to hit the furniture. It can also build a detailed map to clean all rooms systematically.
Roomba i7 is protected by a black round case with a soft bumper. You can control it through three mechanical buttons or a smartphone, as it supports the iRobot app.
This modification of iRobot, in comparison with earlier models, has a great suction power and can work on any coatings: linoleum, tile, laminate, carpets.
A well-thought-out system of movement and brushes allows the vacuum cleaner to quickly overcome obstacles up to 2 cm in height (for example, to overpass the thresholds of rooms or climb from flat parquet to a fluffy carpet). It perfectly absorbs dust, garbage, and animal hair.
The unique silicone rollers of this robot provide complete contact with the floor surface, regardless of its texture.
The vacuum can work in several modes: automatic, local, and edge. This model uses various movements in different modes. But the main thing is that the movement is elaborated in advance, and not chaotic.
The vacuum thoroughly cleans rooms and navigates with the help of several navigation systems, including smart mapping.
The i7 has a "twin brother" with a broader set of functions. Roomba i7+ is identical to the i7 model except that it can empty the dustbin on the station. This technology is called Auto Dirt Disposal.
Pros
compact dimensions
high suction
Carpet Boost function
Dirt Detect function
adaptation to any surface
several cleaning modes
HEPA filter
virtual walls
accurate navigation
mapping system
mobile app and voice control
Cons
small dustbin
weak battery
high price
Design, Size, and Dimensions
Roomba i7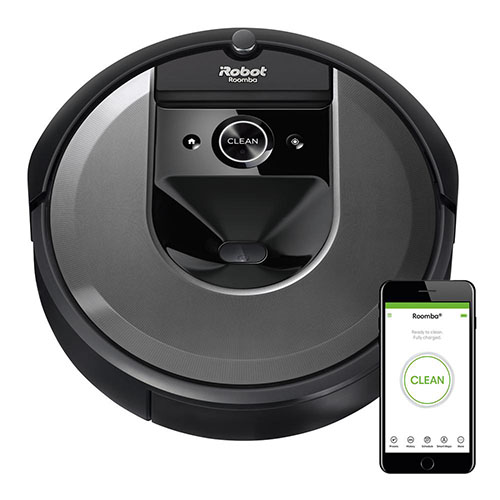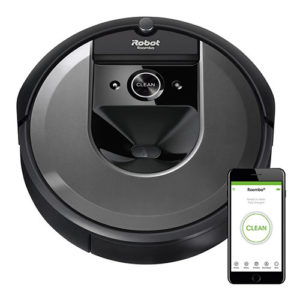 Roomba i7 has a classic black round case standard for most robot vacuum cleaners. The case is made of durable plastic material with protective shockproof rubber inserts.
We see that Roomba i7 is a bit smaller and lighter than Neato D7, which is preferable for the user. Roomba measures 13.3×3.6 inches.
The weights of the robot is 7.28 pounds.
Neato D7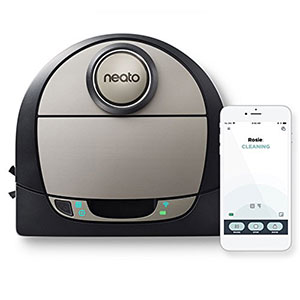 In its turn, Neato D7 is different from the majority of devices on the market. Its case is made in the form of the letter D, which provides the device with the best quality of cleaning. This design is quite typical for the Neato company.
The case is finished with metal inserts that increase strength and resistance to damage. They are also responsible for reducing noise and vibration during operation. Multiple tests prove that the D-shape provides a better entry into the corners compared with round shapes.
Neato D7 has a width of 13.2 inches and a height of 3.9 inches. The weights of the robot is 7.72.
Navigation
Both models possess perfect navigation systems. Aside from anti-collision and cliff sensors, they use laser and mapping technologies as well as virtual limiters.
Neato D7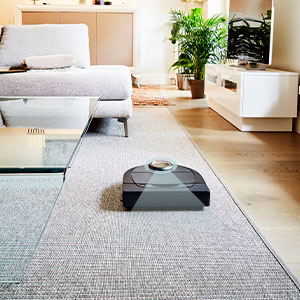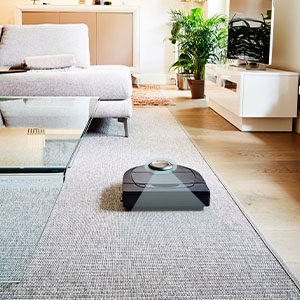 The main distinguishing feature of the Neato Botvac D7 Connected model is an improved navigation system based on the operation of a laser rangefinder.
Moving around, the robot scans the room, identifying the most polluted areas in its path. After the analysis, the device compiles an individual My Floor Plan room map, which the user may correct through the application if necessary.
Also, in the app, you can set the cleaning boundaries for the vacuum and indicate the places where it should not go. For the same purpose, you can use magnetic tape.
Besides, the robot uses LaserSmartTM technology. It connects the robot vacuum cleaner to the map with the smallest error and conducts it in different rooms.
Roomba i7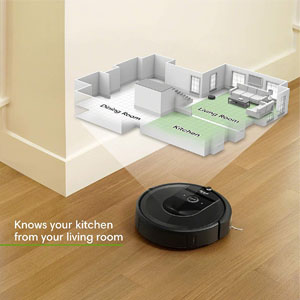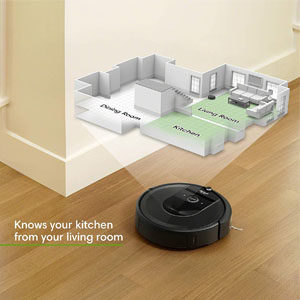 Roomba i7 makes maps with the help of Imprint Smart Mapping. It forms a general plan of the dwelling, dividing it into floors and rooms.
The device also uses advanced navigation technology iAdapt 3.0 (vSLAM). After reviewing all the premises and having built a map, the robot chooses the optimal order of cleaning, setting the algorithm for movement.
At the same time, it creates reference points for itself to understand where it has already cleaned up so as not to return there again. This iRobot model works with a dual-mode virtual wall barrier.
Dirt Detection
Roomba i7
Roomba i7 supports Dirt Detect technology. Consequently, it can detect the most challenging and contaminated areas of the floor and adjust its work for the speedy elimination of stains. Dirt Detection helps increase the efficiency of the vacuum cleaner in general.
Neato D7
Though Neato D7 has excellent suction and shows the high-quality result, it doesn't have this technology.
Filter System
Neato D7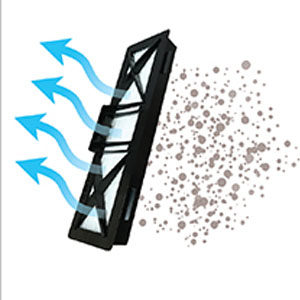 Neato purifies the air using the high-performance filter.
Such a filter element is perfect for people suffering from allergies, for people with small children and poor health.
High-performance filters hold particles up to 0.3 microns in size.
Roomba i7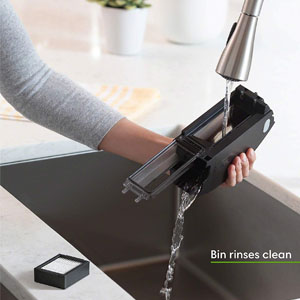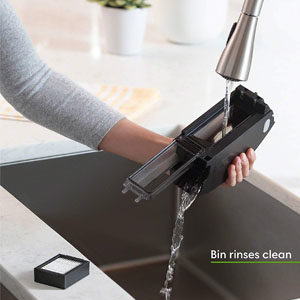 Roomba also cleans the air passing it through the filters.
It uses HEPA filters that neutralize allergic particles produced by animals, pollens, pathogenic, and dust particles.
These filters capture dirt of 0.3 microns and more.
Connectivity
All robot vacuums have mechanical buttons on their cases for manual control. But you can always set a schedule or mode and run your robot remotely as well as give voice commands.
To do this, use smartphones or devices compatible with Alexa and Google Assistants.
Management takes place through the iRobot HOME App and Neato Robotics App. Here you can see the maps created by the robots and assign rooms for purification.
Suction Power
Roomba i7
In comparison with earlier models, iRobot Roomba i7 has a more considerable suction power and can work on any coatings: linoleum, tile, laminate, carpets.
It perfectly absorbs dust, garbage, and animal hair because the suction can reach 1700 Pa.
Additionally, the i7 is equipped with the Carpet Boost technology. It means that the robot can distinguish carpets from other types of floors and enhance suction.
Neato D7
The Neato D7 model also quickly and independently adapts to any floor coverings: parquet, laminate, ceramics, linoleum, carpets, and so on. It conducts cleaning by adjusting the efforts depending on the type of surface.
The maximum possible suction of this robot is 2000 Pa.
Run Time
Roomba i7
Frankly speaking, Roomba has a rather weak Li-Ion battery for such a powerful and high-tech device.
Its capacity is 3300 mAh. So the robot can work for about 75 minutes. It takes 180 minutes to full the charge.
Taking into account that the robot's power declared by the manufacturer requires high energy consumption, such a battery cannot satisfy the needs of a vacuum cleaner.
Neato D7
In comparison, Neato boasts a more capacious battery, which is adequate to the needs.
The built-in 4200 mAh Li-Ion battery provides the robot with 120 minutes of operation. And it takes 180 minutes to recharge.
Dustbin Indicator
Full Bin Indicator is a device that allows you not to worry about the timely replacement of a paper/fabric dustbag or emptying of a bagless dustbin.
Now many manufacturers equip their vacuum cleaners with a similar element. We can find an indicator in wire and wireless vacuums, as well as in robotic cleaners.
Depending on the wishes of the engineers, it can give light and sound alerts or inform you through the application.
Roomba has a 500 ml dustbin, while Neato uses a 750 ml container. And both devices are equipped with Full Bin Indicators.
Noise
Neato D7
Neato D7 can be called a fairly quiet vacuum cleaner, as its noise level varies depending on the selected cleaning mode.
In Eco-mode, the device produces no more than 59 decibels. At the same time, the maximum noise level doesn't exceed 63 decibels. At such a volume, the robot operates in Turbo mode.
Roomba i7
Roomba i7 refers to noisy vacuum cleaners since, during operation, it produces up to 68 decibels.
This level is considered to be not so comfortable for human and especially pet ears.
Accessories
Bearing in mind the high cost of these models, which varies from 700 to 800 dollars, they shouldn't only be multifunctional, high-quality, and useful, but also have a wide range of related accessories.
Let's see what the manufacturer of our models offers us in addition to the robots themselves.
Roomba i7
Roomba i7 comes with

a charging base,
one North American line cord,
one HEPA filter,
one dual-mode virtual wall barrier,
one extra side brush,
a worry-free 12-month warranty.
Neato D7
Neato D7 Connected has

one charging base,
an adapter,
one magnetic stripe,
an additional filter,
one cleaning tool,
a 12-month warranty.
Tests on different types of floors
A comparison between Roomba i7 and Neato D7 models shows that both robots can provide high-quality cleaning. At the same time, they are equipped with innovations such as improved navigation and a wide selection of modes.
Neato D7
Thanks to its powerful suction, good navigation, and modes, the Neato robot copes with any contamination on any surface.
The Local mode is especially pleasing. If, after the first pass, there's still some dirt left on the floor, then during the second run, the robot can collect everything it missed at first.
In general, the model copes well with cleaning in challenging places, near obstacles, around the legs of tables and chairs. It doesn't miss spots, collects garbage and hair.
Roomba i7
Roomba i7 also shows itself worthy on all types of flooring, but still has weaknesses.
Although the model perfectly works on open space, it can miss some areas of the room, such as between the legs of chairs and the like. In general, the robot tries to avoid any problem situation and sometimes sacrifices the result.
But all the shortcomings are compensated by the suction and smart mapping. Thanks to them, the device can examine and map your apartment to create the most efficient route. And the Carpet Boost technology is especially pleasing to users who have a lot of carpets at home.
Frequently Asked Questions
Neato D7 vs Roomba i7: which one to choose for carpets?
Both models cope with all surfaces and will be a worthy investment. However, if we compare their power and functions, Neato D7 will show a bit higher suction (2000 Pa vs 1700 Pa) and longer run time (120 minutes vs 75 minutes). On the other hand, Roomba i7 will give you self-emptying function and Dirt Detection.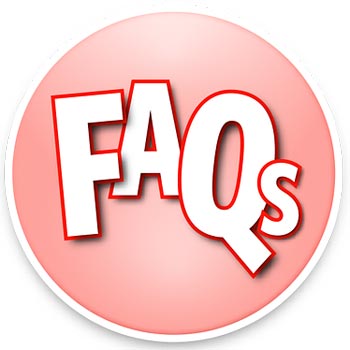 Will Neato D7 and Roomba i7 learn my house?
Yes, they will thanks to the mapping technology. During the first run, each robot will scan and remember your dwelling and then form it into a map.
Do I need 2.4 GHz WiFi only for my Neato D7?
Neato Botvac D7 Connected robot is one of a few vacuums that support both 2.4 and 5 GHz WiFi networks.
Is Neato D7 compatible with physical boundary markers?
Yes, you can either draw no-go lines on the map or set a physical limiter.
Conclusion
We see that our models have very rich functionality and equipment. They carry out high-quality cleaning, can work in multi-story and spacious buildings.
However, since robots cost a lot of money, you should think carefully before buying.
The robots do have accurate navigation, enormous suction power, and many modes of operation.
But do they really cost such money? It's a difficult question.
In the case of Neato D7, you are likely to overpay, since there are many robots on the market with the same characteristics, but at a significantly lower price.
If we are talking about Roomba i7, then everything is somewhat different. Here it makes sense to pay extra and take a Roomba i7+ model, which has an Automatic Dirt Disposal system. It's a significant advantage of the new model compared to others.
But if we forget about the price, then Roomba i7 and Neato D7 will be excellent home assistants.