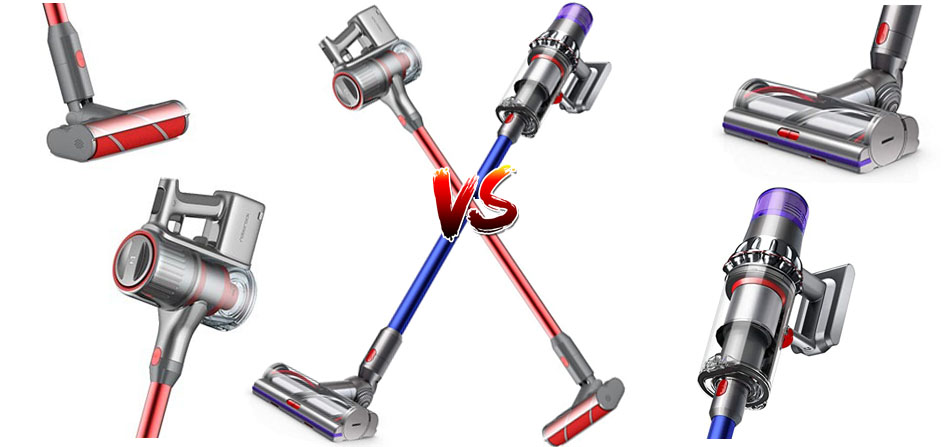 As we all clearly understand, the best attraction of the stick vacuums is the lack of cords. It`s such a pleasure to be able to clean wherever you want without constant hindrance and entanglement.
Besides, you don`t have to sacrifice suction power, as modern models are by no means inferior to corded vacuums and sometimes even surpass them.
Dyson
has long proved the reliability of its products and gained unconditional trust even for the new devices. Chinese
Roborock
is a relative newcomer on the market, which wins popularity by a combination of efficiency and budget price.
So, let`s see which cordless vacuum model will win this time and whether they both are worth investing in.
In this Roborock H6 vs. Dyson v11 review, we will meticulously study all cons and pros of the new stick vacuums and also see their main similarities and differences.
Main Differences Between the Models
While looking at the vacuums, one can find several differences that influence the cleaning results.
So, since they are essential for operation, let`s list the most crucial of them:
Both stick vacuums are compact and lightweight. However, the difference in the weight between them is worth noting. Roborock H6 has featherlight 3 pounds. Dyson v11 is twice heavier, weighing 6.68 pounds.
Roborock and Dyson come with similar sets of nozzles, but each kit has separate unique accessories. Thus, Dyson works with a combination tool and stubborn dirt brush for coarse pollution. Roborock H6 uses a special flex tube to complement handheld nozzles and an additional motorized soft floor roller head for hard floors.
Dyson 11v Torque Drive is a more powerful vacuum, which comes with a 525W digital motor and generates 185 AW suction. The H6 uses a 420W motor for 140 AW suction or 25000 Pa.
Except for Eco and Max modes, Dyson v11 offers Auto cleaning. The Roborock vac has only Eco and Max options.
At the same time, Roborock H6, equipped with a unique Lithium-Ion Polymer battery, can last up to 90 minutes in Eco mode. Dyson cleaner runs for 60 minutes.
Torque Drive dust cup contains 0.75L, while Roborock H6 has a 0.4L dustbin.
The stick vacuums produce different noise levels. The H6 is 72 dB loud, and the v11 can reach 78 dB.
At the moment, the Dyson v11 vacuum costs $630-$670. We expect that the price of the Roborock H6 will be $150 less compared to the rival.
Dyson V11 Torque Drive Cordless Vacuum Cleaner, Blue
Accessories
a mini-motorized tool
a combination tool
a crevice tool
a mini soft dusting brush
a stubborn dirt brush
Dyson V11 Torque Drive Cordless Vacuum Cleaner, Blue
Accessories
a mini-motorized tool
a combination tool
a crevice tool
a mini soft dusting brush
a stubborn dirt brush
This cordless stick vacuum is noticeable for its compact size and lightweight. According to the official site, the Roborock H6 model is as light as 3 pounds. At the same time, the user gets excellent maneuverability and high power to complement or replace any other floor cleaning.
The vacuum may be as well used in a handheld mode for comprehensive vacuuming of all surfaces in the house. Choose a dusting brush, a motorized mini-brush, or a crevice tool to clean everything from the keyboard to cushions. You can also combine handheld nozzles with a flex tube to reach awkward areas.
A full-sized module offers two rollers, i.e., an anti-static bristle brush and a soft floor brush roller. The first one is used on carpets to lift deep dirt and collect hair; the second brush is perfect for hard floors.
Roborock H6 can boast of a tremendous 25000 Pa suction achieved by a 420W motor. The vacuum also increases power on carpeted surfaces for better results.
As such power requires a lot of energy, Roborock equipped the vacuum with the first in the world Lithium-Ion Polymer battery. It means the battery now can last up to 90 minutes in Eco mode and for 10 minutes in Max mode.
The air comes through five stages of filtration, which captures 99.97% of particles. Front and rear filters are washable. Dustbin for 400 ml can also be rinsed.
However, high suction and powerful motor produce some noise, which reaches 72 dB. It`s audible but not too disturbing.
Also, Roborock H6 has a useful OLED screen, which informs the user about battery level, cleaning mode, and probable alerts.
Pros
lightweight body
handheld mode
five nozzles and a flex tube
25000 extreme suction
Auto Carpet Boost
long-lasting Lithium-Ion Polymer battery
HEPA filtration
OLED screen
Cons
a bit noisy
not very big dustbin
Dyson v11 Torque Drive Cordless Stick Vacuum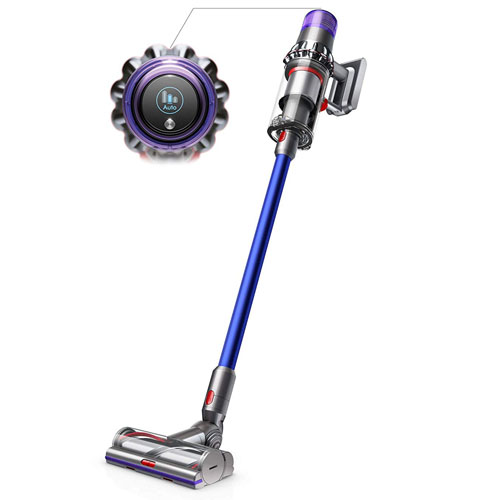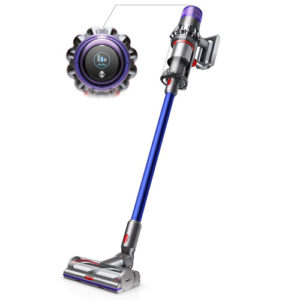 Read more about Roomba i7
This 6.68 lb cordless vacuum can be characterized as an excellent cleaning assistant that provides high power performance and coverage of various surfaces.
Thanks to the wide set of nozzles, it can process hard floors, carpets of all thickness, upholstery furniture, curtains, shelves, etc. The kit includes a mini motorized tool, a stubborn dirt brush, a combination tool, a crevice tool, a mini soft dusting brush, and the main high torque cleaner head. Users are free to choose between a standard module and a handheld configuration of the device.
The v11 is equipped with the 14 cyclones Dyson motor, which provides 125000 rpm and up to 185 Air Watts in Boost mode. Besides, the in-built DLS technology allows the cleaner head to adjust power depending on the floor type automatically.
The run time of the stick vacuum is prolonged compared to the previous Dyson vacuums. Now, the vac can run up to 60 minutes in the Eco mode. The kit also includes a wall-mounted charger. It can also be used as a storage place for the vac and all accessories.
HEPA filtration guarantees the elimination of 99.97% of dust and dangerous particles, including allergens. The debris comes into a hygienic easy-emptying dustbin for 750 ml.
You can continuously monitor the state of the vacuum, as the LSD digital display shows the current information about the mode, battery, filter maintenance, and alerts.
The noise level of the Dyson v11 reaches 78 dB in the Boost mode, so the cleaner is powerful yet noisy.
Anyway, Dyson v11 Torque Drive will suit any house and family with kids, allergy sufferers, pets. The vacuum performs comprehensive cleaning of various surfaces and locations, including the car interior.
Pros
compactness
handheld mode
five nozzles and the main high torque cleaner head
14 cyclones of high suction
Auto suction adaptation to a surface
Up to 60 minutes of run time
HEPA filtration
capacious dustbin
LSD digital display
Cons
noisy performance
high price
Similarities and differences
Design and Dimensions
Roborock H6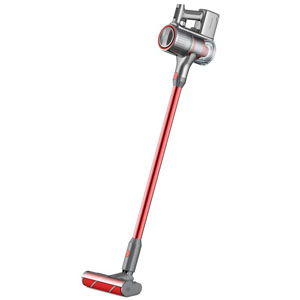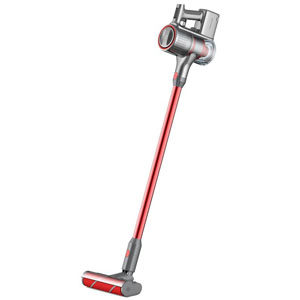 The new Roborock vac features quite standard dimensions of 8.4 x 4.3 x 43.3 inches.
However, the main interest lies in the weight of the item. The H6 cleaner is as light as 3 pounds, causing no load to your hands either in full or in the handheld configuration.
The case is mainly plastic of red and silver colors.
Dyson v11 Torque Drive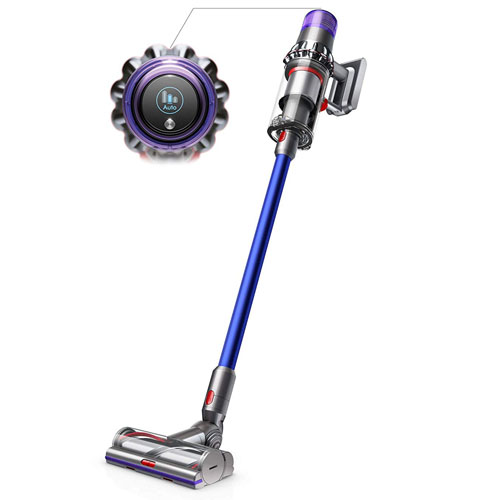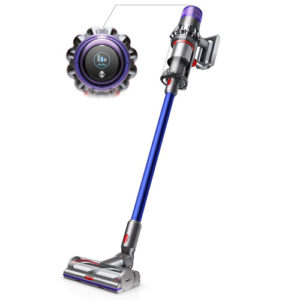 Dyson prefers calm blue and silver tones with isolated red spots.
The vacuum itself measures 10.3 x 9.8 x 50.6 inches and weighs 6.68 pounds. As we see, it`s twice heavier than the Roborock H6, but still, such weight is pretty comfortable for a user.
The model can as well easily clean under low furniture.
Suction Power
Roborock H6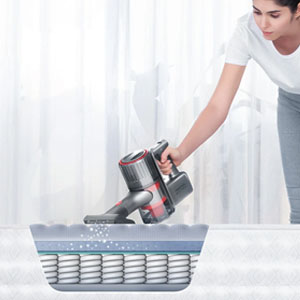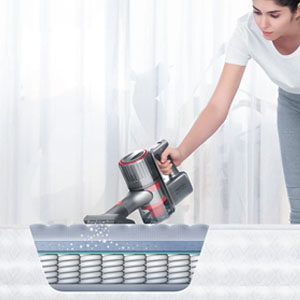 Thanks to the 420W motor and rotating cleaning heads, the item can reach 140 AW suction. As the manufacturer states on the official site, max suction is equal to 25000 Pa in the Max mode, which is enough to eliminate the finest particles and even dust mites from mattresses, cushions, carpets, etc.
You can regulate the power by choosing Eco or Max mode. Besides, the vacuum uses the Auto Carpet Boost for increased suction on the carpets.
Dyson v11 Torque Drive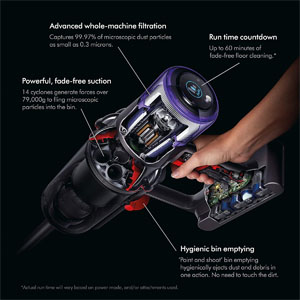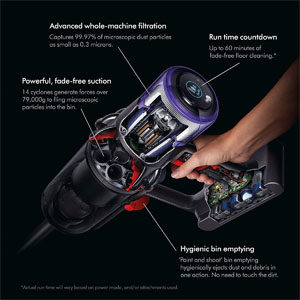 Dyson v11 has a 525 W digital motor, which, together with 14 cyclones, generates 185 AW suction. Plus, the cleaner head rotates at the speed of 125000 rpm, lifting all debris.
There are Eco, Auto, and Boost cleaning modes with different rotation speeds and suction. Suction can also be adjusted automatically depending on the floor type – it`s called Dynamic Load Sensor (DLS) system.
Filtration
Roborock H6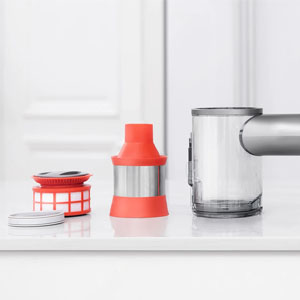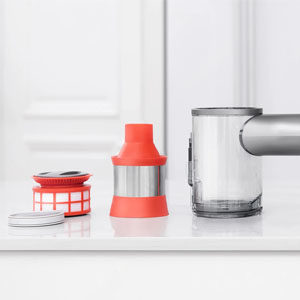 Roborock H6 provides HEPA filtration since it passes the dirt through five cleaning stages. The first stage deals with large debris. The other four levels capture dust of descending size from 0.4 mm to 0.3 microns.
Finally, it cleans the air from 99.97% of particles, including pollen and allergens.
Dyson v11 Torque Drive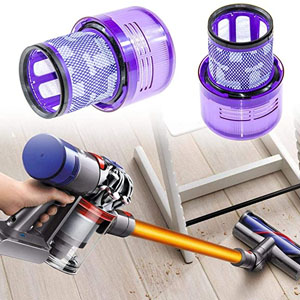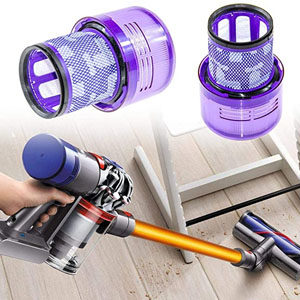 The Dyson stick vacuum offers fully equivalent HEPA filtration. It also keeps 99.97% of debris and copes with the finest particles up to 0.3 microns.
The filtration system is based on cyclonic separation, where the dirt of different sizes settles inside the filters on a particular stage.
Dustbin
Roborock H6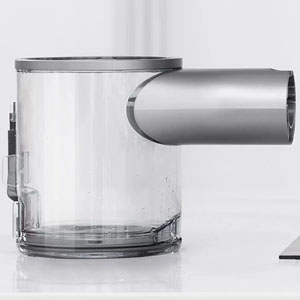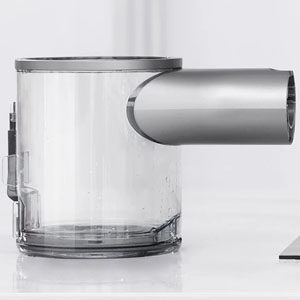 The vac is capacious enough to keep 400 ml. The cup connects to the handle and the stick, so it doesn`t disturb vacuuming or outweigh the device.
The bin is washable, and the emptying is hygienic, but it doesn`t exclude any contact with the debris collected.
Dyson v11 Torque Drive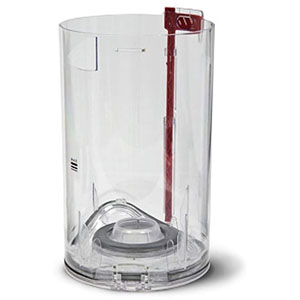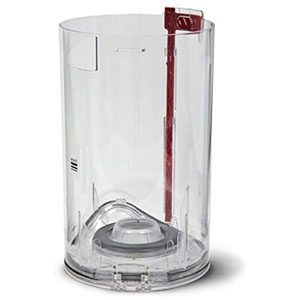 Compared to the Roborock, Dyson v11 offers better dustbin system. Thus, its cup contains up to 750 ml of dirt.
Being as washable as the H6 cup, the bin uses more sophisticated emptying mechanisms, where you should only press on the button to open the lid.
Run Time
Roborock H6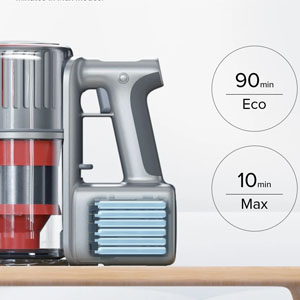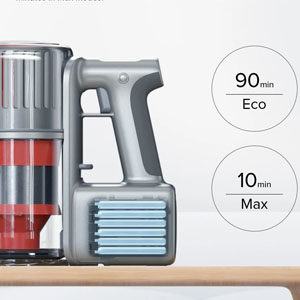 Roborock offers one of the most durable run time and the best battery type. Here, we see a unique Lithium-Ion Polymer battery, which contains energy for 90 minutes of cleaning in Eco mode.
Naturally, Max and Carpet Boost modes of extreme power require higher energy consumption, so in such a case, the vacuum will last 10 minutes.
The recharging station resumes the battery within 300 minutes.
Dyson v11 Torque Drive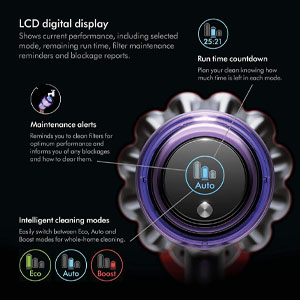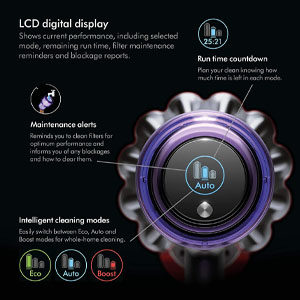 Dyson v11 battery became more capacious and lighter compared to the previous Dyson vacuums. The cleaner uses a Lithium-Ion battery, which lasts for 60 minutes in Eco mode. Auto and Boost modes spend energy several times faster.
After discharging, the wall charger will need about 240 minutes to restore the battery.
Display
Roborock H6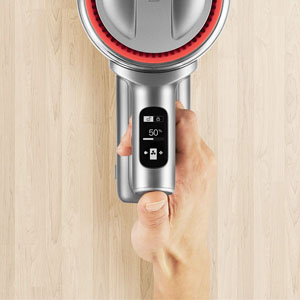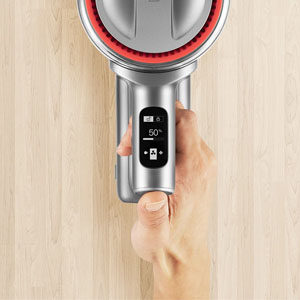 The vacuum handle features a small yet informative OLED screen, where you can see whether the item is locked/unlocked, the battery charge left, the chosen cleaning mode.
Besides, the screen will notify you about the filter and bin state and other maintenance alerts.
Dyson v11 Torque Drive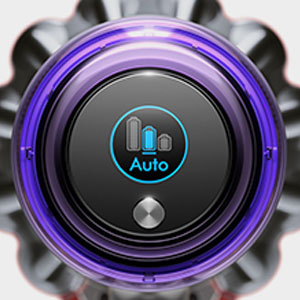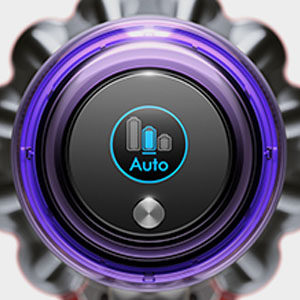 Dyson uses similar info technology, based on an LSD digital display.
The screen allows us to choose and see the mode, battery level, the charge left, as well as alerts about clogs, filter cleaning, etc.
Accessories
Roborock H6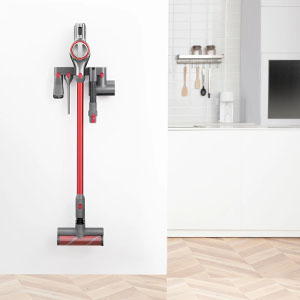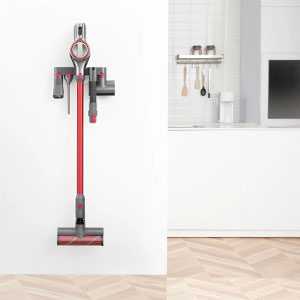 The vacuum is genuinely multifunctional, as its kit includes accessories for all surface types and degrees of pollution.
Thus, we have a choice between two main motorized rollers. A carpet brush with a 50W motor and anti-static bristles rotates and gently lifts the dirt from the pile. It also catches hair, doesn`t allow it to penetrate and clog the vacuum.
The second brush is a soft floor brush roller for hard floors, which collect large and fine debris, never harming the surface.
The kit also provides four accessories for handheld work mode. They are:

a dusting brush with long bristle that sweep dust from the tightest spots;
a motorized mini-brush for soft areas and upholstery;
a crevice tool for narrow and deep locations unreachable for other nozzles;
and a special flex tube, which is compatible with a dusting and crevice nozzles for the most complicated areas.
Dyson v11 Torque Drive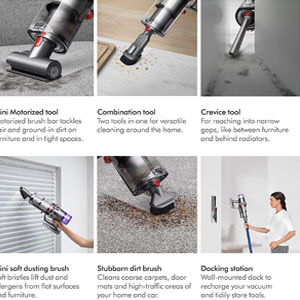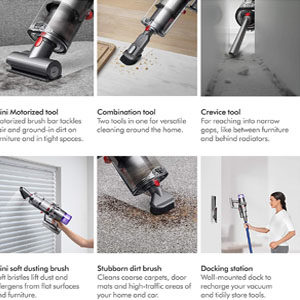 Torque Drive comes with a similar set of accessories for all purposes.
There is one main Torque Drive cleaner head with a powerful motor and a row of bristles. The head is suitable for both carpets and hard floors, as it automatically adapts to the surface.
Apart from the Torque Drive, the kit includes:

a mini-motorized tool for spot hair cleaning and soft furniture;
a combination tool for local vacuuming of different debris;
a crevice tool for recesses and gaps like between walls and furniture, etc.;
a mini soft dusting brush for gentle elimination of dust;
a stubborn dirt brush for coarse pollution.
So, all these nozzles are specially designed for handheld vacuum usage.
Noise Level
Roborock H6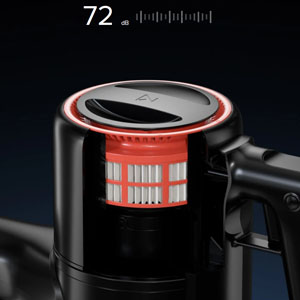 Roborock H6 features a standard noise level for vacuum cleaners, which reaches 72 dB.
Moreover, it can be called even quiet compared to old generation vacuums. The sound of a working device isn`t irritating but audible.
Dyson v11 Torque Drive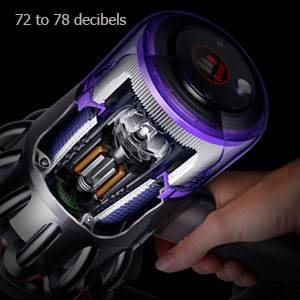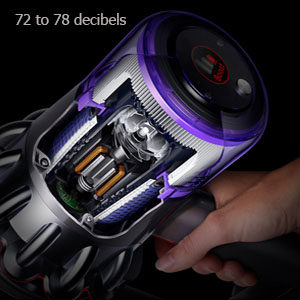 Dyson v11 provides high suction; consequently, it produces louder noise.
Depending on the cleaning mode, the vacuum has from 72 to 78 decibels. The sound is comparable with the conversation of a big party.
Tests on Different Types of Floors
In this unit, we`d like to note that the stick vacs show comparable cleaning results on hard floors, carpets, and upholstery.
Hard Floors


Hard floors, including tile and laminate, caused no problems either with fine debris or with large particles. We tried coffee and cereal, so both vacuums collected 100% of pollution even from the tile seams.
Soft Furniture and Nozzles


Wide choice of nozzles allows Dyson v11 and Roborock H6 to deal with any soft furnishings, cushions, and curtains. To test both devices, we took a car and tried vacuums on its two seats covered with sand. Crevice tools and mini-motorized brushes turned to be the most useful nozzles of the kits. Here, we can say they collected about 98% of the dirt.
However, each vacuum hid its trump in the sleeve. Dyson`s stubborn dirt brush allowed us to eliminate spots much faster and with more energy saving. At the same time, though the Roborock took more time to deal with old stains, it was much more convenient in crevice vacuuming. The flex tube reached deeper folds.
Carpets


Traditionally, carpets are considered to be the most challenging floor type, but at the same time, it`s one of the most popular coatings. To test the vacuums on this surface, we covered a medium-piled carpet with coffee and took two dogs` pads.
Auto Boost systems significantly contribute to the speed and efficiency of vacuuming. Within five minutes, both Dyson v11 and Roborock H6 collected the majority of contamination. Visually, we noticed no tracks of ground coffee, so the cleaners eliminated no less than 95%.
Though being as effective, hair cleaning took a bit more time.
So, on Max modes, the vacuums needed about 7 minutes and the usage of mini-motorized tools for extra dirt. However, hair didn`t clog the devices, and bristle heads were easily cleaned. When the first stage cleaning eliminated 90% of hair, mini-motorized tools helped gather an additional 5%.
Frequently Asked Questions
Roborock H6 vs. Dyson v11: which cordless stick vacuum is better?
Face to face comparison shows that Dyson v11 is slightly more powerful and has a bigger dustbin. Besides, the set includes a handy combination tool and a stubborn dirt brush for coarse pollution. So, we consider this cordless stick vac to be a better option in terms of efficiency.
However, you should mind that Roborock H6 features much longer run time up to 90 minutes, while the v11 runs for 60 minutes maximum, and comes with a special motorized soft head for hard floors and a flex tube to reach the most challenging areas. It`s also lighter and more affordable. So, anyhow, the final choice is still up to you.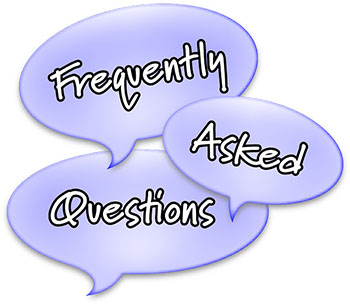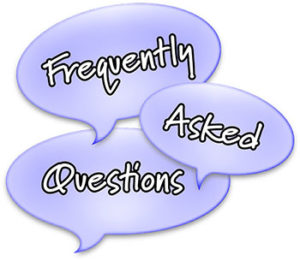 How long does recharging of a cordless vacuum take?
As far as Roborock H6 offers longer run time and more powerful battery, it`s recharging also takes more time. Running for 90 minutes, this vac recharges for 300 minutes.
Dyson v11 lasts for 60 minutes, while its Lithium-Ion battery requires about 240 minutes of charging.
Are cordless stick vacuums suitable for hair cleaning?
The two models presented in the review are perfect for hair cleaning. Both have motorized bristle heads, Auto Boost technologies, 140 AW, and 185 AW suction.
They are not only powerful but also offer a comprehensive set of nozzles to deal with hair on all surfaces, including carpets, upholstery furniture, cushions, etc. Thus, there are mini-motorized tools and a combination tool.
Pet parents will also like HEPA filtration systems of the Dyson and Roborock for fresh and safe air without allergens.
Can I use my Dyson v11 Torque Drive for car interior vacuuming?
Indeed, both cordless stick vacuums can be transformed into handheld cleaners. In combination with numerous nozzles, they are suitable to process every zone of the car, including trunk, seats, dashboard, floor, etc. For this, you can use a mini-motorized tool, a crevice tool, a combination tool, a mini soft dusting brush, a flex tube, or a stubborn dirt brush.
Conclusion
Dyson v11 and new Roborock H6 can be called one of the best cordless stick models. They provide extreme power, compact design with handheld usage, a lot of nozzles, excellent filtration… – in a word, they feature everything required for efficient vacuuming.
Both cleaners are worth buying, as they allow for cleaning the whole house and even a car with one device.
Dyson and Roborock are also very similar. Though the v11 is more powerful, the H6 lasts longer.
So, finally, your choice will depend on what you need most.