Roborock S6 Pure vs Roomba i7 vs Deebot Ozmo 950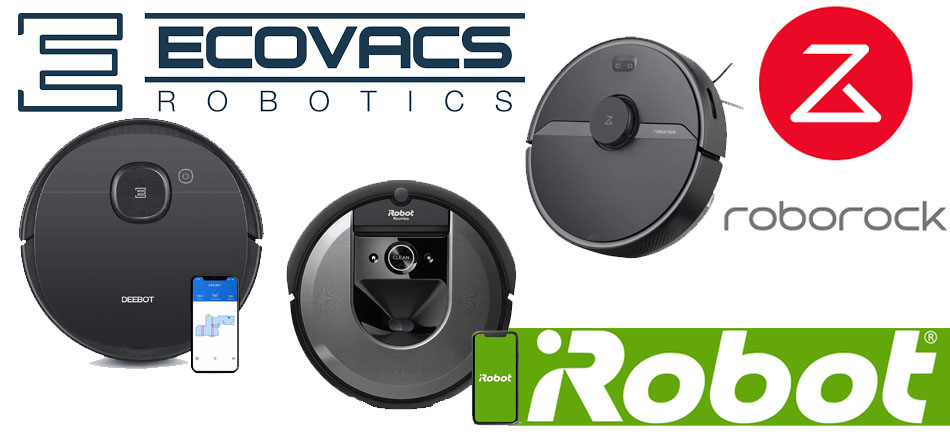 The past couple of years became a true breakthrough in the household robotics field. Leading brands were vying in presenting their new vacuum devices with improved suction, navigation, and supportive technologies.
However, customers worldwide faced a fair question – are these premium-price segment robots really worth the fuss? Today, we'll do our best to answer this question. We took three Roborock, iRobot, and Ecovacs flagships to perform just and thorough Roborock S6 Pure vs Roomba i7 vs Deebot Ozmo 950 comparison. In the course of the review, we'll scrutinize and compare their fillings, look at the main functions, and perform a comprehensive cleaning test. Let's go!

Main Differences Between the Models
All three vacuums belong to the top category of robotic cleaners, so we can find lots of common functions and innovations. However, there are even more differences, which draw our special attention. Here they are:

Roomba i7 is a robotic vacuum designed for dry cleaning only. Roborock S6 Pure and Deebot Ozmo 950 are 2-in-1 devices that can perform both floor vacuuming and mopping.
Moreover, the Deebot is the only model that can mop and vacuum simultaneously. It also features unique electronic water flow control.
Though the i7 cannot mop itself, it supports the Imprint Link technology. It allows users to connect and synchronize Roomba vacuums with Braava jet m6 robot mop for step-by-step dry and wet cleaning.
Only Roomba i7 can automatically empty itself on the Auto Dirt Disposal Base (sold separately). No human participation is needed.
All three models use Mapping navigation. But only Roborock and Deebot can save several maps of different floors. The system is called Multi-Floor Mapping. Roomba memorizes one map at a time.
Roborock and Deebot vacuums have very similar single V-shaped bristled rollers. The iRobot vac is equipped with more efficient Dual Multi-Surface silicone rollers.
The S6 Pure provides 2000 Pa suction. The i7 cleaner reaches 1700 Pa. The Ozmo 950 produces up to 1500 Pa.
Roborock and Deebot use the same 5200 mAh battery and run for 180 and 200 minutes, respectively (run times slightly differ because of the previously described difference in power). Roomba i7 lasts 75 minutes.
All three devices have dustbins with different capacities – 460 ml, 400-500 ml, and 430 ml, respectively.
Roborock S6 Pure and Deebot Ozmo 950 are also equipped with water tanks. The first model can hold 180 ml, while the second contains 240 ml.
Comparison Table
Dimensions
13.34 x 13.26 x 3.63 inches
13.7 x 13.7 x 3.66 inches
Mapping technology
Apartment layout& running route & Multi-floor Mapping
Cleaning Area
2152sqft/180mins one charge
Amazon Alexa/Google Home support
Mapping technology
Apartment layout& running route & Multi-floor Mapping
Cleaning Area
2152sqft/180mins one charge
Amazon Alexa/Google Home support
Dimensions
13.34 x 13.26 x 3.63 inches
Amazon Alexa/Google Home support
Dimensions
13.7 x 13.7 x 3.66 inches
Amazon Alexa/Google Home support
After the tremendous success of the S6 model, the Roborock decided to continue the series development. So, that's how we got an almost impeccable Roborock flagship the S6 Pure. And when we say «impeccable», we really mean it since the model features several improvements.
The top-level cleaning device includes all the latest technologies in the field of household robotics. We highly recommend this cleaner to the owners of big dwellings and multi-story houses due to the most precise Lidar navigation technology with Multi-Floor Mapping memorization. No-Go Zones, Selective Room Cleaning, and easy app control help narrow and customize vacuuming. A powerful battery for up to 3 hours of operation will also provide enough energy for the whole-house coverage.
Pet parents and lovers of soft carpets will find Roborock S6 Pure extremely useful as well. But for the S6 model, this modification could be called the most powerful Roborock vacuum with 2000 Pa suction and additional Carpet Boosting.
At the moment, the item costs $600, which doesn't make it a budget option. However, once you know this is a 2-in-1 device with both dry vacuuming and mopping performance, you'll see that you pay for two smart devices in one case. Besides, this is one of the few robots in the market that offer No-Mop Zone. So, you can tell it which areas to avoid during wet cleaning.
Pros
2-in-1 device for dry and wet cleaning
excellent battery
V-shaped tangle-free roller
high suction power
Carpet Boost
Precise Lidar navigation
Multi-Floor Mapping navigation
No-Go and No-Mop Zones and Selective Room Cleaning
E11-rated filter for anti-allergen air treatment
app and voice control
nice for carpets and pet hair
silent work
A real discovery of the first half of 2019, Roomba i7 has completely rethought and changed the robot floor cleaning.
The model became one of the first iRobot devices with Imprint Smart Mapping, Keep-Out Zones, and support of restrictive lines drawn right on the map. Thorough navigation is perfect for big, high traffic houses with lots of furniture and obstacles, though we cannot recommend it for multi-story dwellings.
Dual Multi-Surface Rubber rollers were also presented in the i7 and earlier Roomba 980 models. Dual rubber rollers easily adjust to the cleaning surfaces and are excellent for hair collection. Powerful 1700 Pa suction and Carpet Boost also contribute to hair and carpet cleaning.
However, a true breakthrough was hidden in the dustbin construction and emptying. Roomba i7 was absolutely the first iRobot model and the first model in the market that provided an automatic bin emptying function called Auto Dirt Disposal Base. However, please mind that the i7 only supports this technology, but the Base is sold separately. The later Roomba i7+ improved this drawback, and its kit includes the Base too.
The cleaner performs dry vacuuming only, but you can synchronize it with another iRobot cleaning device. Imprint Link technology connects the i7 and Braava jet m6 robot mop for comprehensive dry and wet cleaning.
Though the latest Roomba S9/S9+ vacuums feature higher suction, better battery, multi-floor mapping, and some other improvements, the core of the models stayed the same. Besides, the release of the S9/S9+ dropped the price for the high-tech i7 cleaner, and now, you can purchase it for $500.
Pros
Dual Multi-Surface Rubber rollers
adaptation to any cleaning surfaces
high suction power
Carpet Boost
High-Efficiency filter with anti-allergen air treatment
Imprint Smart Mapping
iAdapt 3.0 and vSLAM navigation
Keep-Out Zones
app and voice control
Imprint Link technology
automatic self-empty function
perfect for pet hair and carpets
Cons
small dustbin
weak battery
Auto Dirt Disposal Base is not included
The last competitor of our review – excellent Deebot Ozmo 950, – is the brightest representative of the Ecovacs 2-in-1 robots. The Ozmo line was specially designed for people who want to get both smart vacuum and mop in one case. All the previous models were very warmly welcomed, so the Ozmo 950 combined their best features and doubled them.
Thus, not only is it the most expensive robot of the brand ($700 per item on Amazon), it is also the most innovative. Like the first device of the review, it uses Multi-Floor Mapping combined with laser Smart Navi 3.0 navigation technology.
Convenient app control allows users to set virtual boundaries (No-Go Zones) and choose definite rooms to be cleaned. Besides, with Deebot Ozmo 950, you won't have to remove carpets away during mopping. It automatically avoids carpets when it mops. And electric water flow control provides the best water distribution. In fact, the Ozmo 950 is the only one that can perform vacuuming and mopping at the same time.
The model is suitable for all floor types, including carpets. An improved V-shaped central roller thoroughly picks up debris and hair, preventing clogs and entanglement. And three levels of suction with 1500 Pa in Max+ mode eliminate dirt even from the tiniest cracks.
You will also love its extremely lasting battery for over 3 hours of non-stop cleaning. The only drawbacks worthy to mind are too small for such a powerful cleaner 430 ml dustbin and slightly noisy operation.
Pros
2-in-1 dry and wet cleaning
can vacuum and mop the floor at the same time
electric water flow control
anti-tangle V-shaped roller
high suction power
Power Boost
High-Efficiency filter
Multi-Floor Mapping
Smart Navi 3.0 Technology with laser navigation
No-Go Zones
automatically avoids carpets when mopping
app and voice control
nice pet hair and carpet cleaning
extremely lasting battery
Cons
small dustbin
a bit noisy in Max+ mode
expensive
Now, when we know the crucial strong and weak sides of our robots, let's take a closer look at all their characteristics and put them into detailed comparison.
Face to Face Comparison
Design and Dimensions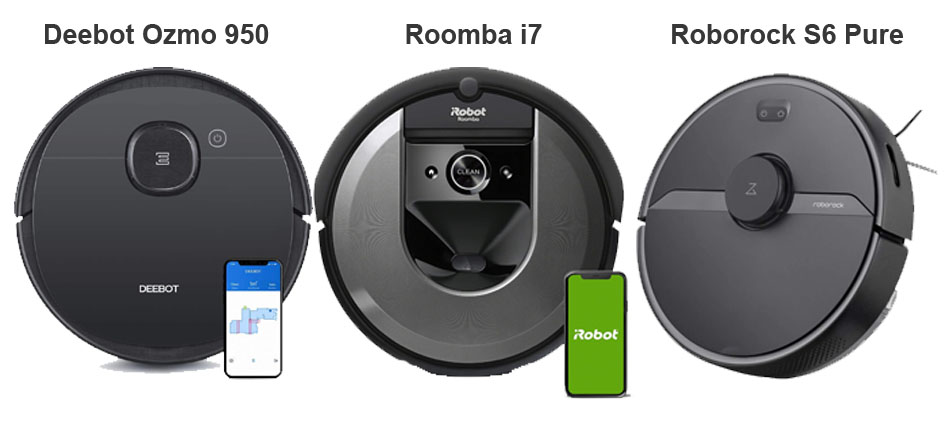 All in all, the models' designs don't differ that much and have nothing special to offer. All three cases are round and plastic, colored into black. Only Roborock S6 Pure also comes in white color, so you can choose the design.
The top panels provide manual control buttons,

which are Home and ON/OFF buttons in the S6 Pure;
Clean/On/Off, Home, and Spot Cleaning buttons in the i7;
and ON/OFF button in the Ozmo 950.
However, the vacuums' navigation systems seem to add important changes to the designs of the upper part. Roomba i7 uses the vSLAM visual navigation, and we can see a camera right in the center of the case covered with protective glass. The Roborock and the Deebot models have laser navigation, so they both come with big round retractable lidar bases.
When it comes to the dimensions, users note significant compactness and lightweight of the models compared to older robots.
So, each device measures:

13.8″ x 3.8″ and weighs 7.05 pounds;
13.34″ x 3.63″ and weighs 7.44 pounds;
13.7″ x 3.66″ and weighs over 7 pounds;
Verdict: As we see, the robots have very close dimensions and even weight. The only moment to worry about is lidar bases. They add some more inches to the vacuums' heights and can prevent their coming under too low furniture. In that respect, Roomba i7 features slightly better passability, but the difference is really minor.
Navigation
Roborock S6 Pure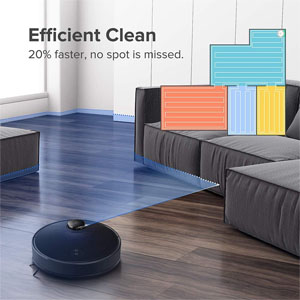 As we've already mentioned, the vac uses standard Lidar Navigation, which can be met in many other Roborock models. This technology is based on the laser that scans the room and determines obstacles.
However, apart from this method, the S6 Pure was the first that offered high-precise Multi-Floor Mapping. Not only can it create a detailed map of the dwelling and use it later for navigation and your ease of control, but it is also capable of remembering several such plans for each floor.
Mapping navigation made possible the use of No-go and No-Mop Zones as well as Selective Room Cleaning. It means that users can choose on the map which areas their robot should clean today and which it should avoid. You can prohibit entry to the whole room or just to its part or zone.
Roomba i7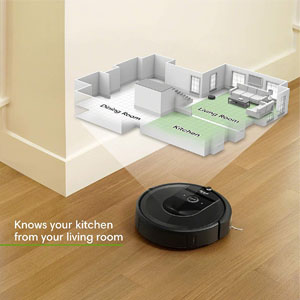 Roomba i7 also continued the navigation traditions of iRobot vacs, thanks to which it can boast of iAdapt 3.0 and vSLAM systems (the 3.0 stands for the third generation, i.e., the system was significantly improved compared to the first modifications). The first one is based on multiple sensors that track obstacles and determine pollution; the second technology uses visual control through a camera.
Since the model belongs to the iRobot top-level series, it is equipped with already the well-known Imprint Smart Mapping. The system memorizes every inch of your dwelling and uses this map for further navigation. Thus, the robot is perfect for big apartments but will hardly suit multi-story houses as it can keep only one map at a time.
As usual, the map provides users the widest control and freedom of cleaning customization. The i7 supports the Keep-Out Zones (which replaced physical virtual walls) and Selective Room cleaning.
Deebot Ozmo 950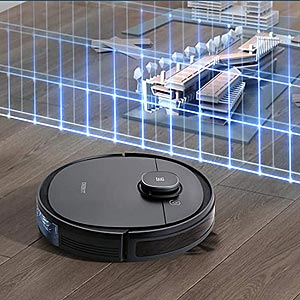 In a short word, the Ozmo 950 cleaner is very similar to the Roborock S6 Pure. Here, we'll see the same basic Lidar Navigation with the laser. The brand calls it Smart Navi 3.0 technology (the 3.0 also stands for the third generation). Though the laser and sensors are precise enough even for large spaces, engineers added way more thorough Multi-Floor Mapping for outstanding cleaning performance.
Control and customization abilities coincide too. Here, we can set Virtual Boundaries and choose definite rooms instead of the whole house to be cleaned. Though the cleaner doesn't have No-Mop function, its sensors notify the bot of carpeted zones when mopping and make it automatically avoid them.
Verdict: At the moment, you will not be able to find robot vacs with more innovative and precise navigation systems than those examined above. The bare navigation makes them worthy of such high prices. The only difference is that the iRobot i7 model cannot be used on several floors, while the other two vacs have literally no limits.
Let us also mention that all three robot cleaners are equipped with numerous anti-fall and anti-collision sensors that prevent dangerous hitting against the obstacles and falling from elevations.
Dirt Detection
Dirt Detection is a unique function that allows robots to find extra polluted areas and clean them with double effort. Since the function is the iRobot patented innovation, only Roomba i7 cleaner can boast of it.
However, all three vacuums can determine the floor type they are processing and adapt the power to it. So, this is not a crucial lack.
Filter System
Since our competitors are the leading representatives of their brands, we have all the right to expect the best air filtration technologies used. So, let's see whether our expectations are met.
Roborock S6 Pure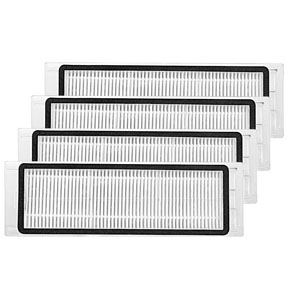 Roborock S6 Pure turns out to use some absolutely unique filtering system. It comes with the onboard E11-rated filter, characteristics of which are very close to well-known High-Efficiency and HEPA elements. E11 filter captures up to 95% of the dust. Besides, it deals with the most widespread allergens, including pollen and mold.
Roomba i7 and Deebot Ozmo 950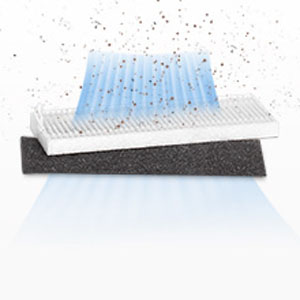 Roomba i7 and Deebot Ozmo 950 stand in solidarity with each other in terms of air filtering. Both models use High-Efficiency filters that trap up to 99% of particles flying in the air. They also provide efficient anti-allergen treatment and eliminate most dog and cat allergens.
Verdict: In percentage terms, the last two vacs seem to be slightly more efficient, trapping almost all hazardous particles. But, once again, the difference isn't that huge to influence the result. So, we can safely recommend each vacuum to people with allergies and respiratory problems. Families with kids and pets will also find such filtration useful.
Connectivity
All three cleaners support Wi-Fi connection and, thus, are compatible with smartphones and smart speakers.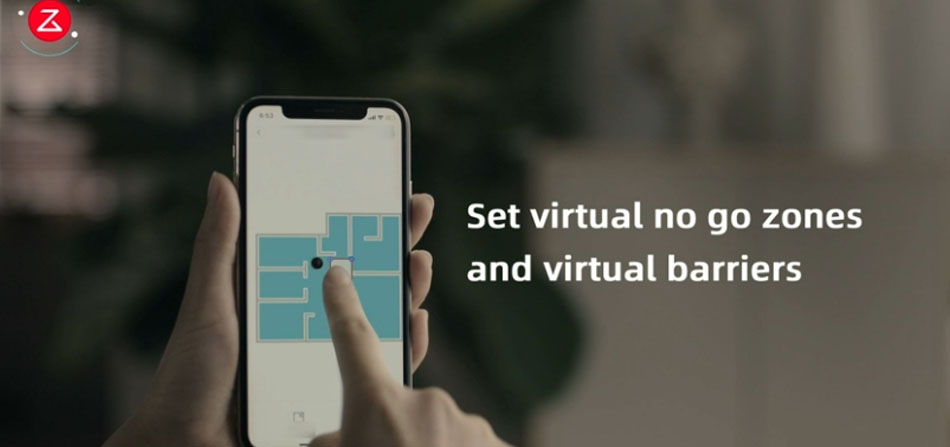 All you need is to download a certain app and connect your devices. App connectivity gives you the widest control and customization opportunities: you can create a cleaning schedule, set modes, see the maps, add restrictive lines and choose certain rooms to be cleaned, get maintenance and alarm notifications, etc.
When connecting the robots to Alexa and Google Assistant smart speakers, you can control your device without hands. Cleaners will get your voice commands like «Clean the kitchen».
The presence of maps with restrictive virtual lines makes magnetic and physical walls unnecessary. So, none of the kits comes with these accessories.
Verdict: Even budget-level robot vacuums provide Wi-Fi connection, so it's not a surprise that these flagships use all remote control pleasures.
Suction Power
Roborock S6 Pure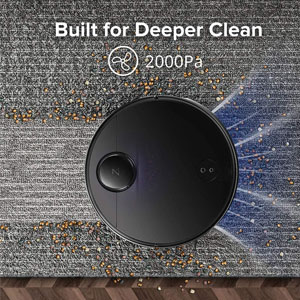 Roborock S6 Pure can boast of the most powerful suction both in its line and among its today's rivals. The vacuum has several cleaning modes from the Quiet for a silent operation to the Max where it reaches 2000 Pa. The suction technology is called HyperForce suction, and its advanced airflow system spinning at 15000rpm protects the vac against fading. So, the suction stays effective constantly.
Roomba i7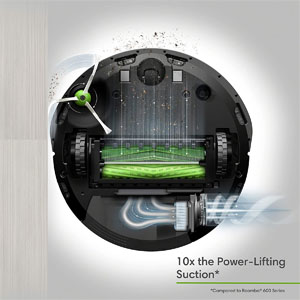 Roomba i7 is not the most potent, but its suction is way higher than most, even top-level robots have ever had. In the Max mode, it is capable of producing 1700 Pa. This power is enough to lift a small metal ball, not to mention fine and large home debris, pet hair, and deep dirt in the carpet pile.
Deebot Ozmo 950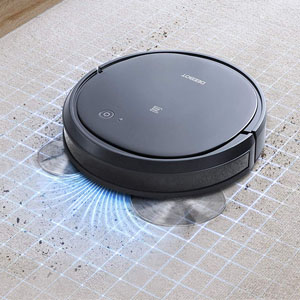 Deebot Ozmo 950 closes our rating with 1500 Pa suction in its most powerful Max+ mode. Let us say that we've expected a bit higher suction from the brand's flagship with such high-tech filling. Still, the average power is completed by a nice central brush. The cleaner works on hard floors and is suitable for carpet cleaning, either.
Besides, any of the three models will be a perfect option for houses with carpeted floors as all of them are equipped with Carpet Boost technology. When robots go from the hard floor to the pile, they recognize it and automatically increase suction.
Verdict: Pardon the pun, but the S6 Pure is a pure winner here. Several cleaning modes, Carpet Boosting, and extreme 2000 Pa suction arm it with everything it needs to deal with dirt. The Roomba and the Deebot are somehow inferior, but the difference won't be noticeable on low- and medium-piled carpets.
Brushes
To start with, let us say that all models use the same three-stage cleaning system, consisting of side brushes, central brushing elements, and suction port.
Roborock S6 Pure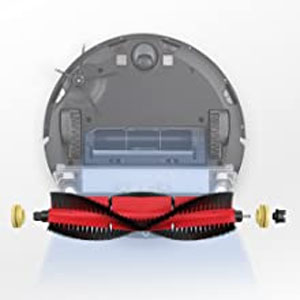 The S6 Pure features one side brush for dirt collection along the walls and corners. It also directs the debris to the V-shaped central roller that spins at 1350rpm.
Its soft bristles gently loose and lift complicated pollutions, get dirt from the floor cracks, and pick up hair. The manufacturer has improved its roller, making it 250% denser compared to the previous Roborocks.
Roomba i7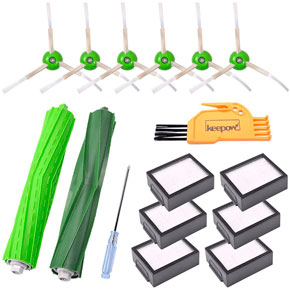 Roomba i7 continued the use of iRobot patented Dual Multi-Surface silicone rollers. The system consists of two bright green rollers with different blade patterns. One element loosens dirt, and the other picks it up. Thus, the robot doesn't leave a single particle, while the bristle-free design helps avoid hair tangling and tough brush cleaning.
Also, as the name states, dual rollers suit all surfaces because they automatically adjust their position to the current surface height for full contact. The three-stage system also uses one side brush.
Deebot Ozmo 950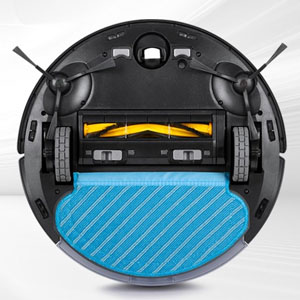 Deebot Ozmo comes with two side brushes, so it provides the best edge cleaning. Its main roller is similar to the Roborock's one. Here, we also see V-shaped ranks of bristles, but they are completed by rubber blades.
The tangle-free elements rid your home of hair, and the bristles promote deep clean. The brush design belongs to the second, improved generation, and it is also floating for better contact with the surface.
Verdict: In a short word, Roomba i7 has the best brush system that suits hard floors, carpets, and hair. The strongest side of the Ozmo 950 is deep cleaning as its roller can reach dirt 4 mm deep in the pile and cracks. The Roborock has nothing extra special, but it represents a golden mean for all surfaces.
Run Time
Roborock S6 Pure

The Pure model kept the 5200 mAh Lithium-Ion battery of the Roborock S6 vacuum. Thus, the new modification also can last for 180 minutes in the Quiet mode. More powerful cleaning modes consume energy faster, but even in Max, it will run over 1 hour.
Roomba i7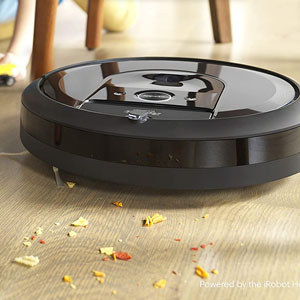 Unfortunately, Roomba i7 has a rather disappointing run time. The manufacturer doesn't give any official information on the battery type and mAh data, but it seems like the bot uses the 1800-2600 mAh element. It cannot be bigger as we have only 75 minutes to go. And please mind that the higher suction, the less run time.
Deebot Ozmo 950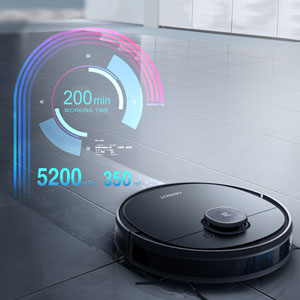 If you're looking for the most durable robot cleaner, choose Deebot Ozmo 950. It is also equipped with a 5200 mAh Lithium-Ion battery, but less powerful suction allows it to operate up to 200 minutes, i.e., over 3 hours.


One more pleasant fact is that all three vacs can boast of Recharge & Resume function. It means that when they are out of charge, they automatically find and return to the stations and then keep vacuuming right from where they stopped.
Verdict: Frankly speaking, Roomba i7 has an insufficient battery for such power and floor coverage. Recharge & Resume saves the situation, but we don't really like its constant interruptions for recharging. Other devices are impeccable.
Dustbin and Water Tank
Roborock S6 Pure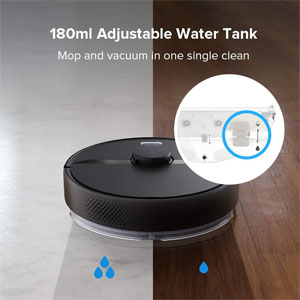 Though the previous S6 model had a 480 ml dustbin, for some strange reason, the S6 Pure robot got a smaller 460 ml bin.
However, engineers seemed to rely on the mopping function and added a 40 ml bigger water tank with a total of 180 ml capacity.
Roomba i7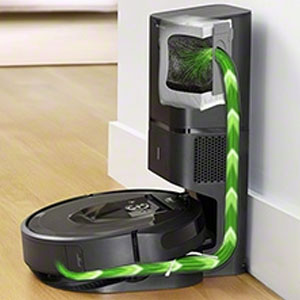 Roomba i7 cannot perform wet cleaning, so it has only one bin. This container can hold about 400-500 ml of dry debris. The size doesn't impress, either, but we remember that it is the only model supporting automatic self-emptying. With Auto Dirt Disposal Base, the question of dustbin capacity has no importance at all.
However, it is so only if you purchased the Base that comes separately. Customers on a budget will still have to do with often manual emptying. At least, Full Bin Indicator will tell you when the container is full.
Deebot Ozmo 950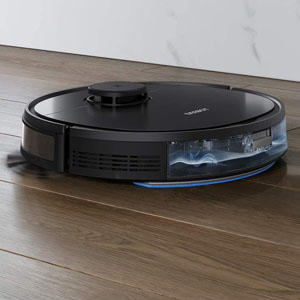 Deebot Ozmo 950 decided to continue the line of small-capacity robots. It offers the smallest 430 ml dustbin. And a water tank is the thing that does save the situation.
The smart electro-controlled reservoir holds 240 ml of water. It is enough to handle the whole house cleaning, especially because you can switch the water amount in the app according to different needs.
Verdict: Let's face the truth – all robots have too small bins for such powerful and efficient devices. Roborock S6 Pure has nothing special to highlight. We like its water tank, but the bin leaves much to be desired.
If you have to choose the most capacious model, choose Roomba i7. Its unique self-emptying helps a lot, though it requires additional investment.
Deebot Ozmo 950 provides the best mopping. Besides, no one can boast of simultaneous dry and wet floor cleaning function.
Noise
Roborock S6 Pure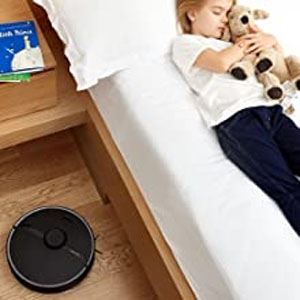 Everybody notes that the S6 Pure provides quiet operation. On average, it produces about 60 dB, though the most powerful modes may be noisier.
Roomba i7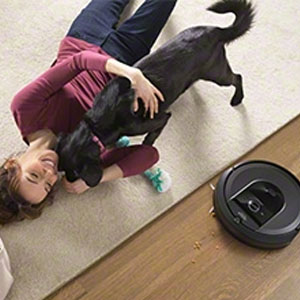 Roomba i7 doesn't stand out from the crown. It offers a standard 65-68 dB noise level, which is neither silent nor too loud. You can even improve this characteristic if you set the Quiet mode.
Deebot Ozmo 950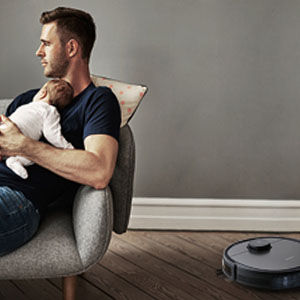 Ecovacs says its Ozmo 950 is an extremely quiet model. But reviews and our tests partly refute this statement. The robot is as standard as the Roomba and produces 66 dB. We have also found several users' reviews with complaints about its noisy operation in Max+.
Verdict: There is nothing too revolutionary or too criminal in the models' noise levels. Devices are definitely much quieter than common vacuums, and it feels quite comfortable to stay with them in one room for a long time. However, we wouldn't recommend light sleepers and families with kids to run them at night.
Accessories
Roborock S6 Pure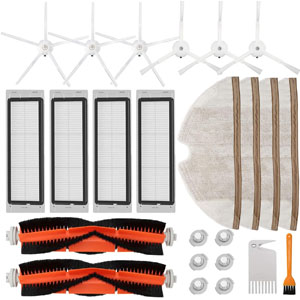 Roborock S6 Pure comes with:

dock station
power cable
180 ml water tank
mopping cloth
Roomba i7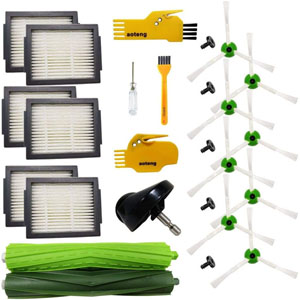 Roomba i7 kit includes:

home base charging station
North American line cord
extra High-Efficiency filter
extra side brush
Deebot Ozmo 950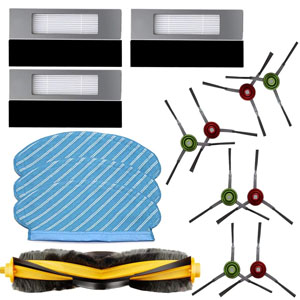 Deebot Ozmo 950 has:

charging dock
4 side brushes
2 extra High-Efficiency filters
240 ml water tank
2 mopping pads
cleaning tool
Tests on Different Types of Floors
During the review making, our team decided to examine the real robots' performance on the main floor surfaces and with the most widespread pollutions.
So, each model was to clean 100 g of sugar (as an example of fine debris), 100 g of cornflakes (as an example of large debris), and several locks of pet hair.
All three dirt types were spread on the hard floor and medium-piled carpet. So, let's check out what we've got.
Hard Floor
Sugar
Fine debris on hard floors seems to be not that complicated task at all. It is partly true, but there is still one tricky moment when these smallest particles get into floor cracks. So, robots should provide sufficient suction and brush operation to collect everything.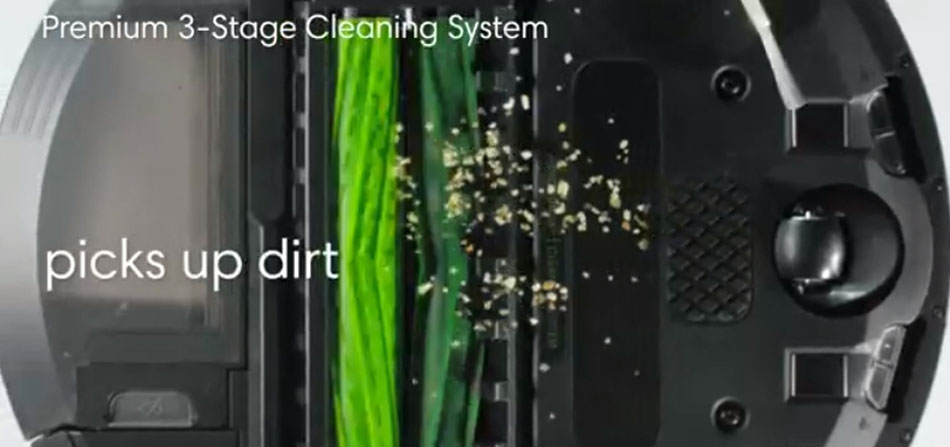 Roborock, Roomba, and Deebot cleaners showed identical performance and thoroughness. After 3 minutes of operation, visual examination proved 100% result. The bins weighting ultimately confirmed this guess (robots lifted about 95-98 g with a couple of grams taken as error).
Let us also mention that the bristled Roborock and Deebot needed a bit less time to pick up sugar particles. Roomba i7 was fast and thorough enough, but its silicone bristles rollers cope better with heavier pollutions.
Cornflakes
Large and bulky debris can be too heavy to lift. Besides, they increase the possibility of clogs. However, our participants didn't face any severe complications here.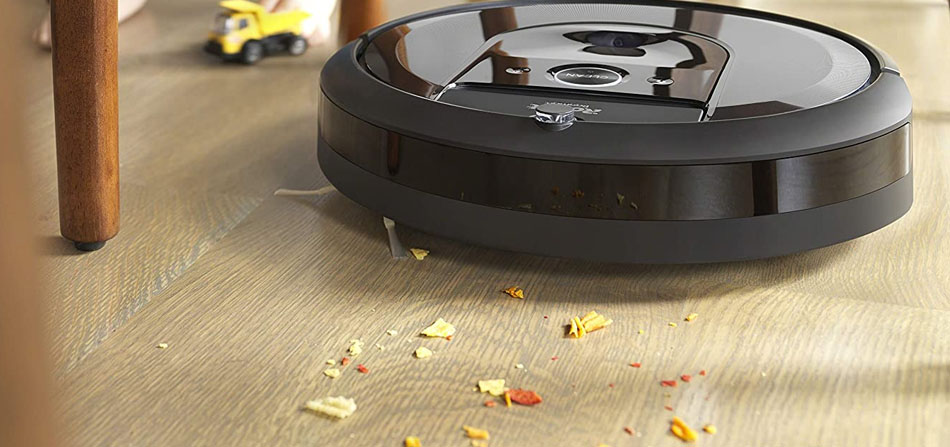 Cleaning took more time compared to sugar collection. We run our robots for 5 minutes because each model needed several passes. Cornflakes on the sides tended to be pushed away by the running robots, and the particles were spread on a larger area. Finally, pre-planned moving algorithms helped cleaners eliminate 100% of the dirt. None cornflake was missed, and we are completely satisfied with suction and brush work.
Pet Hair
Though hair is quite complicated pollution on the pile, it has never been a problem on hard floors. Our only worry is entanglement and further brush cleaning.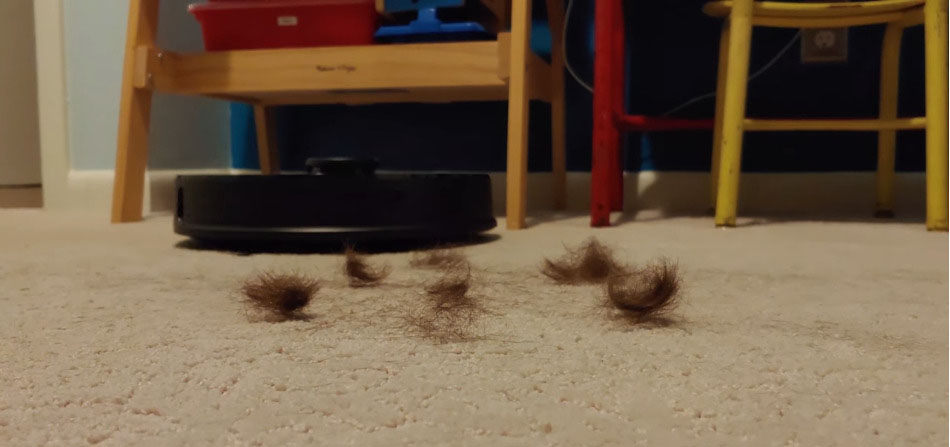 All three models took just one pass to pick up the whole lock. Surely, such a small amount of hair cannot cause clogging or entanglement, but it is a nice example of robots' performance. We give each model 100% of thoroughness and are eager to see their fight with hair on the carpet.
Carpet
Since every pollution on the pile goes deep inside the material, users expect high suction to lift it. As we've mentioned before, Roborock S6 Pure, Roomba i7, and Deebot Ozmo 950 all have Carpet Boost and automatically increase power on carpets. Indeed, all three systems run like clockwork; we've noticed no interruptions or errors. This technology dramatically improves carpet cleaning. So, what did we get here?
Sugar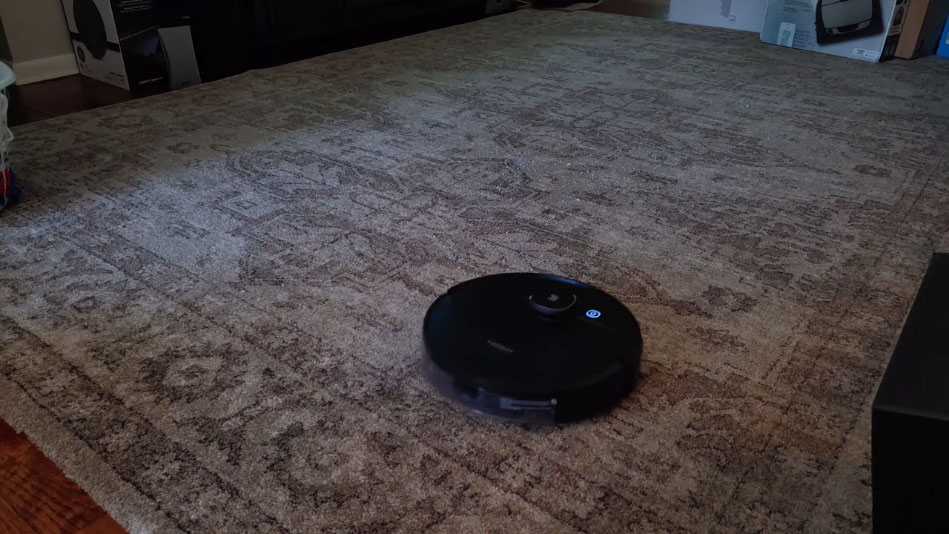 1500-2000 Pa suction in combination with Power Boosting and brush rotation allowed the robots to lift from 90 to 95 g of sugar. Cleaning took about 3-5 minutes, but we believe the results would be 100% without time limits. So, the vacuums are 99% thorough and efficient when dealing with fine dirt on the medium pile.
Cornflakes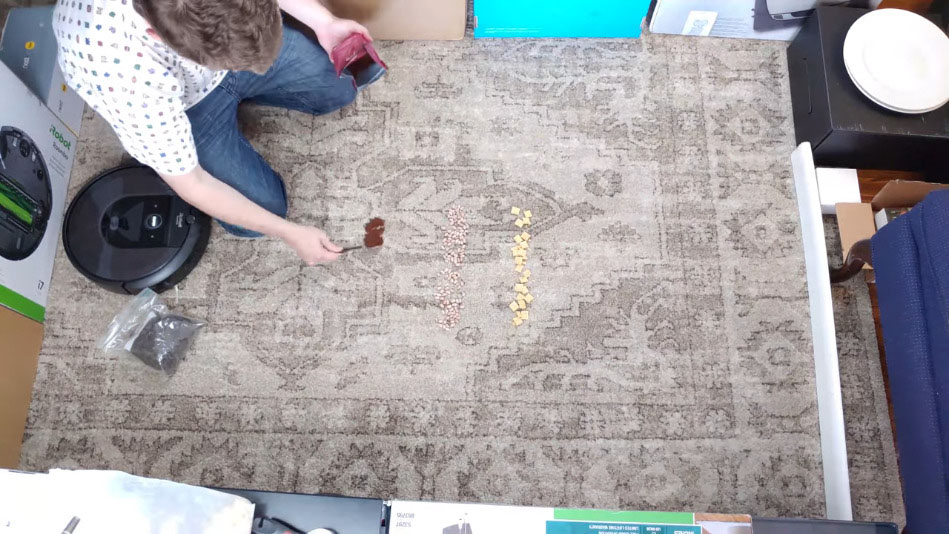 As usual, cornflakes took more time to collect, but none particle was left on the carpet. Their weight didn't allow them to fall deep into the pile, which is a plus. As a result, we state 100% efficiency of the S6 Pure, the i7, and the Ozmo 950 with large debris cleaning on carpets.
Pet Hair

Hair cleaning became the most challenging test. For better effect, we spread the contaminant on the pile and pushed it a bit to make sure clingy hair was fixed in it. Robots ran for the same 5 minutes and managed to pick up 97% of debris. The bristled models completed the work faster, by the way. However, the i7 silicone rollers were easier to clean, and we found them safer for the soft pile.
Buyer's Guide – How to Choose the Best Robot Vacuum Cleaner?
There is always a chance that even the best robot vacuum can disappoint you. Why is that? Because different users and dwellings have different requirements. To meet them, a cleaner should possess certain characteristics.
Let us mention the most important factors to consider before purchasing your perfect cleaning device.

Cleaning Functions
Most robots are designed for dry cleaning only. It satisfies the majority of users, but some customers would like to get 2-in-1 models with built-in mopping function. Such models provide more cleaning options for affordable money, but you should choose wisely. If you have lots of carpets, mopping devices may become a problem.
Power
Let us also note here suction power, the choice of which depends on your floor type and degree of pollution. Hard floors with no pets and high traffic zones will be ideal for 600-1200 Pa vacs. But if you have carpets, lots of family members, and pets, you need much more potent devices over 1500 Pa.
Carpet Boosting technology will also contribute to the speed and thoroughness of carpet cleaning.
Navigation
Navigation is another crucial moment to consider. Its accuracy may vary depending on the system used like sensors, visual navigation, or top-level mapping. Small dwellings with little furniture and no obstacles will be an easy space even for simple sensor devices. However, big and multi-story houses need something more precise.
Filtration
Another feature present in all robot vacuum cleaners is the use of filters. There are several types for various purposes and with various levels of thoroughness. Simple foam filters deal with dust only. High-Efficiency and HEPA modifications also trap allergens. The choice depends on your health state and preferences. But more powerful (and consequently, more expensive) filters are highly recommended for people with allergies, respiratory problems, children, and seniors.
Ability to Adjust to Floor Type
If you are going to use your robot on multiple floor types, make sure your robot can adjust its brushes. Adjustable or floating brushes provide much more thorough debris collection and prevent getting stuck. Also, brushes should always correspond to the main surface type of the dwelling.
Battery Duration
The bigger your apartment, the more durable battery you need. On average, a good run time starts from 70-90 minutes, when the best models can last over 3 hours.
There are many factors that influence the battery duration like the level of room contamination, type of surface, and cleaning mode. For example, cleaning the carpet takes more of the battery life than cleaning tiles.
Dustbin Capacity
As a rule, 500-600 ml are enough for everyday cleaning in medium-sized dwellings. The bigger, the better. Thus, the dustbin should correspond to your apartment size and quantity of debris inside.

If you're not limited in budget, we recommend you to purchase the latest robot models with automatic self-emptying function. Robots empty themselves on the base, and you can forget about this anti-hygienic procedure and about the whole robot for a month.
Frequently Asked Questions
Roborock S6 Pure vs Roomba i7 vs Deebot Ozmo 950: which robot is better for pet hair?
Despite the fact that the Roborock has the highest suction, we believe Roomba i7 to be the best option for pet hair cleaning. Its 1700 Pa suction hardly yields to the S6 Pure 2000 Pa, but the model offers way better Dual Multi-Surface silicone rollers and Dirt Detection.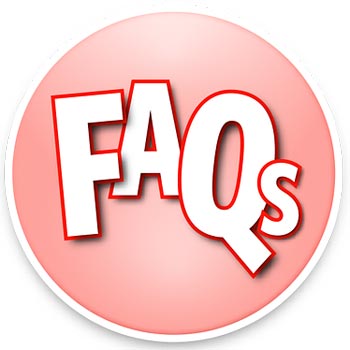 Roborock S6 Pure vs Deebot Ozmo 950: which robot is better for mopping?
Both devices are excellent for dry and wet cleaning. Nevertheless, the Ozmo 950 comes with a bigger water tank (240 ml vs 180 ml) and electronic water flow control. It means that users can manually adjust water consumption to their preferences. Besides, Deebot Ozmo 950 is the only one that can perform simultaneous floor vacuuming and mopping.
Can we use Roborock S6 Pure, Roomba i7, and Deebot Ozmo 950 without Wi-Fi?
Yes, we can. All control and running will be conducted through the manual buttons on the cases. However, without a Wi-Fi connection, we won't be able to control robots from smartphones and use numerous additional features on the app, such as scheduling and mode setting, including voice control.
How often should we clean and replace filters on Roborock S6 Pure, Roomba i7, and Deebot Ozmo 950?
All users' manuals recommend performing weekly filter cleaning. It is an optimal frequency for air filtration efficiency maintenance. Please pay attention that all filters are washable except for the Roomba's. It is a pity since washable filters need fewer replacements.
As for replacement frequency, install a new item every two months.
Can I use cleaning solutions with Roborock S6 Pure and Deebot Ozmo 950 mopping robots?
Both manufacturers do not suggest putting any cleaning solution into the water tanks of Ozmo 950 and S6 Pure as it may cause malfunction.
Conclusion
Indeed, the modern market of the household robotics can hardly offer something better than these three flagships by three leading brands. But if they all are so perfect, which one should we choose?
Deebot Ozmo 950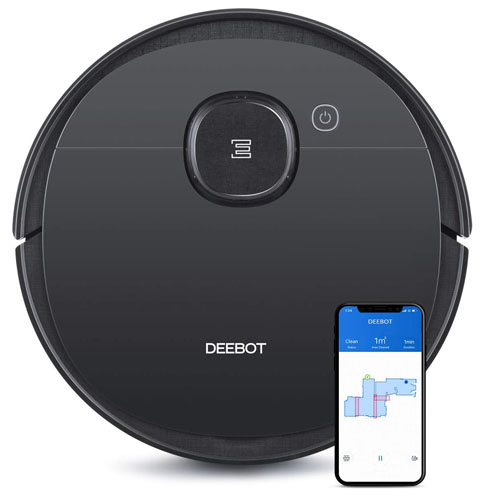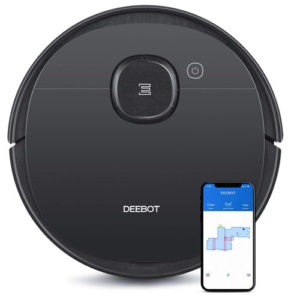 Deebot Ozmo 950 showed itself as the best robot for mopping. It provides quite a sufficient vacuuming with 1500 Pa suction and Carpet Boosting, but its mopping abilities attract much more attention. No other device can offer such a big water tank, electronic flow control, and simultaneous dry and wet cleaning. However, please mind that it is definitely NOT a budget option.
Roomba i7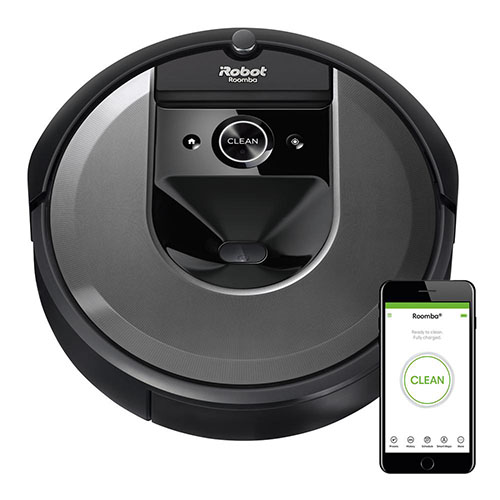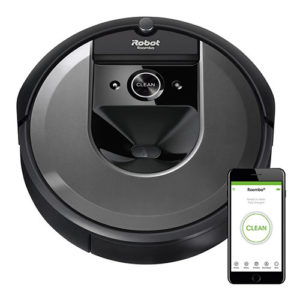 Roomba i7 is the best option for pet hair. We love its silicone rollers, suction power, and Boosting. And the support of the Auto Dirt Disposal deserves to be mentioned separately. Surely, we cannot do without noting several drawbacks. The battery really needs improvements. Also, if your means permit, we'd recommend you choose the Roomba i7+ modification with the same functions and the Dirt Disposal Base included in the kit. Anyway, even despite some minuses, the robot is worth buying, especially for the current, significantly reduced price.
Roborock S6 Pure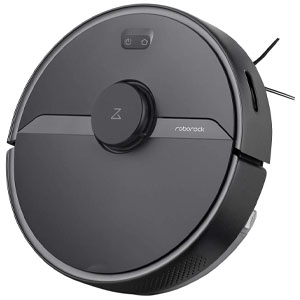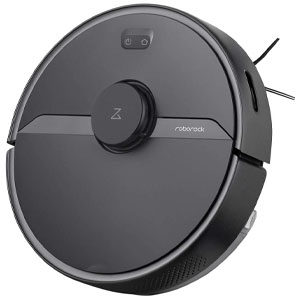 Roborock S6 Pure is our golden mean. This vac provides the best suction, excellent run time, and nice mopping. The cleaner also offers the optimal price, and its Multi-Floor Mapping makes it perfect even for the biggest houses.