Roborock vs Roomba Comparison Review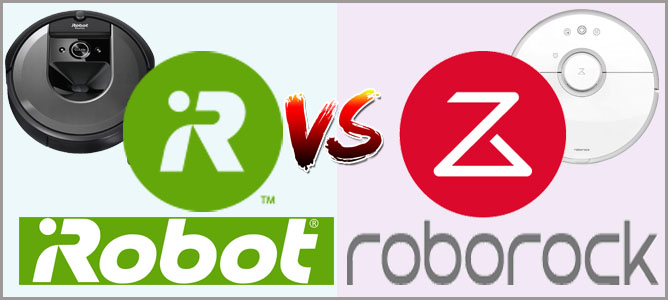 In today's Roborock vs. Roomba comparison review, we want to find out which is the best brand for what cleaning needs.
It goes without saying that Roomba is the best robot vacuum brand. But with the coming of high-tech models from the Chinese frontier, iRobot's dominance seems to be on the line.

Neato Robotics
– an American brand is also proving to be a major competition for iRobot, so with the coming of Chinese brands to the US market, the future looks not so good to iRobot.
Roomba vs. Roborock Popular Models
In today's review, we have compared two of the best models from each brand to find out which is the best purchase in term of cleaning performance, convenience, and most importantly, value for money.
On one side, we have Roomba 980 and i7+, and from the other corner, we have fronted Xiaomi Mi Robot and Roborock S50. Here are some highlights of the four models.

Orientation
For bare floors, low pile carpets, pet hair
For pet hair, carpet and hard floor
Brush system
Dual Multi-Surface Rubber Brushes
Extras
Advanced Dirt Detect Series II
Navigation
Adapt 3.0 +Imprint Smart Mapping
Smart LDS Navigation with 13 types of sensor
Alexa and Google Assistant
Great Choice
Orientation
For bare floors, low pile carpets, pet hair
Brush system
Dual Multi-Surface Rubber Brushes
Extras
Advanced Dirt Detect Series II
Navigation
Adapt 3.0 +Imprint Smart Mapping
Alexa and Google Assistant
Best Value for Money
Orientation
For pet hair, carpet and hard floor
Navigation
Smart LDS Navigation with 13 types of sensor
Alexa and Google Assistant
Roomba 980 vs. i7+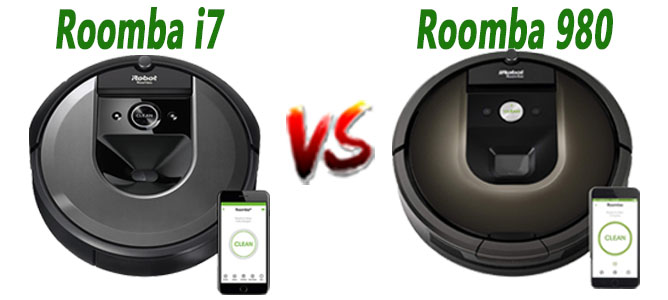 The Roomba 980 band i7 series are the best models from the California-based company.
The 980 is the best model in the 900 series while the i7 series boasts two models; i7 (7150) and i7+ (7550). The i7 is the base model and doesn't come with the iconic iRobot self-emptying bin.
Now back to our Roomba 980 vs. i7 debate; what brings the difference, and are there similarities?
The fact that the two models are from the same brand explains all similarities.

First, the two units have the same design and shape.
They also share the same 3-stage cleaning system though the cleaning features differ as we will discuss later on.
When it comes to navigation, both models feature a VSLAM navigation system.
They also offer smart connectivity for mobile app and voice control.
When it comes to differences, they are profound.

First, the 980 is best for carpets courtesy of the Carpet Boost feature that steps up suction power to 1700Pa when in max mode. The i7 and i7+ still use an older motor and can manage the same maximum of 1700Pa and run on a single speed.
The 980 also packs a more powerful 3300mAh battery that does an average of 120 minutes and will resume cleaning after recharging. The i7 features the same 3300mAh battery, but that does 75 minutes only.
When it comes to bin management, the i7 uses a 0.4L, and the 980 features a 0.6L bin. Both have full bin indicators, but the i7+ has an additional CleanBase unit. This is the i7's greatest feature that allows it to empty the primary bin for thirty days straight.
As for navigation, the i7 uses iAdapt 3.0, which incorporates Imprint Smart Mapping. This is a function iAdapt 2.0 misses out on.
From the above analogy, we can deduce that the Roomba 980 is best for carpets and large apartment owners courtesy of Carpet Boost and the longer runtime.
On the other hand, homeowners who want personalized cleaning and fully automatic operation will benefit from the i7's Imprint Smart Mapping and iRobot CleanBase.
Xiaomi Mi vs. Roborock S50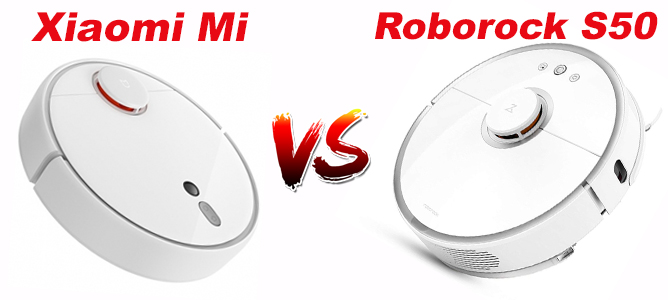 Now, onto Roborock, it is first important to note that Xiaomi Mi Vacuum and S50 are completely different brands. Even though Roborock builds them, the former is under the Xiaomi umbrella while the latter is built and marketed by Roborock as an independent brand.
It is not by surprise that the Roborock S5 is the best choice here. But still, there is some striking resemblance between the two models though the differences are also profound as in the Roomba i7 vs. 980 comparison.
Just like Roombas, much of the design is intact in the two Roborock vacuums.
The duo also uses a three-stage cleaning system.
The filtration system is also a HEPA style for both models.
When it comes to autonomy, Roborock S5 maintains the 5200mAh battery Xiaomi Mi uses and can last each for 150 minutes.
The navigation is still a SLAM-based algorithm though the new S5 has some extras on the app.
Talking of the app, both units support WiFi for mobile app and voice control operation.
Now, coming to the differences, the new Roborock S5 boasts several new additions.

First, the S5 has a different interface with the circular turret at the center instead of somewhere below.
Another significant leap is the fact that the new Roborock combines two cleaning functions; vacuum and mopping while Xiaomi Mi only has vacuuming.
The suction power in the S5 is also improved at 2000Pa compared to Mi's 1800Pa.
Surprisingly, operation noise in the S50 is reduced courtesy of the cotton and porous air sieve.
We also have new larger wheels in the S5 that take its climbing height to 0.78-inches up from 0.58-inches.
The Roborock also has unique features, for example, Target Cleaning and Zone Cleaning for the busy homes.
The Roborock also features digital boundaries, but the old Xiaomi is accompanied by physical markets which are quite tedious to set up.
Other improvements in the new Xiaomi Vacuum 2 include a larger 0.48L bin and a washable filter.
In the Xiaomi Mi vs. Roborock 2 comparison, it is clear the latter is the best choice. The 2-in-1 cleaning functionality is the highlight and justifies the $200 price difference. Besides, you get premium features like digital boundaries, Zone Cleaning, and Manual Cleaning.
But if you are on a budget, the Xiaomi Mi is still an excellent deal but not an up to date vacuum.
Roomba vs. Roborock Comparison
Now we are acquainted with what each brand offers and the highlights of the four models. So, it is time for the main business of the day – comparing the features.
As you are aware, there are several aspects to be considered when buying robot vacuums; they will be our landmarks in this review.
So, without further ado, let's start the review.
1. Design, dimensions, and aesthetics
Roomba and Roborock have a very different design in terms of dimensions and even aesthetics. As a homeowner, your target should be a slim, and lightweight vacuum to allow it to go under furniture and for easy portability.
The 980 is 8.6lbs and measures 13.6-inches in diameter and stands 3.6-inches high. It has been finished in subtle brown color with a silver button.
As for Xiaomi Mi Vacuum, we only have a single color – white. When it comes to dimensions, the Roborock S5 is 3.78in high, has a diameter of 13.8in, and weighs 7.75lbs. The old Xiaomi Vacuum, on the other hand, has a 13.58-inch diameter and stands at 3.78-inches like Roborock S5. However, it is heavier by around 0.6lbs.
One important thing to note is that Roomba 980 and i7 are available in single colors. When it comes to Xiaomi, the first difference is several colors available. The new S5 is available in black, white, rose gold, and Inter Milan Blue.
As for Xiaomi Mi Vacuum, we only have a single color; white. When it comes to dimensions, the Roborock 2 is 3.78-inches high and has a diameter of 13.8-inches and weighs 7.75lbs. The old Xiaomi Vacuum, on the other hand, has a 13.58-inch diameter and stands at 3.78-inches like Roborock 2 but is heavier by around 0.6lbs.
2. Cleaning Performance
This is the most crucial consideration when choosing any cleaner; robot vacuums are no exception. Here, we are going to compare several features and aspects to determine whether Xiaomi is as good as Roomba.
Orientation
This is all about the cleaning function of the vacuum. Here, Xiaomi has the edge over Roomba and here's why.
First, Roomba i7 and 980 are designed to vacuum only. The i7 is best for bare floors, low pile carpets, and pet hair. As for the 980, Carpet Boost makes it ideal for medium to high pile carpets as well. Xiaomi Vacuum is just like Roomba and offers vacuuming only.
When it comes to Roborock, the bot vacuums and mops simultaneously. You don't need to invest in a separate dedicated mop like Braava. It handles bare floors exceptionally and will wipe out the stains and grime. You can also rely on the two for low to high pile carpets and even pet hair.
Brush system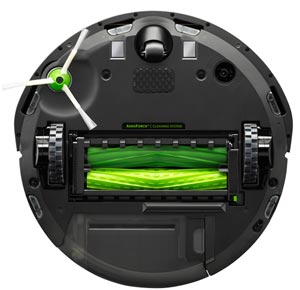 The first stage of cleaning is sweeping and agitation. This part is the responsibility of brushes. Robot vacuums come with two types of brushes, which are a primary brush and a side-sweeping brush. The side-sweeping brush pushes dirt on the path of the primary brush, while the main roller breaks down the dirt to pick it up.
This is an area with stiff competition between the two brands, and here's why.
We really like the side brushes that Xiaomi and Roborock come with. As for Roomba, we also have a single side sweeping brush.
Here, the Xiaomi and Roborock vacuums have the edge because the side brushes last fairly long.
However, when it comes to the main brush, Roomba carries the day courtesy of the dual multisurface brush system; there is one brush specialized for agitation, and another for dirt pick up. They work better compared to the single brush Xiaomi and Roborock boast.
As far as tangling is concerned, both brands are awesome save for the old Xiaomi that gets tangles too often.
Suction power
Xiaomi and Roborock are better models when it comes to vacuum power.
For starters, vacuum power, also known as suction, is an integral part of the 3-stage cleaning process. Suction is determined by the motor's output and measured in Pascals (Pa) with higher Pa denoting better performance.
So, how does Roomba compare to Xiaomi and Roborock?
To start, the new Roomba i7 and Roomba 980 do a draw in the competition as they both deliver 1700Pa. Still, this is not enough to match the 1800Pa and 2000Pa delivered by Xiaomi Mi Robot 2 and Roborock S5 respectively.
As you might be aware, carpets require high suction power for deep and thorough cleaning. That tells you Roborock and Xiaomi are the ultimate robot vacuums for carpet.
Filtration
This is another crucial step in the cleaning process and a fundamental for allergy sufferers.
The ideal filtration system for allergy sufferers is true HEPA, and the discerning aspect is the fact that they are 99% efficient and filter down to 0.3 microns.
As for HEPA filters, they are 99% efficient, but they can filter down to 10 microns only leaving behind the tiny allergens like pollen.
So, which is the best deal for allergy sufferers: Roomba or Roborock?
Unfortunately, none of the two vacuums deserve the crown here because they all use HEPA style filters.
There are a handful of vacuums that adopt true HEPA, for example, Neato Botvac.
Roombas have the AeroForce filtration system, and even though they are efficient, they are not ultimately the best.
This is the same case for Roborock and Xiaomi which use E11 Grade Filters. But we liked most the Roborock S5 because the filters are washable.
Bin features
The bin is the final destination of dirt. Robot vacuums are compact and may not have large dirt bins meaning frequent emptying is a necessity.
You also need a notification system to alert you in the event your bin requires emptying.
Remember, vacuums stall when the bin is full, so chances are high you will find your house dirty if you don't frequently empty the bin.
Here, Roomba is a great deal for several reasons.
First, both Roombas have a full bin indicator to notify you when it requires emptying. The i7 features 0.4L, while the 980 has a bigger 0.6L bin.
But the biggest addition is the exclusive iRobot CleanBase system that comes with the Roomba i7+. It has been integrated with the docking base and has a mechanism for emptying the dirt in the Roomba after every cleaning session.
This results in more freedom, since you don't have to worry about bin emptying anymore. Like mentioned earlier, this is a feature only available in the Roomba i7+. But still, if you have the i7 (7150), you can purchase the CleanBase separately.
Extras
Here, we look at some of the extras offered by each brand. Roomba is a great deal here for one reason – Dirt Detect.
There are times you will have dirt spots that need immediate action, and Dirt Detect comes in handy.
Roomba 980 and i7 have Advanced Dirt Detect Series II, which uses acoustic and optical sensors to locate areas with concentrated dirt. The Roomba is dispatched to such locations and switches to Spot mode until all the dirt is cleared.
Indeed, this is an excellent feature, which Xiaomi and Roborock lack. However, you don't need Dirt Detect if you have Manual Cleaning, which we'll discuss later on.
3. Autonomy
As you are aware, robot vacuums are cordless and require no human intervention during cleaning – this is called autonomy.
In this section, we want to analyze the battery performance and navigation system Roborock and Roomba use in their vacuums.
Battery performance
A good vacuum should have long runtime to cover a larger floor area, and an elaborate power management system to ensure minimal human intervention. Preferably, it should have an automatic recharging and resume function. Quick charge function is also desirable instead of waiting for the entire charging time to complete cleaning.
Roomba is a top player here and is among the first vacuums to have the auto-resume function. Both the 980 and i7 have a recharge and resume function, and so do Xiaomi and Roborock.
That takes us to the next aspect, which is capacity. The higher the capacity, the longer the runtime. Roomba 980 has a 3300mAh battery, which lasts an average of 120 minutes. The i7 steps down to 75 minutes. Xiaomi and Roborock carry the day here with enormous 5200mAh batteries, which can do 150 minutes on a single charge.
That said, you need to go for Xiaomi or Roborock if you have a large apartment.
It is unfortunate that none of them has a Quick Charge function like Neato.
Navigation and mapping
Next up is how these vacuums maneuver their way around your house. The navigation system ensures that your robot vacuum moves around seamlessly, from one room to another, avoiding obstacles and the stairs.
We have two types of navigation algorithms: SLAM (Simultaneous Localization and Mapping) and VSLAM (Visual Simultaneous Localization and Mapping). While SLAM uses sensors only for localization, VSLAM navigation adds to it a real-time camera.
When it comes to mapping, this is also a crucial consideration as it determines the efficiency of the robot vacuum. Mapping determines whether it will clean the entire floor without missing some spots and most importantly, the turnaround time.



Roomba is a great deal here as it comes with a VSLAM navigation. But there are already three versions: iAdapt, iAdapt 2.0, and the new iAdapt 3.0. Roomba 980 comes with iAdapt 2.0 for precise navigation. But most importantly, it provides systematic and methodical cleaning pattern that guarantees fast cleaning and entire floor coverage. The older systems lack an elaborate mapping system and will skip some spots.
The new Roomba i7 comes with iAdapt 3.0. This is just the same as iAdapt 2.0 but has an additional feature – Imprint Smart Mapping. This feature enables homeowners to decide which rooms to clean and which ones to skip. For busy homes, it is a great feature that allows you to vacuum only the dirt hotspots like the kitchen instead of the entire house.
Now, on to the Roborock and Xiaomi, the two units use SLAM navigation. The old Xiaomi doesn't do very well in high-traffic rooms. But at least the new Roborock equipped with extra sensors and upgraded software will navigate smoothly around your house.
The question is wheather the SLAM algorithm in Roborock S5 beats the VSLAM algorithm in Roomba. Well, we have tested both models and found out that the difference is negligible.
The Roomba has the edge over Roborock in well-lit rooms, but with just a little darkness, the camera on the top of the Roomba becomes obsolete. But for the house with average traffic, Roborock S5, Roomba 980 and i7 all work the same.
In terms of floor mapping, Xiaomi is not a great deal as it lacks any elaborate floor mapping and scanning system. However, the upgraded Roborock S5 is an excellent option. It comes with Zone Cleaning meaning you can also select where you want the robot to clean and where it is not necessary. Above all, it has Manual Cleaning that allows you to manually drive the robot where there is dirt using the app.
4. Smart Connectivity
Smart home technology is becoming increasingly popular. Talk of convenience, security, plus other benefits. Today, we have smart robot vacuums that can connect with Smartphones, intelligent hubs, and even Alexa/Assistant.
We're glad all the four vacuums in this comparison have 2.4GHz WiFi.
Roborock and Roomba all work with Alexa and Google Assistant. They also integrate well with several other third-party integrations.
When it comes to the mobile app, we like that both Roborock and Roomba have mobile apps (iOS and Android).
But what about the app features?
Well, the standard features include Clean Map reports, notifications, advanced cleaning setting, and remote operation.
But we feel Roborock is better because of features like a digital boundary. No need for the bulky physical strips or Roomba Virtual Walls nodes; just mark the limits on the Mi Home App.
Roborock vs. Roomba: Which is the winner?
Finally, we finish with the most important discussion about price and value for money.
Starting with price, Roombas are damn expensive. The 980 will set you back around $900.
The Roomba i7+ has a slightly higher price tag – $950, including the CleanBase unit. If you're not interested in the CleanBase, get the Roomba i7 for around $650. These are the standard retail prices, but you may find them at discounts from time to time.
So, about value for money. To be honest, Roborock S5 offers the best value for money. The fact that it combines a vacuum and a mop in one unit makes it a better choice for homeowners. In addition, it has higher suction power than Roombas by far, and that means better performance on carpets.
When it comes to smart connectivity and app features, Roomba can't beat the extras Roborock offers like manual driving, and digital boundary marking. But still, Roomba rocks. VSLAM navigation is something you want if you have a large apartment. Another thing in favor of Roombas is that they are tested and proven. In fact, iRobot Roomba remains the most popular robot vacuum brand!
Frequently Asked Questions
Which Roomba or Roborock is best for pet hair?
Choosing between Roomba i7 and Roomba 980 robot vacuums, we give the preference in pet hair cleaning to the latter model. Roomba 980 features tangle-free rollers, higher suction, and longer run time. All these components make hair vacuuming more effective.
The best Roborock vacuum for pet hair is Roborock S5. Though it`s not so innovative as Roomba 980, it offers higher suction (up to 2000 Pa), special Carpet Pressurization technology to increase power, and more capacious battery for 150 minutes of operating.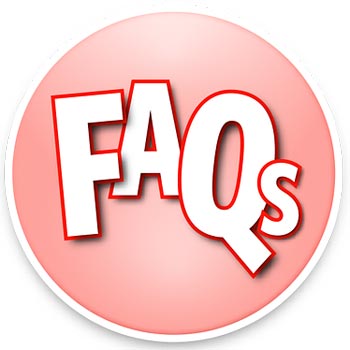 Roomba or Roborock: what is the most powerful vacuum?
Among the four robot vacuum models – Roomba i7, Roomba 980, Xiaomi Mi, and Roborock S5 – the most powerful one is Roborock S5. This cleaner produces up to 2000 Pa suction.
Is Roborock better than Roomba?
Roborock has some advantages compared with iRobot Roombas, but it depends on the definite models.
Thus, Roborock is more affordable. Xiaomi Mi and the S5 are equipped with higher suction, bigger dustbins, and longer run time. Besides, they have a mopping function, i.e., they combine two cleaning devices in one body.
So, Roborock is better that Roomba in the question of hard floor cleaning and durability. But on the other hand, if you`re looking for a vacuum for pet hair, Roomba is the best. It features tangle-free rubber rollers, Carpet Boost, and Dirt Detection.
As you see, the answer will depend on your needs.
Roomba or Roborock: what robot vacuum has the longer run time?
Roborock vacuums offer much longer run time in comparison with Roombas. Both Xiaomi Mi Vacuum and Roborock S5 have 5200 mAh batteries, which runs for 150 minutes.
Do Roomba and Roborock vacuums use Smart Mapping?
All four vacuums are equipped with mapping technology.
Roomba i7 and 980 uses vSLAM to save maps of the room and plan cleaning routes.
Roborock S5 and Mi Vacuum have laser bases to scan the space and remember maps.
Summary
There you have, it ladies and gentlemen, a Roborock vs. Roomba comparison review! It is clear that iRobot finally got serious competition.
The affordability of Roborock vacuums and, most importantly, the excellent performance and convenience belittles Roomba. Perhaps, the only thing that keeps Roomba abreast is the self-emptying bin mechanism. But it won't be too long before their Chinese counterparts grasp the technology.
Which is your best choice – is it Roomba or Roborock? Talk to us in the comments section below.