🥇 Roomba 690 vs Deebot N79s Comparison Review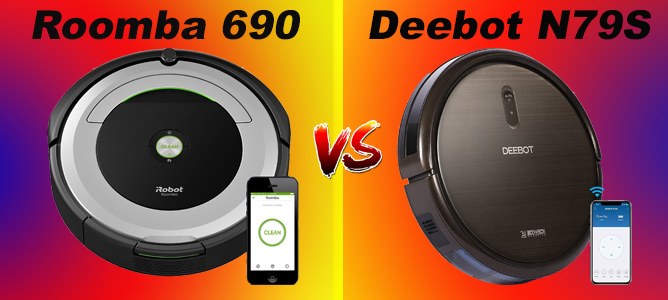 Hello guys, my name is Thomas Raines and today, I am going to talk about two interesting Smart robot vacuum cleaners; the Roomba 690 vs. Deebot N79s.
These are two affordable robot vacuum cleaners that are Smart Home ready courtesy of Wi-Fi compatibility. They can connect to your Smartphone or Smart Hub like Samsung SmartThings or Wink 2 Hub and even voice assistants like Alexa and Amazon.

But when shopping for your next robot vacuum cleaner, you have to go with one of them. But the problem is that you don't know which one between them is the best.
Today, we want to find out the truth. Before we get to the more profound insights, here is a short overview of both models.
Product Image
Model
iRobot Roomba 690 Robot Vacuum-Wi-Fi Connectivity, Works...
ECOVACS DEEBOT N79S Robotic Vacuum Cleaner with Max Power...
Navigation
Smart Navigation Technology
Smart Home Connected
Use with iRobot HOME App, Amazon Alexa, Google Assistant
Use Alexa or Google Home voice, ECOVACS App
Product Image
Model
iRobot Roomba 690 Robot Vacuum-Wi-Fi Connectivity, Works...
Smart Home Connected
Use with iRobot HOME App, Amazon Alexa, Google Assistant
Product Image
Model
ECOVACS DEEBOT N79S Robotic Vacuum Cleaner with Max Power...
Navigation
Smart Navigation Technology
Smart Home Connected
Use Alexa or Google Home voice, ECOVACS App
Roomba 690 – Robot Vacuum with Wi-Fi Connectivity, Works with Alex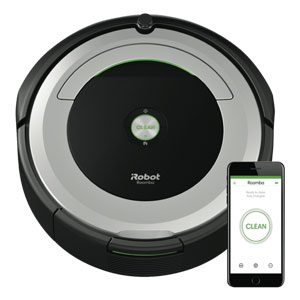 Read more about Roomba 690
The Roomba 690 is quite an old iRobot model. It has been on the market for over five years and still, it can compete with the newer models. I was among the owners of the Roomba 890.
But what's the catch in the Roomba 690? The first thing you will love about the Roomba 690 is the Smart features.
Yes, this is an old model but one that can still keep up with the latest Smart advancements. This is unlike some newer models, including ILIFE V8s and ILIFE A8 that have just been released but don't have Wi-Fi. I'm glad that Roomba was able to give us Smart connectivity years ago, and still, it is among the industry's leaders.
The other thing you will love about the Roomba 690 is its affordability.
Roombas are mistaken to be very expensive, probably $500 or more.
The truth of the matter is that there are also some cheap Roombas and the good thing about them, their performance is top notch. Here, the mantra of cheap is expensive doesn't come out.
Roomba.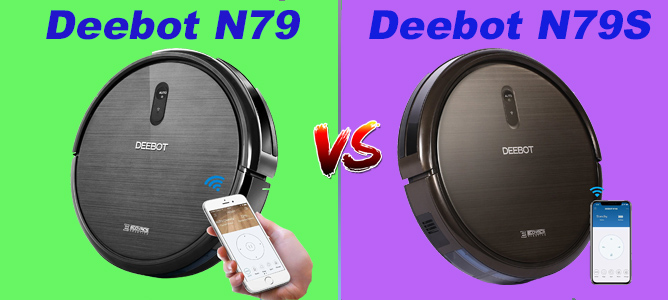 Read more about ECOVACS Deebot N79 and N79s
In as much as Roombas may be the best robot vacuum cleaners, there are a few other trusted brands, and ECOVACs is one of them.
The Deebot N79 and Deebot N79s are their best affordable models that come with Wi-Fi.
Unfortunately, if you were looking for a
Deebot N Series model
that can mop, look for the Deebot N78 – it has a mop function but is not Wi-Fi connected; otherwise, it would be in this review today.
Back to the Deebot N79s, this is a cheap vacuum cleaner but one that gives the Roomba 690 a run for its money.
The first thing about it is the price – perfect value for money! It offers the same performance just like Roomba 690 but is much cheaper.
So, if you are looking for a cheap robot vacuum, this is the best option. The N79s offers the best cleaning performance courtesy of the high power mode that increases vacuuming power. This makes it an all-round cleaner.
But what's the difference between the N79 and N79s?
It is imperative to know the difference between these two vacuums because even sellers confuse them. You might order for the N79s only to get the N79, marked as N79s.
However, performance remains the most crucial aspect, and the N79s offers more. It comes with the Max Mode for carpet cleaning and supports Alexa, something the N79 isn't able to do. Surprisingly, the N79s is not that expensive than N79, so it makes more sense to buy the Deebot N79s over its sibling, the N79.
Deebot N79s vs. Roomba 690 Comparison Review
Now, having talked a little bit about these two robot vacuums, it is time we put them head on to see who the winner is.
Before we begin, remember the Roomba 690 has the backing of a reputable brand. On the other hand, ECOVACs is a pretty new brand to many homeowners, but a trusted one. We will also be sharing our cleaning test results as usual so make sure to keep it right here for the best Roomba 690 vs. Deebot N79s shopping tips.
So. Ladies and gentlemen, here is our Deebot N79s vs. Roomba 690 robot vacuum cleaner.
DIMENSIONS, DESIGN & AESTHETICS
The dimensions of a vacuum cleaner are of importance, especially the height. An ideal robot vacuum should have a low profile design so that it can slide under your furniture. These hidden areas are a hub for dirt.
Also, pets like to hide there, scratching their backs and also, most of their hairs are blown away and settle under furniture. For these reasons, you should look for a thin robot vacuum.
I was among the many homeowners who didn't care about the robot's height until I encountered the D7 Connected that wasn't able to go under most furniture; it was 3.8mm thick. For our two vacuums, the Deebot N79s carries the day because of the 3.1-inches height compared to the 3.6-inches thickness of the Roomba 690.
For me, this seems to be the only remarkable difference in the design of a vacuum cleaner. But you may want to find something that may blend with your interior, so the aesthetics come into play.
I don't find any better vacuum cleaner as far as the finish of the Roomba 690 and Deebot N79s in concerned. But you can't ignore the striking grey finish that complements the Deebot's sleek and compact design. The glass cover looks nice, and my cat would get mesmerized seeing his reflection on the top interface.
For the Roomba 690, there is nothing much, just the contemporary robot vacuum design. But one thing makes the Roomba outstanding; a solid construction! Deebot is quite fragile and would get scratches especially by dog paws. Though the Roomba isn't scratch proof, at least it is tougher.
At the edges of both vacuums, there is a soft bumper that retracts with a small pressure. This system prevents the vacuum from damaging itself as well as your furniture by absorbing the impact.
Dimensions, Design & Aesthetics: Roomba 690 vs. Deebot N79s Winner
Here, it is tough to call a winner, but I would go for the Deebot N79s. I understand how fragile it may be but then, a lot of dirt hides under furniture and having a robot vacuum that can't get down there means you shouldn't keep your handheld broom away. But that is not to say the Roomba won't get under all furniture; make sure they have a ground clearance of 3.7-inches and above.
NAVIGATION AND MAPPING SYSTEM
You understand that robot vacuums make all the decisions autonomously, including where to go and how to move around.
Roombas are synonymous with iAdapt navigation systems whereas ECOVACS has SmartMotion. These two systems are the same thing. They all use Smart sensors that send infrared laser beams to the walls and back. With the data it deciphers from the beams that are bouncing back, the robot can tell where it is. This is called SLAM (Simultaneous Localization & Mapping) technology.
There are also a set of sensors for a variety of purposes. At the bottom, they both have anti-drop sensors that detect cliffs and quickly tell the vacuum to change the direction. Remember, like most advanced robot vacuum cleaners, Roomba and Deebot have a 360 degrees navigation so whenever they detect falls of hit obstacles, they turn around and find alternative routes.
Besides how the vacuum cleaner moves around, you may want to restrict it from reaching specific areas. Also, if you have many rooms, with adjacent doors, chances are high the vacuum cleaner will exit a room before cleaning it thoroughly. The
Roomba 690 is a top player here courtesy of Virtual Walls. This is a feature that uses infrared sensors to set invisible boundaries. Even though it comes with only one node, it is better than having none, and besides, you can always get an extra node.
Navigation and Mapping System: Deebot N79s vs. Roomba 690 Winner
Here, Roomba carries the day because of the boundary marking feature. This is an invaluable addition to any robot vacuum cleaner, and though you may not require it always, it will one day become a necessity. But still, you can't put down the newer Deebot N79s. The new software enhances the SLAM navigation unlike the old software in the Roomba 690. That said, the Roomba 690 vs. Deebot N79s debate gets down to a battle between an improved navigation system or new boundary marking feature, the choice is yours!
CLEANING PERFORMANCE (Cleaning Tests)
If you'd ask me, the cleaning performance is the most critical aspect when shopping for a robot vacuum cleaner. That said, it is an integral part of this Roomba 690 vs. Deebot N79s comparison review.
You want to make sure that you go with the best vacuum cleaner that will handle all your cleaning needs. Unlike your ordinary robot vacuum reviews. We are committed to helping our readers make the best choice, and for that reason, we test all the vacuums to give readers objective conclusions. That said, we will also share the comparison results of the Roomba and Deebot's cleaning performance.
Even though everyone will tell you that their vacuum cleaners will clean floors, carpets, pet hair and allergens, it is essential to dig deeper and find out if the propositions are correct. This is what we are going to do in this first segment. We are going to compare the features that matter as far as cleaning performance is concerned.
Cleaning priority
– The Roomba 690 has been designed for hardwood floors, carpets, pet hair and also allergens. This is the same case for the Deebot N79s. But is this the case? Candidly, it is not true, but then, that's something we are going to uncover slowly when analyzing the responsible features.
Suction power
– For starters, the entire functionality of a vacuum cleaner depends on the suction power. Remember, vacuuming is the last stage in the 3-cycle principle robot vacuums use. Dirt and debris are vacuumed from the floor into the bin. So, what exactly are you looking at when talking about suction power? The motor is an integral part of the cleaning system, and these two vacuums have 2nd Gen motors. However, the Deebot N79s has a more improved motor with recent technology. It can deliver a whopping 900 Pa compared to the 600 Pa the Roomba 690's motor uses.
Noise
– Still on the motor, it would be important to mention about the noise. If you like vacuuming at night, when everything is quiet and calm, you want a robot with the least operation noise. The debate on operation is very technical; I wouldn't want to get into it. What you need to know is that Deebot is a little bit quieter than Roomba 690 as it has an efficient motor.
Brush system
– There are two kinds of brushes; main brush and side brush. The former is the primary brush that scrubs floors and agitates dirt while the latter sweeps the path around the vacuum cleaner. If you have pets, you want to buy a vacuum with a brush that won't tangle. The sides brush also come in handy when cleaning wall edges. Roomba 690 uses a dual multi-surface brush system while on the other hand, Deebot employs a V-shaped brush that at least prevents tangling. Regarding sides brushes, both have dual brushes.
Filtration technology
– If you have allergies and pets, you need to be keen on the vacuum filter. We have several types of filtration systems, the popular ones being true-HEPA and HEPA-style filters. True HEPA filters are the best because they filter 99.97% of allergens while HEPA-style are less efficient. Both vacuums have HEPA filters, but I would go for the Deebot N79s; it comes with a true-HEPA filter.
Dirt Detection
– This is a pretty new feature that helps the vacuum cleaner to find where there is concentrated dirt. It then goes to such an area and switches to Spot mode until all the dirt is vacuumed. Only the Roomba 690 has this feature, so that gives it the edge over Deebot.
Dustbin capacity
– You don't want a vacuum cleaner that will require emptying now and then. Also, a bin that will notify you when it is full is desirable. So, what's in store for us in the Deebot N79s and Roomba 690? The Deebot N79 has a 0.3L dustbin, and so is the case with Roomba 690. But it is the Roomba 690 that wins here as it comes with a full bin indicator, a feature Deebot lacks.
Our Cleaning Tests
Like promised, it is now time to look at how the Roomba 690 compares to Deebot N79s as far as cleaning is concerned.
We tested the Roomba 690 and ECOVACS Deebot N79s in a two bedroom apartment with a hardwood floor, and a carpet. In the house, there are two pets; a dog and a cat. To give you an exact perspective of how the two performed, we used some of the popular household dirt. We used Cheerios, sugar, skin flakes, pet hair, and sawdust among others.
Hardwood floors
Most American homes have hardwood floors; they are magnificent and come in handy during the cold winter as they are not as cold as other hard floors. However, cleaning them requires a little extra care. They require frequent cleaning and instant wiping of spills. Fortunately, almost all the vacuums in the market offer excellent hardwood floor cleaning. This is how the Roomba 690 and ECOVACS N79s performed on carpets.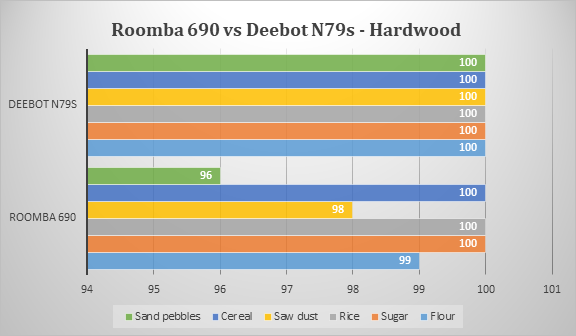 Deebot N79s was able to clean 100% of all the dirt we tested it with. The only notable difference was the performance of Roomba when it came to flour. Even after it had finished, you could see the shade of flour on the floor. That means the finest particles are still on the floor and would call for a mop. Otherwise, they are both excellent for hardwood floors, regardless of the type.
Carpets & Rugs
Cleaning carpets was such a hassle with the regular vacuums. Though they offer the best vacuuming, they are not specialized for the job like
robot vacuums for carpets
.
The Roomba 690 and Deebot N79s have both been designed for carpet cleaning but are they up to the task? The answer is both yes and no. Yes in the sense that they can clean light carpets and no from the fact that they get overwhelmed on heavy carpets. We tested it on a medium duty carpet and here are the results.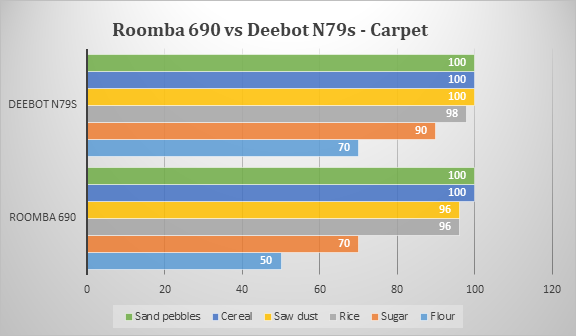 The Roomba 690 managed to clear just 50% of the flour from the carpet, and around 70% of the sugar. Here, you notice that the smaller the particles, the harder the pickup. On the other hand, the extra vacuum power of the Deebot is manifested here as it managed 75% of the flour and about 90% of the sugar. When it came to the other dirt we tested them with, at least the two are not badly off.
NOTE: These are results on a heavy carpet made from polypropylene. But on thin carpets, like nylon fiber, the performance greatly improves. I tend to think that when Roomba and Deebot proposed these two vacuums for carpets, they meant the light carpets and rugs. All the same, I would go for the Deebot as it comes with higher suction power, a fundamental aspect in carpet cleaning.
Pet Hair and Allergens
When it comes to pet messes, we collected lots of hair, skin flakes and other dog dirt. Though the sample may not have given the simulation of real pet messes, at least it gave us a picture of how the two vacuums compare.
The Roomba 690 was effective in collecting the skin flakes, dander, kitty litter, and allergens. My only problem was tangling as it lacks a tangle-free extractor. On the other hand, Deebot N79s collected much of the dirt and the best thing, it didn't show any signs of tangling like the Roomba 690. When it comes to allergens, you could feel the difference when the house has just been vacuumed. However, I like Deebot N79s most because it has true-HEPA filters.
Cleaning Performance: Roomba 690 vs. Deebot N79s
This is very hard to call battle with each vacuum cleaner having its good side as well as the dark side.
For me, I will go with Deebot. In as much as it lacks Dirt Detection, the higher suction power is irresistible.
BATTERY PERFORMANCE
Like I mentioned in my Roomba 690 vs. 890 comparison review, Roombas have been under a lot of criticism regarding their battery performance.
So, in our context, has ECOVACS taken advantage of the situation? Let's find out which of the two vacuums between Roomba 690 and Deebot N79s has better battery performance.
But just before we go further, the table below summarizes the comparison.
Like many Roombas, the 690 has been built with Lithium Ion battery with an 1800 mAh capacity. It can run for an average of 60 minutes. On the other hand, we have the Deebot N79 and N79s that have a longer runtime. Deebot can run for an average of 100 minutes definitely because it has a higher capacity, 2600mAh to be precise. But remember, these are the average runtimes when the vacuum cleaner is performing optimally. Note that there are times your vacuum will run for a shorter time than expected.
So, what might be cutting down your vacuum cleaner's runtime? Before speculating, consider the age of your battery. Just like all rechargeable batteries, the cells weaken with every charge so the more you recharge your vacuum cleaner, slowly, the runtime decreases until it's time to get a replacement battery.
Why is my vacuum cleaner running for a shorter time?
But there are also instances when a fairly new robot vacuum runs for a shorter time.
One of the reasons is lack of maintenance, and the other reason could be a heavy bin. We decided to test this out instead of just speculating.
We replaced the new brushes with an old brush in each model, as well as worn out filters and there we had two highly sub-serviced robot vacuum cleaners. The Roomba 690 lasted for 52 minutes whereas the Deebot N79s was adversely affected, giving 84 minutes. A heavy bin also reduces runtime, the same way a loaded truck will consume more gas because of the extra torque required. Before, I forget, the surface also could affect runtime with heavy carpets squeezing more juice.
Power management
While runtime is very important for large apartment owners, the power management remains the most important aspect. What will the robot do when its charge gets critically low?
If you did your homework, you understand that all robot vacuum cleaners can go back to the charging base for recharging. This is the same case for the Roomba 690 and Deebot N79 and N79s. Unfortunately, none of them will resume cleaning thereafter. The recharge times greatly vary, but on average, they get charged in two to three hours.
Battery Performance: Who's the Winner between Roomba 690 and Deebot N79?
Here, Roomba 690. Another thing, Deebot's battery has a longer life cycle as we are going to see when talking about maintenance. Considering the cheaper Deebot's price, it is the ultimate option if you are looking for the best battery performance.
SMART FEATURES AND CONVENIENCE
One of the advantages of robot vacuum cleaners is their convenience. They offer autonomous operation, and the robot can do quite a lot independently. Besides, there are several desirable Smart features to watch out for.
When it comes to convenience, the Roomba 690 comes with a 7-day scheduling feature. It allows homeowners to program their robots to start cleaning at specific times of the day, throughout the week. This is also the same case for Deebot N79s.
How about Smart control?
As mentioned earlier at the start of the review, this Roomba 690 vs. Deebot N79 review is all about cheap Smart vacuum cleaners.
Roomba 690 comes with Wi-Fi, and this is the difference between the Roomba 650 and Roomba 690; the former doesn't come with Wi-Fi. On the side of ECOVACS, the N79 also comes with Wi-Fi as well as the N79s.
Here, I don't have a preferred choice, but I would go for ECOVACS; its Wi-Fi reception is on point, unlike Roomba's. It hardly loses connection and will withstand weak Wi-Fi signal more than Roomba.
The other thing is about voice control:
With the proliferation of Smart HOME voice assistants, robot vacuums have also been engineered to be compatible with these Smart devices. Remember, not any vacuum cleaner with Wi-Fi supports Alexa and Assistant. For example, the Deebot N79 comes with Wi-Fi but doesn't support Alexa and Assistant. But thanks to the new model, the N79s, you can now use Alexa or even Assistant. As for the Roomba 690, it supports both Alexa and Assistant as well as several 3rd party integrations including IFTTT.
Smart features and convenience:
Roomba 690 vs. ECOVACS Deebot N79s Winner: This is very hard to call because both vacuum cleaners have Wi-Fi and support voice control. It is only a matter of what features you can get on the App, but as far as I know, Roomba 690 doesn't have anything extra to offer though later models have Clean Maps and even advanced cleaning settings.
For me, I would go with the Deebot N79s because it is cheaper than Roomba!
Roomba 690 vs. Deebot N79s: Who's the Winner?
Finally, we have come to the end of our Roomba 690 vs. Deebot N79s comparison review. Now, it is time for our final words regarding who's the winner in today's epic battle. To be honest with you, we also have split opinion, just like you. But then, we will try to help you settle for the best by giving you reasons why I would buy either of them and why.
Why the Roomba 690
The first reason you'd want to buy the Roomba 690 over the Deebot N79s is the fact that iRobot is a top brand, in fact, the best robot vacuum cleaner brand.
When it comes to cleaning performance, I would also go for it because it comes with Dirt Detect, a unique technology for finding areas with concentrated dirt. This is a feature that Deebot N79s lacks.
Virtual Walls is also another top feature that gives Roomba the edge over Deebot. It allows you to mark limits where you feel the Roomba shouldn't reach.
Why Deebot N79s
On the other hand, Deebot is not so popular. But then, it is becoming a trusted brand.
My first reason for going with the Deebot is its affordability. On a normal day, you can save up to $100 by going for Deebot as opposed to Roomba.
The second reason I'd go for Deebot is the fact that it has improved suction; 900 Pa compared to Roomba's 600 Pa. The runtime of Deebot is also longer by 40 minutes making it suitable for my two bedroom apartment.
Lastly, the thin design of Deebot allows it to go under most furniture with low ground clearance. It stands at 3.1-inches, half an inch shorter than Roomba.
Frequently Asked Questions
Roomba 690 vs Deebot N79S: which one is better for pet hair?
Choosing a better model for pet fur and carpets, we give our preference to Deebot N79S vacuum. While Roomba 690 has 600 Pa suction, the N79S robot guarantees you twice higher power for 1300 Pa.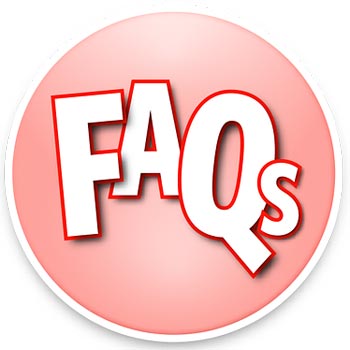 Do Roomba 690 and Deebot N79S climb carpets?
The N79S vac can overcome elevations up to 0.55in in height. Roomba model climbs 0.63in obstacles. Both vacuums will face no problems when meeting carpets and thresholds.
Are Deebot N79S and Roomba 690 loud robots?
These vacuums belong to the category of cleaning devices with standard noise level. Both produce 65-68 decibels. It is not the quietest results since there are vacuums with 55 dB. But such noise level feels comfortable even when the vacuum is working next to you and isn`t heard when it`s in other rooms.
Roomba 690 vs Deebot N79S: what is a younger robot vacuum?
Roomba 690 vacuum has been released in May of 2017. Ecovacs Deebot N79S is a newer model since it has been released in February 2018.
OUR VERDICT
For me, the Deebot is the winner in this Roomba 690 vs. Deebot N79s comparison review. I have three solid reasons why I have settled for Deebot.
Deebot N79s has better suction which is very fundamental in vacuuming. Second, Deebot has longer runtime which is very critical regardless of whether you have a large apartment or a small one. Lastly, Deebot is a newer model and costs lesser than Roomba.
We have now come to the end of our Roomba 690 vs. Deebot N79s review. What do you think is the best vacuum cleaner between the two? Tell us if you have a different choice from ours.