Roomba E5 vs 675 Face to Face Comparison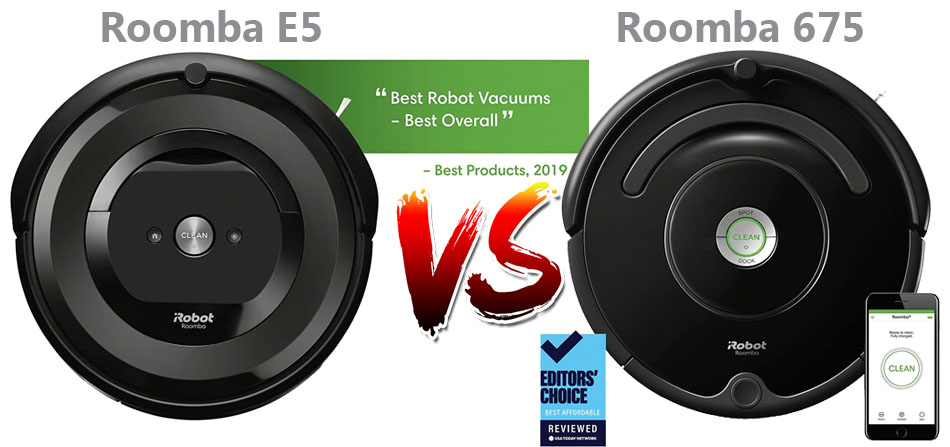 iRobot Roomba vacuum cleaners have always been known as reliable, efficient, and quite expensive smart household devices. When the majority of the models truly justify this description, there are several nice assistants that combine both high efficiency and affordable price.
Today, we'd like to talk about two budget iRobot options – Roomba E5 vs 675. Both robots were released several years ago and cannot be called flagships. However, their popularity among customers doesn't seem to fade.
Do they deal with all types of surfaces? Can they provide enough suction? Does the low price include app control and other smart features? Stay with us to get the most objective and detailed review!
Main Differences Between the Models
Roomba E5 and 675 share a lot of characteristics. But since only the differences may help us set our minds and choose the most appropriate robot vacuum cleaner, let's firstly discuss them:

The first and one of the most important differences lies in robots` powers. Roomba 675 has 600 Pa suction, while its opponent uses improved technology. Its suction delivers 5X more power compared to Roomba robots of the 600 Series where the 675 belongs.
Both devices use dual multi surface rollers with self-adjustment. However, the E5 robot features two rubber rollers, and the 675 robot has one rubber and one bristled brushes.
The first device filters the air with the help of a High-Efficiency filter and can deal even with allergens. The other cleaner uses an older Aerovac filter and cannot trap the finest allergic particles.
Finally, the E5 comes with a washable 500 ml dustbin, while the 675 model uses a non-washable 300-350 ml container.
Comparison Table
Dimensions
13.45 x 13.39 x 3.65 inches
13.4 x 13.4 x 3.54 inches
Automatically Docks and Recharges
Dimensions
13.45 x 13.39 x 3.65 inches
Automatically Docks and Recharges
Dimensions
13.4 x 13.4 x 3.54 inches
Automatically Docks and Recharges
Roomba E5 is an excellent representative of budget yet extremely efficient and versatile robot vacuums. For less than $300, you get a decent cleaning system capable of coping even with pet hair and providing excellent air treatment and all smart features.
While the detailed review will be performed a bit later, now let us highlight several most important moments.
Firstly, despite the low price, the robot features an extremely useful three-stage cleaning system. It is based on the operation of one side brush that sweeps dirt to the central dual multi surface rubber brushes. Then a suction port sends the debris into a 500 ml dustbin. Such a system with 1700 Pa suction allows the vacuum to work on any surface, including carpets, and with any debris, including long and clingy pet hair.
Dirt Detect function and High-Efficiency filtration only increase the quality of cleaning.
Unlike many of its budget colleagues, Roomba E5 can last for up to 90 minutes without interruptions. During this time, you can run your vacuum either manually or through the iRobot Home app. Since the model supports WiFi, it is also compatible with voice assistants like Alexa and Google.
As always, none of the devices can do without drawbacks. In the case of this iRobot vacuum, the list includes weak navigation based only on sensors. No doubt, such a system is much more convenient than blind moving. But against the modern robot vacuums with visual and mapping functions, bare sensors seem to be rather out of date.
Many users may also lack virtual walls and Recharge & Resume function.
So, despite some minor shortcomings, Roomba E5 is one of the best cleaning options you can now get for literally funny money. iRobot official site makes a generous offer and asks $270 per item. Roomba E5 will suit all owners of small and medium-sized dwellings with combined flooring and pets.
Pros
compact design to come under low furniture and between items
dual multi surface adjustable brushes
powerful suction
Dirt Detection
Spot cleaning mode
High-Efficiency filtration
90 minutes of run time
cliff and obstacle sensors
app and voice control
excellent pet hair cleaning
affordable price
Cons
500 ml seems to be insufficient
weak navigation, because of which the robot misses spots
no Recharge & Resume
no virtual walls
Those who would like to get a cheaper version of the E5 vacuum with very close characteristics should pay attention to the Roomba 675 robot.
Once again, we see the three-stage cleaning system with one side brush, dual multi surface brushes, and suction. However, this time, instead of two rubber rollers, we get one rubber and one bristled elements. The 600 Pa suction and a 300-350 ml dustbin are also designed for simpler cleaning tasks.
Though the cleaning system was simplified, the Dirt Detect function stayed unchanged. And so did the navigation. While cliff and obstacle sensors avoid falls and hits, Dirt Detection determines the most polluted high traffic areas.
Speaking about the same features, we should also note a lovely Lithium-Ion battery for 90 minutes of run time. WiFi support is also available for all who need app and voice control.
While we still don't get virtual walls and Recharge & Resume, unfortunately, Roomba 675 also provides weaker air filtration. The item uses the so-called Aerovac filter.
As you see, the vacuum offers very similar characteristics, including the same drawbacks. Roomba 675 was reduced, and now it will cost you only $250 on the iRobot official site. However, users should be ready to get less performance for less money. The cleaner is aimed at mainly hard floors and low-piled carpets.
Thus, Roomba 675 will be a nice option for customers on a budget who live in small and medium apartments without pets and lots of carpeting.
Pros
compact design for worry-free cleaning under low furniture
dual multi surface adjustable brushes
Dirt Detection
Spot cleaning mode
Aerovac filter
90 minutes of run time
cliff and obstacle sensors
app and voice control
affordable price
Cons
weak suction
navigation based on sensors only
small dustbin
no Recharge & Resume
no virtual walls
Now, when you got a short description of the robots and their strong/weak sides, it's time to perform a detailed comparison of the devices.
Face to face Roomba E5 and Roomba 675
Design and Dimensions
The appearances of the robots have lots in common. Mainly, it concerns the dimensions. While the width and length are identical, the slightest difference in the height plays no role in the robots' maneuverability. Each vacuum can go under the furniture and penetrate hard-to-reach places to provide complete room cleaning.
The design also reveals more similarities than differences.
Roomba E5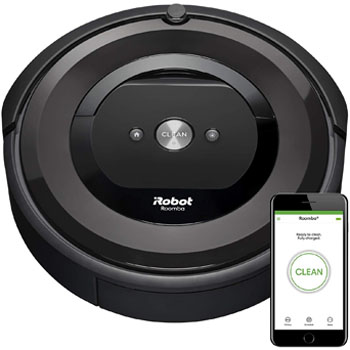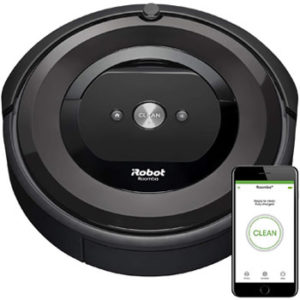 Roomba E5 measures:

13.4″ x 13.4″ x 3.6″;
7.2 pounds;
While the width and length are identical, the slightest difference in the height plays no role in the robots' maneuverability. Each vacuum can go under the furniture and penetrate hard-to-reach places to provide complete room cleaning.
The design also reveals more similarities than differences.
The first model features a round plastic body. Different parts of the robot have glossy and mat black covering, supporting fifty-fifty balance. On the top, we can see a handle for easier transportation of the vacuum and three separate physical buttons for manual control. They are ON/OFF, Home, and Spot Cleaning buttons.
Roomba 675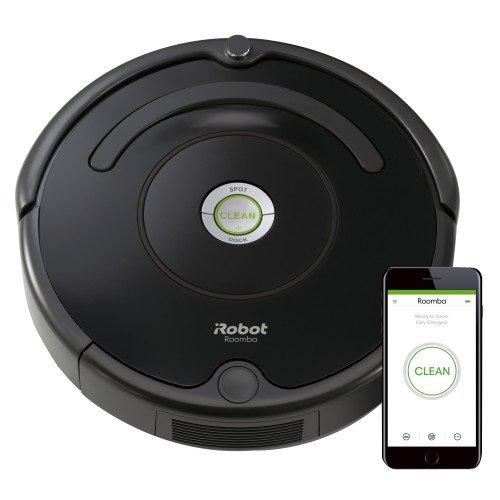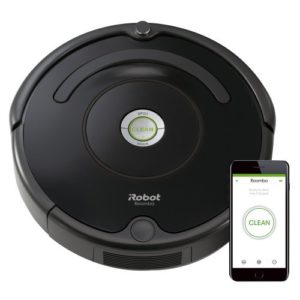 Roomba 675 shows almost the same characteristics:

13.4″ x 13.4″ x 3.7″;
6.77 pounds;
The second device of the review provides the same
round plastic case
of black color. Perhaps, the only difference here is the relative absence of mat elements, i.e., the whole body is glossy. We also can find a useful handle to carry the item and button. This time, designers decided to unite all
three elements (On/OFF, Dock, and Spot)
into one round button with independent sections.
Verdict: Close comparison of design and dimensions shows that these two models are compact and lightweight enough to perform a thorough and comprehensive cleaning. Besides, they will suit any interior.
Navigation
Roomba E5, as well as its rival Roomba 675, is equipped with the whole set of sensors, thanks to which they perform basic navigation. Sensors are spread all over the case and divided into the cliff and anti-collusion groups. Cliff sensors don't allow robots to come close to drops like stairs, and anti-collision elements notify them about approaching obstacles.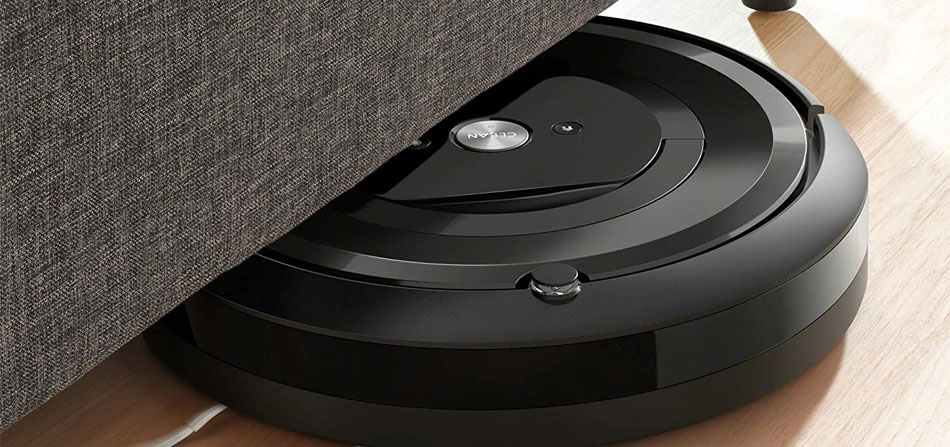 The robots cannot see the whole room and plan the route, but such primary navigation helps them prevent severe hitting and damages.
On the one hand, sensor navigation is a significant step up compared to the early robots' random cleaning. Besides, taking into account the low price, it's a nice addition to budget vacuums.
But on the other hand, the modern market is full of affordable robotic cleaners that provide much more thorough navigation with lasers, cameras, and route planning. Tests show that our robots tend to miss spots from time to time, which is also the circumstance of insufficient navigation.
Verdict:
As we see, the
Roombas
offer absolutely identical navigation, that's why we cannot find the winner.
However, we believe that there cannot be a winner when it comes to sensor navigation as the technology is a bit outdated. Such navigation is mostly aimed at the preservation of robot cases than on the promotion of cleaning accuracy.
The E5 and 675 models will cope with small and medium apartments with a few furniture pieces. When used in large houses, they'll most probably miss a lot of areas and clean them for too long.
Dirt Detection
Dirt Detection is a very useful addition for both models. Thanks to the Dirt Detect sensors, robots can find the most contaminated areas and process them several times until the dirt is gone.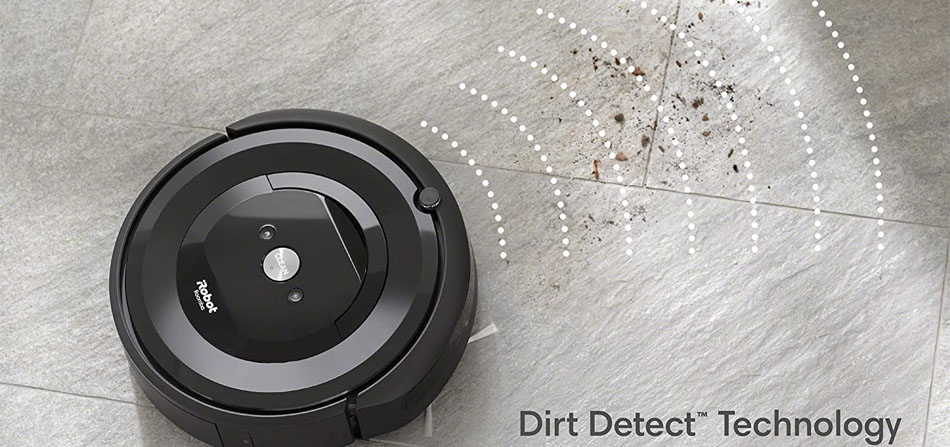 Firstly, Dirt Detection partially reimburses the navigation drawback. And it also allows for providing much more thorough cleaning of high traffic zones.
Verdict: Apparently, it's a draw. Despite low prices and weak navigation, each vacuum can guarantee high-quality spot cleaning.
Filter System
Roomba E5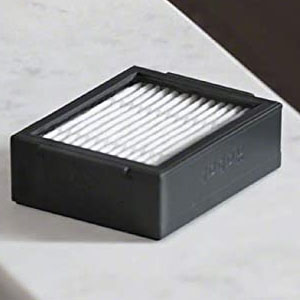 Roomba E5 comes with a High-Efficiency filter. The passing air sucked with the dirt leaves up to 99% of particles inside the filter. The unit can even trap cat and dog allergens, making it a perfect choice for pet owners, parents, allergic people, and people with respiratory problems.
Roomba 675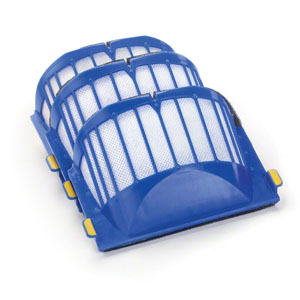 Roomba 675 also provides air treatment. However, being an older model, it also uses an older Aerovac filtering technology. It is a standard unit of all Roomba vacuums of the 500 and 600 series. The filter captures large and fine dust particles, but cannot boast of 99% efficiency and allergen trapping.
Verdict: Without a doubt, Roomba E5 provides better air filtration. However, if you don't have kids, pets, and allergies, you can safely choose a simpler Aerovac filtration of the 675 robot.
Connectivity
Smart remote control through the iRobot Home app, voice commands via Alexa and Google assistants, scheduling, customization of settings, notifications about robots` maintenance – all these are about Roomba 675 and E5.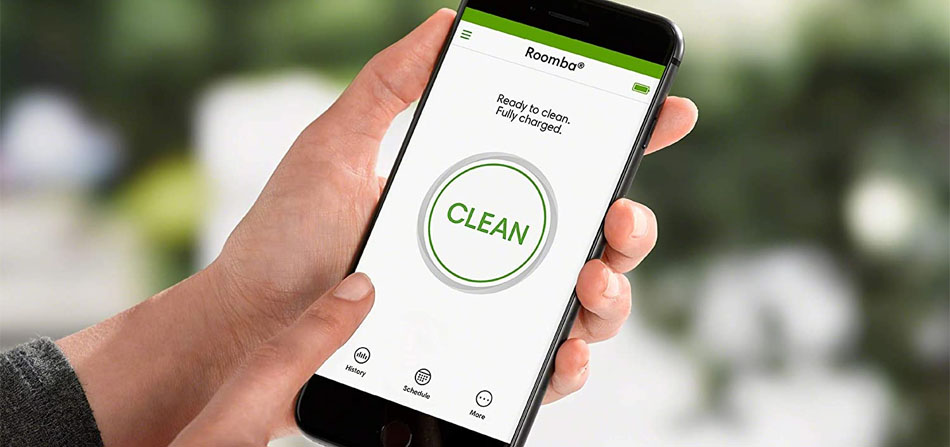 Our budget robots offer the full spectrum of smart features available through WiFi. It's a real gift since many cheap vacuums can boast a maximum of IR remote controls and buttons.
By the way, the E5 and 675 also have physical buttons for running. If your WiFi connection fails, you'll be able to continue cleaning. Only mind that smart features provide incomparably wider control options.
Verdict: WiFi support, the mobile app, and voice assistants are marvelous additions presented in both vacuums. It's really difficult to overestimate their importance and convenience for users. We especially love schedule setting and the opportunity to run the vacuums from any place in the world.
Suction Power
Suction presents one of the crucial differences between the vacuums. Being the fundamental feature, it significantly affects performance and determines the further scope of the vacuum application.
Roomba 675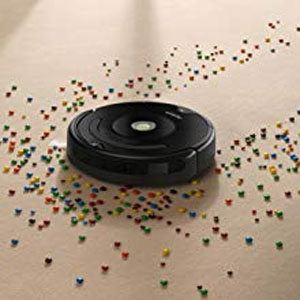 Roomba 675 provides 600 Pa suction, which is a standard for models of the 500 and 600 series.
Such power guarantees excellent vacuuming of hard floors, including complicated tile seams. It can also be enough for low-piled rugs.
But when it comes to medium and thick carpets, this robot cleaner is not the one you should look for.
Roomba E5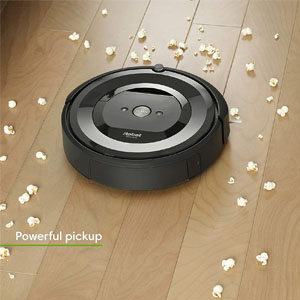 When Roomba E5 first appeared, engineers managed to equip it with the so-called Power Lifting Suction. According to the official information, it «delivers 5X the air power for improved pick-up performance compared to Roomba 600 Series».
Indeed, this model received 1700 Pa suction and became a truly universal vacuum. The E5 is suitable for hard floors, rugs, and carpets. The only restriction is thick carpets. The suction is enough to lift deep dirt, but the driving system causes periodical jams.
Also, please mind that the lack of Carpet Boost makes thick carpet cleaning a more challenging task for these robots. The only modes presented are Auto and Spot cleaning.
Verdict: Roomba E5, with its 5X suction, is a clear leader. It will perform better cleaning on almost any surfaces. Roomba 675 model will suit only houses with hard floors and low carpets when the thick pile isn't its favorite.
Brushes
On the one hand, brushes should unite the models because they both feature one side brush and dual multi surface rollers. But at the same time, we see an important difference between the brush systems. Let's take a closer look.
Roomba E5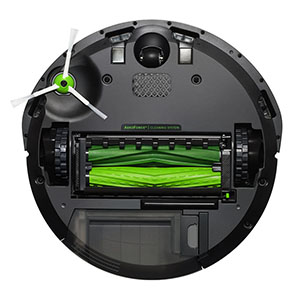 The E5 model uses two bright green rubber rollers. Each roller has a unique pattern and working together, they allow for both picking up large debris and scrubbing old, dried spots.
Besides, rollers can be easily removed and cleaned, but hair entanglement and clogs are rare.
Roomba 675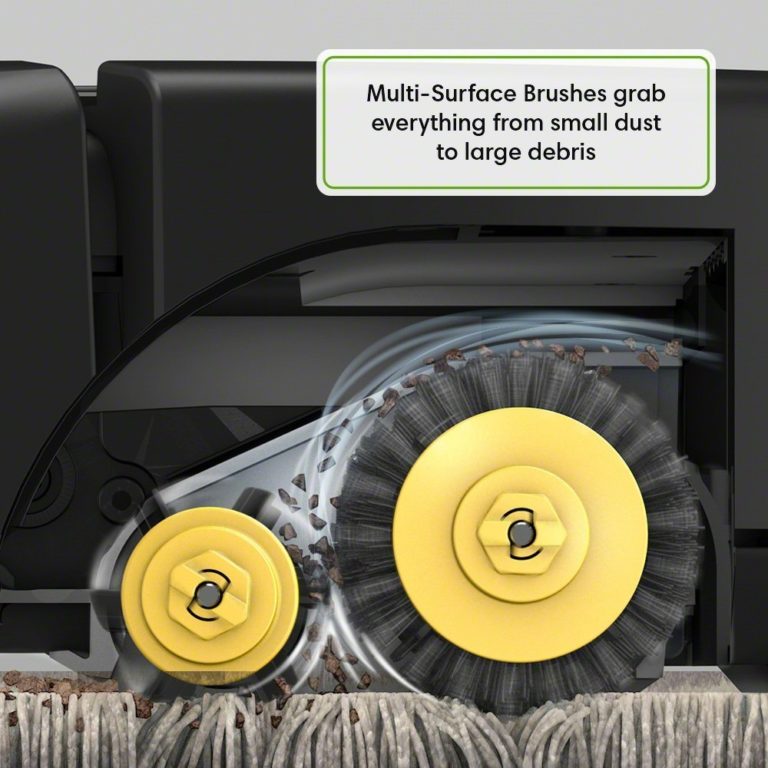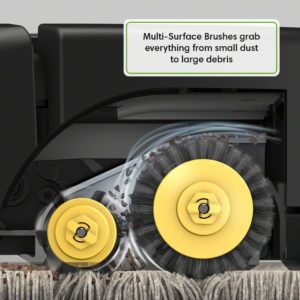 Roomba 675 features another roller set. When it does have one rubber extractor with silicone blades, its second element is covered with bristles. The bristled roller is significantly bigger. Such a combination is supposed to perform simultaneous scrubbing, lifting, and grabbing.
The cleaning results of this system are equal to the E5 brushes, and you can be sure the bristled roller will gently treat any surface without the slightest damage. However, tests show that hair tends to tangle on the roller and causes more complicated brush cleaning.
The last worthy moment about robots` brushes is their auto-adjust technology. Both sets automatically adjust their location to the surface height, providing the most specialized cleaning.
Verdict: Exquisite roller-extractors and efficient side brushes perform as gentle yet firm treatment as necessary. However, in our opinion, Roomba E5 can get a couple of bonus points for its worry-free brush cleaning.
Run Time
If you're looking for a lasting robot vacuum, choose any of the two. Their identical 1800 Li-Ion batteries are capable of containing energy enough for 90 minutes of continuous cleaning. Considering that both robots are made for small and medium dwellings, they will clean every inch for this time.
After discharging, both robots will stop operation and automatically return to the dock. You can also make them come to the station by pressing the Home/Dock buttons on the cases.
Please remember that though our Roombas can come home with a low charge, they do not have Recharge & Return function. This system means that robots can both automatically recharge and restart the cleaning right from the place they stopped. Neither Roomba E5 nor Roomba 675 can remember locations of interrupted cleaning.
Verdict: Despite the lack of Recharge & Resume, robots offer excellent and lasting cleaning with automatic docking.
Dustbin Indicator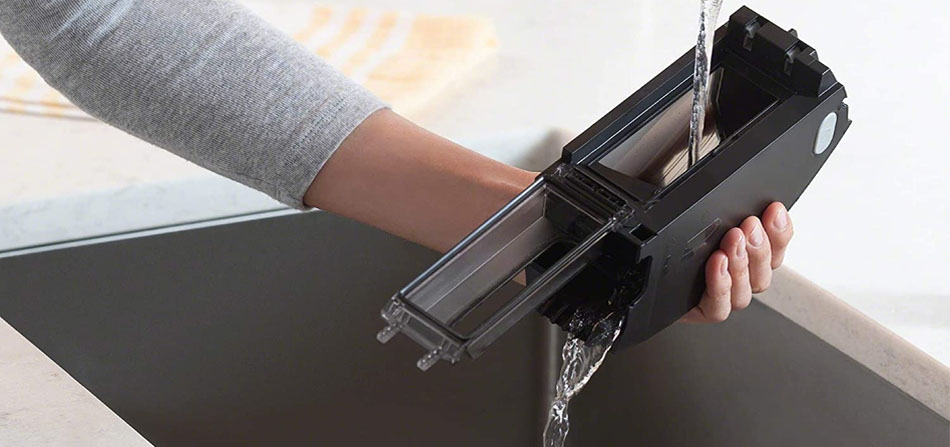 The first Roomba comes with a removable plastic dustbin that can contain 500 ml of dirt. The bin is easy to empty and rinse to provide ultimate cleanliness.
The second iRobot has a similar bin construction counted for 300-350 ml. Please mind that Roomba 675 dustbin is not washable.
Unfortunately, neither the first nor the second option can boast of large containers. If performing everyday cleaning, you will face no problems with emptying. But owners of messy houses, pets, and people who prefer rare vacuuming will have to stop cleaning and empty dustbins several times before the end.
Full Dustbin indicator would be a lovely addition to such small bins. The indicator notifies users when the bin is full. Unfortunately, both robots lack this function.
Verdict: Dustbins and the lack of the full indicator can be considered a drawback. But if you want to choose a better evil, you should obviously try the E5 with its 500 ml container.
Noise
Light sleepers, parents, owners of shy pets, and all other people can safely purchase the presented Roombas. Our robots produce about 60-65 decibels.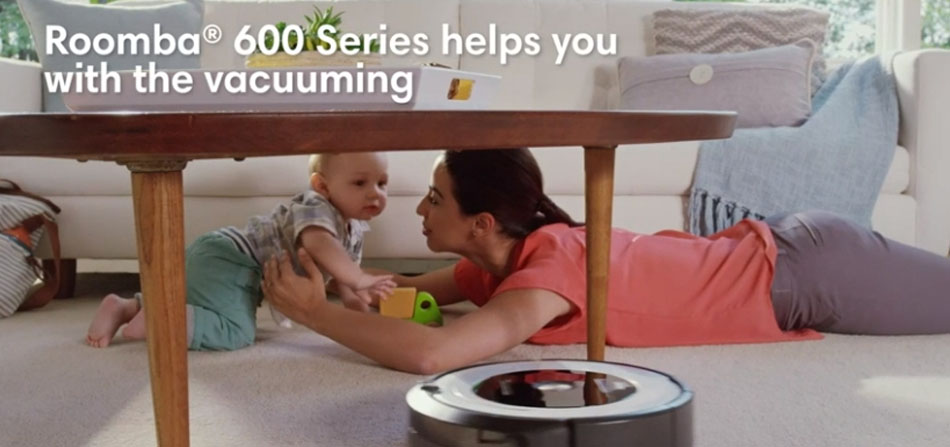 When cleaning hard floors, the vacuums become almost silent. Carpet cleaning will increase the noise level, but it still feels comfortable.
Verdict: The majority of modern robot vacuums produce over 65-70 decibels. There are also a lot of models with a 55 dB noise level.
So, the E5 and the 675 cleaners belong to the category of devices of standard loudness. They are heard when you're in one room but are quiet throughout the whole dwelling.
Accessories
Roomba E5
Roomba E5 comes with:

Home Base Charging Station
Line Cord
Owner's Guide and Documentation Package
Roomba 675
Apart from the robot itself, Roomba 675 kit includes:

Home Base Charging Station
Line Cord
1 Extra Filter
1 Flat Cleaning Tool
Owner's Guide and Documentation Package
As you can see, none of the models come with virtual limiters, but they are compatible with the Dual Mode Virtual Wall Barrier. So, you can buy it separately.
Verdict: Each model offers quite a moderate number of accessories. Still, the presence of an extra filter allows you to save several bucks, that's why Roomba 675 takes a leading position in this part of the review. And the support of virtual limiters, even if not included, is also a great feature to consider.
Tests on Different Types of Floors
Anyway, the words are nothing without action. So, it's time to perform a series of experiments with varying contaminations on different floors.
This time, we decided to imitate large and fine debris as well as hair cleaning. Sugar has become fine dirt; cornflakes were used as awkward large pollution; and, we took common cat fur for hair cleaning. All three substances were spread on laminate, low-pile, and thick carpets.
Sugar
As it was expected, none of the models faced problems with vacuuming light and fine sugar from a flat surface like laminate. The visual analysis showed that Roombas E5 and 675 collected 100% of scattered particles from the first pass.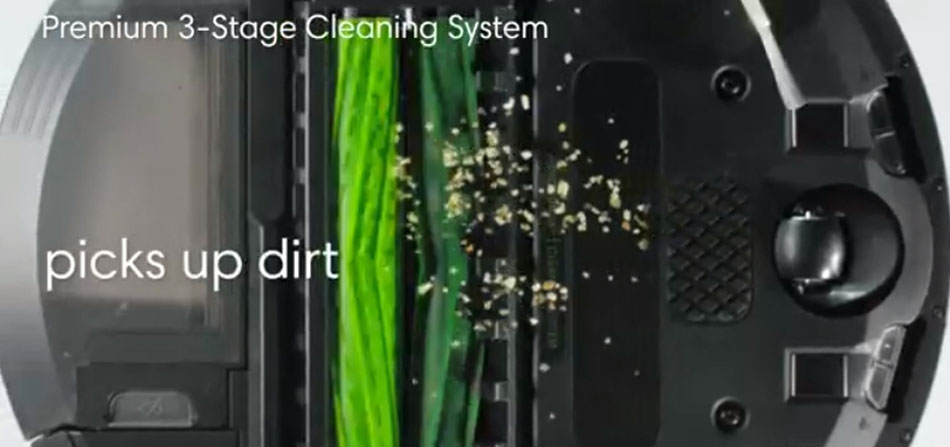 Sugar vacuuming on the low-piled rug also took almost no time and was performed with 99% thoroughness.
The problems started later when our robots came to the thick carpet. Lightweight sugar fell deep into the fluffy structure of the pile. Thus, the E5 model managed to collect about 80% of sugar from the first pass, and the following turns allowed to vacuum the rest. All in all, the vac lifted about 95% of debris.
Verdict:
The 675 model did its best to show similar results. But it didn't pick up all sugar all at once. Even after several passes, it coped with approximately 60% of pollution.
Cornflakes
On the one hand, large debris is easier than fine particles as it is easy to grab. But on the other hand, it requires higher suction to lift and more thought-out brushes to collect the dirt as its sizes may become awkward.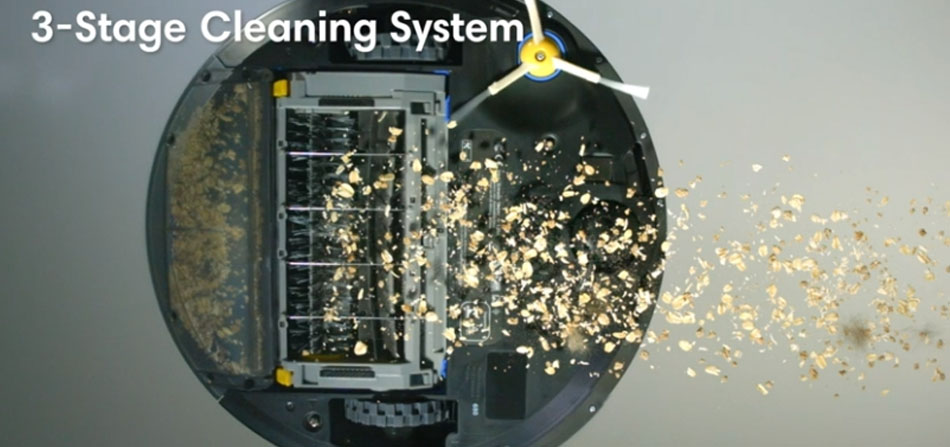 When our models cleaned cornflakes on the laminate, the process took about two minutes and several passes. Once again, the difficulty was in the size of the cornflakes.
Low carpet cleaning of large debris went identically. 100% of cornflakes disappeared within several minutes and passes.
Verdict:
Thick carpet required special effort. Roomba E5 did collect all particles, but it took thrice more time. Roomba 675 didn't manage to lift all cornflakes. About 5%-10% were left in the high pile. However, we should note that the robot showed better results when cleaning large debris on thick carpeting than fine dirt.
Pet Hair
So, what can we tell about hair cleaning on the hard floor? It's easy breezy. Excellent brush systems of two models picked up each hair just for two passes.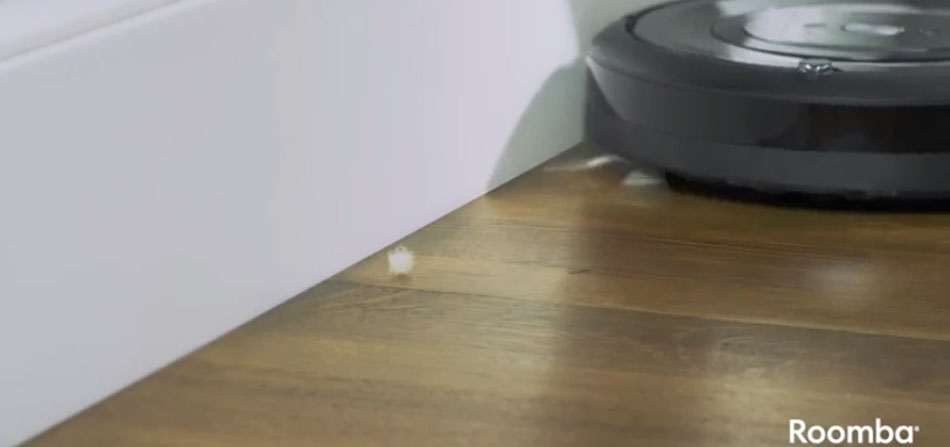 Surprisingly, carpets also didn't cause too much trouble. A low-piled rug was cleaned within a couple of minutes. On the thick carpet, Roomba E5 operated longer and collected 95% of pet fur. Roomba 675 needed even more time and got about 80% of hair. Mainly, it owns such a nice result to the brushes, but we can say that cleaning on the high pile wasn't easy for the vac. The small limited area was the only reason why it didn't get stuck or clogged.
Verdict: So, tests allowed us to conclude that both robots provide nice cleaning. While Roomba E5 is a truly universal model, we would recommend Roomba 675 only for hard floors and low carpets.
We'd also like to note that quick 100% results were guaranteed only because we limited the cleaning area of the vacuums, making them clean within the frames. If you scatter sugar, cornflakes, or hair in the middle of the room and let the robots look for the dirt, cleaning will take more time.
Buyer's Guide – How to Choose the Best Robot Vacuum Cleaner?
The choice of a robot vacuum is a complex task where a lot of moments should be considered. Let's name several most important factors that directly depends on the vacuum performance.
Size of Your Dwelling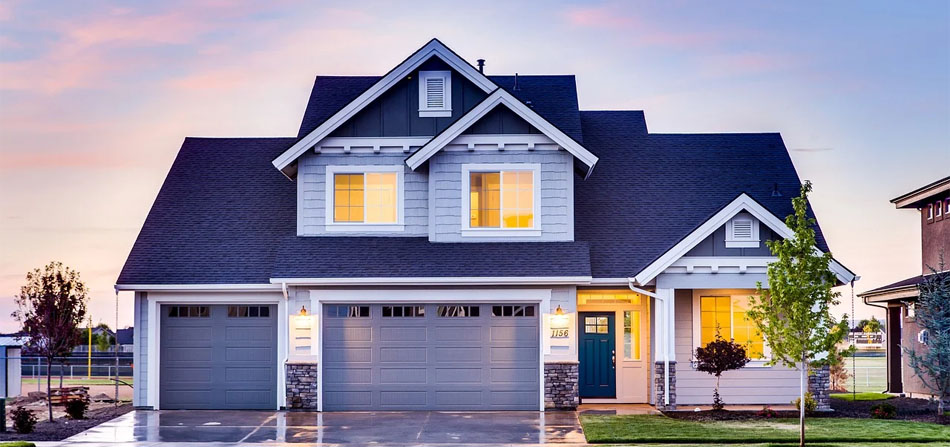 Unfortunately, many customers tend to forget about such quite an obvious factor as the footage of their dwelling. Here is a simple scheme on how to turn a great robot into a complete waste of money – purchase a robot vacuum aimed at medium apartments for a multi-story house or a large office. Done!
Please, always consider the size and type of your dwelling before buying to make sure it has enough energy, power, and navigation skills to deal with the offered footage.
Types of Floors
The choice of the suction, brush system and filter depends on the floors. While hard surfaces will settle for low power and one brush, an entirely carpeted floor will require extreme suction, dual rollers, and even Carpet Boosting.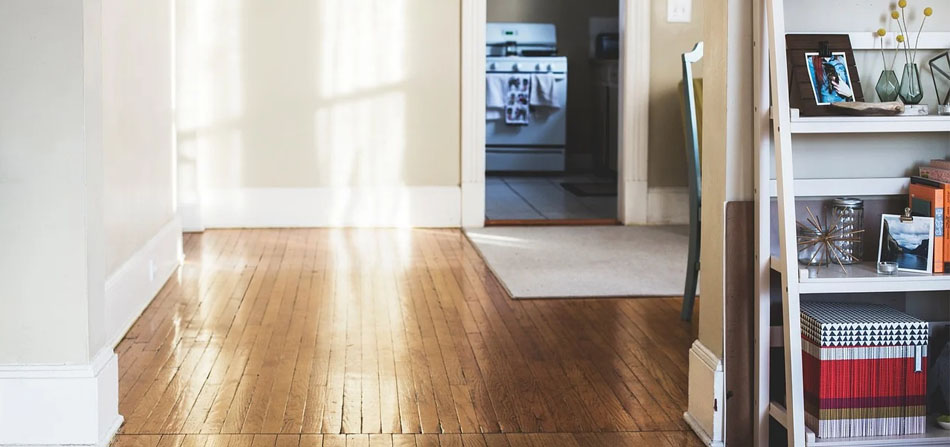 Sometimes owners of houses with hard flooring like to have 2-in-1 robots that can perform both dry and wet cleaning. Also, consider the necessity of such a function for your dwelling.
Lastly, the more complex your floors, the more dirt they content. Consequently, you'll need a robot vacuum with a capacious dustbin or even self-emptying technology.
Pets
The presence of pets in the house somehow correlates with the factor of floor type. Pet hair is challenging pollution like carpets are a challenging surface.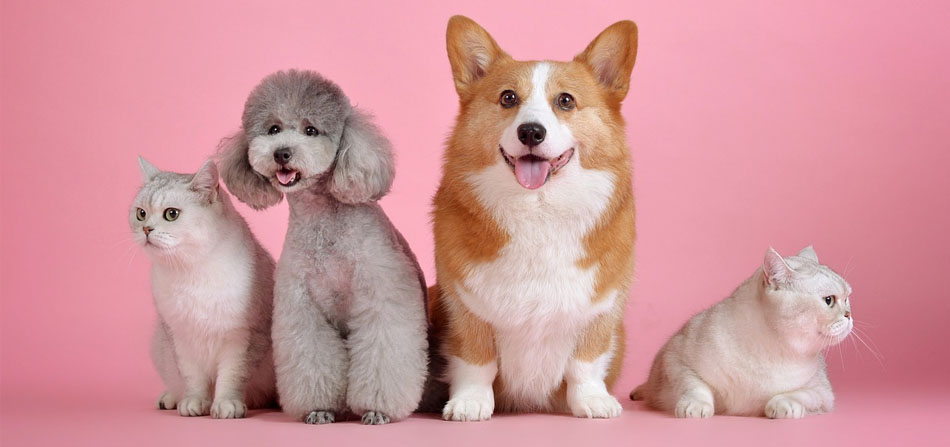 Thus, if you're a pet parent, look for specially designed robot vacuums. As a rule, they have higher suction, specialized easily cleaned roller-extractors, big dustbins. And, more importantly, they have thorough air filtration. Anti-allergen filters are the best option.
Run Time
Each and every robot vacuum cleaner needs more time for recharging than it gives for cleaning. Consequently, no one would like its robot to clean half of the room and spend the rest of the day on the bock base.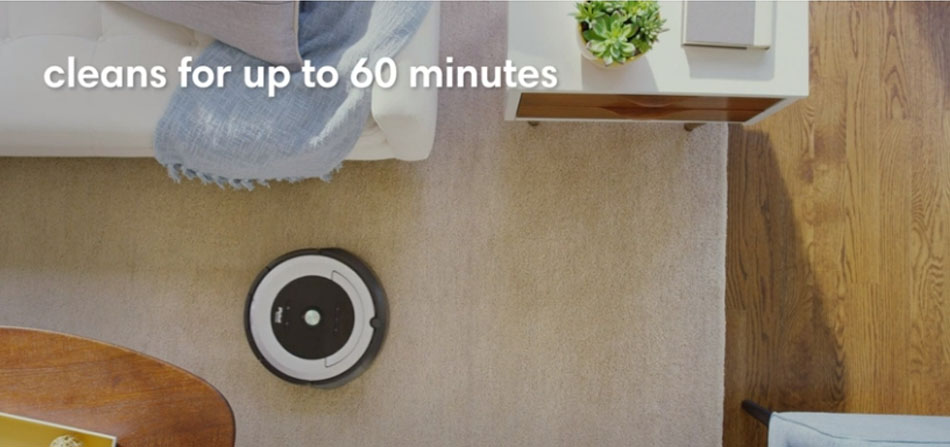 Extended run time as well as additional Recharge & Resume function allow robots to operate even in the most powerful modes and process the whole dwelling. That's why we highly recommend you to pay attention to the battery capacity and correspond it with your footage.
Accessories
Sometimes, manufacturers add accessories to the kits. In most cases, they are consumables like replaceable filters, side brushes, mop pads, etc. You can also get cleaning tools and even virtual limiters that improve navigation and maintenance.
Accessories are secondary but very useful elements for any robot vacuum and user. They significantly save your time and money since you'll have to buy these elements anyway.
Frequently Asked Questions
Roomba E5 vs Roomba 675: what is the best option for hard floors?
If you have mainly hard floors like laminate, tile, linoleum, etc. and don't have carpets in your house, Roomba 675 may be a more beneficial choice. Its power is enough to provide thorough and quick cleaning of even flat surfaces, while the cost is about $40-$50 less compared with Roomba E5.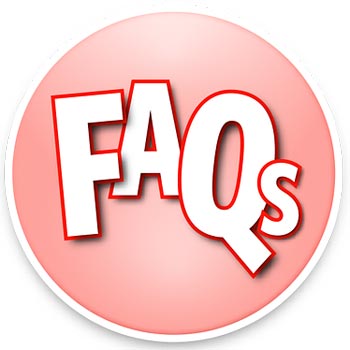 How can I reset Roomba E5 and 675 robots?
To reset the robots, press and hold the Home and Spot Cleaning buttons for 10 seconds until all indicators turn off. When you release the buttons, you will hear a tone to confirm a successful reboot.
For more detailed information, please read the manual or contact the iRobot User Service.
Are Roomba E5 and Roomba 675 compatible Dual Mode Virtual Barrier?
According to the iRobot official site, Roomba E5 and 675 robot vacuum cleaners do not come with any virtual limiters. However, the models support Dual Mode Virtual Barrier, which means you can purchase it separately to improve your vacs' navigation.
Is Roomba E5 similar to Roomba i7 vacuum?
Many users note that Roomba E5 is a cheaper and simpler version of the iRobot Roomba i7 flagship. Both robots feature 1700 Pa suction, dual multi surface roller brushes with self-adjustment, close 500 ml and 400 ml dustbins, and 1800 mAh batteries.
However, Roomba i7 got improved vSLAM and Smart Mapping navigation, Recharge & Resume, Keep Out Zoning. It is also compatible with Automatic Dirt Disposal Base for self-emptying and mopping robot Braava jet m6.
How long will iRobot Roomba robots last?
Please mind that the lifetime of robot vacuums significantly depends on the lifetime of their batteries. The manufacturer recommends replacing batteries every two years. So, with proper maintenance, Roomba vacuums can last up to 5 years.
Conclusion
Now we have all the rights to state that both iRobot vacuums offer an excellent combination of performance and price. It may even seem surprising for many users that the luxury brand sells such high-quality robots for less than $300.
Roomba E5 robot turned out to be the most powerful and multi-purpose option for all floors, houses, and families.
Roomba 675 has absolutely identical navigation, smart features, and run time, but will do better on smaller and plainer surfaces. Tests proved it could cope with pet hair and even thick carpeting. However, the effort isn't commensurate with the result.
As usual, the choice of the right model fully depends on your needs, requirements, and budget. We can only assure you that you won't regret it anyway.