Roomba i3 vs i7 Face to Face Comparison
A breakthrough of the recent years, Roomba i7, hasn't long been the most innovative robotic vacuum of iRobot. After the tremendous success of the Automatic Dirt Disposal technology, the company continued investment in the lineup.
The fast release of the Roomba S9 series put it slightly aside and took the vacant place.
This year, iRobot presented another self-emptying device – the Roomba i3.
Customers have immediately noticed lots of similarities between the two representatives of the I series. That's why we decided to dedicate today's review to the Roomba i3 vs i7 model comparison. Stay with us to learn everything about robots' strong and weak points.

Main Differences Between the Models
Differences always draw more attention as they help us decide on which device to pick up. As we've mentioned, Roomba i3 and i7 share lots of characteristics, which only makes a choice harder. So, the saving distinguishing features are:

The navigation system is the models' main difference. Roomba i3 uses simpler iAdapt 2.0 and no vSLAM, while its elder brother has the next generation of iAdapt 3.0 and visual vSLAM system.
Both robots can build maps. However, the i3 uses basic Mapping, and the i7 vac applies Imprint Smart Mapping with multi-floor plans.
Roomba i7 also supports Keep Out Zones and Clean Zones.
However, Roomba i3 is the only robot that is equipped with floor tracking sensors and Reactive Sensor Technology that tells the robot where it can and cannot reach.
The younger I series model can also learn about your cleaning habits and offer you customized cleaning strategies.
Finally, Roomba i3 turns out to be heavier than its rival.
Comparison Table
Navigation
iAdapt 3.0 and vSLAM, Imprint Smart Mapping
Navigation
iAdapt 3.0 and vSLAM, Imprint Smart Mapping
Roomba i3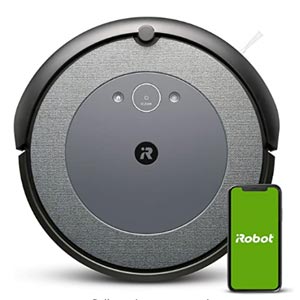 As we've mentioned above, the current model was released literally a month ago, on September 17th, 2020. The device is integrated into the recently launched iRobot Genius Home Intelligence platform, thanks to which users can maximally customize cleaning. Roomba i3 is also the most affordable iRobot vacuum equipped with a self-emptying function.
The model continues the traditions of the I series. Thus, experts note similar suction power, Dual Multi-Surface Rubber Brushes design, filtration, extremely useful Dirt Detection. However, please mind that engineers changed the navigation system (which will be discussed in detail later). In a short word, the system became simpler though there is still Mapping function and iAdapt sensors.
Also, users can enjoy newly updated iRobot app control. The program can preplan the next cleaning by collecting the data on dirt and allergen picked this time.
Thanks to the 10X suction, Carpet Boost, rollers, and filter, Roomba i3 will perfectly suit large apartments and single-story houses with carpets and pets. Parents and allergic people will also love its safe cleaning.
Though the i3 lacks the Dirt Disposal base in its kit, you may purchase it separately. Also, owners of iRobot Braava jet m6 mops will be able to synchronize the robots through the Imprint Link for comprehensive cleaning.
Roomba i3 costs $399. The device is the best smart and self-emptying cleaner for customers on a budget.
Pros
compact design
Dual Multi-Surface Rubber Brushes free of tangling
10x suction (compared to the 600 Roomba generation)
Carpet Boost for improved carpet cleaning
Dirt Detection
High-Efficiency anti-allergen filter
Mapping and Visual Navigation
Floor tracking and Reactive Sensors
intelligent, personalized cleaning recommendations
supports Auto Dirt Disposal base
Imprint Link
Recharge & Resume
app and voice control
affordable price
Cons
weak battery
small dustbin if used without the self-empty base
no Keep Out and Clean Zones
Roomba i7
Read more about Roomba i7
After the year passed and several models released, customers somehow got used to the Roomba i7 functionality, and it doesn't seem to be such an innovation anymore. However, let's remember why it's wrong.
Indeed, the Roomba i7 cleaner was launched in 2018 with further upgrades in 2019 and became an event in the robotic household market. The model was the first Roomba equipped with self-emptying technology.
Moreover, users could enjoy its 10X suction and completely improved navigation. The I series offered Imprint Smart Mapping that has been upgraded to save several maps for multi-floor cleaning.
Smart control is another reason that placed the vacuum in one line with the best robotic novelties of 2019. Apart from the usual app control, users could draw an unlimited number of restrictive lines right on the map. The system is called Keep-Out Zones. And if you need cleaning in one room only, you can set Clean Zones.
Despite obvious drawbacks such as a poor battery, small dustbin, and high price, improved smart features justify them all. The Auto Dirt Disposal base (which is also supported but not included), Imprint Link synchronization for mopping, navigation, and control – these are the reasons to purchase the device.
We also see that the i3 took lots of features from this modification. Thus, Roomba i7 is suitable for the same tasks. Roomba i7 successfully combines trusted usability and variable cleaning means that make it perfect for almost all floor types, except for thick carpets. If you have pets or kids, trust its anti-tangling rollers and filtration.
Now, you can purchase the Roomba i7 for $599.
Pros
compact
Dual Multi-Surface Rubber rollers
high 10X suction power
Carpet Boost
Dirt Detection
High-Efficiency filter with anti-allergen air treatment
Imprint Smart Mapping for several floors
iAdapt 3.0 and vSLAM navigation
Keep-Out Zones and Clean Zones
app and voice control
Imprint Link technology
automatic self-empty function with Auto Dirt Disposal base
Recharge & Resume
Cons
pricey option
small dustbin
weak battery
Face to Face Comparison
Now, when you got a short description of the robots and their strong/weak sides, it's time to perform a detailed comparison of the devices.
Design and Dimensions
Roomba i3, has the following dimensions: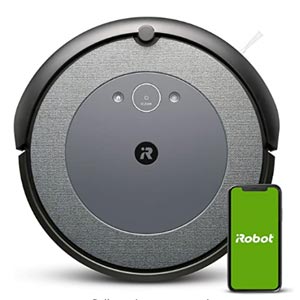 13.34″ x 13.26″ x 3.63″
11.4 pounds
Roomba i7 has the following dimensions:
13.34″ x 13.26″ x 3.63″
7.44 pounds
Engineers left body dimensions unchanged, so the length and height of the products completely coincide.
At the same time, design shows a significant difference between the models.

The i7 cleaner has a black body with three manual buttons and a carry handle. In the middle of the top panel, there is also a camera for visual navigation covered by protective glass.
Roomba i3 offers the same control buttons and a handle, but you'll see no cameras. The color was also changed by stylish silver.
The filling of the i3 modification made it heavier than the predecessor. But the difference is not so dramatic to influence maneuverability or convenience of use.
Verdict: Compact dimensions indicate that the robots won't cause you any problems with transportation and getting stuck.
Navigation
Magnetic Boundary Markers
Virtual Walls/No-Go Zones
Magnetic Boundary Markers
Virtual Walls/No-Go Zones
Magnetic Boundary Markers
Virtual Walls/No-Go Zones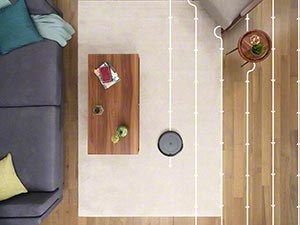 Roomba i3 can boast excellent precise navigation
, but it became a step down compared to the i7 and S9 generations. Demanding users can enjoy the Mapping function, though there is only one map supported.
We also note iAdapt 2.0 sensor-based technology used in the 900 series and the lack of vSLAM visual aid.
However, Roomba i3 offers several unique features, such as state-of-the-art floor tracking sensors to perform perfectly neat row-by-row floor processing.
Besides, the cleaner uses Reactive Sensor Technology that tells the robot where it can and cannot reach. Now, you may forget about the robot's pitiful beeping once it's got stuck.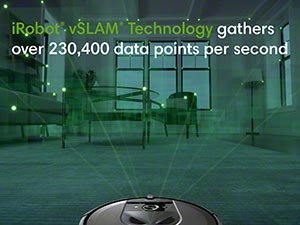 While early Roomba i7 lacks anti-stuck sensors, its general navigation can be called a superior one. Not only does it apply the next 3.0 generation of iAdapt technology and vSLAM camera, but it also provides the brand's most advanced mapping.
Imprint Smart Mapping allows for remembering several plans for different floors. It also means that users can set as many Keep-Out Zones as they wish. Just open the app and draw restrictive lines, squares, circles (whatever) right on the map.
Finally, the robot supports Selective Room/Clean Zones cleaning to vacuum certain rooms instead of the whole dwelling.
Verdict: Roomba i7 offers more intelligent navigation with wider customization options for users. We also recommend it for owners of multi-floor dwellings.
At the same time, no one would say that Roomba i3 loses a lot. One map is quite enough for the majority of users, and the Reactive Sensor Technology is a huge plus.
Dirt Detection


As long as both models belong to the top-level category of robotic vacuums, iRobot couldn't allow them to lack such an incredibly efficient function as Dirt Detection. Both I series Roombas can automatically determine the floor type and adapt effort for the ultimate cleaning result.
Filter System
Pet owners, parents, and people with respiratory or allergic problems can safely pick up any of the I vacs. Roomba i3 and i7 are equipped with a High-Efficiency Filter that traps 99% of particles, never missing even cat and dog allergens. Tight sealing will prevent dirt from returning into the room.
Verdict: Both models provide perfect air treatment. Better systems can be met in the S9 series only. So, there is no winner in this battle except for the users who purchased these bots.
Connectivity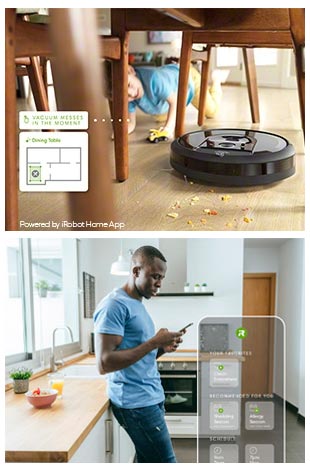 Now when even the cheapest robot devices are equipped with Wi-Fi support, the presence of such a system in the top-range Roombas seems doubtless. The vacuums connect with the iRobot Home app as well as Google Assistant and Amazon Alexa smart speakers.
Moreover, let us say that Roomba i3 outperforms its elder brother as it learns users' cleaning habits to offer up personalized schedules. Smart algorithms and analysis also allow it to offer increased cleaning scenarios for different situations like shedding season, more dirt and sand during rainy autumn, etc.
Like all iRobot vacuums, Roomba i3 is compatible with Dual Mode Virtual Wall barrier. So is Roomba i7, though it doesn't need any thanks to the Keep Out Zoning.
Finally, both advanced cleaners feature Imprint Link Technology to collaborate with iRobot Braava jet m6 robot mop. Once the vacuum finished its work, it notifies the mop to start wet cleaning.
Verdict: Roomba I series is the most intelligent and advanced iRobot lineup, so you'll get all smart connectivity functions here.
Suction Power

Working on the i3 model, engineers built its suction upon the i7 lineup. Thus, the vacuums use the same motors and, consequently, have the same power.
The models provide 10X air power. It is ten times increased compared to the 600 series vacs that have basic-level 600 Pa for hard floors only. Here, users get about 1700 Pa that is enough for hair, all hard floors, rugs, low and medium carpets. The thick pile is the only restriction.
Nevertheless, hair and carpet cleaning is especially thorough as the vacuums activate the Carpet Boost function when working on the pile to lift the most challenging dirt.
Verdict: Though you will hardly get a sufficient cleaning result on thick carpets, all other tasks are not a problem for Roomba i3 and i7. They are equal in power, which makes a choice more difficult for you.
Brushes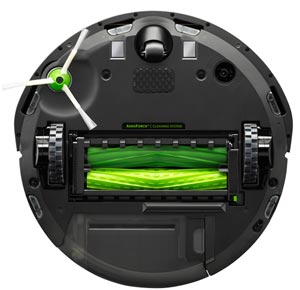 You will see no differences when comparing brush systems too. The robots use iRobot best Premium 3-Stage Cleaning System. It consists of:
one side brush set at a 27-degree angle for ultimate edge dirt sweeping;
unique Dual Multi-Surface Rubber Brushes;
suction port;
Central brushes are worth special attention. They adjust their position to reach the tightest contact with the surface and gently process all floors. Rubber design guarantees zero pet hair tangling and, consequently, easier brush cleaning.
Verdict: Exquisite roller-extractors and efficient side brush perform as gentle yet firm treatment as necessary. Buying the models, you'll face no problems either with dirt missing or with brush cleaning.
Run Time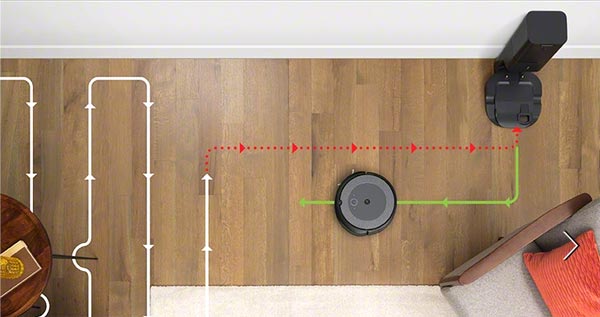 Roomba i3 and i7 apply the same battery that provides 75 minutes of runtime. Unfortunately, this durability may be regarded as a drawback.
Such runtime is used in the simplest 600 series vacs and cannot be relevant for the most advanced I series.
The announced power, precise navigation, and smart features will expend the charge too fast.
Recharge & Resume technology somehow improves the situation. When the charge is over, your robot will automatically return to the dock and then continue cleaning right where it stopped last time.
Verdict: Automatic docking and continuation are excellent additions, but we still wonder why iRobot made such a huge mistake with these models' runtime. Anyway, if you need a longer duration, the manufacturer leaves the possibility to purchase and install a better 3300 mAh battery here.
Dustbin Indicator
Neither the first nor the second option can boast of large containers. The Roombas come with a removable plastic dustbin that can contain about 400-500 ml of dirt.
Such a volume would be OK for small apartments. But since the I series is designed for large dwellings and even multi-story houses, be ready for frequent emptying. Also, owners of messy houses, pets, and people who need rare vacuuming will have to stop cleaning and empty dustbins several times before the end.
However, the Automatic Dirt Disposal base can completely improve the situation. Both devices are mainly known for their self-emptying function. So, if you purchase the Auto Dirt Disposal base (which is sold separately in these modifications), you'll forget about dirt throwing.
For those who still prefer manual emptying, the Full Dustbin indicator will be of great use. Thanks to it, the robots sense when the bins are full and notify you.
Verdict: Self-emptying is the main advantage of the cleaners. We highly recommend you to spend several bucks on the Base or look for the Roomba i3+ and i7+ models with the Bases included in the kit.
Noise
The iRobot models produce a standard 68 dB noise level. We can't say they are silent or, on the contrary, loud. You can hear them working on Max modes, but it feels comfortable. And you can run the vacs even at night in quiet/weak modes.
Accessories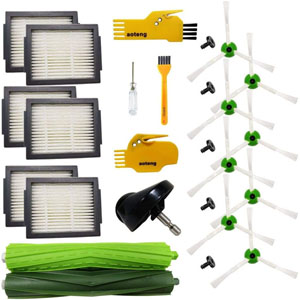 According to the information on the iRobot official website, Roomba i3 comes with:

1 Home Base Charging Station
1 Extra High-Efficiency Filter
Roomba i7
kit includes:
1 Home Base Charging Station
1 Extra High-Efficiency Filter
1 North American Line Cord
1 Extra Side Brush
Verdict: iRobot has never been too generous in the question of free accessories. We see that Roomba i3 offers almost nothing except for the necessary things. Roomba i7 definitely wins here as it comes with a really useful side brush replacement set.
Tests on Different Types of Floors
In the course of cleaning tests, both models showed ultimate performance and almost 100% efficiency on all surfaces and with all messes. For proof, we took sugar, cornflakes, and pet hair and spread them on laminate and carpets.
As predicted, the cleaners' brush systems and suction are too good to fail on hard floors. Fine sugar particles, cornflakes, and hair were utterly eliminated without much effort. Here is a 100% efficiency.
Tests on medium-piled carpets showed a similar picture. The only difference is the time required for vacuuming. Both vacuums worked twice longer, but the result was: 100% of sugar, 100% of cornflakes, and 99% of pet hair.
When it came to thick carpets, vacuums did their best. We noted the activation of Carpet Boost and increased suction. Still, the driving system is not designed for such a thick pile. So, robots got stuck and managed to collect no more than 80% of pollutants.
Buyer's Guide – How to Choose the Best Robot Vacuum Cleaner?
Like with any other good, we don't recommend you to take the first product you saw. The secret of perfect purchase is thorough preparation, investigation, and plan.
To buy a suitable robot vacuum, you'll also have to follow some steps that will help you throw away inappropriate options and focus on the main characteristics.
So, if you want to choose the best robot vacuum cleaner for your house and needs, pay attention to:

Service title
Size of Your Dwelling. Purchase a robot that was specially designed for your type of dwelling. Small apartments require much less than multi-story houses. So, don't waste money where it's unnecessary and don't try to save if you feel your house footage needs better batteries, power, and navigation skills.
Types of Floors
The choice of the suction and brush system depends on the floors. The simplest vacuums with 600-800 Pa suction will easily cope with hard surfaces, but carpets will become a problem. So, if you have lots of carpeting, invest several bucks in a device with roller brushes, suction over 1500 Pa, and Carpet Boosting.
Mopping
Some customers dream of having 2-in-1 robots that can perform both dry and wet cleaning. Also, consider the necessity of such a function for your dwelling. It will be justified in houses with hard floors, mostly. If you own a home with a combined hard and carpeted floor and still want a mopping device, try to look for a product with electric water flow control and No Mop zone technology.
Pets
Pet hair is challenging pollution that requires higher suction, anti-tangling brushes, and improved filtration. Thus, if you're a pet parent, look for specially designed robot vacuums. As a rule, they also have big dustbins and anti-allergen filters.
Run Time
On average, robot vacuum cleaners run for 1-1.5 hours. But even the most durable models need more time for recharging than they give for cleaning. We recommend you to look for devices with a runtime over 100 minutes. Recharge & Resume function is also a worthy investment, especially for large dwellings.
Accessories
Accessories, especially free replacement elements, allow you to save on further robot's maintenance. Customers value such consumables as replaceable filters, side brushes, mop pads, etc. You can also get cleaning tools and even virtual limiters that improve navigation and maintenance.
Frequently Asked Questions
Roomba i3 vs i7: which is better?
Imprint Link is a brand-new patented technology that allows Roomba users to connect their Roomba S9/S9+ and Braava robots. When the vacuum ends its part of work, it notifies the mop to start wet cleaning. If you have a Braava jet m6 mop, you can activate the Imprint Link on your Roomba and enjoy the perfect cleanliness of your floors.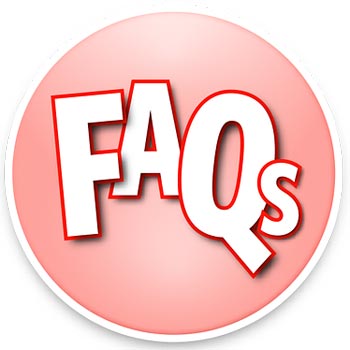 Is Roomba i3 worth purchasing?
Roomba i3 is definitely worth purchasing. It costs $399 only, which is the lowest price for a self-emptying vacuum among all brands. Besides, you'll get great navigation, high power, multi-surface processing, and intelligent cleaning customization.
Can I run my Roomba I series at night and on black carpets?
All advanced Roombas, including the i3/i3+ and i7/i7+ models, easily orientate in the dark. Besides, their anti-drop sensors don't prevent them from working on black and dark carpets.
Why is Roomba i3 cheaper than Roomba i7?
Roomba i3 model was designed on the basis of the Roomba i7 and became its more affordable prototype. The lower price is explained by simpler navigation.
How much is the Automatic Dirt Disposal base?
The authentic Auto Dirt Disposal base for I series robots costs $220-$250. Check the current price on Amazon.
Conclusion
Thorough investigation proved that the i3 series was based on the i7 robots and was originally conceived as a more affordable modification of Roomba i7.
The release of the new Roomba i3 model allowed users to enjoy self-emptying technology for less money. While the majority of functions stayed unchanged, the manufacturer made an accent on cleaning customization, which is another reason to purchase the vac.
At the same time, the older Roomba i7 didn't suffer a lot from the appearance of the more affordable twin. Its navigating and mapping abilities are still unconquerable.