Roomba S9 vs S9+ Face to Face Comparison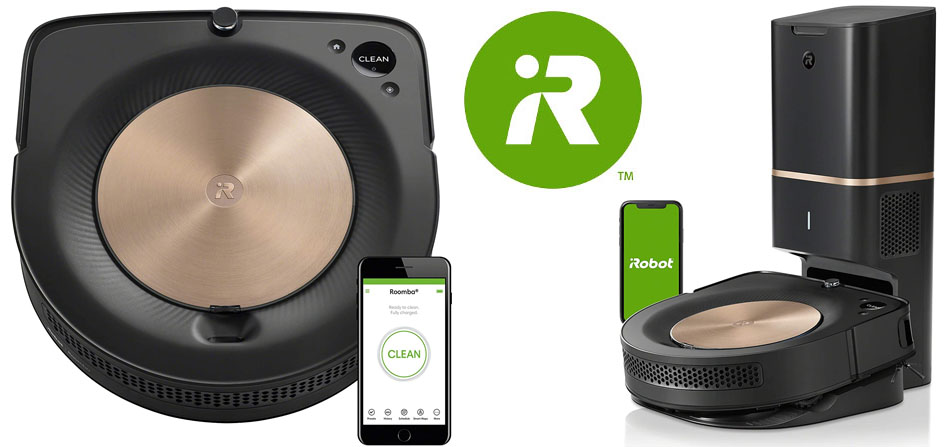 The year 2019 seems to be very productive for the iRobot. Having released Roomba i7 and i7+ vacuums at the beginning of the year, the company didn't stop and conquered the market the second time with its brand-new Roomba S9 and S9+ robots. The latest release provoked a flood of Roomba S9 vs S9+ reviews.
However, even the whole year later, many customers still wonder what these incomparable characteristics and innovative functionality the devices offer are. Moreover, the main point of interest is the differences between the models, which look pretty much like twins.
So, is there really a sense to overpay for the flagship model? And is there a sense to overpay for the S9+ option, which is identical from the first glance? Let's find it out!
Main Differences Between the Models
Since the difference matter is the most burning in terms of Roomba S9 and S9+ robot vacuums, we won't put it off till the end of the review.
So, ladies and gentlemen, cards on the table:
The one and the only distinguishing feature between the two devices is the Dirt Disposal Base. Roomba S9 just supports this unit but doesn't have it in the kit. So, customers who need this addition will have to buy it separately.
Roomba S9+ modification both is compatible with the Dirt Disposal Base and has it included in the kit.
Since the Dirt Disposal Base uses AllergenLock Bags, Roomba S9 also doesn't have them in its original kit.
Comparison Table
Dimensions
12.25 x 12.25 x 3.5 inches
12.25 x 12.25 x 3.5 inches
Dimensions
12.25 x 12.25 x 3.5 inches
Dimensions
12.25 x 12.25 x 3.5 inches
Roomba S9 came to continue the revolution in the household robotics started by the i7/i7+ models. While sharing lots of characteristics with the previous product, it is far ahead of other iRobot vacuums.
So, in a short word, even the appearance is striking. None of the previous iRobot products came with D-shaped cases that we see here. While the main 3-stage cleaning system stayed unchanged, this addition significantly improves corner cleaning and passability. The 30% longer silicone rollers and record increased 2200 Pa suction also lifted robot performance to a new level.
However, additional functions such as smart control, multi-floor Mapping, Imprint Link, and self-emptying are the core prides of the product. Let us emit a detailed description of these characteristics for a while and only state that no other iRobot models, as well as other brands' products, can offer you such functionality.
Pros
innovative D-shaped case
excellent battery
enlarged dual silicone rollers
high suction power
Power Boost
PerfectEdge technology
HEPA filtration with anti-allergen air treatment
adaptation to the cleaning of any surfaces
multi-floor Mapping navigation
app and voice control
Imprint Link technology
Dirt Disposal Base support
perfect for pet hair
Cons
Dirt Disposal Base is not included
small dustbin
high price
So, what can we tell about Roomba S9+ (Plus) option? Is there anything new?
As we already know, there is only one yet crucial improvement in this model. While being identical to its «brother», Roomba S9+ provides the maximum accessory kit with the Dirt Disposal Base included.
However, when compared to Roomba i7+, our product reveals lots of novelties. The robot is perfect for multi-story houses of any size with any surfaces and types of pollution thanks to the Mapping system with several maps saving.
Exquisite cleaning system works on hard floors and carpets, deals with hard-to-reach areas, old spots, and even pet hair. So if you're not limited in budget and want to get everything in one case, the S9+ is waiting for you.
As usual, the vacuum is designed for dry cleaning only. But the synchronization with iRobot Braava mopping robots through the Imprint Link function allows you to get comprehensive step-by-step cleaning without a single effort.
The only minuses we found are a small dustbin and extremely high price. Still, it would be unfair to state that the model doesn't deserve it.
Pros
innovative D-shaped case
excellent battery
enlarged dual silicone rollers
high suction power
Power Boost
PerfectEdge technology
HEPA filtration with anti-allergen air treatment
adaptation to the cleaning of any surfaces
multi-floor Mapping navigation
app and voice control
Imprint Link technology
Dirt Disposal Base included
perfect for pet hair
Face to Face Comparison
The brief listing of products' advantages still cannot give you a clear understanding of their performance. So, without further ado, let's come to detailed characteristics examination and comparison.
Design and Dimensions
The design of the products became a real breakthrough both for the brand esthetics and corner cleaning. Roomba S9 and S9+ are the only iRobot vacuums that have D-shaped bodies typical for Neato products. Tests prove that the new shape combined with PerfectEdge technology (which we'll discuss later) allows cleaners to eliminate much more dirt along walls and in narrow distant areas.
The case itself is made of common plastic. Stylish black color supplemented with dark golden middle helps the vacs fit any interior.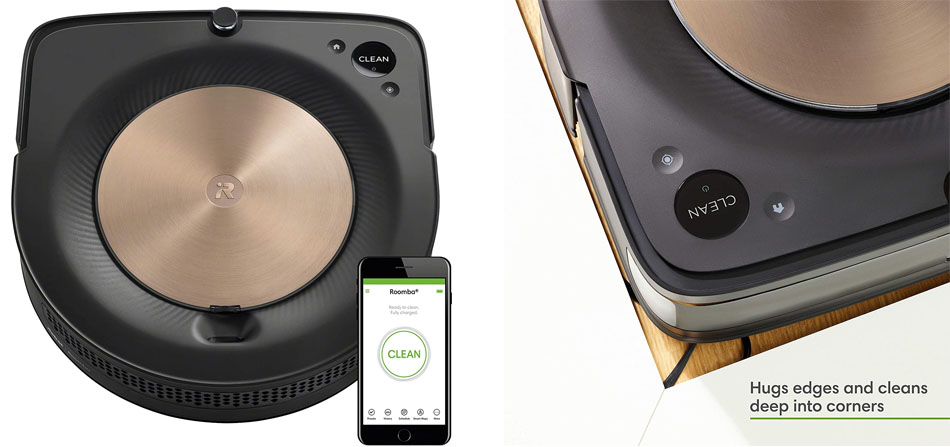 In the upper right corner, users will find three manual buttons. There is a big central Clean button also used for turning on/off, Home button, and a key for Spot mode activation. The straight side is framed by a carry handle for easy cleaner transportation.
While the majority of iRobot robot vacuums measure 13″ long and 3.6″ – 3.8″ high bodies, the new S9 and S9+ cleaners provide extremely compact dimensions:

12.25″ x 12.25″ x 3.5″;
the weight is 8.2 pounds;
During tests, none of the robots got stuck under the furniture. Though many vacuums cannot go between chairs legs, compact bodies allowed our items to fit such complicated areas. Still, users' reviews show that even such an elaborate design doesn't guarantee perfect passability. Sometimes the robots need your help to get out of too narrow places.
Verdict: Without a doubt, the S9/S9+ models are the best iRobot representatives for thorough side cleaning. The reduced dimensions also contribute to the maneuverability, but tricky areas still may cause little problems.
Navigation
The models combined all iRobot best navigation technologies to offer the most accurate and precise house processing.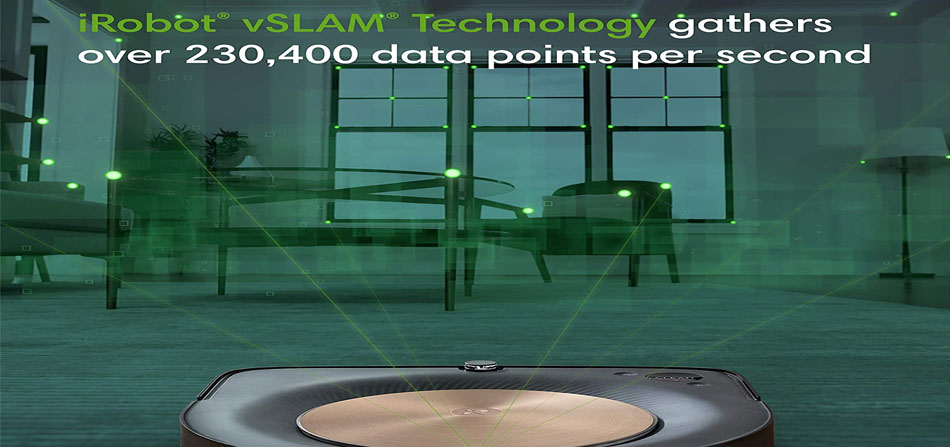 First of all, experienced Roomba users will be glad to know that both devices come with iRobot standard iAdapt technology in the third (iAdapt 3.0) version and vSLAM navigation. Based on one camera and multiple sensors that cover the case, these systems make a primary plan of a room and determine obstacles on the way.
A brand-new PerfectEdge technology also works thanks to special sensors and is aimed at finding edge debris. It also contributes to the navigation as it helps monitor side obstacles and walls.
However, Imprint Smart Mapping is a true queen of the ball. Thanks to it, robots scan the dwelling, remember its every corner, and save this information as a map. The map helps both in cleaning and navigation and in more convenient robot control.
You can see the map in your app, split it into zones, track the device, and even set the Keep Out Zones where cleaning is not needed. All rooms get individual names for easier navigation.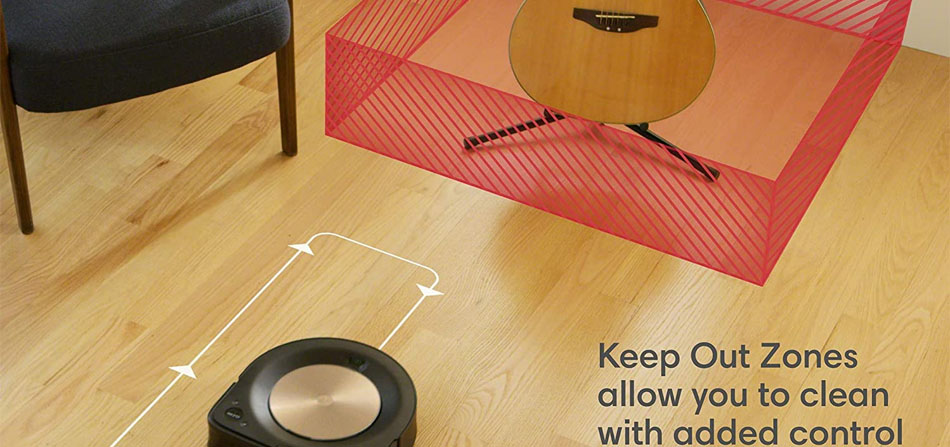 While nowadays, most innovative robot cleaners have mapping, Roomba S9 and S9+ are among few that can boast of multi-floor mapping. It means that they save several different maps of different floors and display them.
Verdict: Roomba S9 and S9+ easily go where other robots will get lost. Multiple map saving and three-staged navigation make both devices perfect for large dwellings and multi-story houses. No other Roomba can offer the same highly precise navigation based on getting 230,400 data points per millisecond for comprehensive coverage. Besides, mapping simplifies app control.
Dirt Detection
Since the S9/S9+ are the iRobot top models, they feature all the best brand functions. Navigation helps them determine the type of the surface, and built-in Dirt Detection helps find pollution.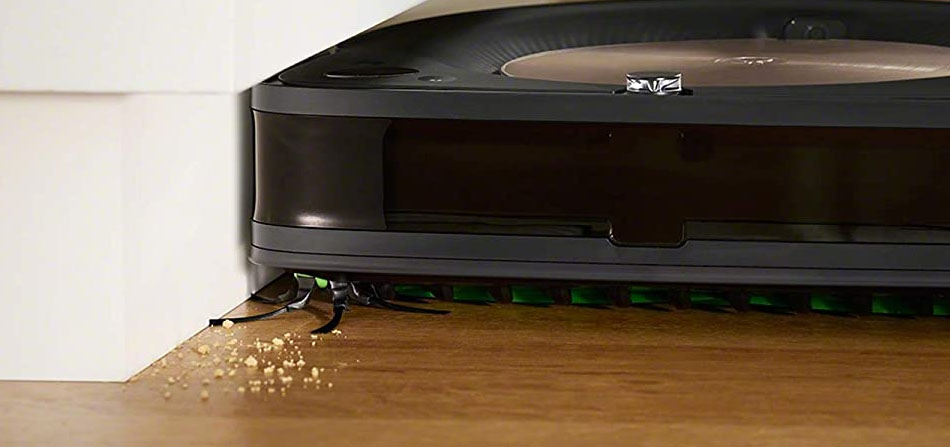 The system itself is based on sensors too. When the robot comes across some extra polluted area, sensors send it a signal to increase suction and brush rotation. Besides, the device will pass this spot as many times as needed to eliminate the dirt.
Filter System
The manufacturer states both devices use High-Efficiency filters. Elements are capable of trapping 99.97% of particles and even deal with allergens. Such compliance with the HEPA certification requirements allows us to use the HEPA name for the air treatment system.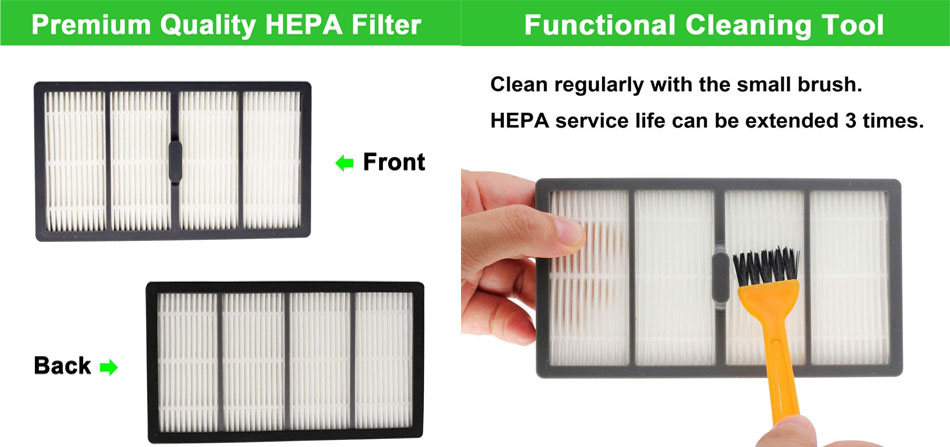 Apart from dust and pollen, vacuums eliminate 99% of pet allergens. And the Dirt Disposal function makes sure none of these particles return to the air when emptying a bin. The Base is equipped with AllergenLock bags.
Verdict: Roomba S9 and S9+ will be an excellent purchase for families with small children, pets, and allergic people. The filtration and Anti-Allergen system efficiency have been proven by tests.
Please only mind that AllergenLock bags come with the Dirt Disposal Base, so the standard S9 modification doesn't include them.
Connectivity
Connectivity represents one of the few things that haven't undergone changes. As usual, these iRobot cleaners support WIFI connection and can connect to the iRobot Home app. Thus, users get access to all standard app functions: they see maps, set cleaning schedules, get alerts and notifications, choose modes, etc.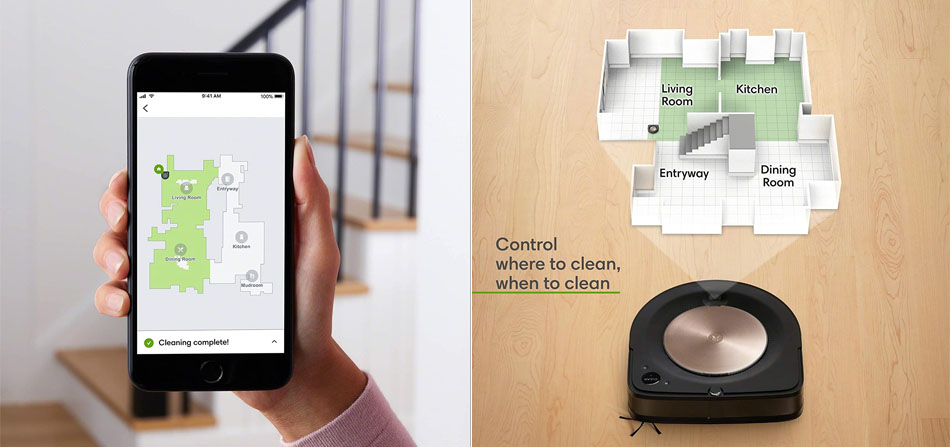 WIFI support naturally means that the two bots are compatible with main voice assistants. Just connect them to Google Assistant or Alexa speaker and run your device with voice commands only.
Connectivity factors also relate to virtual walls that help make cleaning more precise and restrict access to some areas. The S series models don't have any physical virtual barriers, but their Keep Out Zones technology and mapping allow for marking zones closed for vacuuming right in the app and the map.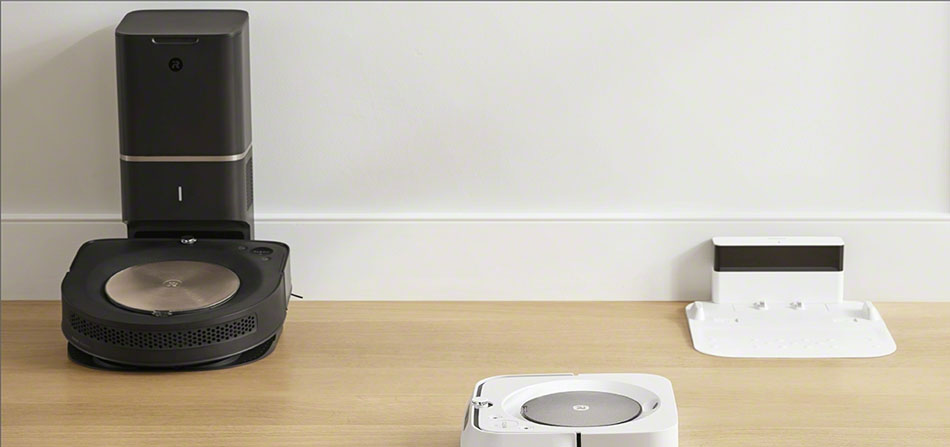 Roomba S9 and S9+ and the I series models were the first iRobot vacuums that used one more innovative connection. Thanks to Imprint Link technology, they can synchronize with iRobot Braava jet m6 mopping robot and perform comprehensive floor cleaning. When the device ends its vacuuming part, it informs the mop that starts wet cleaning.
Verdict: With Roomba flagships, all high-tech control pleasures are available to you. Both models can be run from any place in the world. They can become a part of the Smart Home system as well if you have some. Besides, though Roombas cannot perform both dry and wet cleaning, you can now connect different iRobot products for step-by-step work.
Suction Power
iRobot engineers elaborated on the most powerful motor of all Roomba series and put it into the S9/S9+ models. Thus, over the years of innovations, the S series's suction power was 40X increased compared to the 600 series vacs.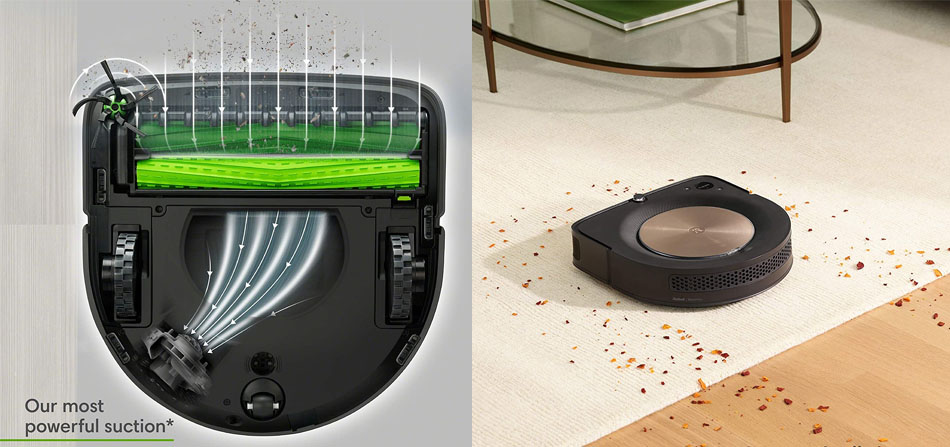 The latest flagships produce 2200 Pa, which is the best performance available in iRobot company at the moment. This suction is enough to cope with debris on hard floors, collect hair, and lift both fine and large particles.
The vacuums face no difficulties with cleaning carpets of any height. Besides the roller rotation and suction, they use the Power Boost technology. When your robot comes to a carpeted area, this technology determines the change of the surface and increases effort.
Verdict: Roomba S9/S9+ are almost the only iRobot vacuums that can perform proper dry cleaning even on high-piled floors. Not only don't they get stuck on the pile but can also lift any debris from the deep soft material. High suction also contributes to pet hair collection.
Brushes
As usual, our robots come with three-point cleaning system that consists of a side brush, central rollers, and a suction port. Let's take a closer look at the first two stages.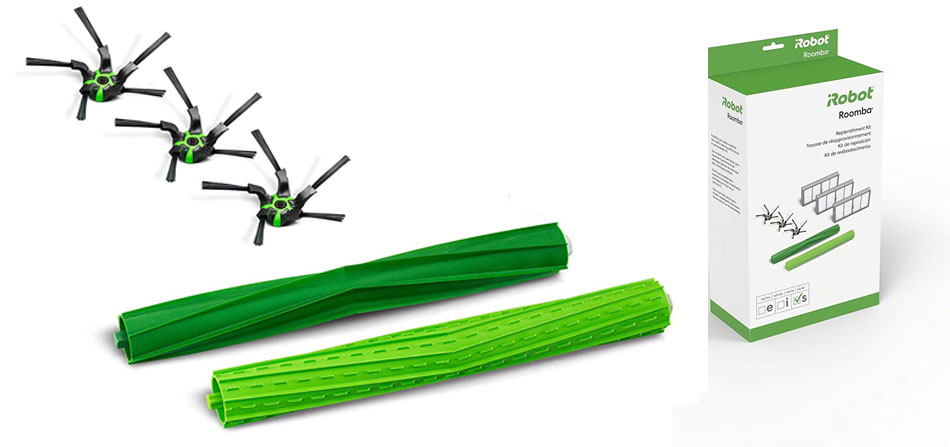 So, both devices have one side brush with five rays twisted counter-clockwise. Such a design provides more thorough debris collection and their direct hit into the port.
The central brushing part consists of Dual Multi-Surface silicone rollers. These bright green elements with different blade patterns can also be met in previous Roombas like the i7 and 980. Such construction guarantees tangle- and clog-free yet thorough dirt collection.
However, this time, engineers increased the roller size. Brushes became 30% wider compared to identical Dual Multi-Surface rollers of the Roomba i7 model. The cleaning path has been enlarged to 9.5 inches too, so new robots can pick up more dirt from one pass.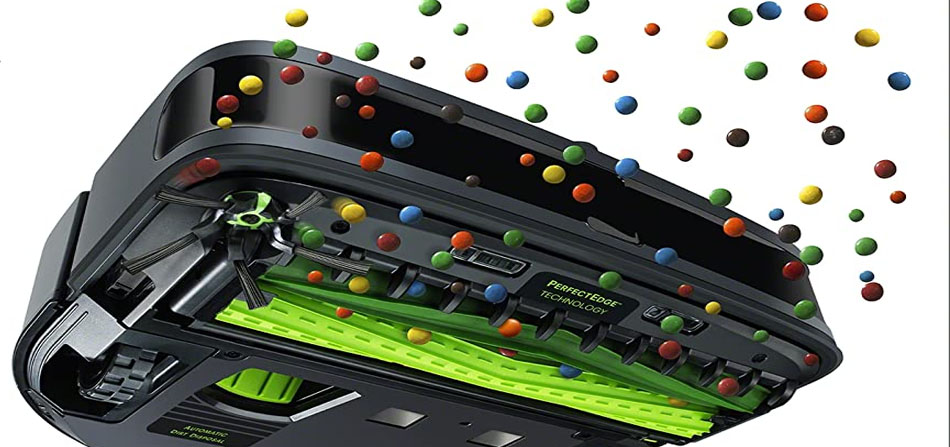 Roller design also provides full adjustment to the current surface height to stay in contact with it and never miss a particle. This is what we call Multi-Surface construction.
Verdict:Enlarged roller size allows cleaners to collect more debris for a shorter time. This improvement in pair with multi-surface and anti-tangle design makes the S9/S9+ brush system the best of the brand products.
Run Time
Both cleaners share the same 3300 mAh Lithium-Ion battery. This capacity is enough to provide 120 minutes of continuous cleaning in the quietest mode. More powerful modes such as Power Boost will spend the charge faster, but still, this is the iRobot top battery and run time.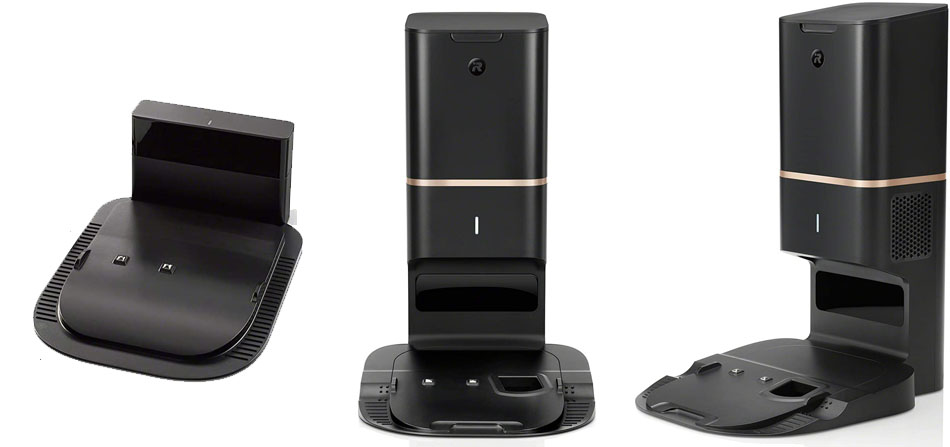 When the charge is over, vacuums stop cleaning and automatically return to the dock. Recharging takes about 4 hours. Then vacs come back and continue the process right from the spot they interrupted it earlier. This technology is known as Recharge & Resume.
Dustbin Indicator
The S9/S9+ cleaners are equipped with a standard washable plastic bin, the capacity of which doesn't exceed 500 – 550ml.
At first, it may seem that such a volume is criminally insufficient for such a powerful and high-tech device. It would be fair but for the above-mentioned Auto Dirt Disposal system. When the bin is full, the robot comes to the base and empties itself without the slightest human participation. The Base bags hold dirt from up to 30 cleaning sessions, so you can literally forget about dirt throwing for a month.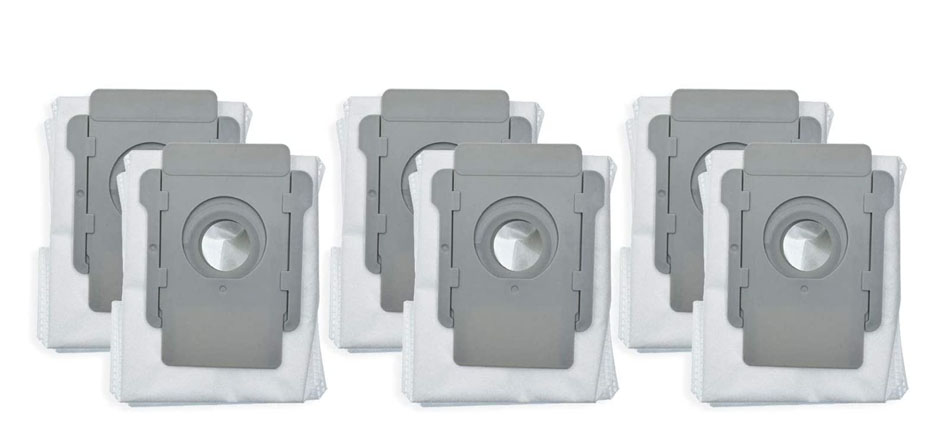 However, it's important to remind you that the S9 vacuum doesn't come with the Base. And if you don't want to purchase it, you can still get notifications about the bin state. The built-in Full Bin Indicator monitors the level of dirt inside and tells you when emptying is needed.
Verdict: Dustbin system is undoubtedly one of the greatest Roomba improvements. Owners of the S9+ get everything for worry-free and hygienic cleaning. Owners of the S9 model will also be pleased by the Full Bin Indicator, but we still believe 500 – 550ml capacity may be too small for messy and large houses.
Noise
When it comes to the noise level, many customers who remember the robots' extreme suction justly expect to see a disappointing picture.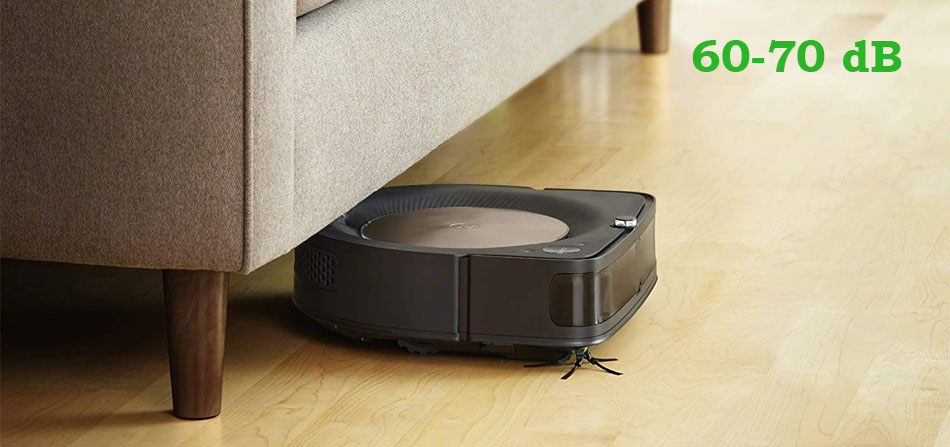 However, though the S series is the most powerful, it is not the noisiest at all. In fact, the S9/S9+ produce as many loud sounds as any modern robot vacuums. The manufacturer doesn't provide exact decibels data, but we can say it stays within 60-70 dB frames.
Attentive users will be able to make robots work almost twice quieter. All you need is to set special Quiet mode, and cleaning will be silent.
Verdict: iRobot managed to save this balance between power and whisper-quiet operation, so the flagships are perfect for running any time of the day. We can also recommend it to light sleepers and families with small kids and shy pets.
Accessories
Roomba S9
Roomba S9 comes with:

Dock Station
North American Line Cord
Extra High-Efficiency Filter
Extra Corner Brush
Owner's Guide
Documentation Package
Roomba S9+
Roomba S9+ kit includes:

Dock Station
Clean Base Automatic Dirt Disposal
two Dirt Disposal Bags
North American Line Cord
Extra High-Efficiency Filter
Extra Corner Brush
Owner's Guide
Documentation Package


Once again, the only difference we notice is the lack of the Base and AllergenLock Bags in the S9 kit and their presence in the S9+ modification.
Other accessories such as extra filters and extra side brushes help you save money on replaceable elements at first.
Tests on Different Types of Floors
Surely, all this characteristics description would stay nothing but beautiful words but for a real test drive. Our team took both robot vacuums and made them pass through an obstacle course. Each model was to clean sugar, cornflakes, and pet hair on laminate and carpet. So, did they manage with those?
Sugar
Both robots needed several passes to eliminate all sugar particles from the hard floor. Auto mode, elaborate rollers, fast-rotating side brush, and even back and forth movements allowed them to pick up 2 ounces within three minutes.
So, here we can state 100% thoroughness.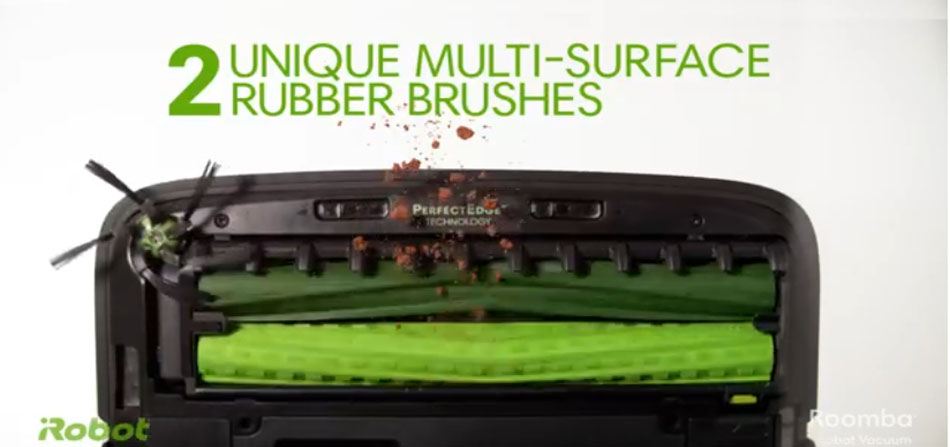 Let us also mention separately that though fine sugar particles covered case sensors, the S9/S9+ robots showed just the same precise navigation and connected to the dock easily.
Cornflakes
Large debris such as cornflakes is a tricky thing. They seem easy to find but difficult to pick up and suck because of the weight and dimensions. Still, brush rotation and potent lifting power did their work.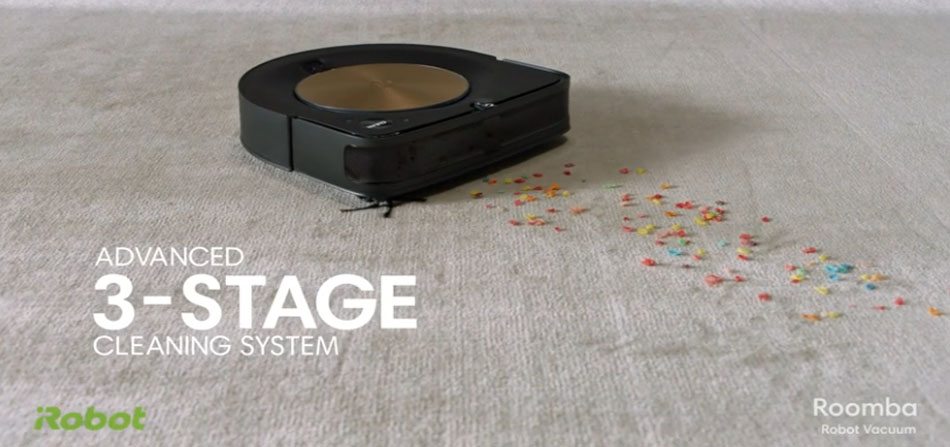 We faced no clogs and gave both robots 98% efficiency in large debris collection. Two percent are taken for slightly extended cleaning as the vacs needed about 6 minutes to provide perfect cleanliness. Still, this is one of the best results iRobot devices have shown.
Pet Hair
Pet hair on hard floors is not a problem even for old, weak robot vacuum cleaner models. That's why we didn't expect any issues either. A big lock was eliminated from the very first pass without the slightest clogging or entanglement.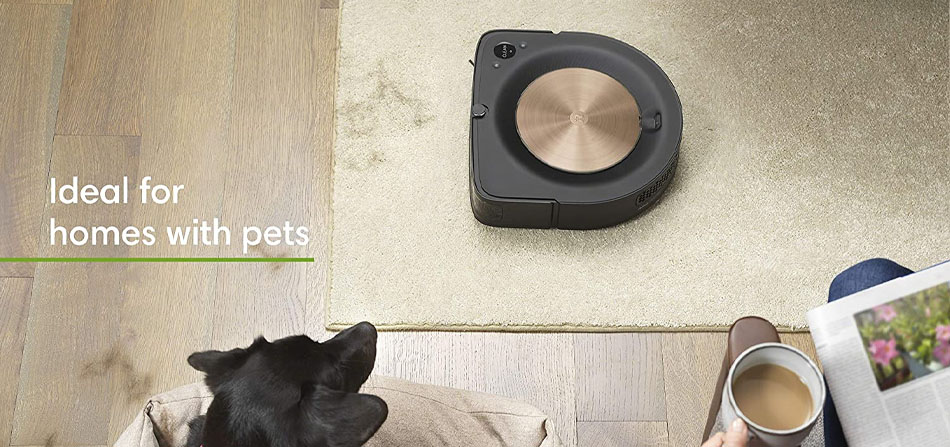 Further roller cleaning also was fast and easy. So, 100% efficiency from the first pass is a thing for iRobot S9/S9+ to proud of.
Carpet
When testing carpet cleaning, we took the same three pollutants and spread them over a medium-piled carpet.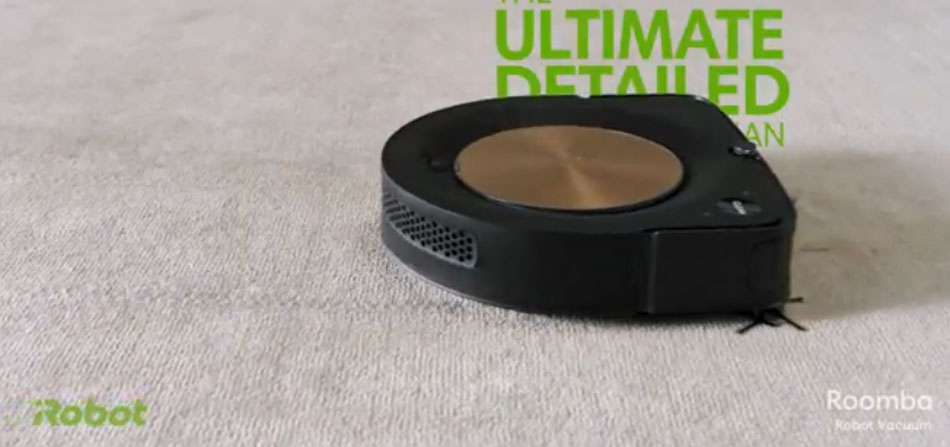 Firstly, let us say that pile vacuuming took more time compared to the laminate floor. Power Boost system helped a lot since cleaners increased suction and lifted both fine and large debris quicker than similar vacuums without Carpet or Power boosting.
Robots collected 98% of sugar and 98% of cornflakes. We also cannot state they picked up 100% of pet hair like on hard floors, but 95% – 98% were eliminated from one pass.
Buyer's Guide – How to Choose the Best Robot Vacuum Cleaner?
If you want to find the most efficient and convenient robot vacuum for your budget, you'll have to check several basic characteristics of possible models.
Type of Navigation

A good robot vacuum cleaner needs almost no human control or assistance due to elaborate navigation. Perfect navigation type will also depend on your house size. Robots with sensors will cope with small apartments. Bigger dwellings will require more precise technologies such as visual or laser control, path creation, and even mapping.

Suction Power

Older and cheaper robot models usually produce 600 – 900 Pa suction, which is quite ok for hard floors and houses with no pets. If you do have fluffy pets or lots of carpets, this power won't satisfy your needs. For the pile cleaning and heavy messes, customers choose robots with 1200 – 1700 Pa. Recently, the increasing popularity of even more powerful 2000+ Pa cleaners has been noted.

Run Time

Run time and battery type of the future robot vacuum will also be summarized from such characteristics as dwelling footage, floor type, and suction. The more they are, and the more complicated surface you have, the longer the run time is needed. On average, 90 minutes is enough for everyday vacuuming. But the more the better.

Filtration

All modern robots provide both floor cleaning and compulsory air filtration. You can choose between several filtering systems. Basic modifications with foam filters for dust only are suitable for people with no allergies, kids, and pets. If you have small children, pets, or respiratory problems, we recommend you choosing robot vacuums with HEPA and anti-allergen filters.

Dustbin

With everyday cleaning, small apartments or offices usually don't have too much dirt. So, owners of small-sized dwellings will be quite satisfied with dustbins up to 500ml.

Private houses and especially multi-story buildings require robots with big containers over 500ml. The best decision here is to purchase a model with an automatic self-emptying function.
Frequently Asked Questions
What is Imprint Link technology?
Imprint Link is a brand-new patented technology that allows Roomba users to connect their Roomba S9/S9+ and Braava robots. When the vacuum ends its part of work, it notifies the mop to start wet cleaning. If you have a Braava jet m6 mop, you can activate the Imprint Link on your Roomba and enjoy the perfect cleanliness of your floors.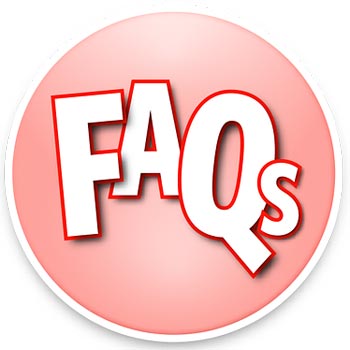 Where can I buy the Auto Dirt Disposal Base and AllergenLock Bags?
If you purchased Roomba S9+ modification, you already get these accessories in the kit. Owners of the S9 robot can buy the Base and replaceable AllergenLock Bags for it on the iRobot official website or through retailers like Amazon, eBay, etc.
Can I use a Dual Mode Virtual Barrier with Roomba S9/S9+ models?
Roomba robots of the S series do not need physical virtual walls as they support Keep Out Zone technology. You can restrict the excess to a certain house zone through the app or just draw a restrictive line on the map.
Still, they are compatible with a Dual Mode Virtual Wall and can use it as an additional navigation marker. Please mind that the Barrier is an optional accessory that could be purchased separately.
How can I reset my Roomba S9/S9+?
To reboot the robot in case of operation problems, press the Clean button on its case and hold for 10 seconds. For more information, please read the manual or contact the iRobot User's Service.
How long will the High-Efficiency filter last on my Roomba S9'S9+?
Roomba S9 and S9+ use high-quality, durable filters. Filters can and should be cleaned regularly (at least once per week if used daily). It is also recommended to replace filtration elements every two months.
Conclusion
The latest S series robots completely justify their status of the best iRobot products for dry cleaning.
At the moment, the high price of the items may scare many customers and stop them from buying the flagships. Still, even close and cheaper Roomba i7/i7+ models cannot provide you such suction, run time, anti-allergen treatment, and multiple map saving.
Roomba S9 costs $900, but the coming Black Friday gives us hope for beneficial discounts.
The S9+ modification will cost you $1100-1200. Its full kit with Auto Dirt Disposal Base seems to be even a better decision if you're not limited in budget. The Base price reaches $250 per item, so separate Roomba S9 and separate Base is a more expensive purchase.