Shark IQ R101AE vs Roomba i7 vs Roborock S6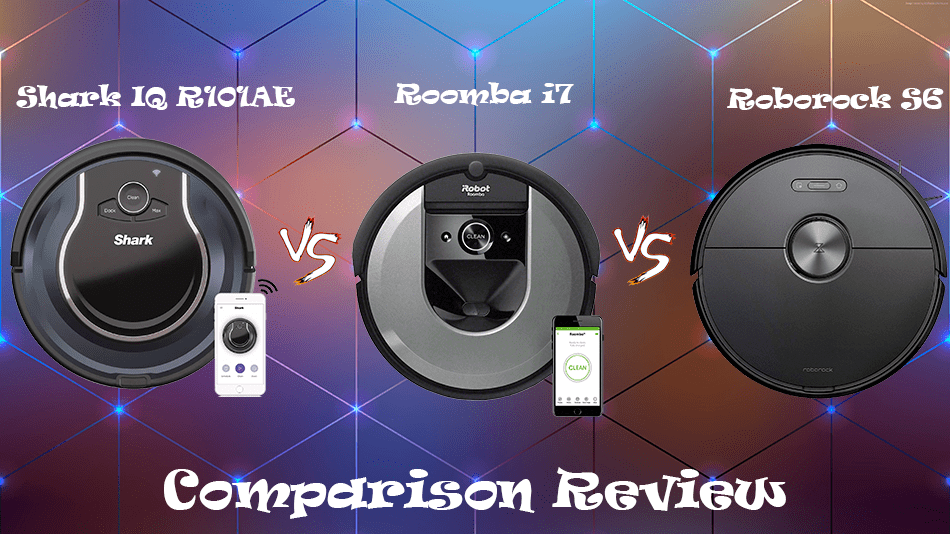 If you are thinking about purchasing the latest robot vacuum cleaner, then today's article couldn't be more fortuitous. In this review, we will compare three robots – Shark IQ vs Roomba i7 vs Roborock S6, which was presented a couple of months ago.
Map
Apartment layout& running route & map saving
Virtual barriers
1 Dual Mode Virtual Wall Barrier+ Keep Out Zones
Virtual no-go zone and barriers
Cleans carpet & hard floors
Cleans carpet & hard floors
Virtual barriers
1 Dual Mode Virtual Wall Barrier+ Keep Out Zones
Cleans carpet & hard floors
Map
Apartment layout& running route & map saving
Virtual barriers
Virtual no-go zone and barriers
Cleans carpet & hard floors
In early autumn, SharkNinja introduced a completely new robot vacuum cleaner Shark R101AE. The vacuum cleaner became a breakthrough for the manufacturer and immediately achieved the title of a new flagship. The model is on par with such advanced robots as Roomba i7 and Roomba s9, as it has the same key functions.
First of all, Shark R101AE is the only one of the entire Shark robot line that has a self-emptying function and dirt disposal base. Improved navigation is also worth noting. Unlike the ION series, where robots orientate in space only with the help of sensors, the R101AE uses IQ navigation and smart visual Mapping.
Dry cleaning is carried out by two side brushes with one ray and a central combined roller-brush. This extractor has both bristles for catching hair and silicone blades for more delicate work.
In general, the robot meets all modern standards of quality and innovation. The manufacturer equipped it with Recharge and Resume function, Wi-Fi connection and voice control, scheduled cleaning, magnetic limiters, and so on.
Shark R101AE pros
self-empty dock
IQ navigation
visual Mapping
powerful suction
Recharge and Resume technology
mobile app and voice control
virtual walls
Shark R101AE cons
weak battery
loud work
high price
Read more about Roomba i7
Roomba i7 is one of the most innovative robot vacuum cleaners of the iRobot company. This model was released in 2019 and featured the ultimate cleaning and control tech.
The robot vacuum uses a classic three-stage cleaning system that combines standard three-ray side brushes and completely new central silicone extractors. Now they became longer to cover a larger square. The i7 has the Dirt Disposal base, which means it can empty the bin without any human participation.
The iAdapt 3.0, vSLAM, and Smart Mapping systems are the keystones of the navigation while the iRobot HOME App lets you track your device and its cleaning performance. You can also change the schedule or other settings as well as run the robot through voice control.
The set of brushes, powerful 1700 Pa suction, and enlarged filter contribute to carpet vacuuming.
Roomba i7 pros
Automatic Dirt Disposal function
well-thought-out turbo brush design
high suction power
adaptation to the cleaning of any surfaces
thoughtful navigation
Mapping System
app and voice control
Roomba i7 cons
weak battery
small dustbin
high price
Read more about Roborock S6
And here is the third competitor of our review – the novelty of Xiaomi Roborock S6. Like the two previous robots, it was released in 2019, has some improved features, and occupies the top of the Roborock hierarchical pyramid.
The robot belongs to the third (and the last at the time) generation of models, so it should have several changes compared to its predecessors. However, users and experts claim that it's very similar to the previous Roborock S5 model except for a couple of additions.
First of all, Roborock S6 performs both vacuuming and mopping. For dry cleaning, it applies a five-ray side brush, a central silicone roller, and 2000 Pa suction. During wet cleaning, the robot moistens a special fiber cloth installed on the bottom and wipes the surface.
The model features quiet operation, thorough navigation, and modern management through the app and voice assistants.
Roborock S6 pros
both dry and wet cleaning
high suction
powerful battery
nice navigation
Mapping technology
mobile app and voice control
silent work
Roborock S6 cons
very similar to Roborock S5 model
no virtual walls
a rather high price
Detailed Face to Face Comparison
Design, Size, and Dimensions
Roomba i7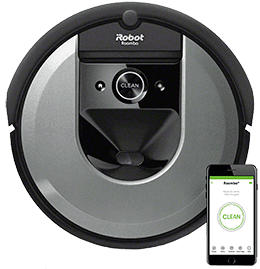 Roomba i7 has quite comfortable dimensions, which are 13.31×3.6 inches for the width and the height, respectively. The weight of the item is 7.28 pounds. It's not the thinnest or the lightest model of all Roomba vacuum cleaners, but such a height is small enough to let the vacuum pass under different pieces of furniture.
Roborock S6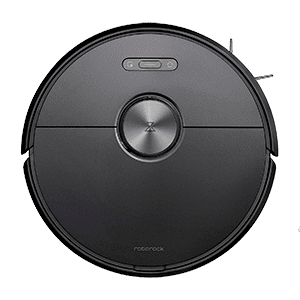 Roborock S6 weighs a little bit more than the Roomba. The robot is as heavy as 7.94 pounds. Its case is also bigger for its width is 13.78 in and the height measures 3.78 in.
Shark R101AE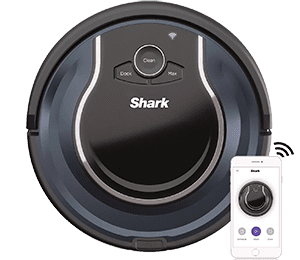 The new Shark R101AE becomes the winner of our comparison as it features the lightest weight and the smallest dimensions. Thus, the vacuum weighs only 6.9 pounds while its width and height are 12.6×3.5 inches.


All three robot vacuums have a round shape and can differ in colors. Depending on your home interior and taste, you can choose between a black or a white case. The main material is shockproof plastic with rubber inserts.
Navigation
Shark IQ R101AE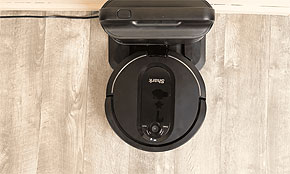 The Shark IQ R101AE is the second robot vacuum in the family that navigates with sensors as well as some new and more thorough systems. The navigation is called IQ NAV, and in combination with the camera-based Mapping it transforms the robot into an intellectual, independent assistant. Now your bot can remember the rooms and the floors of the house, form the route, perform row by row movement, and cover the whole surface gradually. It moves in back-and-forth straight lines, doesn't miss any spots, adapts to the floor type, at the same time avoiding furniture legs or other obstacles.
Roomba i7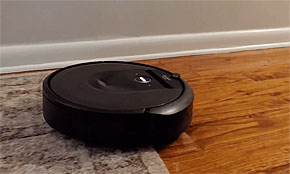 For the best navigation, Roomba i7 also uses the Imprint Smart Mapping and saves in memory the plans and names of rooms up to several floors. Here we find the additional iAdapt 3.0 and vSLAM technologies. So, the robot determines its location and possible obstacles on the way. All movements of Roomba i7 are preplanned.
Roborock S6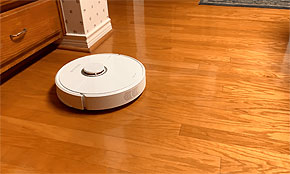 Roborock S6 wouldn't be the best model if it didn't apply the Map Management 3.0 for multi-story room planning. The principle of operation is the same – the system scans rooms, remembers them, and projects the map on the screen of your smartphone. The manufacturer provided the bot with path planning.
Dirt Detection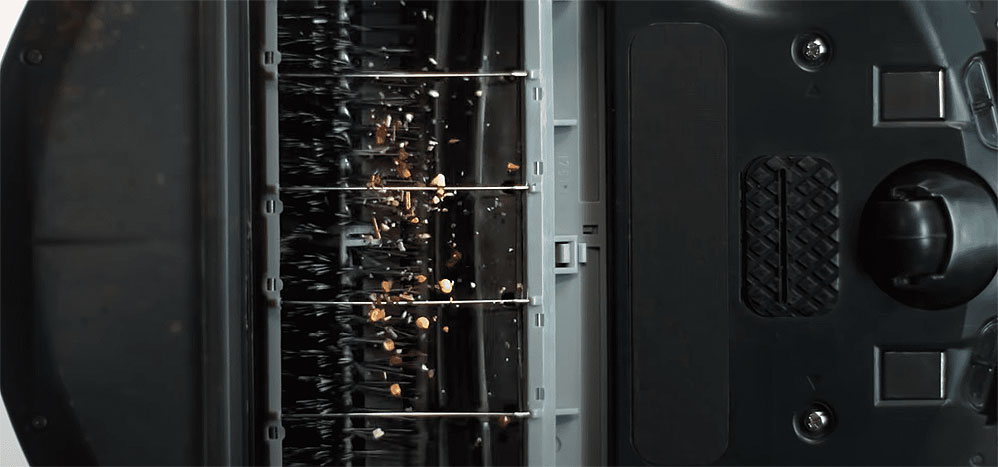 We haven't got any information about the Dirt Detection in the Shark vacuum yet. Anyway, all its predecessors don't use such a function, so we may assume that the IQ R101AE cannot boast it as well.
Roborock S6 doesn't determine the degree of contamination, while Roomba i7 widely uses the Dirt Detect function.
Filter System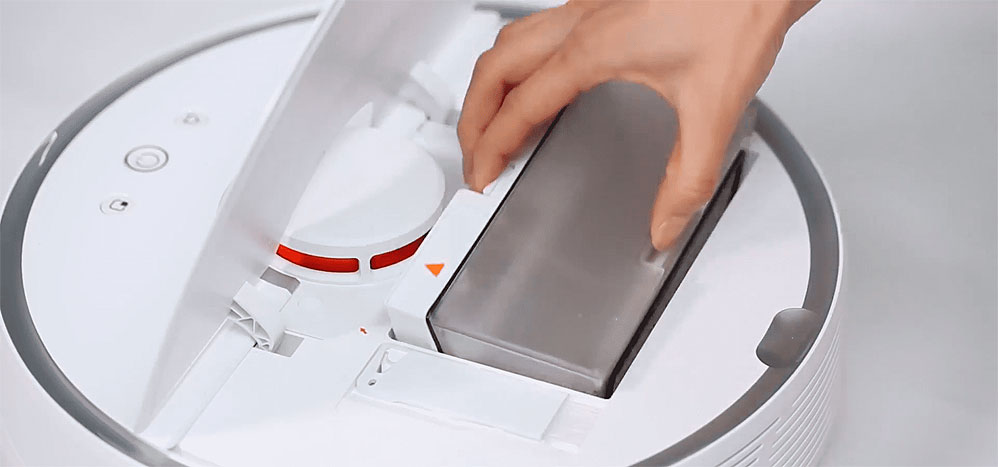 All comparison participants use various air purification systems. Such a versatile cleaning allows you to achieve a better result, avoid repeated dust in the room, and refresh the air. Roomba and Roborock use HEPA filters that retain dust, allergens, and pathogenic particles of any size. Virtually no dirt can escape them.
Shark IQ uses an analog high-efficiency filter, which is in no way inferior to HEPA models. Thus, in any situation and with any robot, your air will stay clean, fresh, and safe even for the most sensitive people.
Connectivity
Nowadays, you will hardly find a robot vacuum cleaner, which is not equipped with any remote control system. Even the simplest and oldest models have at least an IR remote control. If we talk about more modern robots such as our three vacuum cleaners, they provide the user with the highest possible level of convenience.
So, they support Wi-Fi connection and can receive commands from the owner through a special mobile app. This control method greatly expands the possibilities and quality of cleaning.
Also, when you connect Shark, Roomba, or Roborock to a Google or Alexa smart speaker, you can control the vacuum cleaners with just your voice.
Suction Power


All three robots have excellent suction power, which is far superior to most robot vacuum models.
Roomba i7
Being one of the most powerful iRobot models, Roomba i7 turned out to have the humblest suction in comparison with the other two vacuums. This model is capable of developing a power of up to 1700 Pa, which is still a tremendous potency.
Roborock S6
Roborock S6 has a suction of 2000 Pa. This power is enough to cope with absolutely any flooring and pollution.
Shark IQ R101AE
At the moment, we don't have the exact information about the suction power of the new Shark IQ R101AE. Nevertheless, the manufacturer claims the device has the power that's compared or even exceeds some Shark corded vacuums.
Run Time
Battery capacity isn't the strongest side of the Shark and Roomba robots. Buying either Roomba i7 or Shark IQ, you'll get no more than 75 minutes of cleaning. Recharging takes 2 hours and 4 hours, respectively.
Luckily, Roborock S6 is more tenacious. This robot has a twice longer runtime, i.e., it provides 150 minutes of battery life in the dry cleaning mode. But please mind that the mopping consumes more energy so your battery will end faster. Recharging takes 2.5 hours.
Dustbin Indicator
The Full Bin Indicator is especially useful in robots with small dust collectors. As soon as the container is full and it's time to empty it, you will receive a notification from your smart bot.
Roomba i7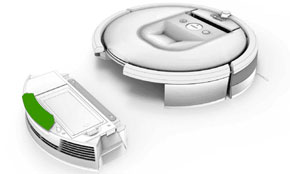 Roomba i7 has an indicator that helps in servicing its 400 ml dustbin. However, if you add it with the Dirt Disposal base or purchase the i7+ modification, then the question of manual emptying will no longer be relevant for you.
Shark R101AE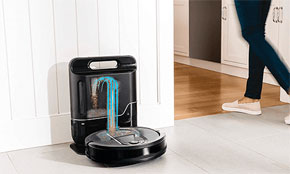 Shark R101AE also can self-clean at the base. So, in this case, we don't have to care about the fullness of the dustbin any more. The base contains garbage from 30 bins. Thus, even with daily cleaning, you can forget about this unhygienic procedure for at least a month.
Roborock S6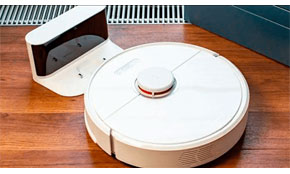 Roborock S6 has a bit larger dust container for 500 ml, but it's not enough for comfortable usage. And, unfortunately, it doesn't have the Full Bin Indicator or Automatic Dirt Disposal function either.
Noise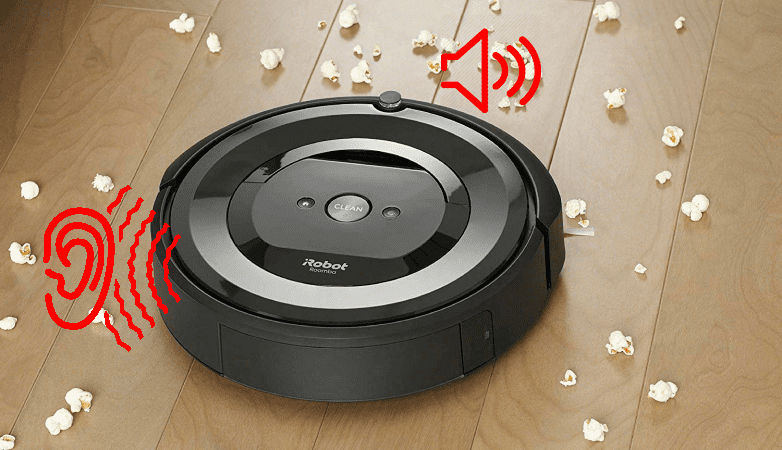 If we put our robots in increasing order of their loudness, we'll get the following:
Roborock S6
The first and most silent vacuum is Roborock S6. During the operation, it produces only 50 decibels. This level is absolutely comfortable for families with small children and pets or for those who prefer the robot working at night.
Roomba i7
Next comes Roomba i7. It's significantly noisier than the Roborock, but 68 decibels are still considered a rather quiet noise level. It won't disturb a child sleeping in the next room. However, it'll be audible.
Shark R101AE
And finally, Shark R101AE becomes the loudest model of our review. Many users, who have already tried the robot, complain about its making a lot of noise even in the Auto mode. The vacuum is also noisy when it empties the bin on the dock.
Accessories
Each of the vacuums can boast a broad set of accessories.
Shark R101AE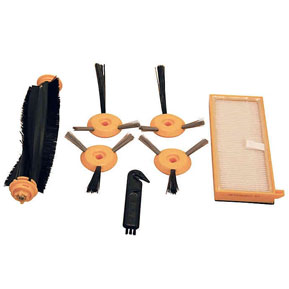 So, aside from Shark IQ R101AE, the box includes a magnetic tape for virtual limiters, one Self-Empty Base, two extra side brushes, one self-cleaning brushroll, a charging dock, and 12-month warranty.
Roomba i7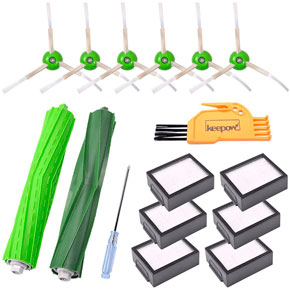 Roomba i7 has a charging base, one North American line cord, one HEPA filter, one dual-mode virtual wall barrier, one extra side brush, and a worry-free 12-month warranty.
Roborock S6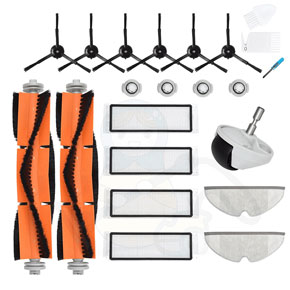 Roborock S6 provides a charging base, power cable, one 160 ml water tank, mop, two mopping pads,10 disposable wipes, and 24-month warranty card.
Tests on different types of floors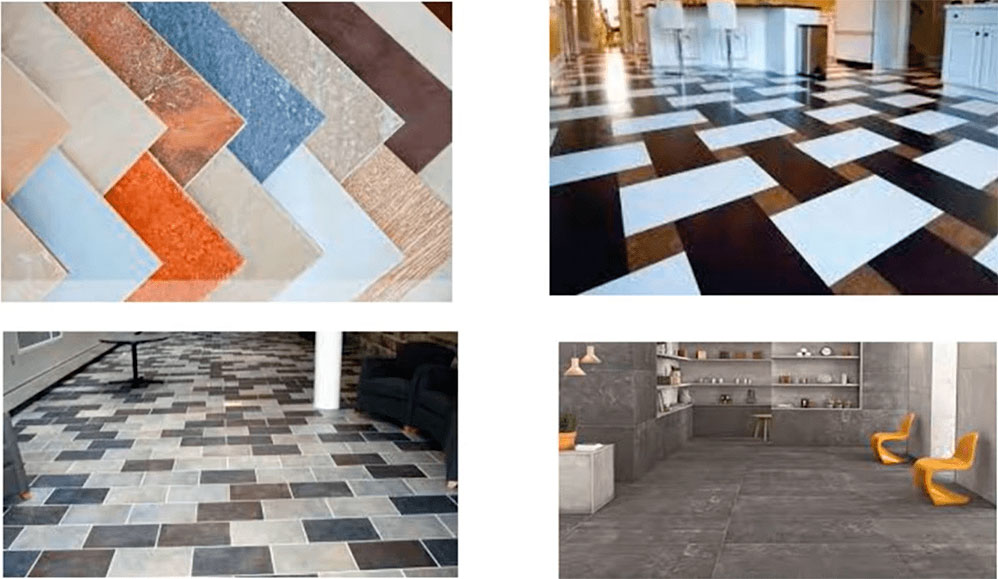 As we have said before, these robots can cope with absolutely any surface and provide the perfect result. Roomba and Shark quickly move from flat floors to carpets, while the shapes of their brushes guarantee the capture of the smallest and the most tenacious particles of dirt such as food crumbs and hair. Powerful suction literally pulls all the dust and dirt out of the soft and thick pile. A well-thought-out system of movement also allows robots to cover the entire area of the room without missing a single section.
Roborock also works on any floor type. But unlike its competitors, this cleaner is designed to carry out wet cleaning too. Therefore, the robot does a little better on hard floors.
Nevertheless, it's worth remembering that even the best and most advanced robotic vacuum cleaners cannot yet replace wired models and don't save you from great clear-outs. They serve as a means of daily maintenance of cleanliness and freshness in the house, and also greatly facilitate manual cleaning.
Frequently Asked Questions
Shark IQ R101Ae vs Roomba i7 vs Roborock S6: which robot is better for large dwellings?
Roomba i7 and Shark IQ were designed specially for large houses and apartments with complicated floor covering. They use smart mapping and automatically empty dustbins. At the same time, though Roborock S6 doesn`t have self-emptying function, it is the only model of the review that can save several different maps for different floors.
Such multi-floor mapping is an extremely useful addition for big houses. Thus, we can safely say that all three robot vacuums are equally beneficial cleaners for large dwellings.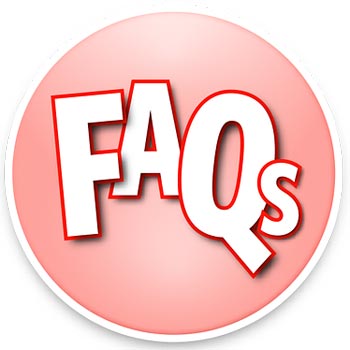 Do Shark robot vacuums use virtual walls?
Shark equips some of its robotic products with virtual limiters. for example, IQ R101AE model comes with BotBoundary strips.
Will Roomba i7 learn my house?
Since Roomba i7/i7+ vacuum cleaner uses Smart Mapping, it throughly scans and remembers all rooms in the dwelling and uses this information for further navigation. You can also see the map in your mobile app.
Can robot vacuum cleaners replace normal vacuums?
Nowadays, we see a trend towards the development of robotic devices that can take all cleaning responsibilities from people. Modern robot vacuums have been receiving increased suction, self-emptying, smart control features, etc.
However, all these efforts are mostly directed on daily maintenance of cleanliness and do not allow robot vacuums to replace more powerful and multi-functional common vacuums.
Conclusion
As a result of a detailed analysis and comparison of three robotic vacuum cleaners, we concluded that each of the flagships is equally worthy to be an assistant in your home.
Roomba i7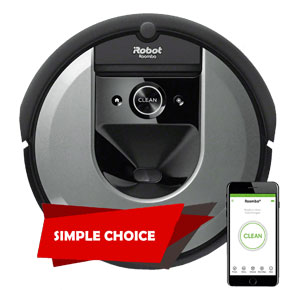 Roomba i7 is very similar to the previous bot. It has the same functions and sometimes even surpasses it. For example, the i7 is quieter, has Dirt Detection and Full Bin Indicator. However, its price is higher by $150. So be prepared for the fact that in picking Roomba i7, you will have to pay extra dollars for the Dirt Disposal base. Therefore, we advise those who want to buy this robot to pay attention to the Roomba i7+ modification, which already has the base in the kit.
Roborock S6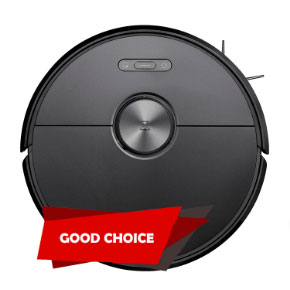 Roborock S6 is average in price with its $650. For this sum, you get two devices in one case – a vacuum and a mop. This robot is suitable for homes with predominantly hard floors. But since many people state it's just a more expensive variant of the previous Roborock S5, you'd better think twice and decide whether it's worth overpayment in your individual case.
Shark IQ R101AE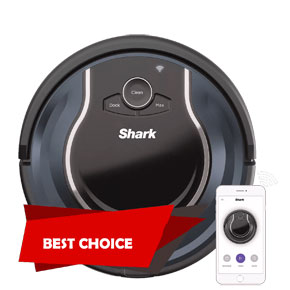 We consider Shark IQ R101AE to be the best option. This model combines high productivity on any surface and many new useful features. The robot easily navigates even in large and multi-story buildings, copes with hair, has a unique and very rare Self-Empty system. Moreover, with such configuration and filling, the Shark IQ is the most affordable of the three models. Its price is only $550. But remember about the loudness!