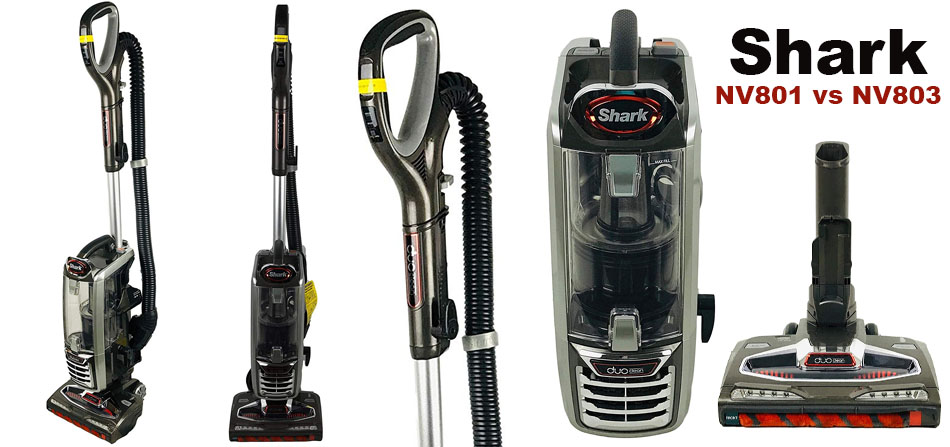 Some people like the versatility of a canister vacuum cleaner, but frown upon its lack of power. What if I tell you can get a powerful, full-sized upright vacuum cleaner that can transform into a canister vacuum with a click of a button?
Yes, you can with the Shark NV801/NV803. When you combine the "Lift-Away" feature with the "DuoClean Technology," you will get an efficiently multi-functional vacuum. You can clean areas that upright vacuums can't usually clean, such as spaces under furniture and appliances.
However, some Shark fans are torn between the Shark NV801 vs. NV803. When it comes to value for your bucks, which Shark provides more to the table? Read on to find out!

The Difference Between Shark NV801 vs. NV803
At first, we were struggling to find the difference between the Shark NV801 vs. NV803. It is virtually impossible to distinguish one vacuum from the other!
The only thing we noticed right off the bat was the color variety. Some models have a cinnamon-red chassis, while others come in black.
So, we contacted Shark and extracted crystal-clear information straight from the manufacturers themselves.
Well, it turned out that there is no deviation between the two.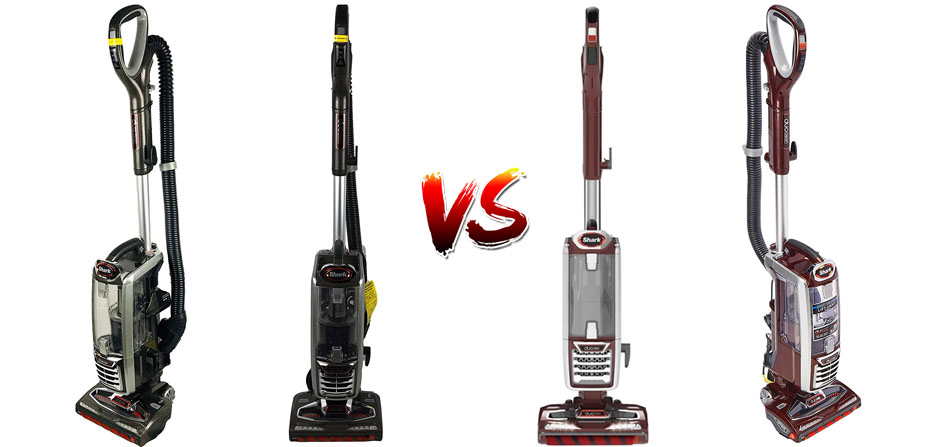 The Shark Rotator Powered Lift-Away with DuoClean Technology NV801 is basically the same unit as the NV803. The color and model number difference are a function of the retail outlet, so it depends where you bought it.
For instance, Kohl's, Macy's, and Best Buy refer to the unit as the NV801. Meanwhile, in Amazon, you will find it listed as NV803, where it comes with a pet multi-tool brush and an accessory bag. That being said, it makes financial sense to choose the NV803 that comes with more freebies.
10 Reasons to Consider the Shark NV801/NV803
One of the most advanced Shark upright vacuum cleaners
Lift-Away Technology converts the unit into a powerful canister vacuum
DuoClean Technology — a soft roller brush works alongside the main brushroll to provide excellent agitation on both carpet and bare floors
Anti-Allergen Seal technology + HEPA filtration
LED headlights
Ergonomic handle with controls
Compact and lightweight
Dynamic swivel steering and low-profile motorized head
Backed with a 5-year warranty
Reasonably priced
Size
11.8 x 11.9 x 46.1 inches
11.8 x 11.9 x 46.1 inches
Anti-Allergen Complete Seal Technology + HEPA
Size
11.8 x 11.9 x 46.1 inches
Anti-Allergen Complete Seal Technology + HEPA
Size
11.8 x 11.9 x 46.1 inches
Anti-Allergen Complete Seal Technology + HEPA
What to Expect from the Shark NV801/NV803
Now, let us talk about some of the best features and characteristics of the Shark NV801/NV803.
Cleaning Technologies
While it is always a struggle to clean underneath furniture and above floors, this isn't the case with the Shark Rotator Powered Lift-Away with DuoClean Technology NV801/NV803.
As the name suggests, it boasts of the "Lift-Away" feature that converts the full upright vacuum cleaner into a canister vacuum cleaner.
With a click of a button, the canister assembly comes off instantly. You can also release the wand from the floor tool and replace it with any of the attachments provided.
Moreover, the NV801/NV803 utilizes DuoClean Technology.


In other words, the vacuum comes equipped with a dual brushroll — a typical bristle brush for agitating stubborn dirt and a soft brush for extracting fine dust. Both brushes are motorized and are running off the same motor.
The unit has them spinning at all times regardless of the type of surface you are cleaning. Nonetheless, you can adjust the speed with which the dual brushroll rotates. You can spin the brushes slow on hard floors and increase the speed when dealing with thick-pile carpets. We like that the manufacturer added the controls on the handle so that none of us will have to bend each time we make adjustments.
Filtration System
The hassle-free maintenance of the filters is also another lovely thing about the Shark NV801/NV803.
The machine comes equipped with two pre-motor filters. To access those, you only need to remove the dust canister. There is also a foam filter and a felt filter, both of which are washable in water.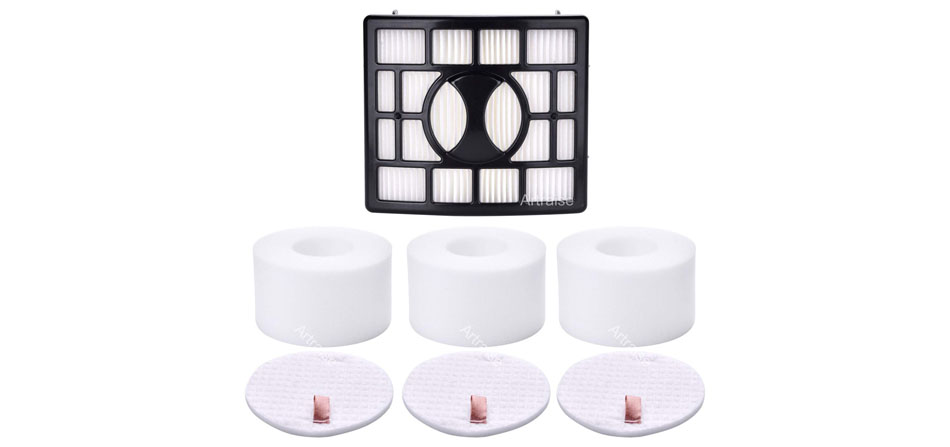 You will find some instructions labeled conveniently in the unit itself. The direction says that you only need to rinse the filters every three months.
Lastly, you will find a post-motor filter sitting underneath the canister. This filter is also washable, so you won't have to run out and buy a new one. By the way, the post-motor filter is a HEPA filter.
Will the Shark NV801/NV803 expose you to allergens? Not a chance! There is more to its filtration system other than being economical. This model boasts of what Shark calls "Complete Seal Technology" that works in tandem with the HEPA filter. To put it simply, it locks in 99% percent of all the vacuumed particles. Pollen, dander, and other allergens that up to 0.3 microns in size stand no chance against this vacuum.
Dimensions and Design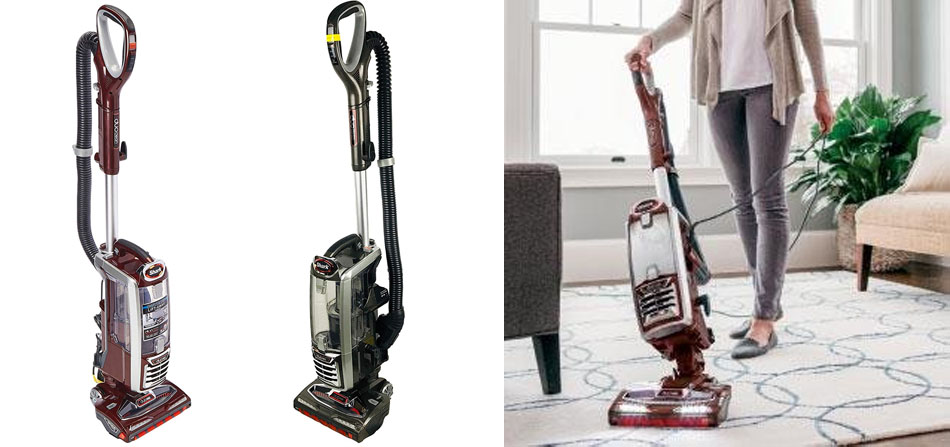 The Shark NV801/803 measures 46.1 x 11.8 x 11.9 inches with a cleaning path of 8.5 inches. While it is already lightweight at 14.5 pounds, it even gets lighter once you make use of the "Lift-Away" feature.
The nozzle head has a fairly low profile. You can reach a few inches underneath furniture, so you won't always have to rely on the under-appliance wand. Shark also added a safety feature to this model, which you can't find in older Sharks. The vacuum cleaner will not turn on with the cover taken off.
We also like that everything has a label so that old folks can click everything into place.
The dust capacity is 0.725 gallons. Its power cord is 30 feet long.
Maneuverability
If your kids or pets tend to leave a zig-zag trail of debris, you could use all the help you can get from the Shark NV801/NV803.
This vacuum cleaner has excellent swivel steering, allowing you to navigate around effortlessly with just a twist of your wrist.
As mentioned earlier, the controls are at the reach of your fingertips.
There are three settings to choose from: hard floor, low-pile, and high-pile carpet.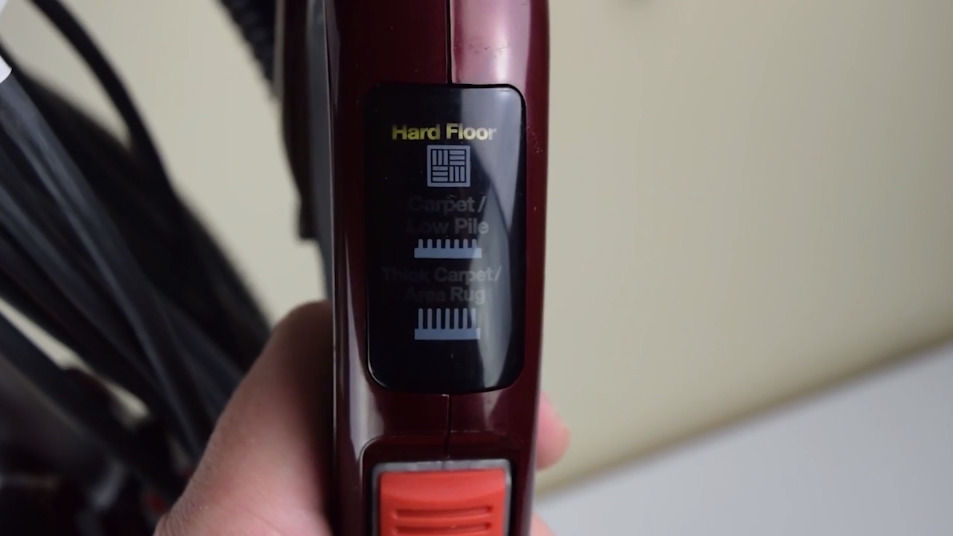 During the hard floor setting, only the soft roller spins while the bristle brush doesn't. In contrast, the carpet mode triggers both brushes with variances in airflow, depending on whether it's in a low-pile or high-pile setting.
Accessories
The toolset is one of the many things we like about this vacuum cleaner. Given that you bought the unit from Amazon, you will receive four tools along with the machine itself.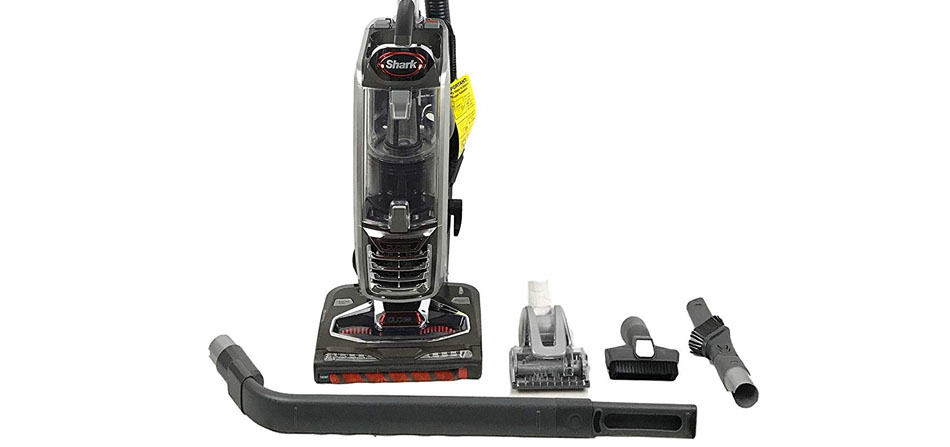 You will get the pet multi-tool. Removing the main brush off this attachment makes it an upholstery tool, which is useful for removing various pet messes from upholstery furniture. Putting the main brush back on will return to its generic self.
Another two-in-one tool is the dust crevice tool, where you can move the brush head forward.
You will also get a "Pet Powered Brush." While it isn't motorized, its brushroll spins on suction to pick up pet hair.
Lastly, you will get the under-appliance wand. This attachment slides underneath appliances, such as the refrigerator or stove. You can also extend the want to a full 36 inches so that you can get a tremendous reach.
Depending on the retail outlet, you might also get an accessory bag. Not all the tools will fit on the vacuum cleaner, so it helps to have a bag.
LED Headlights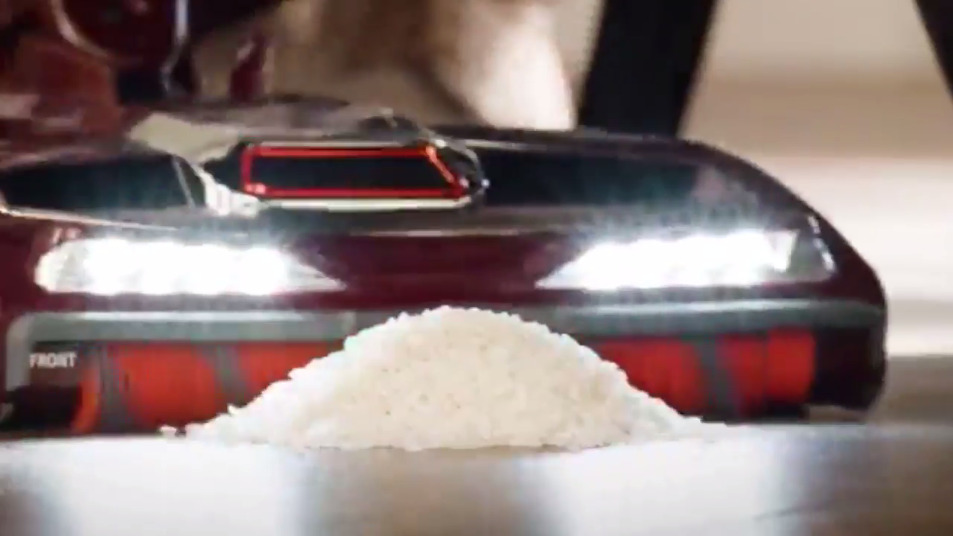 This model comes with eight bright LED lights on its floor head.
These lights make sure that you won't leave out fine particles in low-light areas of your home.
A Few Cons of the Shark NV801/NV803
The Shark NV801/NV803 has its flaws, but fortunately, there aren't a lot.
The pet tool isn't motorized
Having multiple pets at home, I find the lack of a motorized pet tool a disadvantage. It bogs down quickly when dealing with a lot of pet hair, and when it does, it runs slowly. Sometimes, it stops. This is terrible news if you have long-haired dogs at home. Imagine having a couple of double-coated pooches during the shedding season.
The hose is short
The hose is short, and because the vacuum cleaner has a high center of gravity in the middle, it could fall over quickly if you stretch the hose forcefully.
Performance Tests
Shark refers to the cleaning prowess of the NV801/NV803 as "Triple Particle Cleaning." This is basically a fancy term for sucking in fine dust like flour, small granular particles like rice, and large debris like cornflakes.
Nevertheless, we put the vacuum to the test by scattering daily detritus of varying sizes; these include flour, glitter, crushed biscuits, kibble, and dust balls within 4 x 4 feet of space.
Hard Floors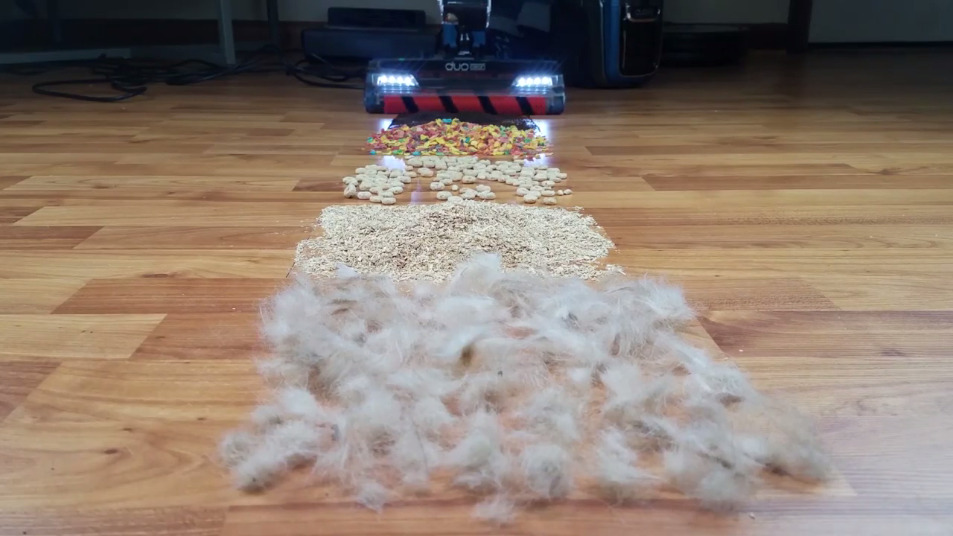 The Shark NV801/NV803 picked up 99% of all the fine particles and scattered debris on tiles. The soft brush came in direct contact with the floor, removing dirt and restoring its luster. After six back-and-forth passes, it picked up 100% of all the things we scattered.
Carpet Floors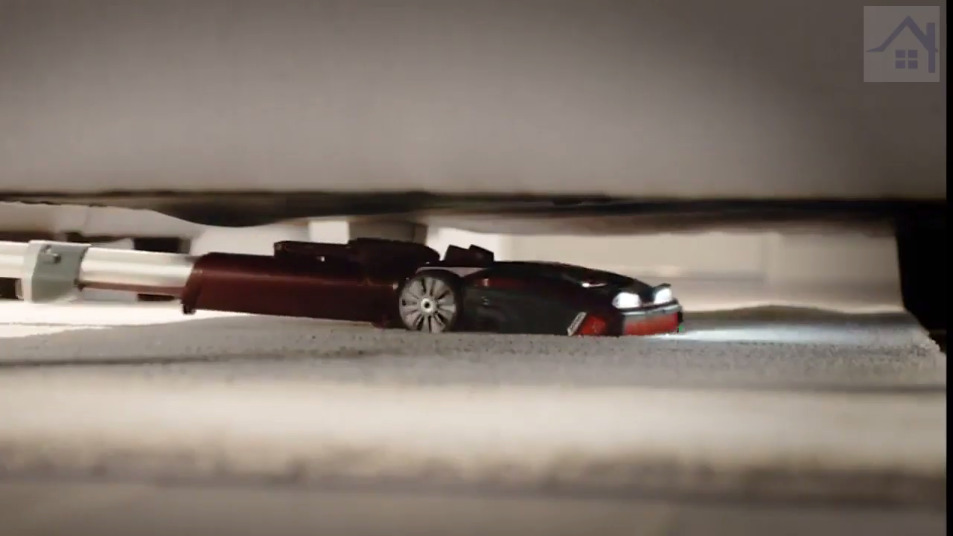 The vacuum seamlessly went from tile to carpet, thanks to the dual control on the handle.
On low-pile carpet, the bristle brush works simultaneously with the soft brush, removing the flour and glitter embedded deep into the fibers. Activate the high-pile carpet mode so that you won't have to "snowplow" to clean everything.
Above-Floor Cleaning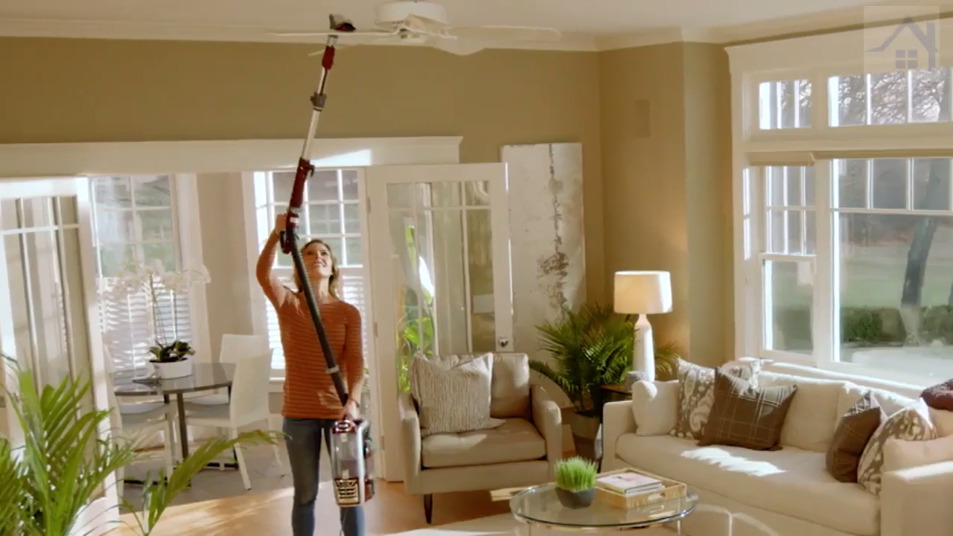 The upholstery brush and "Pet Powered Brush" did a great job of keeping upholstery furniture pristine.
Also, the crevice tool effectively pulled some mysterious stuff left by our dogs on the sofa, and it worked perfectly in dusting tables and bookshelves, as well.
Using the wand, we were able to remove cobwebs off our drapes and ceilings with ease. The pod is only 6.4 pounds when taken off the base, so it's easy to carry around as you clean stairs.
Frequently Asked Questions
Do Shark DuoClean vacuum brushes tangle hair?
The brushes deal perfectly with short and long hair, picking them up and sending into the canister. And a lot of hair tangles on the powerhead itself. But we have nothing to worry about since it's easy to pop the brush roll out of the vacuum to clean it. The vacuum also comes with a cleaning tool to remove hair and other debris.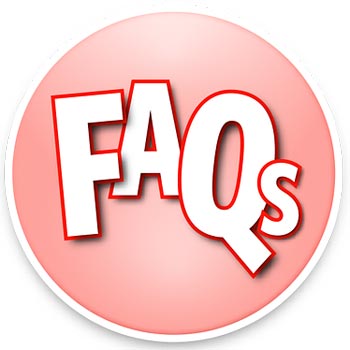 Are SharkNinja DuoClean NV801 and NV803 heavy? Is it difficult to push them?
Both vacuums weigh 15 pounds. When full, they may become a bit heavier. Users state that the models do not require extra effort to push when cleaning. However, transportation of the vacuums, especially upstairs, can be a complicated task.
Can I wash the filters on SharkNinja DuoClean vacuum?
Yes, you can since the filters are washable and reusable. To wash them, rinse them thoroughly in warm pure water until the water runs clear. Don`t forget to air-dry them for at least 24 hours before putting them back in the vacuum.
Do Shark DuoClean vacuums work on 220V?
All Shark models, including the NV801 and the NV803, are designed to work on 120V.
Wrapping it Up
Shark is notable for producing vacuum cleaners that boast with sophisticated technology at an affordable price.
One good example is the Shark Rotator Powered Lift-Away with DuoClean Technology NV801/NV803. There is no sense comparing the Shark NV801 vs. NV803, as they are the same product labeled differently by their retailers.
But to make the most out of your money, we recommend you get the NV803, as it comes with two extra attachments.