What's The Best Roomba For Pet Hair in 2019?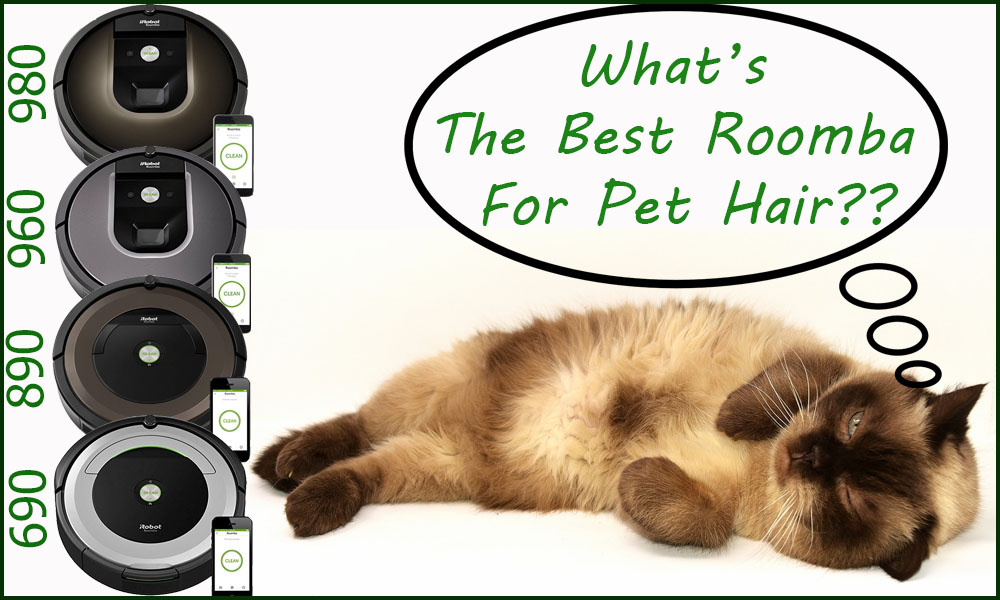 Why Roomba is the best for pet hair? Let's find answer on this question!
Your four-footed family members can be one of the sweetest, nicest parts of your life.
However, no matter what type of furry pet you have, they will shed.
Even the short-haired family members will drop and attempting to manage all of the pet hair and keep the house clean can feel like a full-time job at best, and overwhelming at worst.
Rather than pulling out the vacuum daily, some people are turning to robotic vacuums to help solves their pet hair struggles.
While these vacuums don't replace the standard vacuums entirely, they are immensely helpful when it comes to the daily management of pet hair around the house.
Here we will look at four Roomba models by iRobot that are ranked as the top vacuums for pet hair.
Navigation
iAdapt 2.0 + Visual Navigation for entire level coverage
iAdapt 2.0 + Visual Navigation for entire level coverage
Cleaning System
Patented 3-Stage Cleaning System
AeroForce 3-Stage Cleaning System
AeroForce 3-Stage Cleaning System
3-Stage Cleaning System - picks up small dust to large debris
Cleaning Modes
Auto, Edge, Spot and Schedule
Auto, Edge, Spot and Schedule
Auto, Edge, Spot and Schedule
Auto, Edge, Spot and Schedule + Carpet Boost
Size & Dimensions
Weight – 7.8 lbs. Width – 13″ Height – 3.6″
Weight – 8.38 lbs. Width – 13.9″ Height – 3.6″
Weight – 8.7 lbs. Width – 13.8″ Height – 3.6″
Weight – 8.7 lbs. Width – 13.8″ Height – 3.6″
Best For
hardwood floors, thin carpet
hardwood floors, thin carpet, tile
1. Roomba 960 is Worth the Monetary Investment
The Roomba 960 is one of the latest generation Roombas designed by iRobot. With some of the most advanced technology, this one takes floor-cleaning to the next level with room visualization and an auto-adjust cleaning head to satisfy any surface. Additionally, the iRobot HOME app is your Roomba's dream companion and will set the bar high for any competition.
Standing at just 3.6″ tall and weighing just over 8lbs, this little robot is a force to be reckoned with.
It has 5xs more cleaning power than previous 600 & 700 versions and has an impressive battery life of 75 minutes. Once the battery runs low, it will dock and recharge, then resume its work – remembering where it left off thanks to the advanced room visualization that this model comes with.
Special financing is available for qualified buyers who purchase from iRobot directly, and the Roomba comes with a limited 1-year warranty and a 30-day satisfaction guarantee.
The HOME app allows you to schedule your Roomba for cleaning once daily, up to 7 times a week. The Roomba can run multiple times a day, but for these 'extra' cleanings, it has to be started manually. With the app, you can see where the Roomba has cleaned and where it's projected path is, as well as customize double passes and organize the edge cleaning. The HOME app will also alert you when the bin needs to be emptied and when it is done the cleaning. As a bonus, the app (and Roomba) are compatible with Alexis and Google assistant.
One of the first advantages of Roomba 960 compared to its predecessors is the improved room mapping thanks to the combined Smart Mapping and vSLAM technology.
Instead of doing a 'radar – sweep' to find where it has been and/or where furniture may be, this improved technology allows the Roomba 960 to 'see' the room that it is cleaning and organize it's clean accordingly. This drastically reduces the risk of reduplication, and it ensures a more thorough, patterned clean.
Another advantage of this model is that Roomba 960 can dock, recharge, and then resume its cleaning job. This makes for a much more efficient clean and it also allows for the Roomba to run more easily when you're away from home and/or overnight.
One disadvantage of this model is that the advanced room visualization required a camera be installed on the top of the Roomba. Unfortunately, this camera does not work when it is dark.
To run at night and/or in rooms that are not being used, there needs to be some light source or the Roomba cannot 'see' the room and will not run. This is most noticeable when you are attempting to run the Roomba overnight. You'll need to make sure there are some lights left on – even if they are low lights – to ensure model 960 can do its job.
Another disadvantage, though not unique to this model, is that dark patterns in carpets will sometimes confuse the Roomba and trigger the cliff sensors. This will cause the Roomba to avoid certain areas of your rug(s) due to the assumption that those dark areas are actually 'edges.' Unfortunately, there is no way to turn off the cliff sensors on this model, so it's something to keep in mind when considering this model.
Pros
You can use the HOME app if you have multiple Roombas and run them concurrentl
The trash bin is easy to empty, and you can choose to receive push notifications from the HOME app when the robot vacuum is full
Auto-adjust ability ensures the best clean for each type of flooring in your house
Cons
The HOME app does not show where the Roomba is currently at (no GPS dot ability) and when it gets stuck you have to go 'find' it first
Trash bin can fill pretty quick and is often reviewed as being too small
You cannot schedule the Roomba to run more than once daily
Overall, there are some notable improvements in this 960 model that make it well worth the extra monetary investment. While there are some false starts and random stops, the cleaning power is undeniable, and the overall effect makes this Roomba 960 a cleaning force to be reckoned with.
2. Roomba 980 the Best Technological Advancements Available for Robotic Vacuums
One of the latest models in the Roomba family, this 980 model has some of the best technological advancements available for robotic vacuums. In addition to high-level cleaning systems and room visualization, it also has extended longevity.
Like its predecessors, this model stands just over 3.5″ tall. It weighs 8.7lbs and is also a bit wider than previous models.
It can run for approximately 120 minutes depending on the flooring and even the cleaning setting selected. The multi-surface brushes are an upgrade from rubber rollers that were found in previous model series. They work together to pull fibers and hairs in without getting tangled themselves.
Several technological advancements make for an all-around better clean.

First, the AeroForce cleaning system gives a cleaning 10xs better than 600 and 700 models, which is double the cleaning power of the previous 800 and some 900 models as well. This also allows the Roomba to adjust the cleaning style and brush strokes to the various type of flooring it encounters.
Next, the vSLAM technology provides for a more accurate room visualization, allowing this Roomba to deliver a more thorough clean.
Lastly, the latest Dirt-Detect technology is also loaded into this model which allows Roomba 980 to clean more thoroughly.
One of several advantages to this 980 model is the advanced level of cleaning and control available through the iRobot HOME app. Not only does the HOME show where the Roomba has already cleaned and where it will clean next, in addition to telling you how long it took to clean that area.
As a bonus, it also gives you the ability to set different cleaning settings based on the rooms; you can direct the Roomba to re-clean an area if you know it tends to collect more dirt and the app also allows for you to schedule the Roomba to clean away from home, up to 7 days a week.
Like others, this model is also compatible with Amazon's Alexa and Google Assistant devices.
Another advantage is the docking upgrades that this 980 model has. It automatically returns to the home base to charge and finds its way back much easier than older series. It then resumes where it left off due to the vSLAM technology.
While this may be one of the latest and most significant models, it does have a few disadvantages to note.
One of the ongoing disadvantages of iRobot models is that without the app, the Roomba cannot be scheduled to clean ahead of time, nor can you customize your cleaning preferences.
For those who are not as tech-savvy and/or those who lack strong wifi connections, this can prevent some of the best features of this model from working. Even for those who have a wifi connection that is strong, the app has some setbacks that don't always allow it to connect easily with the Roomba.
Additionally, with this latest model, there were some changes made to the dustbin that, while perhaps giving it extra space, render it more difficult to empty out and clean the parts. It is a disadvantage for homes with pets and/or lots of traffic since it requires the bin to be emptied out more frequently.
Pros
Filters are designed to catch up to 99% of dust, mites, and allergens
A HOME app from iRobot shows the cleaning path that Roomba has followed in addition to the areas that it will clean next
Unique financing options are available for qualifying customers if you purchase through iRobot directly
Cons
The Cliff Detect sensors cannot be turned off and will sometimes trigger when there is no actual edge to avoid
Cannot be scheduled for more than once daily
Difficult to clean in general, and it is not as easy to empty the bin compared to previous models
The HOME app from iRobot tends to have more connectivity issues with this model
Disadvantages aside, model 980 is still one of the best models on the market. It could arguably be said that it is the best for pet hair on carpet given the advanced cleaning features that it has.
3. Roomba 890 – Good budget Choice
While not the latest Roomba model, 890 is still a great option as a Roomba for pet hair and carpet. This model comes with unique, high-performance, tangle free brushes that were designed with dirt and debris like pet hair in mind. Also, it also has an auto-adjust cleaning head to adapt to all types of flooring.
Like its predecessors, this Roomba stands just over 3.5″ tall and weighs just over 8lbs. It makes it easy to transport between floors if necessary. It has a stage 3 cleaning system, and like previous models, it comes with an edge-sweeping brush for fine-detailing work.
Perhaps one of the most notable features is a 'Halo mode' that can be set up so your Roomba will avoid certain things (such as your pet's water bowl).
No different than later models, Roomba 890 comes with the ability to pair to the iRobot HOME app. While this model doesn't have the advanced zone mapping that the 900 series has, it does have room scanning that runs at 60 decisions/second to adapt to your home and ensure clean floors.
With the app, you can schedule cleanings and see areas that your Roomba has cleaned. Additionally, it is also compatible with Alexa devices and Google Home devices.
There are several advantages to this model compared to previous models – it even stands even with the Roomba 960 when it comes to cleaning power. Both models have 5xs the cleaning power of the 600 and 700 series, putting them on equal grounds when it comes to suction.
One of the main advantages of this model is that, for a significantly more modest price you get the same essential performance features of the 900 series Roomba.
Understandably, there are a few disadvantages for the Roomba 890. One of the most noticeable is that while it docks itself to recharge, it doesn't automatically resume, nor does it pick back up where it left off.
Hand in hand to this disadvantage is that Roomba needs to be within 10 feet of the charging station when the battery runs 'low' to make it back by itself. For all practical purposes, this means more often than not, the Roomba cannot make it back 'home' and will die somewhere in a room.
Another disadvantage is the fact that this model lacks the extensive room mapping feature that was introduced with the 900 series. The constant readjustment works for basic floor plans, but with more complex room arrangement the Roomba tends to miss spots or will revisit places repeatedly.
Pros
Cleaning power is 5xs stronger than 600 and 700 series – equal to the Roomba 960
Runs smoothly and doesn't scratch hardwood floors
Has a 'Halo mode' setting that can be used to give the Roomba direction on what to avoid
Cons
The app doesn't work with 5G Wifi
Pet hair tends to get caught between the rollers and/or jams the trash bin which requires more cleanings than normal
Certain types of tile flooring cause Roomba to squeak while cleaning noticeably
All in all, Roomba 890 is a sturdy little model that continues to hold its own against the more advanced 900 series. It makes up for what it lacks by having the same cleaning ability and when it is running there are a few complaints about the job it does. It is most definitely a contender when it comes to purchasing a Roomba for pet hair – especially if you have a ranch style home or an apartment that you'd like to keep clean.
4. Roomba 690 Can Still Be a Contender to Choos
While it may be part of the original series, the Roomba 690 is nothing to write off just yet. What it lacks in the technology department it makes up within good, old-fashioned cleaning.
A novelty when it first came out, this first generation Roomba can still be a contender when it comes to choosing robot vacuum for pet hair on the hardwood.
Like the models that came after, this Roomba stands around 3.5″ tall. It weighs less than the other models coming in just under 8 pounds. Additionally, the diameter is a bit less (only 13 inches) which comes in handy when maneuvering around furniture. It also comes with dual, multi-surface brushes to provide an optimum clean.
When it comes to the iRobot HOME app, the Roomba 690 faces a few disadvantages due to the lack of advanced technology and programming. On a positive note, the app allows you to schedule the Roomba to clean on a set schedule and/or when you are away from home. Additionally, this works with Amazon's Alexa and Google assistant devices.
An advantage that this model has compared to later versions is that, due to its slightly smaller size, it handles vacuuming around furniture better than its larger successors.
This ability, along with the auto-adjusting cleaning head, ensures that the Roomba 690 delivers a thorough cleaning under and around furniture that otherwise may not have been cleaned.
Another advantage to this model is that for a fraction of the cost of more advanced series', one can purchase the 690 model and receive much of the same cleaning ability that later models have.
For those with a straightforward home layout and/or those who don't have too much to clean, this can get the job done without the bells and whistles that increase the cost of the unit.
There are a few disadvantages to this 690 model, which are only due to its being a first generation Roomba.
One of the most noticeable disadvantages is that this model doesn't have clear room mapping technology.
Instead, the Roomba 690 is equipped with sensors that adjust 60 times a second to ensure a thorough clean. It isn't always the case though, and the more complex the room layout, the more likely it is that the Roomba will skip spots and re-vacuum other spots at random.
Another disadvantage of this model is the charging station. It has trouble sitting on tiled floors and will shift around. It prevents the Roomba from docking (and thus charging) properly. While the Roomba is smart enough to return to the station when the battery is running low, it may need to be manually set into the dock depending on placement.
Lastly, a disadvantage that is not uncommon across all iRobot models is that the accessories that accompany the Roomba are quite an investment. A vital accessory, the sensors that can be purchased to keep a Roomba from going certain places (virtual walls), is a perfect example of something that is ideal to have, but pricey to buy.
Pros
Comes with a hair cutting tool to allow for easy removal of hair from the cleaning brush
Adeptly maneuvers in and under furniture without getting stuck too often
Includes an auto-adjust feature that will adapt to different types of flooring to provide an optimum clean
Cons
Dark rugs will often trigger the cliff detection sensors and cause the Roomba to either avoid areas entirely or stop
Will not intuitively avoid electrical cords or charging cords and will occasionally 'chew' them if they are left out when the Roomba is running
It is essential to see the Roomba 690 for what it was intended to be – a robotic vacuum. While it may not replace a traditional vacuum in all things, it is a huge help when it comes to the little spaces a normal vacuum has trouble reaching. It is a low-tech, lighter version that can be considered the Roomba 'lite' version. It gets the job done, and in the end, that is what counts for you and your floors.
USER GUIDE: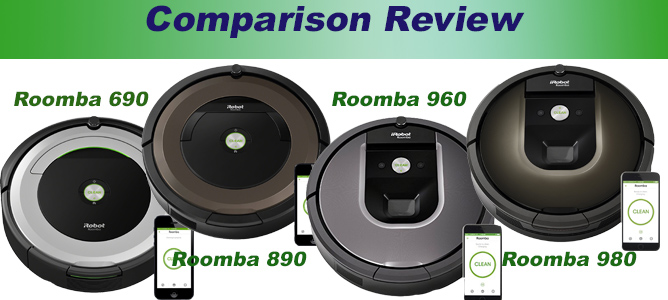 When it comes to keeping your house clean, it can be an unfortunate challenge when you have one furry family member, a challenge that grows with each additional pet. The most noticeable part of this is the pet hair – long or short, fine or rough, all pets shed.
As an alternative to pulling out the vacuum daily, many have found that purchasing a robotic vacuum is a game-changer when it comes to pet hair. They are designed to operate solo with little to no supervision and supplement the cleaning process you have in place.
The Roomba by iRobot is unquestionably the leading model when it comes to robotic vacuums. The question for pet owners, however, is which one is the best Roomba when it comes to vacuuming up pet hair?
There are some features to compare across models, and it depends in part on the type of your dog, your flooring, and your home layout in general.
Regardless of the model or the series, Roombas will clean across all types of flooring. Each model reviewed here has an auto-adjusting headpiece that will change depending on the type of tile it encounters. However, there will be a few models that work best for pet hair on the hardwood, and others that will better for carpeting. Additionally, it is recommended for any model that it is not used to replace a standard vacuum entirely, but regardless of the model, it does reduce the times that you need to bust out the full-size vacuum.
For comparison, here are the four models that are ranked at the top of the pet-hair cleaning list:
iRobot 690:
The oldest models are sometimes the best, and in this case, that is true. This is most likely the best Roomba for pet hair on the hardwood.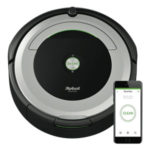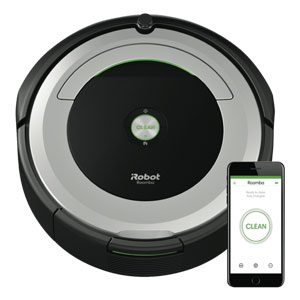 Roomba 690 may not have the bells and whistles of later models, but it works quite well for simple room layouts. Also, due to its smaller size, it is the best one for cleaning under furniture and finding pesky pet hair.
One thing to keep in mind for this one model is that it comes with a stronger exhaust fan than later models and it will kick up pet hair that is not yet swept into the bin. However, this is not too much of an issue if you use a standard vacuum once a week and do not have too much hair accumulation from your pet(s) as there won't be too much hair to blow around.
iRobot 890:
Next on the list is the Roomba 890.
This version has 5xs the cleaning power of the 600 and 700 series models which makes it arguably one of the best Roomba for pet hair on the carpet.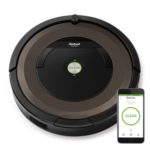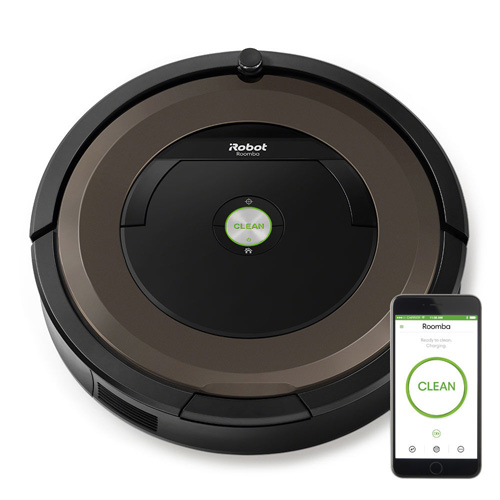 The stronger cleaning power makes it a better rug cleaner than the 690 model, but reviews do point out some inconsistent cleaning patterns that are worse than the 690 model.
For pet owners with carpeting, however, these cleaning inconsistencies are not as concerning when compared to the stronger power that this model provides.
One thing to keep in mind, aside from the random cleaning patterns, is that pet hair tends to get caught in the area between the rollers and the actual trash bin. This doesn't disregard how well this Roomba works, however, and it is highly praised for dog hair.
For pets that do often shed, know that the bin may need to be emptied every 15 – 20 minutes. This limits the times you can schedule the Roomba (e.g., you may not want to run it at 2 am), but it will run well and clean even better despite the increase in 'monitoring' that may be required.
iRobot 960: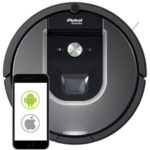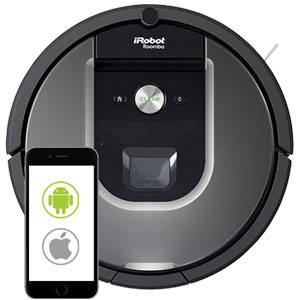 With the 900 series, Roomba introduced more advanced technology and cleaning ability. For Model 960, the power stayed the same as the previous 890 version with 5xs the cleaning power of the 600 and 700 series models. From a pet hair cleaning perspective then, this puts both models as equal.
The place where the Roomba 960 stands out then, is with the advanced room visualization technology that was introduced. This gives it an advantage over the 890 because it doesn't have random cleaning patterns and won't skip places.
Roomba 960 is a reliable choice for both carpeting and hardwood floors. While reviews do say regular vacuuming is still a must for pet hair, this model can supplement the cleaning and keep everything hair-free on a day-to-day basis.
iRobot 980:
The Roomba 980 is currently one of the best on the market and overall the best Roomba for pet hair in general.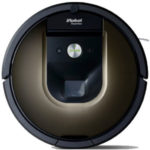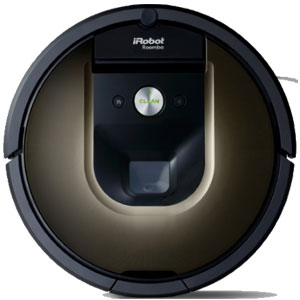 It has advanced technology, better room visualization, a deep cleaning cycle, advanced app features and it has 10xs the cleaning power of the 600 and 700 series models. A clean sweep of the competition as far as quality is concerned.
However, when you set this model next to the Roomba 690, you'll find that at the core they are very similar. Roomba 980 may be the best for cleaning pet hair on carpets because of is profound cleaning ability and advanced room mapping. But the little 690 model gets the same job done, perhaps a little slower and a little less thorough, for hardwood floors and basic room layouts.
For those with the money, investing in the Roomba 980 is a wise choice. However, for those who may not want to make a large investment or for those who don't feel the need for extra bells and whistles, older Roomba models are comparably good for getting the job done as well.
How do I know which one is for me?
After reading over the different model descriptions, you may be wondering which one is the right Roomba for you and your pets.
In light of the differences, ask yourself the following questions:
What is my budget?
What type of flooring and room layout(s) do I have?
How much do pet hair I see build up daily? Weekly?
How tech-savvy am I and how strong is my home wifi?
These questions will help you narrow down which of the four model will work best for you. Each model accomplishes the same thing – cleaning in general, and pet hair specifically – and does so in its unique way. Understanding more of what you are looking for will help you make the right Roomba choices for yourself and your homes.
For example:
If your budget is modest, consider some of the older models that are significantly less than the 900 series. Then, look at the type of flooring you have in your home, apartment, or condo.
If your place is largely hardwood flooring, the Roomba 690 will do a great job cleaning up because it won't need much extra power for rugs (keep in mind that it DOES work on carpets too, just not as well).
However, if your place has thick carpeting, you'll want to look at getting Roomba 860.
On the flip side, if you have a short-haired white little puppy, you may find he or she doesn't shed too much. You can look at getting a model that doesn't need much power, and you may see running it a few times a week keeps everything clean.
However, if you have a furry family member that sheds like no tomorrow, it may be worth investing in one of the more advanced 900 models to keep up with him or her.
CONCLUSION:
Here we have four excellent Roomba models by iRobot that span three different series: 600, 800 and 900. Each one has unique features that will appeal to some buyers, and each comes with its own set of disadvantages that a buyer will need to take into consideration.
Purchasing a robotic vacuum for your home will not replace the need for a standard vacuum. However, these models are intended to supplement the cleaning you do with your standard vacuum and keep the house fairly pet hair free on a daily basis.
Knowing answers to some basic, preliminary questions such as, 'What is my budget?' And 'what type of floors do I have?' will ensure you purchase the right Roomba for your needs. A well thought out purchase can lead to many long years of pet hair free homes for you, your family, and your pets.
If you like article, please rate it.