Best Tineco Black Friday Deals 2020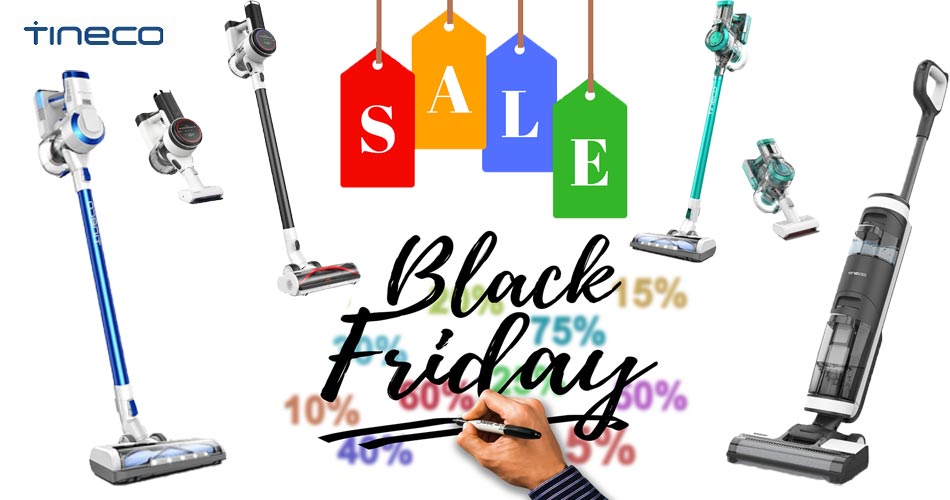 Finally, last week, the date of Black Friday 2020 was announced. One of the main sales events of the year is planned on the 27th of November and is to last the whole weekend to make way for Cyber Monday. Though retailers usually start putting offers in the first week of November only, some deals are already known. Experience in the previous years also allows us to make certain suppositions.
In this article, we'll focus on the Tineco Black Friday deals. Founded in 1998, this innovative company is engaged in the development and production of efficient and smart domestic appliances. The name is well-known to our readers and was quite popular during last year's sales.
Many users call Tineco products an excellent and more affordable alternative to Dyson.
So, let's find out what it is going to offer this time and how much we can save from its cleaners.
As you see, last year was quite productive for the brand. When it comes to the Black Friday deals 2020, at the moment, the manufacturer doesn't show its hand completely. But we know about several nice offers, for which you can set up right now.
First of all, we know for sure that all last year's hits mentioned by us above will be presented this year too. Thus, Tineco A10 still costs $200. The release of new models at the beginning of 2020 allows the brand to keep the same price. So we can hope for bigger discounts (at least $60 off).
Tineco A11 Master Black Friday deal is expected to be prolonged this November. Now the Master and its Master+ option cost $300 and $400, respectively. We believe 30% off will be a fair offer.
The S12 vacuums were slightly raised in price. Depending on the model, you'll pay $500 to $550 per item. Customers expect Tineco S12 Black Friday cost to stay the same as in 2019. Indeed, one year only passed since their release, so the S12, S12M Lite, and S12 Plus are still fresh models. If you see a deal at $70-$100 off, take it.
In general, old Tineco cleaners will be sold at similar 30%-40% discounts we've seen during last year's sales. One shouldn't expect greater drops as all products are still relatively young and popular.
However, apart from well-known vacuums, the manufacturer has something to surprise us. In 2020, Tineco introduced the industry's first smart cordless vacuum for both wet and dry cleaning called FLOOR ONE S3. At the moment, the novelty costs $400 and is supposed to take part in this Black Friday.
Tineco iFLOOR3 is an upgraded version of its previous functional iFloor 2 wet/dry vacuum, which became the second refreshment of the year. It is our final deal that now costs about $300.
Both new Tineco devices have just entered the market, so one could hardly expect drops higher than by 10-15%.
Best Offers of Last Year


Last year, the brand gave us very generous discounts. On average, prices were cut by up to 30%. Some models became cheaper by 40% and slightly more.
The best Tineco vacuum Black Friday discounts covered cordless stick vacuum cleaners. All of them have handheld configuration and are perfect for hard floors, carpets, and pet hair. Such a picture shows the popularity of lightweight, portable cleaners for multiple domestic purposes and allows us to suppose that the trend continues this year.
So, 2019 best offers included Tineco A10 vacuums in both modifications (Hero and Master). These are earlier models released a couple of years ago. Last Black Friday on Amazon, you could purchase the device for $140, while its full price was $200.
Lovers of more modern cleaners also preferred its updated version, Tineco A11 Master Cordless Stick Vacuum Cleaner with ultra-powerful suction and improved pet hair cleaning. Last October, the model cost $400 and dropped up to $330 in November.
In 2019, the manufacturer released several new products, which attracted customers' attention at once. Tineco Pure One S12 Black Friday deals were one of the leading last year. At a $100 discount, the cordless stick vac cost $400.
Two other Pure S12 modifications, the S12 M Lite and S12 Plus, didn't concede the first model. Here, we noted $70-$100 drops in prices.
How to Find the Best Tineco Deals on Black Friday?
Though we've already got some information on Tineco deals, the most delicious offers won't be announced earlier than a week before Black Friday start. If you want to know about them first, we recommend you take the following steps.
Try to subscribe to all leading retailers such as Walmart, Kohl's, Macy's, JCPenney Store, and, of course, Amazon. Subscribers get notifications on the best current deals and sometimes can even participate in limited sales campaigns.
Additionally, Amazon provides its own Amazon Prime program, members of which regularly know about deals of the hour/day as well as lots of other benefits. Check the official site for details.
We will continue to monitor the Black Friday 2020 situation for you and post the best deals of the coming event. Subscribe to us and follow our updates to know more!