Tineco iFloor vs Bissell CrossWave Max Face to Face Comparison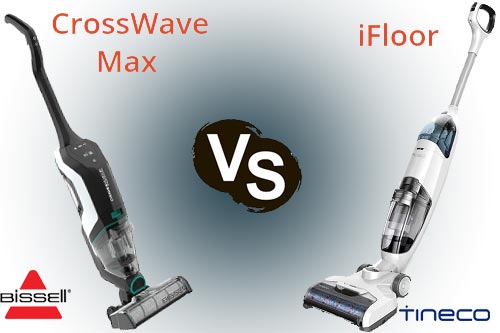 The 2-in-1 cleaning devices have become increasingly popular and are considered a must-have for thorough home maintenance.
Modern house owners appreciate such appliances both for money and time saving.
That's why this time, we decided to take a closer look at two cordless cleaners for simultaneous dry and wet hard floor processing – Tineco iFloor and Bissell CrossWave Max All in One.
The models belong to different price categories. But are their functional distinctions so great too? Stay with us to find the truth!
Main Differences Between the Models
Despite the same basic principles of operation, each of the models has its own unique features. Before we start the detailed description, let's briefly list the differences:

Tineco iFloor is designed for hard floors only, while Bissell CrossWave Max is also suitable for rug cleaning.
The iFloor is the only mop that features Spot mode for extra polluted areas.
The CrossWave has a built-in digital display and Wi-Fi support. Its opponent has neither.
The CrossWave also offers bigger water tanks.
Comparing brush roll, you'll see that the second cleaner uses almost twice a wider roller than the first device. Besides, the brush head design was improved for better edge cleaning.
Bissell CrossWave Max runs longer.
But Tineco iFloor is twice lighter, which is a huge plus for portable cleaners.
Comparison Table
Tineco iFLOOR Cordless Wet Dry Vacuum Cleaner and Mop,...
BISSELL, 2554A CrossWave Cordless Max All in One Wet-Dry...
Brush
multi-surface (5"-6" wide)
multi-surface (10.5" wide)
Tineco iFLOOR Cordless Wet Dry Vacuum Cleaner and Mop,...
Brush
multi-surface (5"-6" wide)
BISSELL, 2554A CrossWave Cordless Max All in One Wet-Dry...
Brush
multi-surface (10.5" wide)
Tineco iFloor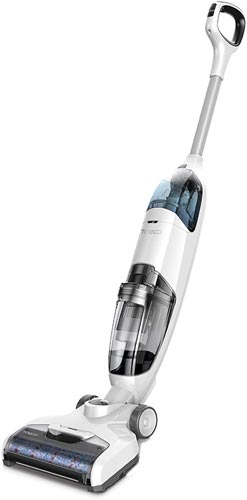 The iFloor is a well-known line of cordless cleaners for simultaneous dry and wet hard floor cleaning. The vacuums are produced by a Chinese brand called Tineco and distinguished by budget price.
The iFloor is the first generation of multi-functional appliances for all types of hard floors and accompanying messes, including pet hair. Please pay attention they cannot work on carpets.
Nice suction deals with dry particles, while the powered mopping brush finishes cleaning. Its flexible design allows for reaching awkward areas. Spot mode helps with extra polluted places.
Self-cleaning technology makes maintenance much easier. After mopping, you just put the vac on a special tray, and it washes the brush.
Clean and dirty water don't mix thanks to the two-tank technology. The manufacturer also allows for using Tineco cleaning solutions.
The vacuum is very lightweight, which is a plus for portability. Energy is provided by a battery, though the runtime is not too impressive. So is the control – we have simple buttons and nothing more.
Among the drawbacks, we'd also like to note leakages and poor edge cleaning.
Tineco iFloor is a decent option for small and medium houses with and without pets. One item costs under $200, which is more than beneficial for such performance.
Pros
simultaneous dry and wet cleaning
cordless and portable
the multi-surface flexible brush head
suitable for all hard floors and pet messes
two water tanks for perfectly clean floors
can be used with cleaning solutions
simple filter
Spot mode for difficult areas
self-cleaning technology
budget option
Cons
a rather short runtime
uncontrolled water release may leave wet streaks
leaves a gap when cleaning along the walls
noisy
Bissell CrossWave Cordless Max All in One

If you're not limited in a budget, the market can offer you another 2-in-one cleaner by Bissell. This American company produces an excellent CrossWave series of vacuums for dry and wet cleaning. At the moment, the lineup includes three models, but we'd like to focus on the only cordless CrossWave called Max All in One.
Similarly, the cleaner is designed for all hard floors, including sealed wood floors. However, it is a universal model, which is also applicable to rugs and low carpets.
In general, the CrossWave Max shares the same construction seen in the first device. We note two tanks for fresh and dirty water, the opportunity to use solutions, multi-surface brush with a self-cleaning function.
At the same time, Bissell CrossWave is a far more intelligent device with such technologies as a digital display and Wi-Fi connection capabilities.
The vacuum can clean longer and, consequently, is suitable for bigger houses. It also pays more attention to baseboards and corners thanks to the improved edge cleaning.
Bissell CrossWave Max is a pricey option, though its cost stays within the medium price category frames. The model is about $350. Bissell also offers a whole series of cleaning solutions for various purposes.
Pros
simultaneous dry and wet cleaning
suitable for hard floors and rugs
cordless portable design
the multi-surface brush with swivel head
suitable for pet hair cleaning
two water tanks
can be used with cleaning solutions
simple filter included
self-cleaning technology
increased runtime
improved edge cleaning
digital display
Wi-Fi connectivity
Cons
weak suction when dealing with liquids
there are many complains about self-cleaning cycle efficiency
Design and Dimensions
The iFloor and the CrossWave significantly differ in design, though their dimensions mostly coincide.
Weight comparison also shows a mismatch. The Bissell cleaner turns out to be almost twice heavier than its rival, which inevitably impacts the convenience of use and transportation.
Tineco iFloor's dimensions are: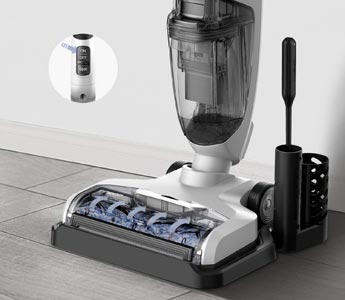 10.6″ x 9.8″ x 43.7″
6.5 pounds
Bissell CrossWave Max measures: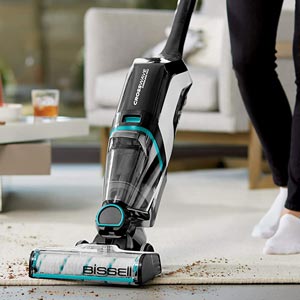 10″ x 10.25″ x 45.5″
11.5 pounds
Both cleaners feature plastic cover, which is not quite durable, by the way. Plastic is widely used in water tanks and brush covers. These zones are transparent – it is a wise decision for easy monitoring.
Tineco chose light white and grey colors, so users of the iFloor can be sure their cleaner will match any interior.
Bissell CrossWave Max is stylishly black with spot blue strips used as a bright accent.
Finally, the first case has several buttons for control, while the second device also comes with a digital display.
Power


Manufacturers don't talk a lot about exact power rates. All we have is vague claims about «nice» suction and our test results.
Tineco official website makes only a passing reference that its iFloor cleaner has a suction power of 8.6W. User's reviews and our test experience show the vacuum is potent enough to pick up fine and large debris as well as liquids. We didn't have any issues with its performance on hard floors, even when dealing with hair.
Bissell CrossWave Max lays claim to the basic pile vacuuming. It has 100 AW suction and copes with hard floor cleaning. Small rugs are also not a problem. But when it comes to low carpets and liquid collection, we expected a better performance.
Verdict:
In general, the suction presented seems to adequately respond to the requirements concerning mopping vacuums. Both devices do their best to pick up debris on hard floors, and even pet hair cannot resist.
The CrossWave slightly wins thanks to its rug cleaning, but please be careful with its moisture collection.
Brushes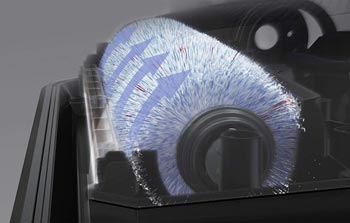 The Chinese brand offers a motorized brush roller. A multi-surface unit is mainly soft but additionally equipped with hard bristles for hair and stubborn dirt. The brush head floats to mop at an angle. And though it's quite wide, the actual cleaning path width doesn't exceed 5-6 inches.
Unfortunately, picked hair often tangles, but easy brush release helps remove it quickly.
Bissell CrossWave originally comes with an analogous soft multi-surface roller with bristles. The roller is significantly wider and covers 10.5 inches at one pass.
The manufacturer also launched a line of replaceable rollers specially designed for sealed floors, pet messes, super-soft gentle wood floor cleaning, and intensive rug vacuuming.
This brush features a similar sin of hair tangling, but quick removal partly solves the problem. Once again, we notice a useful, flexible design.
Users don't have to clean either of the rollers manually, thanks to the above-mentioned self-cleaning technologies. Both the iFloor and the CrossWave Max come with multi-functional cleaning and storage trays. When you put the cleaners on the stations and activate the self-cleaning cycle, brushes undergo automatic refreshment.
Verdict: The systems are quite similar, but the American brand offers a wider cleaning path and, consequently, faster cleaning. The CrossWave roller also provides more thorough edge cleaning, while its competitor misses dirt along the walls and near the furniture.
Water Tanks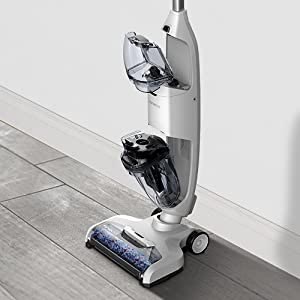 Tineco iFloor, as well as Bissell CrossWave Max, uses a dual water tank technology. It means the cleaners provide separate cups for clean water with solutions and dirty water.
Tineco iFloor comes with a 0.55L clean water tank and a 0.4L dirty water tank. The clean tank's capacity is enough to cover 300-400 ft2.
Users have to monitor the amount of water left manually, while the dirty tank has a smart notification system.
When dirty water reaches Max line, the cleaner blocks the water flow and makes a sound indicating it's time to empty it.
Attention! Make sure to drain the dirty water tank in time and not allow water to rise over the Max level. Otherwise, leakages are possible.

The Bissell appliance usually doesn't have leaking issues. It offers bigger cups for 0.8L of clean water and 0.5L of dirty water.
The clean water tank has a Large Area volume and a Small Area volume. Users can pick one of the measuring volumes that best suits the current task and footage. The Large Area is for areas up to 700 ft2, and the Small Area is for 350 ft2.
Once again, you cannot know when the clean water is over, but the dirty tank uses the full detection sensor. When the cup is full, you'll see a flashing indicator on display.
Verdict: While the iFloor works in small and medium houses only, the bigger tanks of the CrossWave can be easily applied in larger dwellings. We also love the opportunity to use cleaning solutions with both mops.
Filter
Filtration systems perfectly coincide, but don't impress.
Both cleaners are equipped with simple filters installed in the dirty water tanks. The wastewater comes through the units that stop small particles.
Units are quite durable since you can regularly rinse them.
Verdict: As you see, filters are rather directed on the cleaners' protection than air quality improvement. They significantly prolong the service life of mops, but if you're looking for some air treatment system, you'd better pick up something else.
Runtime

Tineco iFloor gets the power from a 2500 mAh battery. The cleaner lasts for 22 minutes. This is its maximum runtime available in standard mode. If you activate Spot mode, which consumes more energy, the cleaner will run for 15 minutes.
Bissell CrossWave Max is the only cordless cleaner in the series. The unit got a 36V lithium-ion battery for 30 minutes of non-stop cleaning. Like the iFloor, it actually lasts for 30 minutes in Hard Floor mode, while the more powerful Area Rug mode will spend the charge faster.
In both cases, recharging takes about 4-4.5 hours.
Verdict:
The two cleaners, like the majority of other cordless mops, cannot boast of long runtime. The Tineco is applicable in medium dwellings at a maximum. If you have a big house, you can try it for spot messes.
Though the difference is small, we appreciate the extra 10 minutes of runtime provided by the CrossWave. It doesn't mean that now we can clean huge multi-story houses at one charge. Overall, the area of its application was slightly extended but didn't change dramatically.
Control
First of all, both devices are equipped with manual water flow adjustment. Users push a trigger, and with every touch, cleaners spray liquid.
When it comes to other control methods, Tineco iFloor uses simple button control. The model comes with two buttons – ON/OFF switch and Spot mode activation. Unfortunately, you won't know if your cleaner runs out of charge or water or has an error. All monitoring is up to you.
Bissell CrossWave Max features similar buttons, which are completed by a digital screen. It doesn't participate in direct control but displays the current state of the cleaner as well as some modes activated. There are indicators for:

Battery Status
Dirty Water Tank Full
Area Rug Mode
Hard Floor Mode
Wi-Fi Connected
Indeed, the CrossWave Max supports Wi-Fi connection with your smartphone. However, the app is mostly used to provide smart consumables reorder (brushes, filters, formulas) and not for additional programming or cleaning improvement. It tracks the frequency of cleaner's use and preplans maintenance.
Verdict:
Though control systems provide us with basic necessities, there are lots of features to be improved. Fully manual flow control is not quite satisfying as inexperienced users may face water overrun and overwetting.
Bissell device gets a higher score for display. But speaking about Wi-Fi, many find it useless.
Noise
The Chinese manufacturer doesn't care much about the noise level, so its first device of the series produces up to 82 dB. In the following modifications (like the iFloor3), they tried to solve the problem, but this cleaner does work quite loud.
In comparison with the iFloor, the American model feels significantly more comfortable. It produces 70 dB, which is very quiet, considering common vacuums and even vacuum & mop appliances.
Accessories
Tineco iFloor cleaner comes with: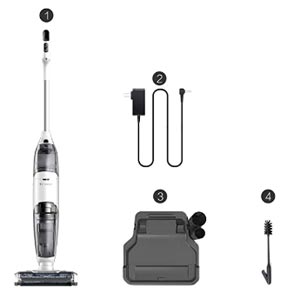 3-in-1 Cleaning Tool
Self-Cleaning Storage Tray
Charging Adaptor
Tineco Deodorizing & Cleaning Solution
Bissell CrossWave Max kit includes: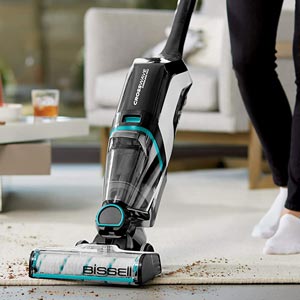 3-in-1 Docking Station
Brush Roll Drying Tray
Two Multi-Surface Formulas
Two Hard Floor Sanitize Formulas
Two Multi-Surface Brush Rolls
As you see, both kits are quite full, but the Bissell offers more accessories. We especially like its dual rolls and as many as four solutions. Minding that Bissell has pricey consumables, such a deal looks generous.
Buyer's Guide – How to Choose the Best Cordless Vacuum & Mop Cleaner for Hard Floors?
Indeed, mopping cleaners for hard floors can raise cleaning to a new level. They quickly eliminate all messes on all surfaces. And cordless devices will never cause a problem of tangling wires or tie you to outlets. However, if you consider the following features, you can get many more advantages from this purchase.

Weight:
A light cleaner means you'll have to pay almost no effort to cleaning and its transportation. This moment is especially important for customers who are planning to apply the model on several floors or purchase it as a gift for seniors. Make sure to try the chosen vac or at least read other users' reviews on this characteristic.
Runtime:
Though cord-free design gives us incomparable freedom, it inevitably limits us in another moment – durability of cleaning. Please always pay attention to the vacuums' batteries and runtime. The longer, the better. Also, don't forget to correlate it with our dwelling size to make sure you won't have to interrupt cleaning all the time for recharging.
Brush:
A nice brush roll should be wide – thus, cleaning will go faster. If it has a flexible head, you'll be able to clean inconvenient places quicker and easier. Also, check how easy it will be to clean the roll itself.
Suction power:
Suction is an essential factor even for mopping devices. It influences the quality of dirt collection and the speed of floor drying.
Water tank capacity:
Choose the cleaners with separate cups for clean and dirty water. Big tanks will provide longer cleaning without interruptions.
We also recommend you to check such moments as:

Motor and case durability
Noise level
Filters
Ability to use cleaning solutions
Accessories included
Frequently Asked Questions
Tineco iFloor or Bissell CrossWave Max: what is better for pet hair?
Both models do a great job dealing with pet hair and long human hair. Cleaners pick up all the mess but may tangle.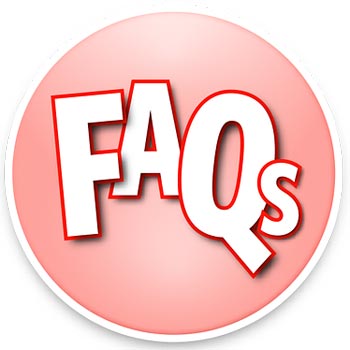 Can I clean area rugs with my Tineco iFloor?
Please pay attention that Tineco iFloor cleaner is designed only for hard floor mopping. The manufacturer does not recommend using it on the pile as it may cause clogs and breakage.
If you're looking for a hard floor and rug cleaning device, please consider Bissell CrossWave Max.
How long does it take for floors to dry after Tineco iFloor and Bissell CrossWave Max cleaners?
The speed of floor drying will depend on how much liquid you released. But in general, hard floors dry within minutes after the use of these dry & wet cleaners. It will take no more than 8-10 minutes.
Can I fill a dry & mop cleaner with hot water?
Please use only cold and warm water with the 140F/60C maximum temperature. Hotter water may damage your cleaner.
How to connect Bissell CrossWave Max to Wi-Fi?
Download Bissell Connect app on your smartphone. Open the app and sign in to create a new account. Select your product in the list of Bissell appliances. Scan the QR code for setup (it can be found behind the Clean Water Tank). Once you find and scan the QR code, follow the instructions in the app to pair.
Conclusion
Despite the significant price difference, cleaners are not so different in functionality.
Tineco iFloor shows itself as a nice budget option for small houses with pets. Indeed, there are some drawbacks like edge cleaning and overwetting, but the general hard floor cleaning is more than sufficient. We safely recommend this simple Chinese product.
Bissell CrossWave Max will work in larger houses thanks to improved battery and water tanks. If you have lots of rugs and low carpets, the model is your perfect choice. Otherwise, the difference is not that great.
When it comes to smart features, the Max device can boast of a convenient and informative display. But Wi-Fi connectivity turns out to be rather a marketing trick.