Tineco iFloor vs iFloor3 Face to Face Comparison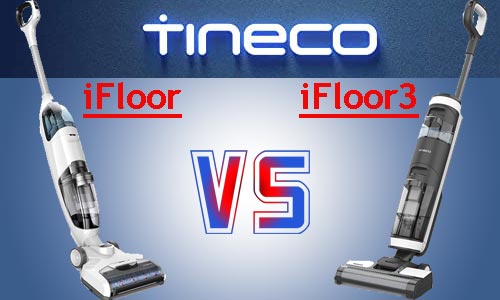 Tech experts note a new trend – almost all manufacturers rushed to produce cordless mopping cleaners. The market is full of offers, but worthy models can be counted on the fingers.
Surprisingly, a young Chinese company Tineco is one of few names that make decent devices.
Despite the budget price, its cleaners impress by efficient yet straightforward construction.
Today, we'd like to focus on the Tineco iFloor series of cordless cleaners for simultaneous dry & wet hard floor cleaning. The battle will be held between Tineco iFloor vs Tineco iFloor3 models – the first generation and its improved modification.
Main Differences Between the Models
In fact, the iFloor series cleaners are rather similar than not. You'll see it later in the course of our review. But we'd like to start it by listing the differences between the models, which may influence your final choice. Here they are:

The first iFloor cleaner has a simple motor and standard suction. Its improved modification is equipped with a newer brushless digital motor for 2.5X higher power.
Despite higher suction, Tineco iFloor 3 works quieter.
The iFloor3 can also boast of more thorough HEPA filtration, while its predecessor uses a simple filtering unit.
The second Tineco offers bigger water tanks.
The iFloor has control buttons. The iFloor3 comes both with buttons and a LED display.
The later vacuum got slightly increased runtime compared to the first iFloor.
Comparison Table
Tineco iFloor became the first generation of the series. With this model, the Chinese brand started one of its most popular lineup of cordless vacuums for simultaneous wet and dry cleaning. And this universal budget device faced immediate success.
Tineco iFloor is designed for absolutely all types of hard floors, including the sealed and wooden surfaces. Pet owners will also find it useful. The vac provides suction that picks up dry particles and a wet brush that eliminates stains.
Dirt and messes come into a separate dirty water tank, while fresh water for cleaning comes from a larger clean reservoir. Moreover, users can add special Tineco solutions to fresh water to deal with odors and bacteria.
The vacuum offers Spot mode for challenging areas and doesn't require additional maintenance since it can clean itself.
Tineco iFloor is a simple yet quite efficient dry & mop device for small and medium houses.
Though hi-tech fans may miss smart sensors or app connectivity, the model is easy to use and service. So, even kids will cope with it.
Tineco iFloor lightweight, portable device will cost you as little as $150-$170. This is one of the most generous offers in the market.
Pros
simultaneous dry and wet cleaning
cordless and portable
the multi-surface flexible brush head
suitable for all hard floors and pet messes
two water tanks for perfectly clean floors
can be used with cleaning solutions
simple filter
Spot mode for difficult areas
self-cleaning technology
budget option
Cons
a rather short runtime
uncontrolled water release may leave wet streaks
leaves a gap when cleaning along the walls
noisy despite all manufacturer's claims
Recently, the brand has released an improved version of the iFloor vacuum that was called Tineco iFloor3. While the main performance style and design stayed the same, we faced comprehensively improved characteristics.
The cordless dry & mop cleaner received 2.5 times increased suction with quieter operation. Previous Spot cleaning gave way to Max mode. The brush and self-cleaning tray didn't undergo any changes, but the model got longer runtime and bigger water tanks. Besides, the vacuum now cleans not only floors but also air thanks to its HEPA filter.
Engineers took care of more innovative control methods and provided us with a convenient LED display. Thanks to it, now we can get notifications on the cleaner state and current alarms.
We can recommend Tineco iFloor3 for the same cleaning tasks and spaces. It will work nicely in small and medium dwellings, cope with all hard floors and dry and wet pollutions, including pet messes.
At the same time, like its predecessor, it still cannot be applied in large houses because of the short runtime. Also, be ready that the model cannot come close to walls and furniture and leaves a margin.
Despite inevitable drawbacks, improved functions justify a higher price at $299.
Pros
simultaneous dry and wet cleaning
cordless and portable
increased suction
the multi-surface flexible brush head
suitable for all hard floors and pet messes
two enlarged water tanks for perfectly clean floors
can be used with cleaning solutions
automatically adjustable suction and water flow
self-cleaning technology
HEPA filter
LED display for easy programming and control
alarm notifications
quieter work
affordable option
Cons
still short runtime
the problem of an unreachable gap wasn't solved
no Spot cleaning
Design and Dimensions
Tineco iFloor has the following dimensions: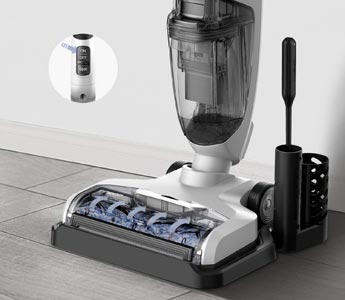 10.6″ x 9.8″ x 43.7″
6.5 pounds
Tineco iFloor3 measures: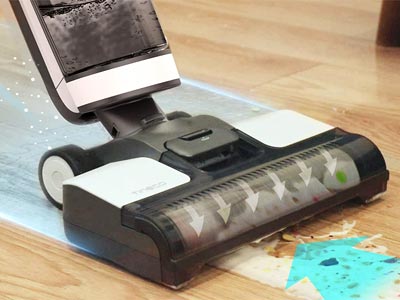 11.3″ x 10″ x 43.3″
9.9 pounds
Though such difference cannot influence performance and ease of use, you see that the improved iFloor3 device became a little bit bigger and heavier.
However, both appliances are very lightweight, especially compared with other vacuums. Common cordless design contributes to the freedom of transportation and application.
Tineco vacuums are covered with plastic panels and made in light white and grey colors to fit any interior.
We also note transparent water tanks for easy water level monitoring and flexible brush heads with protective cover.
Power


According to the official information provided by Tineco, the first model has a suction power of 8.6W. In practice, the power is enough to suck liquids and large messes without much effort.
Nevertheless, the next iFloor3 generation got an improved 150W brushless digital motor that is proved to be 2.5 times more powerful than the previous cleaner. When you need the highest suction, you can activate Max mode unavailable on the iFloor.
Verdict: Since both devices work on hard floors only, suction is not as important as for carpet cleaners. Still, a more powerful vacuum means quicker cleaning at one pass.
Brushes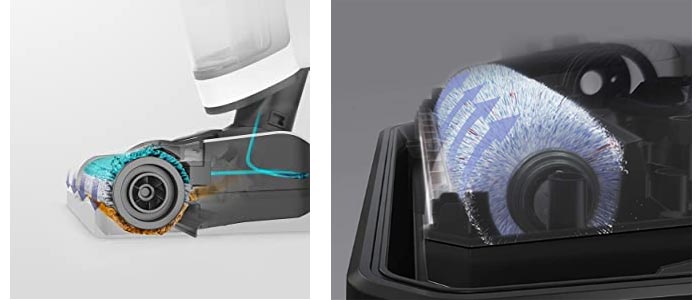 In a short word, both Tinecos use the same motorized brush rollers, the only difference of which is design. Rollers are powered by a motor to both vacuum and mop floors. Soft roller heads gently treat the surface, while tougher bristles pick up hair and sweep fine dirt.
One of the greatest advantages of roller heads is their easy removal and smart self-cleaning technology. All you need is to put the vacuum on a special self-cleaning tray and press a button. The tray system will rotate brush and wash out dirt. By the way, the tray also serves as an excellent storage platform for all accessories coming in the kit.
Among the minuses, we note frequent hair tangling and overwetting.
Attention! The brush and brush cover design doesn't allow cleaners to come close to the walls and pieces of furniture. So, while mopping, they will inevitably leave gaps (several inches wide) that require additional manual cleaning.
Water Tanks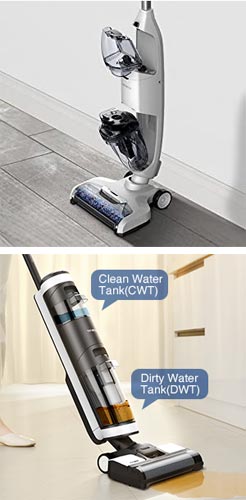 Both devices use dual water tank technology that allows for separating clean and dirty water. Consequently, we have a clean water tank (CWT) and a dirty water tank located under the first.
Tineco iFloor comes with a 0.4L DWT and a 0.55L CWT.
Tineco iFloor3 features a little bit bigger capacity – a 0.5L tank for dirty water and a 0.6L tank for fresh water.
Engineers integrated a smart notification system. When dirty water reaches Max line, both cleaners block the water flow and make a sound indicating it's time to empty it.
Please only mind that if you don't drain the DWT in time, it may leak.
The advanced iFloor3 can also inform us when the CWT is empty through its LED display. The older iFloor cannot do that.

The iFloor3 boasts of more convenient releases for the tanks. So, users note quicker and easier emptying.
Verdict:
Water tank capacity is not too impressive, and you should be ready to empty and fill cups after every 2-3 rooms. But it cannot be called too small either – vacs cover from 300 ft2 to 400 ft2 without refilling.
It's a pleasure that users can also add cleaning solutions to clean water for killing bacteria and unpleasant odors.
Filter
Before getting into the tank, dirt goes through filters. Both Tineco models use pre-filters and main filters located on the dirty water tanks.
The iFloor device comes with a simple filter
The improved iFloor3 has a HEPA filter
Units are washable, which significantly prolongs their service life.
Verdict: The second device uses a better filtration, but users' reviews and our tests allow us to conclude that the difference is not that huge. HEPA element doesn't seem to eliminate allergens and the like. Thus, you can safely choose any of the cleaners.
Runtime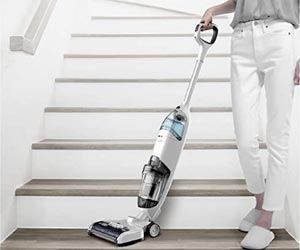 Tineco iFloor is equipped with a 2500 mAh battery. The vacuum runs for 22 minutes at a maximum when used in standard mode.
Spot mode takes more energy and will spend charge faster.
Tineco iFloor3 has a 3000 mAh battery for 25 minutes of cleaning. This ultimate duration is possible in ECO mode. If you activate Max power, cleaning will last for 15-18 minutes.
Recharging takes about 4-4.5 hours.
Verdict: Though the manufacturer states it improved runtime, you see that the difference is not significant at all. Runtime allows for using both vacuums in small or medium houses at best. Owners of large dwellings would better to look for more durable devices.
Control

The first generation of the iFloor vacuum mops uses a simple button control system. Users are offered two buttons for ON/OFF and Spot mode activation. This level of control doesn't provide a smart charge or tank monitoring.
The next iFloor3 hasn't completely departed from buttons but complemented them with a LED screen. The digital element is located on the top of the handle and displays battery level, self-cleaning icon, brush roller tangled indicator, Max Power, the water level in the clean and dirty water tanks. If your dirty water tank is blocked, you'll also know it.
A trigger controls water flow. One push releases a spray of liquid. Thus, users can manually adjust the amount of water. However, electric control would be much more precise, and inexperienced users often face overwetting.
Verdict: Undoubtedly, iFloor3 wins this battle. A digital screen is more informative and makes use and maintenance significantly easier. But we should say that manual water flow control needs improvement in both cases.
Noise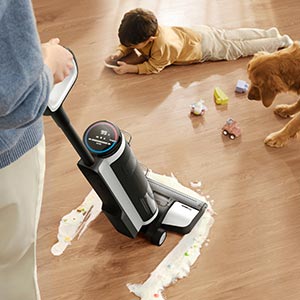 Like all vacuums, our competitors cannot be called silent devices. On their maximum performance, models produce 82 dB and 78 dB.
Though Tineco iFloor3 has a more powerful motor and more than twice increased suction, the cleaner works quieter.
The noise is quite acceptable yet audible. We wouldn't recommend using the appliances late at night or when someone is sleeping in your house.
Also, cleaners may scare shy pets and small children, so please make sure to check whether their noise level is ok for you.
Accessories
The early iFloor cleaner comes with: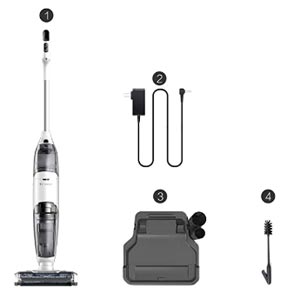 3-in-1 Cleaning Tool
Self-Cleaning Storage Tray
Charging Adaptor
Tineco Deodorizing & Cleaning Solution
Tineco iFloor3 kit includes: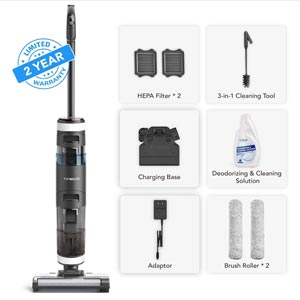 3-in-1 Cleaning Tool
Self-Cleaning Storage Tray
Charging Adaptor
Tineco Deodorizing & Cleaning Solution
Extra HEPA filter
The set of accessories is more than impressive in both cases. We love all elements from multi-functional cleaning tools for tanks and brushes to solutions included.
A self-cleaning tray serves as an excellent organizer for worry-free storage of all accessories. Items take literally no place, and you'll never lose them.
Please also mind that the iFloor3 offers two HEPA filters for more convenient maintenance.
Buyer's Guide – How to Choose the Best Vacuum & Mop Cleaner for Hard Floors?
Common bulky vacuums cannot always deal with all kinds of cleaning. That's why more and more house owners prefer having a range of narrowly focused cleaning devices. A cordless vacuum & mop cleaner is an obligatory part of it.
But how to choose the best model? Let's find out the crucial moments to consider before purchasing.
Weight:
Cordless construction gives you incomparable freedom of moving. Users carry their cleaners from one room and floor to another and reach the farthest areas. So, the lighter your cleaner will be, the easier it will be for you to carry it around the dwelling.
Runtime:
Once again, as we're speaking about cord-free cleaners, they use batteries. Long runtime means you'll clean more rooms at one charge. So, while choosing battery time, we also recommend minding your dwelling size.
Flexible brush head:
This function cannot be met in all devices. But if you find some, you should prefer them. A flexible head will allow you to clean more areas, especially in challenging and inconvenient places.
Suction power:
Many customers consider this characteristic to be inessential for mopping devices. On the contrary, as in common vacuums, high suction provides more thorough cleaning and additionally eliminates extra moisture to dry the floor quicker.
Water tank capacity:
No one wants to constantly stop cleaning to refill a clean water tank or empty the tank for dirty water. So, please make sure to correlate your house size with the tank capacity of the future cleaner.
We also recommend you to check such moments as:
Noise level
The presence and quality of filters
Motor durability
Accessories included
Frequently Asked Questions
Do Tineco iFloor and iFloor3 cleaner eliminate pet hair and messes?
Tineco iFloor series cleaners can be safely used to vacuum pet hair on hard floors. Their mopping technology easily deals with pet accidents. And if you add one cap of cleaning solution, vacuums will kill all unpleasant odors and bacteria.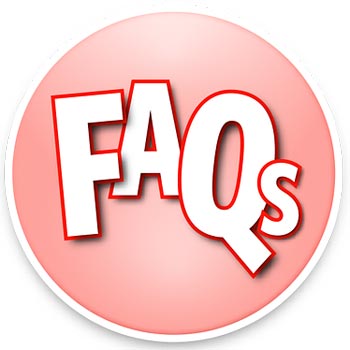 How long does it take for floors to dry after the iFloor series cleaners?
According to the official information in the manual, it takes about 5 minutes to dry the floor in standard mode and about 8 minutes in Spot and Max modes.
How to prepare Tineco iFloor cleaner for self-cleaning?
Before you put your vacuum on the self-cleaning tray, you should remove the brush and clean it from hair tangled. Then rinse it and put back. Clean the dirty water tank and fill the clean tank (no less than by 40%). Put the cleaner on the tray and press the Self-Cleaning button. After the end of the process, clean the dirty tank one more time.
Can I replace the battery on my Tineco iFloor cleaner?
Please mind that Tineco iFloor series devices come with built-in batteries that cannot be replaced in domestic conditions. In case you have some issues with the battery, please contact the Tineco User's Service.
What is the optimal water temperature for Tineco iFloor cleaners?
You can fill the clean water tank with cold or warm water, the temperature of which doesn't exceed 140F/60C. Do not use hot water; otherwise, you may damage your cleaner.
Conclusion
Tineco iFloor series proved to be an excellent budget option for thorough and easy hard floor cleaning. Despite its simplicity and several important drawbacks, we found them quite efficient for the money.
Surprisingly, both iFloor and iFloor3 will suit even for challenging pet messes. So, we recommend it to young parents and families with pets.
The main limitation is the size of your dwelling. Neither of the cleaners will cope with large spaces, so if you live in one, you'd better look for a model with longer runtime and bigger cups. Please also pay attention that the series is not the most powerful available in the market.
Returning to the question of the optimal model choice, we liked the first iFloor device. It is a more than worthy purchase for the price under $200.
In fact, all improvements of the iFloor3 turned out to be not so impressive as expected. The only technology worth overpaying is LED display and, perhaps, easier tank release. So, if you'd like to keep informed of our cleaner's current state, pick up that option.