Xiaomi Viomi V2 vs Roborock S5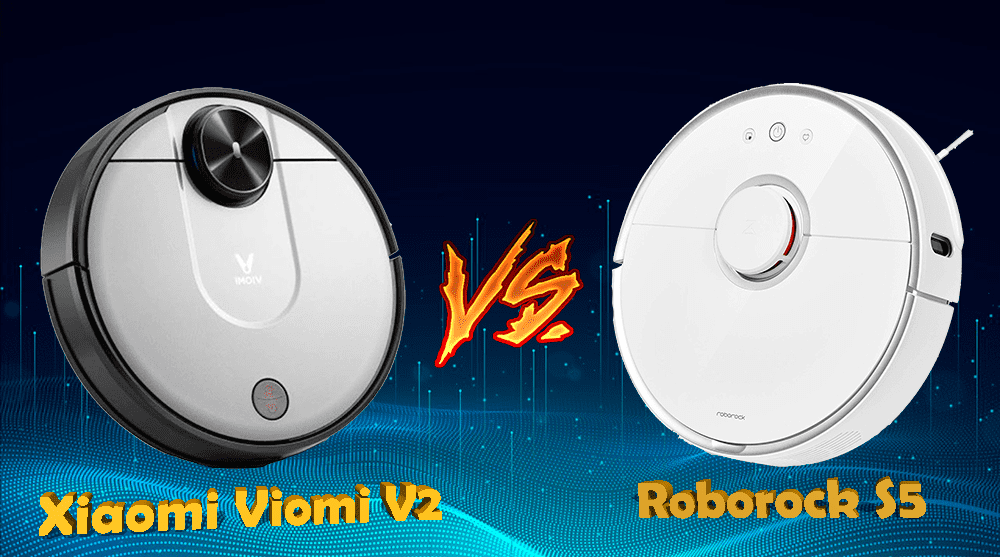 In recent years, Xiaomi, better known for its smartphones, has been actively investing in the production of robotic vacuum cleaners. Devices are released under the common brand Roborock, which already includes a lot of models. At the same time, unlike many Chinese manufacturers, Xiaomi provides high-quality devices at a low price.
Today we will have a look at two models – the mega-popular Roborock S5 and a new representative of the Roborock family, the dark horse in the market of robot cleaners Roborock V2, also known as Xiaomi Viomi V2.
Roborock V2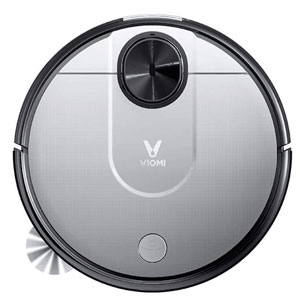 Robot vacuum cleaner Roborock V2 or Xiaomi Viomi V2 somewhat gets out of the slender lineup of the famous Chinese brand. The fact is that this robot, like some other Xiaomi devices, is not manufactured by the company itself, but by another contractor. Therefore, it is a part of the Roborock family but is a bit different from its "brothers". Nevertheless, this robot vacuum cleaner is very similar to the first Xiaomi Vacuum Cleaner. We can say that Viomi V2 is an improved version of the first Xiaomi robot vacuum, which features the additional laser navigation and mopping.
Roborock V2 has a presentable appearance, excellent technical specifications, functions, and is distinguished by modern navigation and mapping. A standard set of side and central brushes provides dry cleaning, and an additional water tank and microfiber carry out mopping. It's worth mentioning separately that both containers have good volume – 600 ml and 560 ml for dust and water, respectively.
For more accurate navigation, the bot uses a laser. The model can determine the distance to walls and surrounding objects to avoid collisions and falls. You can also see a room map in your mobile application. However, the model has no voice control features yet.
Roborock V2 pros
dry and wet cleaning
compact dimensions
great suction
several cleaning modes
thorough laser navigation
mapping
capacious bins
mobile app
Roborock V2 cons:
no voice control
no Dirt Detect function
High quality, excellent selection of dirt, brilliant navigation, and additional floor mopping distinguish Roborock S5 among its competitors.
You will never believe that Roborock S5 is a relatively budget model if you look at it. The S5 looks, as well performs, much better than its base price suggests.
We see the thoughtful design in both aesthetic and practical terms. The vacuum fits well under many pieces of furniture, doesn't get stuck, or hit the obstacles.
On the underside of the robot, you can see a main rotating brush with bristles and rubber blades. The combination is designed to trap dirt from any surface and facilitates absorption. There is also a side brush to sweep dust around the edges of the room.
The robot has several cleaning modes you can choose from. Quiet, Balanced, Turbo, and MAX modes make it possible to achieve the best result on any surfaces. Plus, there is a Carpet mode for maximum suction on piled areas.
For hard floors, we may also apply the mopping function. Just use a water tank and microfiber, with which the robot will wipe the surface.
On top of the case, Roborock S5 has a laser base. It allows the robot to navigate even in large and complex spaces, as well as in complete darkness. The LDS laser scans a room at a speed of 5 times per second and makes a map using the SLAM algorithm.
You can unleash the full potential of this robot vacuum cleaner and greatly simplify control through the Xiaomi Mi app. The only thing you need is to connect the robot to Wi-Fi. In this model, there is also an option for voice control.
Roborock S5 pros
dry and wet cleaning
several modes
high suction
adaptation to any surface
HEPA filter
accurate navigation
mapping system
mobile app and voice control
Roborock S5 cons:
small dustbin and water tank
laser station may disturb cleaning under the low furniture
Design, Size, and Dimensions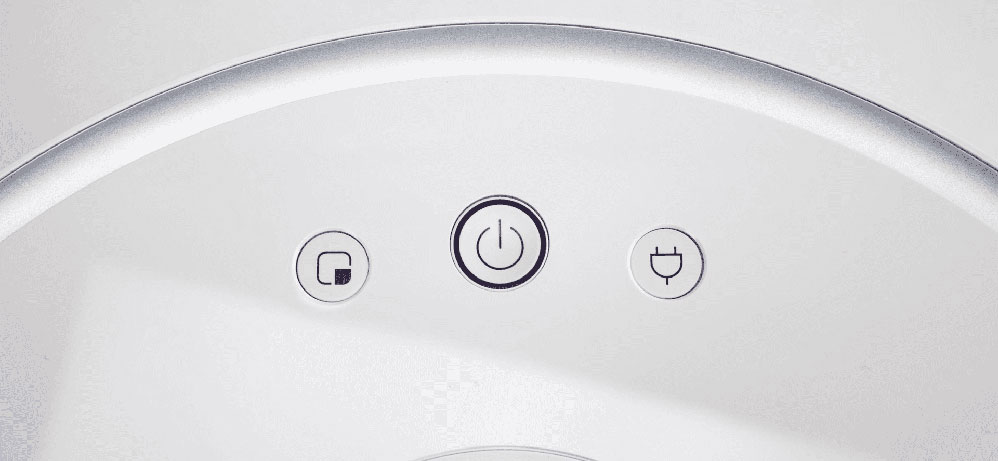 Both models have round black plastic cases with a glossy finish. Along the edges, we see small matted embossments and rubber pads that protect against cracks and other damage.
At the same time, robots are similar, not only in color and body material. They are absolutely identical in size. Both Roborock/Viomi V2 and Roborock S5 are measured 13.7×3.7 inches with a weight of 7.28 pounds. The models are light and small enough for manual transfer and unimpeded movement, but somewhat high for cleaning under very low furniture. Also, many users note that the laser station located on the upper part of the vacuum cleaners adds height and can cling to individual elements of furniture.
Navigation

As a rule, navigation becomes a weak point of many vacuum cleaners, especially cheap ones. But our models are exceptions. The bots use laser navigation and high-tech mapping technology.
The main distinguishing feature of the Xiaomi Viomi Cleaning Robot is the integrated laser range finder located inside the turret that protrudes beyond the body. The laser scans the cleaning area, builds a room map, and independently determines the cleaning location. The mapping function allows the vacuum to bypass cleaned areas and not to waste battery power. Navigation has become more efficient with LIDAR and SLAM technologies. The robot is also equipped with ten integrated sensors that prevent collisions with surrounding obstacles and fall from elevations.
Roborock S5 uses the LDS laser and the SLAM algorithm. It means the device scans rooms and plans the best route. The robot manages to get up very close to the edge of the room, and also covers the whole area perfectly. Anti-drop and cliff sensors serve as extra protection from obstacles and stairs.
In addition to the functions described above, users have the opportunity to make navigation even more accurate by limiting the cleaning area. In the apps of both robots, you can set digital blocked zones inaccessible for cleaning. Roborock S5 also has magnetic tape to set virtual barriers.
Dirt Detection
Unfortunately for many users, none of the vacuums applies the Dirt Detection. In other words, they cannot detect the most challenging and contaminated areas of the floor. They also don't adjust their work for the speedy elimination of stains. Though both robot vacuum cleaners feature high suction and several modes, the lack of this function makes the process a bit more time-consuming and the result a bit less perfect.
Filter System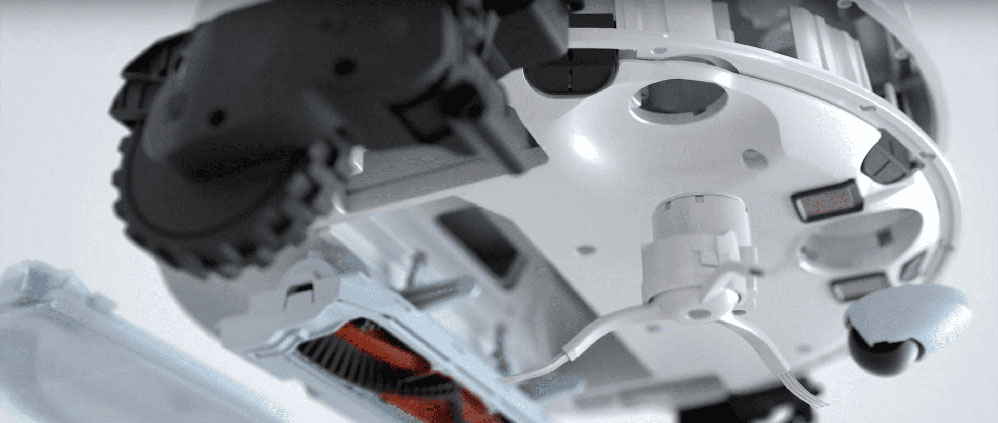 Roborock V2 and Roborock S5 will be a profitable investment, as they can help you save on an air purifier. Both robots have built-in HEPA filters that hold more than 99% of the dirt. During cleaning, vacuums drive all the collected air through filters that trap dust, as well as pathogens, animal secretions, pollen, etc. Tests prove the effectiveness of the filters, so vacuum cleaners are suitable for use in homes with animals, children, or allergy sufferers.
Connectivity
Roborock S5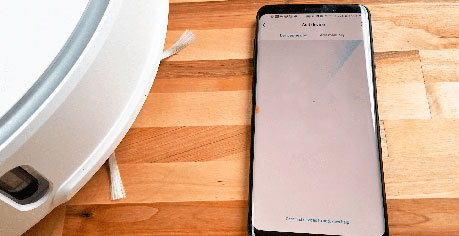 Roborock S5 is equipped with mechanical buttons for manual control.
However, in most situations, manual control isn't very convenient or fast, so the manufacturer provided the robot with a Wi-Fi connection.
Thus, we have the opportunity to track the cleaning schedule, the workflow, see the map of the house, and control the device remotely through the Mi Home mobile application. Plus, the robot supports smart speakers from Google and Amazon and recognizes voice commands.
Viomi V2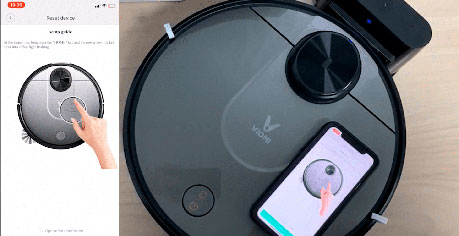 Viomi V2 can also be controlled manually or via a smartphone. Though the robot also belongs to the Roborock brand, it doesn't support the Mi Home app. This vacuum cleaner can only be controlled through the special Viomi Robot application, but the producer promised to add Mi Home support later. However, this app gives us access to the same functions: cleaning schedule, map, on/off, tracking, etc. This model doesn't provide such a way of management as voice control.
Suction Power
Viomi V2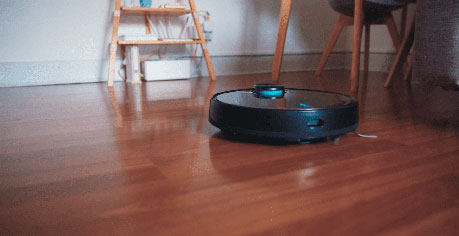 Viomi V2 has one of the highest suction power among all robot vacuum cleaners, so it copes ideally with any carpets and cleans them of debris, sustained spots, and hair. In the mobile app, there is a separate modifier that allows you to set the suction power.
There are three variations of them from the "silent" type to the "full power" type. 2150 Pa is the maximum power achieved in Turbo mode.
During wet cleaning, the power modifier is replaced with a modifier that regulates the speed of microfiber moisturizing.
Unlike Roborock S5, the V2 doesn't have a surface recognition function, and it can't automatically increase suction on carpets.
Roborock S5

Roborock S5 can boast 2000 Pa suction. As we can see, this robot is slightly weaker, but we assure you that in practice, such a difference isn't noticeable.
Moreover, the presence of the Carpet Boost technology in the model compensates for any lacks. The robot automatically increases suction on carpets, which improves cleaning accuracy and saves energy.
Run Time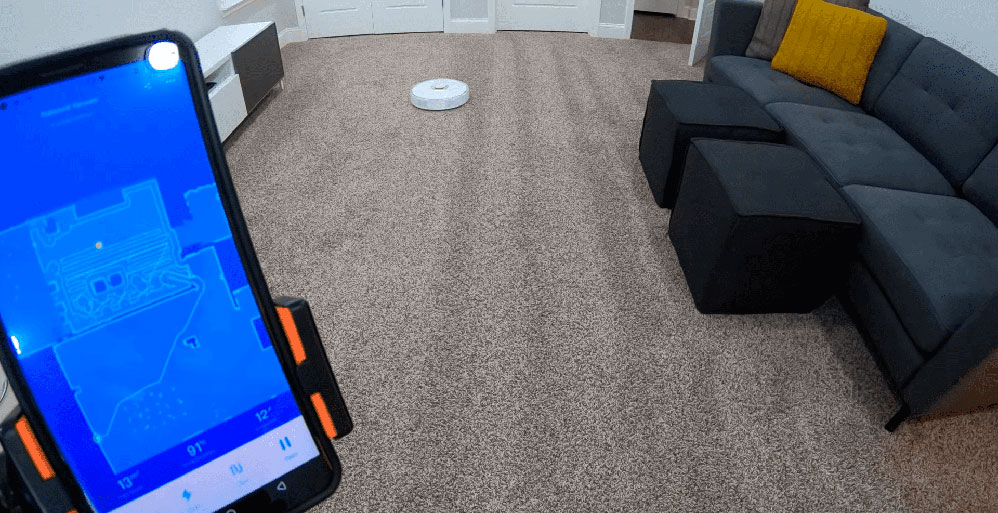 Viomi V2
Roborock/Viomi V2 has a rather weak Li-Ion battery for such great suction. Its capacity is 3200 mAh. So the robot can work for about 80 minutes in the Turbo mode, while the most extended cleaning can last for 150 minutes. Recharging takes 240 minutes.
Roborock S5
The 5200 mAh Li-Ion battery of Roborock S5 provides 150-180 minutes in dry mode and up to 60 minutes in wet mode. The charging duration is the same – 240 minutes.
Dustbin Indicator
The Full Bin Indicator dramatically facilitates the service of the device, as it indicates the level of dust in the bin. When the airstream doesn't pass through the dust collector well enough or when the light-catching elements can't receive enough light due to accumulated debris, the indicator sends a notification. This function allows the user to perform the container emptying procedure only in case of real necessity.
Roborock V2 has a 600 ml container, and Roborock S5 a 480 ml one. However, neither the first nor the second vacuum cleaner is equipped with Full Bin Indicators.
Noise
Before purchasing a vacuum cleaner, buyers should mind that a high noise level distinguishes the first model of our review. During operation, it produces 69-76 decibels, which significantly exceeds the noise level of most robot vacuum cleaners. Frankly speaking, it's slightly uncomfortable to stay near the V2 model, and one will definitely fail to fall asleep in the same room.
The second vacuum is significantly quieter. In Standard mode, Roborock S5 produces 65 decibels. Its maximum is 69 dB. Still, this level is considered to be not so comfortable either.
Accessories
Viomi V2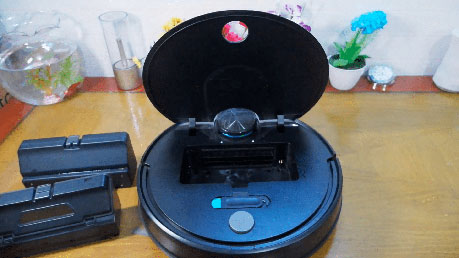 Roborock V2 comes with a charging dock, main brush cleaning tool, two side brushes, two microfiber cloths, a water tank, a power cable, and a worry-free 12-month warranty.
Roborock S5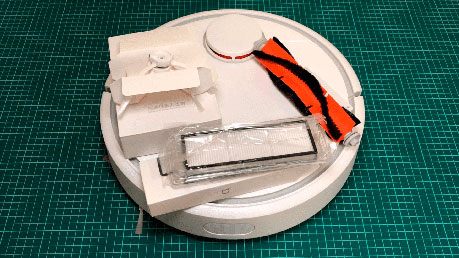 Roborock S5 set includes one charging base, an adapter, one magnetic stripe, a water tank, a mopping pad, and a 12-month warranty.
Tests on different types of floors
It's worth noting that, in general, robots are very similar, especially in terms of performance. High suction power and navigation accuracy make it equally easy to cope with hard floors, wood, linoleum, and thick carpets. Several modes of operation and Carpet Boost technology contribute to quality.
We'd also like to note the mopping presented in the compared models. In certain situations, this technology can help maintain the cleanliness of hard floors or quickly remove unexpected contamination. A comparison of models shows that the wet cleaning of the Viomi V2 robot outperforms Roborock S5 and many similar competing devices in quality. A large water tank, control over moisturizing, and big microfibers are the secret of success. However, you should not count that a device with such a function will be able to replace ordinary manual floor mopping.
Conclusion
Budget robot vacuum cleaners tend to suffer from many problems. That's why it's so nice to see that Roborock V2 and Roborock S5 are relatively cheap, but they still do an excellent job.
We highlight advanced mapping function and the ability to set restricted areas. Usually, these characteristics can be found only in more expensive models. Besides, buying vacuum cleaners for $380-$400, you get an additional benefit in the form of wet cleaning.
Nevertheless, we would advise you to give preference to Roborock S5. It's more known to users and, therefore, more tested as well as has a number of advantages. The S5 model works quieter and longer, has the Carpet Boost, provides a broader selection of control methods (supports voice assistants), and a more reliable application. At the moment, Viomi V2 is more oriented and adapted to the Chinese market. It means that users from other regions may experience problems with operation.